One of the most exciting players to come out of Barcelona's La Masia academy in recent times, Abde Ezzalzouli, made waves across Spain with his blistering wing play. But the Moroccan International was loaned to Osasuna at the start of the season for more game time. With his pace and the natural ability to go past players, Abde is one of the most promising talents in La Liga. The 21-year-old has only played 361 minutes this season with his new club, with five starts from ten matches. Therefore, we look at his stats to understand why he deserves more game time.
Season so far
Abde Ezzalzouli has made ten appearances this season, starting five, with an average of 36 minutes per game. He has not yet opened his account at Osasuna but has been a threat on the left wing.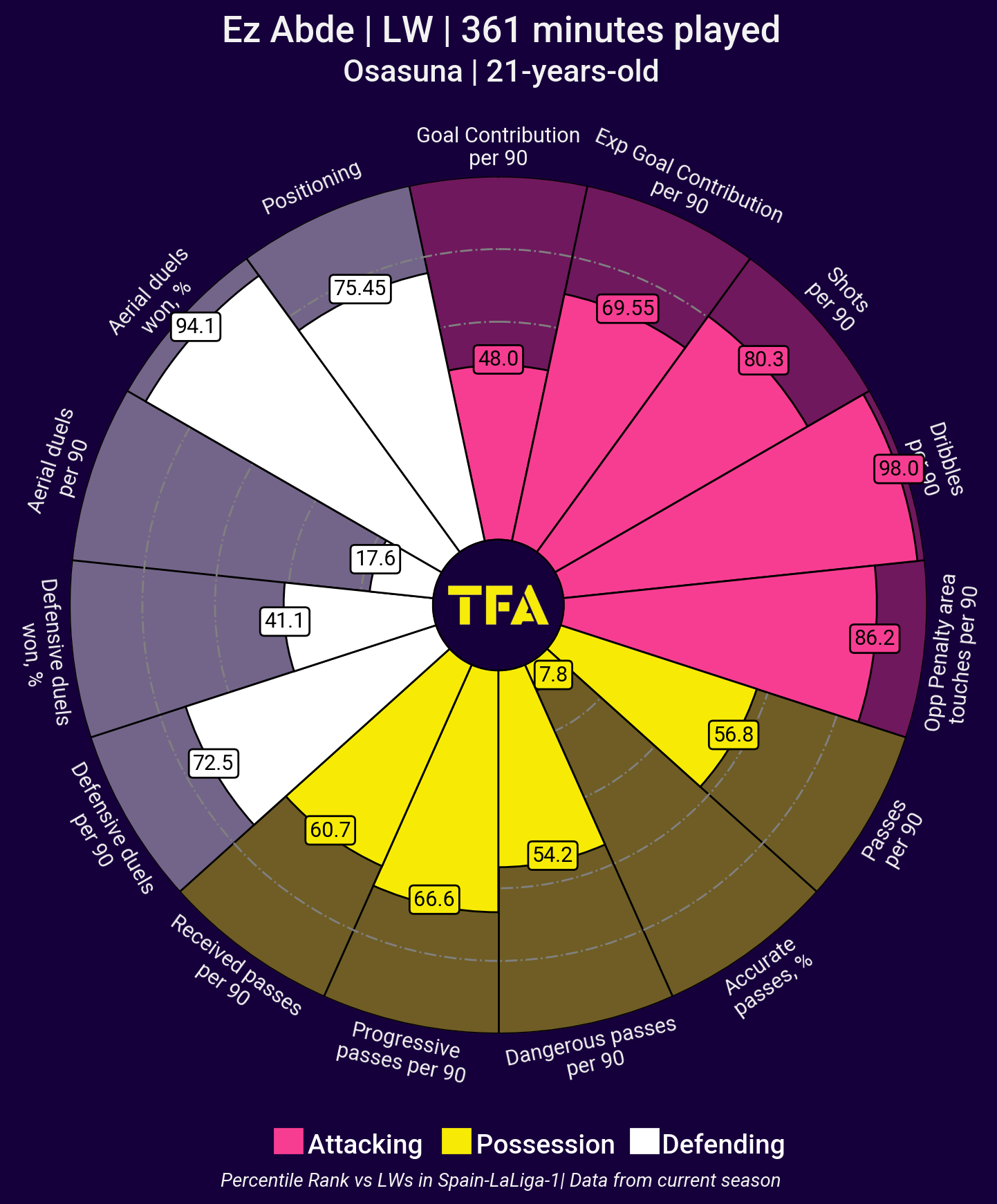 The above visual shows Abde Ezzalzouli's percentile rank compared to other left-wingers in La Liga. He has good stats in attack and does well in duels as well. One of the most natural defenders of his age, Abde is ranked in the top 98 percentile for dribbles per 90 minutes. He is also ranked in the top 80 percentile for shots per game and the top 86.2 percentile for touches in the opponent's penalty half. He has decent stats for passing and is ranked above average. Another area where Abde has done well is duels. He is ranked in the top 94.1 percentile for aerial duels won.
Lack of goals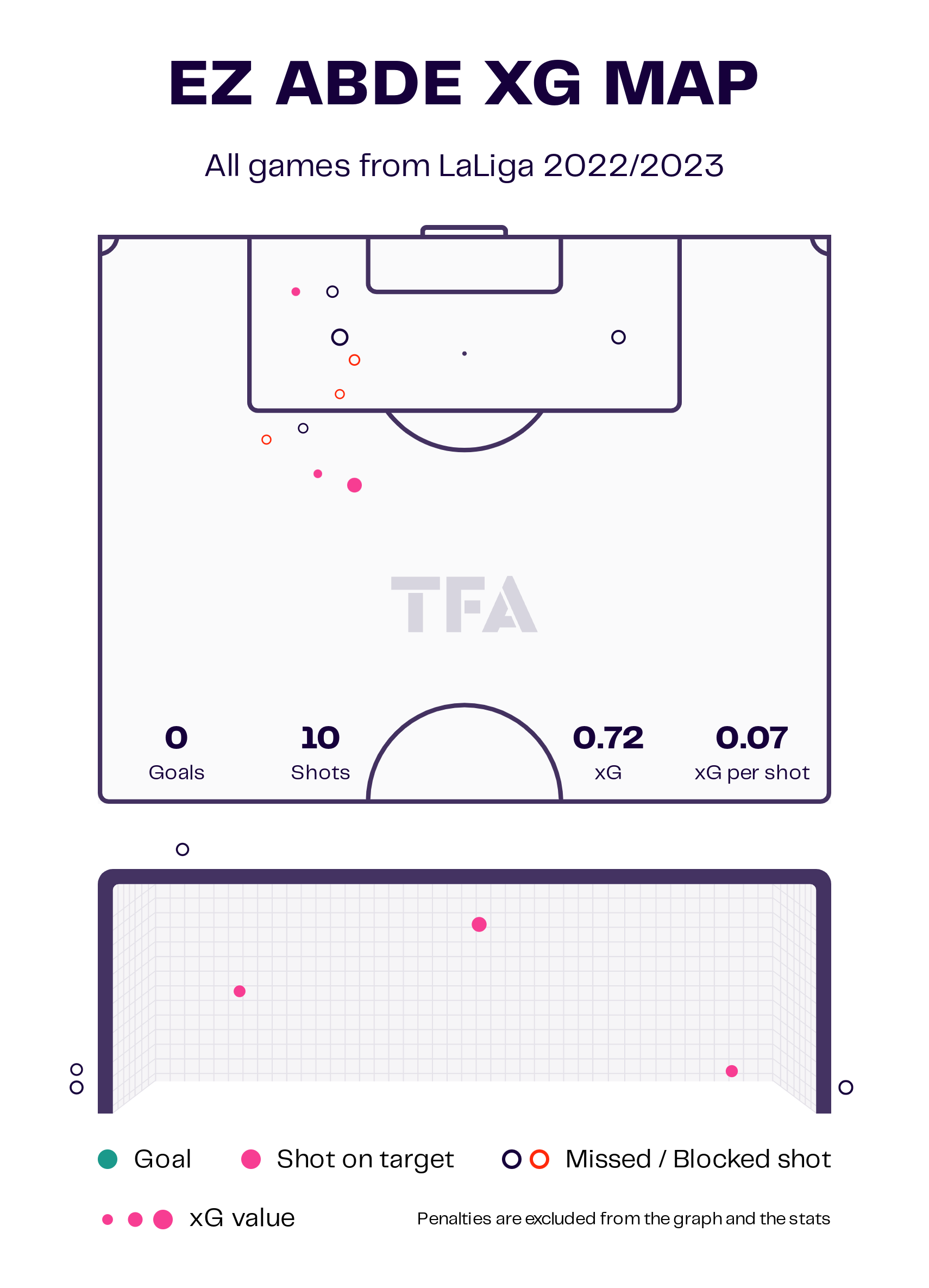 One of the areas where Abde Ezzalzouli has struggled is finding the back of the net. He has tried ten shots this season, of which three were on target. Abde has an average of 2.15 shots per game, with 30% on target. As someone who cuts in from the left wing, Abde tries most of his shots from the edge of the penalty box and therefore has a low value for xG. He also has an average of 3.66 touches in the penalty box per game.
Dribbling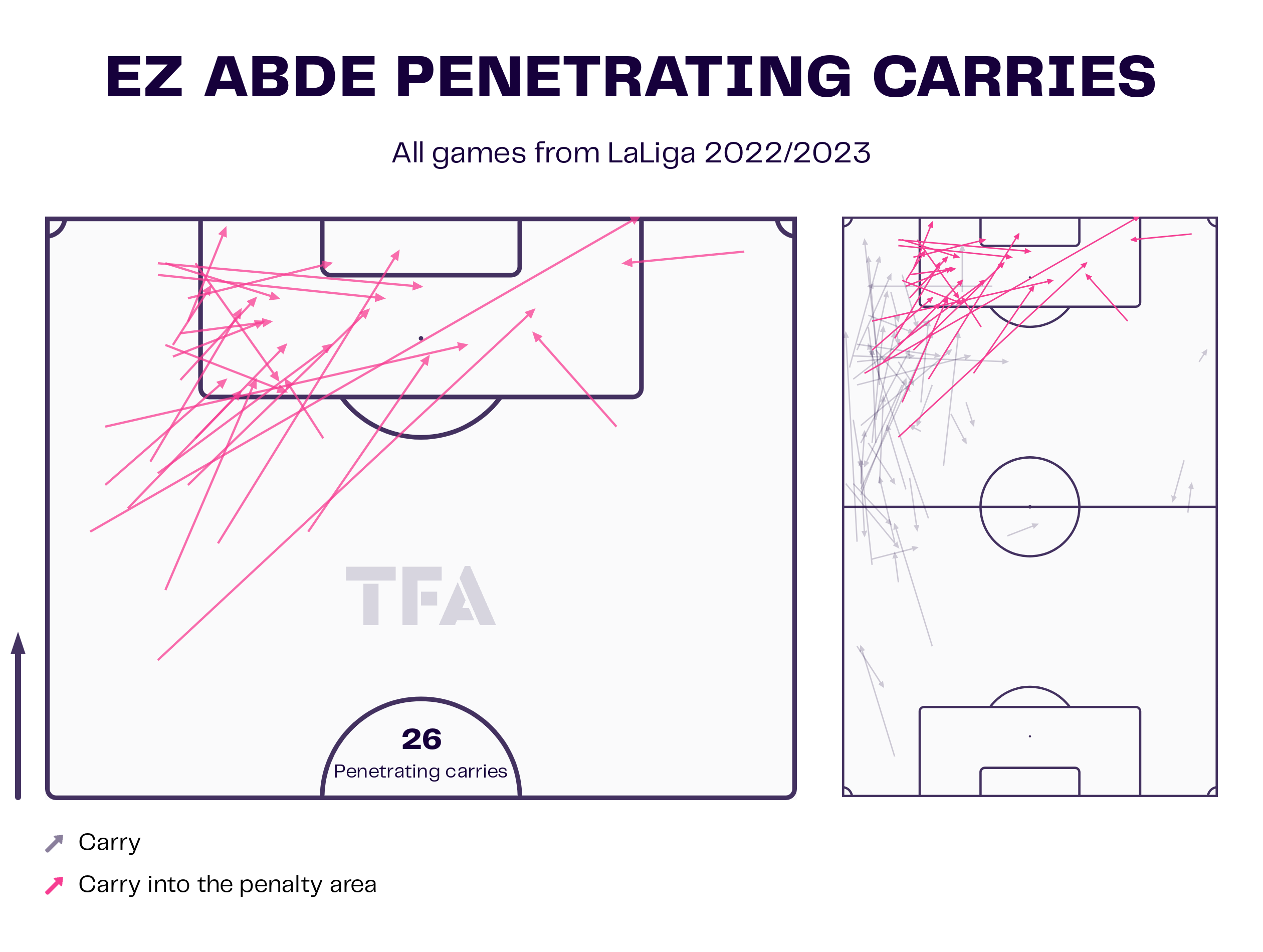 Dribbling is undoubtedly one of Abde's best qualities. He is fast, has good ball control, and is not shy about taking players on 1v1. The above visual shows the penetrating carries made by Ez Abde this season. With an average of 9.9 dribbles per game and a success rate of 71.7%, Abde has added pace to the game whenever he has played. Apart from the dribbles, Abde also makes around 5.81 progressive runs per game.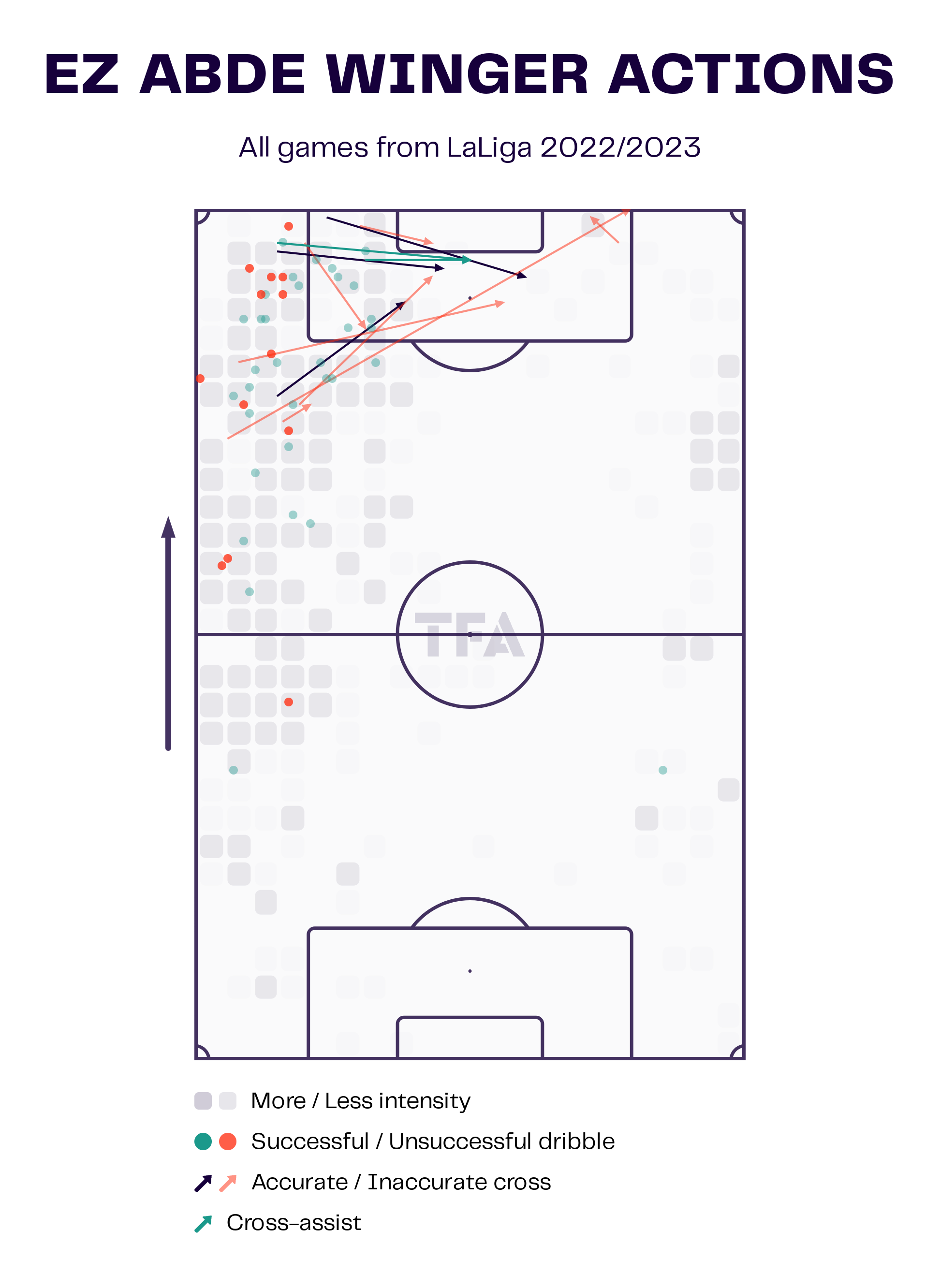 The above visual shows Abde's actions as a winger. He is a dynamic presence in the final third for Osasuna and takes on players with ease. Abde makes around 23 offensive duels per game, winning 43.9% of them. After taking on a player successfully, Abde is capable of either cutting into the box or whipping crosses into the box. He plays around 3.88 crosses per game with a success rate of 27.8%.
Last season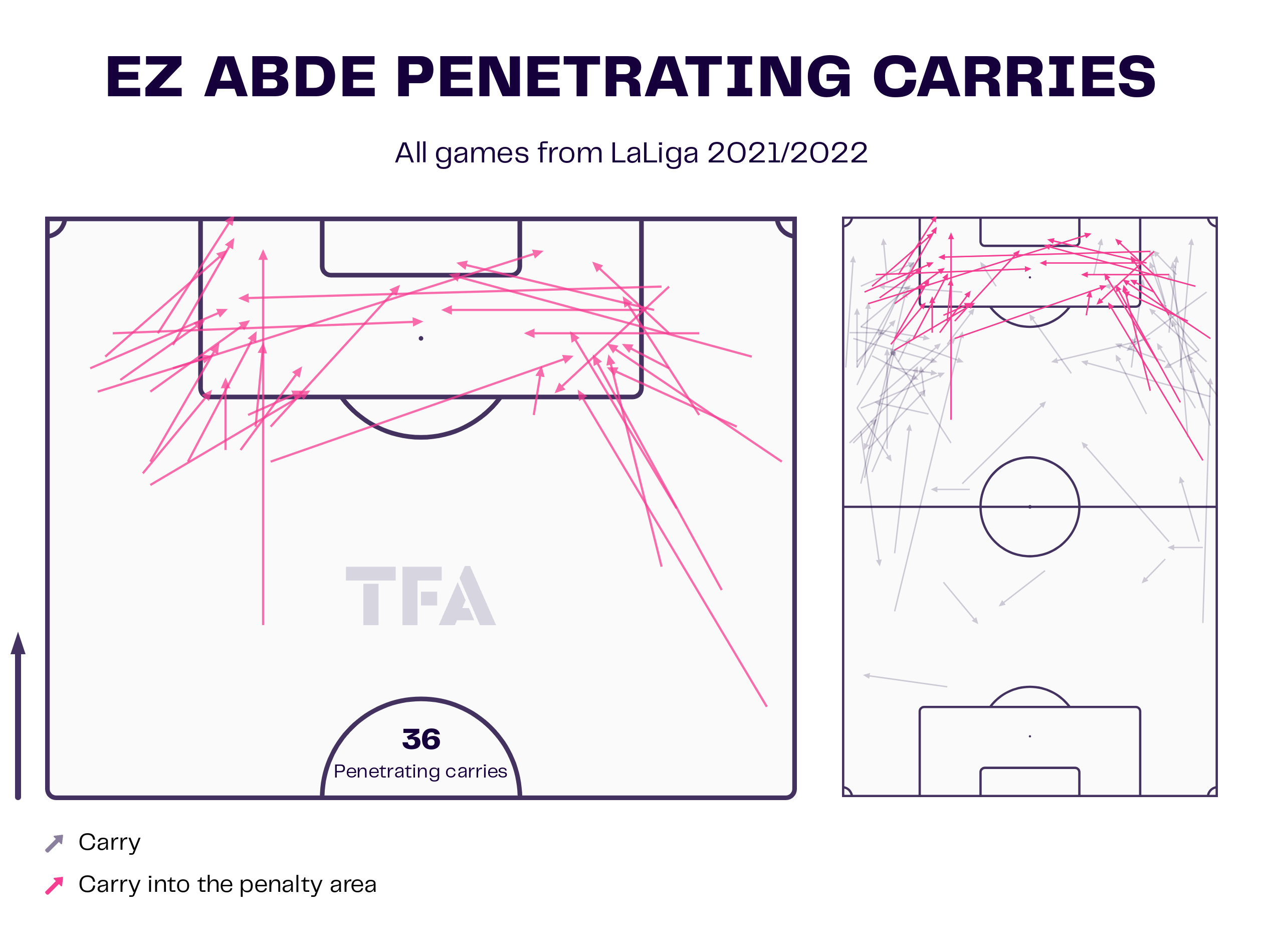 The above visual shows the penetrating carries made by Ez Abde in the previous season. Last season, he became a regular face in the Barcelona lineup towards the end of the season. Abde made around 13.27 dribbles per game last season with a success rate of 52.2%. He also made around 7.36 progressive runs per game. These figures have come down this season.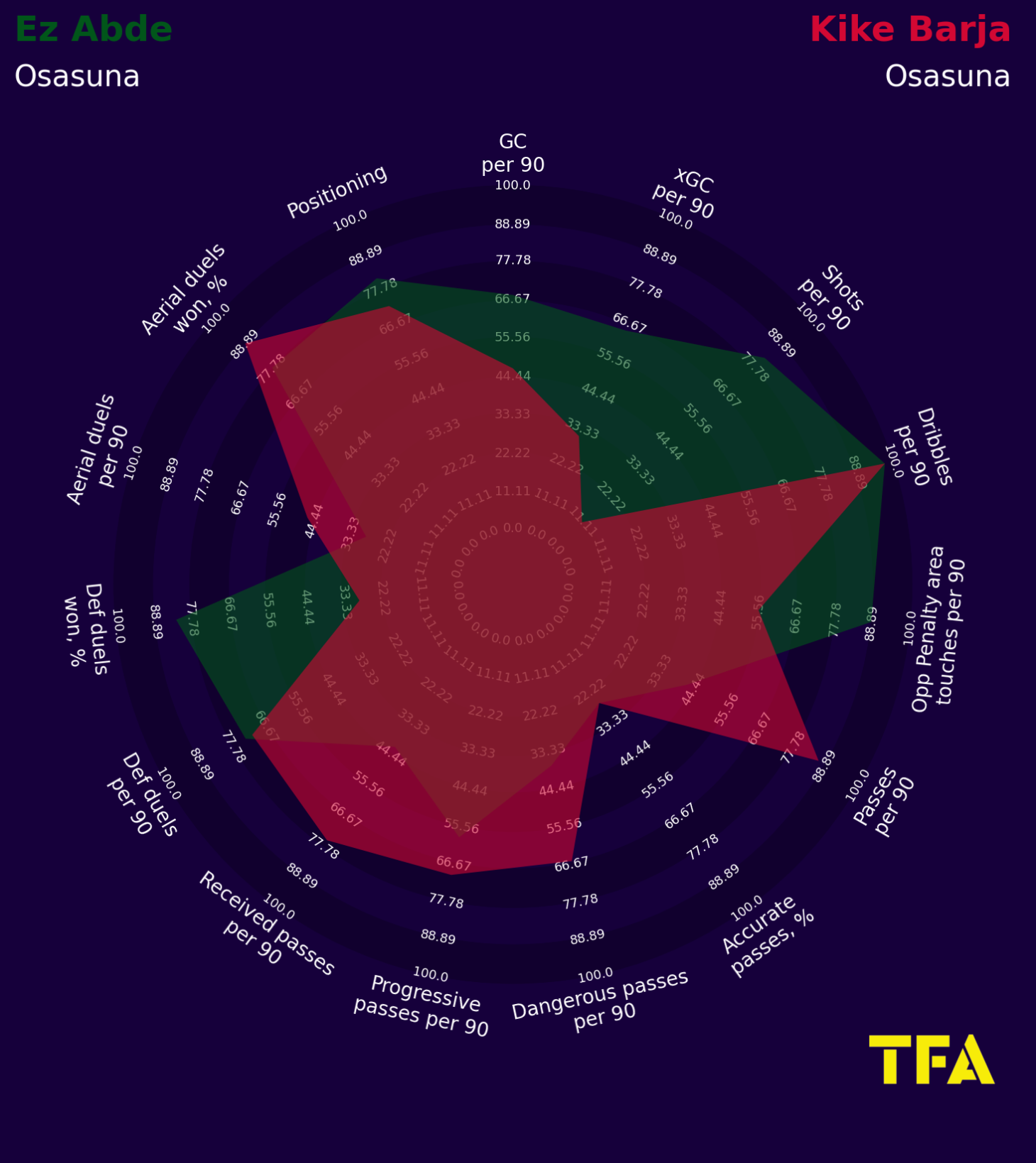 The above visual compares the radars of Abde Ezzalzouli and his teammate Kike Barja. He has played on the left wing, usually in place of Abde. Abde has better stats than Barja in shots, dribbles, goal contributions, and defensive duels. On the other hand, Barja leads the team in passing and aerial duels. Barja has played eight matches this season, starting three.
Betting Analysis
Even though Abde's stats have dipped a bit from last season, he continues to be a threat on the left flank. Therefore, the odds are supposed to go up for Osasuna in the 1×2 market. Meanwhile, the over lines are expected to flourish with him on the side.
Abde Ezzalzouli is one of the brightest talents in Spain, playing in the wings. His explosive dribbling and ability to take on players make him a unique threat and a brilliant attacking option. But he has not been a regular starter in the lineup. His stats and performance suggest that he deserves more game time at Osasuna.
Visuals via TFA data viz engine