Real Sociedad are having one of the best seasons in La Liga, as they are placed third with 38 points from 18 matches. One of the players who has played a big role in their success is striker Alexander Sorloth. The 27-year-old Norwegian forward is La Real's top scorer with eight goals and one assist to his name. His goal contributions have helped Real Sociedad enjoy an unbeaten streak of nine matches. They have been brilliant this season, and a lot of the credit goes to him for his contributions in front of the goal. Therefore, we look at his stats to understand how Alexander Sorloth is propelling Real Sociedad forward this season.
Season so far
Alexander Sorloth has played in 14 matches in La Liga this season and has started in all of them. He has scored eight goals in La Liga and has a total of 12 goals in all competitions.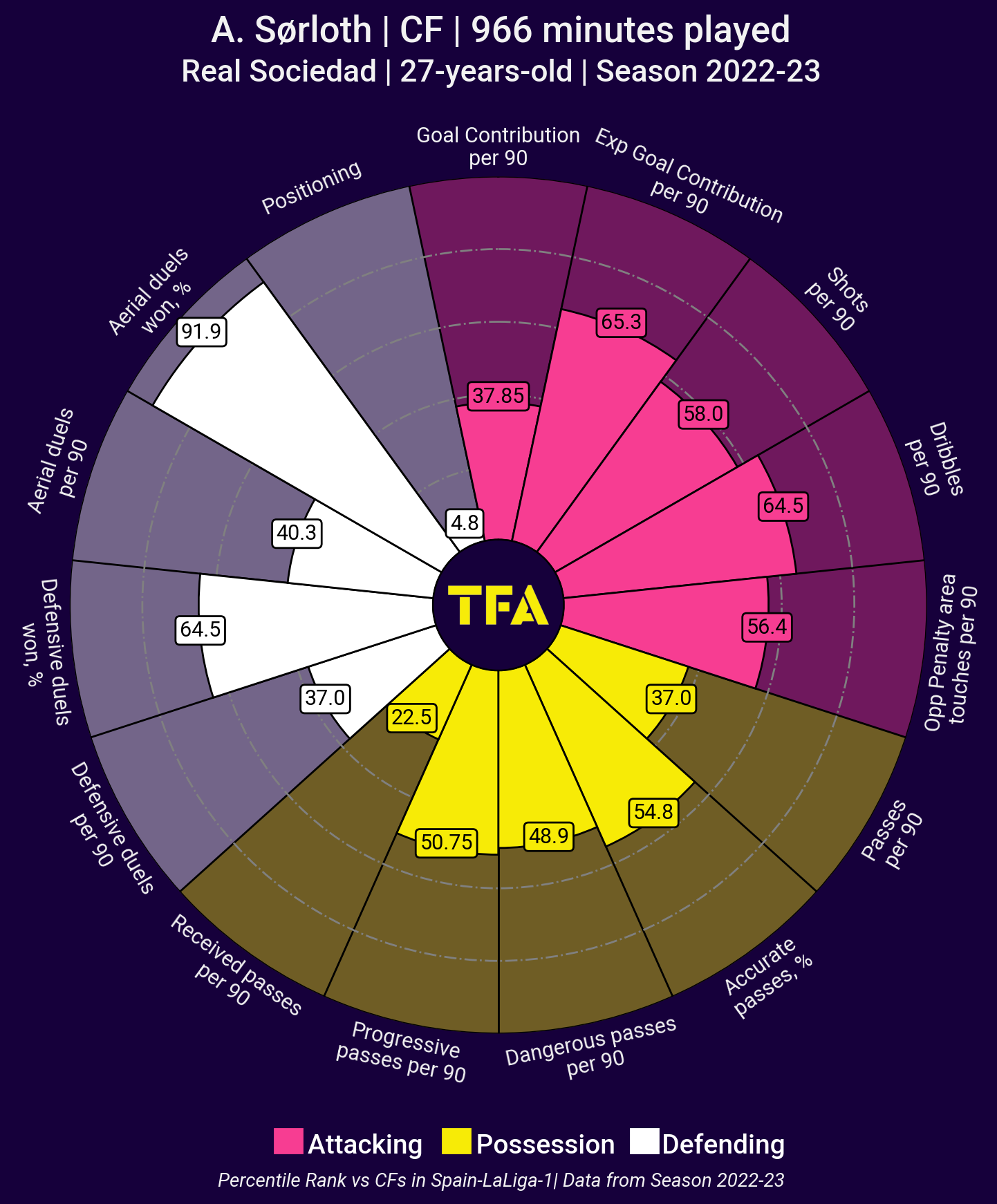 The visual above shows Alexander Sorloth's percentile rank compared to other players in La Liga. He has decent stats in almost all the metrics. Sorloth is ranked in the top 58 percentile for shots per game and the top 64.5 percentile for dribbles per game. Another area he has done well in is aerial duels. Standing tall at 1.95 meters, the striker wins a lot of aerial duels and is ranked very high for the same. Apart from this, he has ranked above average for passing stats as well.
Positioning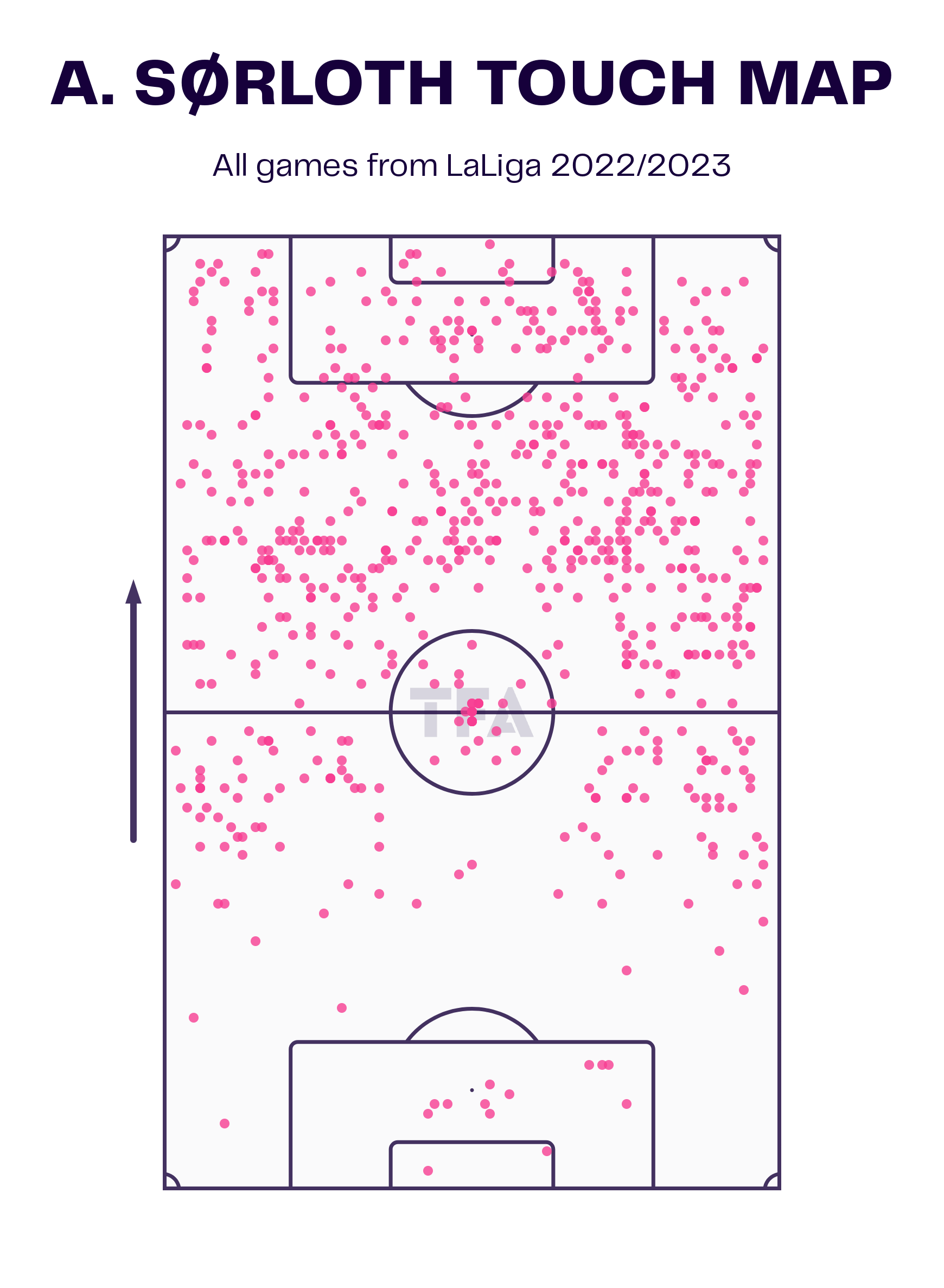 The visual above shows Alexander Sorloth's touch map from the current season. He has received the majority of his touches in central positions while playing as a centre forward. But he has also run into the free space whenever possible. Sorloth poses a danger in front of the goal and has averaged 3.24 touches in the penalty area per game. His dominance in the air makes him a threat through crosses, and he has been the focal point of Real Sociedad's attacks.
Dribbling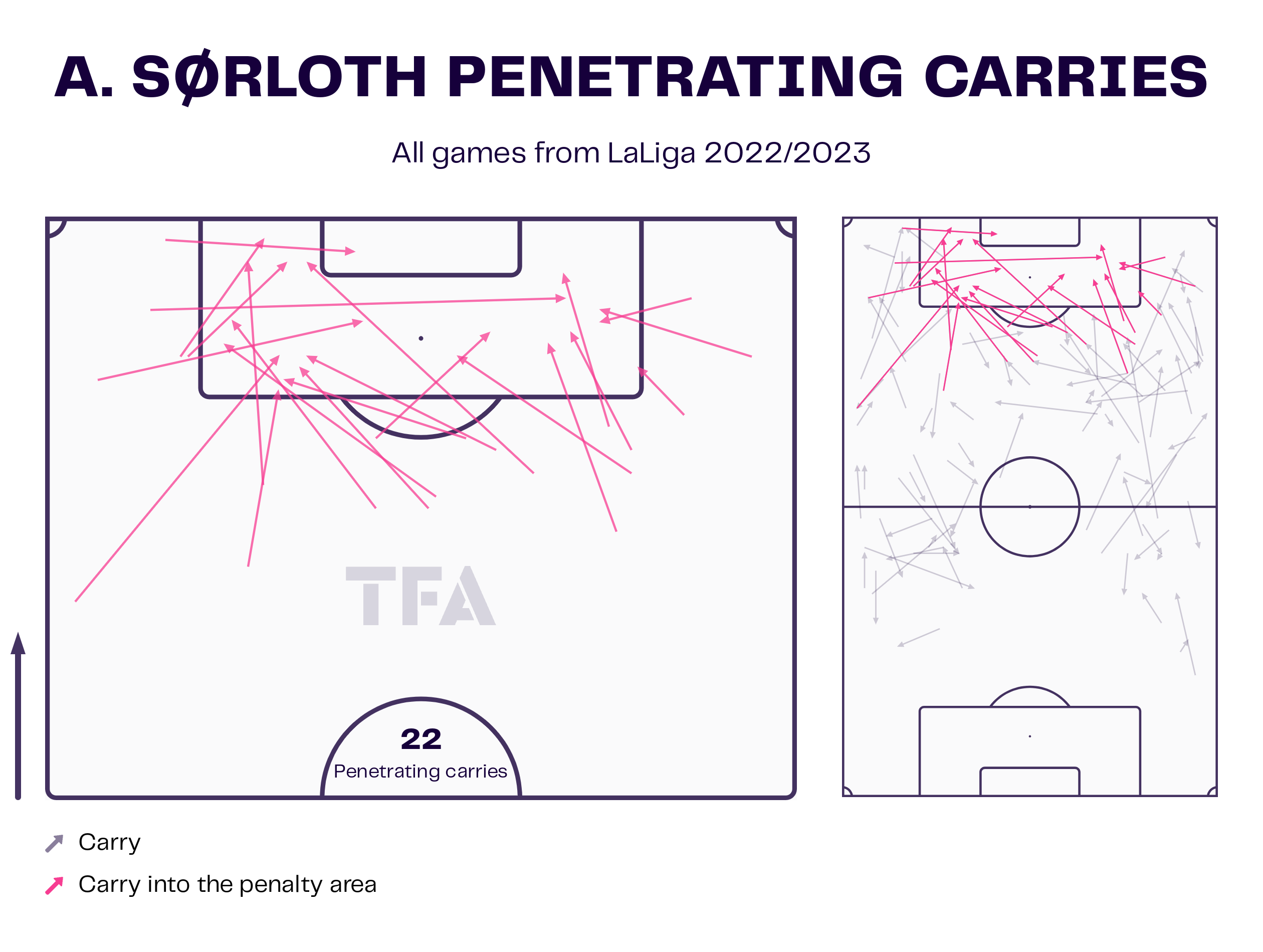 The visual above shows Alexander Sorloth's penetrating carries from the current season. With an average of 3.16 dribbles per game, he has made 22 penetrating carries this season. We can observe from the visual that he tries to dribble into the penalty box whenever he gets the opportunity. Apart from the dribbles, Sorloth also makes around 1.6 progressive runs per game. These runs are met and create danger because Real Sociedad has some good passers on their team.
Goalscoring
The above visual shows Alexander Sorloth's xG map from this season. He has scored eight goals in La Liga and is their top scorer in the league. He has taken a total of 29 shots this season with an average of 2.23 shots per game. Sorloth has a shooting accuracy of 62.1% this season. Out of the 29 shots, 18 were on target. He has easily gone past his expected goal metric and has helped Real Sociedad maintain a good run of form.
Last season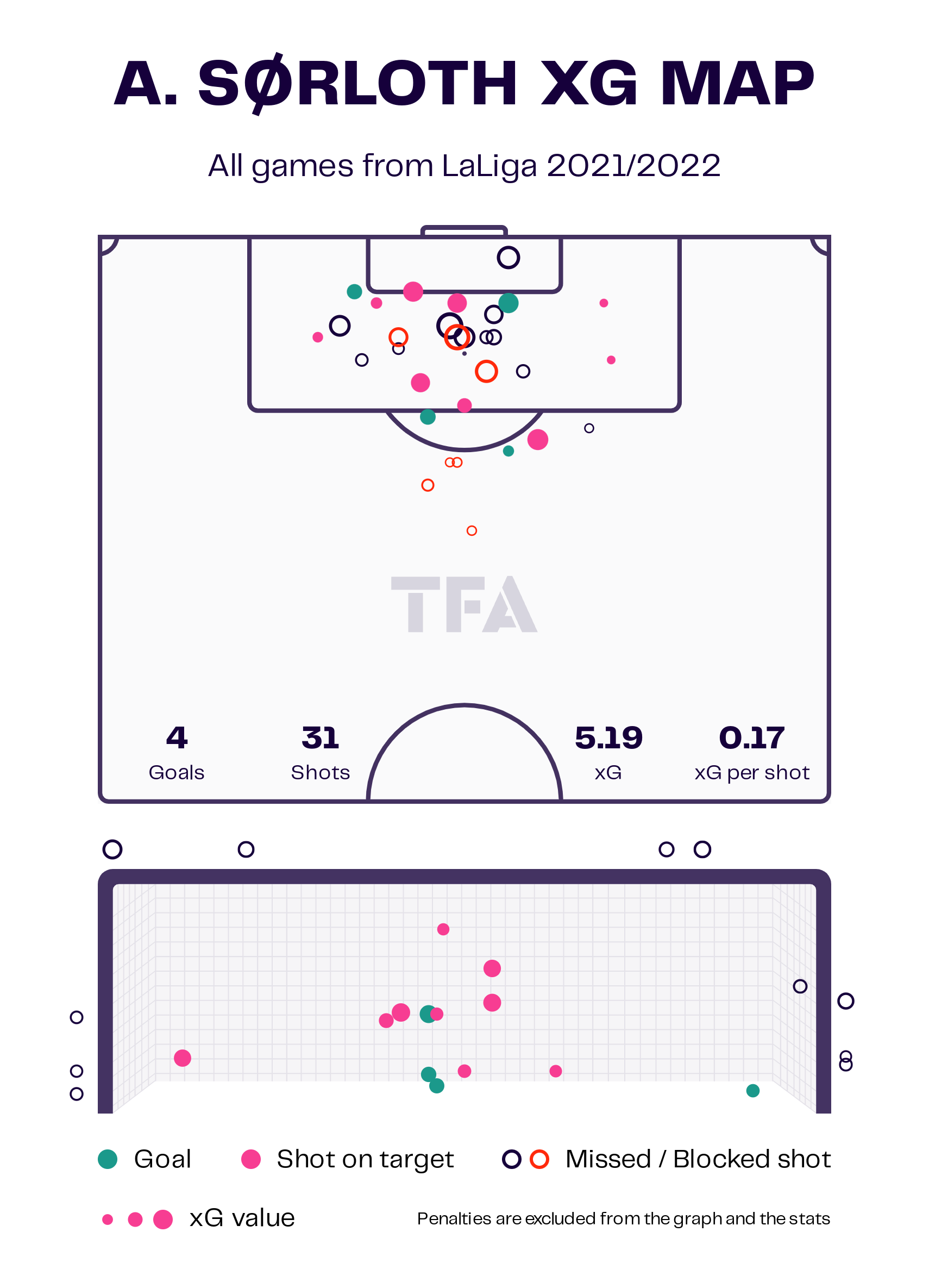 Last season, Alexander Sorloth scored four goals in La Liga. He has already doubled his goal tally and taken almost the same number of shots as he did last season. His stats for shots per game have increased this season, going up from last season's 1.46 shots per game. His shooting accuracy has also risen from 41.9% last season to 62.1% this season. Sorloth getting into form has proved to be phenomenal for Real Sociedad.
One of the best strikers in La Liga?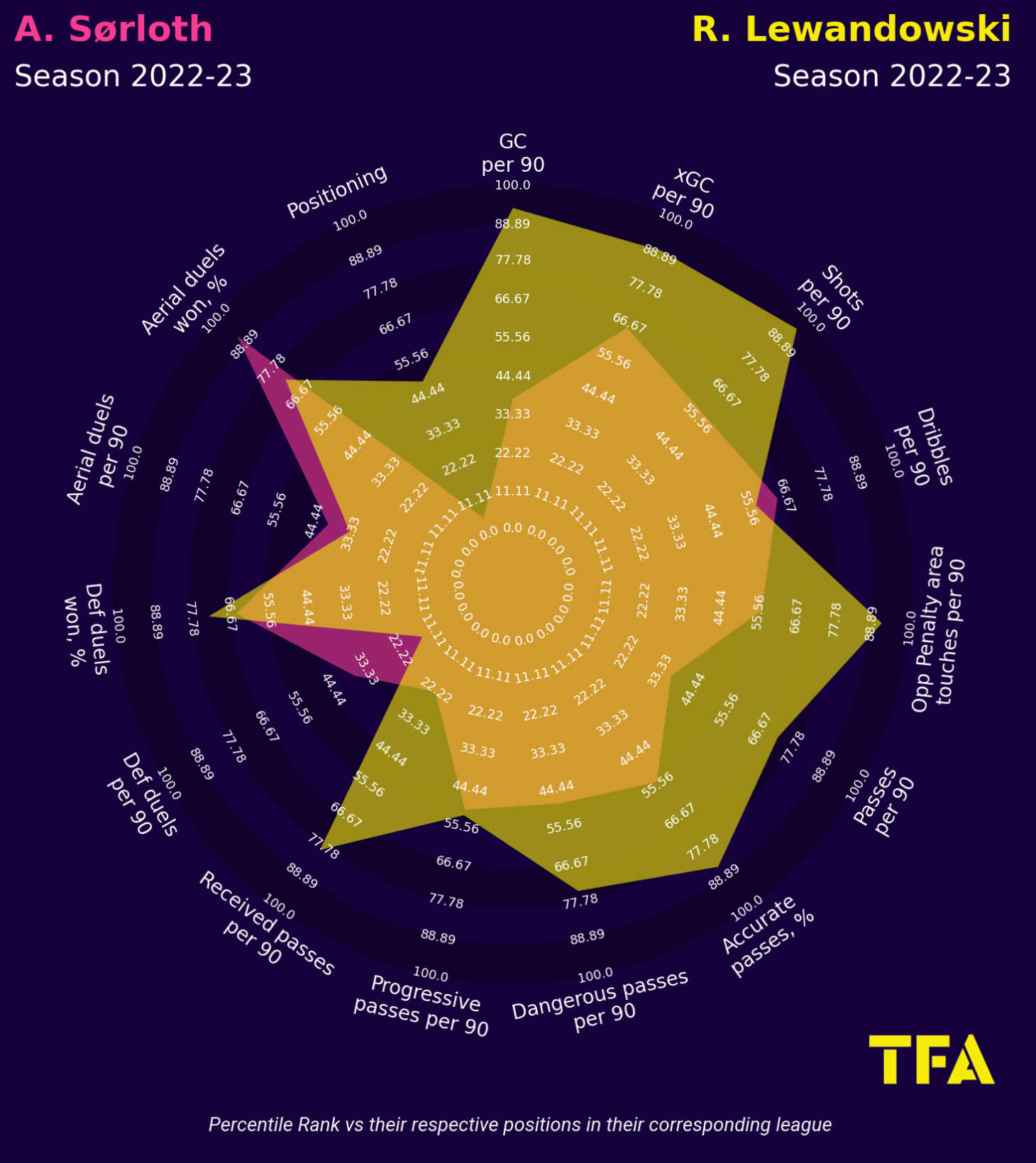 The visual above compares the radars of Alexander Sorloth and La Liga top scorer Robert Lewandowski. The latter is a seasoned player who holds numerous records and currently leads the list with 13 goals. Sorloth is not far behind as he has scored eight goals. Statistically, Alexander Sorloth has done better in aerial duels and dribbles per game, whereas the Polish striker leads the stats in all other metrics. The duo will face each other in the Copa Del Rey quarterfinal, and both will have crucial roles to play.
Betting Analysis
Looking at the 1×2 market, Sorloth's presence is likely to decrease Real Sociedad's odds. Meanwhile, in the over/under lines market, overlines are expected to flourish, considering he has scored in the last five matches in La Liga.
Alexander Sorloth's form this season has been a huge boost for Real Sociedad, as they are enjoying an unbeaten streak of nine matches. They are currently placed third in La Liga, and Sorloth is fourth on the list of top scorers in La Liga. He will be hoping to pull off similar performances for the rest of the season too.
Visuals via TFA data viz engine