Barcelona signed many players in their effort to revive their club back to its glory days. One of the signings that have not been talked about enough is Andreas Christensen. The 26-year-old signed for Barcelona in the summer from Chelsea and has been their saviour on many occasions. The Danish centre-back has been solid at the back and has kept the opposition attacks out single-handedly when his fellow defenders were injured. But his name has slightly gone under the radar when people discuss Barcelona's current form. Therefore, we look at his stats to understand why Andreas Christensen deserves more appreciation for his first season at Barcelona.
Season so far
Andreas Christensen has made eight appearances in La Liga this season, starting seven and coming off the bench in one. He missed some matches due to injury but came back and produced some good defensive displays.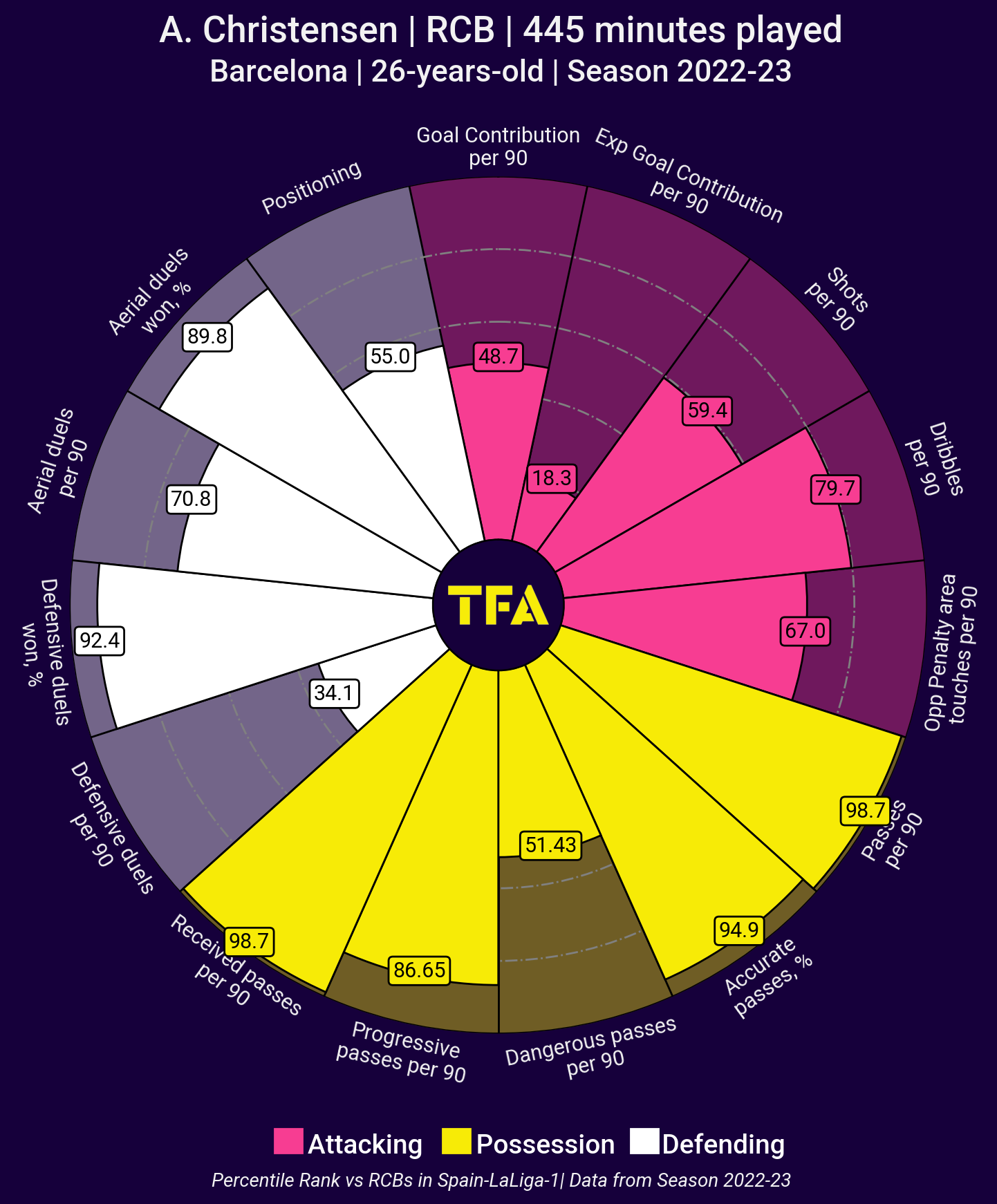 The above visualisation shows Andreas Christensen's percentile rank compared to other right-centre backs in La Liga. He has excellent stats defensively and has done well in other areas as well. Christensen is ranked in the top 92.4 percentile for defensive duels per game and the top 89.8 percentile for aerial duels per game. His defensive performance this season has been good. The 26-year-old has good stats in passing as well. He is ranked very highly for accurate passes, passes per game, and passes received. Christensen has contributed to the attack and has one assist to his name in La Liga as well.
Defensive discipline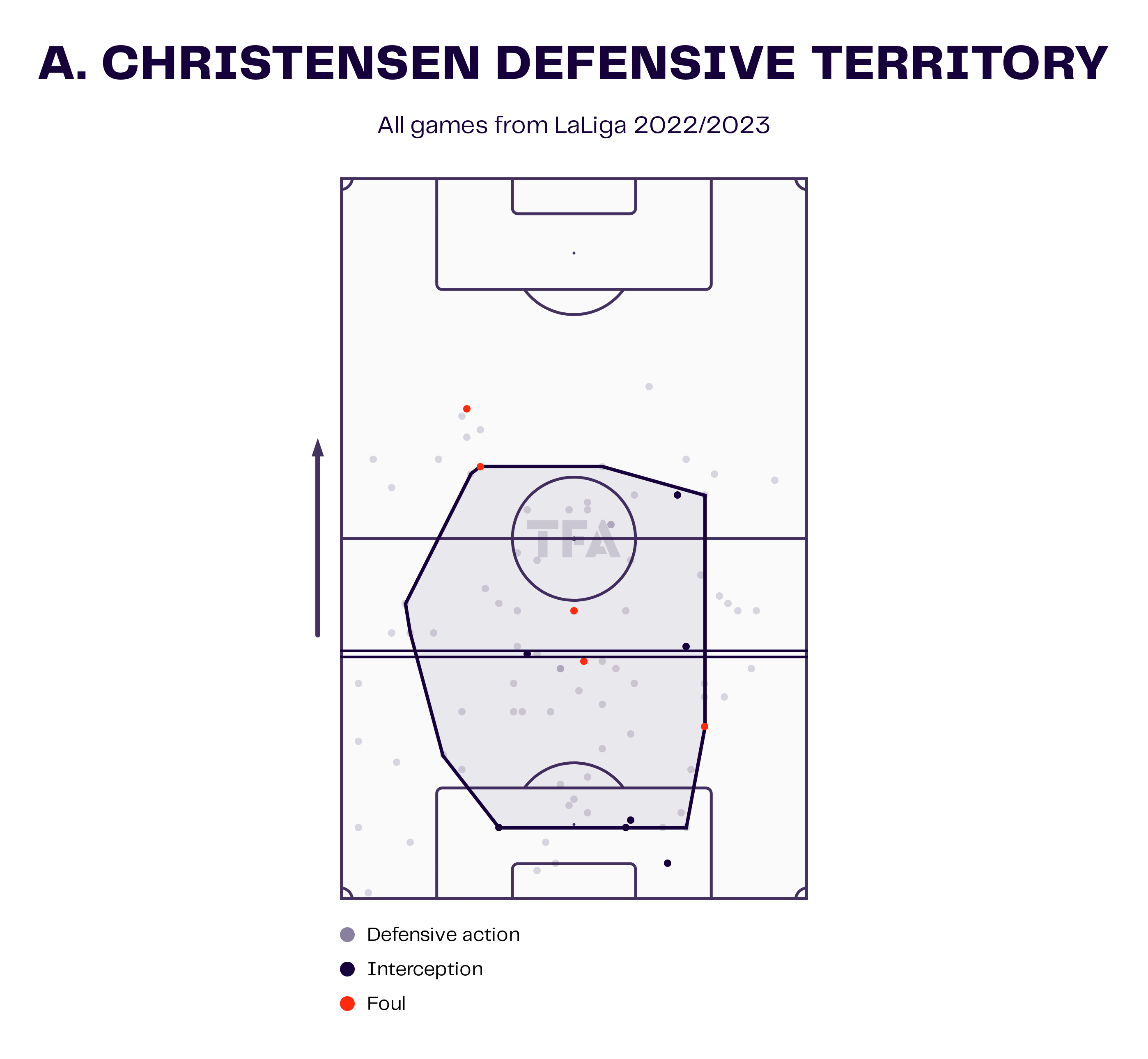 The above visual shows Andreas Christensen's defensive territory from the current La Liga season. He has contested an average of 4.27 defensive duels per game with a 71.4% success rate and an average of 4.12 aerial duels per game with a 74.1% success rate. The 26-year-old has guarded the backline well with the likes of Ronald Araujo and Jules Kounde and has played a big role in Barcelona's defensive discipline this season. Christensen also makes an average of 3.2 interceptions per game. He has improved under Xavi and will be crucial to their success this season.
Positioning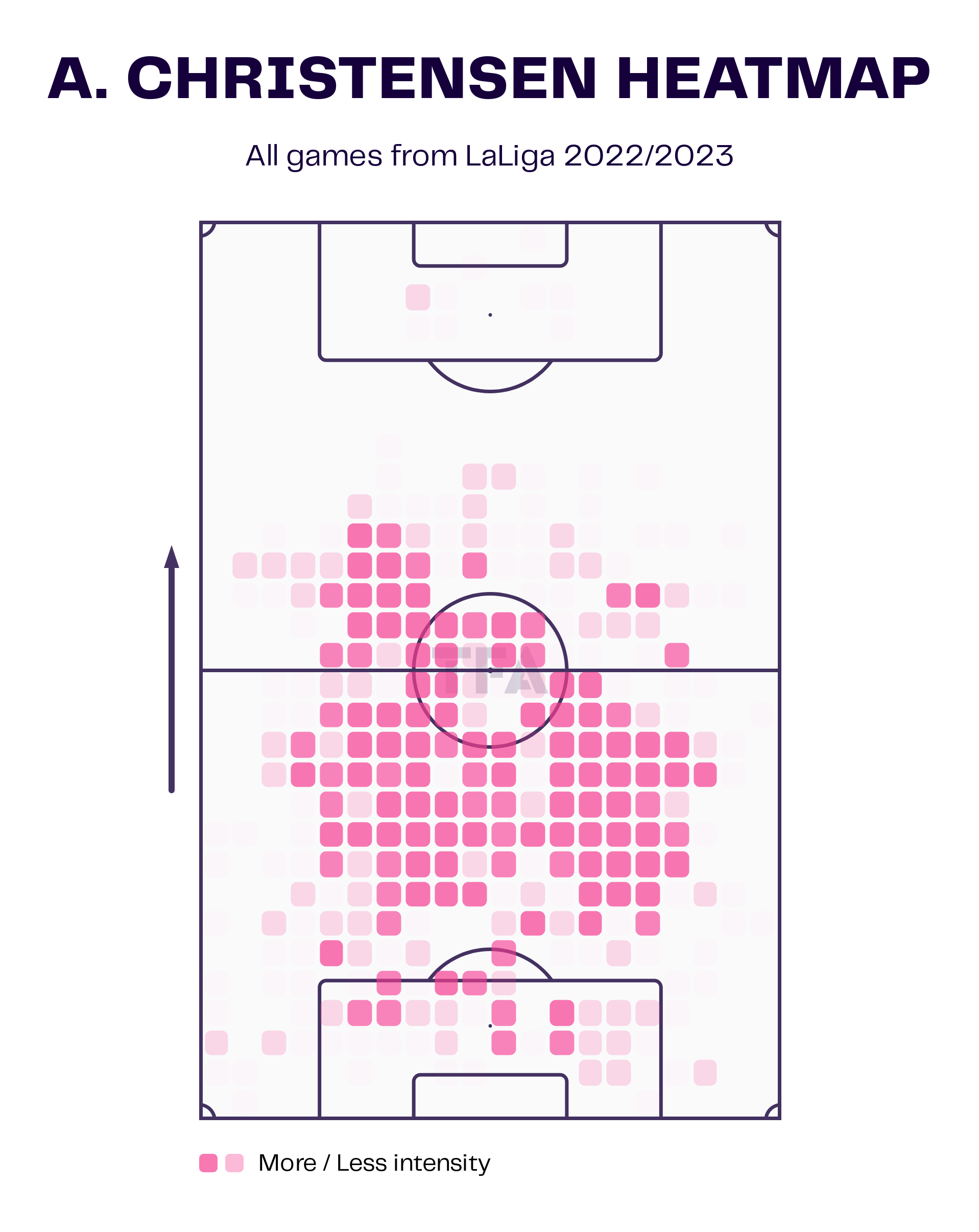 The above visual shows Andreas Christensen's heat map from the current season. He has mostly played as a centre-back and has mainly stayed central in the backline. Since Barcelona presses high, the central defenders usually tend to take up a higher position than usual. Therefore, he has stayed a lot around the halfway line as well. This high positioning helps him recover possession in the other half, as he makes around 2.5 recoveries in the attacking half per game.
Passing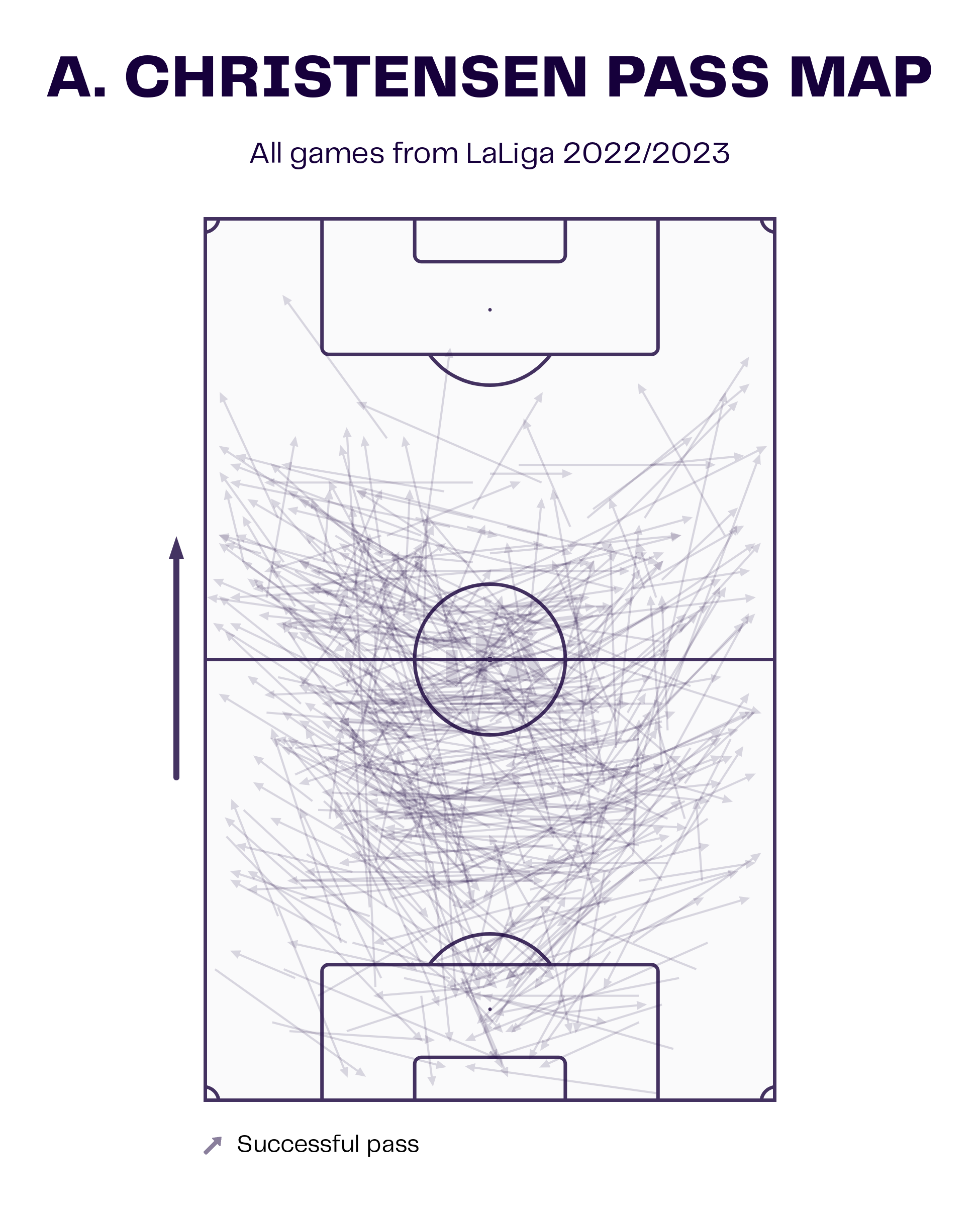 Andreas Christensen is a neat passer of the ball and makes an average of 78 passes per game with an accuracy of 95%. We can observe from the above visual that he plays passes to all parts of the field. He can change up the play with some long passes and averages 3.05 long passes per game. Christensen also gets forward and makes around 7.47 passes into the final third per game with 81.6% success. He also has a 100% success rate for all the passes he has played into the penalty box.
Last season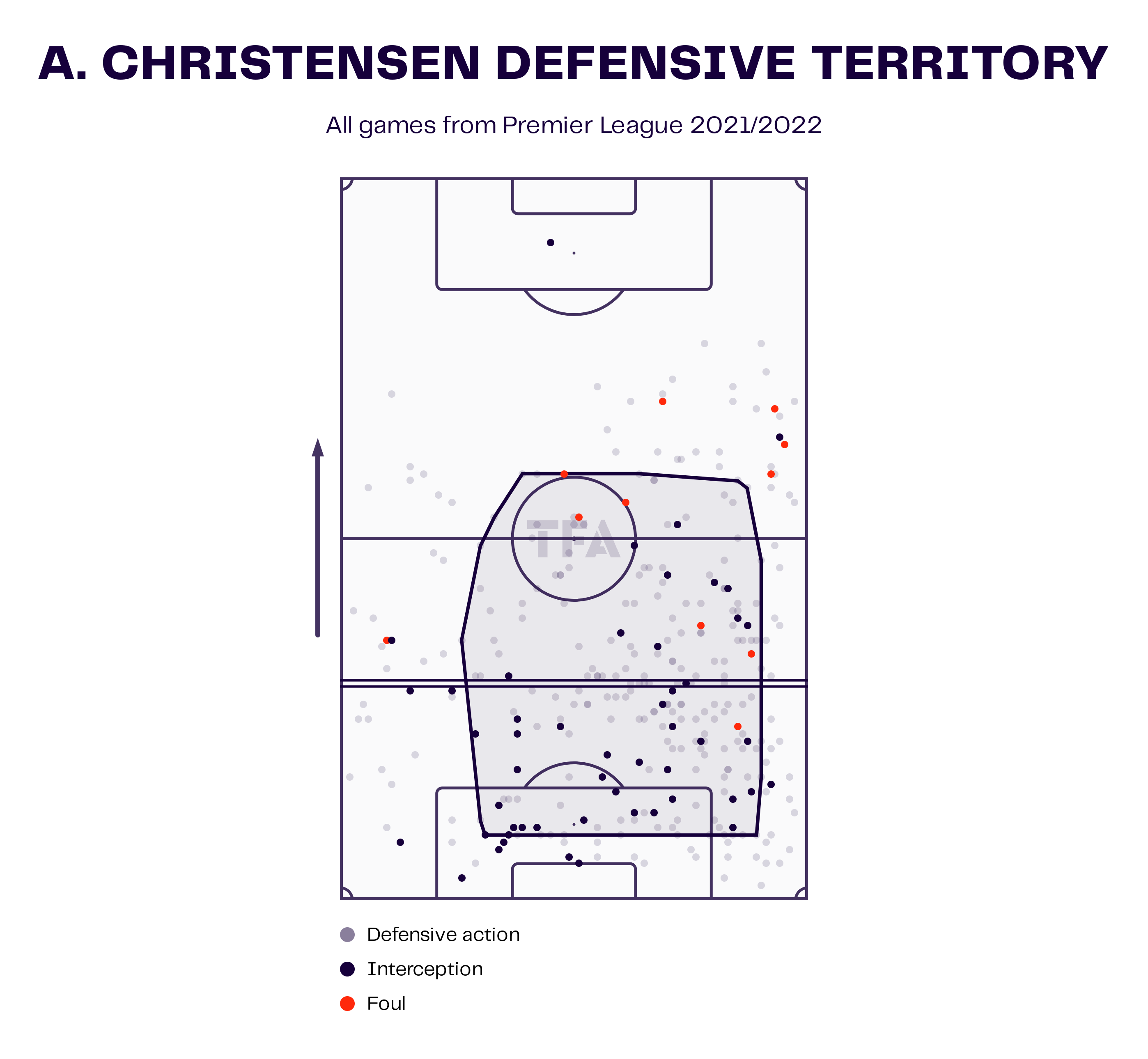 Last season, Andreas Christensen was at Chelsea under Thomas Tuchel. He was an important part of the Champions League-winning Chelsea team in the 2020–21 season. Last season, he made an average of 4.94 defensive duels per game and an average of 4.83 aerial duels per game. These figures have fallen a bit, but his recent performances have shown that he is well capable of taking those numbers up. The average number of interceptions per game has also seen a dip from last year's 4.67 interceptions per game.
Two of the best signings of the season?
Barcelona signed both Andreas Christensen and Joules Kounde in the summer to end their defensive worries. The duo has, to an extent, managed to cover all the defensive problems. Add Ronald Araujo to this backline, and they form an intimidating backline. We can observe from the visual above that Christensen has done better than his teammate defensively and has better stats in all defensive metrics. He also leads in passing accuracy, dribbles, and passes received. Joules Kounde, who has had to play often as a right-back too, has better attacking stats and lead touches in the opposition penalty area, shots, goal contributions, and dangerous passes per game.
Betting Analysis
Looking at the 1×2 market, Andreas Christensen's presence in the backline has increased Barcelona's odds in the market, whereas the underlines are more likely to flourish thanks to his defensive discipline.
Signing Andreas Christensen for free has proven to be one of the best decisions Barcelona has made in recent years, as he has produced brilliant performances at the backline. He will continue to have a big role as the season gets into its most interesting phase. Therefore, we can say without a shadow of a doubt that Christensen deserves much more credit and appreciation for his performances for Barcelona.
Visuals via TFA data viz engine