Villarreal have produced many talented young players in the recent past. One of the best talents they have is the 25-year-old forward Arnaut Danjuma. The Dutch International was on the radar of many English clubs, and for good reason. The 25-year-old has had two good seasons with Villarreal after arriving from Bournemouth. Last season, he racked up a total of 16 goals in all competitions. He has scored six goals this season already, including two in La Liga, and is looking in good touch as well. As per the latest reports, the dashing forward has agreed to sign for Tottenham Hotspur. Therefore, we take a look at his stats to understand why some Premier League clubs were behind the 25-year-old forward.
Season so far
Arnaut Danjuma has made ten appearances this season, starting six of them and coming off the bench in four of them. However, he has not been able to produce numbers like last year.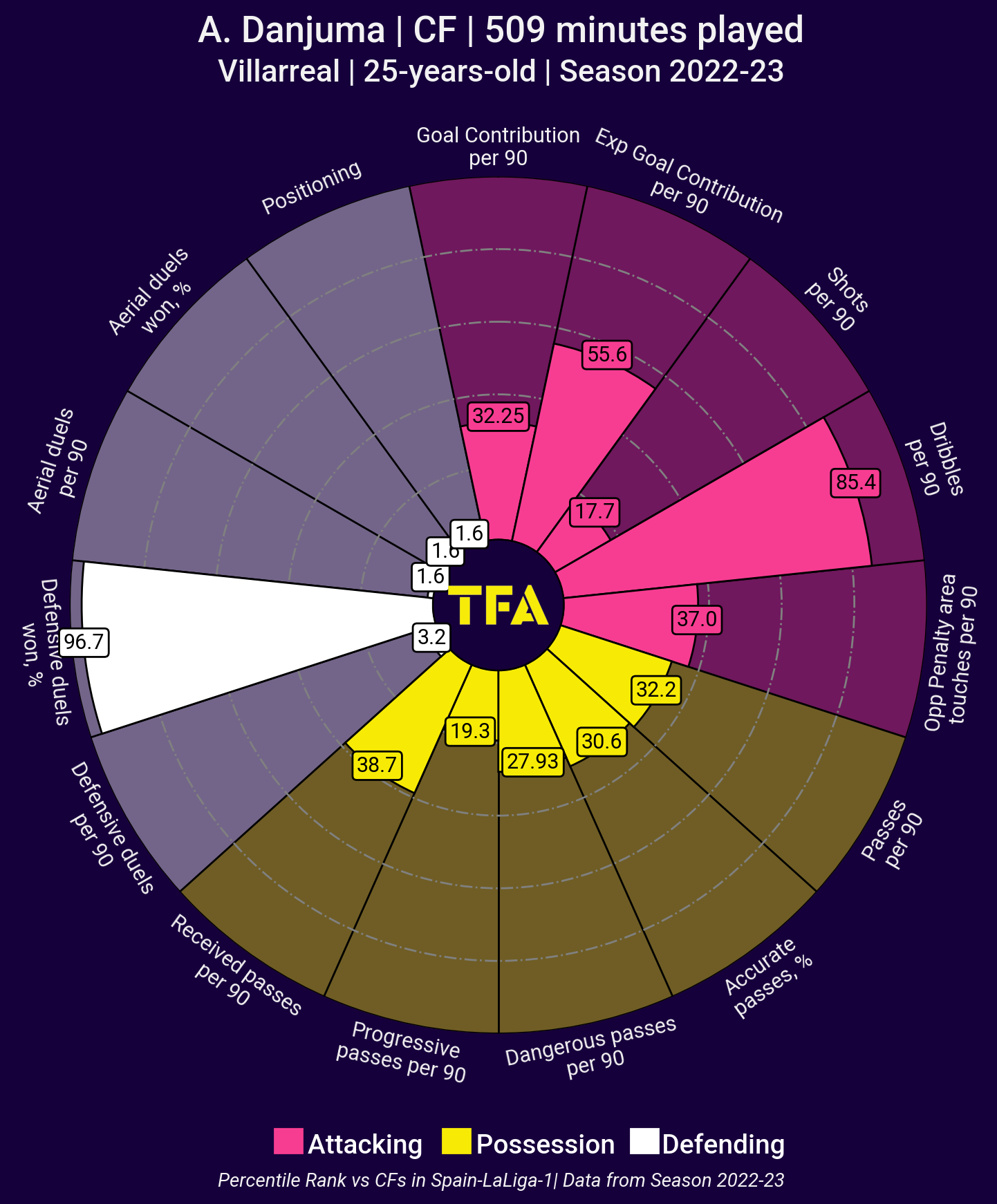 The visual above shows Arnaut Danjuma's percentile rank compared to other centre-forwards in La Liga. He has good stats in some metrics, while his stats have come down a bit in some others. He is ranked in the top 85.4% percentile for dribbles per game. Danjuma is also ranked in the top 55.6 percentile for expected goal contributions per game. Another area he has done well is aerial duels won where he is ranked in the top 96.7 percentile. His stats for almost all other metrics are below average.
On the wing
The visual above shows Arnaut Danjuma's actions as a winger. He can play either as a centre-forward or as a winger. When he plays as a winger, he doesn't hesitate to take on players or to play crosses into the box. This season, Danjuma has taken part in an average of 9.19 offensive duels per game with 45.3% success. He also plays around 1.56 crosses per game with a 33.3% success rate.
Goalscoring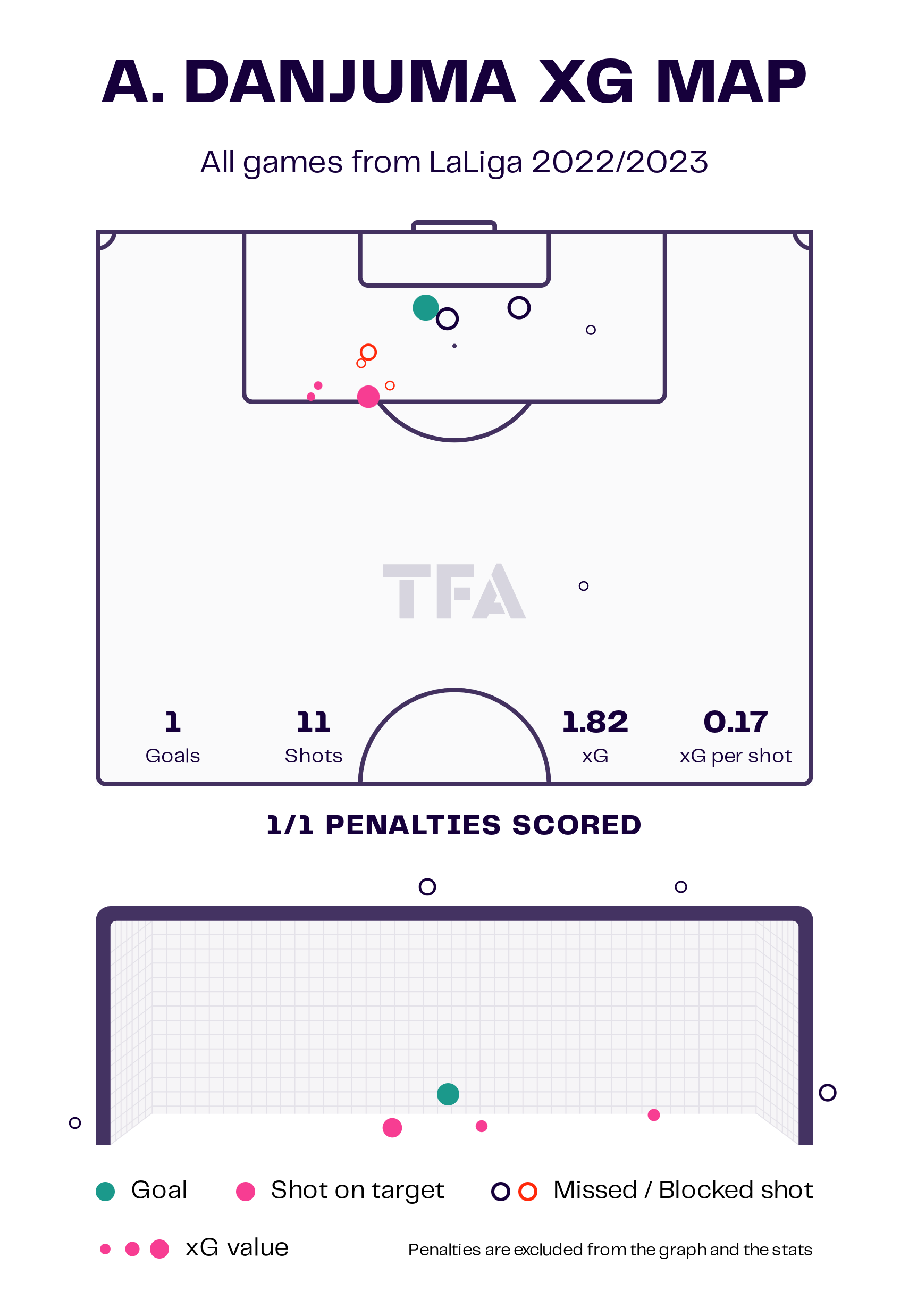 Arnaut Danjuma has only scored two goals in La Liga this season, one from open play and one from the penalty spot. He has taken 11 shots, for an average of 2.08 shots per game. Out of the 11 shots, only four were on target. His shooting stats have taken a dip from last season. Last season, Danjuma scored ten goals in La Liga with an average of 3.3 shots per game. His shooting accuracy has also declined from 46.6% last year to 41.7% this year.
Dribbling
The two visuals above show the penetrating carries made by Arnaut Danjuma from the current season and the previous season. Last season, he had a total of 82 penetrating carries with an average of 6.93 dribbles per game. He made 53.3% of the dribbles he attempted last season. But this season, his stats have come down. With an average of 4.86 dribbles per game, he has only made 13 penetrating carries. The average number of progressive runs made per game has also dipped significantly from 3.58 runs per game to a mere 0.87 runs per game this season.
The visual above compares the radars of Arnaut Danjuma and his teammate Gerard Moreno. Both are important players for Villarreal but haven't scored many goals this season. Gerard Moreno has better stats than Danjuma in almost all the parameters. Danjuma has better stats in goal contributions per game, defensive duels won, and expected goal contributions per game, while Gerard Moreno has better stats in all other parameters.
Betting Analysis
Since the reports suggest that he has agreed to move to North London, his inclusion could make Tottenham Hotspur's odds slightly better. Looking at the 1×2 market, his presence in the starting eleven is likely to take their odds a bit higher due to the attacking threat he poses. At the same time, the over lines could slightly go up, but considering his form, it is not expected to undergo a big change.
Arnaut Danjuma impressed everyone in his first season at Villarreal and scored many goals. Even though he has not managed to score as many goals this season, there is no doubt about the quality he possesses. He could prove to be the answer to Tottenham's worries, as the 25-year-old is capable of posing a threat to any defensive line on his day.
Visuals via TFA data viz engine