Atletico Madrid's recent form has put them in a strong position to contend for La Liga in the upcoming seasons. Diego Simeone has shown resilience and rebuilt the team's efficiency in maintaining a solid defence in their recent matches. Currently, in third place with 51 points on the board, they sit five points behind local rivals, Real Madrid. While the Catalans are far out of reach, Atletico Madrid are yet to face Barcelona in the second half. A win for Simeone will be a testimony to their revival.
Los Colchoneros last lost to Barcelona in the league. Since then, they haven't lost a single match in the last ten matches in the top division. They have won 15, drawn six, and lost five matches, winning four out of their last five. The team played out a 1-1 thriller at Santiago Bernabeu in the Madrid derby, one that could have gone their way. Jan Oblak has conceded only three goals in the last eight matches in the league. This is not only because of his talent in goal but also because of the team's overall defensive effort. The team has also improved going forward, displaying an increase in its overall attacking chemistry.
Let's take a closer look at the stats showing how Atletico Madrid's recent form boosts their hopes of contending for La Liga.
Overall performance this season
The above viz shows the percentile rank of Atletico Madrid in attacking, defensive, and possession stats compared to other teams in La Liga. With very little possession, the club ranks low in terms of their gameplay from crosses. The team is performing well in terms of recoveries per 90 and has a fair rank in terms of goals per 90. There is room for improvement in terms of making entries into the final third per 90, but given the lack of possession, they have a decent rank. All in all, the team has a similar rank in xG, shots, key passes, and entries into the box per 90 minutes.
Efficient offence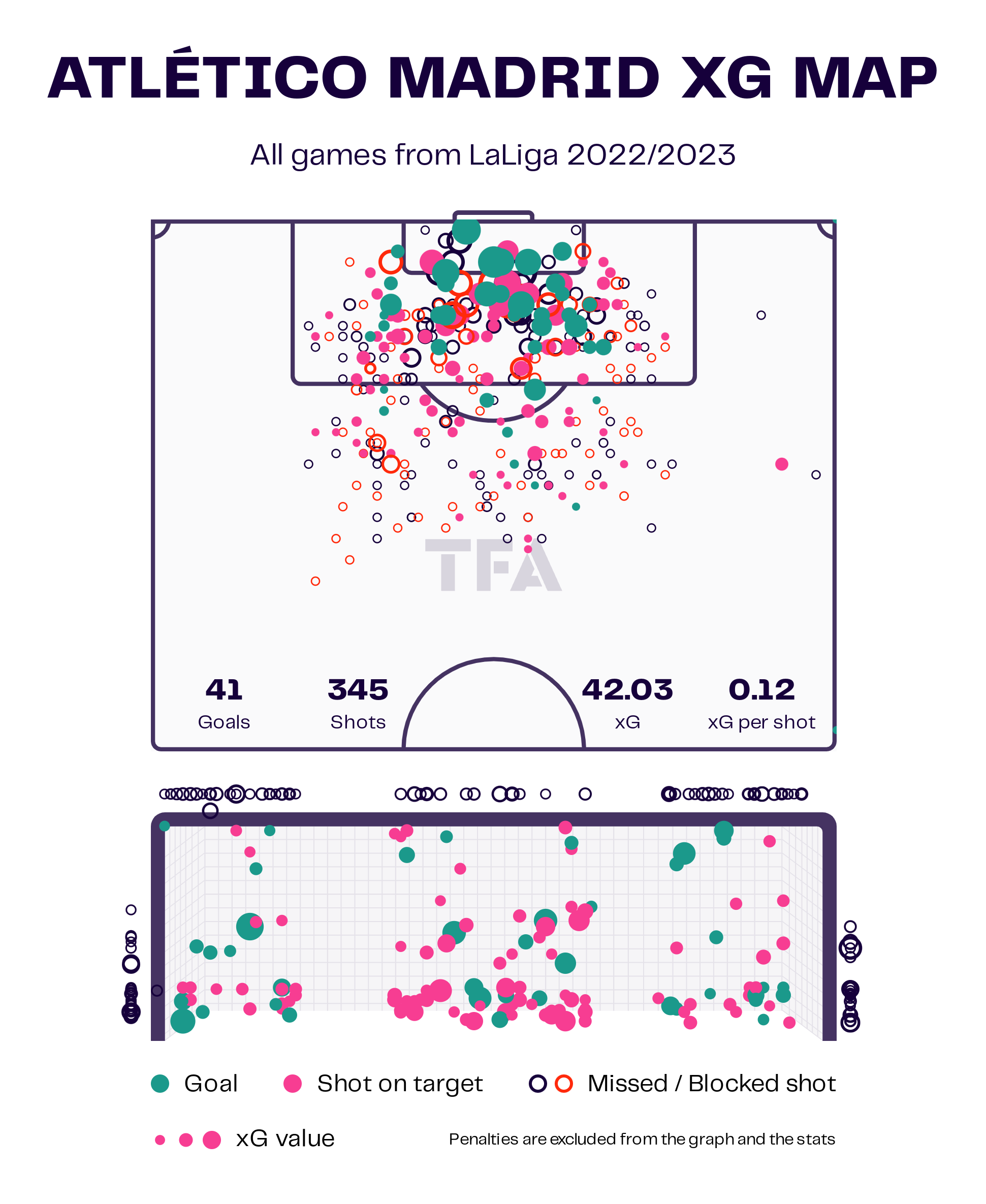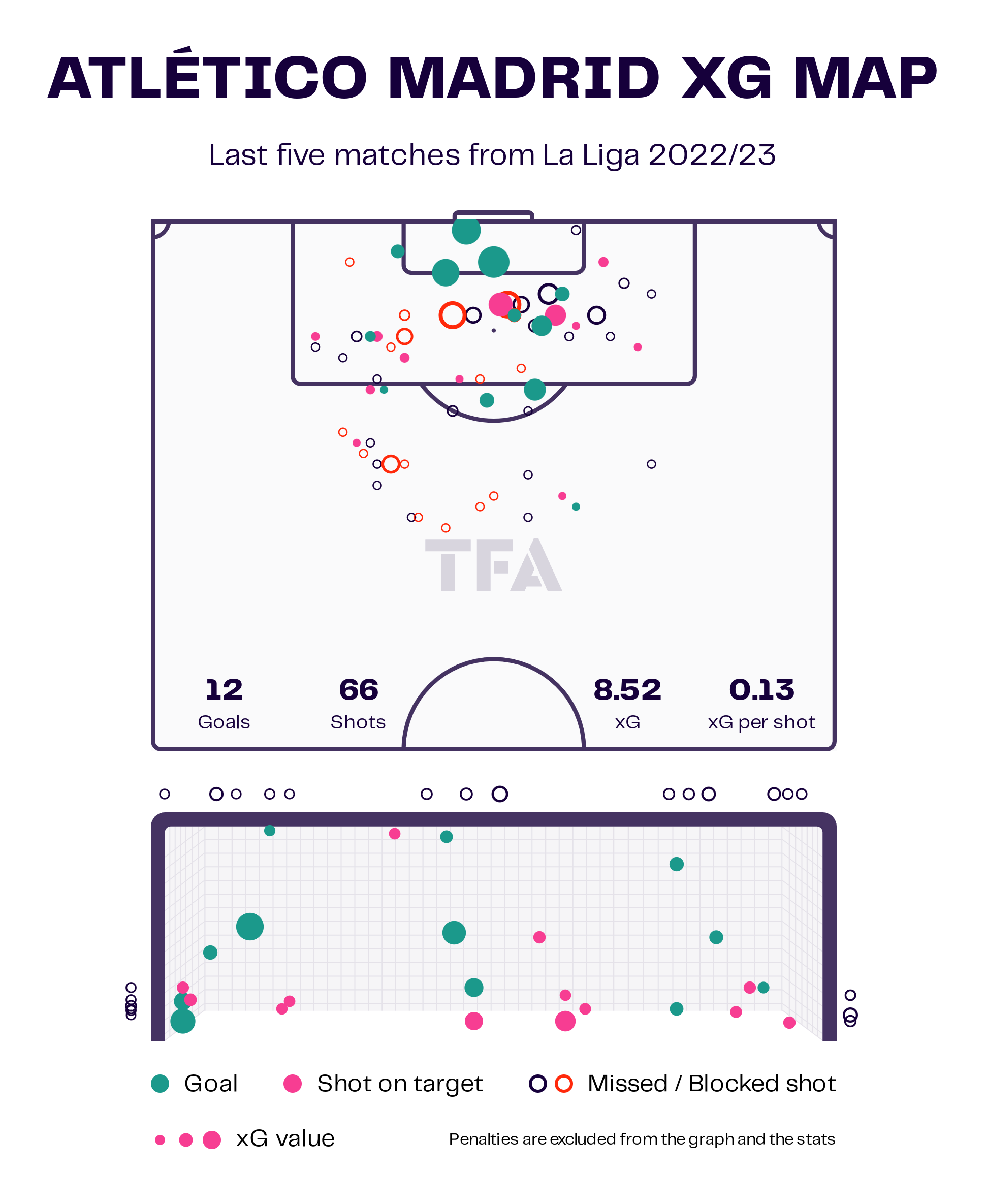 Atletico Madrid have scored 41 goals, amassing 42.03 xG, and have conceded 19 goals. They have an average xG of 1.62 this season and an average of 37.1% shot accuracy, taking 13.27 shots per 90 minutes. They tend to take shots from inside as well as outside the box and have scored around eight goals from outside the box.
In their last five games, the team scored 12 goals from 66 shots, putting them at an xG of 8.52 overall. Nine of the goals have come from inside the box, and the other three from long distance, as seen in the second visual. The team has an xG per shot of 0.13 in their last five.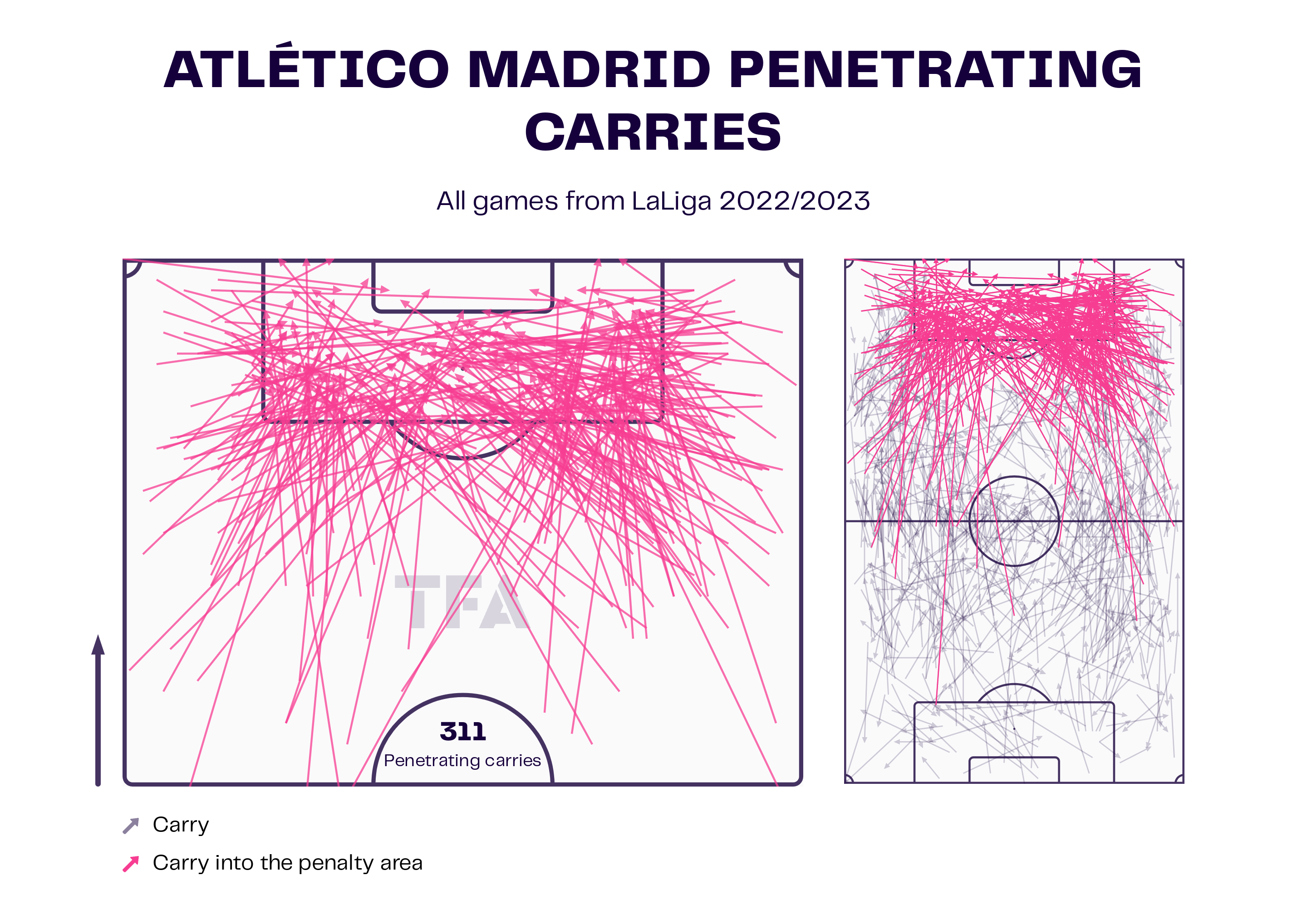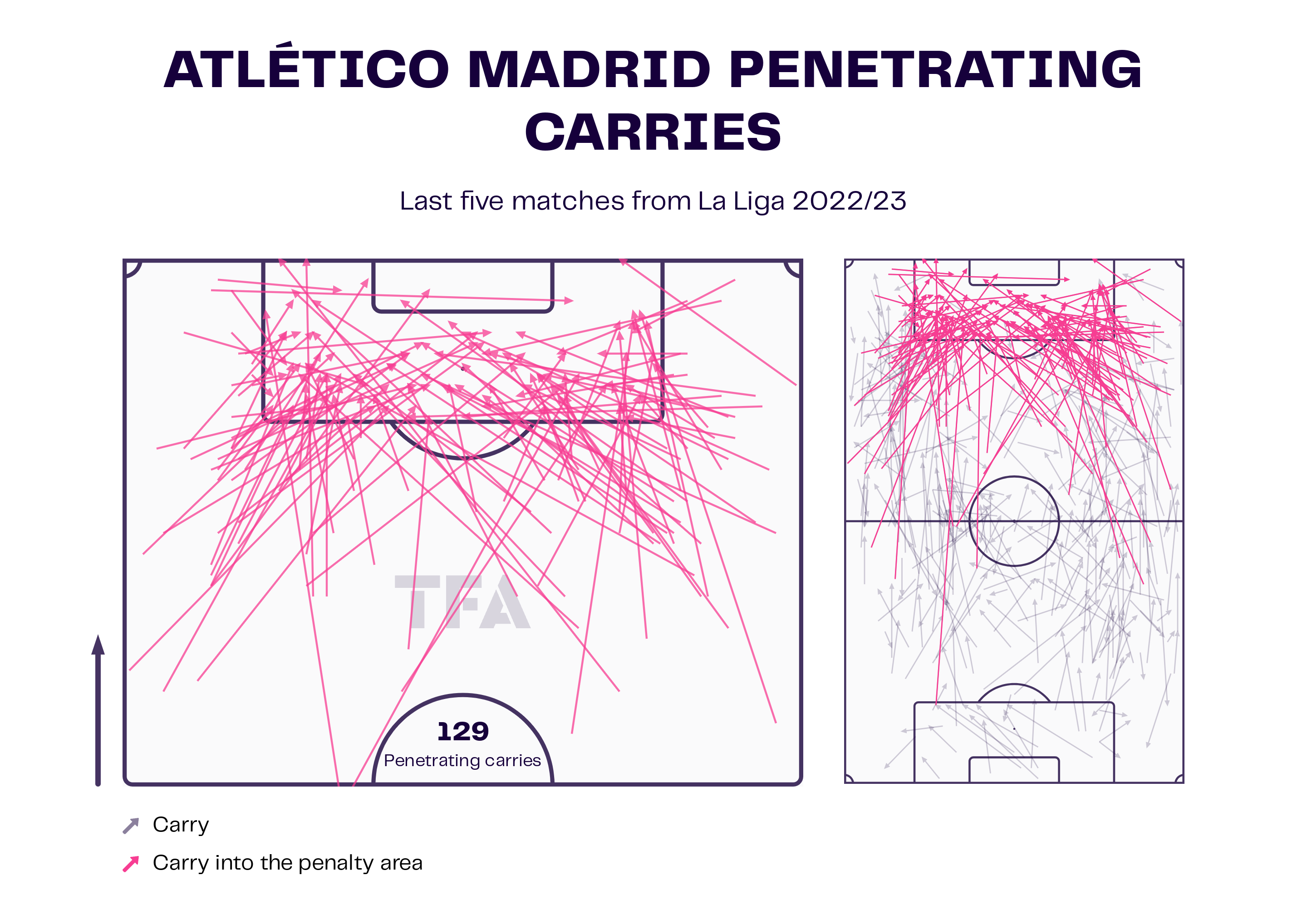 Atletico Madrid have made a total of 311 penetrations so far this season, 129 of which have come in the last five matches. This is a major revelation given that they have played a total of 26 matches in La Liga in 2022/23. They use the flanks extremely well in order to make moving into the box easier. The team averages 50.27 passes into the final third with 72.7% accuracy. Additionally, they make 68 progressive passes per 90 minutes.
Solid defensive record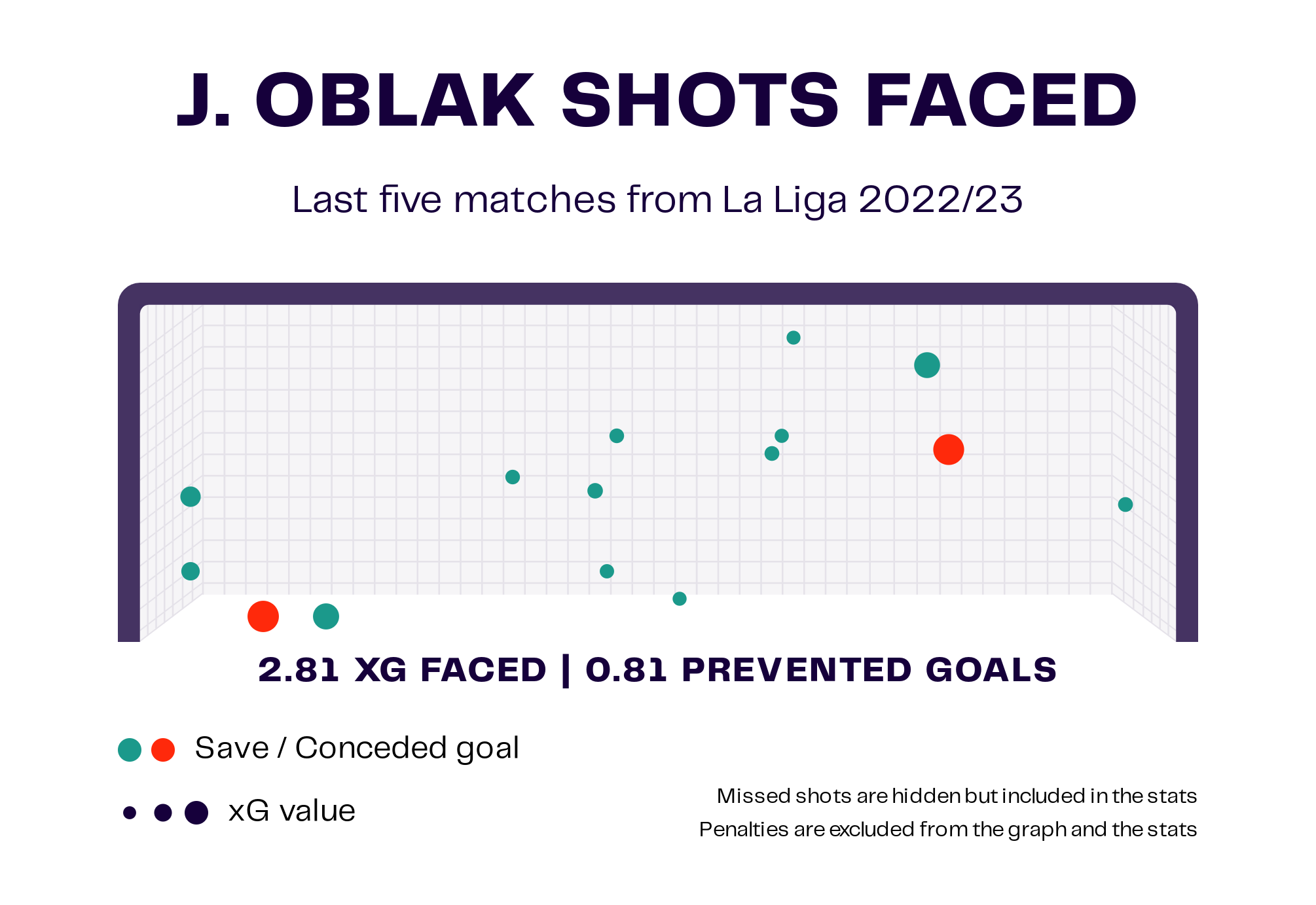 Jan Oblak has managed to keep 11 clean sheets in 24 matches in the Spanish top flight. Atletico Madrid faces 10.35 shots on average from their opponents and have conceded 0.73 goals per 90 minutes. Los Colchoneros have conceded a total of 19 goals this season, two fewer than their local rivals, Los Blancos, which they most recently conceded at Camp Nou. It can be seen in the above viz that the goalkeeper has faced a total of 15 shots in the last five matches, having conceded twice.
Atletico Madrid's recent form has put them in a strong position to contend for La Liga and challenge Europe in the coming seasons. Their solid defence, efficient offence, strong squad depth, and mental resilience have all contributed to their success so far. However, there is still a long way to go in the season. Atletico Madrid will need to maintain their form and consistency if they are to feel accomplished at the end of the campaign. With several key matches remaining, including a game against Barcelona, Atletico Madrid will need to be at their best to ensure their revival in the Spanish top division.
Visuals via TFA data viz engine