Atletico Madrid and Athletic Bilbao will face off in a key La Liga clash, with the two sides looking to keep their top-four hopes alive.
Atletico have been in decent form in the league so far this season and are currently sitting in 4th place. The club from Madrid has had a turbulent season, winning only 11 of its 21 games so far. They returned to winning ways after a 1-0 away win against Celta and sit four points behind third-placed Real Sociedad with 38 points on the board.
Athletic Bilbao, on the other hand, have had a much less successful campaign thus far, with just nine wins in their 21 league games, racking up a total of 32 points. They managed to pull back-to-back victories most recently after failing to pick up any points from three games in a row previous to that. The team will hope to at least make it to the Europa League spots, which are currently occupied by Real Betis and Rayo Vallecano, who are only a couple of points away.
Below are some stats looking at the likelihood of the outcome of this match.
Comparison of the teams' performances
The viz above shows the percentile rank of both teams' stats compared to each other as well as to other teams in La Liga. It can be seen that both teams are ranked similarly in most departments, and most notably, they both are at the 80.9 percentile for goals per 90 as well as xG per 90. The hosts have the upper hand in terms of passes, key passes, and pass accuracy. Alternatively, there are a couple of departments where the visitors have superior stats, such as recoveries, high-pressing success, and entries into the final third per 90.
Atleti maintains 47.42% of the possessions and attempts 470 passes on average with an accuracy of 85.5%. They make 83.24 recoveries per 90 minutes. Whereas, Bilbao keeps the ball for 50.87% of the match on average, attempting 427 passes with an accuracy of 82.1%. Additionally, Athletic Bilbao makes 88.71 recoveries per match.
Both teams in front of the goal
Atlético Madrid are currently in fourth position in the 2022–23 Spanish La Liga; with 38 points from 21 matches played, they have won 11 matches, drawn five, and lost five. They have scored 29 goals (33.51 xG) and conceded 17 goals (26.6 xGA). The top scorer for Atlético de Madrid in the 2022–23 Spanish La Liga is Morata with seven goals (7.48 xG), and he is a key player for the club from Madrid. The team takes 13.29 shots per 90 with an accuracy rate of 36.9%. They have taken 279 shots in total, averaging 0.12 xG per shot, and have managed to score a few from long range.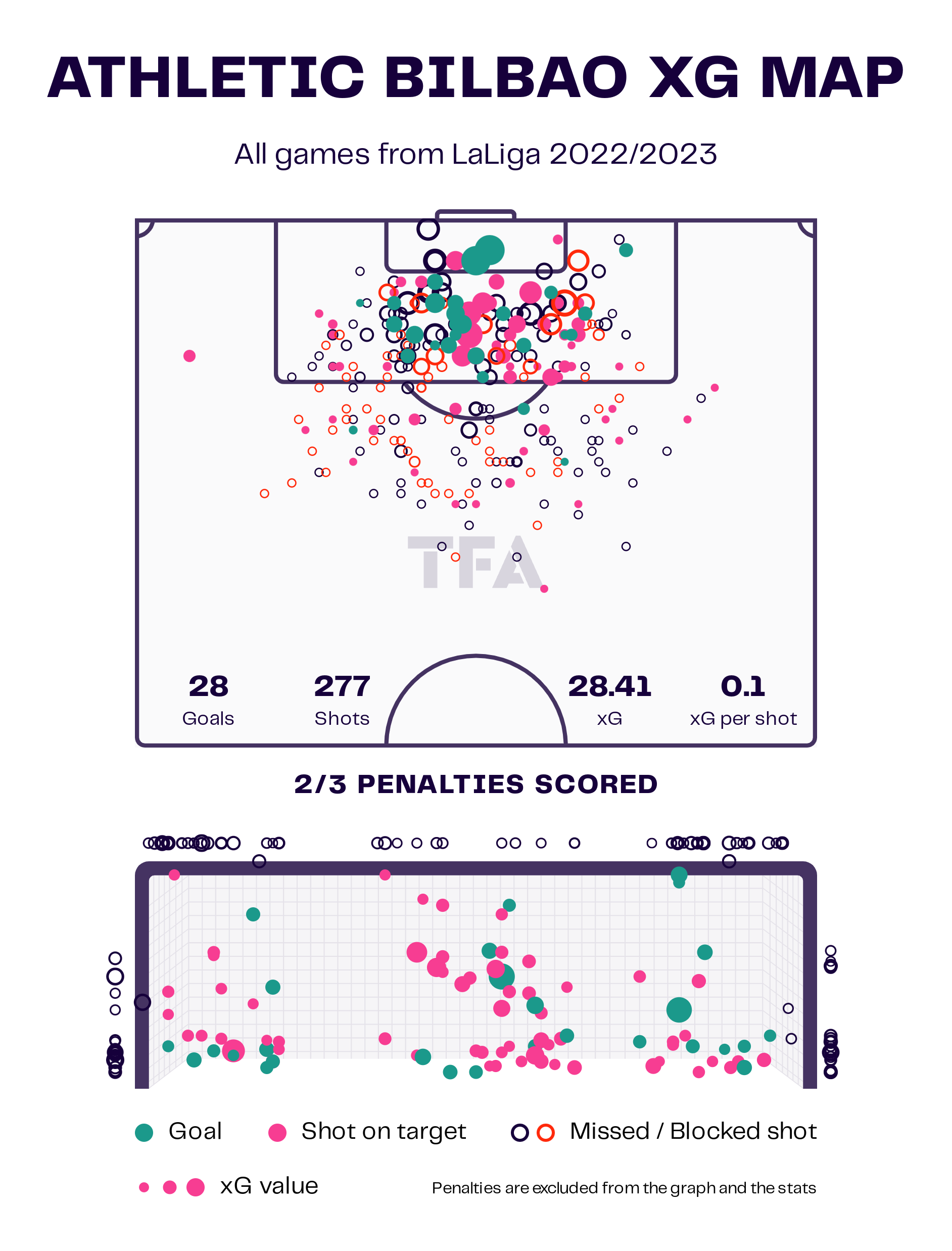 Bilbao are currently in 7th position in La Liga 2022/23, with 32 points from 21 matches played. They have won nine matches, drawn five, and lost seven. They have scored 30 goals (28.41 xG) and conceded 22 goals (20.4 xGA). Their goal output is low in comparison to the number of shots taken; they have taken 277 shots in 21 matches, averaging 13.33 shots per 90 minutes. The above viz depicts the shot map for Bilbao and shows how they attempted most shots from the penalty area. The team has a shot accuracy of 32.9% per 90 and has rarely found the back of the net from distance. The top scorer for Athletic Club in the 2022/23 Spanish La Liga is Ohian Sancet with eight goals (4.31 xG).
Defensive action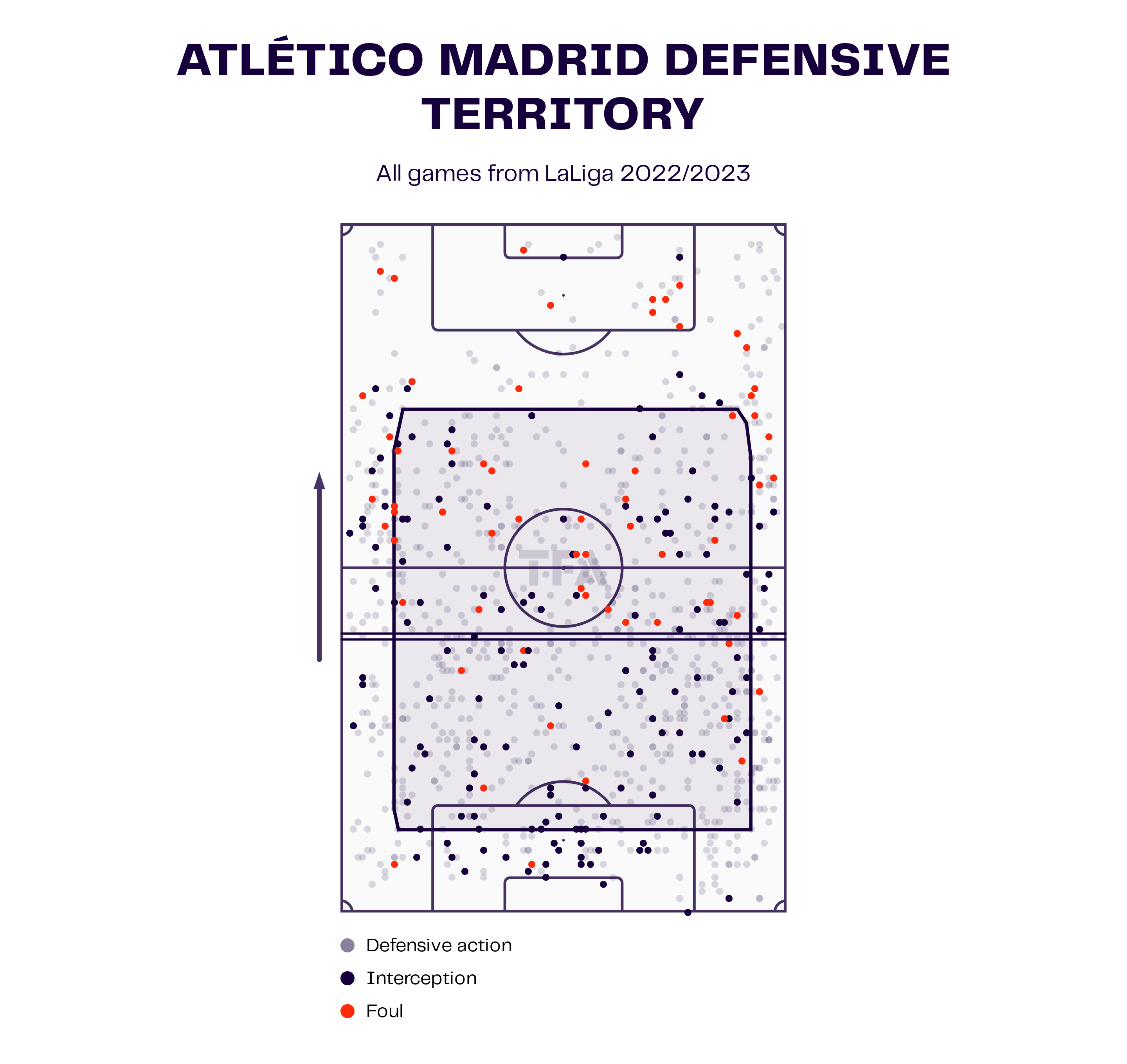 Atleti's defence has been strong this season, just as Simone favours, having conceded only 17 goals, of which they have let in only seven on the road. The above viz shows the defensive territory of the team this season in La Liga. It indicates that the team was involved in a lot of defensive actions in the defensive third as well as the middle third. They have made 41.05 average interceptions, winning 49.9% of the aerial duels and 60.4% of the defensive duels contested per 90. Most of their defensive action comes in their defensive third and middle third. They have given away one foul in the box. They commit 12.71 fouls on average and concede 0.81 goals per 90 minutes.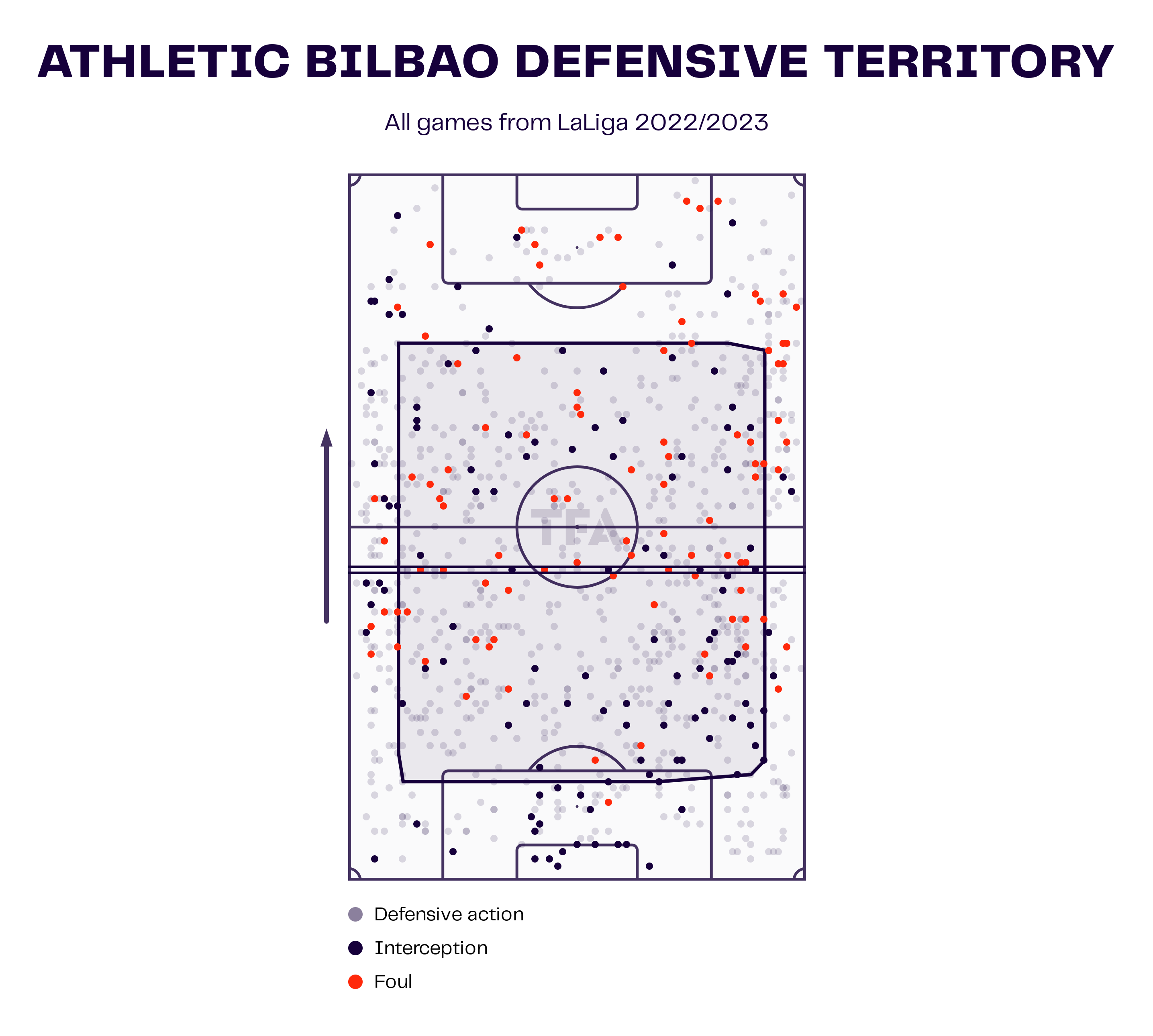 The above viz shows Bilbao's defensive territory from their current season in the Spanish top tier. Bilbao have conceded a total of 22 goals, conceding 1.05 goals per 90 minutes. The team makes 39. interventions, which is slightly fewer than their opponents this season. They too have given away one dangerous foul and have committed many fouls, averaging 13.48 fouls per 90 minutes. They won 57% of defensive duels and 45.7% of aerial duels contested. They do not perform much defensive action in the final third, as can be observed.
Key Players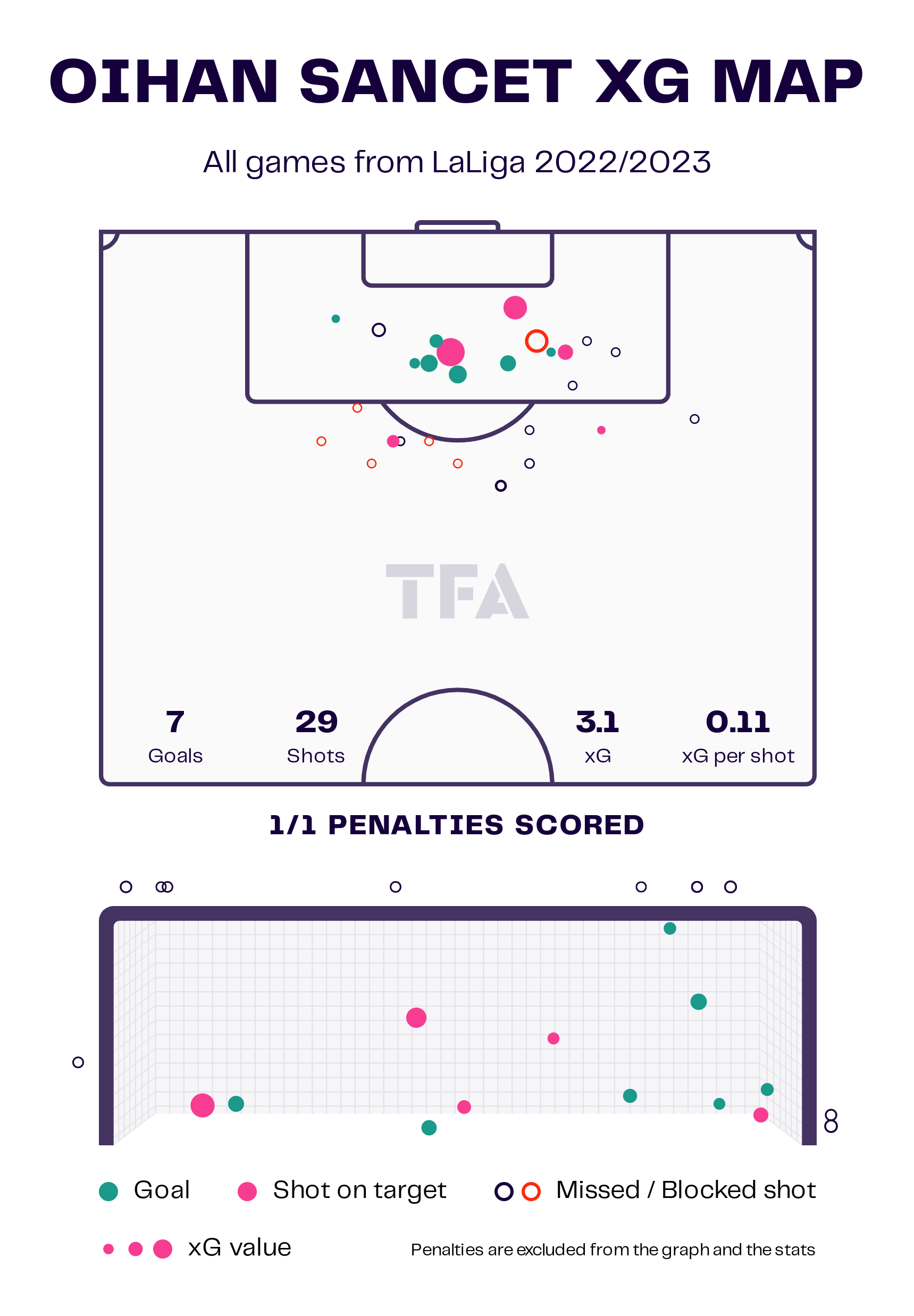 Ohian Sancet is an attacking midfielder for the Spanish La Liga club Athletic Bilbao. He has played 21 matches in La Liga 2022–23. The Spaniard has 12 shots on target from a total of 29 and has scored eight goals (3.1 xG). Ohian Sancet averages 26 passes per match with a pass completion rate of 85% and has not provided any assists this season yet. The 22-year-old Spanish striker is an emerging talent in the league this season. He is the club's top goal scorer and is very fast and technically gifted. The player is often seen dribbling past the defenders to create chances for the team.
Team news
Atletico Madrid does not have any injury concerns ahead of their home game. It remains to be seen if Memphis Depay gets a start or Simone goes for a three at the back.
Bilbao will be without Inaki Williams and Inigo Martinez, with the rest of the squad available for selection by Ernesto Valverde.
Overall, it will be a heavy tactical battle between both teams, with Valverde and Simione looking to break down each other's defence by building from the back. Three points are a must for both teams as they look to compete for better positions in the league.
Visuals via TFA data viz engine