Barcelona plays against Manchester United in the UEFA Europa League round of 16 at the Spotify Camp Nou in the first leg. Barcelona finished third in their UCL group stage, behind Inter Milan, and Manchester finished on top in their group stage of the Europa League 2022/23.
The Spanish side has been in red-hot form and is currently on a six-game winning streak since the new year. The English side has had a turbulent domestic season and hasn't enjoyed a favourable season in the Premier League, they but have recently found their feet and have climbed up the Premier League table.
It is the first time this season that the two sides meet, and both teams will look to win the game by a decent margin. Below, we compare the stats from their current European campaigns.
Overall comparison of European performances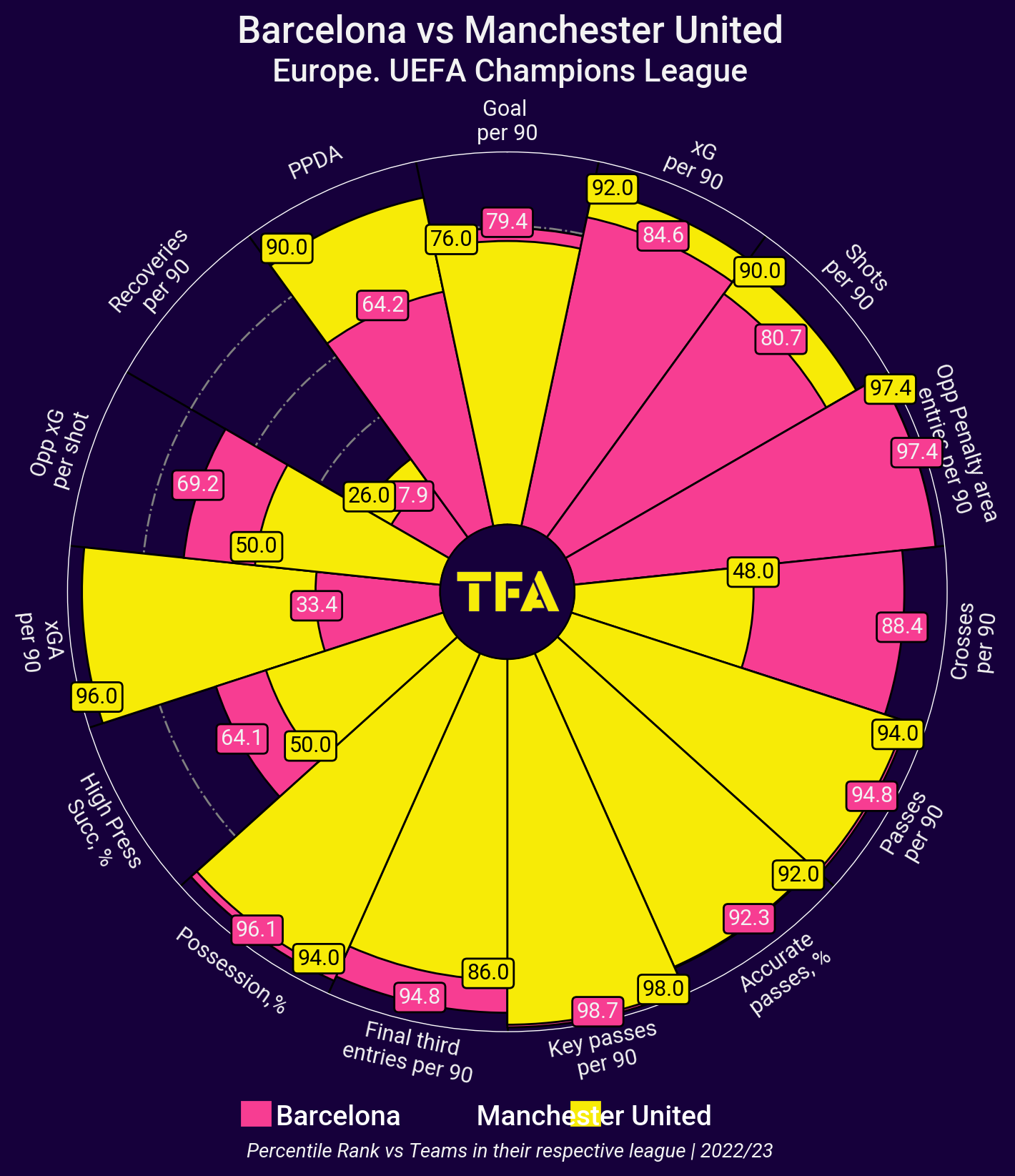 The viz above shows the percentile rank of both teams' stats compared to each other as well as to other teams in the UEFA Champions League 2022–23 for Barcelona and the UEFA Europa League 2022–23 for Manchester United. It can be seen that both teams have neck-and-neck overall stats in most departments. Notably, the visitors have the upper hand in terms of shots and xG and are level in opposition entries per 90. Alternatively, there are a couple of departments where the hosts have slightly better stats, such as key passes and high press success.
Barcelona maintains 63.41% possession and attempts 611 passes on average with an accuracy of 88.8%. They make 79.5 recoveries per 90 minutes. Whereas, Manchester United keeps the ball for 63.35% of the match on average, attempting 615.67 passes with an accuracy of 88.7%. Additionally, the Red Devils make 86.17 recoveries per match.
Both teams in front of the goal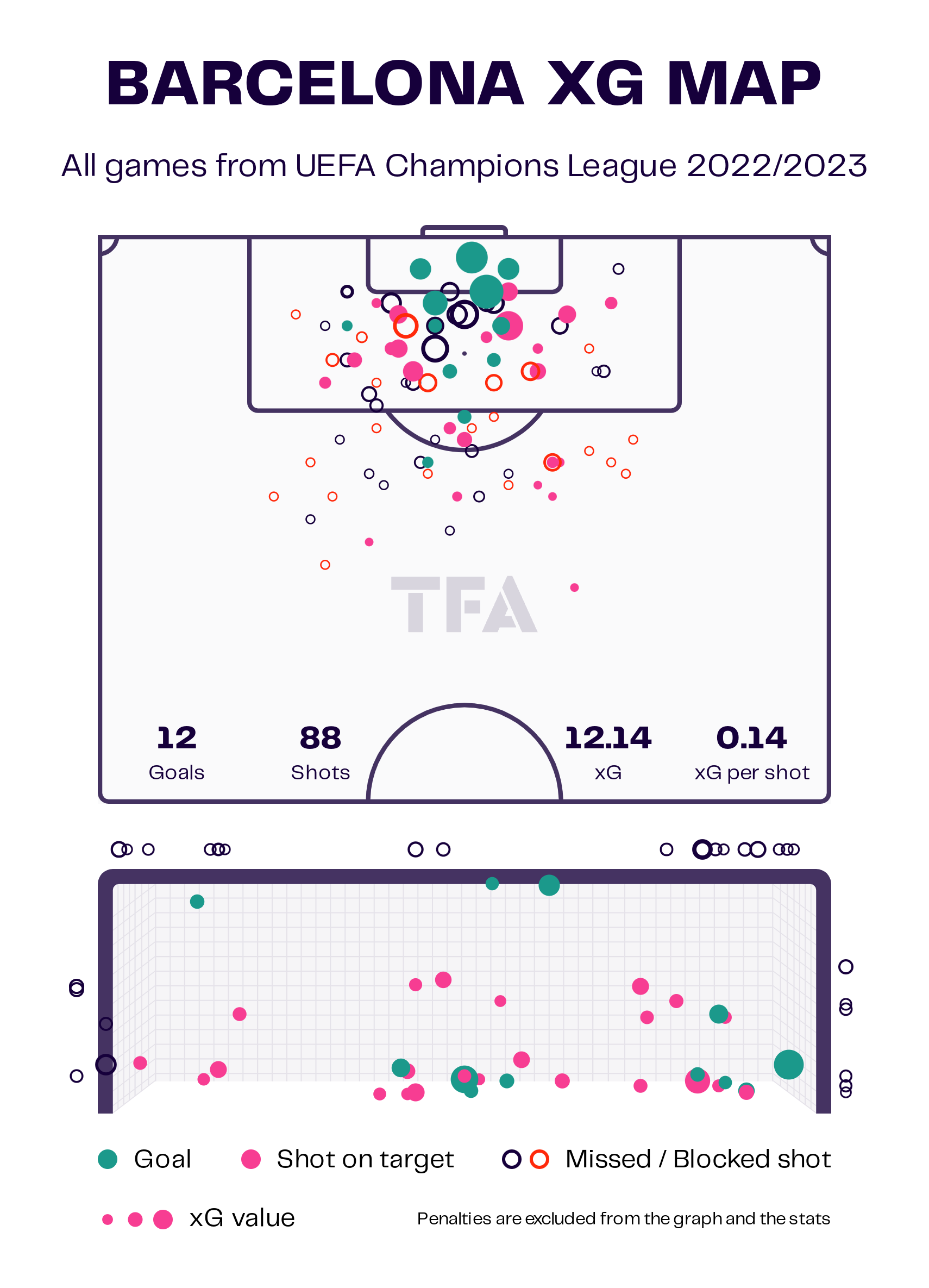 Barcelona have taken a total of 88 shots in six UCL matches and scored 12 goals. They scored most of their goals from close range inside the penalty box, accumulating 12.14 non-penalty xG in total. The xG map above shows that the La Liga side has attempted most of their shots inside the box but has also shown the desire to shoot from distance and found the goal twice. Barcelona have scored two goals per match, averaging an xG of 2.02. They take 14.67 shots per match with a 39.7% accuracy rate.
Manchester United, on the other hand, have taken 105 shots and scored only nine goals with an xG of 13.24. They have also scored one penalty. The Red Devils scored a few of the goals from inside the six-yard box and three right from the edge of the penalty area. They scored at the rate of 1.67 goals per match while averaging 2.34 xG. Manchester averages 17.67 shots per game with a 32.1% success rate.
Attacking zones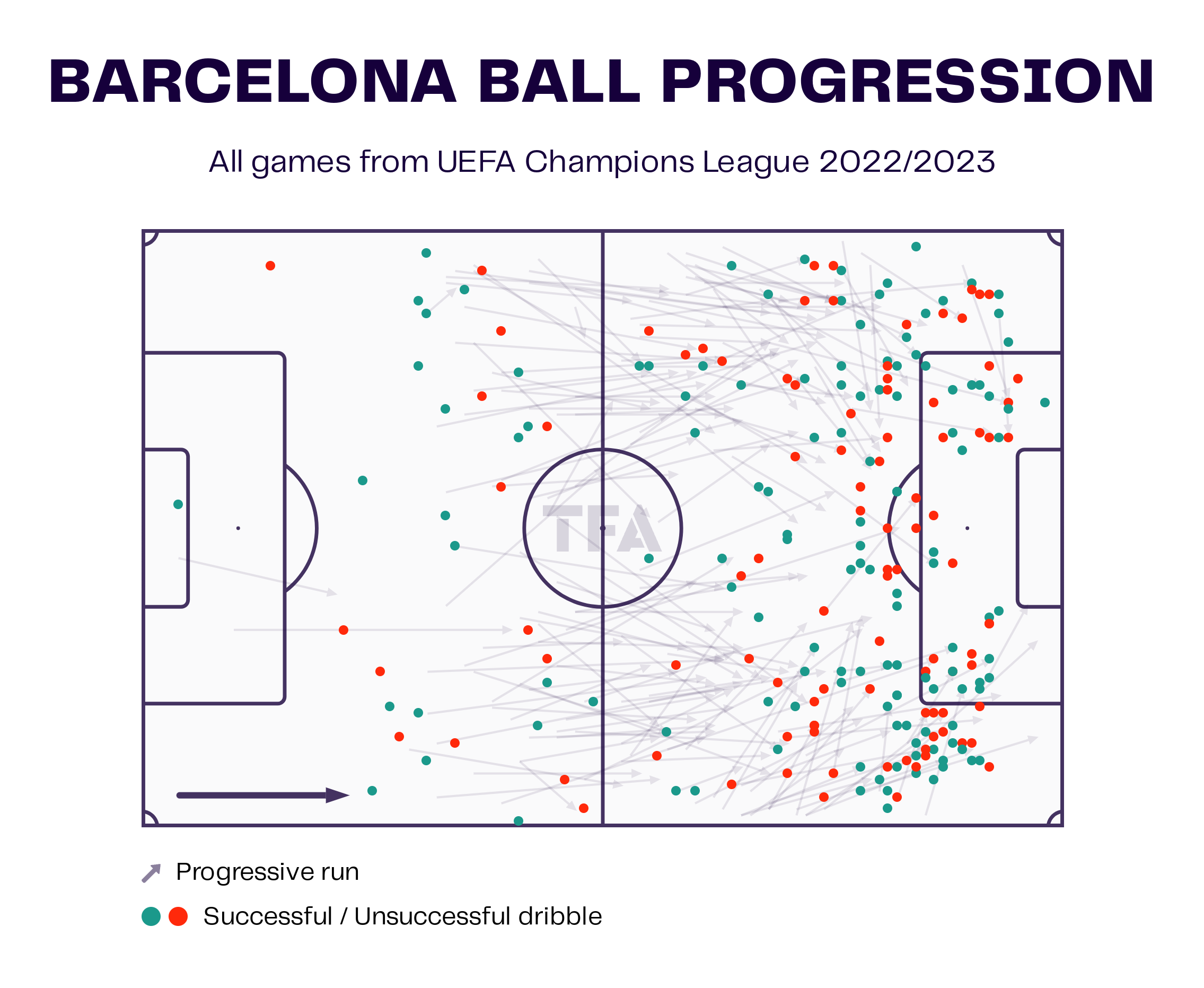 The two viz above compare both teams on the basis of their ball progression. While both teams use the flanks significantly to move the ball forward, Barcelona delivers more forward passes and through balls into the box from the central positions compared to Manchester United.
The hosts average 78.17 passes to the final third with 84.9% accuracy, compared to 76.17 such passes with 84.9% accuracy by the visitors.
Manchester makes 41.17 positional attacks per 90, with 29.6% ending in shots. Barcelona, on the other hand, averaged 38.5 positional attacks per 90 minutes, with 24.2% resulting in shots.
Defensive Zones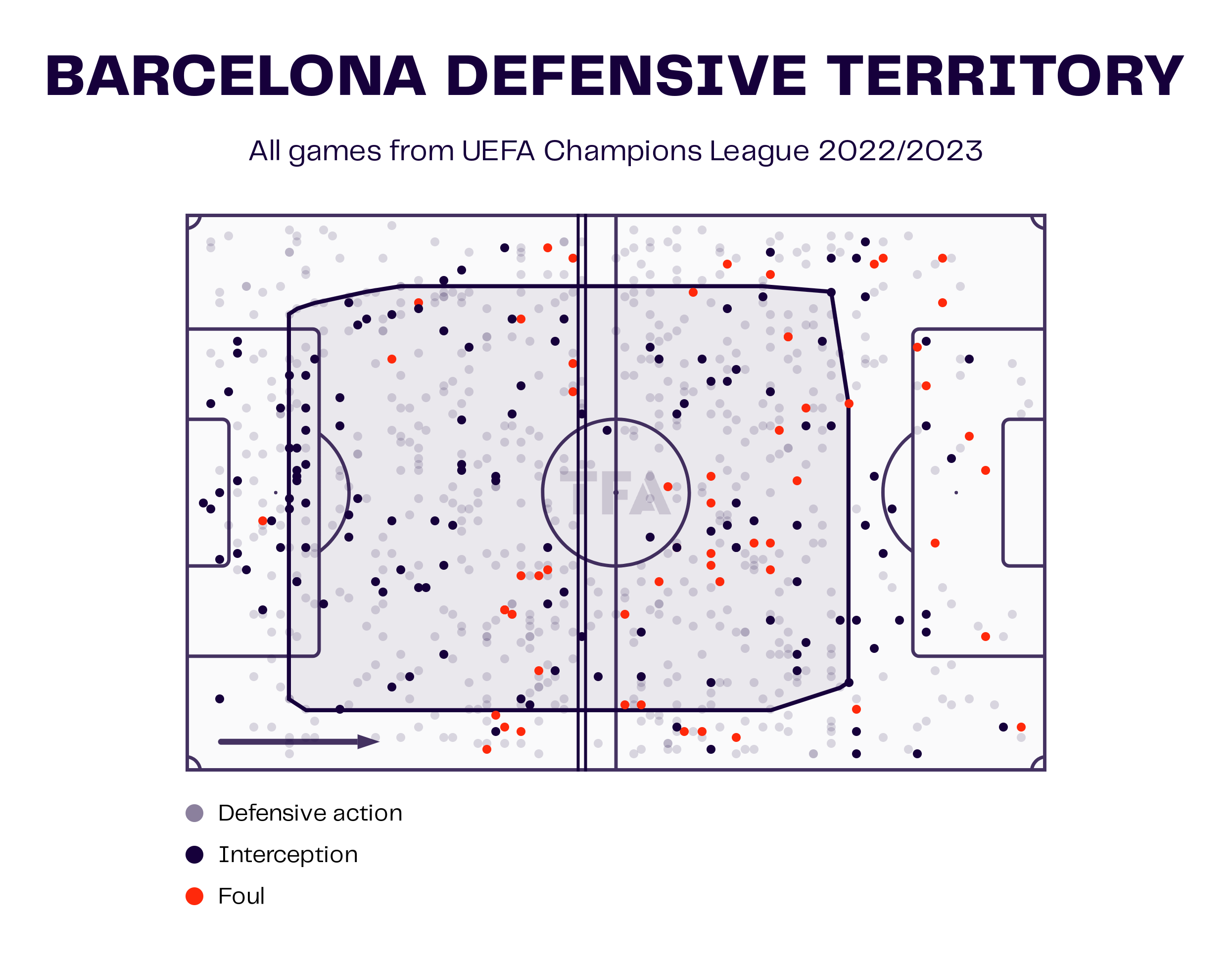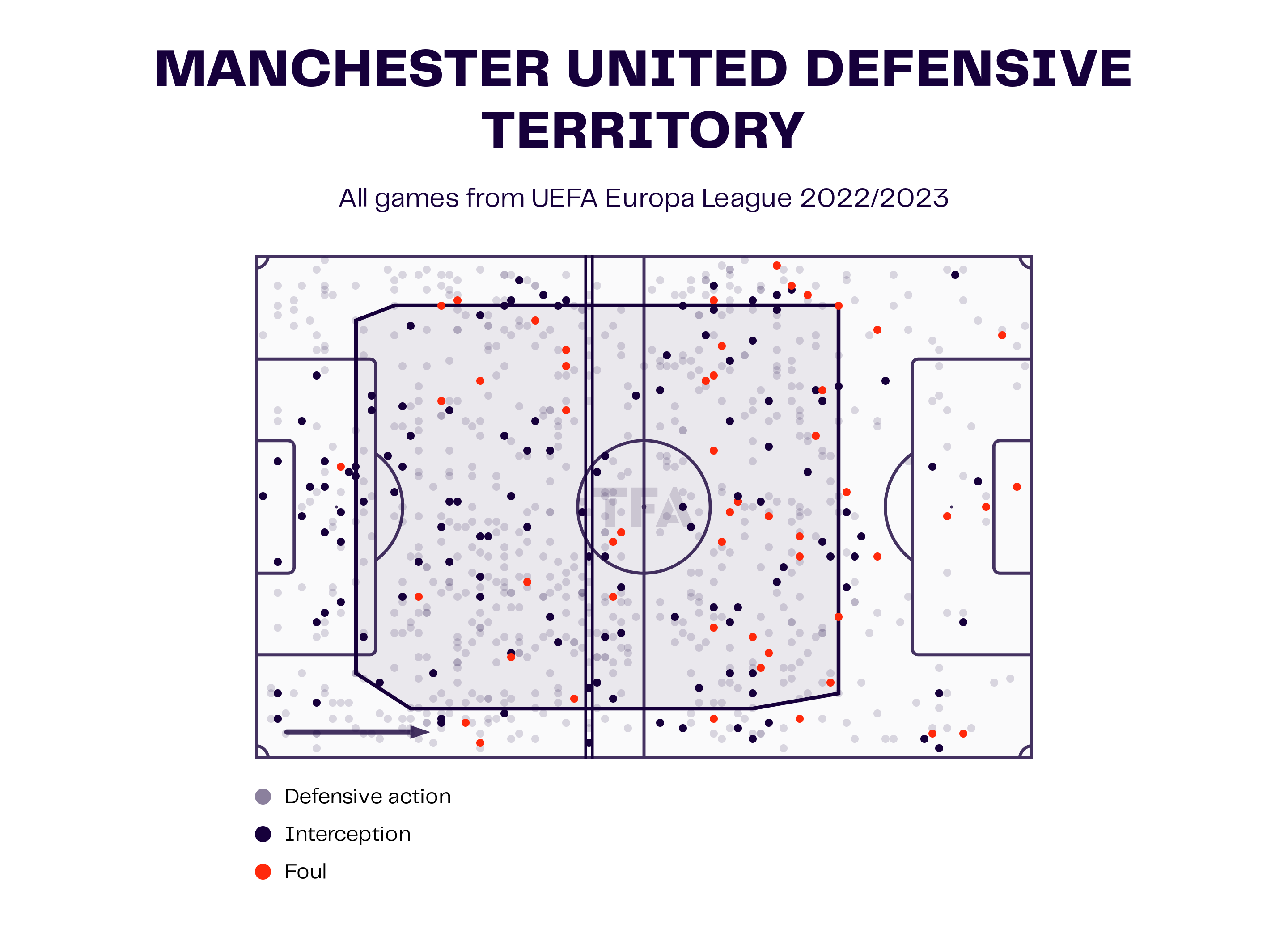 The two viz above compare both teams based on their defensive territory on the pitch. The Red Devils have made 36 interceptions compared to 38.33 interceptions by the Spanish side on average. Overall, United makes 8.67 fouls per match, compared to the 9.5 made by Barcelona.
Additionally, it can be seen that the La Liga side has a higher backline in comparison with United and has made a similar amount of interceptions in the box as compared to the English side.
Key Player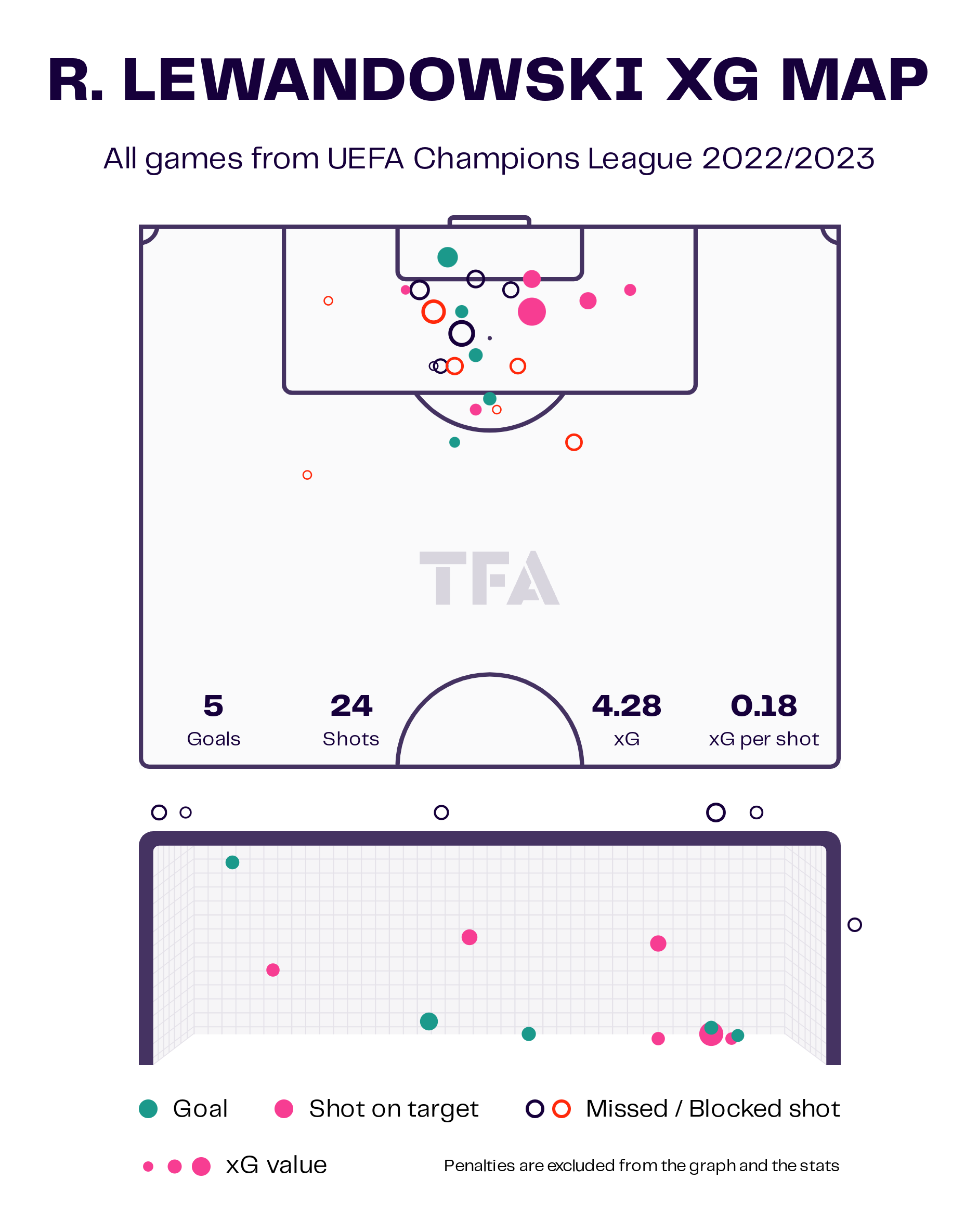 Robert Lewandowski is one of the best players in Europe going forward. He has scored five goals in five UCL appearances this season. He has taken 24 shots in total and has an overall xG of 4.28 in the competition. He has scored most of his goals from inside the box, with a few from long range.
If United are to win this game, their defenders must ensure that the Polish forward does not have a good game.
Team News
For Barcelona, key players like Ousmane Dembele and Sergio Busquets.
Manchester United are without Donny van de Beek, Christian Eriksen, Anthony Martial, Scott McTominay, Antony, Lisandro Martinez, and Marcel Sabitzer.
In conclusion, both teams have found good form in their current season, and the giants are looking to get back to their glory days in Europe since they have had plenty of downfalls in the top league in Europe in the past couple of years. Both teams are favourites to win the Europa League this season, but only one will advance.
Visuals via TFA data viz engine