Barcelona and Real Madrid face each other in a top-two La Liga battle on Sunday night at the Spotify Camp Nou.
Barcelona's elimination from European football has allowed them to concentrate fully on their pursuit of the domestic title. They have managed to grab successive 1-0 wins in the league and are displaying an extraordinary domestic season in defence. The Blaugarana are in pursuit of their 27th La Liga title.
Real Madrid managed to come back from an early 1-0 deficit and win 3-1 against Espanyol before securing a spot in the Champions League quarter-finals with a 1-0 win over Liverpool.
Both Barcelona and Madrid are currently in good form, with Madrid hoping to close the gap by securing their third consecutive league win at Camp Nou. Below are some stats from both teams from the current season to help foresee how the upcoming meeting between the two could pan out.
Season comparison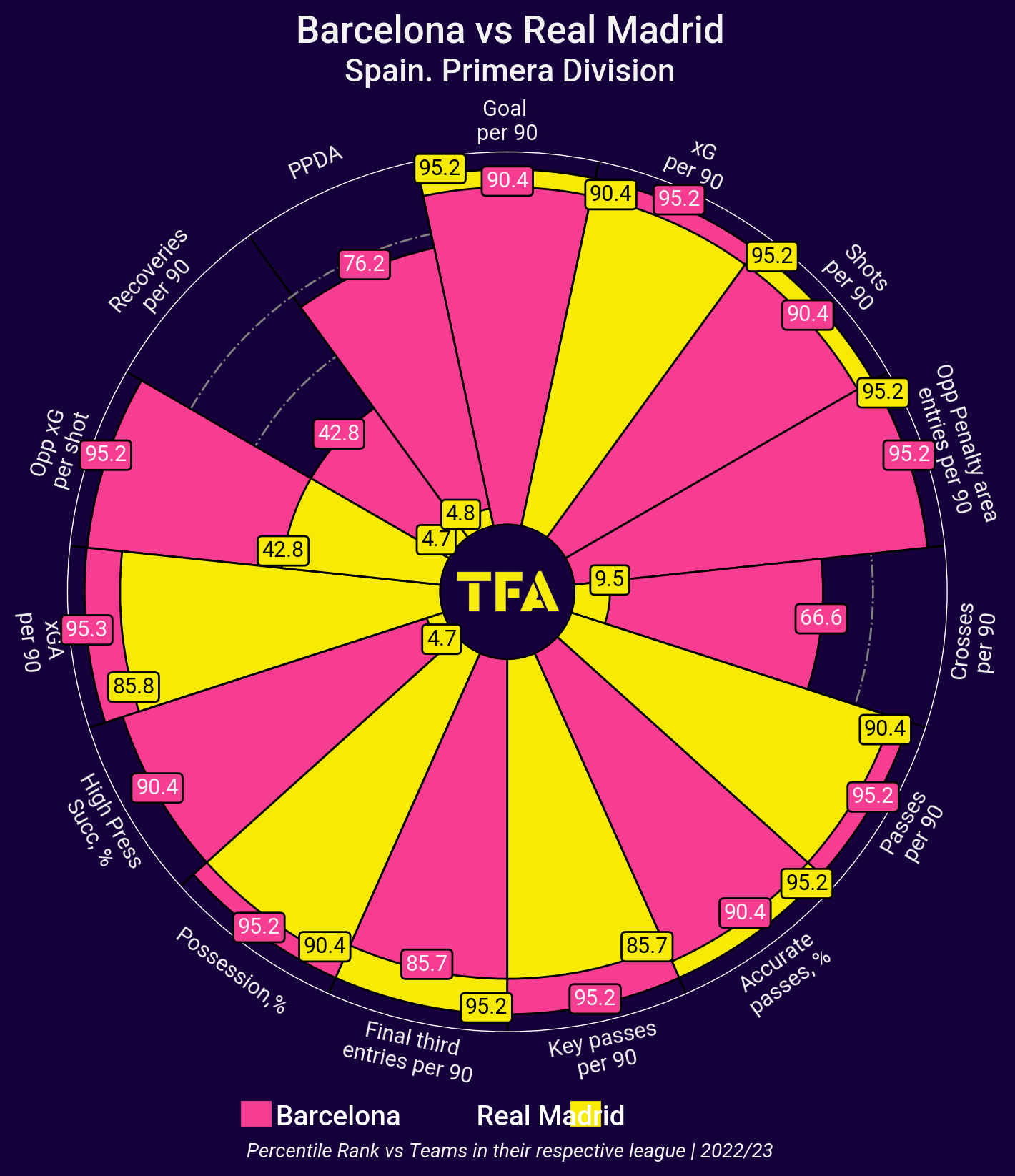 The above visual shows the percentile rank of both Real Madrid and Barcelona compared to other teams in La Liga. As we can see from the visual, both teams have similar stats in almost all parameters. Barcelona will look to dominate possession and create threats, as one would expect them to. They also have a high rate of pressing, which they use to recover the ball. Real Madrid will look to make the most of the flanks and put crosses into the box. The capital club is also slightly ahead in taking shots and making accurate passes in a match.
Shooting and goalscoring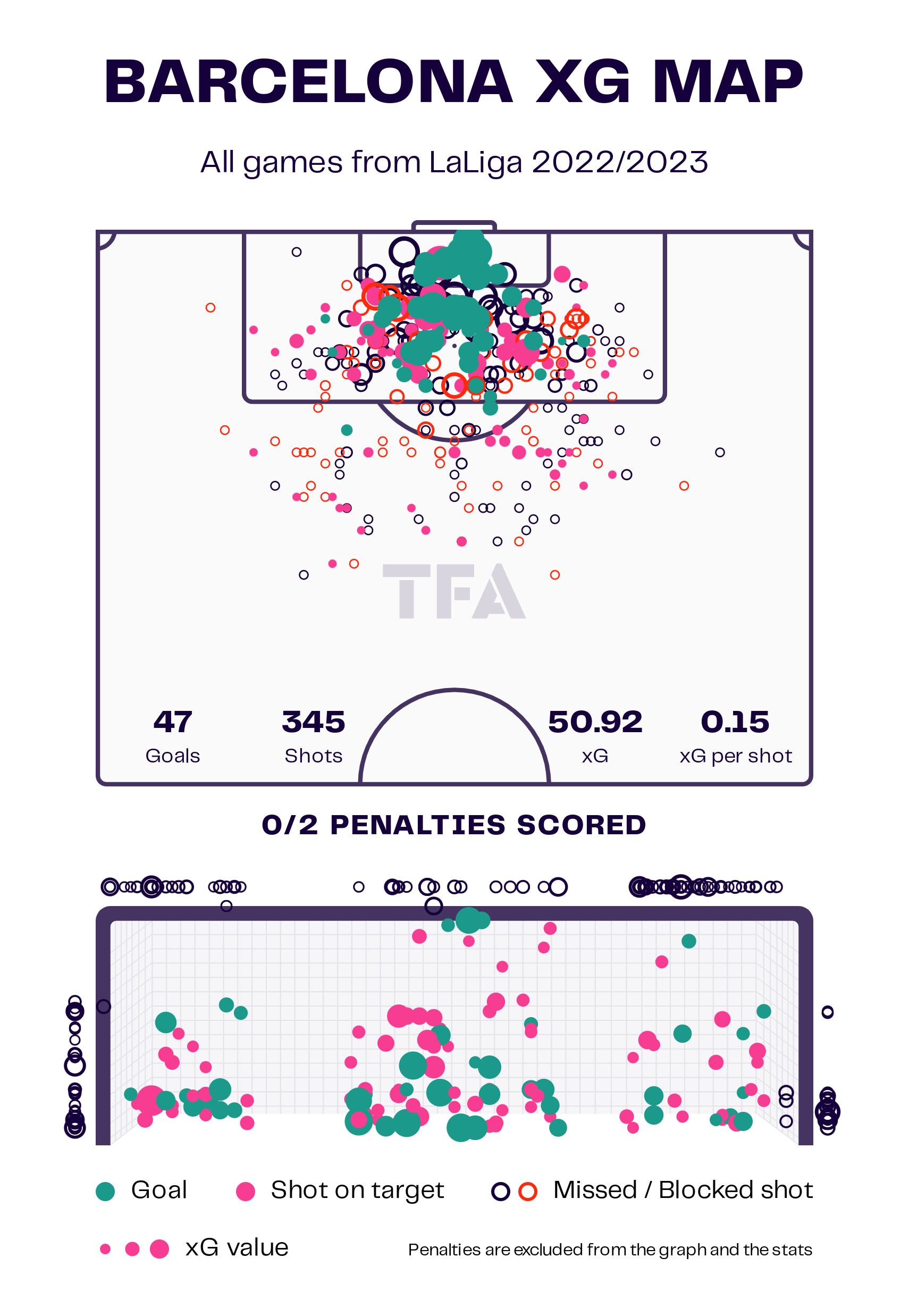 Barcelona have taken a total of 345 shots in 25 La Liga matches and scored 47 goals. They accumulated 50.92 non-penalty xG in total and scored only from long range and the rest from inside the penalty area. The xG map above shows that the Catalan side has attempted most of their shots inside the box but has also shown a desire to shoot accurately from distance. Blaugarana have scored 1.88 goals per match, averaging an xG of 2.1. They take 13.88 shots per match with a 36.6% accuracy rate. The team has been inefficient from the spot, missing two out of two penalties.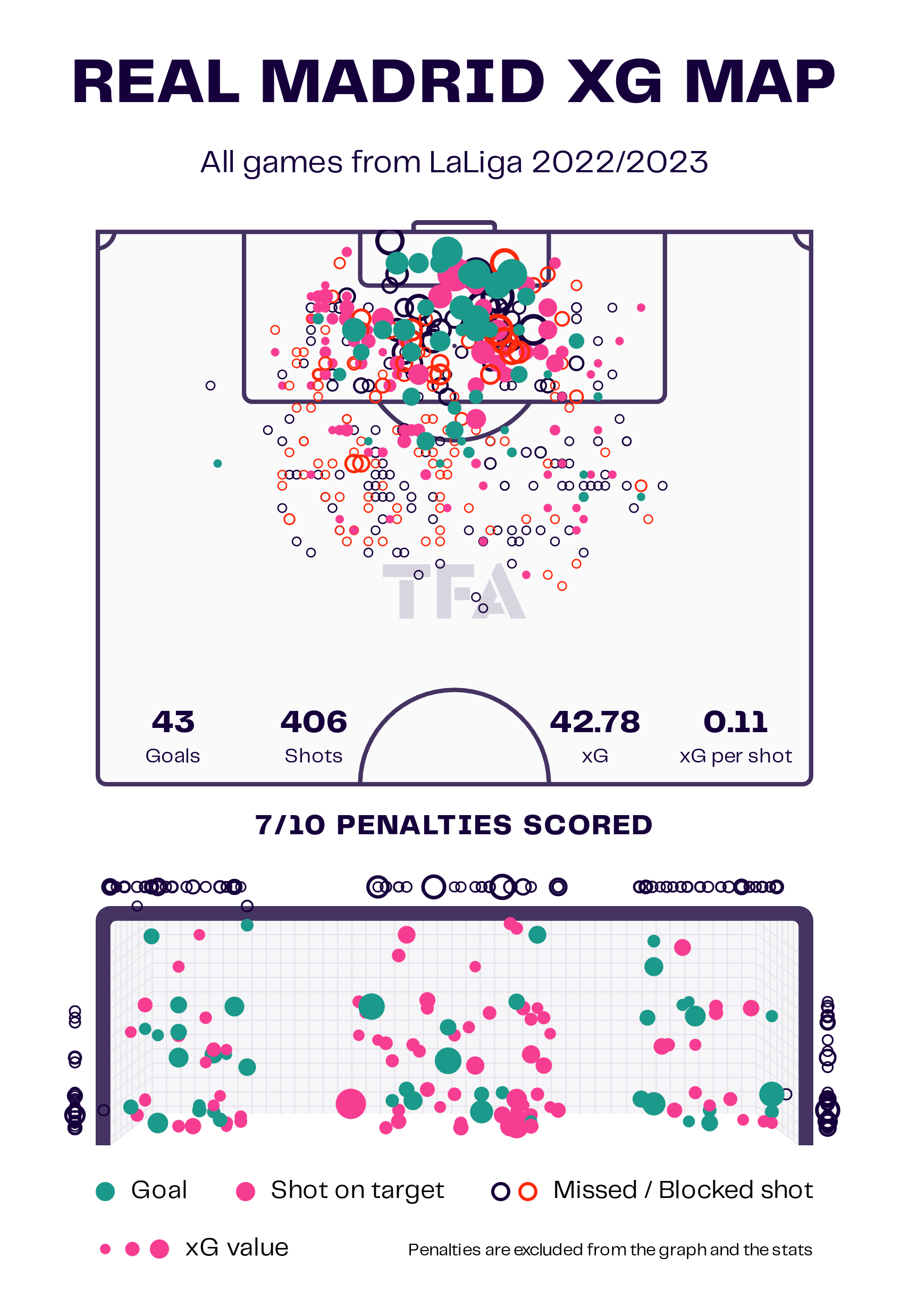 Alternatively, Real Madrid have been in excellent form in the current La Liga campaign. They have taken 406 shots and scored 43 goals from open play, for a non-penalty xG tally of 42.78. The Spanish side has scored 13 goals from outside the box and two from the edge of the box. They scored at the rate of 2.0 goals per match while averaging 2.02 xG. Furthermore, Real Madrid averages 16.64 shots per game with a 34.9% accuracy rate. The club from Real Madrid have scored seven out of the ten penalties, five of which are in the name of Karim Benzema.
Comparing progressive gameplay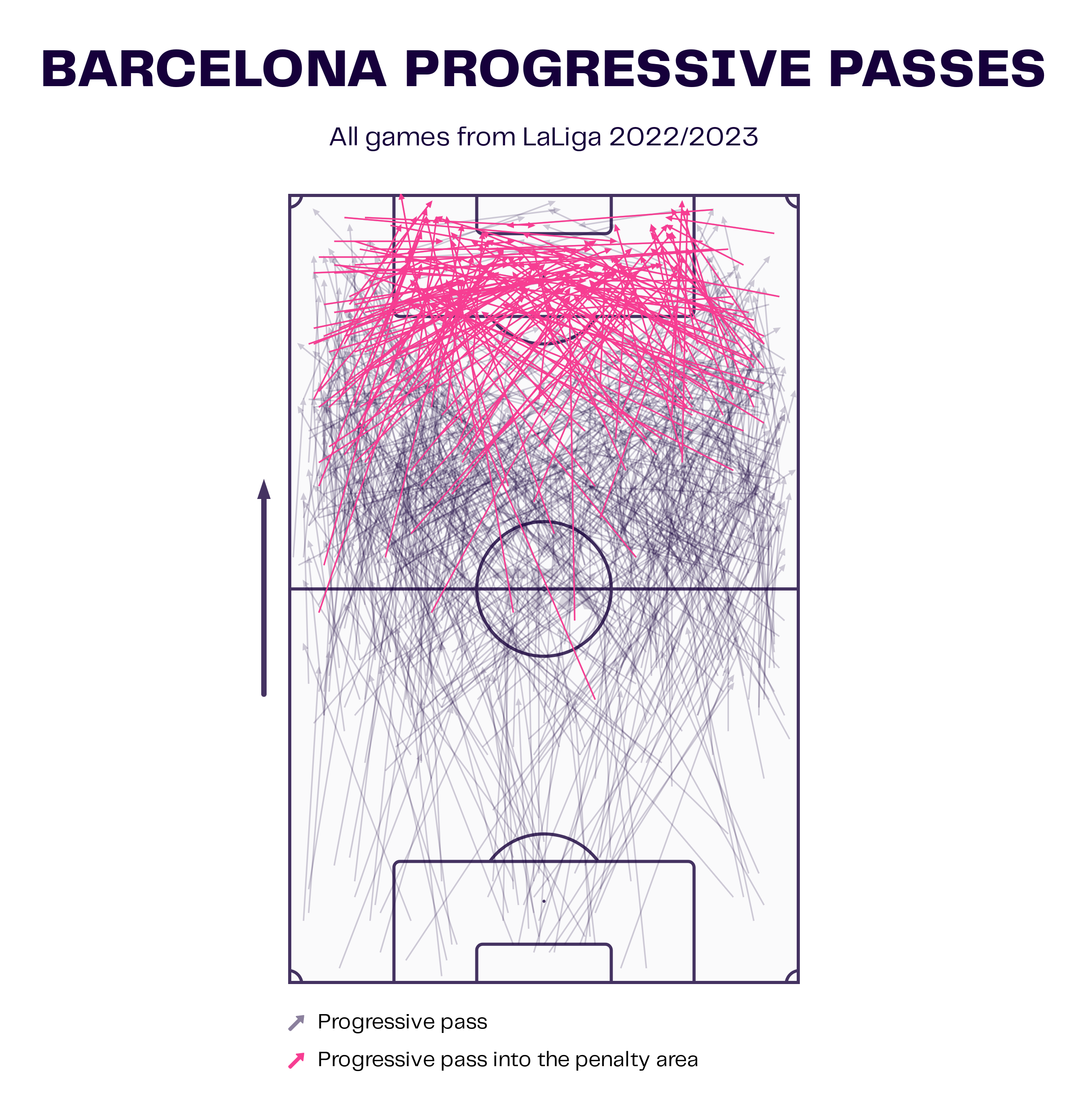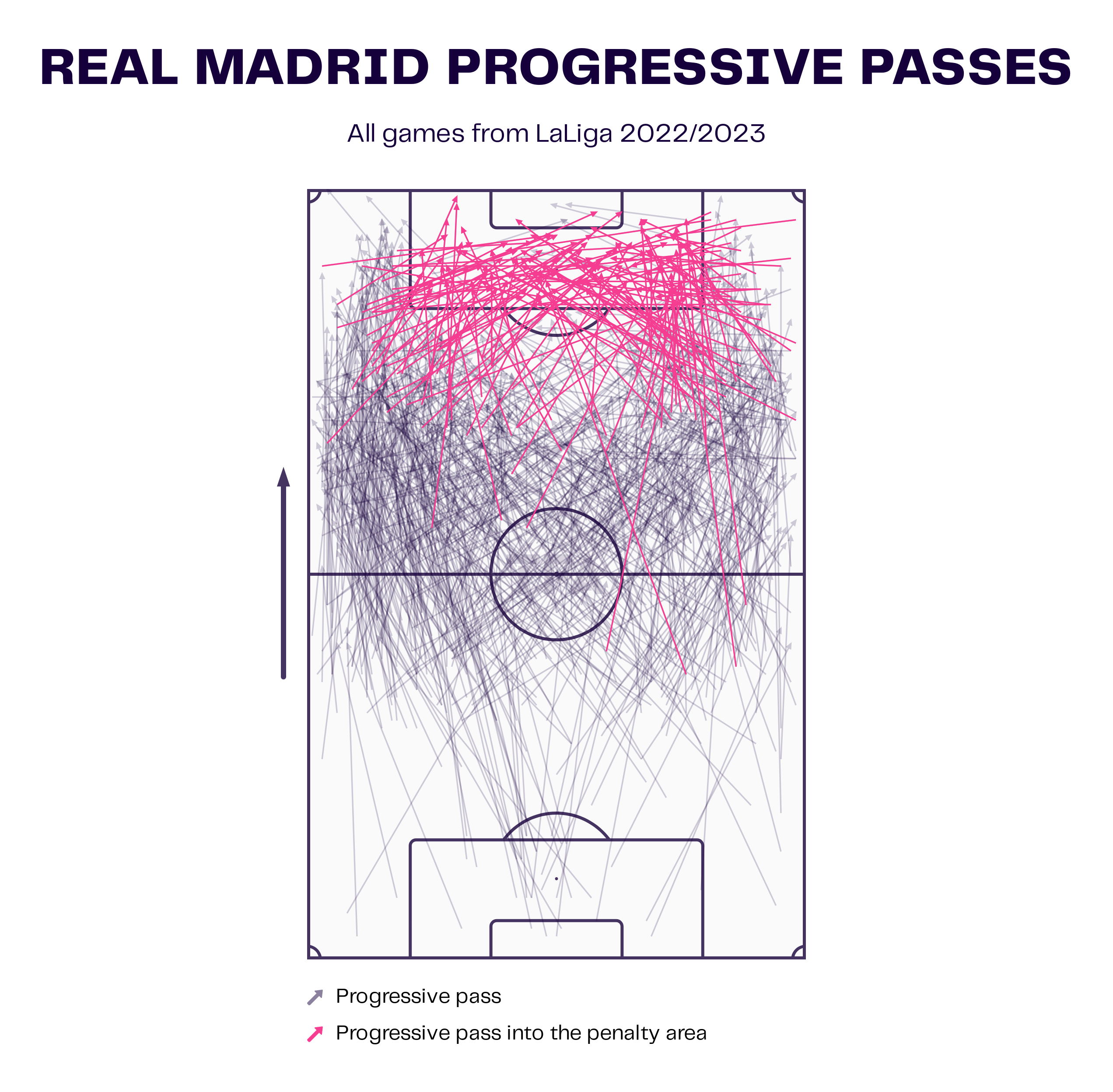 The two visuals above compare both teams on the basis of progressive passes. While both teams use the flanks significantly to move the ball forward and attempt a similar amount of progressive passes, Real Madrid delivers more passes and crosses accurately into the box from the wide positions compared to Barcelona. The Catalan side uses the central zones in midfield to progress the ball forward. They have an average of 69 passes to the final third with 83% accuracy, compared to 67.2 such passes with 86% accuracy by the side from Madrid. In terms of possession rate, Barcelona sees more of the ball, with 62.97% possession compared to Real Madrid's 59.07%.
Shots faced by both keepers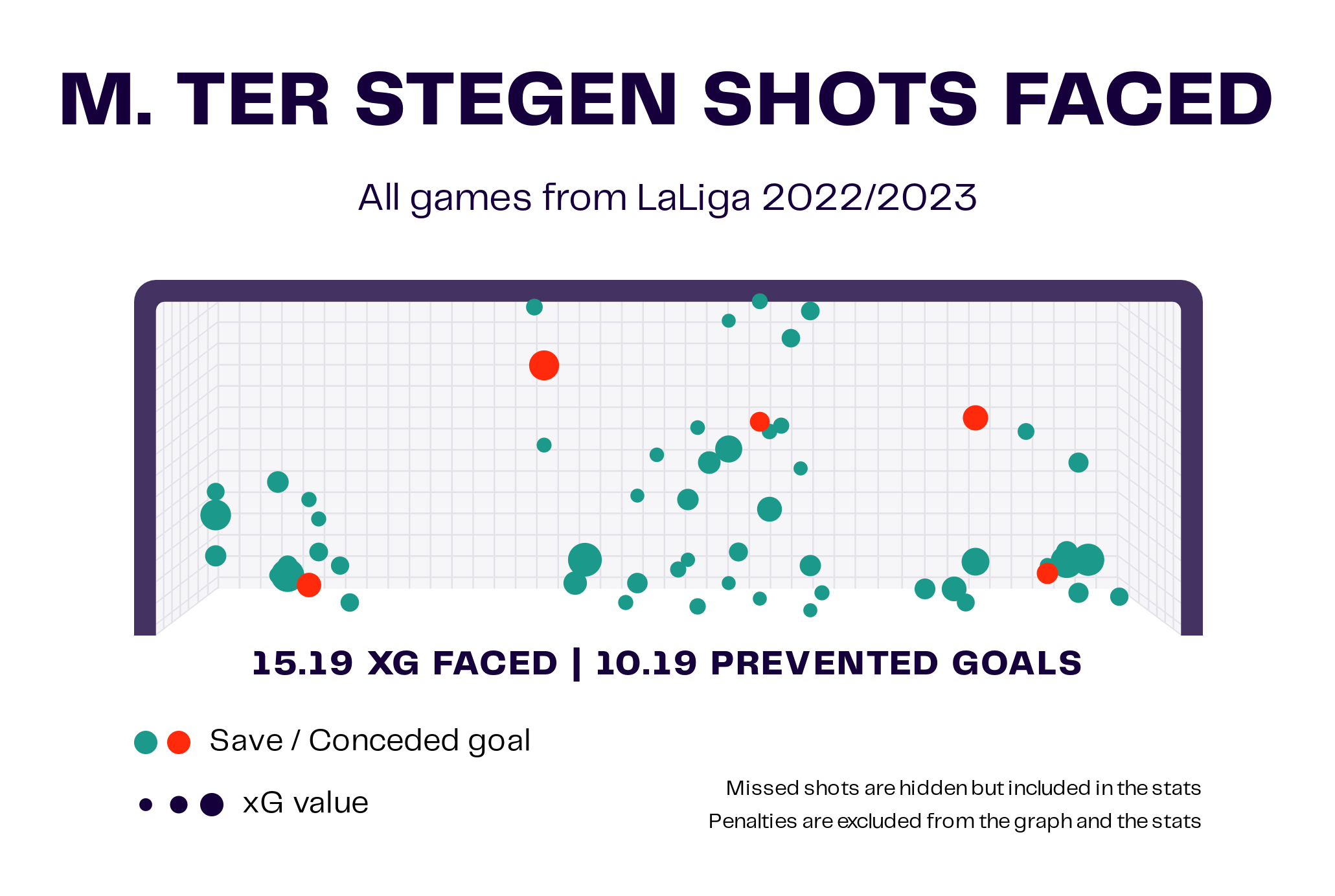 Marc-Andre Ter Stegen has been guarding the goal for the Blaugarana this season and has done an outstanding job preventing goals. Barcelona have kept 19 clean sheets in 25 matches, and the German has played all the available minutes. They are the only team in Europe's top five leagues to have conceded less than ten goals. Ironically, three of those have come against the reigning European Champions. As seen from the above visuals for his shots faced, he is yet to be tested in the top bins and hasn't faced a shot in the top corners. Xavi's team faces 8.08 shots from their opponents on average and lets in 0.32 goals per 90 minutes, having conceded a total of eight goals thus far.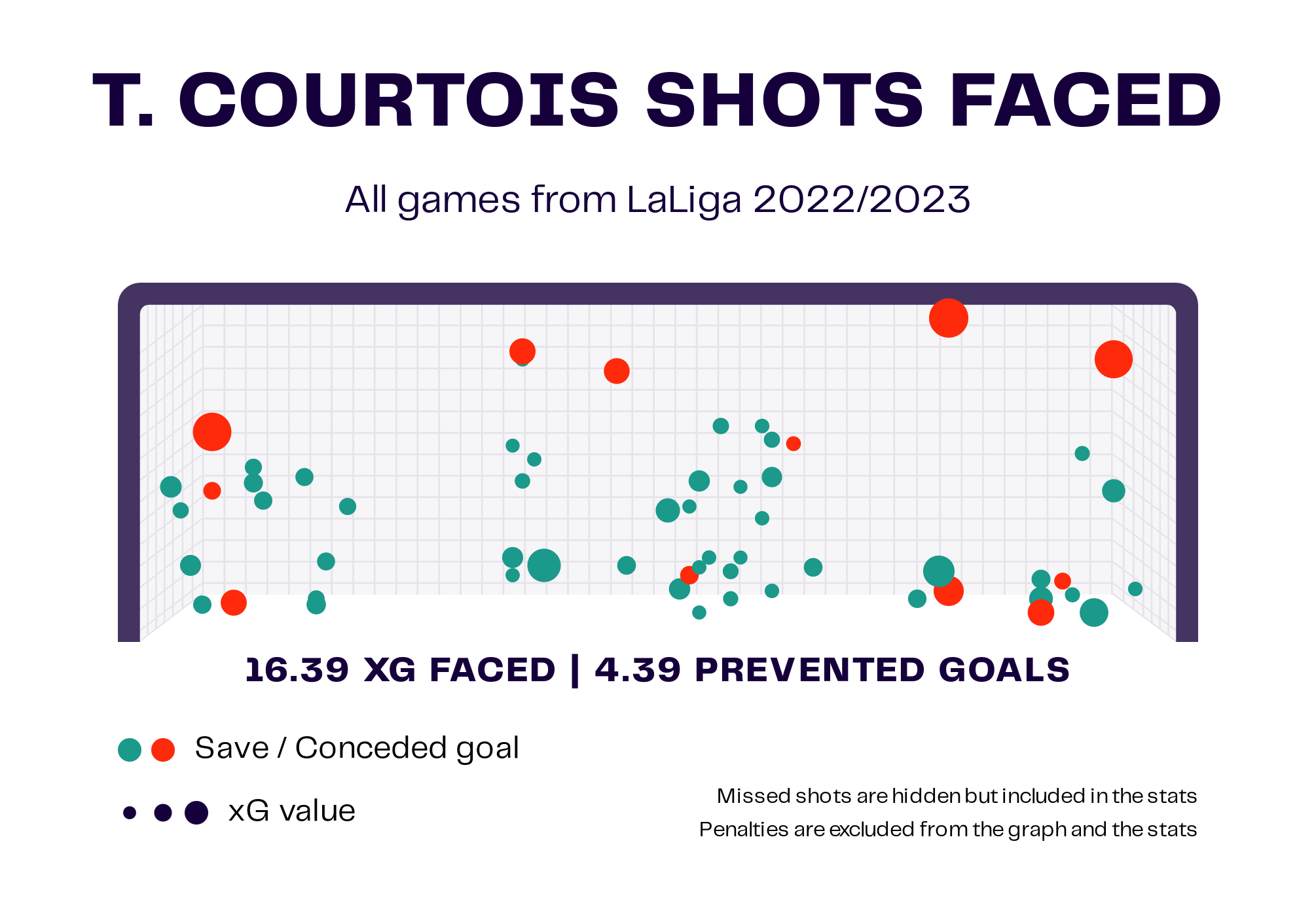 Thibaut Courtois has managed to keep six clean sheets in 19 matches in the Spanish top flight. Real Madrid faces 9.8 shots on average from their opponents and have conceded 0.76 goals per 90 minutes. Los Blancos have conceded a total of 19 goals this season. It can be seen in the above viz that the goalkeeper needs to be tested in order to be scored against, as he makes difficult saves seem easy.
Key players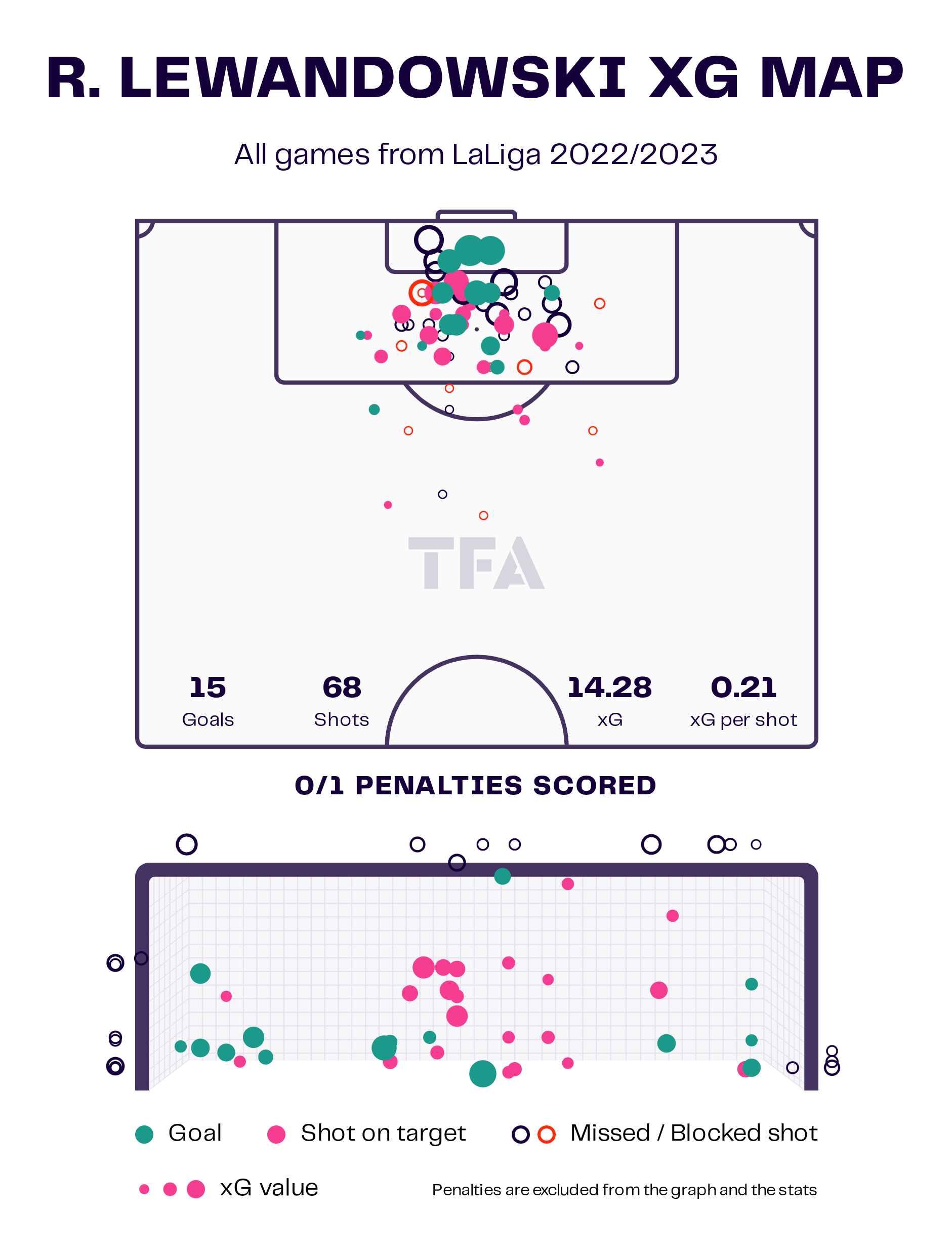 Robert Lewandowski is one of the best players in Europe going forward. He has scored 15 goals in 21 La Liga appearances this season. He has taken 68 shots in total (0.21 xG per shot) and has an overall xG of 4.28 in the competition. The Polish striker has scored most of his goals from inside the box. Additionally, one came from long range, the only one the team has scored from outside the box. He surely has the calibre to test the Madrid goalkeeper, and he will have to be on top of his game going into this one.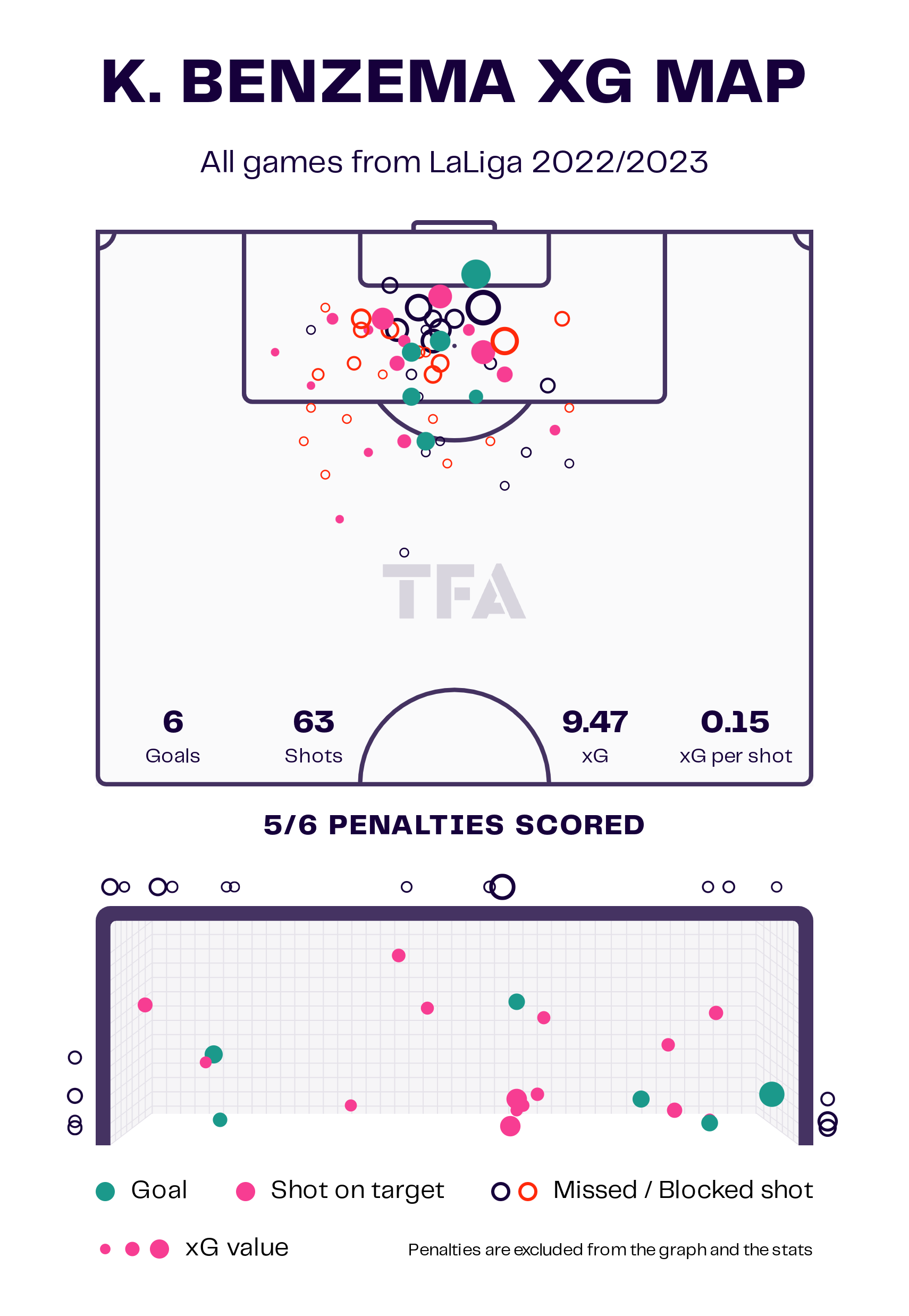 Karim Benzema will be looking to add more goals to his ever-increasing tally. This season, he has scored 11 goals ( accumulating 9.47 non-penalty xG) from 63 shots and has an xG of 0.15 per shot. He has scored a variety of goals, and most of them have come from inside the box or near the six-yard area. He will be one of many whom the Barcelona backline will be looking to contain at any cost, especially given his knack for goals.
Team news
Barcelona will be without long-term absentee Ousmane Dembele, and Xavi may miss out on the services of Pedri in the middle of the park, both due to injuries.
Meanwhile, Real Madrid will travel to Catalonia without David Alaba, with the rest of the squad fit for Ancelotti's selection.
Overall, a Barcelona versus Real Madrid match is always an exciting spectacle, and anything can happen. The two teams will be looking to assert their dominance and secure bragging rights in this classic rivalry.
Visuals via TFA data viz engine