Barcelona will be looking to make it ten straight wins in all competitions when they host Sevilla on matchday 20 of La Liga 2022/23. The Catalan outfit moved eight points clear at the top of the table courtesy of a 2-1 victory over Real Betis in Seville. Xavi's side has been victorious in their last four in La Liga, and they now have two more league games against Sevilla and Villarreal before welcoming Manchester United for the first leg of their Europa League knockout round playoff encounter.
Whereas Sevilla are in a genuine relegation battle, Jorge Sampaoli's Andalusians have recently enjoyed back-to-back victories against teams at the bottom of the table. Sevilla are currently placed 13th in the standings with 21 points, just three points clear of relegation.
It is an important match for both teams, and below we look at some of the stats for them from their current season in order to determine the most likely outcome of the match.
Barcelona vs Sevilla's overall performance 
The visual above shows both Barcelona's and Sevilla's percentile rank compared to other teams in La Liga. The hosts have better stats in almost all the metrics. They have a good percentile score in key passes per game, shots, and goals, while Sevilla plays a lot more crosses than the visitors. Barcelona are dominating in attack this season as well as having managed to concede a mere seven goals in all their matches, three of which came in the El Classico. Sevilla will have to attack smartly in order to make it past the Barcelona backline and then Marc-Andre Ter Stegen.
xG comparison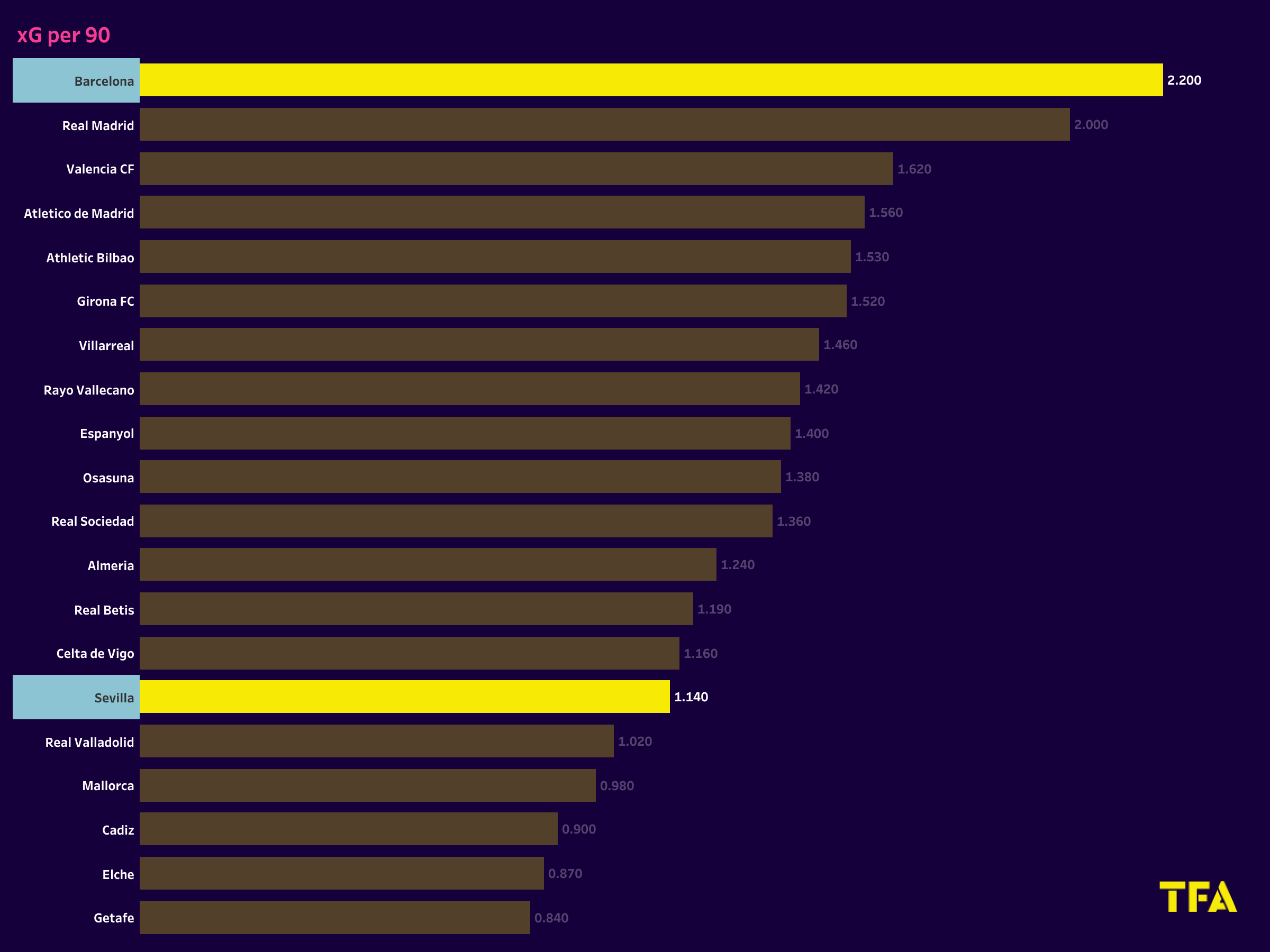 As we can observe from the pizza chart, Barcelona creates a lot more threat in attack than Sevilla and creates a lot of danger going forward. They average 2.05 goals per game, with 2.28 xG per match, and are ranked top in terms of expected goals per 90 in the league. Meanwhile, Sevilla are ranked very low in terms of goals per 90 minutes, averaging 1.11 goals per match. They are ranked very low when it comes to xG per 90 minutes, averaging 1.18 xG per match.
Efficiency in attack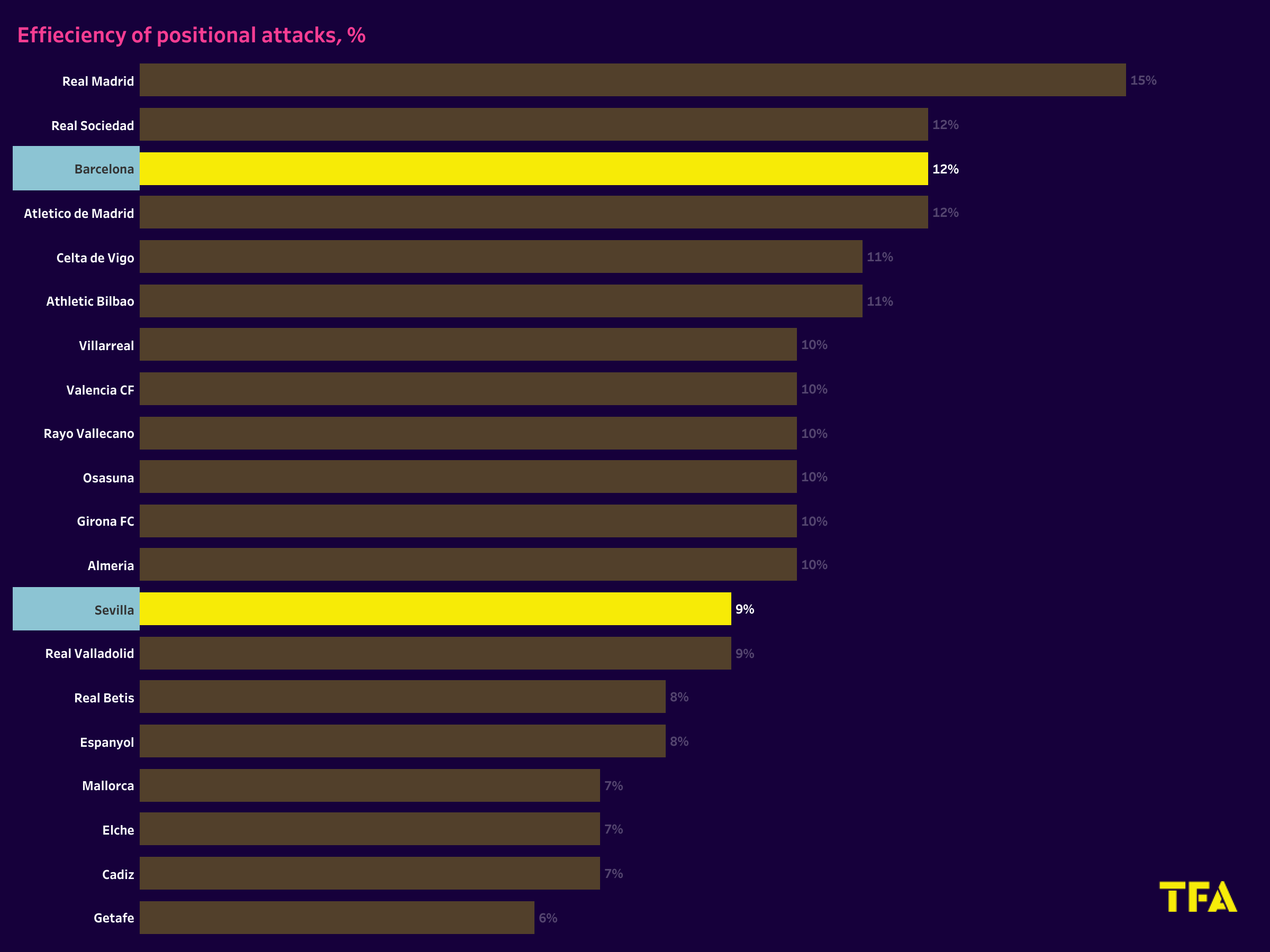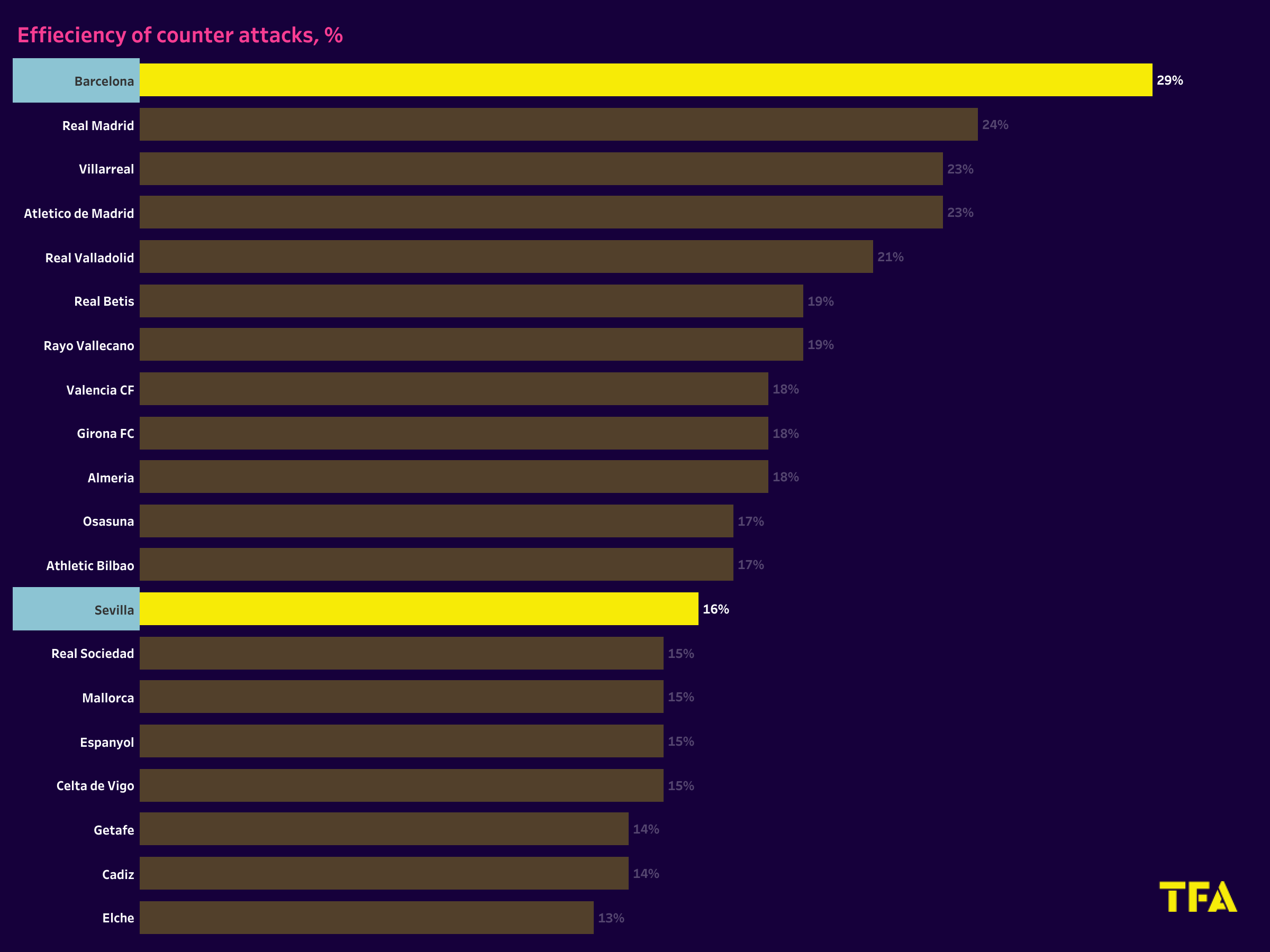 The two visuals above compare both teams on the basis of positional play and counter-attacks. Barcelona holds an advantage for counterattacks, with 29% efficiency against the visitor's 16%. Barcelona creates 35.85 positional attacks on average and takes shots from 25% of such plays. Meanwhile, Sevilla creates 29.89 positional attacks per match, with 22.7% of them resulting in shots.
Alternatively, Barcelona launches 1.68 counterattacks per match, with 59.5% of these attacks ending in shots. Meanwhile, Sevilla launches 1.68 counterattacks on average, with 40.5% of them ending in shots. We can expect Barcelona to dominate possession and create more chances while Sevilla adopts a more agile and efficient approach to their attacking moves in this fixture.
Success in defence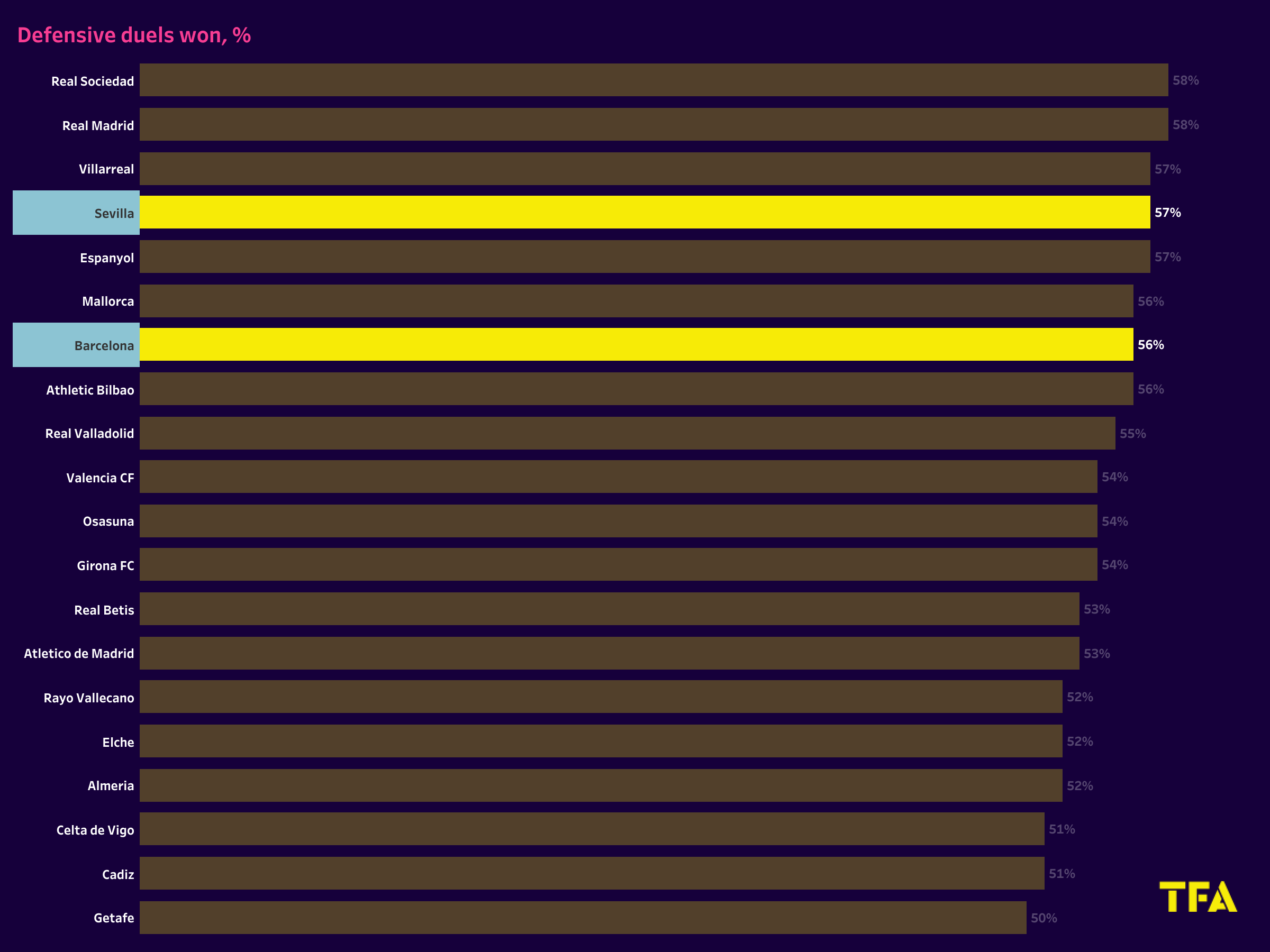 The above visual represents the ranking of teams in Ligue 1 based on their percentage of defensive duel wins. It can be seen that Barcelona are ranked seventh in the league for successful defensive duels. Barcelona have a 56% win rate in defensive duels, and Sevilla, on the other hand, have a 57% success rate. On average, Barcelona attempts 63.53 defensive duels and makes 34.53 interceptions per 90 versus 62 defensive duels and 35.47 interceptions per 90 for Sevilla.
Key Players
Robert Lewandowski is a striker for the Spanish La Liga club Barcelona. Robert Lewandowski joined Barcelona in 2022 and has already proven his value in front of the goal for the team. In the Spanish La Liga season 2022–23, Robert Lewandowski has played 15 matches (plus 1 as a sub). He has 30 shots on target from a total of 51 and has scored 14 goals (15.03 xG). Robert Lewandowski averages 22 passes per match with a pass completion rate of 81% and has four assists. Additionally, he takes 3.47 shots per 90, with a 55.8% shooting accuracy.
Team News
Ousmane Dembele suffered a thigh injury during Barcelona's clash with Girona last weekend, and the France international is expected to be unavailable until at least the end of February. Barcelona have no players suspended for this match.
Marco and Alex Telles are out injured for Sevilla, with the rest of the squad available for the match. Alternatively, Nemanja Gudelj faces the risk of being suspended.
In conclusion, Barcelona are looking to extend their winning streak to ten games when they host Sevilla on Sunday. Meanwhile, Sevilla are in a relegation battle and have recently enjoyed back–to–back victories against teams in the bottom half of the table. It promises to be an intriguing match as each side looks to gain the upper hand in the race for the La Liga title and survival in the division.
Visuals via TFA data viz engine