Barcelona will take on Valencia at the Spotify Camp Nou in what promises to be a thrilling match this weekend. 
Barcelona have been impressive this season and currently sits first in the La Liga table, seven points ahead of Real Madrid. They have had a rough end to February, dropping out of the Europa League and losing to Almeria in their last league outing. There is a sign of positivity after their win against Real Madrid in the first leg of the Copa Del Rey semi-final, but it didn't seem up to the mark. 
Valencia, on the other hand, have had an inconsistent season and have struggled to find the right balance. The team has been inconsistent in recent weeks, sitting in the relegation zone at 18th, and it comes as a shock to many after their extremely impressive campaigns in recent seasons. They have lost four of their last five games and are in a very tough spot. 
It is a crucial season for both sides as they look to redeem themselves from past glories. We now look at some of the stats for both teams that will help predict the most likely outcome of the match.
Overall comparison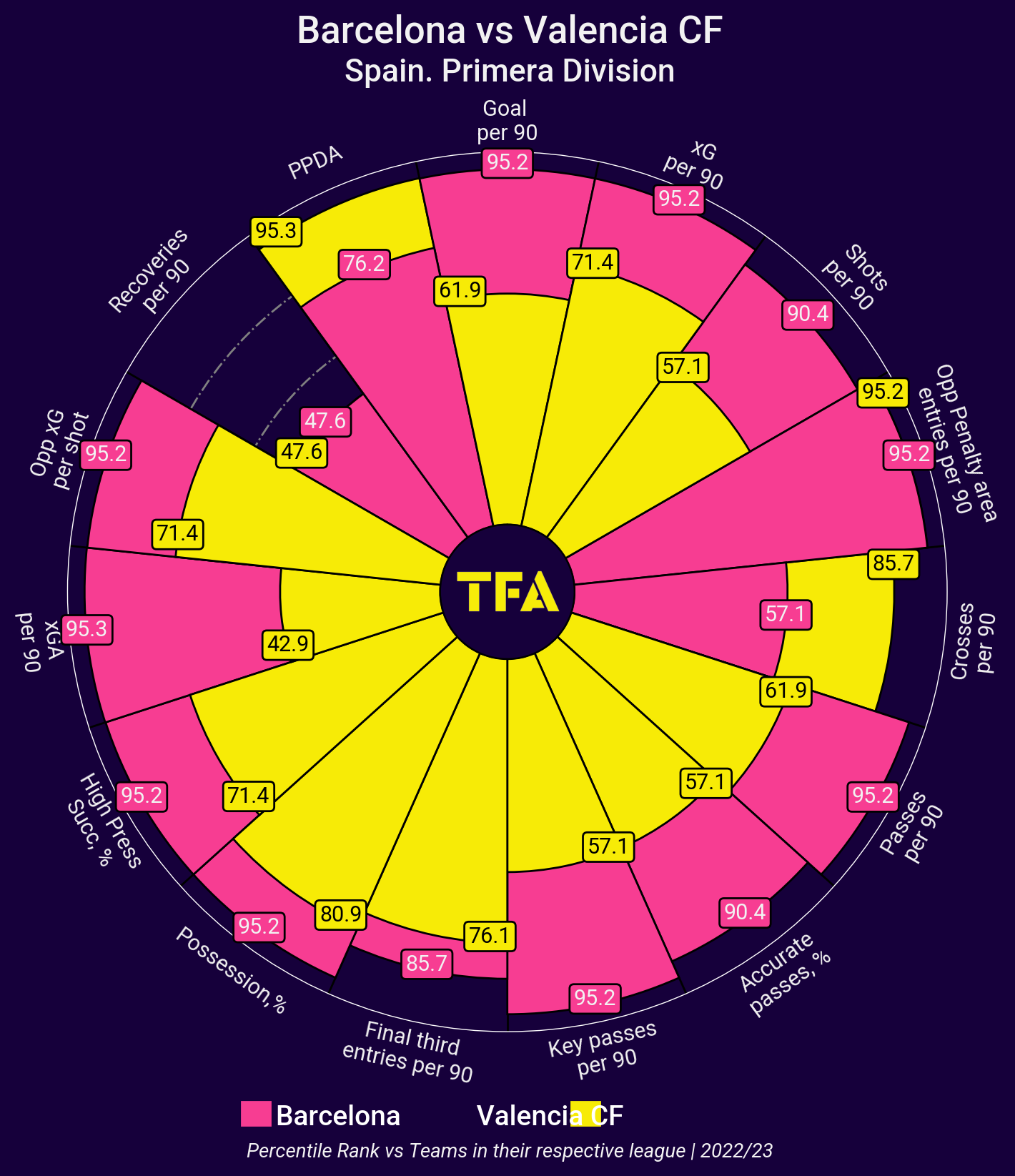 The visual above shows the percentile rank of both teams as compared to other teams in La Liga this season. Barcelona have better stats than the others in all the departments. The team is leading the table as well and is ranked at the top in terms of its percentile ranks for most of the departments. Valencia, on the other hand, have done well in the league in terms of pressing high and putting in crosses. Both teams are ranked similarly in terms of entries into the opponent's penalty area per 90 as well as recoveries.
Barcelona have scored 45 goals, averaging 2.18 xG per match. Their defence has let in only eight goals, conceding 0.35 goals per 90. The team averages 14.22 shots per game with a 37% accuracy rate. Additionally, the team averages 63.45% possession per match.
Meanwhile, Valencia have netted 27 goals, averaging 1.4 xG per match. Their defence has let in 27 goals, conceding 1.17 on average. Valencia's players take 11.78 shots per match with a 34.3% accuracy rate. In terms of ball possession rate, they average 55.07% per match.
Efficiency in attack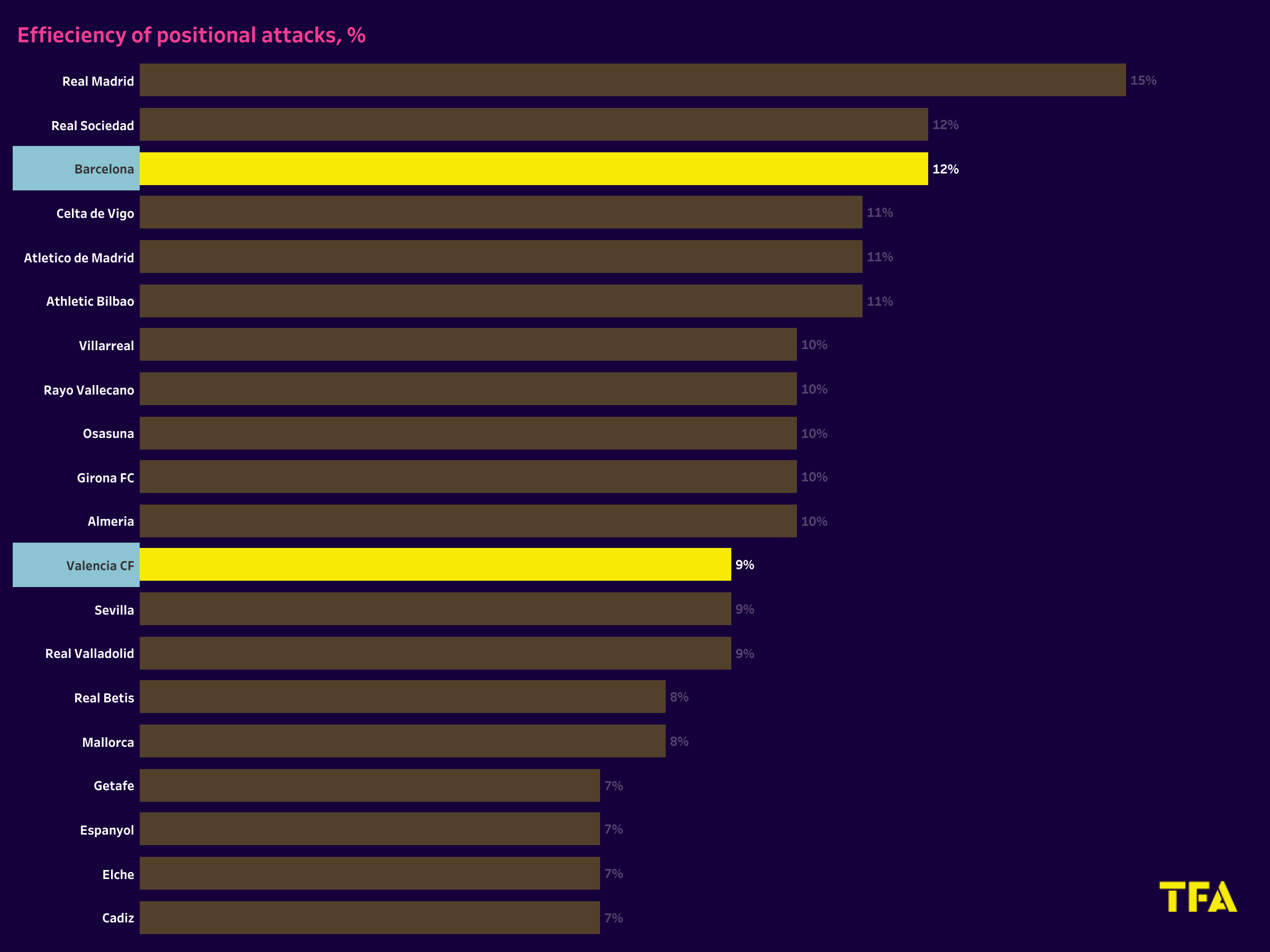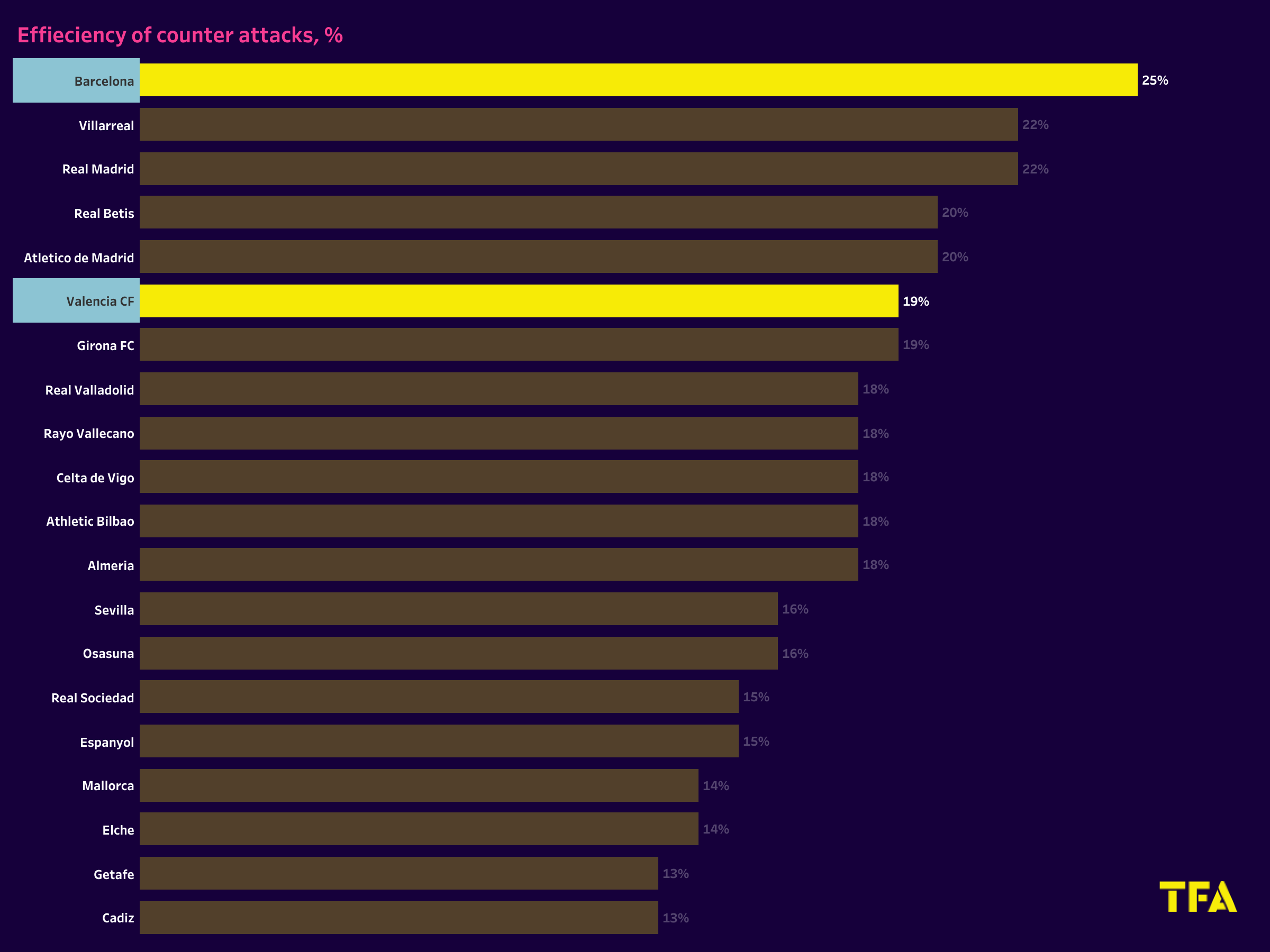 The two visuals above compare both teams on the basis of positional play and counter-attacks. The hosts lead the league for efficiency in counterattacks with 24% efficiency, whereas the visitors are on top when it comes to efficiency in positional attacks.
Barca creates 35.09 positional attacks on average and takes shots on 24.9% of such plays. Meanwhile, Valencia creates 30.04 positional attacks per match, with 20.8% of them resulting in shots.
Alternatively, Valencia launches 1.96 counterattacks per match, with 55% of these attacks ending in shots. Meanwhile, the hosts launch 1.7 counterattacks on average, with 51.2% of them ending in shots.
Success in defence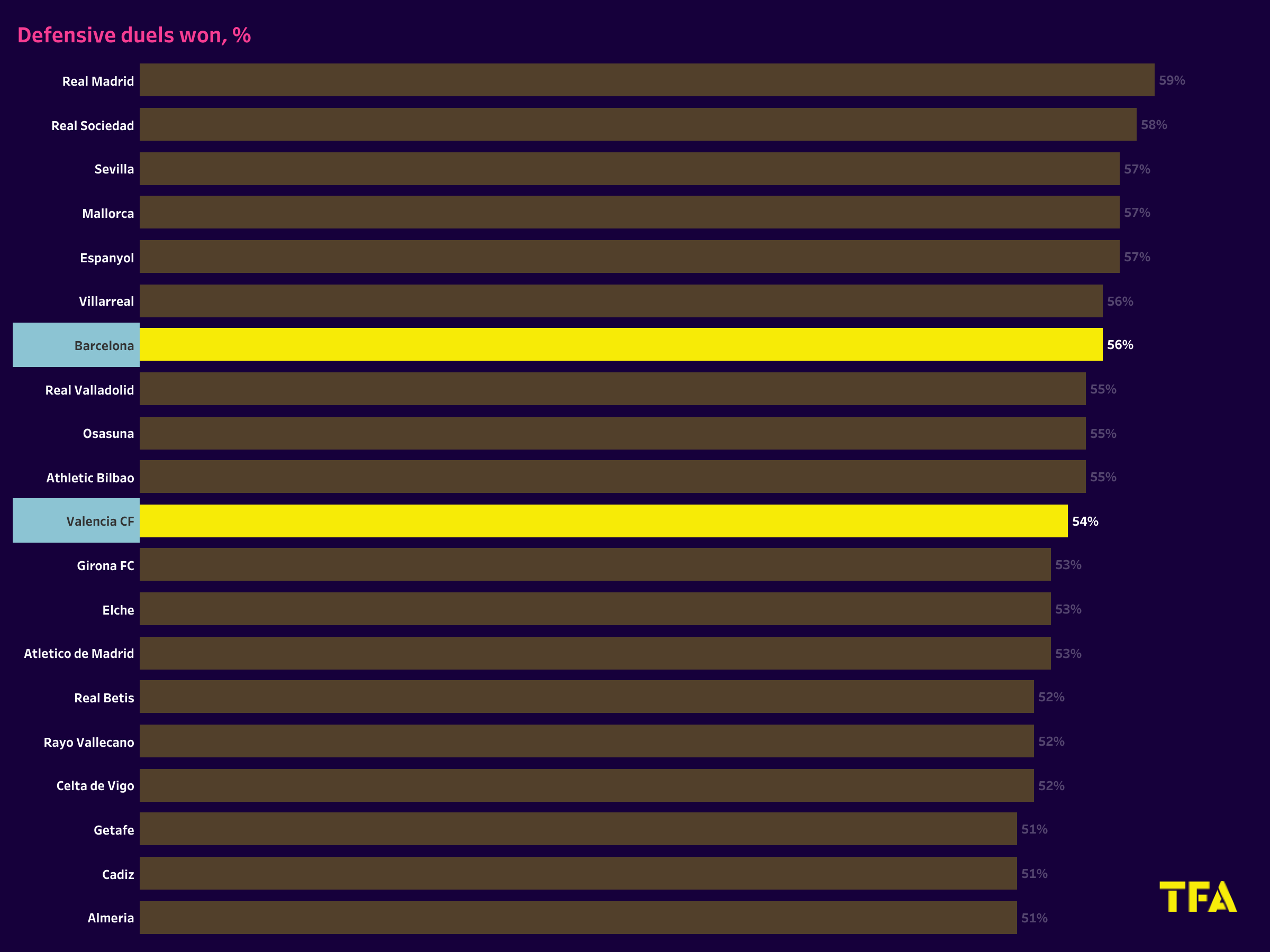 The above visual represents the ranking of teams in La Liga based on their percentage of defensive duel wins. It can be seen that Valencia are ranked lower in the league for successful defensive duels. They have a 54% win rate in defensive duels, and Barcelona, on the other hand, have a 56% success rate. On average, Barcelona attempts 61.52 defensive duels and makes 34.9 interceptions per 90 versus 72.83 defensive duels and 37.48 interceptions per 90 for Valencia.
Key Players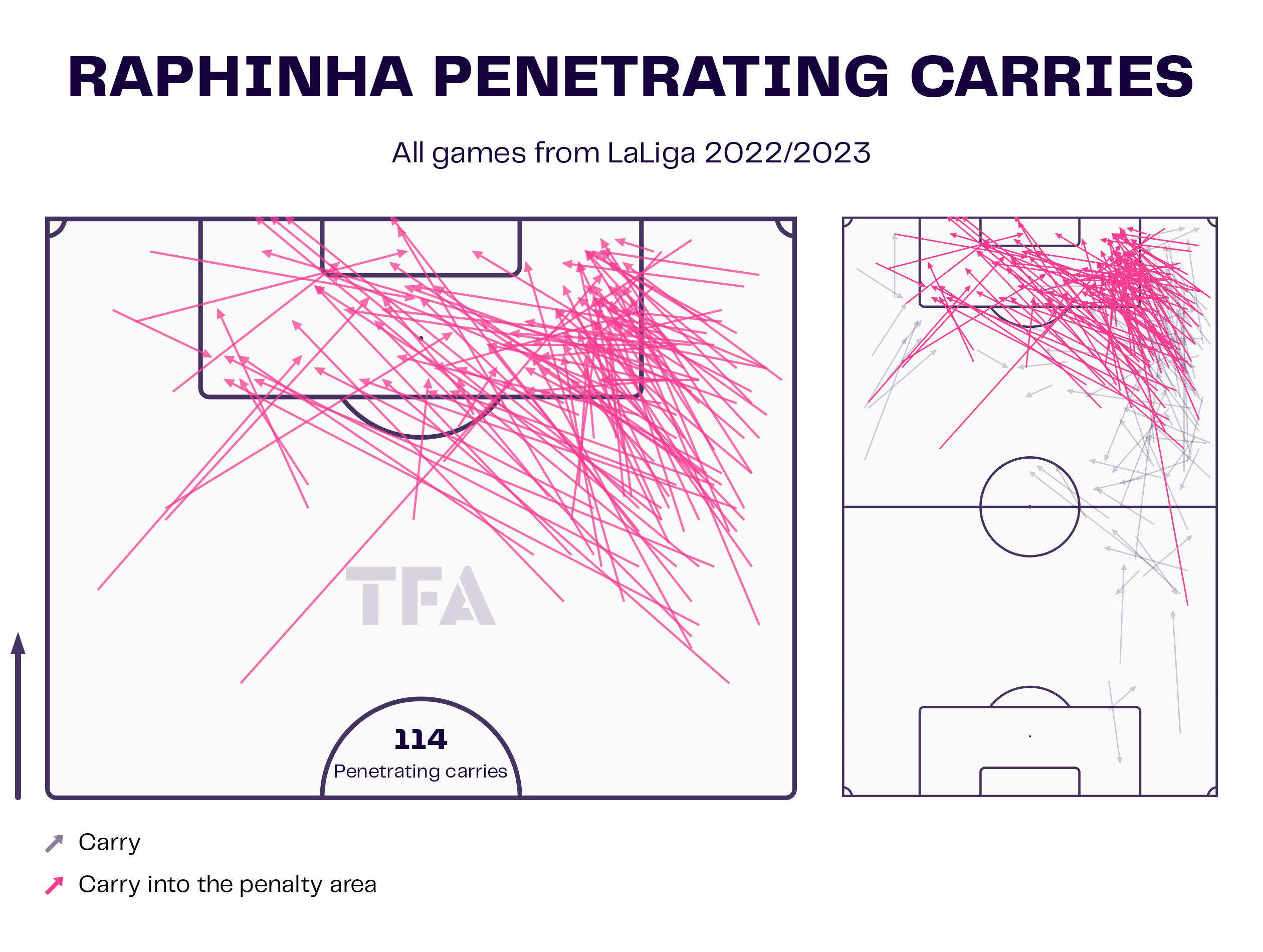 The Brazilian winger has had a fairly decent season with the Blaugarana; he has managed to impress on quite a few occasions and seems to be finally settling into Xavi's setup. The above viz depicts that he has made a total of 114 penetrating carries in La Liga this season. His ability to dribble past one or two defenders and get into dangerous areas is one of his specialities.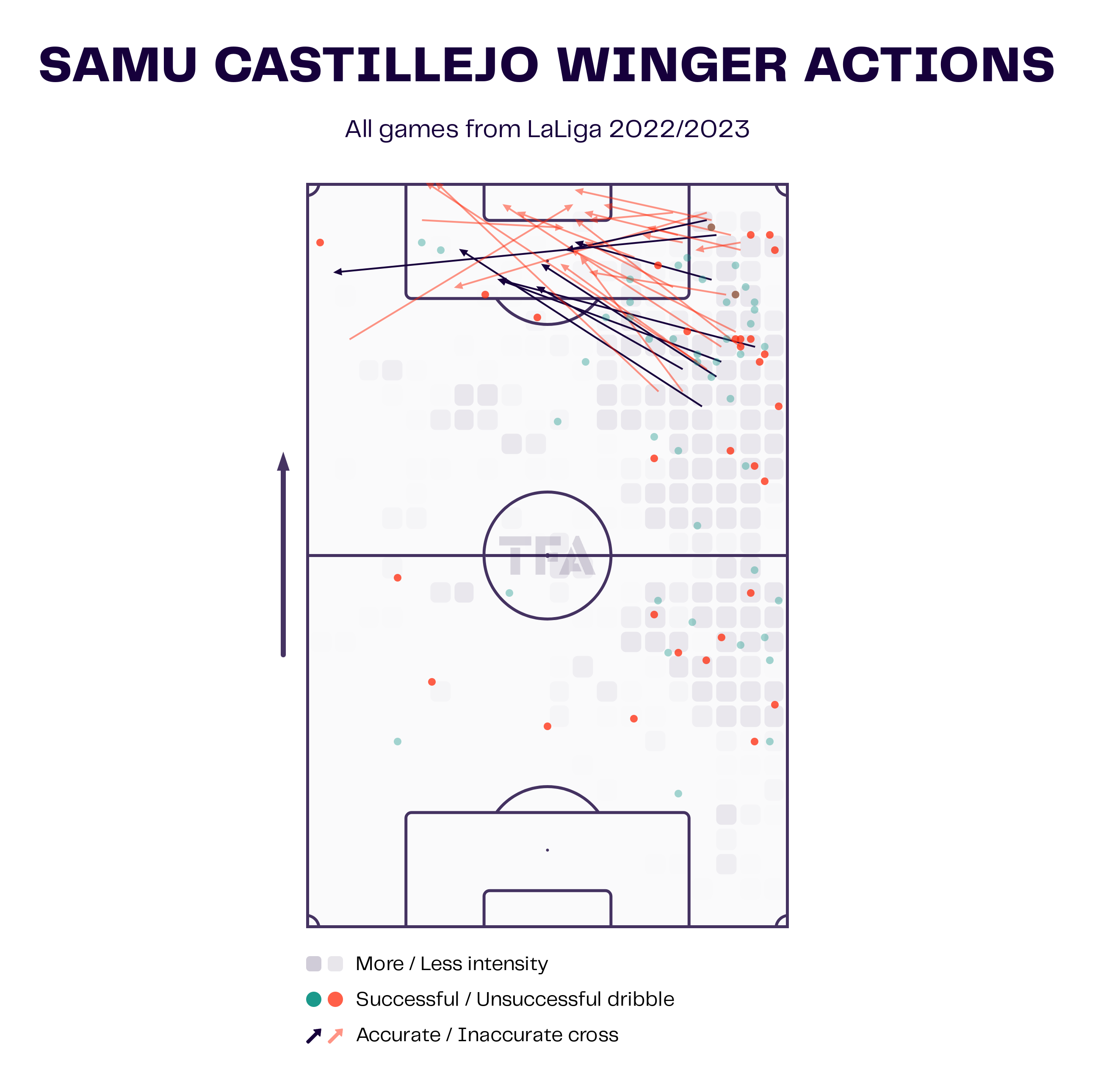 The Spanish forward will be the player to watch in Valencia's 11. Samu Castillejo, who plays as a right winger, has been menacing down the right flank. It can be seen that he makes plenty of crosses into the box and also has the tendency to attempt dribbles in the final third. He will be a threat to the Barcelona backline all night.
Team News
Los Che will miss out on Edinson Cavani, Thierry Correia, Nico Gonzalez, and Jaume Domenech due to injuries. Meanwhile, Lewandowski, Pedri, and Ousmane Dembele are out of the running for Xavi as they watch from the sidelines due to being injured.
Valencia will look to take advantage of any defensive lapses from Barcelona and will be hoping to take all three points. Although it should be noted that the Blaugarana are the only team in Europe to not have conceded more than ten goals in their domestic campaign,
Barcelona, meanwhile, will be looking to use their attacking quality to create chances and take the game to Valencia. Both sides are without their first-choice goal scorers, and the match will have plenty of intensity down the flanks. Barcelona goes into this one as favourites as they look to lift their first La Liga title since the departure of Leo Messi.
Visuals via TFA data viz engine