Sevilla have somehow managed to recover a bit from their woeful start to the season with two back-to-back wins in La Liga. However, they need more reinforcements and personnel changes to get back to where they were a couple of years ago. One such name they have turned to is Bryan Gil of Tottenham Hotspur. They have signed the young Spaniard from Tottenham Hotspur in order to improve their chances of qualifying for European competitions. The winger, who didn't get much playing time under Antonio Conte, has decided to go back to Spain. Therefore, we look at his stats to understand how Bryan Gil can save Sevilla from relegation.
On the wing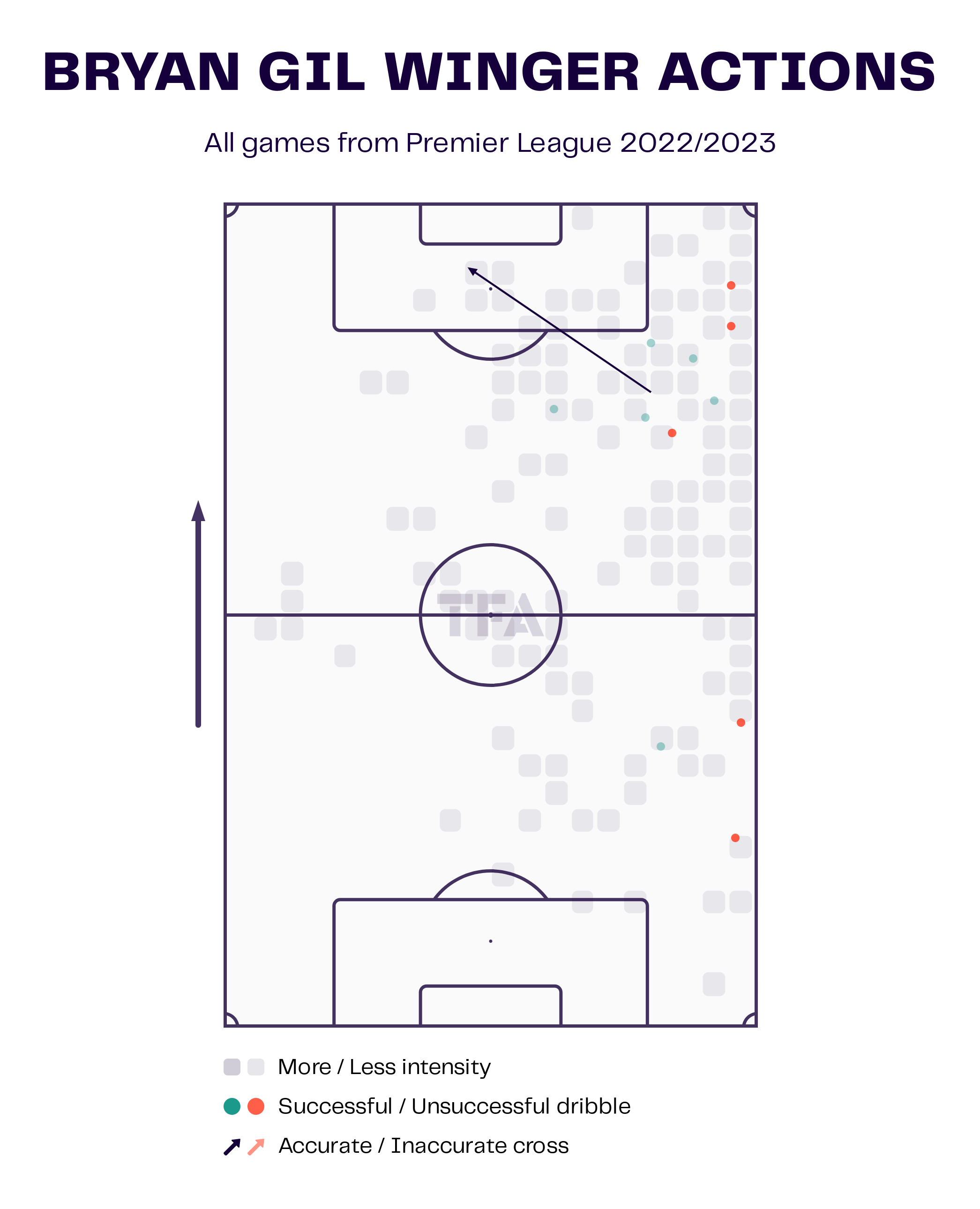 The visual above shows Bryan Gil's actions as a winger. He has not played many matches this season and therefore does not have a good sample size to look at. But he has shown promise whenever he has come on for the Spurs. The 21-year-old, who plays as a winger, can take on players and has played some crosses into the box as well. He has taken part in an average of 9.39 offensive duels per game, winning 35.3% of them. He has also played an average of 1.1 crosses into the box with a 50% success rate.
Passing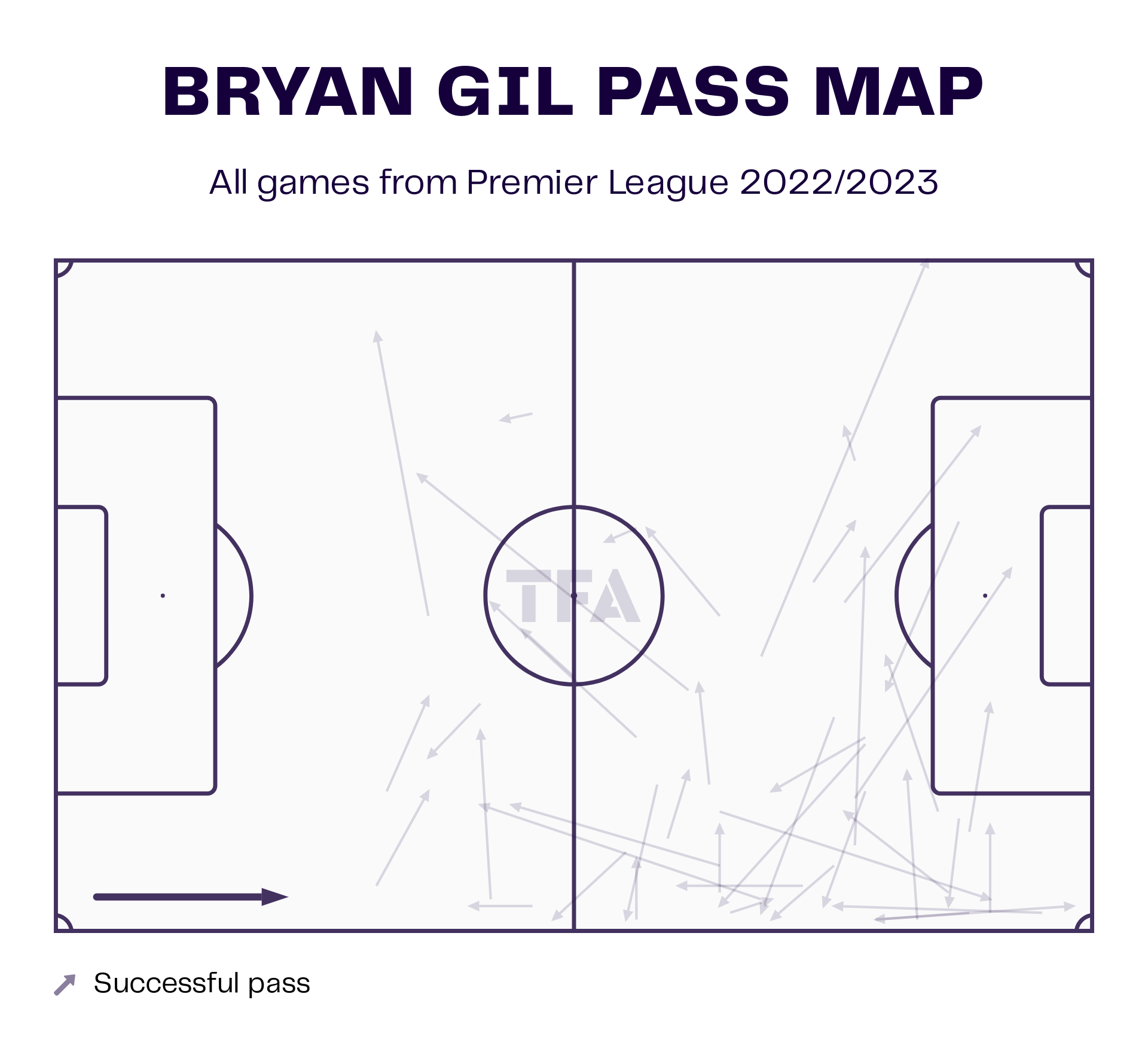 The visual above shows Bryan Gil's passing map from the current season. He has completed an average of 30.9 passes per game with 80.4% accuracy. He has made an average of 1.66 passes into the final third per game with 66.7% accuracy and an average of 2.21 passes into the penalty box with 75% accuracy. He also plays a lot of passes into the central area to try and combine with players in that position.
Dribbles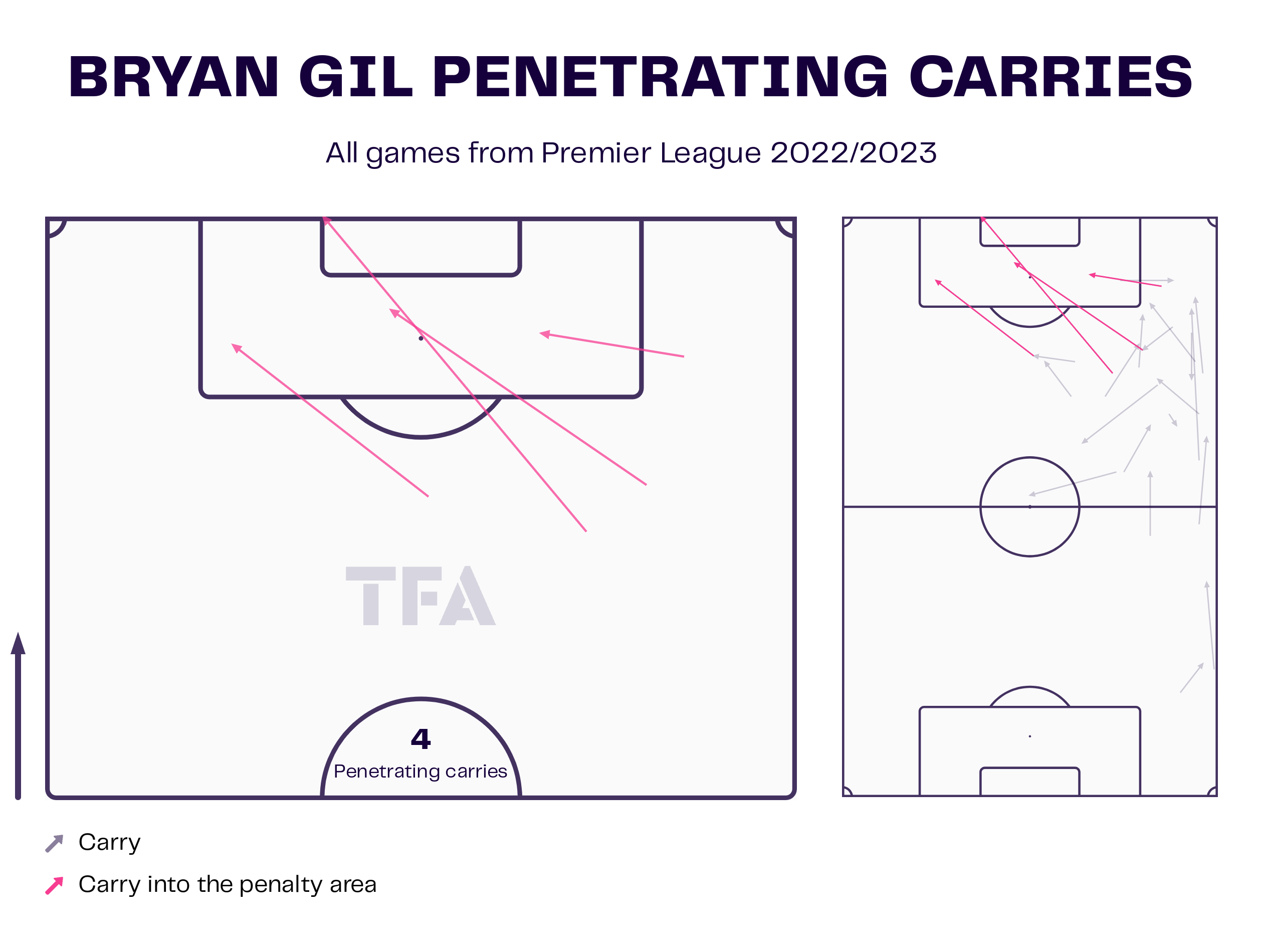 The visual above shows Bryan Gil's penetrating carries from the current La Liga season. Even though he has made only four penetrating carries this season, he has an average of 6.07 dribbles per game with 54.5% success. For the limited time Gil has played, he has made some good dribbles into the penalty box. He also has an average of 2.21 touches per game in the opposition's penalty area. Apart from all the dribbles, Gil also makes an average of 1.66 progressive runs per game.
Last season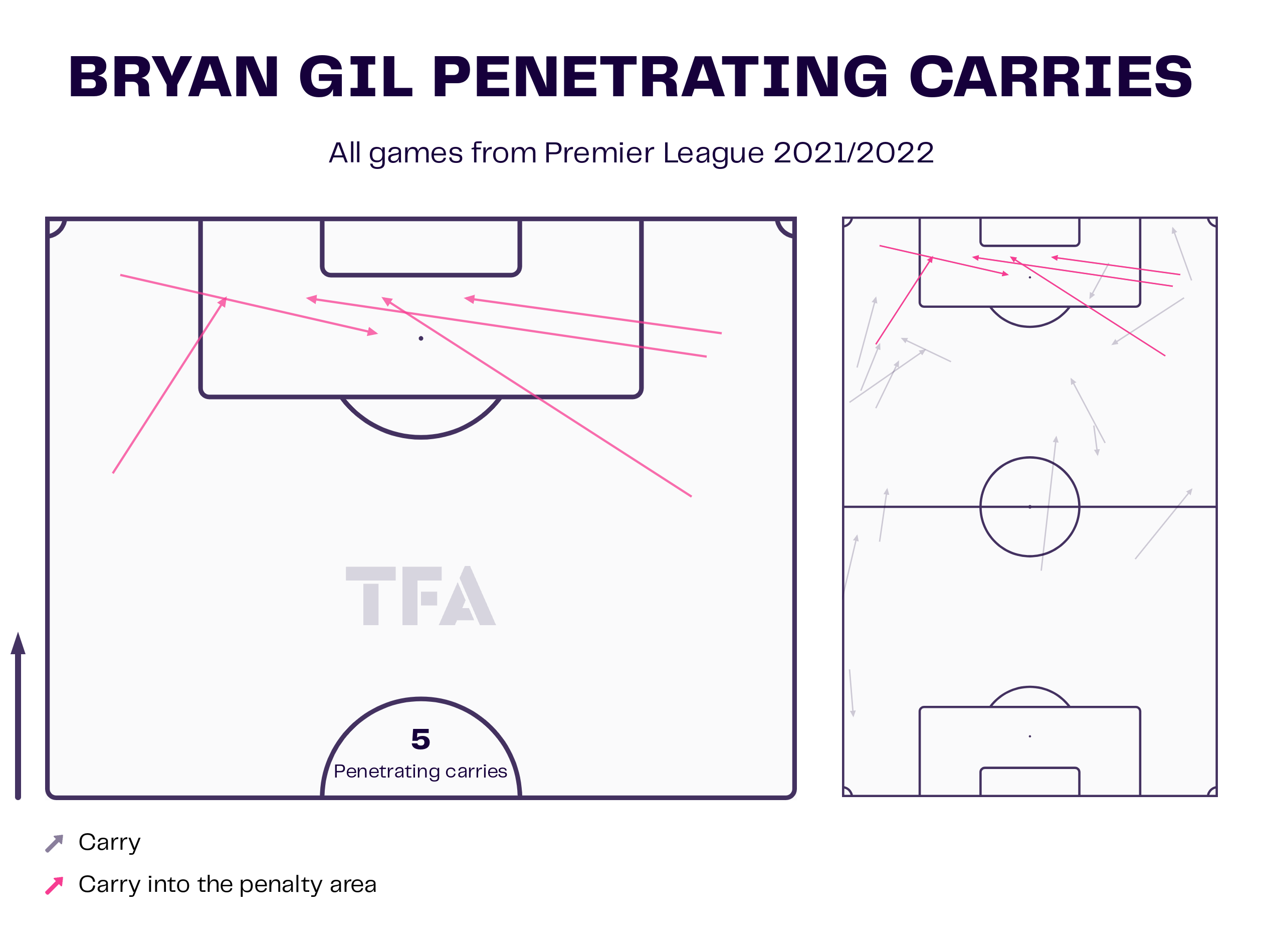 The visual above shows Bryan Gil's penetrating carries from the previous season. He only played nine matches last season and made five penetrating carries. Last season, he made around six dribbles per game with 78% accuracy. Even though his average number of dribbles has increased a bit, his efficiency has decreased from 78% to 54.5%. But this could be due to the limited playing time. He also made an average of 2.67 progressive runs per game last season.
Betting Analysis
Bryan Gil has made very few appearances in the recent past, and therefore there aren't many stats to back him up. But Gil's dribbles, pace, and ability to combine with other players might just make Sevilla's team better. Therefore, the odds for Sevilla might go down a bit in the 1×2 market. However, no significant change is expected in the over/under line market.
Bryan Gil's return to his boyhood club comes at an unfortunate time as they are struggling at the moment. But Gil's footballing skills and ability to change the match can at least help them avoid relegation. Both the player and the club will be hoping that the young Spaniard can brighten their chances.
Visuals via TFA data viz engine