Dani Parejo, who joined Villarreal from Valencia in the summer of 2020, could prove to be an important part of the club's push for a top–six finish in La Liga this season. The Spanish midfielder is an experienced and versatile player who can provide a spark to the team's attack. Parejo is an excellent passer, capable of picking out teammates from deep and providing support in the final third. He has terrific vision and an eye for the killer pass, and his ability to read the game and spot opportunities for his teammates has been a major asset for Villarreal. He also has a keen eye for goals and is a reliable set–piece taker. His experience and defensive capabilities are also invaluable. He can provide cover in midfield, help dictate the tempo of the game, and break up opposition attacks. Below are some of his stats for Villareal this season.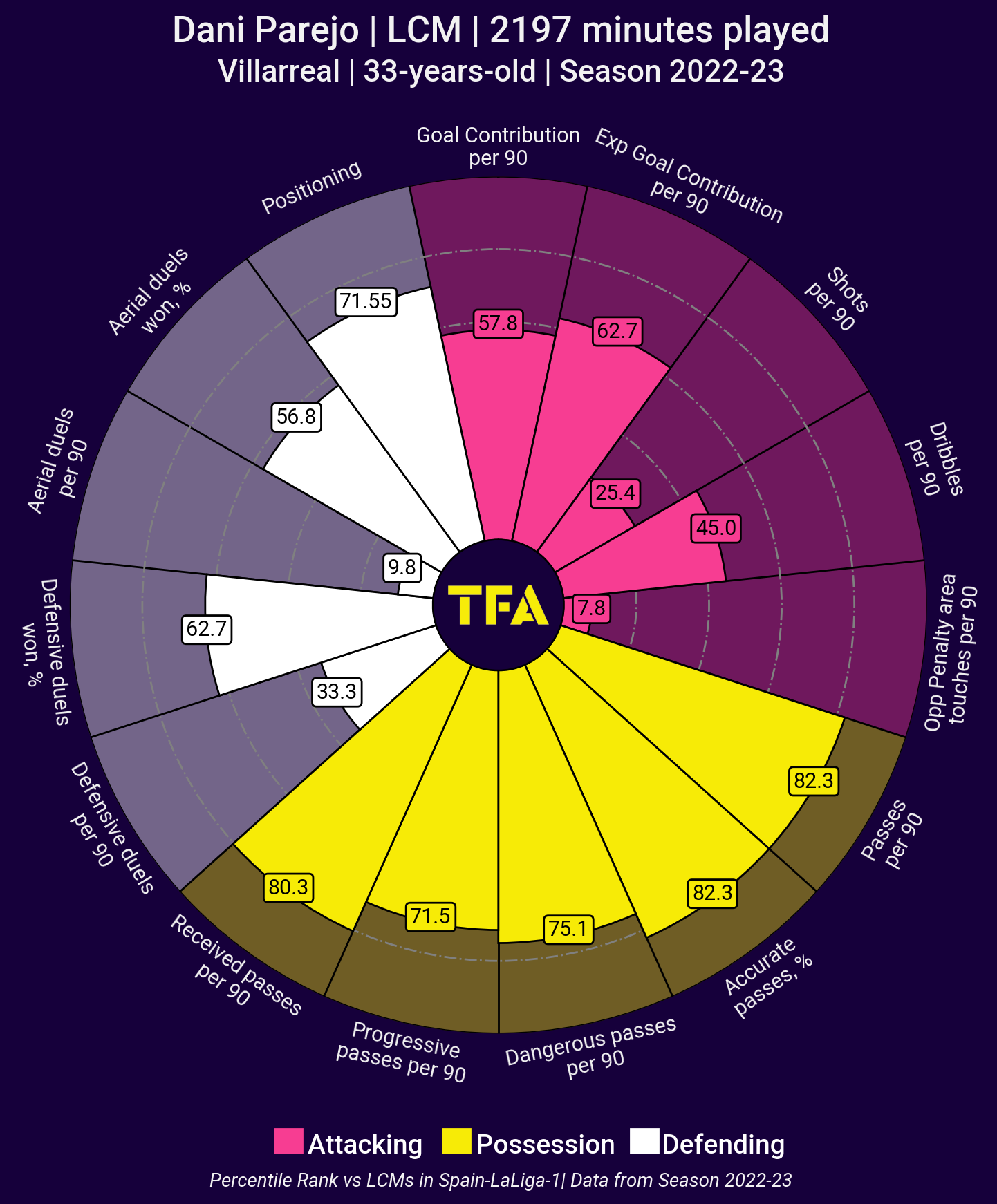 The above viz shows his percentile rank compared to the other midfielders in La Liga. He has made 23 appearances for the Yellow Submarine this season. Dani Parejo's ability to offer control and stability in the middle of the park is excellent. He has maintained excellent possession stats and ranks well in passing abilities. He ranks well in terms of dangerous passes and provides a threat in the midfield due to his ability to make dangerous passes. Additionally, he is successful in winning aerial and defensive duels and has helped his side in defence.
Passing and progressive ability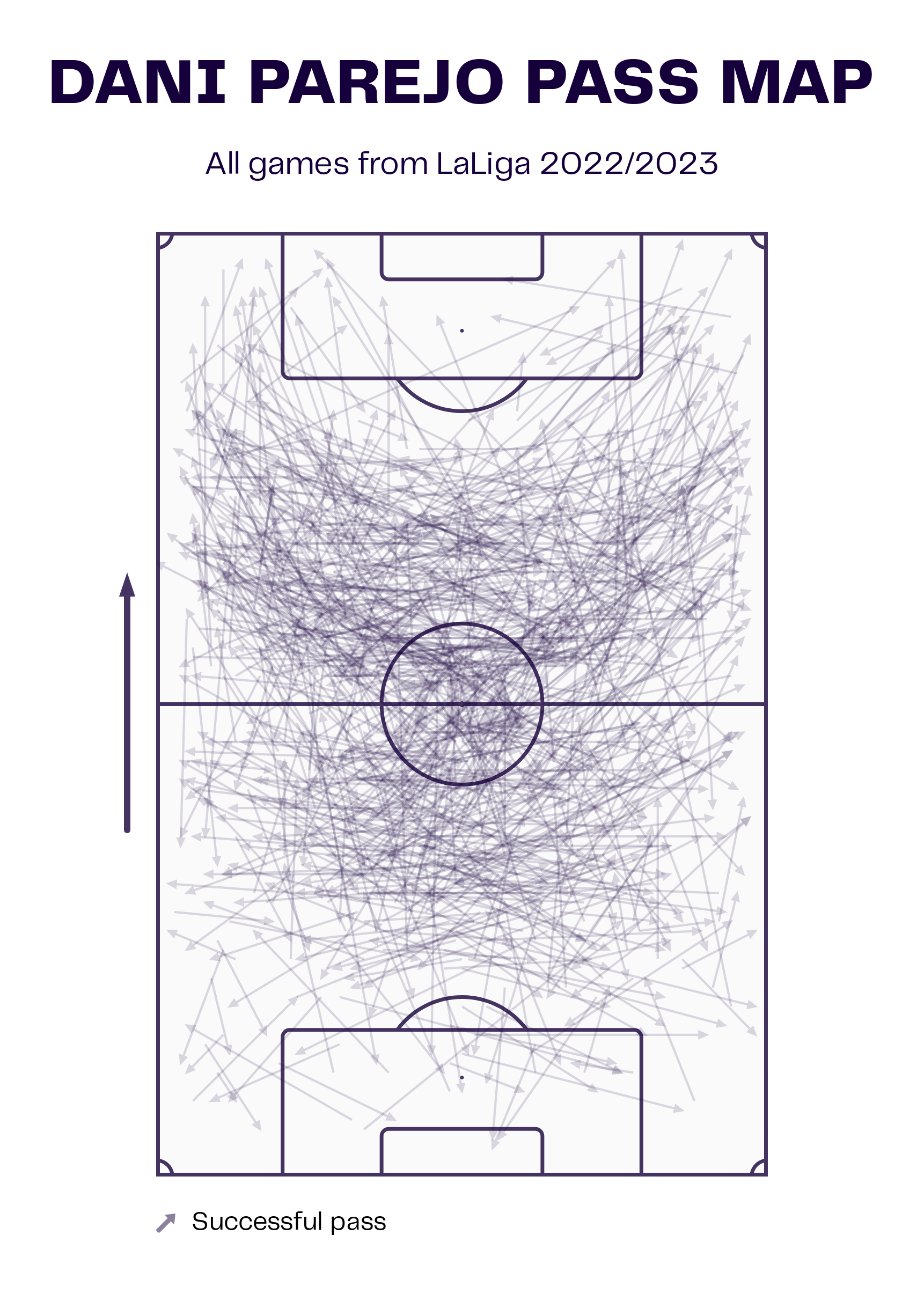 Dani usually plays in the centre of the midfield and makes movements up the pitch in order to create an attacking threat and receive the ball in dangerous areas. He makes 54.73 passes on average per 90, with a completion rate of 89%. It can be seen that the player makes many forward passes, averaging 17 per match, and makes 9.46 passes to the final third per 90 minutes. Parejo is a player who likes to provide control for his team and maintain possession. His calming presence in the Villarreal midfield provided a sense of control and stability to the team.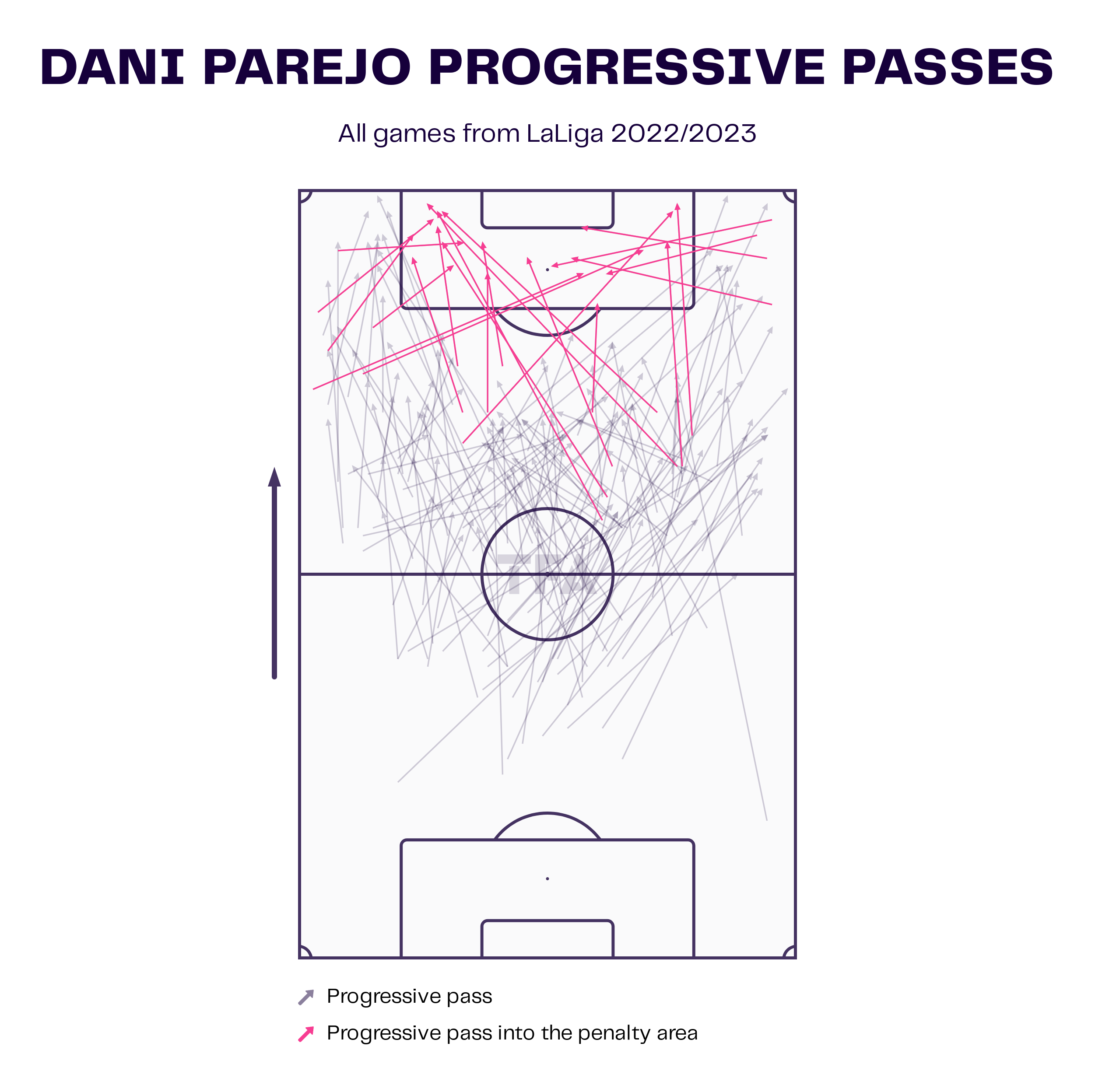 His chart of progressive passes shows that most of the passes to the penalty box have come from directly in front of the box. His ability to deliver the balls in a straight line into dangerous areas and find half-spaces is an asset as they may lead to goals. He also managed to make passes into the penalty area from the flanks, averaging 2.34 passes into the penalty area.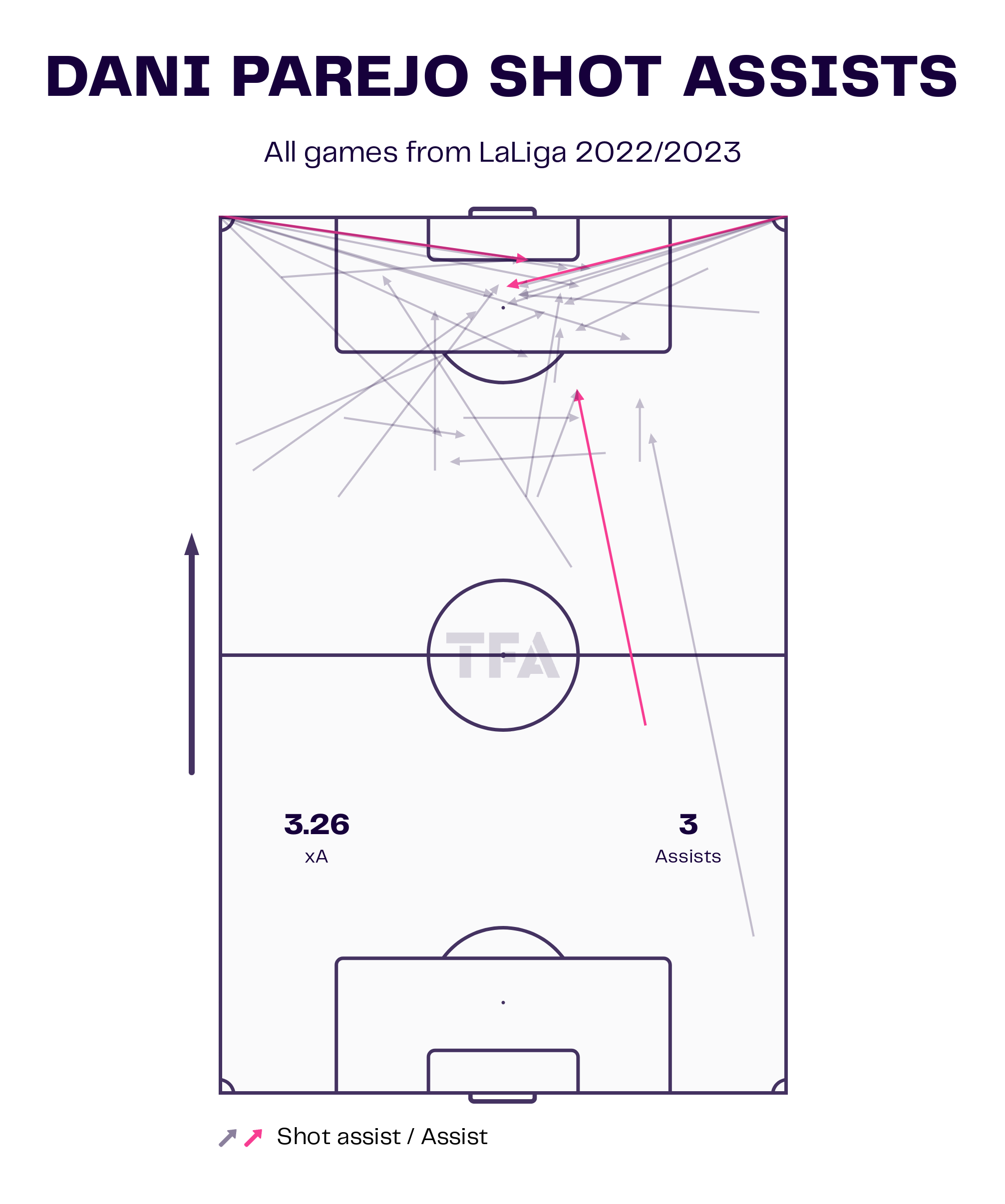 Dani Parejo averages 0.12 assists as well as second assists per 90 minutes. The assist map shows that he has provided three assists this season. As for the shot assists, a few have been made from corners, while the others have been passes attempted into the opposition's penalty box. Dani has an overall xA of 3.26.
Defensive work rate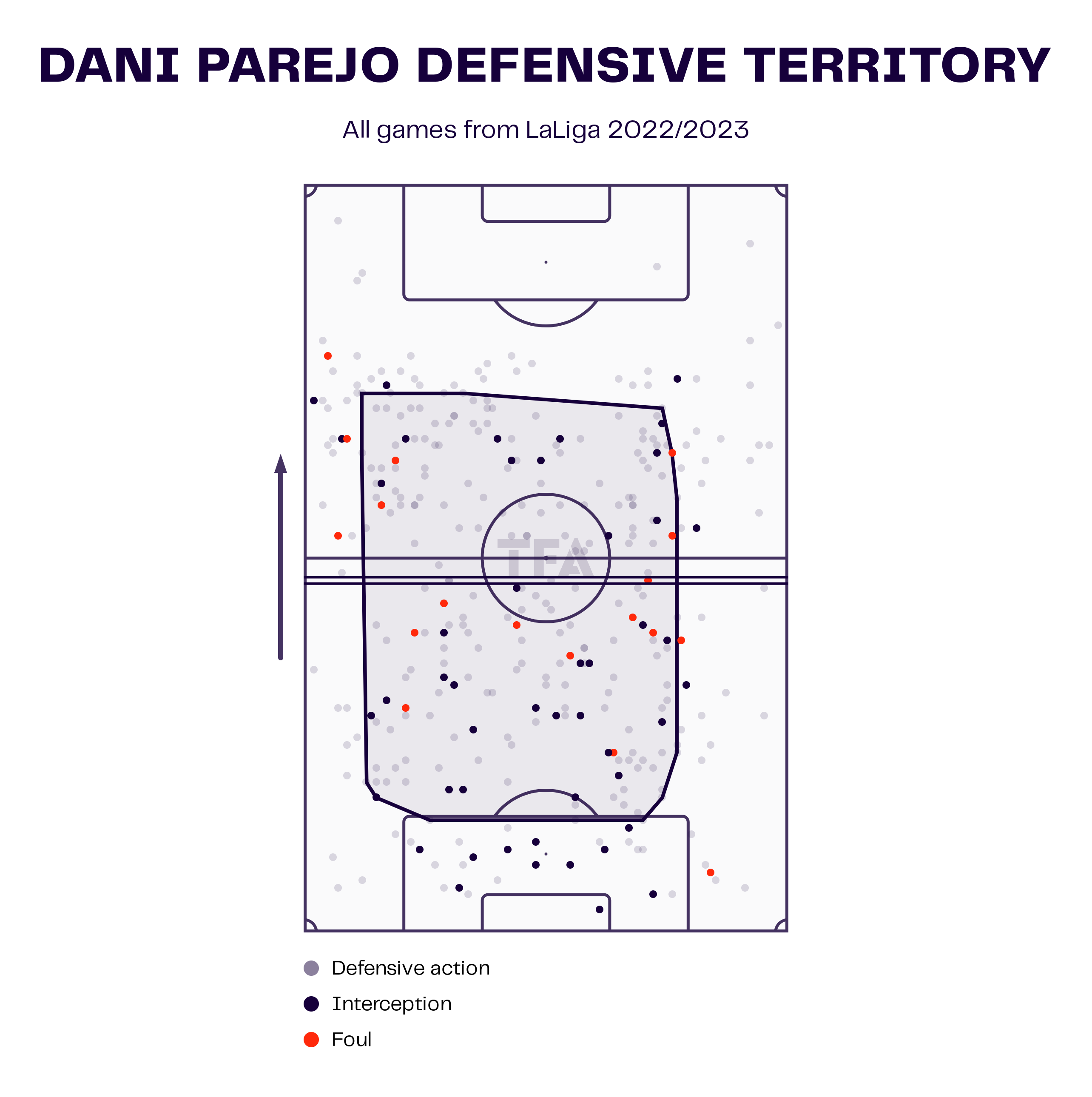 The visual above shows the defensive territory of the player. It indicates that the Spanish veteran is involved in a lot of defensive actions in the middle third and makes interceptions in the midfield. It can be observed that the player has not given up many fouls and has averaged 0.88 fouls in the current season. Overall, he has an average of 6.2 defensive duels per match and a 58% win rate. Additionally, he averages 3.28 interceptions per 90 minutes and makes a lot of movement in the opposition's half to put high pressure on the opposition's midfield and final third. He makes 8.2 recoveries per match, and over 52.6% of them are in the opposition's half.
Assists in the last season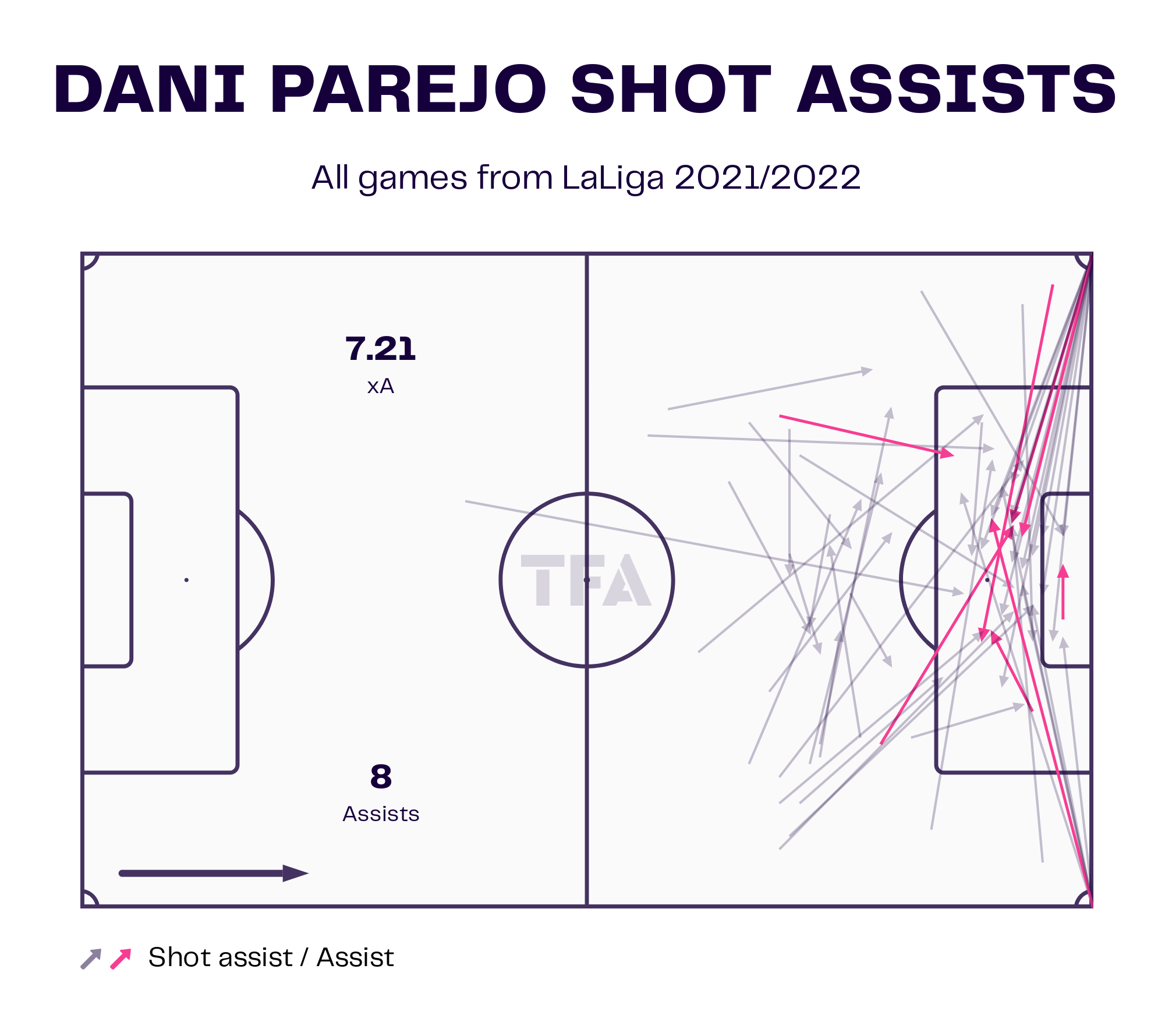 The above viz is a representation of shot assists for the player in 2021/22. With eight assists, he has an xA of 7.21 for the matches played. Most of the actions have been taken inside the box, with some in the final third. He played 33 matches and provided eight assists. Even though it seems like he performed much better in the attack last season. There is still a long way to go in La Liga, but his numbers are on track to improve on his performances from last season, already having three assists in 20 matches played.
Overall, Dani Parejo could be the difference between Villarreal finishing in the top six or not this season. He has the individual qualities and experience to make a difference and could prove to be an invaluable asset in the Yellow Submarine's quest for a top–six finish.
Visuals via TFA data viz engine