Denis Suarez is a highly respected and experienced midfielder who joined Espanyol in La Liga from Celta Vigo. He made 38 appearances for Celta Vigo in the 2021/22 La Liga season and was a crucial part of their midfield. He is an experienced player with a wealth of experience in La Liga. He has good technical ability and an excellent passing range, which will be a great asset to Espanyol's midfield. He is also a good reader of the game, which will be beneficial in both defending and attacking situations. Below, we look at some of his stats from the previous season in order to assess what he can add to Espanoyl's midfield. 
Overall performance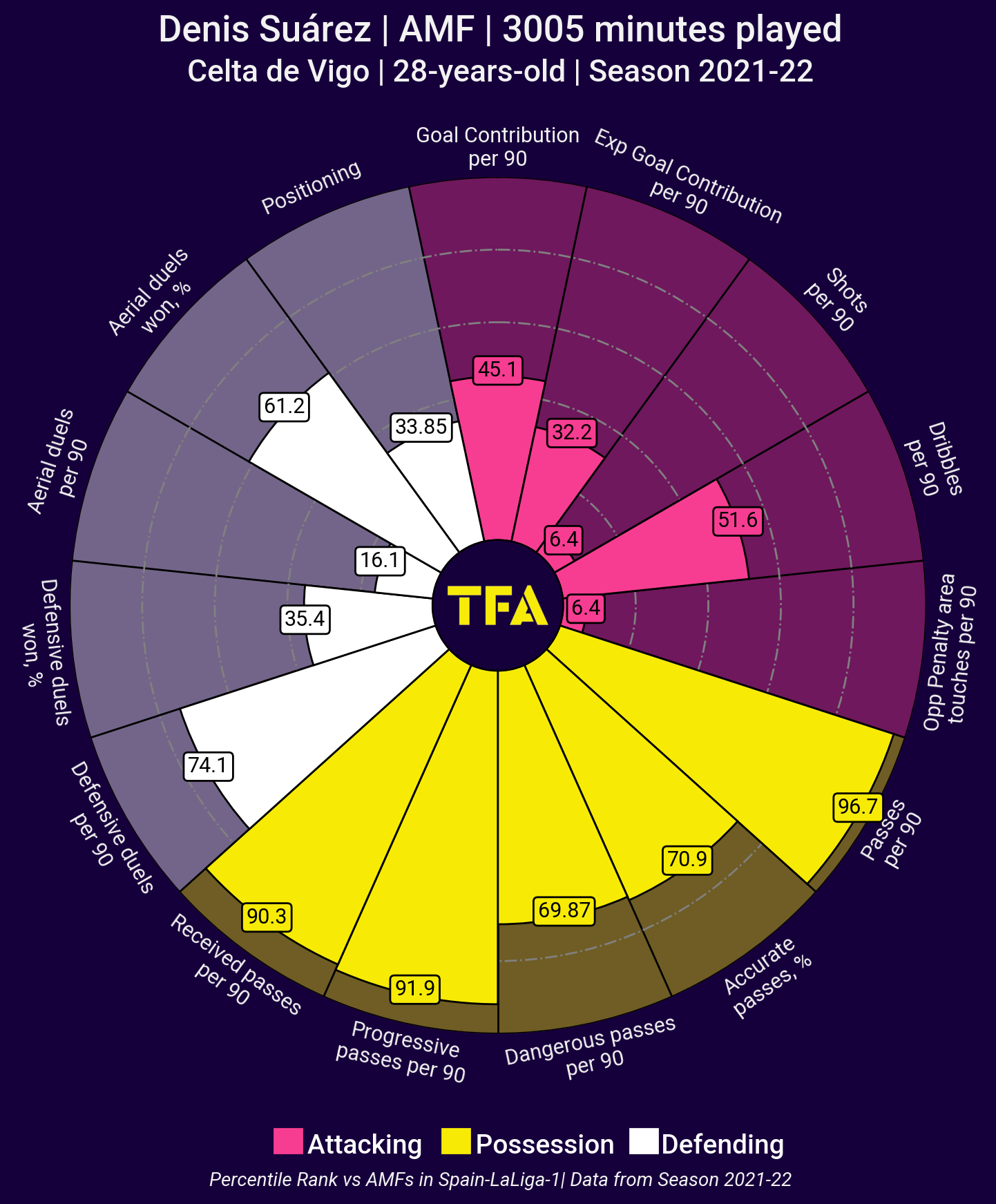 The above viz shows the percentile rank of the player in comparison with other attacking midfielders in La Liga for the 2022 season. It can be seen that Denis ranks highly in terms of his possession stats. He ranks in the top 96.7 percentile for passes attempted per 90. Suarez shows a high level of confidence in keeping the ball and likes to build the play from central positions. He is also performing well when it comes to winning duels in the air. One of the areas where he can improve is in the attacking stats in terms of expected goal contributions per 90.
Passing and progressive gameplay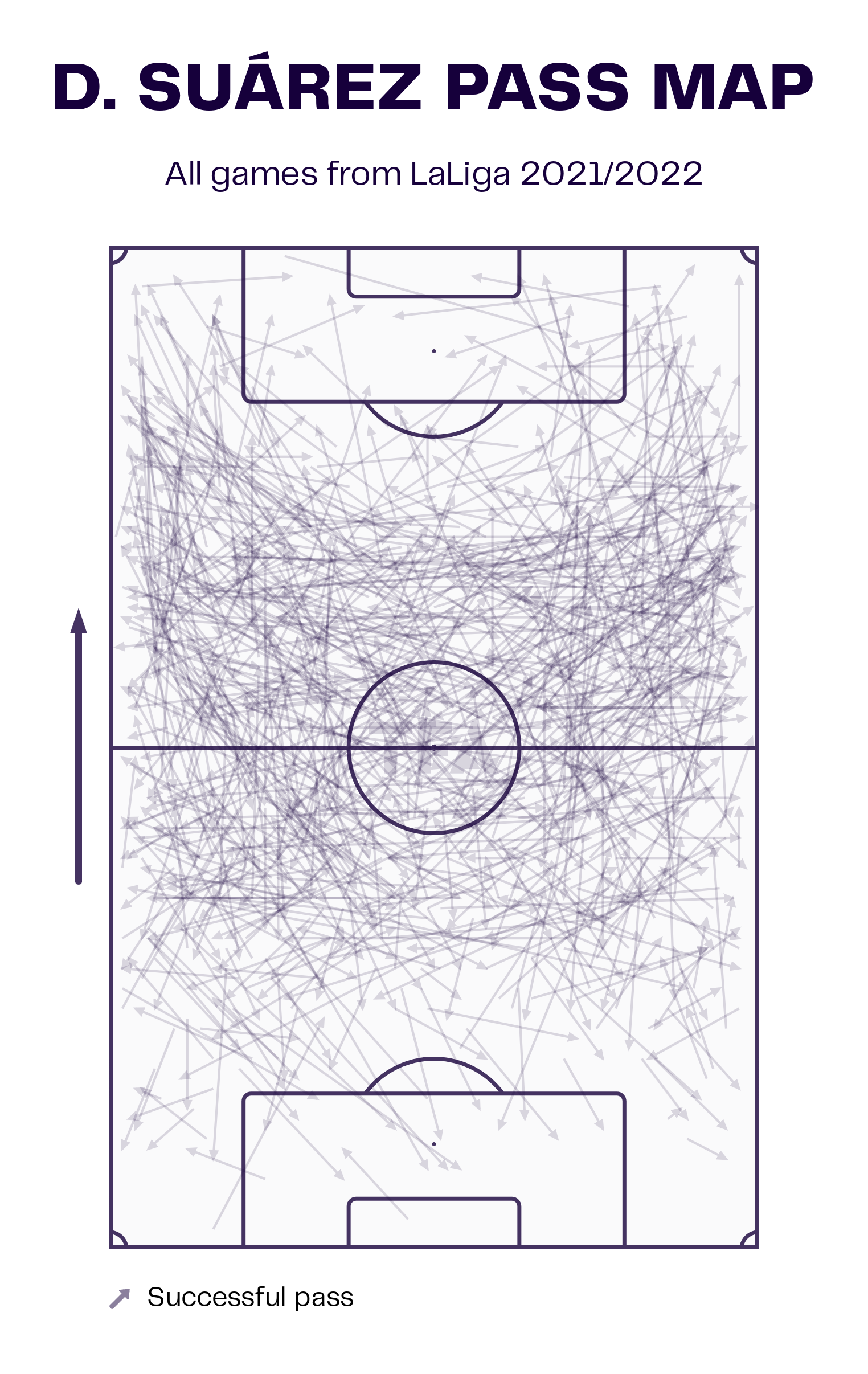 Suarez is a midfielder who adds composure and an ability to maintain possession in the midfield. His ability to maintain possession and provide a good supply of passes makes him valuable. The above viz shows the passes made by Denis in La Liga 2021/22. The player makes 55.35 passes on average per 90, with a completion rate of 83.2%. It can be seen that he makes many forward passes, averaging 18.06 per match, and makes 8.9 passes to the final third per 90 minutes, next to 2.7 passes into the penalty area.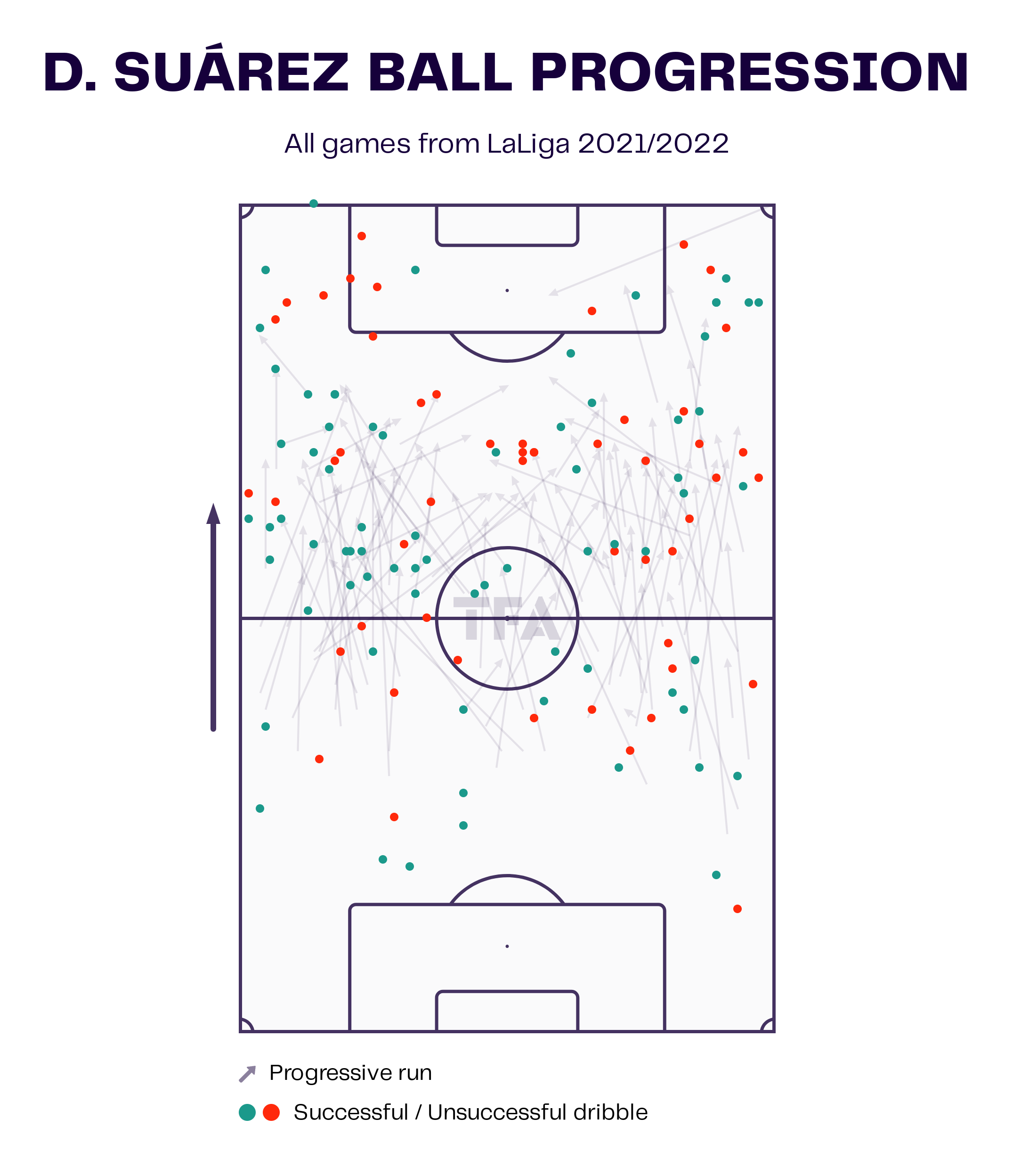 Denis Suarez likes to play football through the middle of the pitch, and he uses the middle third to create most of the danger. He is a creative force and has the capacity to open up defences and create scoring opportunities for his team. He attempts 3.71 dribbles per match, with 58.1% of them being successful. Most of his action is in the middle and final third of the pitch. His confidence and ability to advance the ball are what make him worth more and are one of the reasons behind his success. The player has an average of 0.84 touches in the penalty area per 90. Additionally, he makes 3.14 progressive runs on average along with 1.47 crosses per 90 minutes.
Defensive contributions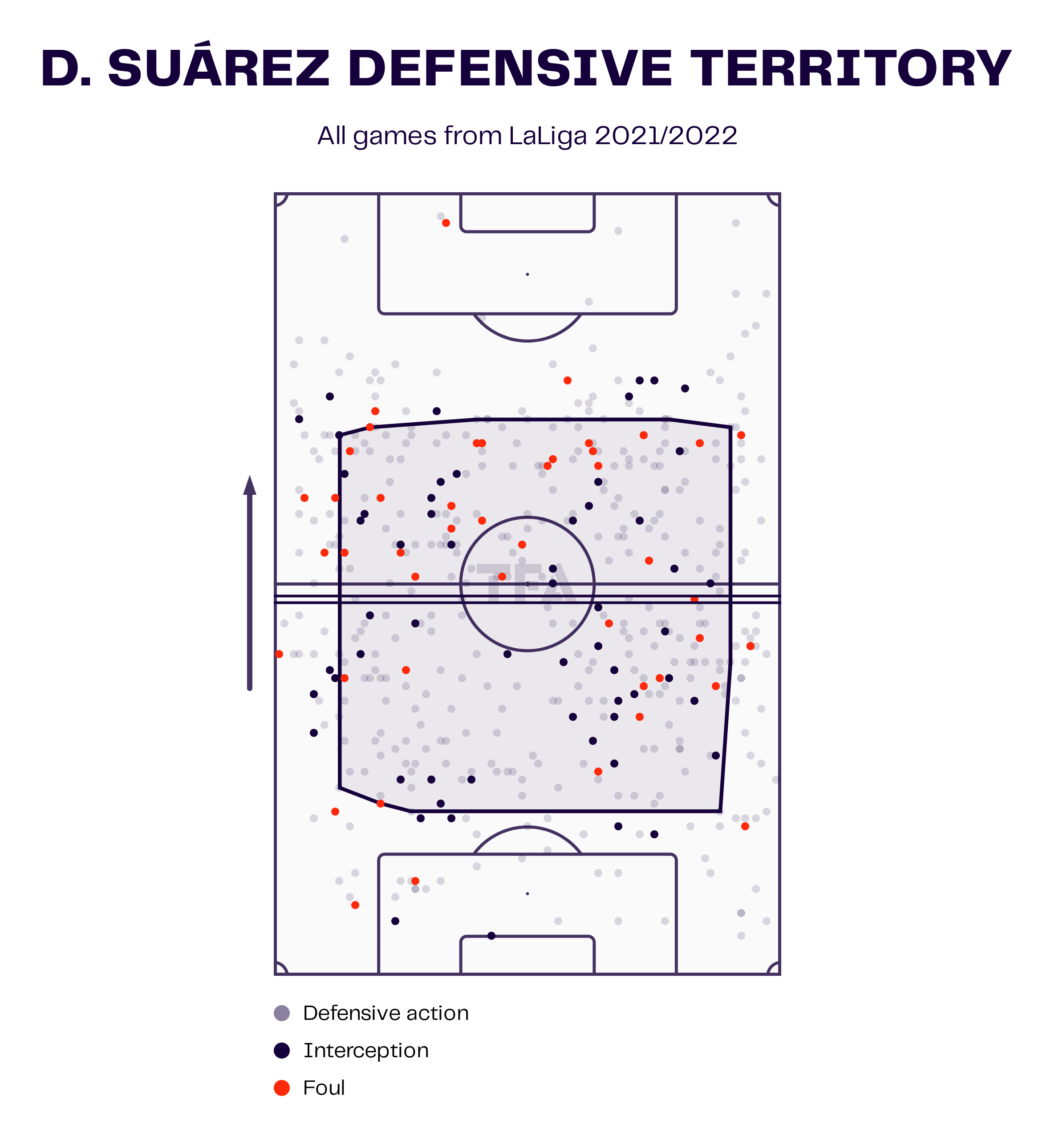 The above viz shows the defensive territory and various high regains of the player in La Liga 2021/22. It indicates that the player is involved in a lot of defensive actions in the defensive third and makes interceptions near the defensive and middle thirds. It can be observed that he has given up a few fouls and has averaged 1.38 fouls for the season. Overall, he has an average of 17.61 duels per 90 and a 49% win rate. Suarez averages 2.7 interceptions per 90 minutes and makes a lot of movement in the opposition's half in order to put high pressure on the opposition's midfield and final third. He makes 6.92 successful recoveries in the opposition's half per 90. Suarez is a great ball-winner, which will be an asset in Espanyol's midfield as they will be able to win the ball back and keep possession more effectively.
Composure in the middle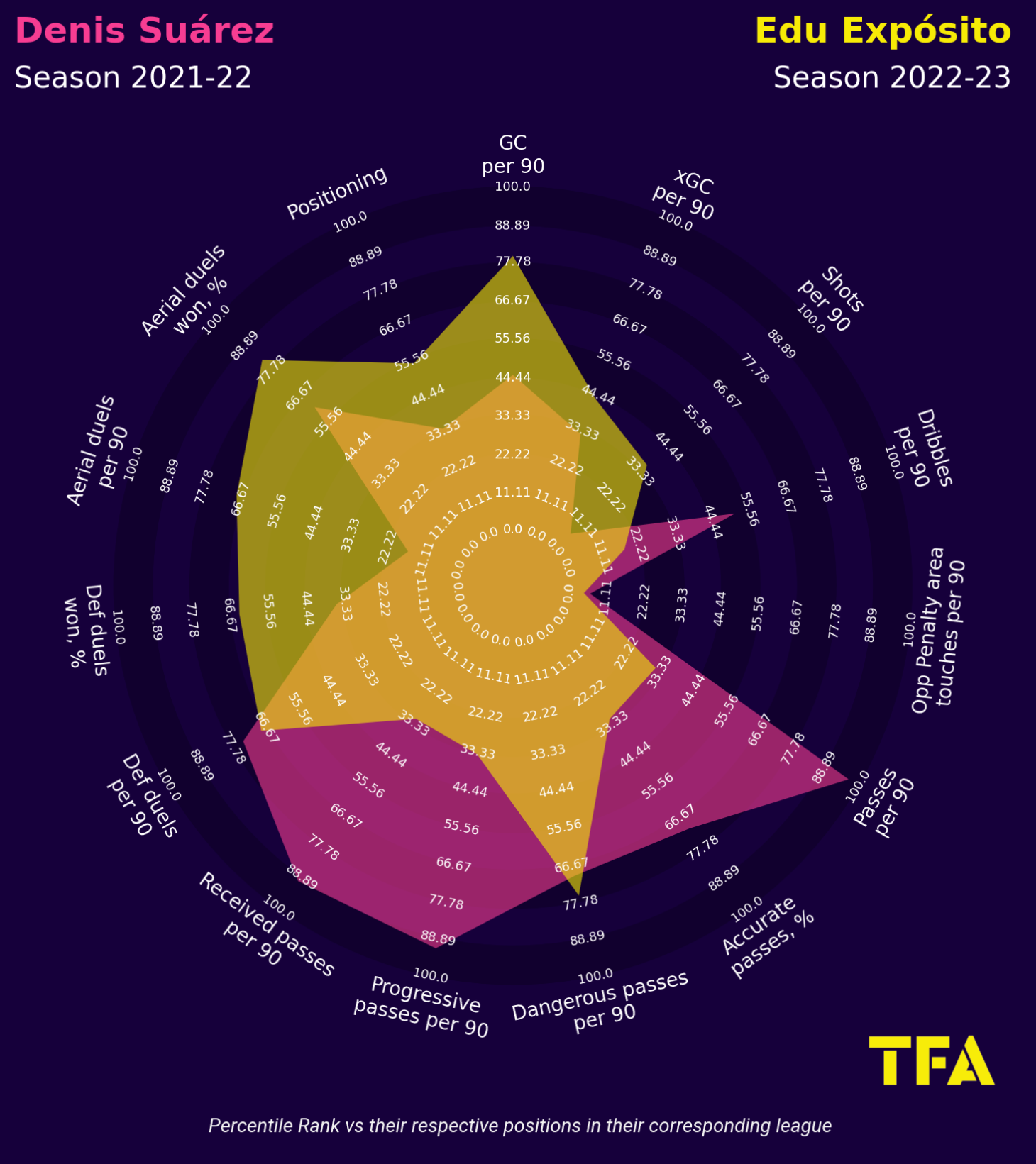 Suarez would most likely replace Exposito at Espanyol. The above viz is a comparison between both players. It can be seen that Denis is performing better in departments such as passes per 90, accurate passes, dangerous passes, and progressive passes per 90. Exposito has the upper hand in terms of positioning, winning defensive duels, and goal contributions per 90. Overall, Suarez will add more composure and stability in the middle of the park for Espanyol as compared to Exposito.
Overall, Denis Suarez is a great addition to Espanyol's midfield, as he will bring experience, technical ability, and creativity to the team. He will be able to provide strength to the team's midfield, both in terms of defending and attacking. His experience will help the team be more consistent, and his technical ability will help create chances for the team. Suarez will be a great asset to Espanyol and will help them to strengthen their midfield as they look to avoid relegation this season, sitting just two points behind the drop zone.
Visuals via TFA data viz engine