Real Betis is enjoying a good season in La Liga and is placed sixth on the table with 28 points from 16 matches. They have scored 19 goals and conceded only 13 this season. One of the players responsible for their disciplined defensive performance is the 25-year-old centre-back, Edgar Gonzalez. He has been great for Betis with his timely interceptions and winning duels. His presence in the backline has been important for Betis. Therefore, we look at his stats to understand how Edgar Gonzalez has become an important player in the Betis' backline.
Season so far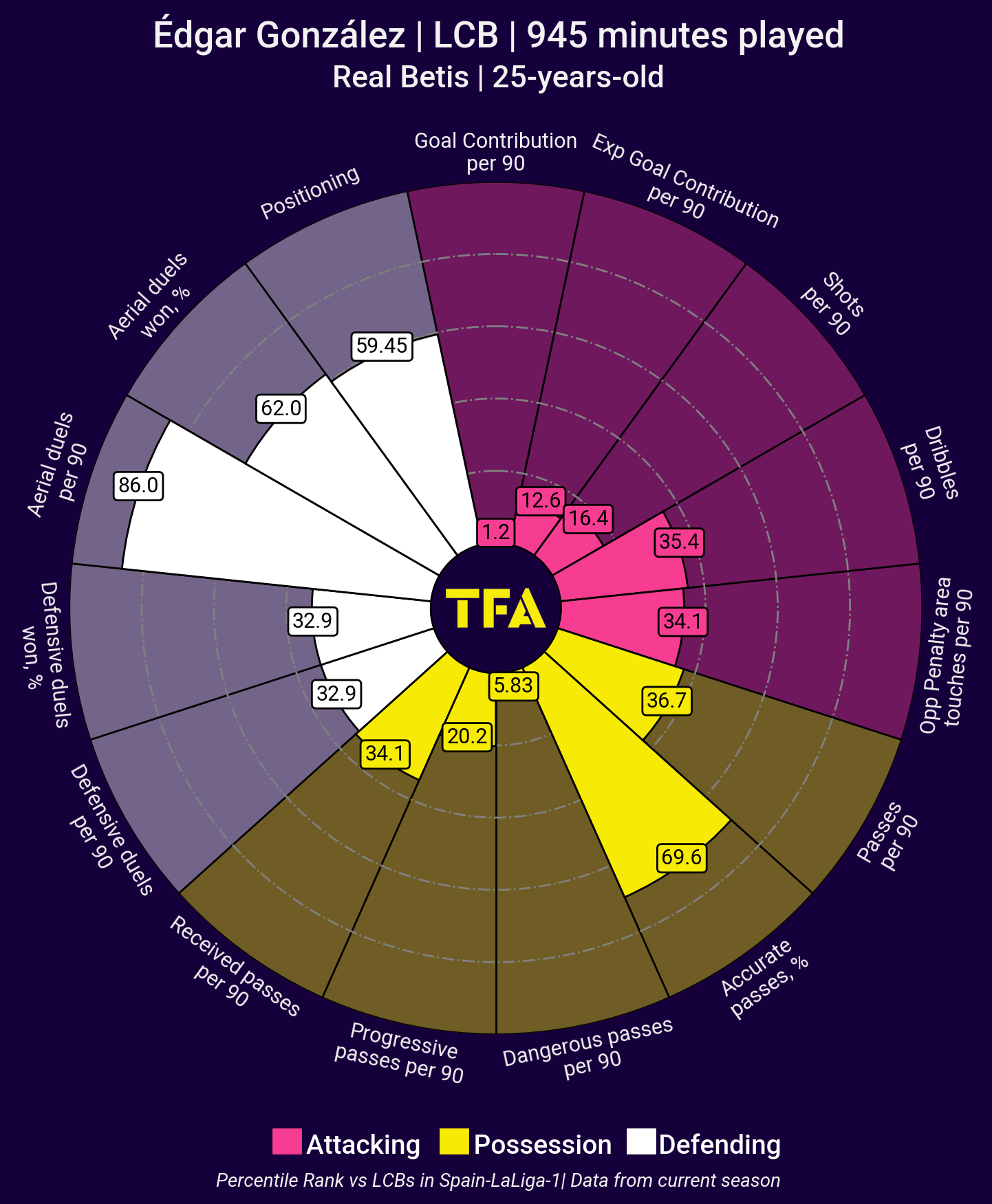 The above visual shows Edgar Gonzalez's percentile rank compared to other left-centre-backs in La Liga. He has decent stats in some metrics and good stats in others. One of the best stats he has is in aerial duels, where he is ranked very highly. He also has a decent percentile score for positioning. The 25-year-old's stats in defensive duels, though, are not the best compared to his counterparts. Gonzalez is ranked in the top 69.6 percentile for accurate passes. Apart from these metrics, he is ranked below average in all other parameters.
Position
The above visual shows Edgar Gonzalez's heat map from the current La Liga season. He plays as a left centre-back for Real Betis. We can observe from the visual that he rarely gets into the attacking half and prefers to stay in the defensive line. He was most present in front of the goal and in front of his penalty box. He rarely goes forward to attack and therefore can be depended upon to be there when needed.
Defence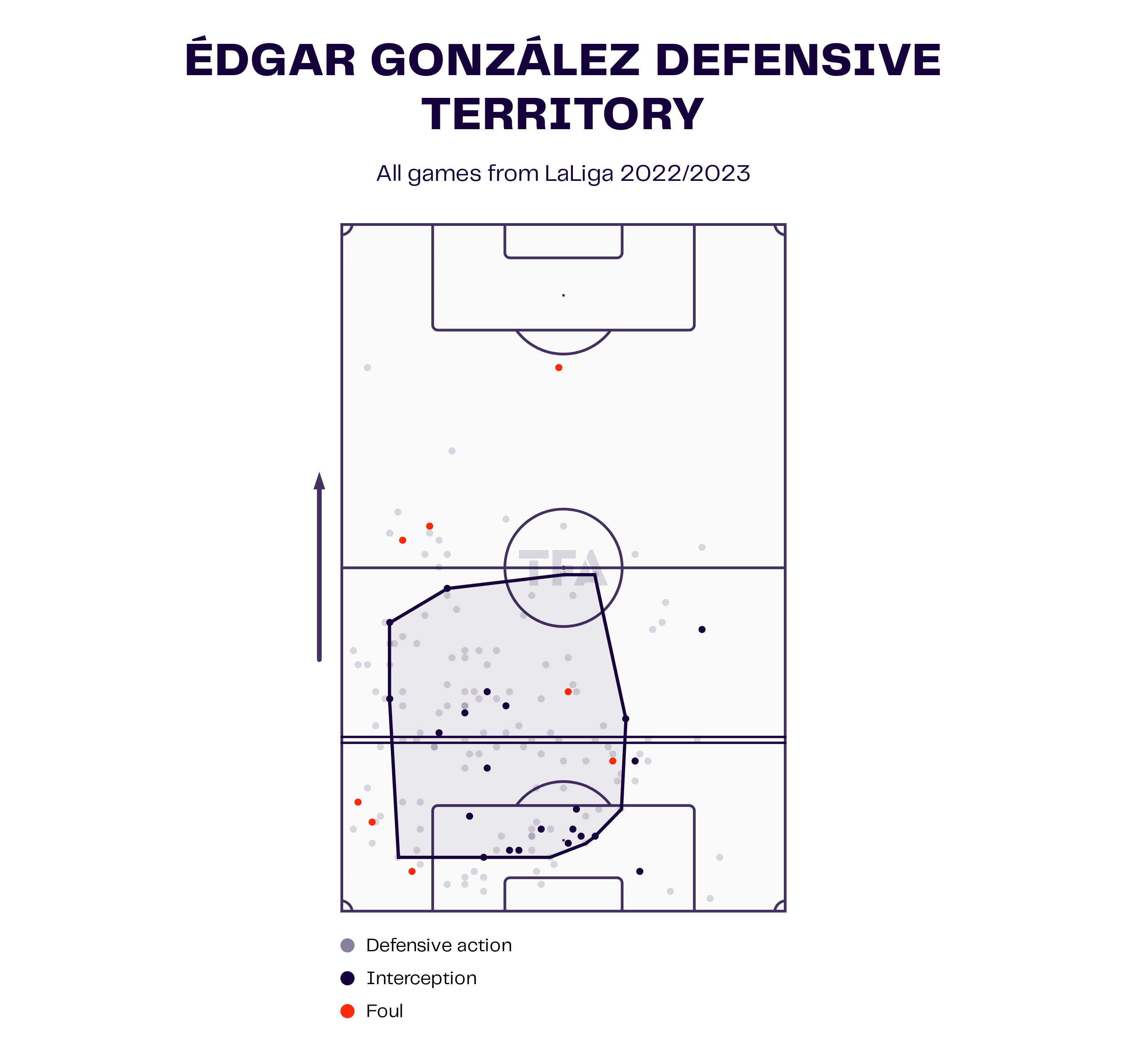 The above visual shows Edgar Gonzalez's defensive territory for the current season. He has made an average of 3.98 defensive duels per game with a success rate of 60.9%. Gonzalez is ranked highly for aerial duels and makes around 4.67 aerial duels per game with 63% success. Moreover, he has made an average of 4.5 interceptions per game this season and makes around 3.9 clearances per game.
Passing
With a passing accuracy of 90.7%, Gonzalez makes around 37 passes per game. As we can see from the visual, he can make both short and long passes. He has made around 3.2 long passes per game with 67.6% success. As he doesn't get forward much, he doesn't play many passes into the final third. Gonzalez plays around an average of 1.73 passes into the final third with 70% success.
Last season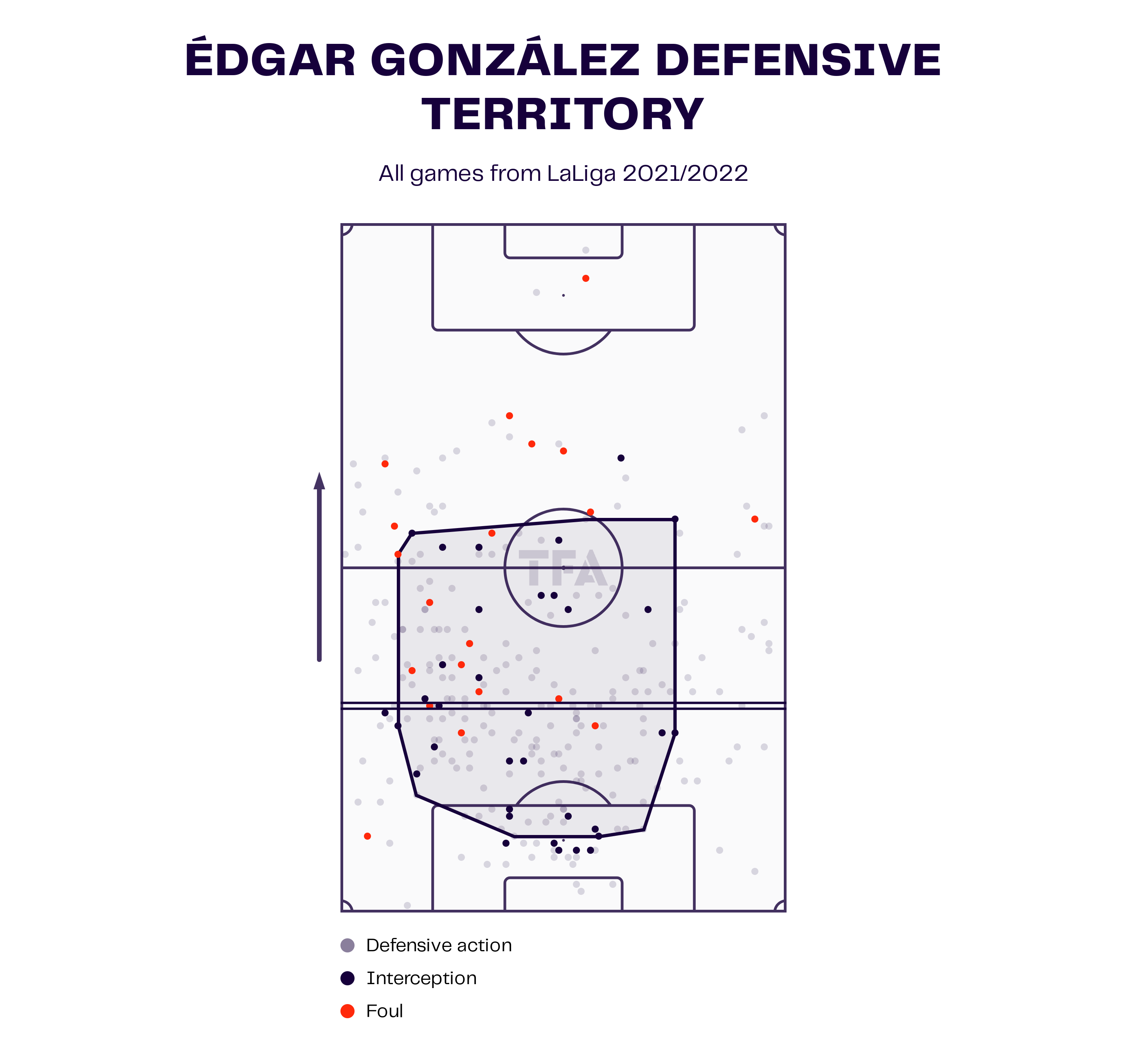 The above visual shows Edgar Gonzalez's defensive territory from the previous season. Last season, he had better stats in defensive duels. He made an average of 5.72 defensive duels per game with a success rate of 66.7%. Moreover, he also makes around 4.83 aerial duels per game with 43% success, a figure that has also seen a slight dip this season. The average number of interceptions made per game has also decreased from 6.28 per game to 4.5.
The above visual compares the radars of Edgar Gonzalez and his teammate German Pezzella. The duo make a formidable partnership for Betis at the back and were crucial to their good defensive record this season. Gonzalez has better stats in positioning, defensive duels, progressive passes per game, and goal contributions per game; Pezzella has better stats in all other metrics.
Betting Analysis 
Looking at the 1×2 market, the odds for Real Betis are likely to go up with the presence of Edgar Gonzalez in the lineup, whereas the underlines are expected to thrive as he provides solidity to the backline.
Edgar Gonzalez is one of Real Betis' best defenders and is an important part of Manuel Pellegrini's setup. Even though his stats have come down a bit this year, he has continued to be solid at the back and provide stability for Betis. Manuel Pellegrini will be hoping his young centre-back will continue to perform well in the upcoming matches as well.
Visuals via TFA data viz engine