One of Uruguay's best forwards ever, Edinson Cavani, signed for Valencia in the summer after a two-year stint with Manchester United. The 35-year-old has since become one of their most productive players. With five goals from nine matches, Cavani is their leading goal-getter in La Liga this season. Swift-paced and lethal in front of the goal, Edinson Cavani has proved himself in the top tier once again as he leads Valencia from the front. Therefore, we look at his stats to understand how his first season at Valencia has panned out.
Season so far
Edinson Cavani played nine matches in La Liga this season, starting all of them. He has scored five goals in La Liga and has one assist to his name as well.
The above visual shows Edinson Cavani's percentile rank compared to other centre-forwards in La Liga. He has good attacking and passing stats and is ranked in the top 77.4 percentile for shots per 90 and the top 86.25 percentile for goal contributions per game. Moreover, he is ranked in the top 77.4 percentile for dangerous passes and the top 67.7 percentile for accurate passing, both of which are above average.
Positioning
The above visual shows Cavani's touch map from the current La Liga season. As we can observe, he takes most of his touches in the attacking half. Playing as a centre-forward, Cavani is a threat to any defensive unit and is Valencia's focal point. He stays central and gets into the box quite often. With an average of 3.51 touches in the penalty area, he always stays on his toes looking for opportunities to score.
The above visual shows Cavani's pass map from this season. We can observe that most of his passes are played backwards rather than forward. This is due to him holding up the ball and then providing it to other players who can take the ball forward while he gets into a scoring position. He has a passing accuracy of 81.2% and averages around 20 passes per game. Moreover, we can see that he plays some long passes, mostly in counterattacks. He has a passing accuracy of 78.6% when it comes to long passes and plays around 1.97 long passes per game.
Scoring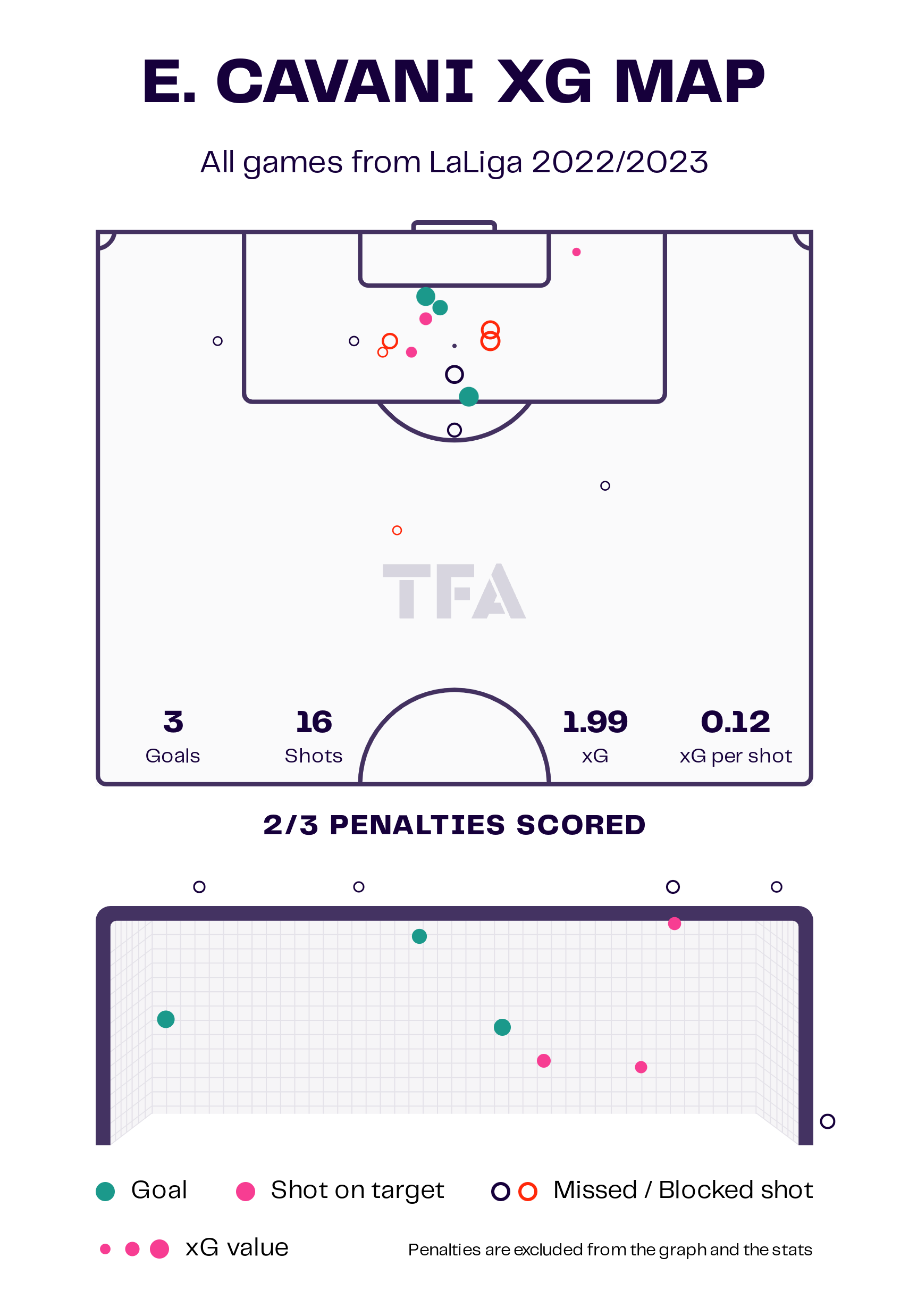 The above visual shows Cavani's xG map from the current La Liga season. He has scored five goals in nine matches, averaging 0.7 goals per game. Edinson Cavani has attempted 16 shots this season, with six on target. With an average of 2.67 shots per game, Cavani has been Valencia's major goal threat. Moreover, he has a shooting accuracy of 42.1% and has exceeded his xG of 1.99.
Last season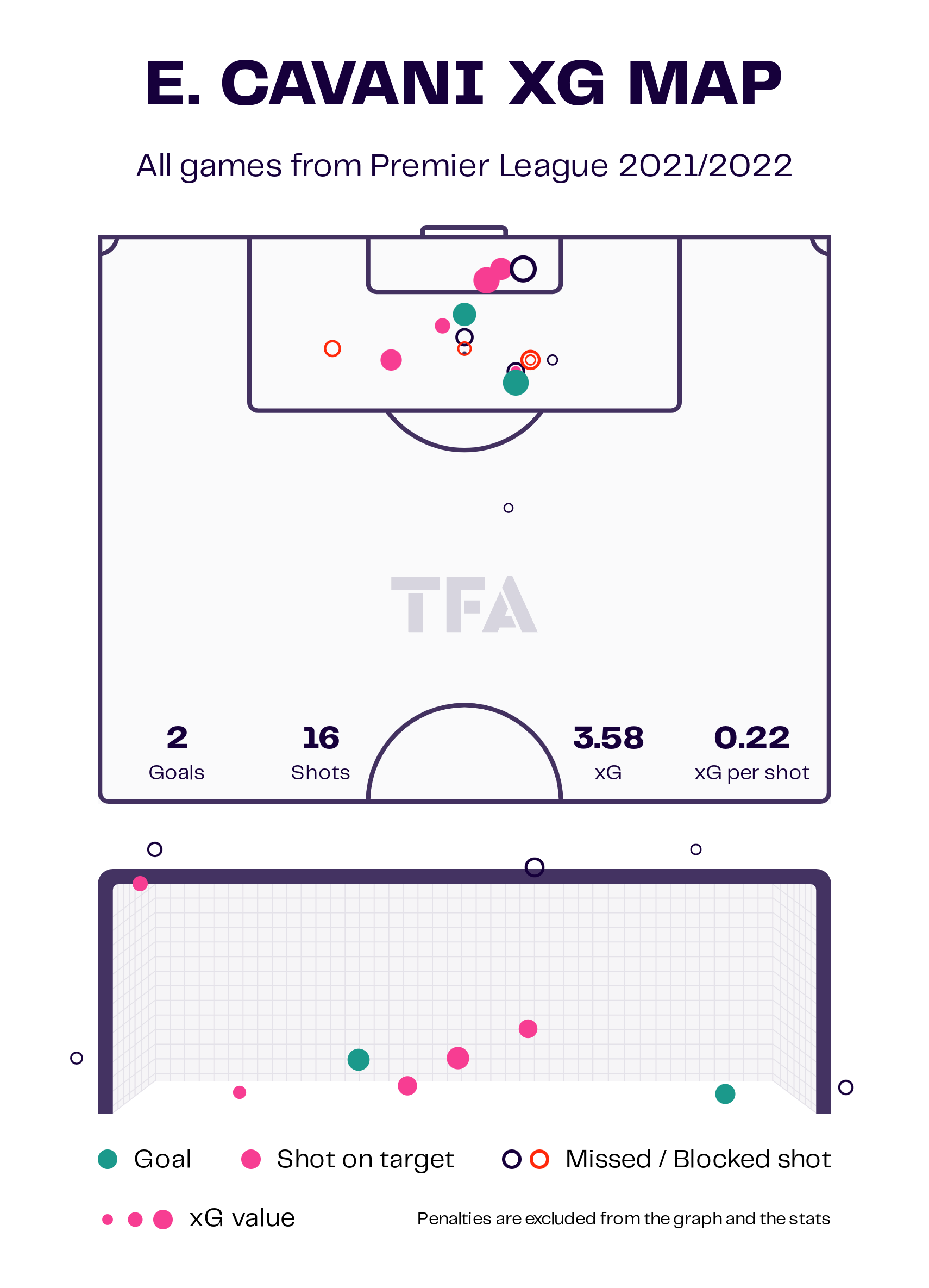 Last season, Edinson Cavani played for Manchester United in the English Premier League. He scored two goals from a total of 16 shots. Out of the 16 shots, seven were on target, and two were converted into goals. His average shots per game are 1.72 shots per game with an accuracy of 43.8%. The 35-year-old scored an average of 0.22 goals per game as well. Fortunately for Valencia, all these numbers improved this season, as he is having a great time in Spain.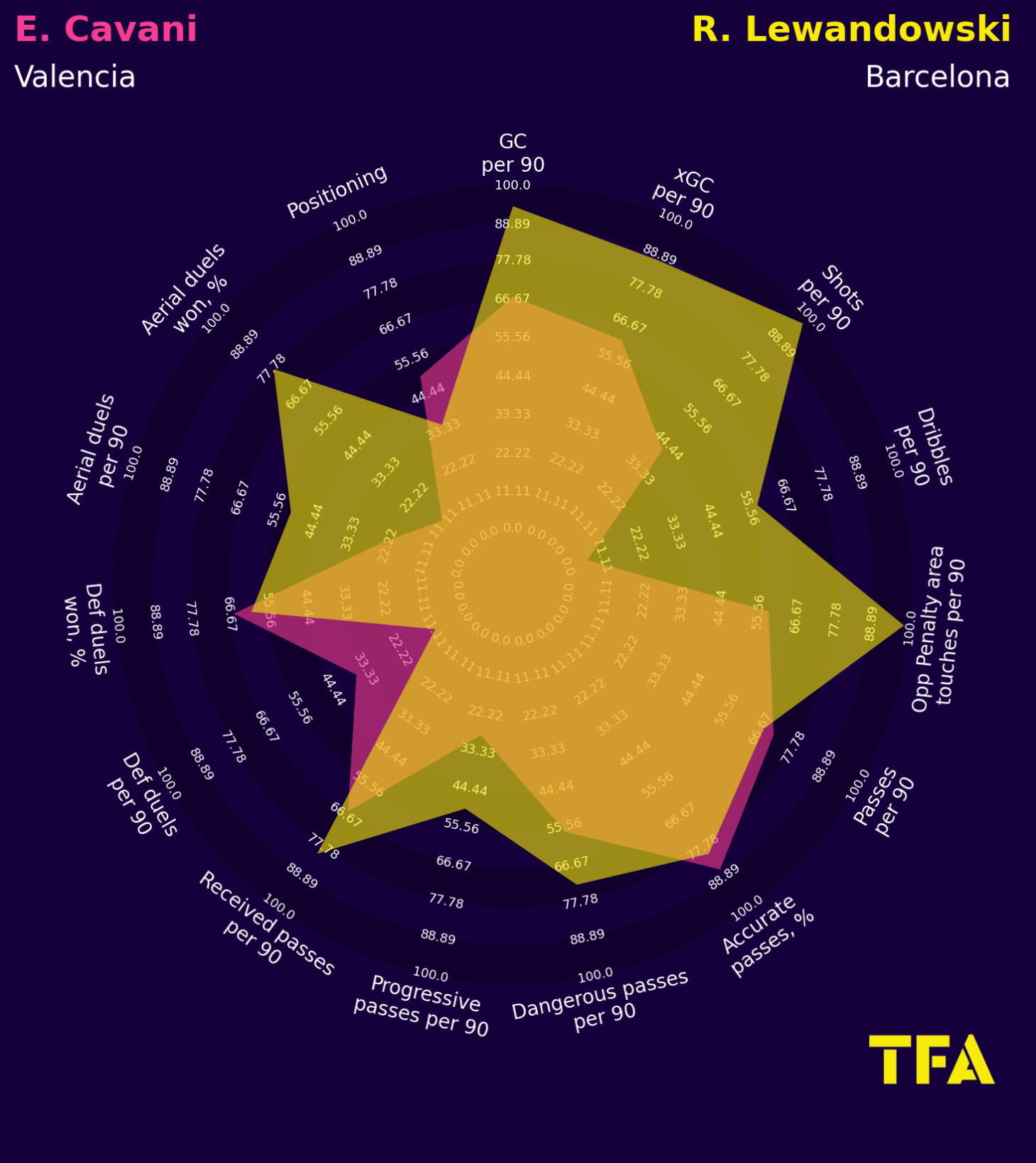 The above visual compares the radars of Edinson Cavani and this season's La Liga top scorer Robert Lewandowski. Both players, who moved to Spain this season, are enjoying their new clubs and have helped the team immensely. As we can observe from the visual, Lewandowski has better stats in almost all parameters, apart from a few. Cavani leads the stats in defensive duels, passing accuracy, and positioning, while Lewandowski leads in all other areas. Lewandowski's impact has been far greater for Barcelona, but Cavani has made significant contributions for Valencia as well.
Betting Analysis
With Edinson Cavani in form, no sane man would rule him out. Therefore, the impact will be reflected in the betting markets as well. Looking at the 1×2 market, the odds for Valencia are likely to go up while the overlines are expected to thrive with the presence of "El Matador."
Edinson Cavani, also known as "El Matador," has proven himself in different leagues and on the international level. Therefore, it is not at all surprising to see him adjust to his new club so well. He has played a big role for Valencia this season and would be looking to continue his form.
Visuals via TFA data viz engine