Elche is having one of their worst seasons ever as they reel at the bottom of the table in La Liga with just five points from 17 matches. They haven't won a single game this season and have only five points from five draws. With a goal difference of negative 24, they have conceded 35 goals while scoring just 11. Nothing has gone their way, and the season has so far been very disappointing for them. Therefore, we look at their stats from this season to understand their troublesome season in detail.
Performance this season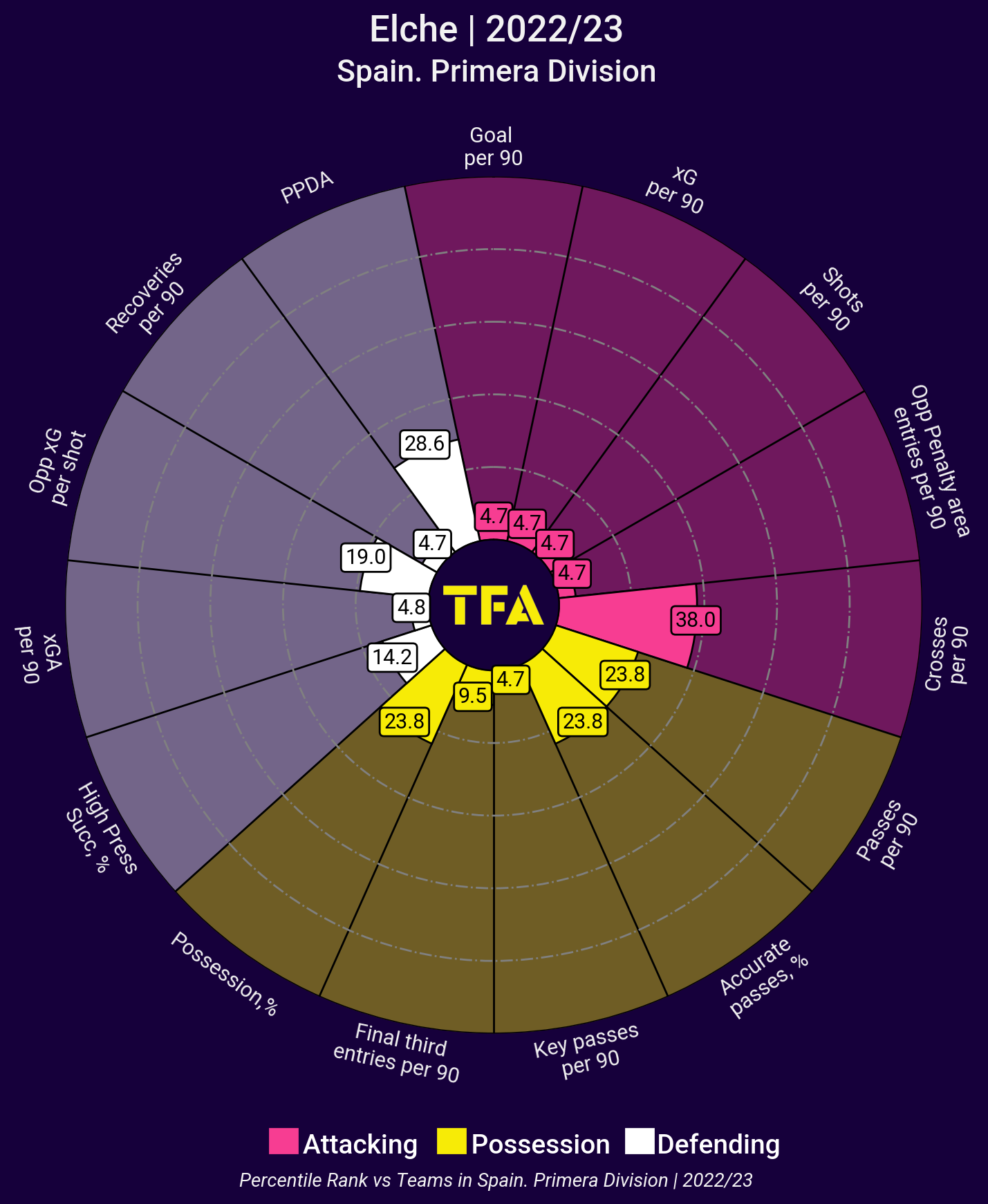 The above visual shows Elche's percentile rank compared to other teams in La Liga. The pizza chart sums up their season in the easiest way possible. They are ranked very low in almost all the metrics. Their highest percentile score is for crosses per game, in which they are ranked in the top 38 percentile in the league. The stats for goals, shots and even entry into the opponent's penalty area are very poor, which explains their woes in attack this season. For defence, they have poor stats, as they are ranked very low for all the metrics.
Attack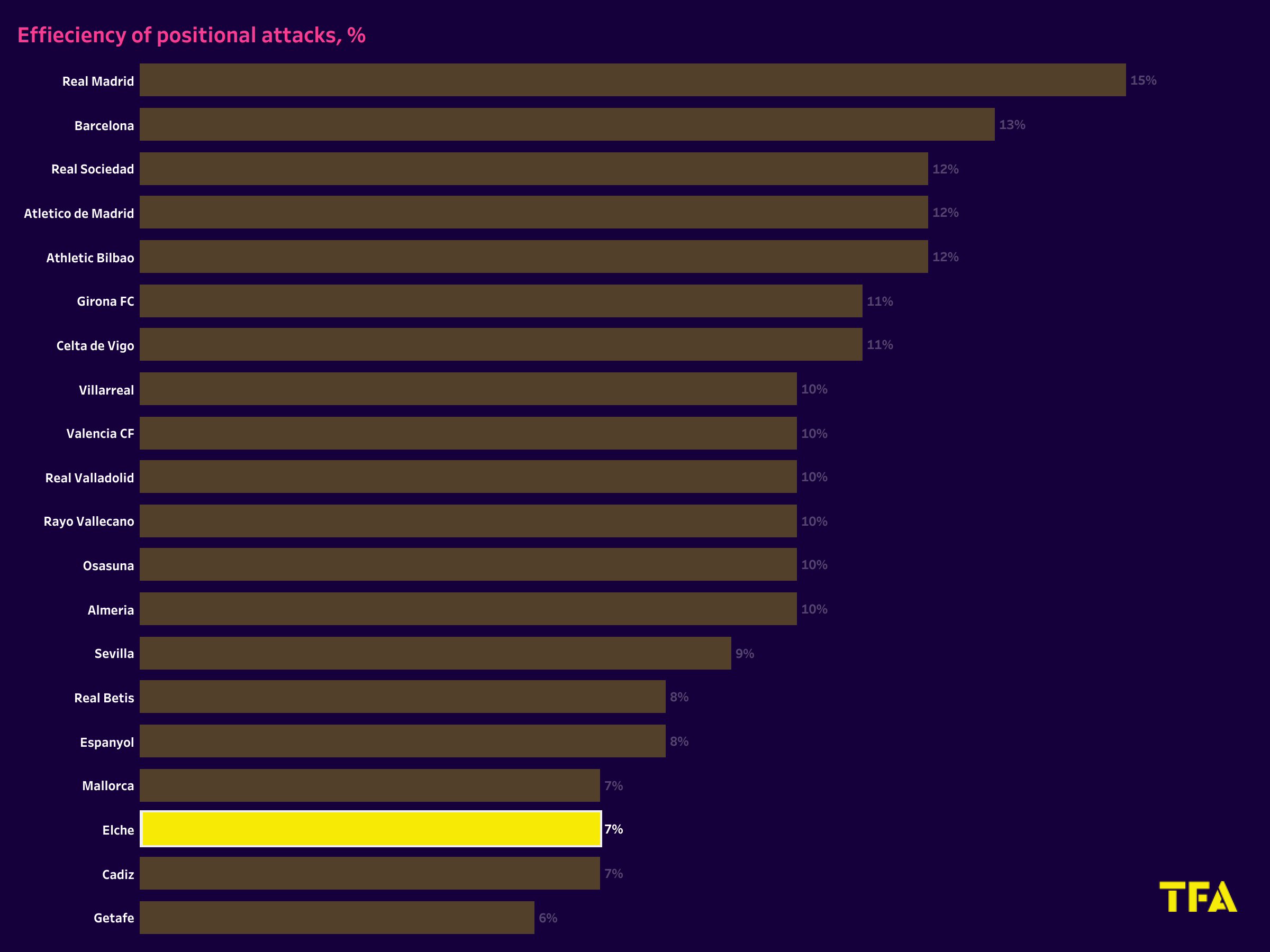 The above visual shows Elche's efficiency in positional attacks against different teams in La Liga. The team is ranked 18th on the list with just 7% efficiency. On average, they launch around 23.59 positional attacks per game, with just 17.5% of them leading to shots. Out of those, only seven percent have proven to be efficient for Elche. They would be hoping to improve this figure.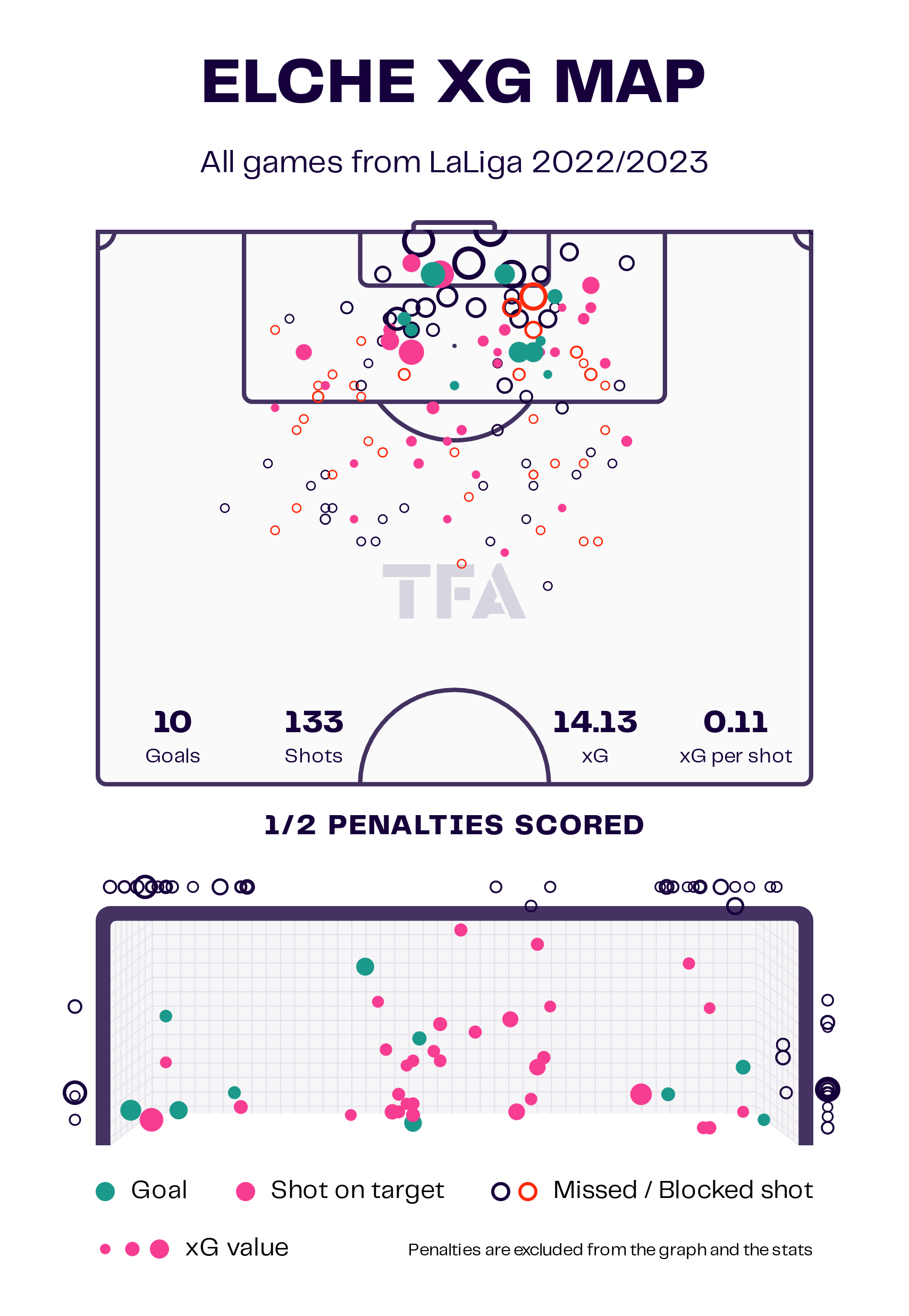 As a result of the lack of efficiency in positional attacks, Elche have found it hard to find goals as well. They have scored only 11 goals this season, one of them from the penalty spot. Elche have tried a total of 133 shots with an average of 7.94 shots per game and 32.6% accuracy. Out of the 133 shots, 45 were on target, and only ten of them were goals. They have failed to match their expected goal metrics, and the lack of goals has hurt Elche.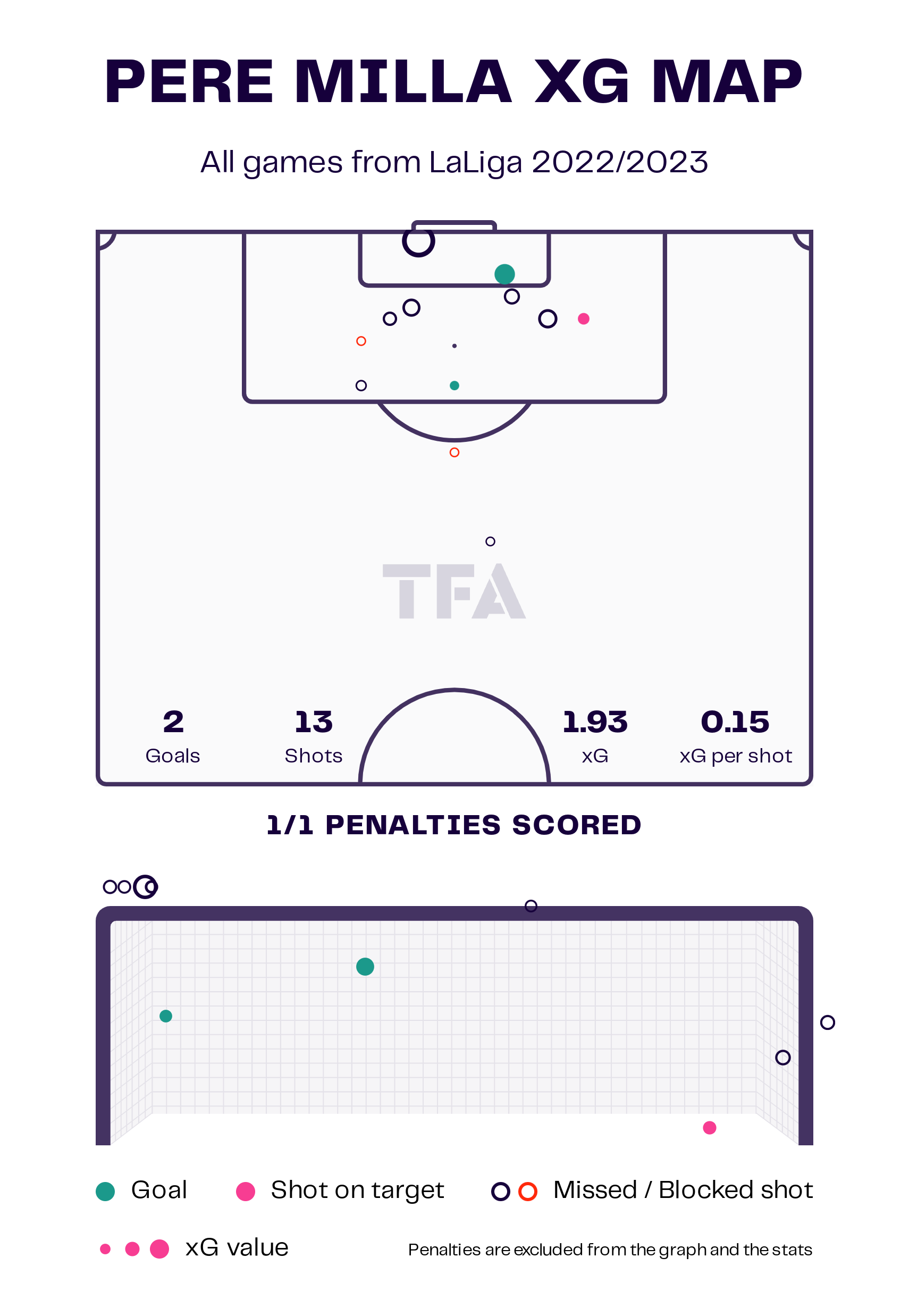 Pere Milla was Elche's top scorer last season with eight goals in La Liga. This season, he has scored three goals, with two coming from open play and one from a penalty. However, he has not been able to find the back of the net frequently enough to give Elche an attacking advantage. Out of the 13 shots, only four were on target.
Defence
The above visual shows Elche's defensive territory from the current La Liga season. They have taken part in an average of 69 defensive duels per game and 29 aerial duels per game. Elche have a success rate of 58.4% and 43.5%, respectively. As the visual suggests, we can observe that they have made many interceptions as well. Elche makes around 41.94 interceptions per game but still have failed to stop the goals, as they have conceded 35 goals this season, the most by any team.
Elche are ranked very low in recoveries per game and have high pressing. This means that they don't regain possession much in the attacking half. While they make an average of 73 recoveries per game, only seven of them come in the attacking half as they usually stay back and defend. This allows the opposition to relax and take time to build their attack.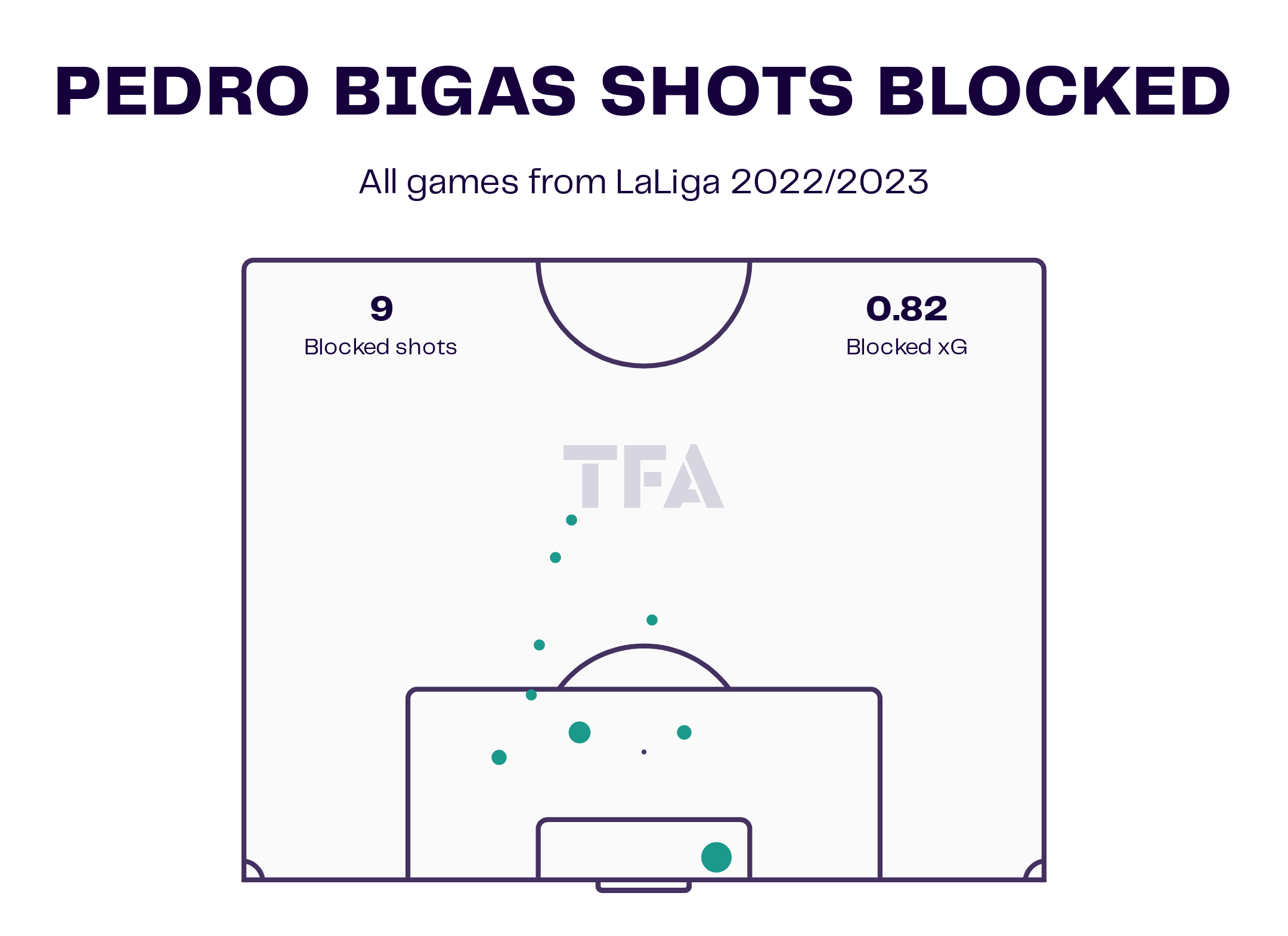 The above visual shows Elche defender Pedro Bigas' defensive territory this season. He has made around 5.88 defensive duels per game with 72% success and 1.79 aerial duels per game with 60% success. The number of aerial duels per game has come down significantly from last season when he made around 3.06 aerial duels per game.
Betting Analysis
Elche's poor form is reflected in the betting markets as well. Looking at the 1×2 market, the odds for Elche are very high at the moment. Meanwhile, the overlines are expected to be above 3.5 as they have conceded a lot of goals.
Elche has started the season in the most horrendous way possible. With zero wins from 17 matches, they are down in the doldrums and will be hoping that someone comes up with something to give them a ray of hope.
Visuals via TFA data viz engine