Enes Unal is a Turkish professional footballer who plays as a forward for the Spanish La Liga club Getafe and the Turkey national team. The 25-year-old Turkish striker is performing well in terms of goal-scoring for his side in La Liga this season. Despite Getafe's struggles, he has managed to net seven goals in 21 matches in the Spanish top flight in 2022/23. The player has been an instrumental part of Getafe's form in La Liga this season. His ability to find the back of the net at crucial moments has been a key factor in Getafe's survival this season. Getafe is currently 19th in La Liga, with 19 points from 21 outings, and holds a ten-point lead over relegation-threatened Elche. Unal will be eager to assist his team in reaching the next season safely. We now look at some of the stats for the player showing his contributions in the attack for Getafe in La Liga.
Overall performance this season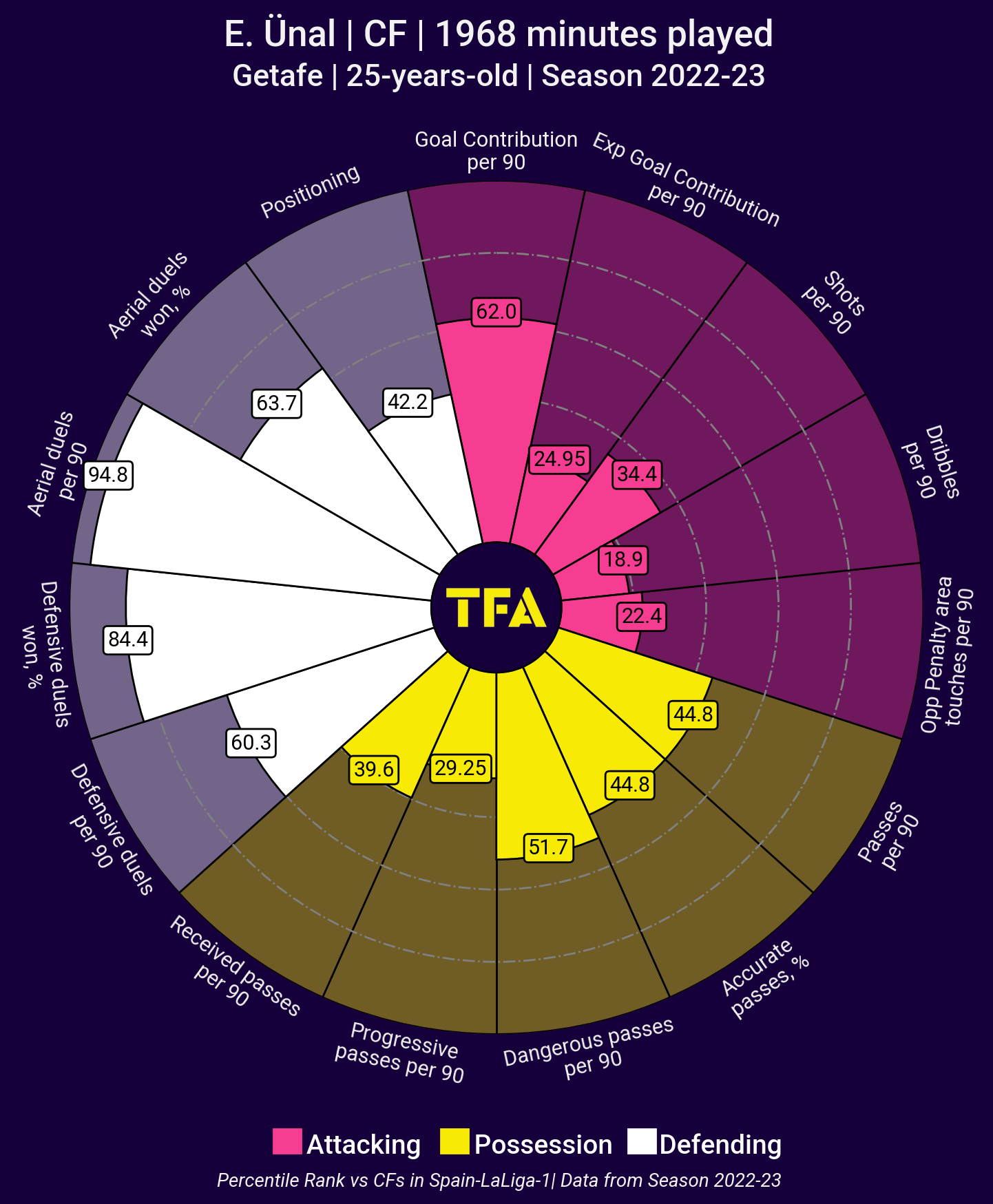 The above viz shows the percentile rank of the player in comparison to other centre forwards in La Liga. It can be observed that Unal has contributed decently in attack, with a 62.0 percentile rank in goal contributions per 90. In the possession department, he can do better in terms of passing and retaining the ball, but his ability to find dangerous passes is comparatively better. In defence, the forward does well in terms of winning defensive and aerial duels. He provides a good option in the box for crosses and tends to take on plenty of aerial duels.
Contributions in front of the goal
In the 2022–23 Spanish La Liga season, the Turkish forward has made 21 appearances for Getafe. He has 15 shots on target from a total of 43 and has scored seven goals (4.83 xG). The player averages 2.06 shots per 90, with 35.6% accuracy. The first viz depicting his shot map shows that the player has scored goals from a variety of positions, taking numerous shots from distance.
Unal averages 17.01 passes per match with a pass completion rate of 75% and has provided three assists. He has an xA of 0.85 for the matches played. Most of the actions have been taken inside the box, with some in the final third. Enes Unal has been one of the standout performers for Getafe this season, and his form will be crucial for the club's chances of avoiding relegation from the Spanish top flight.
Creative ability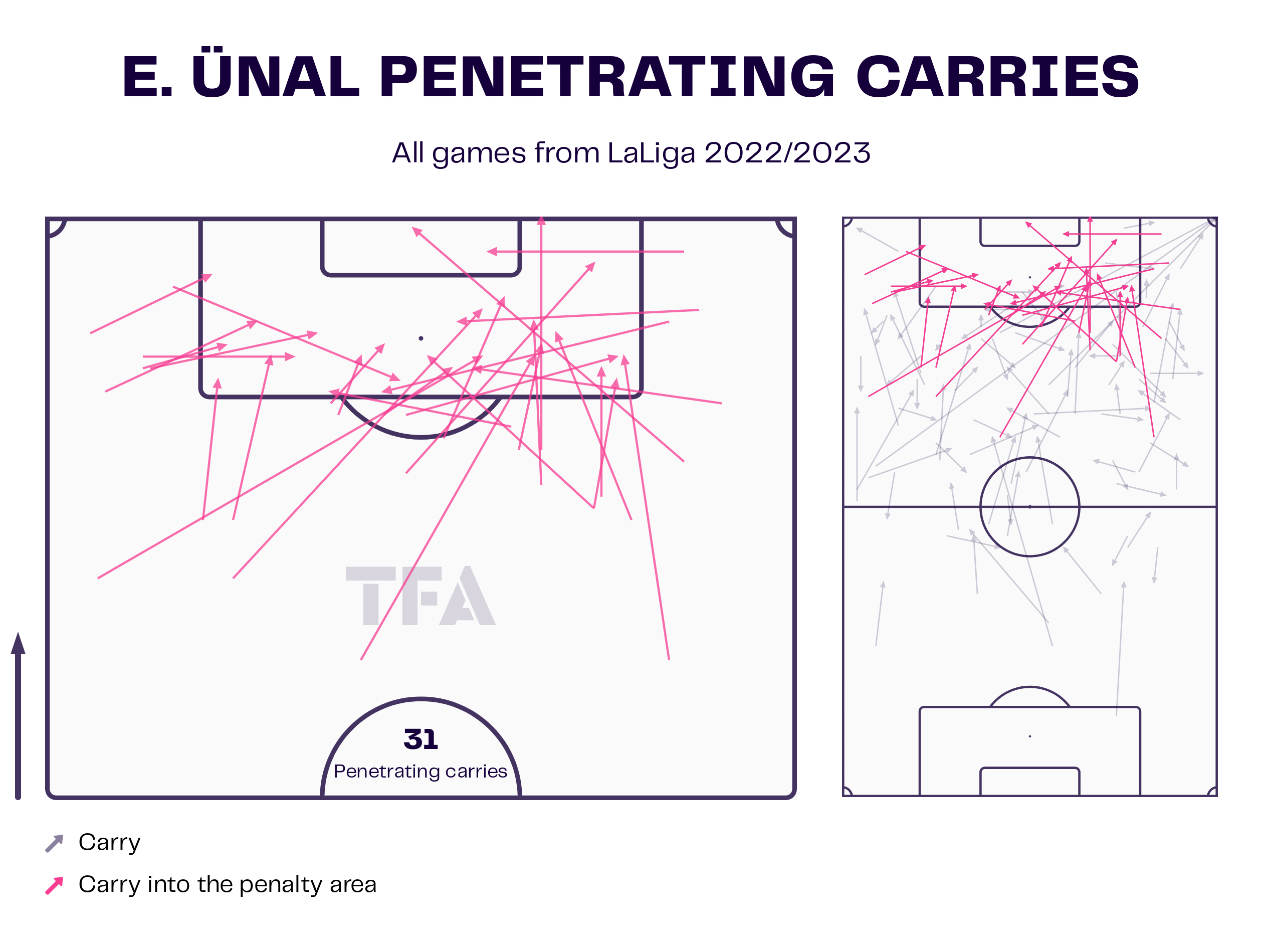 Enes Unal proves to be a decent threat down the middle on Getafe's frontline. His awareness and positioning on the pitch are good, and he makes plenty of darting runs into the box. Based on the above visualisation of his winger actions, we can see that he engages in activities throughout the final third and has plenty to show for it in terms of making penetrating carries into the box.
He is a successful dribbler and attempts 1.19 dribbles on average with a 46.2% completion rate. He averages 0.46 crosses per 90 minutes with 20% cross-accuracy. He makes a lot of movement into the box from both flanks and has most of his success dribbling down the right side of the final third. Unal has become an integral part of Getafe's attack, providing a much–needed spark up front. His pace, trickery, and eye for goal have been a good example for the rest of the players at the club.
Pressure up-top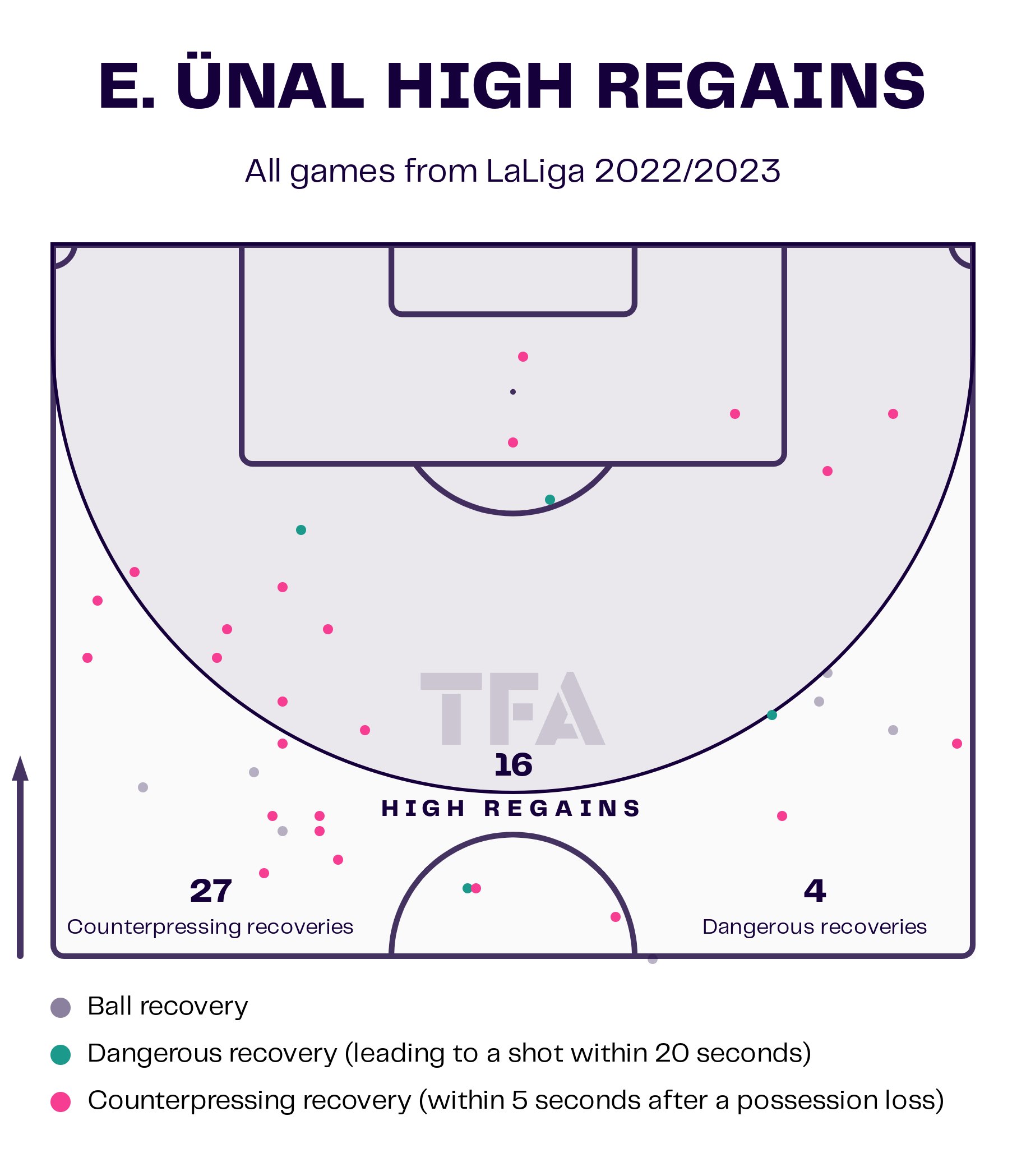 Another way in which Unal contributes to the team is by recovering the ball in the attacking half. The 25-year-old has an average of 2.79 recoveries per 90 minutes in the 2022–23 season. He has made 63.9% of these recoveries in the attacking half, including the 47 recoveries and regains depicted above inside the opposition half, four of which have led to shots.
Unal in attack for Getafe last season

The man from Turkey played a total of 37 matches for the club from Madrid last season. He managed to score a total of 16 goals (8.79 xG) for Getafe from just 79 shots taken. The club finished 15th in La Liga 2021/22 and the team scored a total of 33 goals. It is evident that the club is dependent on his ability to score and that he managed to stay in the top flight owing to his top form. It is inevitably down to the player again this season to guide his team and help Getafe pick up the wins in order to stay out of relegation.
Overall, the team is one point behind Valencia and five points behind 12th-ranked Espanyol, having played one match less. Enes Unal can be the one to help Getafe avoid relegation, as there is still a chance for the Madrid-based club to revive their season. His performance will be key if Getafe are to avoid relegation. If he can find his best form and continue to be a threat in attack, then Getafe will have a much better chance of survival. However, if Unal's form dips, then it could be a long and difficult season for the club. It remains to be seen how Unal will fare in the coming weeks, but one thing is for sure: Getafe's fate depends on his form.
Visuals via TFA data viz engine