Barcelona signed Ferran Torres in the 2021 winter transfer window from Manchester City. The 22-year-old has produced some good performances for his national team and is the first-choice right-winger for Spain under Luis Enrique. However, he has not managed to produce the same form while playing for Barcelona. While he has performed admirably when playing in his preferred right-wing position, he has yet to deliver the end product that one would expect from a Barcelona winger. Now with Ousmane Dembele injured and Raphinha out of form, the pressure on the youngster only increases by the day. Therefore, we look at his stats to understand how the Spaniard's poor form is hurting Barcelona.
Season so far
Ferran Torres has made 15 appearances in La Liga this season, starting six and coming off the bench in nine matches. The winger has scored five goals and assisted one more across all competitions.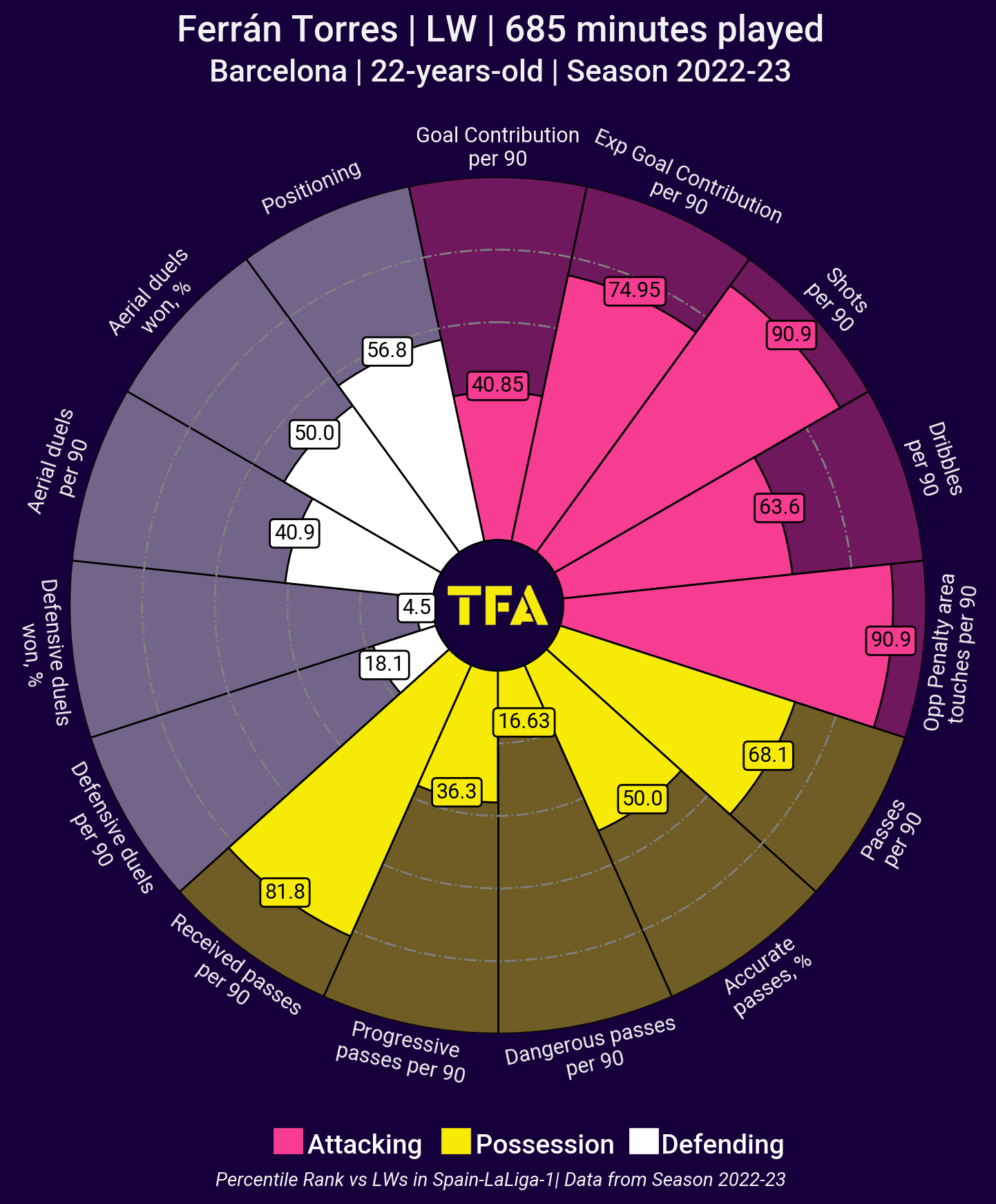 The visual above shows Ferran Torres' percentile rank compared to other left-wingers in La Liga. The 22-year-old has good stats in some metrics but lacks them in others. He is ranked very highly for shots per game but below average for goals per game, which has been the main problem. Ferran is also ranked very highly for touches in the opponent's penalty area as he makes some good runs into the box very often. Another area where he has good stats is in passes received.
Dribbles
The visual above shows Ferran Torres' penetrating carries from the current season. With an average of 5.39 dribbles and 53.7% success, Ferran has made 28 penetrating carries in the current edition of La Liga. Apart from the dribbles, he makes around 2.76 progressive runs per game. These runs are one of his best qualities, as he makes some good runs behind the defenders. But his poor finishing has led to these becoming more or less insignificant.
As a winger
Ferran Torres, even though he prefers to be a right-winger, plays more as a left-winger. He can take on players and play some crosses too. He also combines well with the interior midfielders and creates chances. Ferran contests around 11.43 offensive duels per game with 40.2% success. He also plays around 2.1 crosses per game, but only 12.5% of them find their target.
Goalscoring

The above visual shows Ferran Torres' xG map from the current La Liga season. This is the biggest worry when it comes to Ferran, as he has failed to convert most of the chances he has had. This season, he has taken 26 shots, with eight of them on target. He has averaged 3.42 shots per game, with 30.8% of them on target. Out of the 26, 18 were either off-target or blocked. This has not only put Ferran under pressure but also his teammates, as the pressure on them to score increases.
Last Season
Last season, he scored four goals for Barcelona after signing for them in the winter. He took 49 shots, out of which 19 were on target, and averaged 2.99 shots per game. Even though the average number of shots has increased, the accuracy has gone down from last season's 40%.
Should Ferran start over Raphinha on the right wing in Dembele's absence?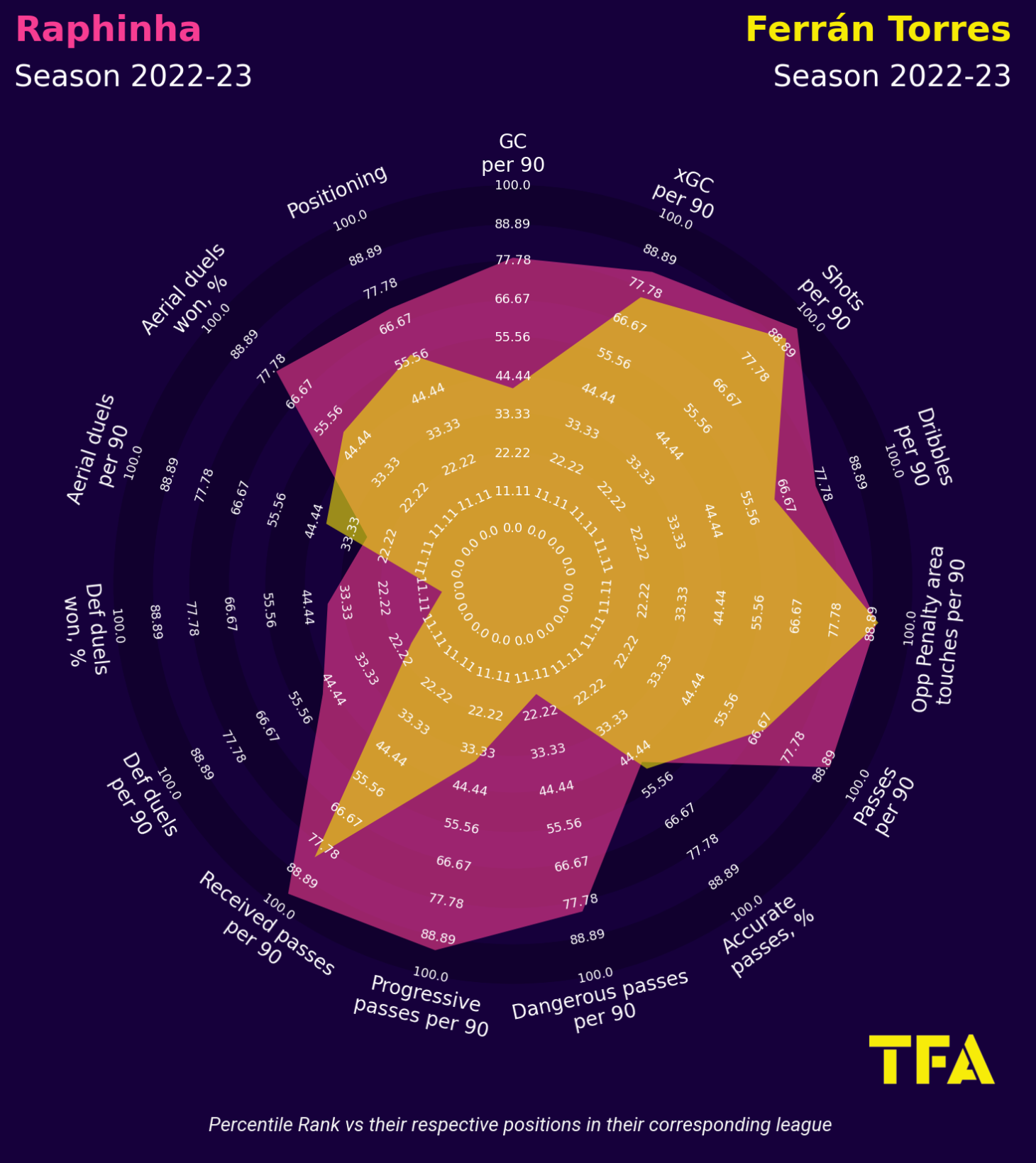 The visual above compares the radars of Ferran Torres and his teammate Raphinha. With their main man, Ousmane Dembele, getting injured, the right-wing position is up for grabs. As we can observe from the visual, Raphinha has better stats in almost all the metrics. He has better stats in shots, dribbles, dangerous passes, and goal contributions per game. But Raphinha has also not been in his best form. Ferran, meanwhile, has better stats in aerial duels, positioning, passing accuracy, and touches in the opponent's penalty area. It will be interesting to see who gets the chance to play on the right wing.
Betting Analysis
Ferran Torres has not been in the best of form recently and has failed to have a positive influence on the game. Therefore, his presence in the lineup could raise Barcelona's odds in the 1×2 market. Meanwhile, underlines are expected to flourish considering his poor finishing form.
Ferran Torres was hailed by Barcelona manager Xavi Hernandez when he signed for them. But ever since joining, he has failed to produce the outcome. Even though he shows promise and helps the team with his off-the-ball movement, his finishing has let the team down. He has to make sure he steps up soon, or he might find himself in the transfer market again.
Visuals via TFA data viz engine