Villarreal are fifth in La Liga with 31 points from 18 matches. They have, however, scored only 21 goals this season. Now they have parted ways with their top scorer from last season, Arnaut Danjuma. Therefore, the responsibility naturally falls on the experienced striker, Gerard Moreno. He has found the back of the net only four times this season, with three from open play and one from the spot. The 30-year-old, who has been a part of the Yellow Submarine for some time now, has not had the best of seasons, but with the departure of forward players, his form becomes pertinent for Villarreal. Therefore, we look at some stats to understand why Gerard Moreno needs to step up now more than ever.
Season so far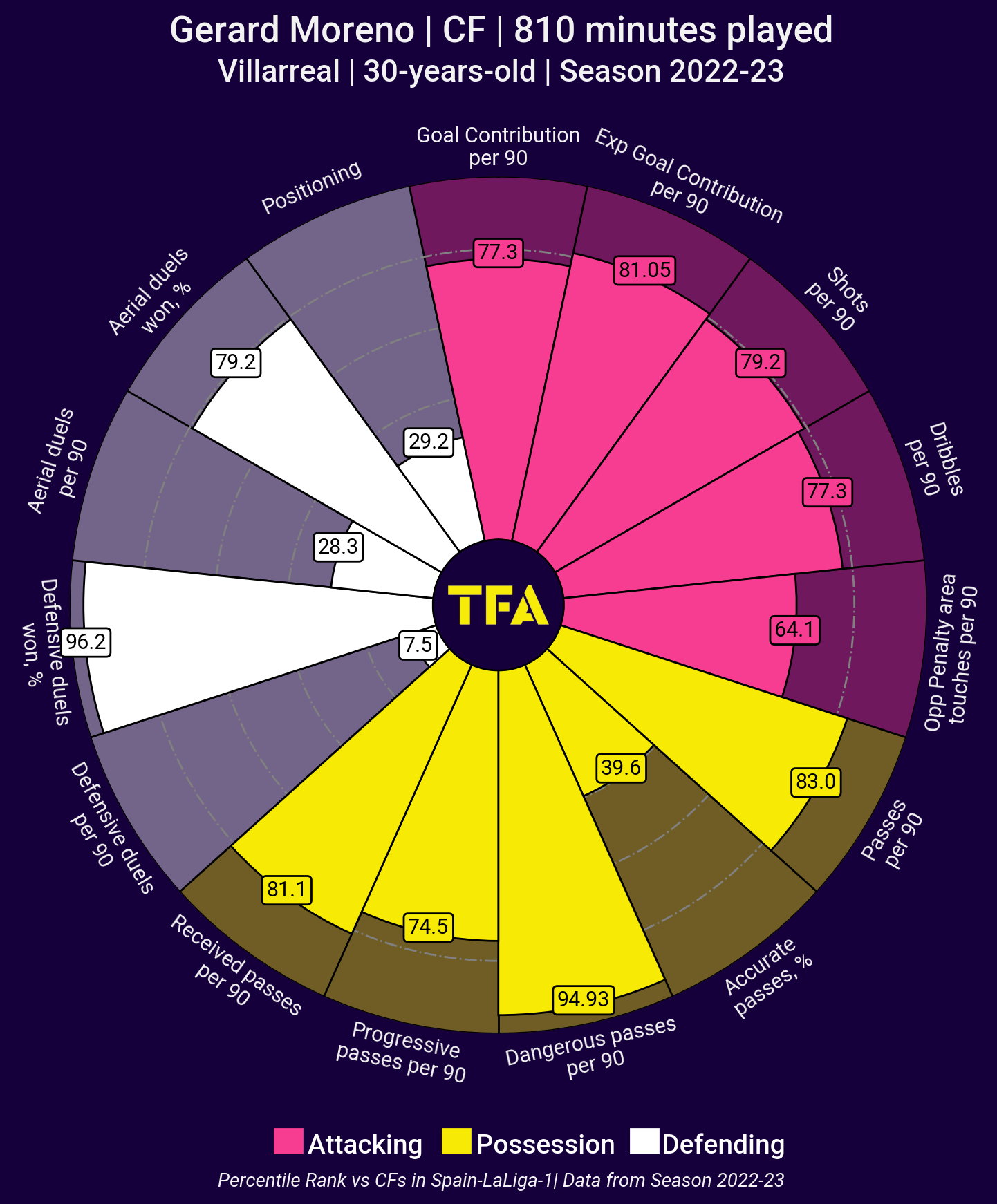 The above visual shows Gerard Moreno's percentile rank compared to other centre-forwards in La Liga. The Spaniard has good stats in almost all the metrics. He is ranked in the top 79.2 percentile for shots, the top 77.3 percentile for dribbles, and the top 77.3 percentile for goal contributions per game. Moreno has good stats in passes per game and is ranked in the top 94.93 percentile for dangerous passes per game as well. Another thing he's done well in is winning duels. The 30-year-old is ranked in the top 96.2 percentile for defensive duels and the top 79.2 percentile for aerial duels.
Position
The visual above shows Gerard Moreno's touch map from the current season. Playing as a centre-forward, Moreno has occupied the central positions a lot but is not hesitant to run into the wide areas either. He has an average of 3.78 touches in the opposition's penalty area and can be dangerous on his day. We can also observe from the visual that Moreno also tracks back well and helps the defence in recovering possession. He makes around 2.89 recoveries per game, with around 62.9% of them in the attacking half.
Dribbling
The visual above shows Gerard Moreno's penetrating carries from the current La Liga season. With an average of 3.78 dribbles per game, he has made 28 penetrating carries this season. We can observe that he usually dribbles in a diagonal way and tries to dribble all the way into the penalty box. But his dribbling stats have taken a dip from last season when he made an average of 5.59 dribbles per game. His success rate has also decreased from 48.8% to 41.2% this season.
Goalscoring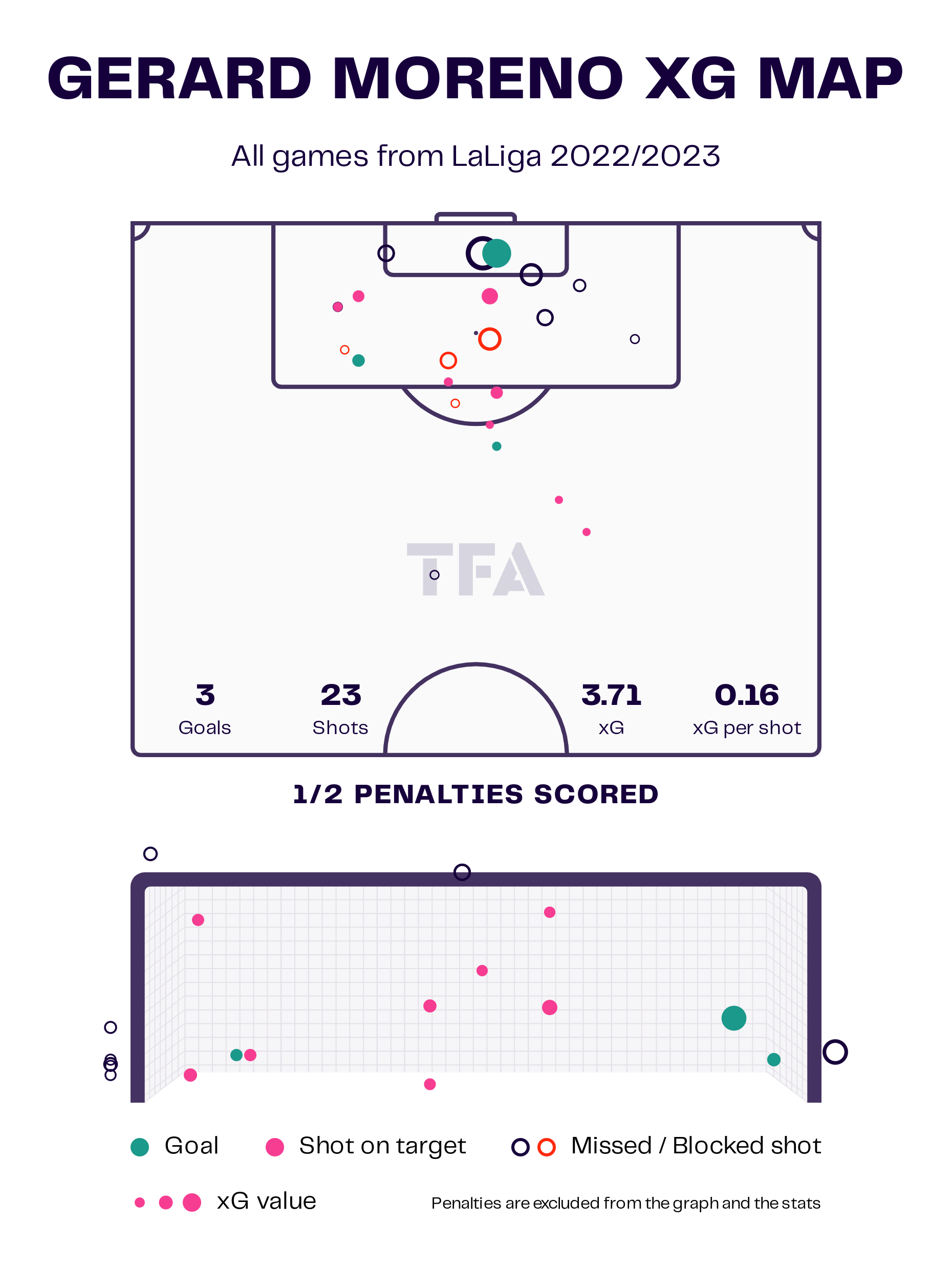 Gerard Moreno has only scored four goals in ten games this season. Due to a muscle injury, he was forced to miss many matches and was unable to play in many others. He has attempted a total of 23 shots, out of which 11 are on target. We can observe from the visual that most of Moreno's attempts have come from inside the penalty box. He has taken an average of 2.78 shots per game, with 52% of them on target.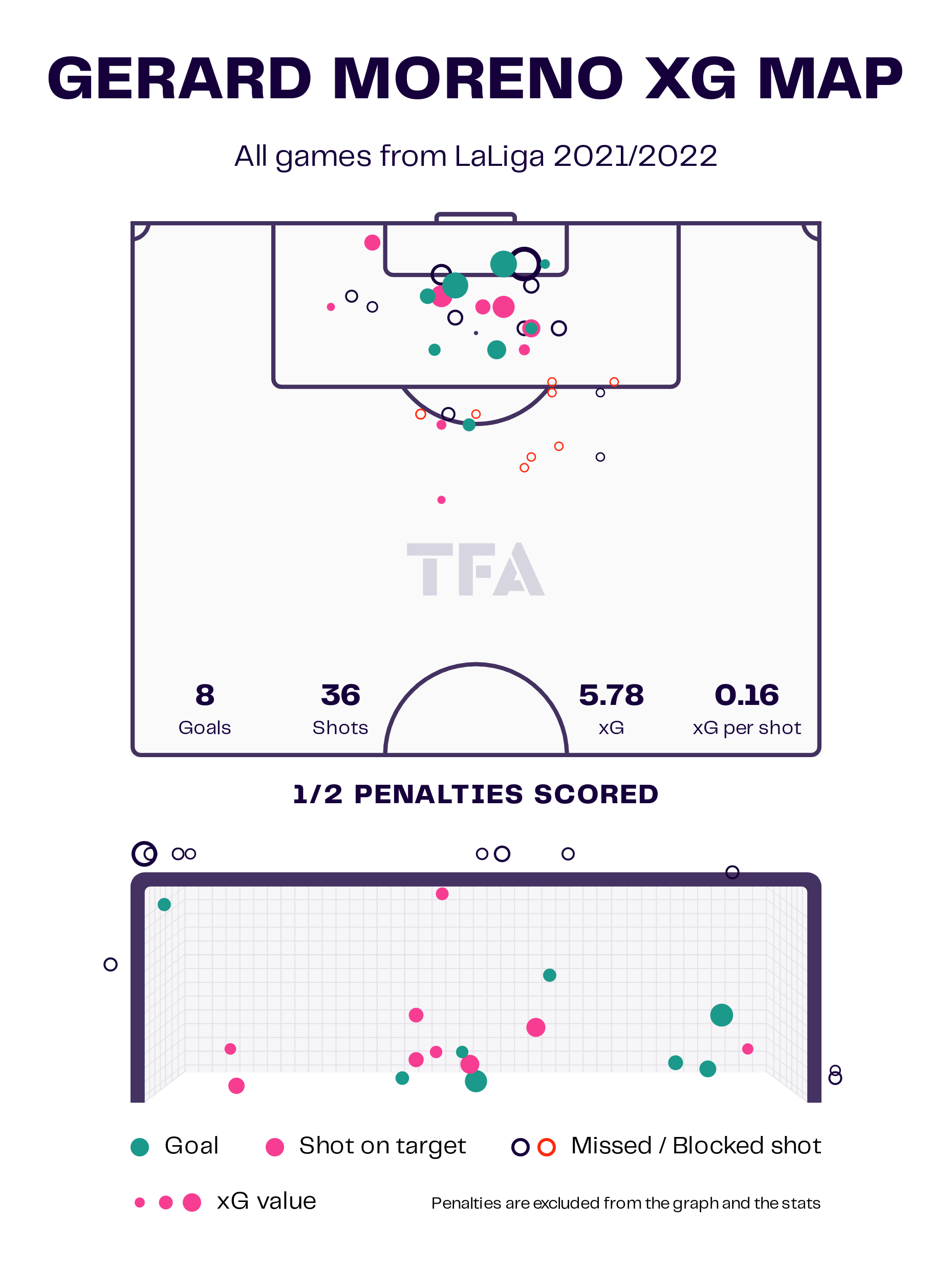 The visual above shows Gerard Moreno's xG map from the previous season. He scored nine goals last season, with eight of them coming from open play and one from a penalty. Moreno attempted a total of 36 shots last season, with 17 of them on target. Last season, he took an average of 2.66 shots per game, with 50% of them on target. This stat has improved this season.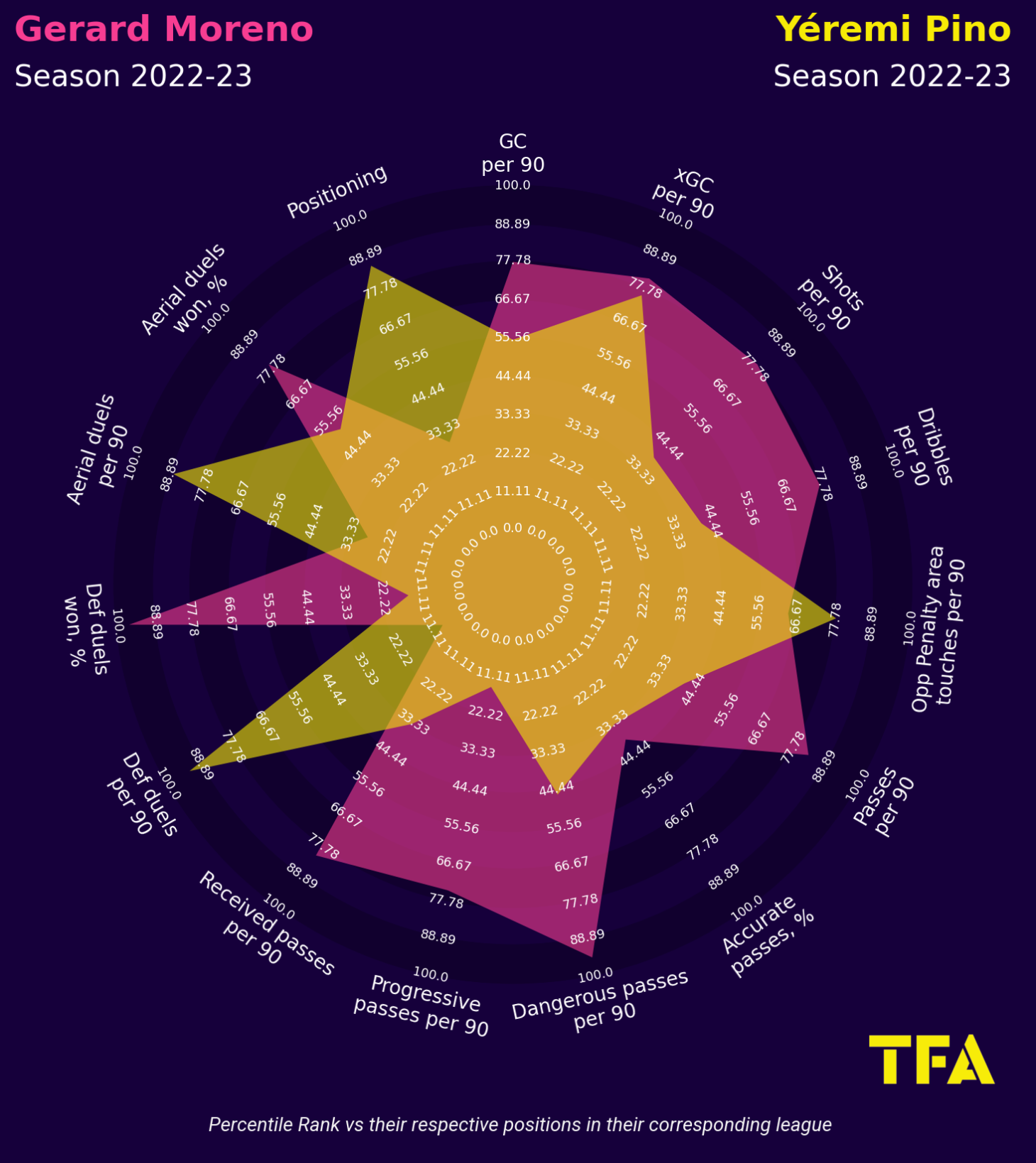 The visual above compares the radars of Gerard Moreno and his teammate Yeremi Pino. Pino is considered a great talent and will be a player to watch in the future. Gerard Moreno has better stats in almost all the attacking stats except entry into the opposition penalty area. The 30-year-old takes the lead in passing as well. Pino, meanwhile, has better stats for duels and has done better than his senior teammate in defensive duels and aerial duels attempted.
Betting Analysis  
Gerard Moreno scored two goals in the last three games he played. Therefore, his form is a good thing for Villarreal and is likely to affect their odds as well. Looking at the 1×2 market, Moreno in this form could bring Villarreal's odds down while he might raise the overlines with his scoring form.
Gerard Moreno has been a faithful servant of Villarreal football club for several years and is one of the first names that come to mind when we think of the club. But he has not delivered as much as the club or he himself would have liked to. And with the departure of some attacking players, it becomes more important that Gerard Moreno starts delivering more.
Visuals via TFA data viz engine