Isi Palazon is a Spanish professional footballer who plays as a winger for La Liga club Rayo Vallecano. He is a product of the Rayo Vallecano academy and has become an integral part of the team's squad since the start of this season, which has been key to their success in La Liga this season. At 28 years of age, Palazon has two seasons of La Liga experience under his belt and has been playing in Spain since the start. He is known as a tenacious attacker who is willing to go the extra mile for his team. He has made a name for himself in La Liga this season with his hard-working, energetic style of play. He has made a total of 21 appearances in the league this season, contributing five goals and five assists. The team is in sixth place and is fighting for a place in the top six. We now look at some of his stats for Rayo Vallecano in La Liga.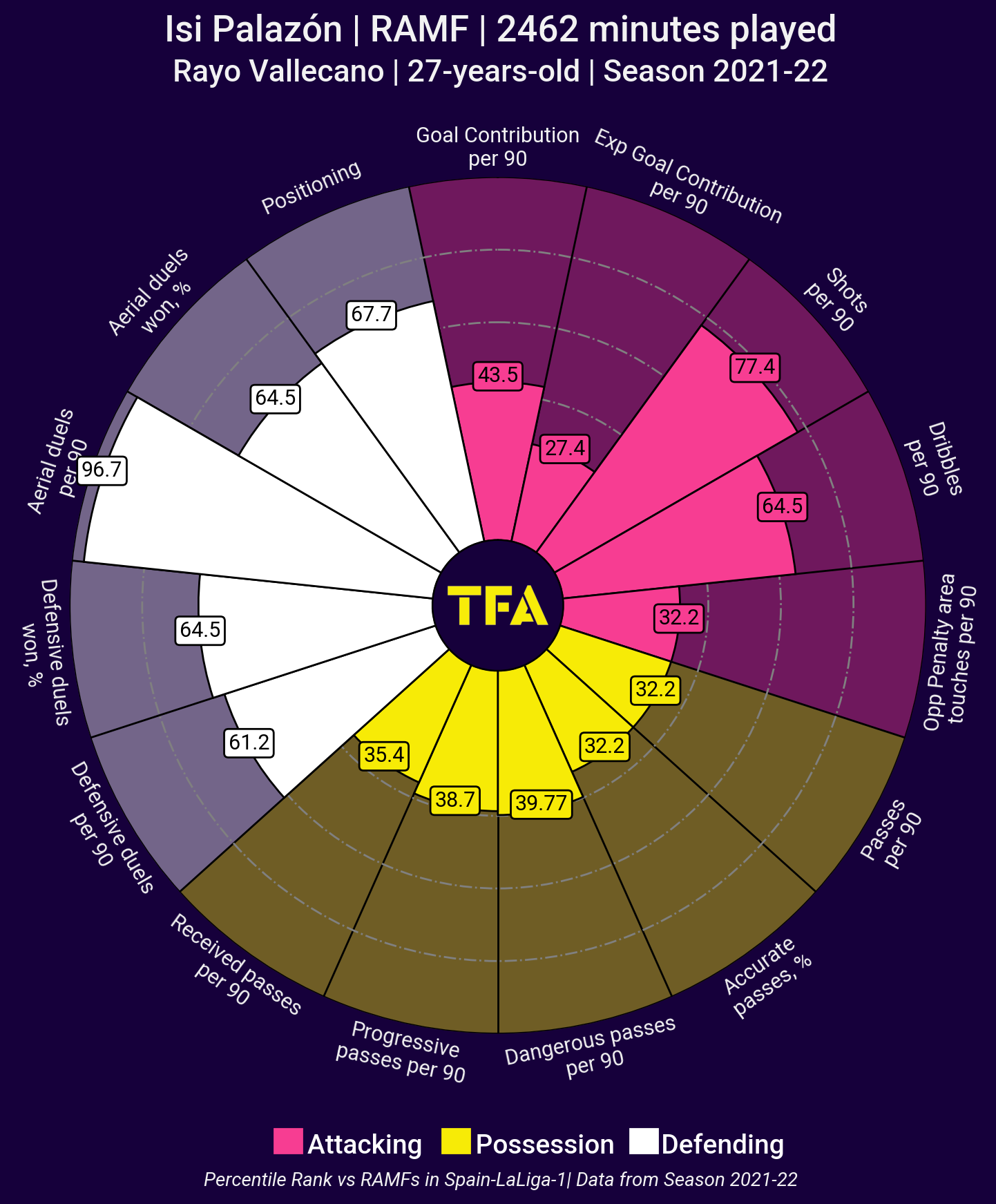 The above pizza charts present his percentile rank versus other right-attacking midfielders for 2022–23 and 2021–22, respectively. He appeared in 34 matches in the 2021/22 season for Rayo Vallecano in their domestic campaign and was menacing in terms of going forward, having scored two goals and provided four assists in the league. He has played 21 matches for Rayo Vallecano in the current season and has already wreaked havoc, having provided five assists and scored five goals, and has a higher rank in attacking departments than in his 2021/22 season. Isi has shown significant improvement in winning defensive duels and has also bettered himself in terms of making accurate passes. He ranks in the top 90 percentile among right-attacking midfielders for goal contributions per 90 in the 2022–23 season.
Palazon in front of the goal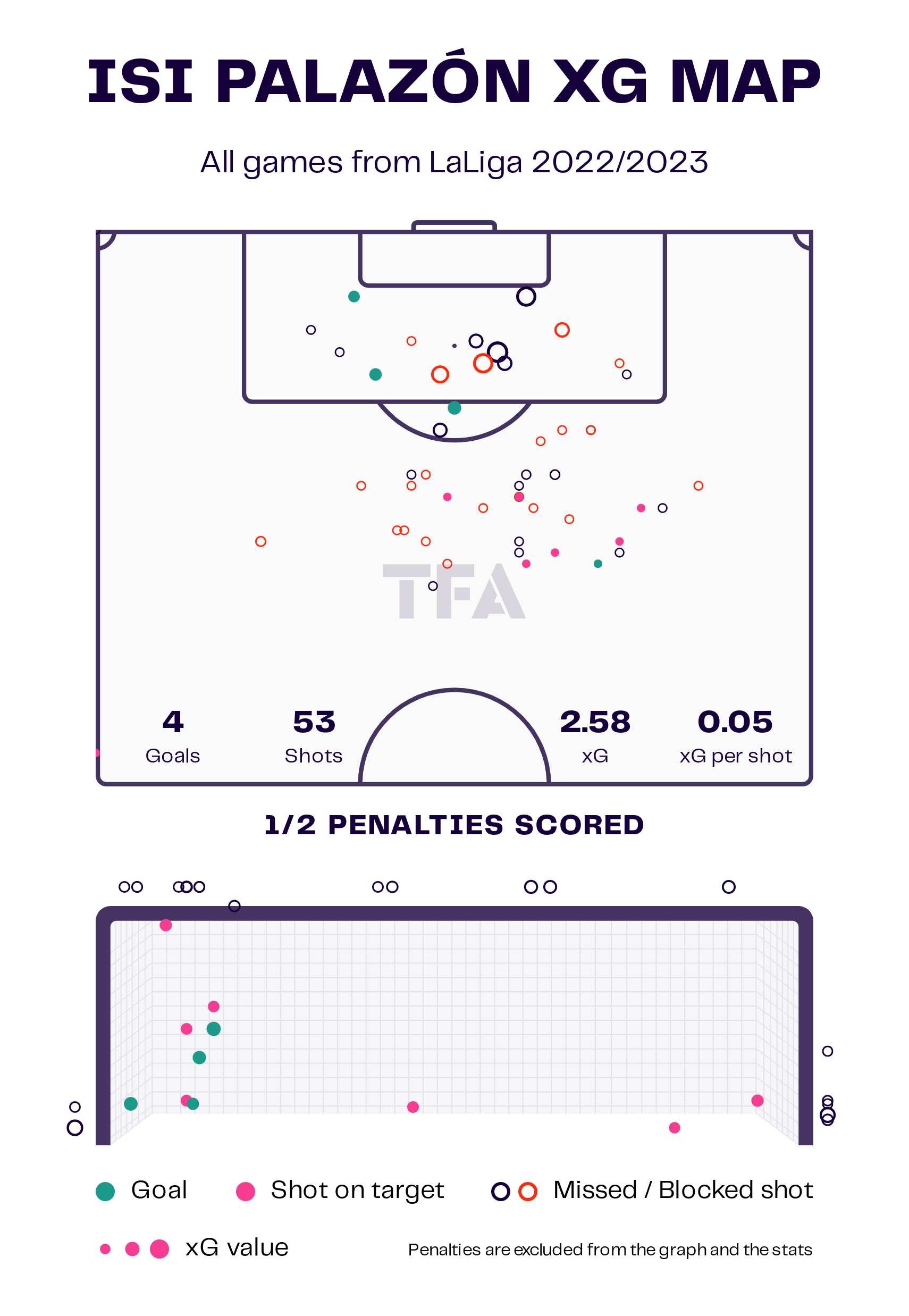 Another area where the midfielder can contribute is in his ability to take shots and create danger. This season, he has scored four goals from open play and has scored one of his two penalties. The player averages 2.78 shots per 90 minutes in the 2022–23 La Liga season and has an accuracy rate of 23.6%. The xG map above shows that Isi has taken most of the shots from outside the penalty box. He scored goals from long distances as well as from inside the box, and he prefers to shoot from the right flank. He has taken 53 shots, of which 11 have been on target.
Creative gameplay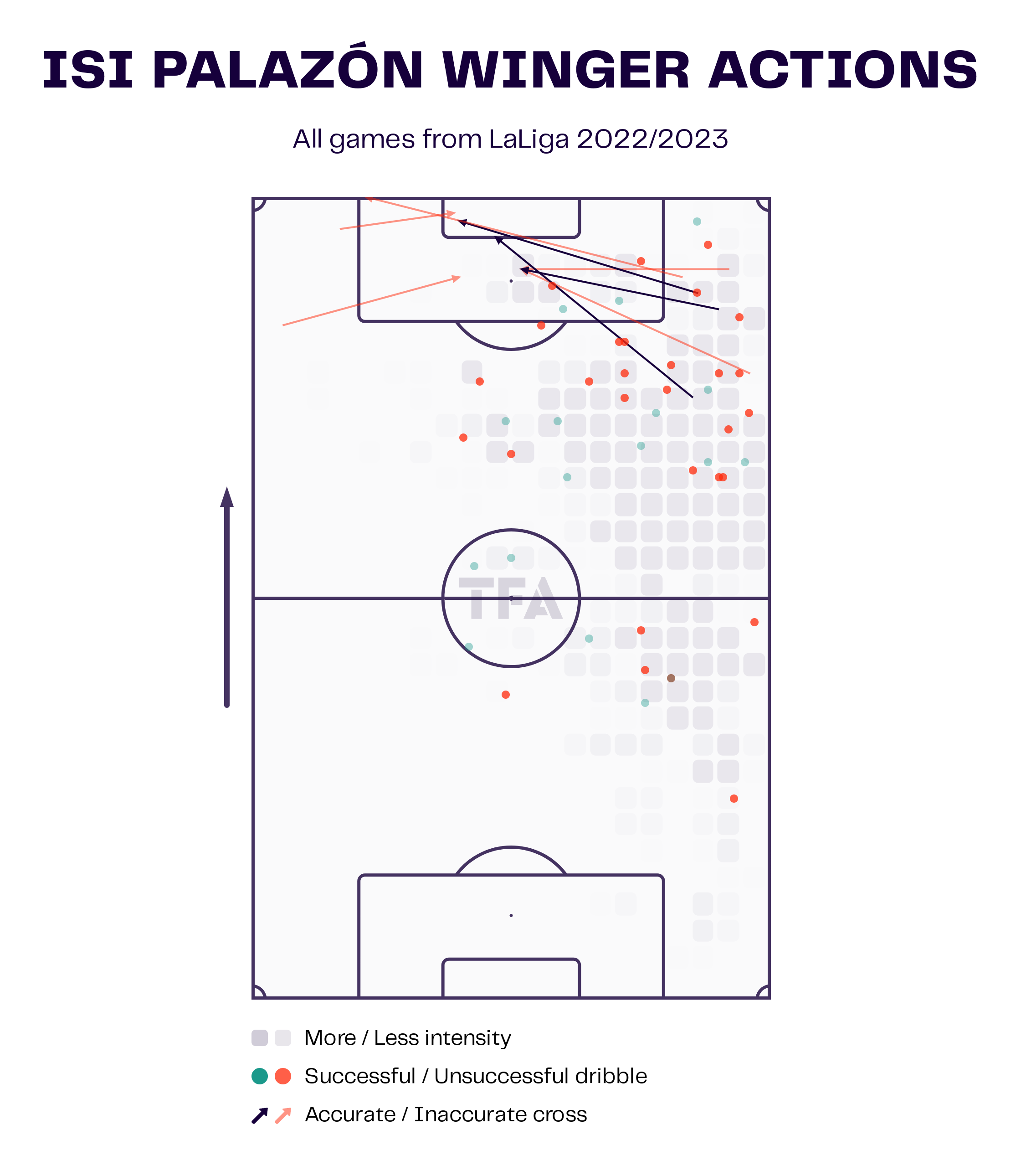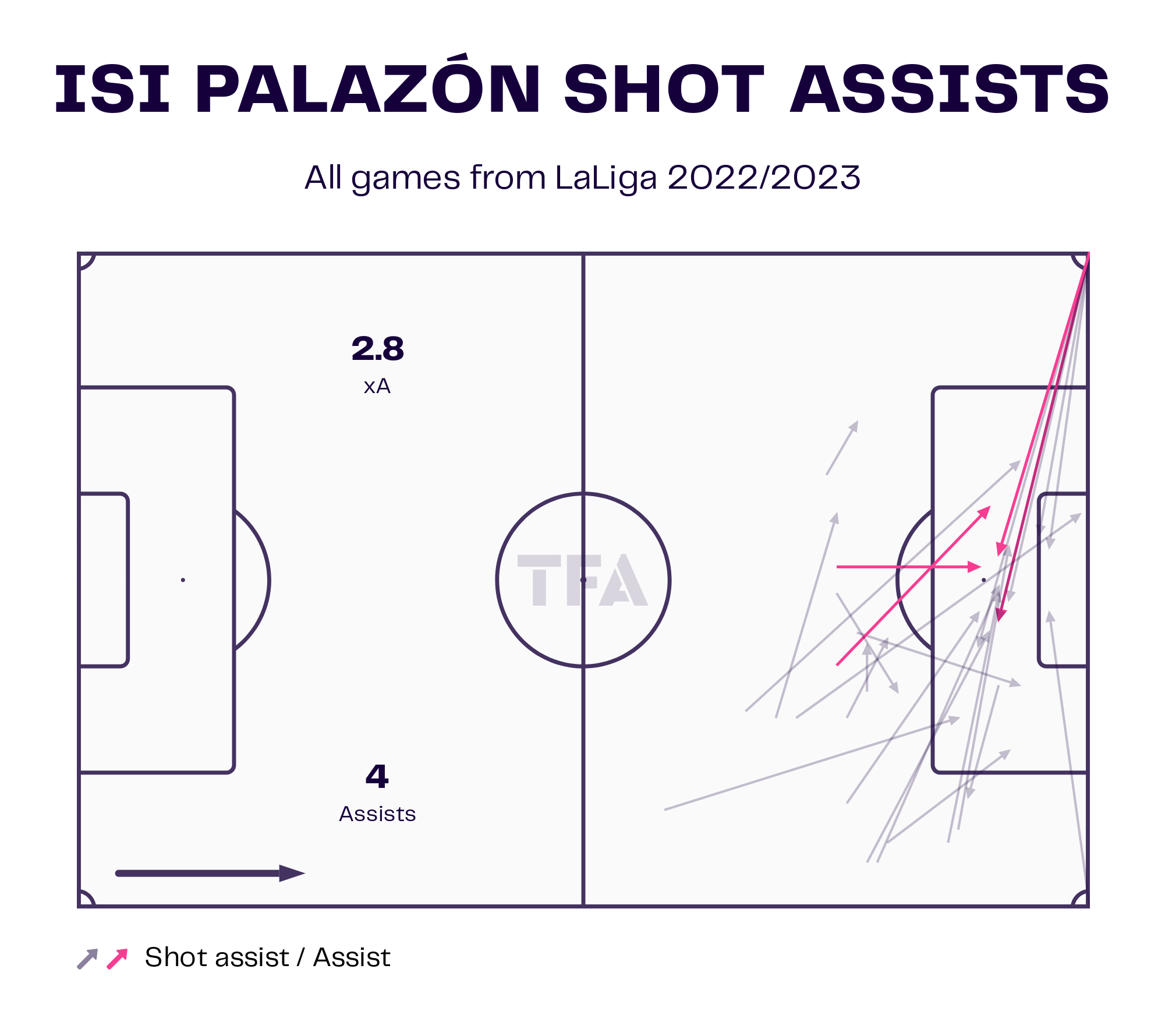 The above viz shows the player's winger actions and shot assists from the current season. It can be observed that most of his intensity is in the final third, from where he attempts to dribble or provide dangerous passes into the box. Isi uses the right wing to perform most of his attacking actions. Currently, he attempts 3.79 dribbles per match with a 34.7% success rate. Furthermore, he makes 0.81 progressive runs per 90 minutes. The man from Spain makes 2.73 passes into the penalty area on average, next to 1.11 crosses per 90 with 36.4% accuracy.
He has provided four assists for Vallecano this term and has a total xA of 2.8. From the shot assist viz. above, it can be observed that most of the chances he created were through corners or through passes into the box. Overall, the player averages 0.05 shot assists per match and has played a major role in creating big chances.
High pressing ability
Another way the Spaniard makes his contribution to the team is by recovering the ball in the attacking half. On average, the 28-year-old makes 75.66 recoveries per 90 minutes. With a total of 41 counter-pressing recoveries, Isi has made the majority of his actions in the left flank for his team and guarded it against potential opposition attacks, making 59.8% of these recoveries in the attacking half.
Palazon is a player who has been under the radar for some time but is certainly making a name for himself this season. He has the ability to break up opposition attacks and pick out key passes to launch his own team's attacks. The Spaniard is also a great ball-winner in the midfield and is very effective in the air, making him a great asset in both attack and defence. Isi Palazon is a key player for Rayo Vallecano and their quest for the top six this season in La Liga and is certainly one to watch in the future.
Visuals via TFA data viz engine