Jose Gaya has been a staple of Valencia's lineup since joining the club in 2012 and has been a key player in helping the team stay in La Liga. Despite a recent dip in form, Gaya still has the quality to help guide Valencia to safety. He is a reliable defender who is capable of making solid tackles and interceptions, and he can also put in a good shift going forward, providing crosses and making runs into the box. He has also been an important part of the team's attack, having provided two assists. Valencia are currently in 17th place and are battling to stay out of relegation. Below are some of Jose Gaya's stats for Valencia this season.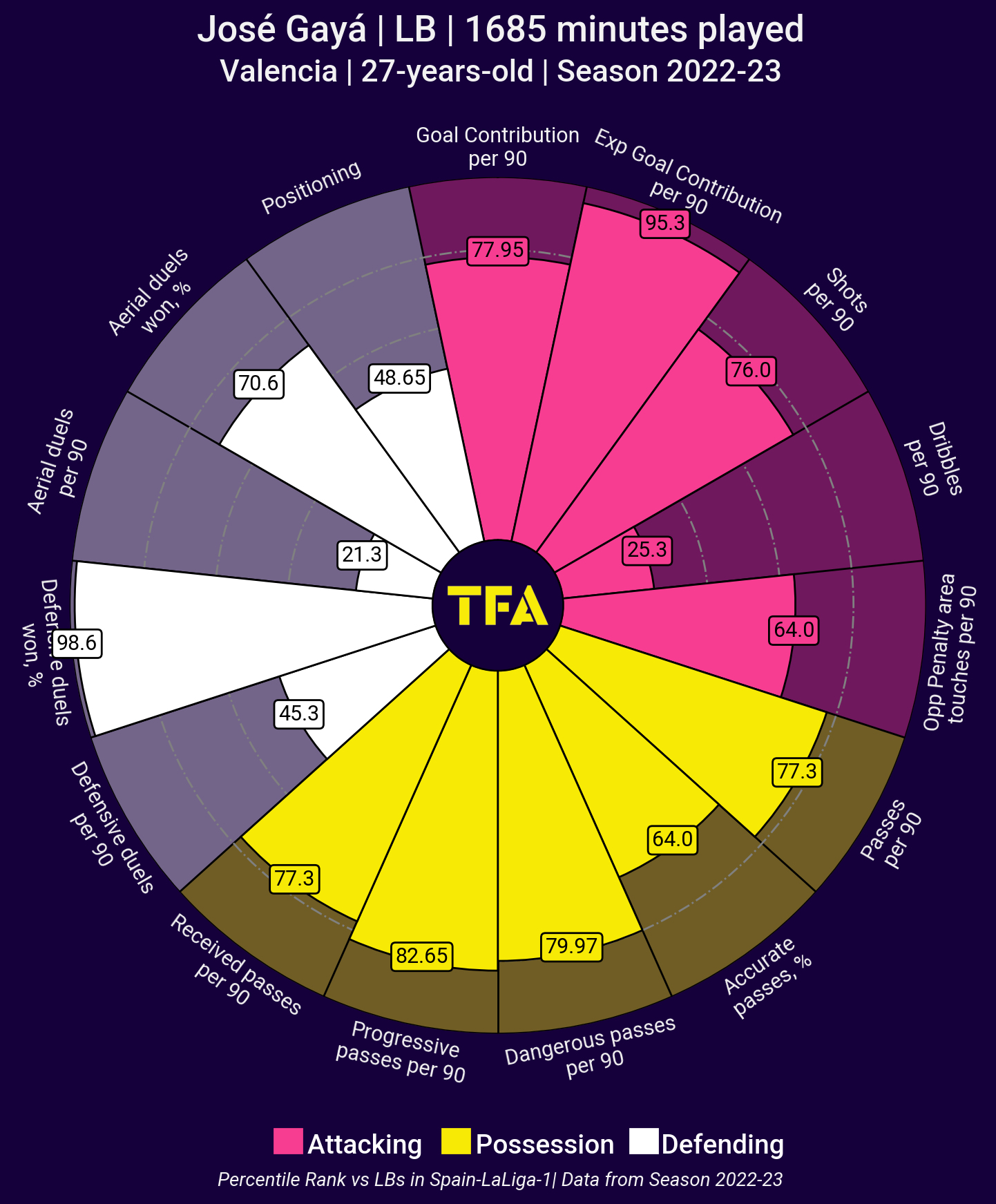 The above viz shows the percentile rank of the player's stats in comparison to the other players featuring as left-backs in the current season of La Liga. We can observe that Jose Gaya dominates in terms of goal contributions per 90 minutes. He performs fairly in terms of the possession department, ranking above the 75 percentile for pass attempts, progressive passes, and received passes. The player has a good rank under attacking indicators like expected goal contributions and touches in the opponent's penalty area. Finally, a few areas where he has made a huge impact are contesting and winning defensive and aerial duels.
Jose Gaya down the flank
Jose Gaya is an offensive-minded left-back, which makes him a very valuable asset for the team. His tendency to attempt dribbles in the final third causes damage to the opponent. The above viz shows the player's winger actions from the current. It can be observed that most of his intensity is on the left flank of the middle and final third, from where he attempts to dribble or delivers a deep or even short cross into the box. Currently, he attempts 1.2 dribbles per match with a 60% success rate. Furthermore, his tendency to take frequent crosses and his ability to deliver them successfully are also demonstrated by the 5.67 crosses he attempts per game with 44.8% accuracy.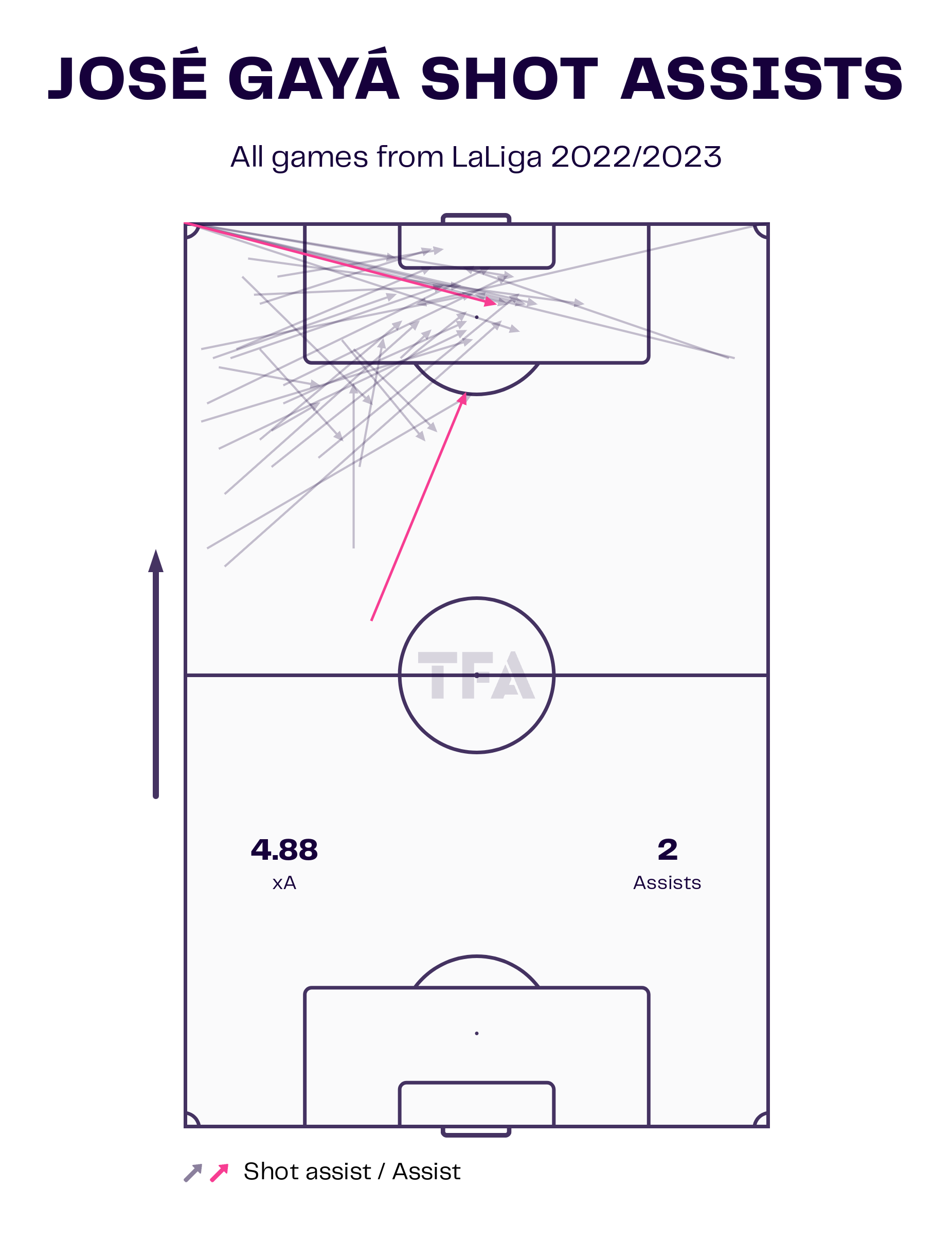 He has provided two assists for Valencia this term and has a total xA of 4.88. From the shot assist viz. above, it can be observed that most of the chances he created were through corners, crosses, and diagonal passes into the box. Overall, the player averages 0.13 assists per match and has played a major role in creating big chances.
As a left-back, the Valencia captain's role is to provide an option to attack and transition through the wings in a free-flowing manner. As seen in the viz above, he makes crucial contributions in the final third and midfield by releasing progressive passes down wide channels and into the penalty box. Jose Gaya averages 14.57 forward passes per 90 minutes and has a 73% accuracy rate. These include 5.8 passes to the final third with a 71% accuracy rate and 4.79 passes to the opposition's penalty box with a 49% accuracy rate.
Defensive attributes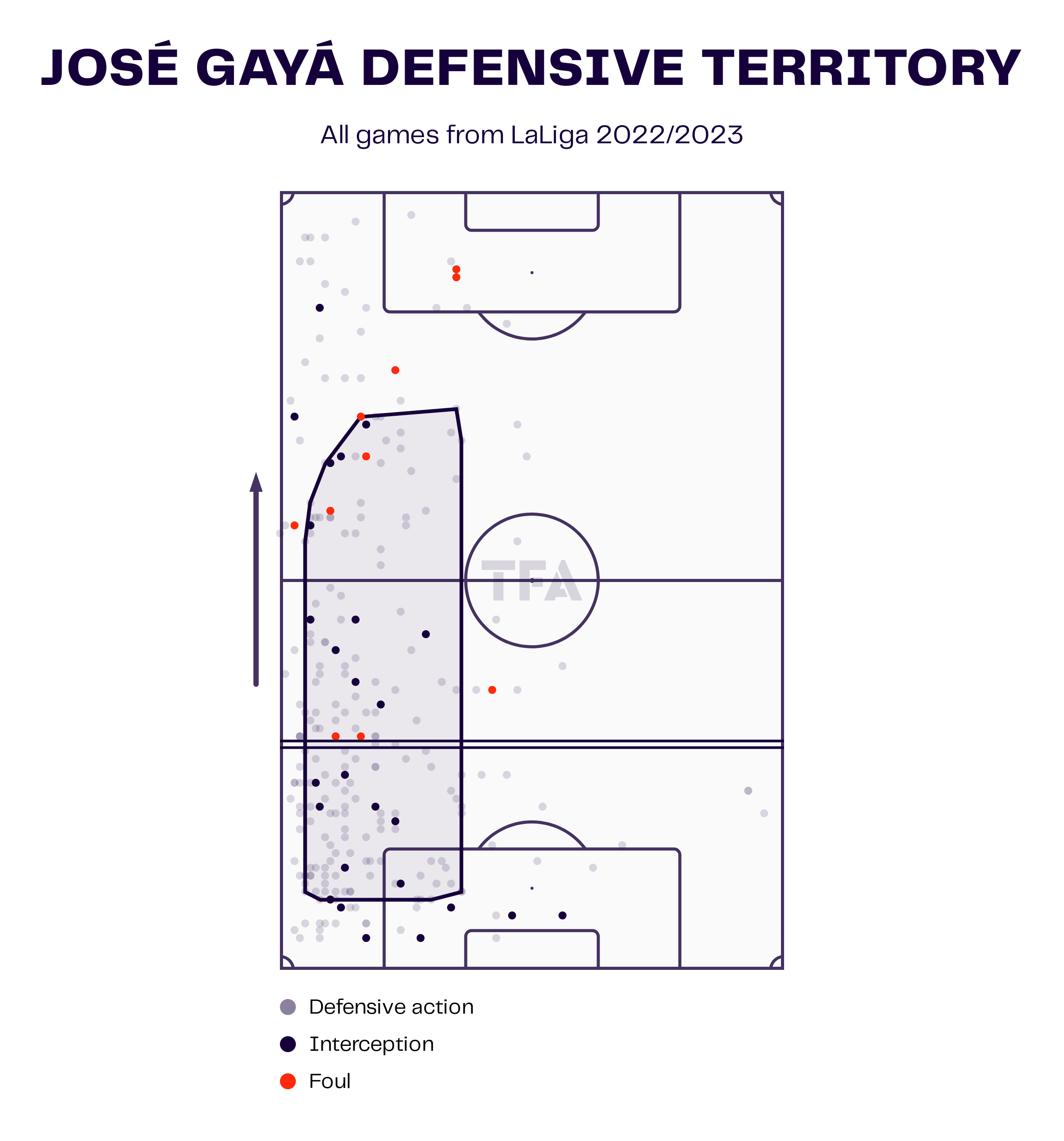 Besides his contributions while advancing forward, Jose Gaya also makes a significant contribution when his team is out of possession. The viz above shows the player's average defensive territory from the current La Liga season. He positions himself around the defensive third and covers a lot of ground in the defensive and middle third, as evidenced by the numerous defensive actions and interceptions performed in that area of the pitch.
Jose Gaya has also committed a few fouls and currently gives up 0.56 fouls per match. The club captain averages 2.77 interceptions per match and puts high pressure on the opposition's midfield region and the final third. He does so by making 7.36 recoveries per 90, with 22.9% of them in the opponent's half. Furthermore, the player contests 6.7 defensive duels and 1.4 aerial duels per match. Overall, Jose Gaya wins 59.8% of the duels he contests on average.
Creating chances for his teammates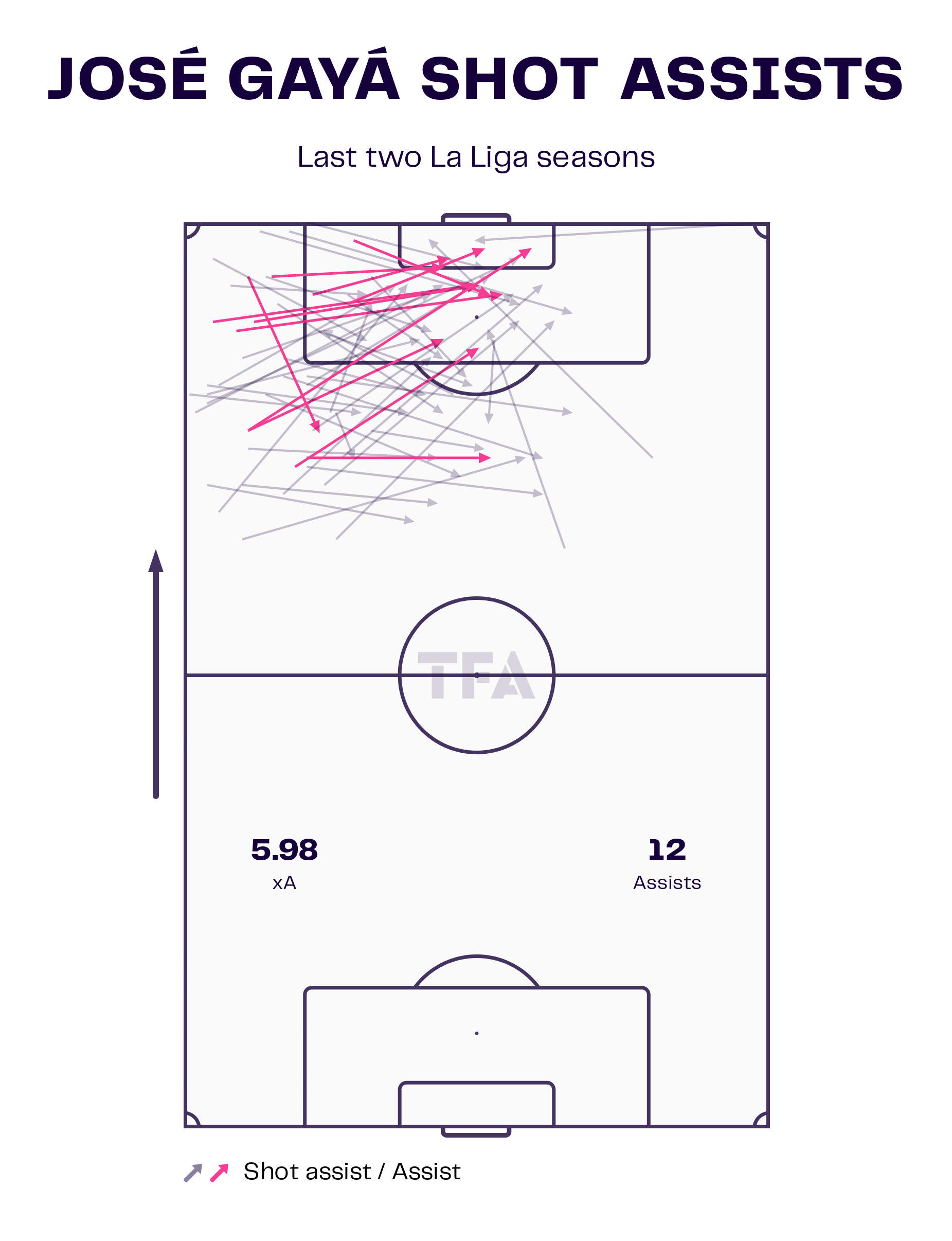 In his last two seasons so far in La Liga with Valencia, Jose Gaya has provided 12 assists. He has been more of a left-wing back who plays box-to-box and gives the team support in front of the goal and composure down the left flank. Overall, he has accumulated an xA of 5.98. From the shot assist viz. above, it can be observed that his assists have come through penetrative and progressive passes into the box as well as cutbacks into the box. His ability to create goal-scoring chances and provide dangerous passes is one of his major strengths.
Overall, Gaya has the ability to read the game well and make smart decisions, which can be invaluable in helping Valencia remain in the top flight. His leadership and experience are also valuable assets to the team, and he will undoubtedly be a key figure for Valencia as they look to secure their La Liga status.
Visuals via TFA data viz engine