Espanyol finds themselves in deep misery as they are currently placed 16th in La Liga, just two places above the relegation zone. They have 13 points from 17 matches, having won just two, drawn seven, and lost six. They have conceded 23 goals this season while scoring just 17. Joselu, their striker, stands out in the midst of all the struggles.
The 32-year-old, who joined Espanyol this season, is having a fantastic first season with the Parakeets. With eight goals from 15 matches, he is their top scorer and the hope of their fans. Leaving Alaves after three successful seasons with them, Joselu wouldn't have thought the responsibility of the team's fortune would fall on his shoulders this soon. But having proven that he can score under pressure before, he will relish this opportunity. Therefore, we look at his stats to understand how his form will be crucial for Espanyol to avoid relegation.
Performance this season so far
Joselu has made 15 appearances this season, starting all of them. He has scored eight goals and had one assist in La Liga. Moreover, he has a goal and two assists to his name in the Copa Del Rey as well.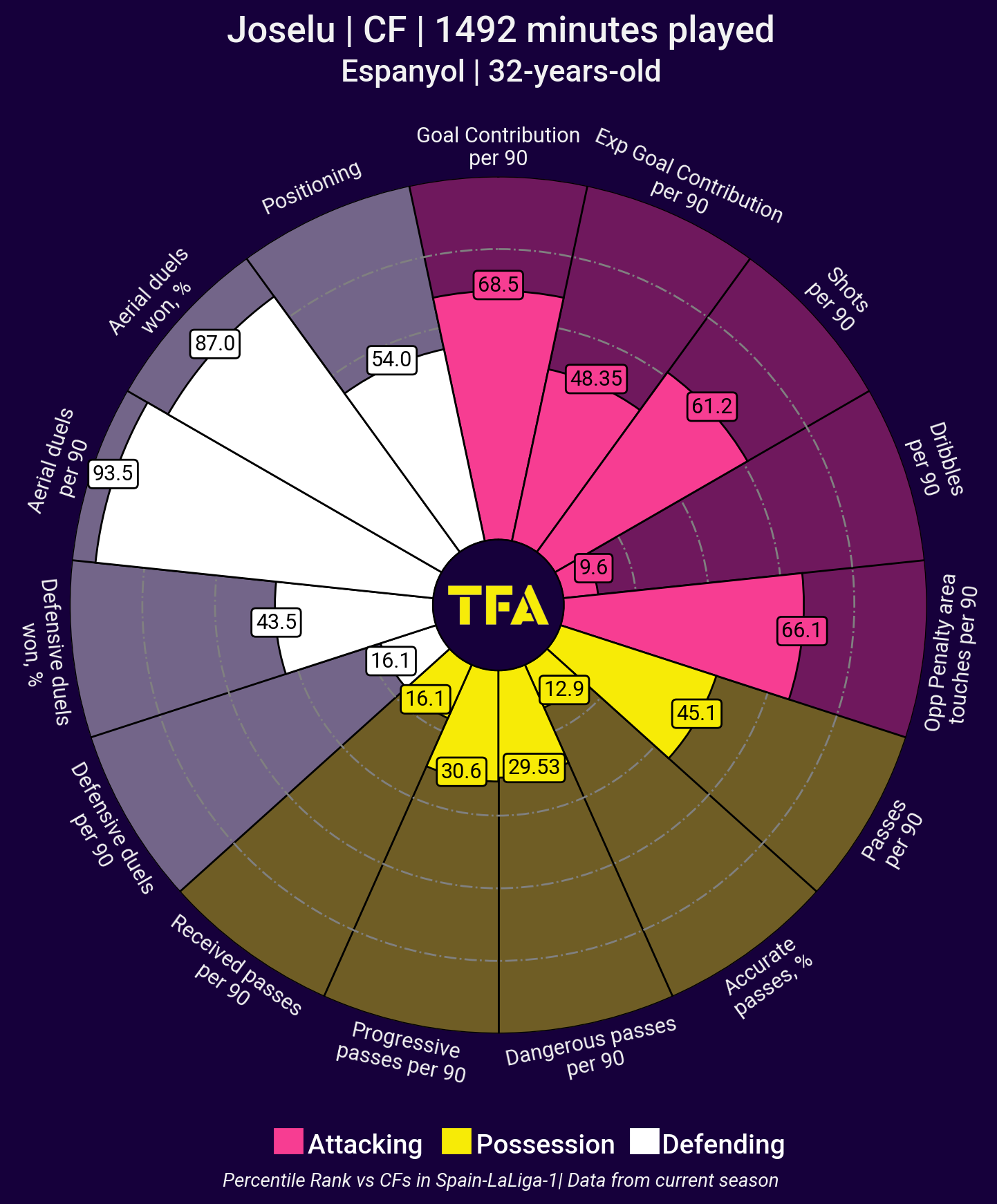 The above visual shows Joselu's percentile rank compared to other centre-forwards in La Liga. We can see from the chart that he has good attacking stats and does well in duels as well. He is ranked in the top 68.5 percentile for goal contributions per 90, the top 61.2 percentile for shots per game, and the top 66.1 percentile for entry into the opposition penalty area. In duels, he does extremely well in aerial duels and is ranked in the top 93.5 percentile for aerial duels per 90, with the top 87 percentile for aerial duels won. He is dominant in the air and wins many aerial duels for them.
The above visual shows Joselu's touch map from the current La Liga season. As a centre forward, he spends a lot of time in the attacking half. But as we can observe from the touch map, he also contributes to defence by tracking back when required. Joselu, even though not the quickest, can be dangerous once he gets free and has racked up five goals from open play this season. He averages around 3.62 touches in the penalty area and can score from headers as well, which makes him a player to be marked.
High Regains through pressing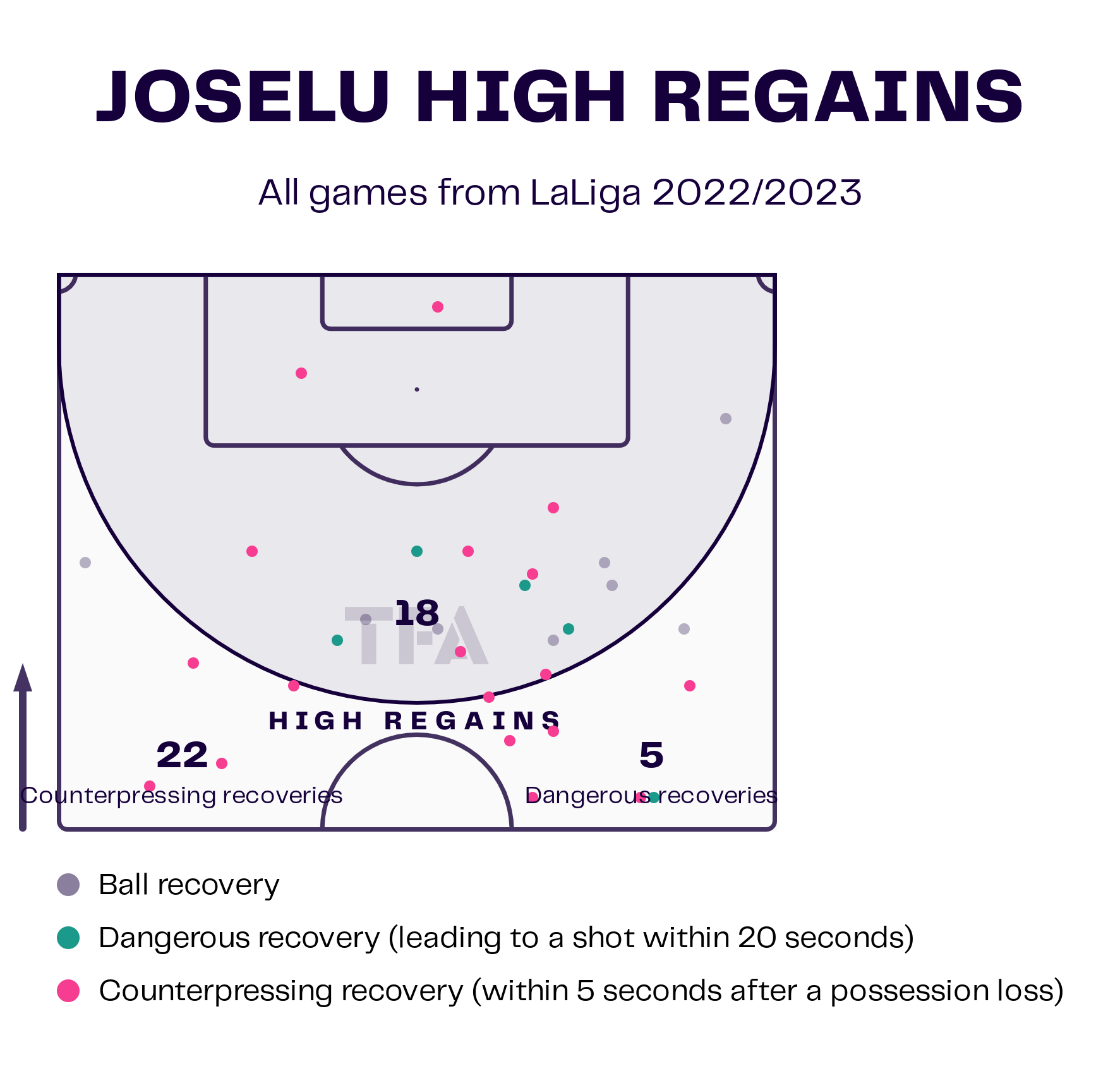 Another way he contributes to the team is by recovering possession in the attacking half through pressing. The above visual shows his high regains from the current season. He has made 18 high regains, 22 counter-pressing recoveries, and five dangerous recoveries. These recoveries help Espanyol attack the opposition when they are vulnerable. He makes around 2.53 recoveries per game, with 81% of them in the attacking half. Even though this is not a huge number in itself, one reason for it could be that Joselu is usually the focal point and waits to receive the ball.
Consistent goal-scorer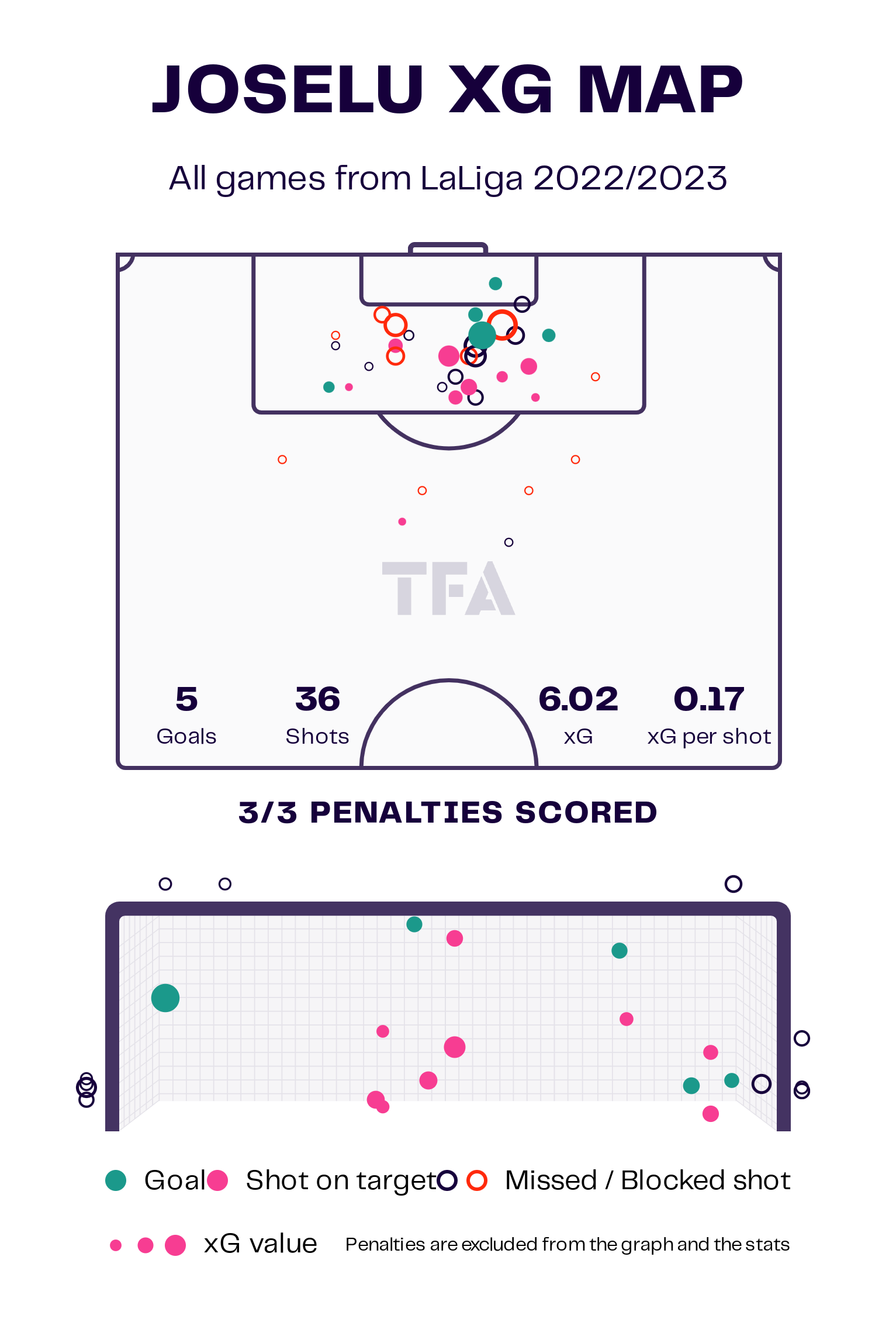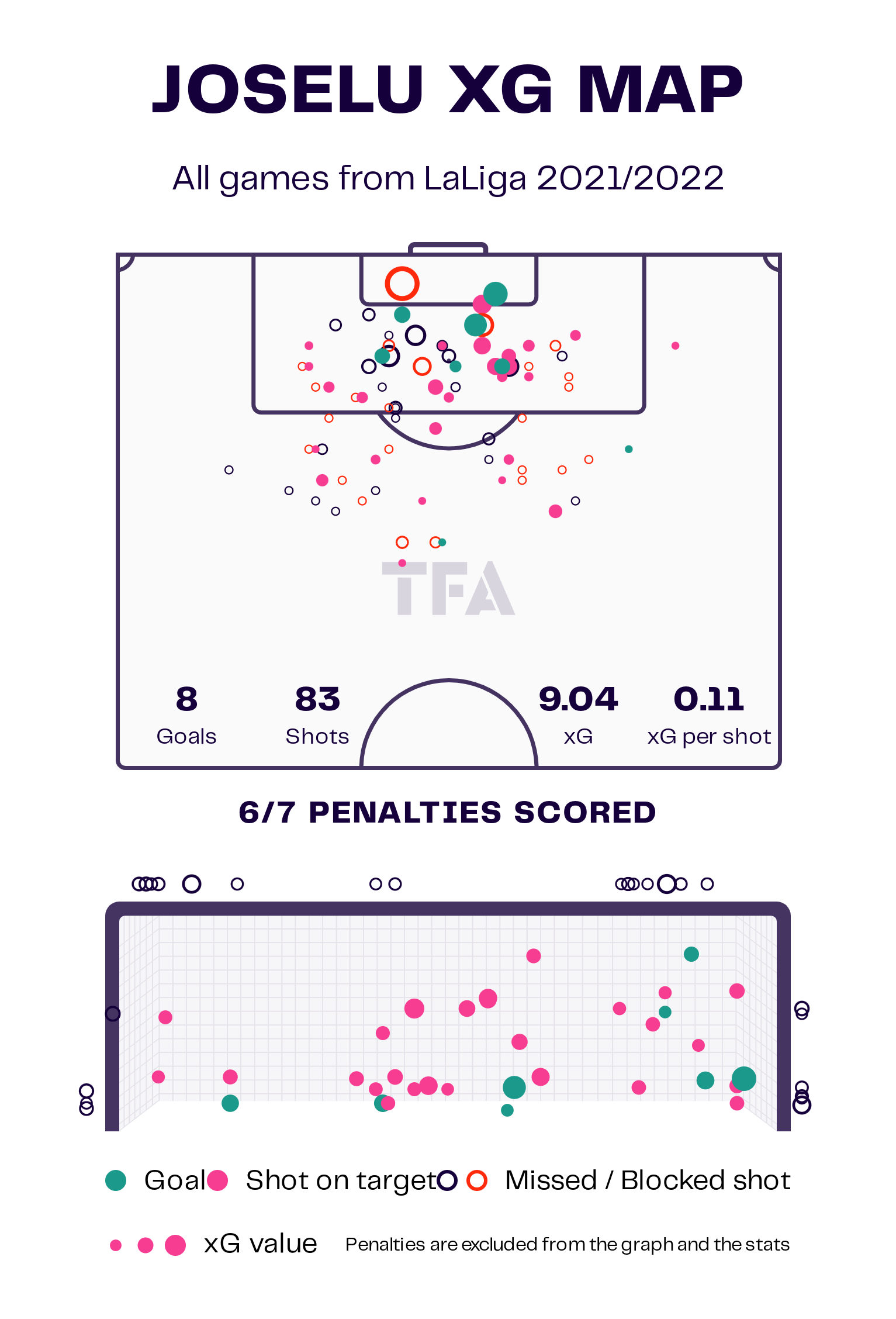 The two visuals above show Joselu's xG maps from the previous season and the current season. Last season, he scored 14 goals for Alaves, with eight from open play and six from penalties. He attempted 83 shots, of which 34 were on target. He averaged 2.4 shots on target per game, with 45.6% of them on target. We can also observe that even though he has taken many shots from outside the box, most of his goals have come from inside the penalty box.
The first visual shows Joselu's xG map from the current season. He has scored eight goals already, with five from open play and three from the spot. The 32-year-old has tried 36 shots this season, with 15 on target. His shots per game have seen a small dip from 2.4 to 2.35 shots per game. His shooting accuracy has also come down a bit to 43.6%. But this season, we can observe that most of his shots were taken from inside the penalty box.
One of the best strikers in La Liga?
The above visual compares the radars of Joselu with those of the current leading goal scorer in La Liga, Robert Lewandowski. The Polish International has 13 goals in 15 games, while Joselu is not far behind, sharing second place with Real Betis' Borja Iglesias. Lewandowski has better stats than Joselu in almost all areas except aerial duels and positioning, where the Espanyol striker leads. Both of them are having great debut seasons for their new clubs and have become two of the most important players for their respective teams.
Joselu's move to Espaol has gone perfectly so far from an individual perspective. He has scored eight goals and has two assists to his name as well. However, he will need more help from his teammates to shoulder the responsibility of the whole team. But, so far, Joselu has been the difference maker for them, and he will hopefully continue to be.
Visuals via TFA data viz engine