Barcelona will travel to the Spanish capital to face Atletico Madrid on Sunday as they try to extend their lead at the top of the table in La Liga. Barcelona comes off a frustrating draw against Espanyol in the Catalan Derby. Meanwhile, Atletico Madrid will be looking to continue their good performance against Elche.
Atletico Madrid started the second half of the season on the right foot as they secured a 2-0 win over Elche. They are currently placed fifth in the league with 27 points from 15 matches. They have won eight matches, drawn three, and lost four matches this season. Diego Simeone will be hoping to enter the top four with a win against Barcelona.
Meanwhile, Barcelona will be coming into the match off of a draw against Espanyol. They gave away a 1-0 lead in the second half with a clumsy challenge inside the penalty box. But beating Atletico Madrid won't be easy for them, especially since they will be without their main goal threat, Robert Lewandowski.
Now we look at some stats that could predict the match's outcome.
Performance so far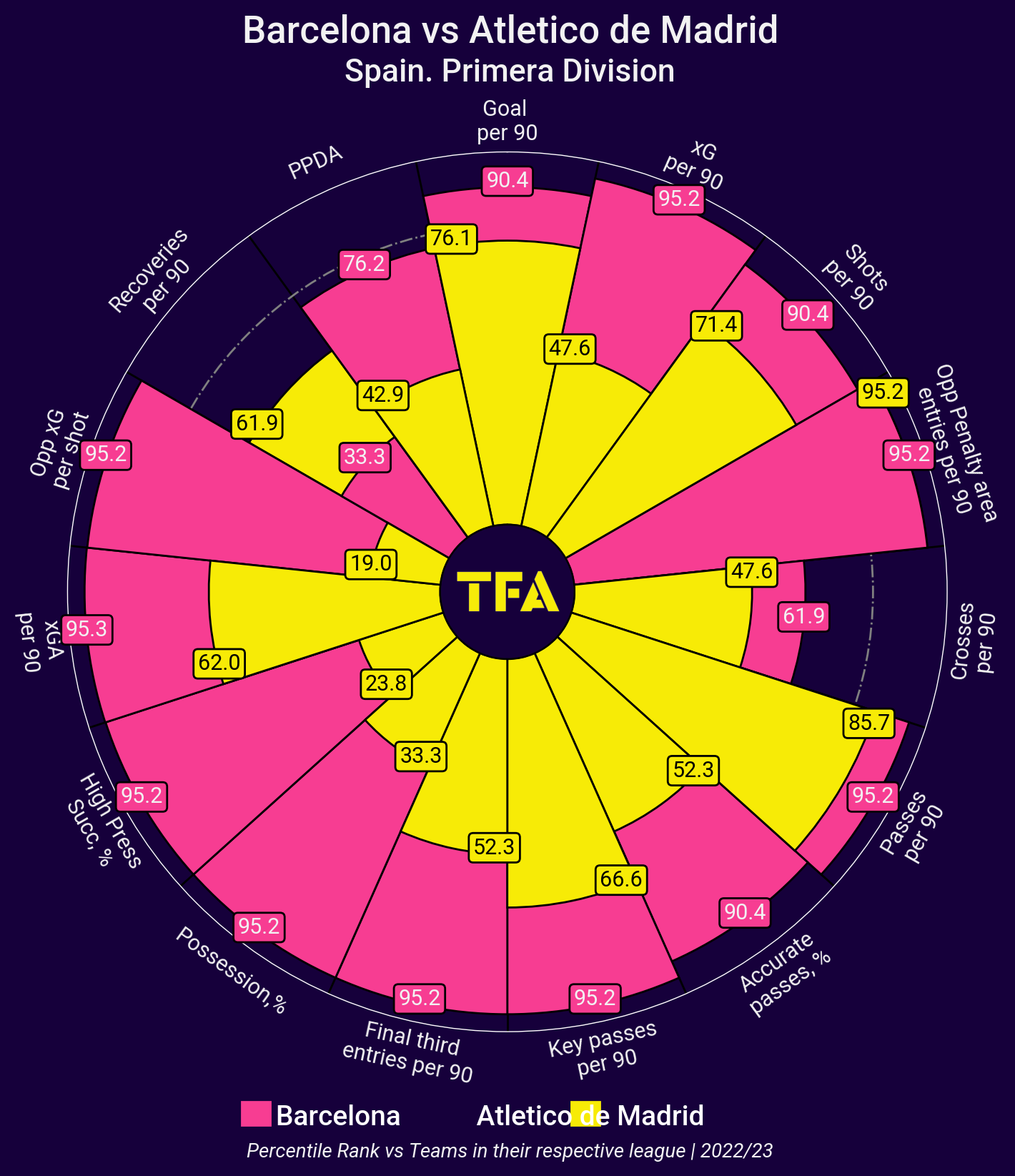 The above visual shows the percentile rank of both Atletico Madrid and Barcelona compared to other teams in La Liga. As we can observe from the visual, Barcelona has better stats in almost all parameters except recoveries per game and entries into the opposition penalty area. Barcelona will be looking to dominate possession and create threats, as one would expect them to. They also have a high rate of pressing, which they use to recover the ball. Atletico Madrid, with a high percentile score for entry into the opposition penalty area, will be looking to make the most of that.
Counterattacking threat

Both Barcelona and Atletico Madrid pose counterattacking threats, as both teams are in the top three on the list of efficient counterattacks. With 32% efficiency, Barcelona is the most efficient team in counterattacks this season.They launch an average of 1.8 counterattacks per game, with 51.7% of them leading to shots. Meanwhile, Atletico Madrid launches an average of 1.27 counterattacks per game, with 63% of them leading to shots.
The second visual shows the goals per game scored by different teams in La Liga. Barcelona leads this list too with an average of 2.5 goals per game, while Atletico Madrid is fifth on the list with 1.75 goals per game. But Barcelona will be without their goal machine, Robert Lewandowski, as they face Atletico at the Wanda Metropolitano. Barcelona have a poor record in games where Lewandowski has failed to score. This could play a big part in the game.
Defence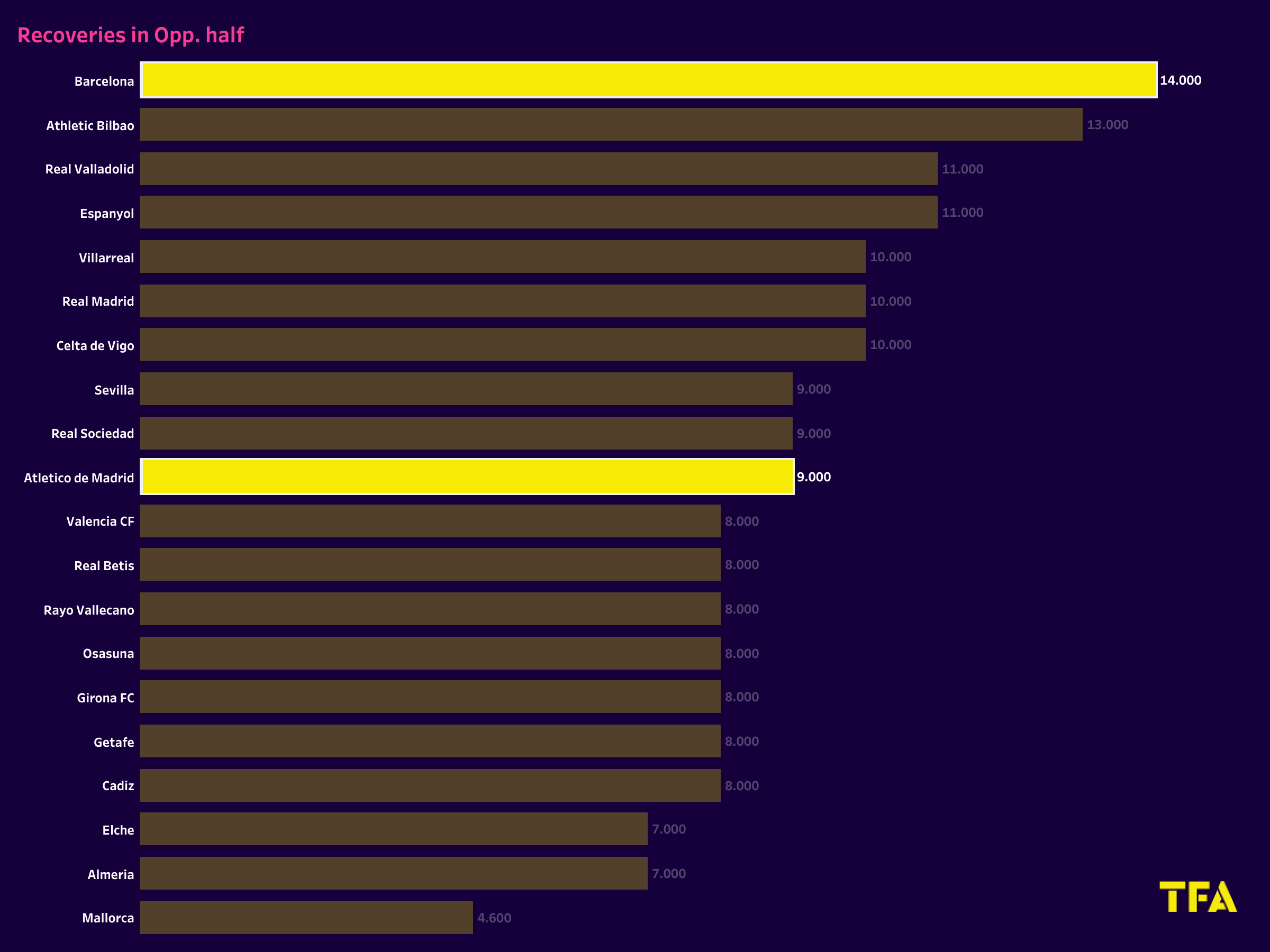 The above visual shows the recoveries made by different La Liga teams in the attacking half. Barcelona, once again, is at the top of the list with an average of 14 recoveries per game. They are ranked highly for high press success and will be looking to regain possession a lot in the attacking half. On the other hand, Atletico Madrid makes nine recoveries per game in the attacking half. Even though they are not ranked highly in high-press success, they make more recoveries per game than Barcelona. On average, the hosts make 78.27 recoveries per game, while Barcelona makes 74.13.
Key Players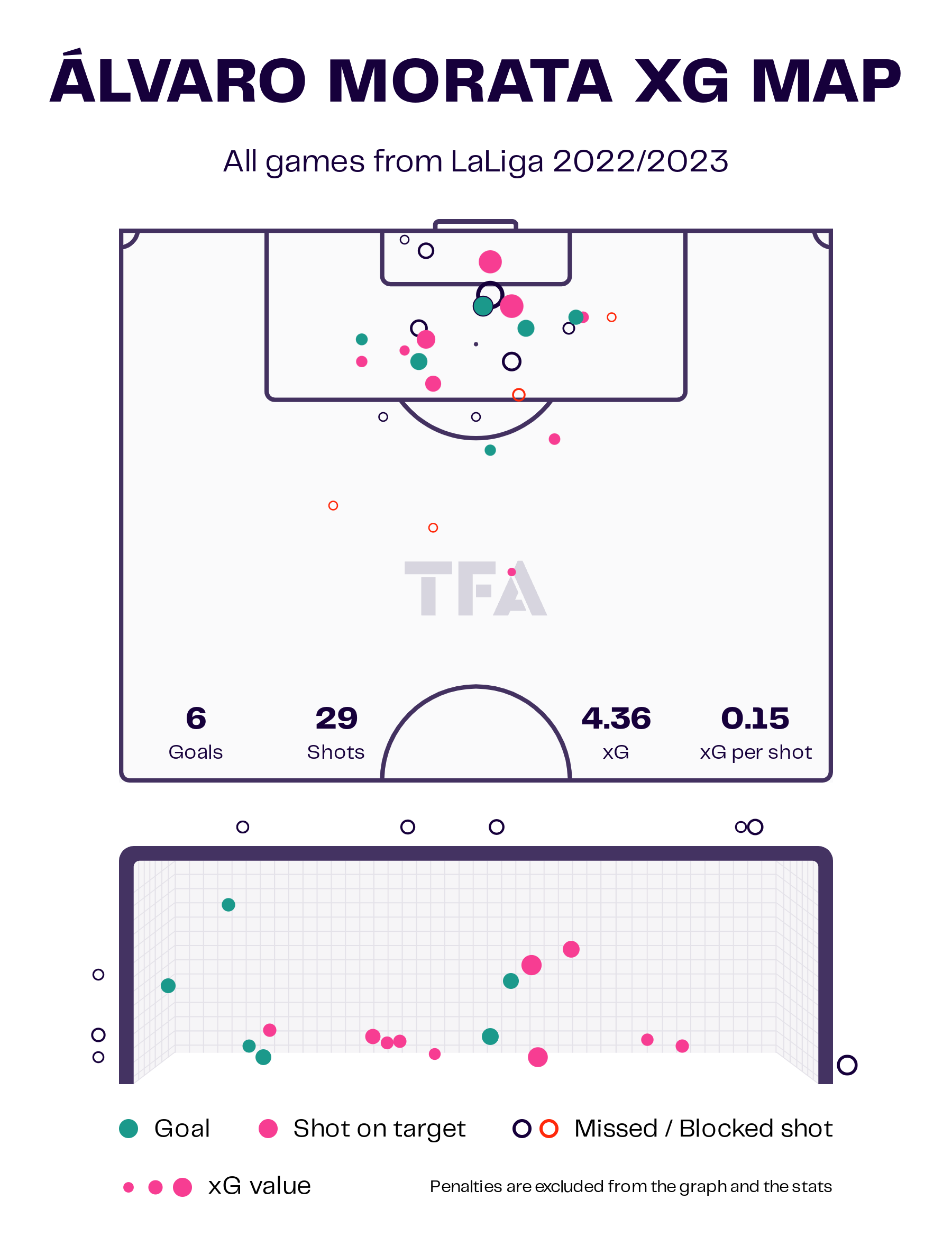 Atletico's ever-reliable Alvaro Morata has scored six goals in 15 appearances for them this season. He has carried over his good form from the World Cup and scored in the previous game against Elche. He has attempted 29 shots this season with an average of 1.9 goals per game. Diego Simeone will be hoping that the Spaniard can once again bring his "A" game against Barcelona.
With Robert Lewandowski out for three matches, Ousmane Dembele will have a huge role to play in both creating chances and finishing them. His fast dribbles through the right wing will be a danger that the hosts will have to deal with. With an average of seven dribbles per game, Dembele is unstoppable on his day. Barcelona will be hoping that the Frenchman will be on top of his game on Sunday night.
Betting Analysis 
With the exclusion of Robert Lewandowski, Barcelona's 1×2 odds are likely to go up. The 1×2 odds for Barcelona are set at 2.54, while they are set at 3.01 for Atletico Madrid. The over/under lines are also likely to dip a bit because of the same reason.
Team News
Sergio Reguillon and Mario Hermoso are likely to be missed by Atletico Madrid, but Stefan Savic could return to the squad.
Barcelona, on the other hand, is missing key players on both ends of the field, with both Robert Lewandowski and Jordi Alba suspended.Ferran Torres could play as a number nine, and Alejandro Balde should be the natural choice for left back.
Atletico Madrid will be hoping to derail Xavi's plan to take the lead at the top of the table and move back into the top four. It will be interesting to see how Xavi lays out his starting XI with key players missing. This match has all the potential to be a classic, with two strong teams going against each other.
Visuals via TFA data viz engine