Atletico Madrid welcomes Real Valladolid as the two sides take on each other at the Wanda Metropolitano on Saturday. The hosts will be looking to register their first win of the year while Real Valladolid will be looking to end their winless streak.
Atletico Madrid are currently fourth in La Liga with 28 points from 17 matches. They have won eight matches this season but haven't registered a win in the last two games. Diego Simeone will be hoping to change that.
On the other hand, Real Valladolid are in the 17th position with just 17 points from as many matches. They have won only five games this season and have lost ten. Valladolid are winless in the last four games and will be hoping to change that, as well fans who will be keeping tabs on the LaLiga live scores as the game takes place throughout the day.
Now we look at some stats that could predict the match's outcome.
Season so far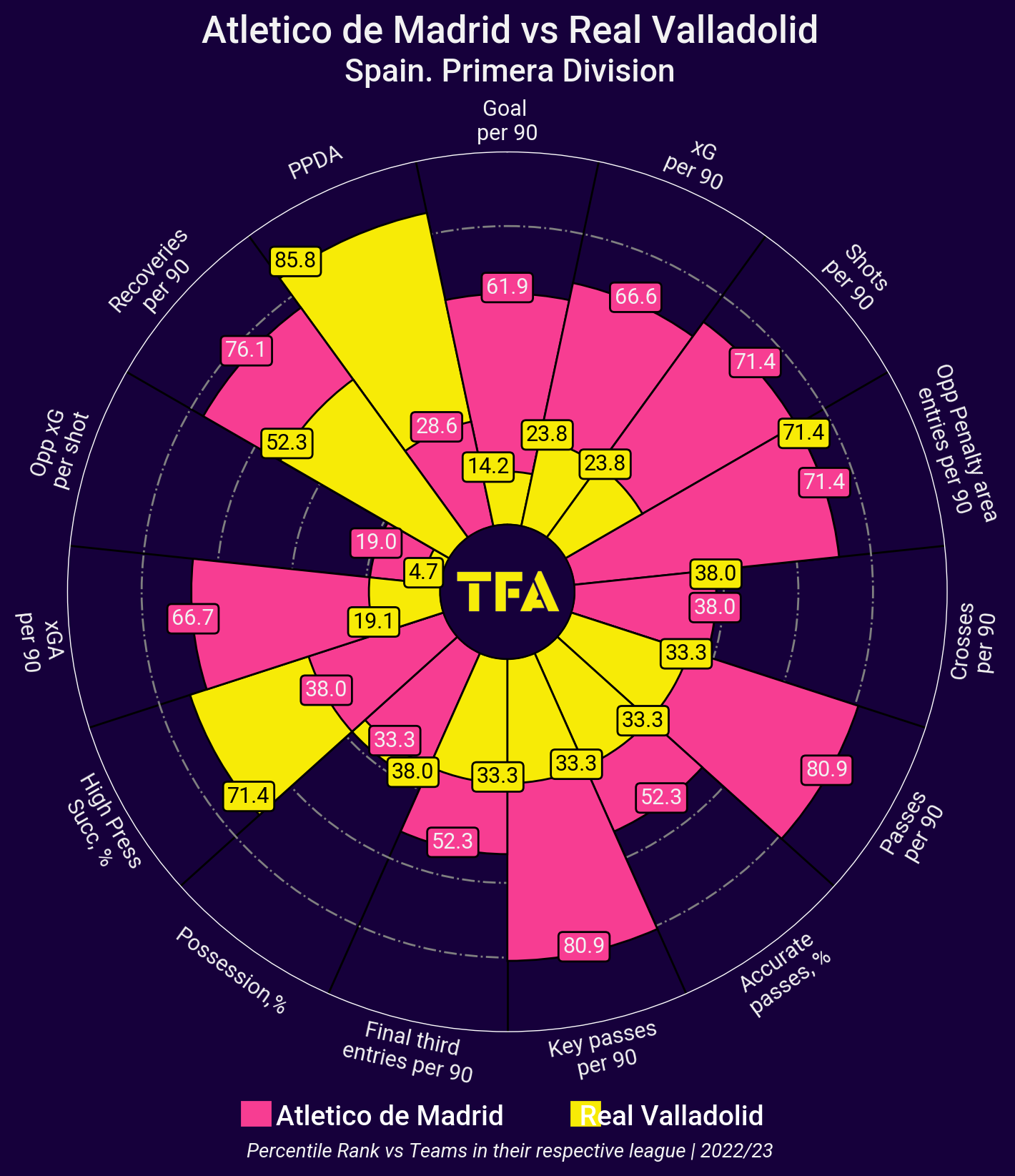 The visual above shows the percentile rank of Atletico Madrid and Real Valladolid compared to other teams in La Liga. Atletico Madrid has better stats than Valladolid in many metrics. They have better stats in shots, passes, accurate passes, and recoveries per game. Meanwhile, Valladolid have better stats in high press success, possession, and entries into the opposition's penalty area.
Similar Counterattacking threats
The visual above shows the efficiency of counterattacks for different teams in La Liga. Atletico Madrid have 23% efficiency while the visiting side has 21%. The hosts launch an average of 1.41 counterattacks per game, with 58.2% of them leading to shots, and Valladolid launches an average of 1.65 counterattacks per game, with 35.8% of them leading to shots. Both teams are dangerous on counterattacks and will be trying to stop each other from breaking away.
While both teams have similar stats for counterattacks, the goal threats posed by both teams are entirely different. The hosts have better stats when it comes to goals per game, as they score around 1.4 goals per game. On the other hand, the visitors score around 0.77 goals per game. This difference could prove to be a deciding factor as the two teams clash against each other.
Defence


As the two visuals above suggest, Real Valladolid have done better defending this season and have won more defensive duels as well. They make around 73.82 defensive duels per game with 63% success, while the hosts make around 71.71 defensive duels per game with around 60.5% success.
Valladolid also presses higher and recovers the ball more in the attacking half than the hosts. They are ranked higher than Atletico Madrid for high press success and make around 77 recoveries per game. Real Valladolid also have a pressing efficiency of 48%, while Atletico Madrid, who averages 80 recoveries per game, have a 44% efficiency in pressing. But they are capable of pressing high and putting pressure on the opposition's defence as they showed against Barcelona.
Key Players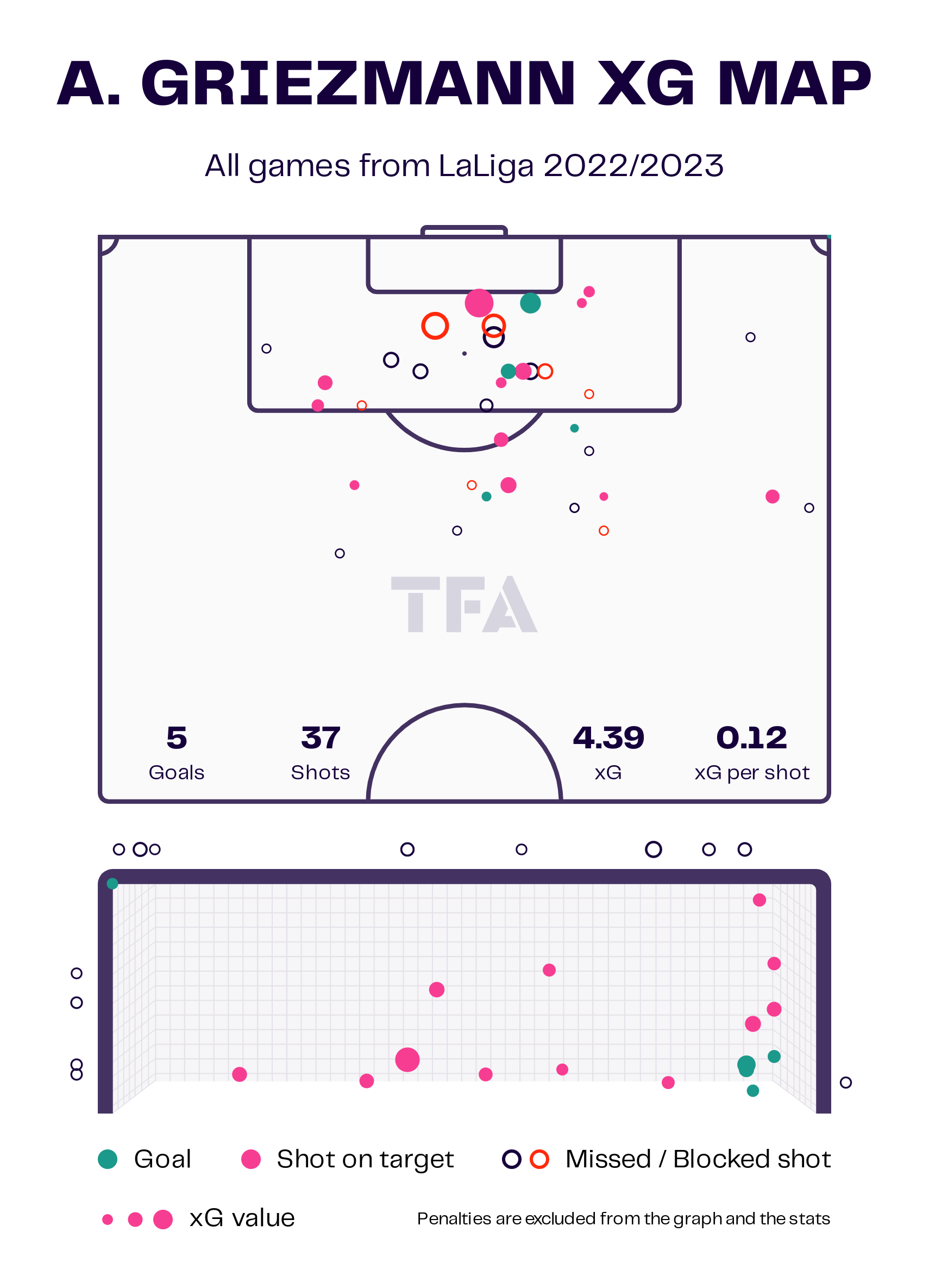 With the departure of Joao Felix, the responsibility on Antoine Griezmann's shoulders increases. He has been in brilliant form since the World Cup and has been good for them in the last two games as well. But he will need to find the back of the net for them or assist one for them to see this game through.
Sergio Leon is Real Valladolid's top scorer this season with five goals to his name. But his form has dipped in the last four matches. He will be hoping to add more goals to his name as they set out at the Wanda Metropolitano.
Betting Analysis
The odds for the match in the 1×2 market are placed at 1.39 for the hosts while it is placed at 8.85 for the visitors. Meanwhile, the overlines are expected to be above 2.5 given the form both teams are in.
Team News
Sergio Reguillon will be missing from Atletico Madrid due to suspension, while Stefan Savic returns to the squad. New signing Memphis Depay could feature if he is registered in time. Yannick Carrasco and Jose Gimenez will also be out due to injuries.
Valladolid will be without suspended midfielder Monchu for the match. They will also miss Sergio Escudero, who is out with an injury.
Atletico Madrid will be hoping to secure their first win of the year in La Liga as they face Real Valladolid. The visitors, meanwhile, will be out with a completely different motivation, as they will try to avoid plunging into the danger zone.
Visuals via TFA data viz engine