La Liga table toppers Barcelona will welcome Getafe onto their turf on Sunday as the two sides clash against each other. Barcelona are at the top of the table with 41 points from 16 matches, while Getafe is in the 15th position with 17 points from as many matches.
Barcelona, who just won their first title under Xavi Hernandez, will be looking to extend their lead at the top of the table. They will be hoping to secure the three points as they take on their midtable opponent.
On the other hand, Getafe will be trying to get back to winning ways after two consecutive losses. They will know that beating Barcelona at home will not be an easy task, but they will be hoping to pull off a miracle to keep their season alive.
Now we look at some stats that could predict the match's outcome.
Season so far
The visual above shows the percentile rank of Barcelona and Getafe compared to other teams in La Liga. The hosts are in brilliant form and have great stats in all areas. They have better stats than Getafe in all the metrics. Getafe will be aware of the goal threat Barcelona poses as they are ranked very high for goals per game. Another area where Barcelona have done well is pressing high and recovering the ball in the attacking half. Meanwhile, Getafe have done well to get into the opposition's penalty box and will be hoping to cause some damage.
Attacking and goal threat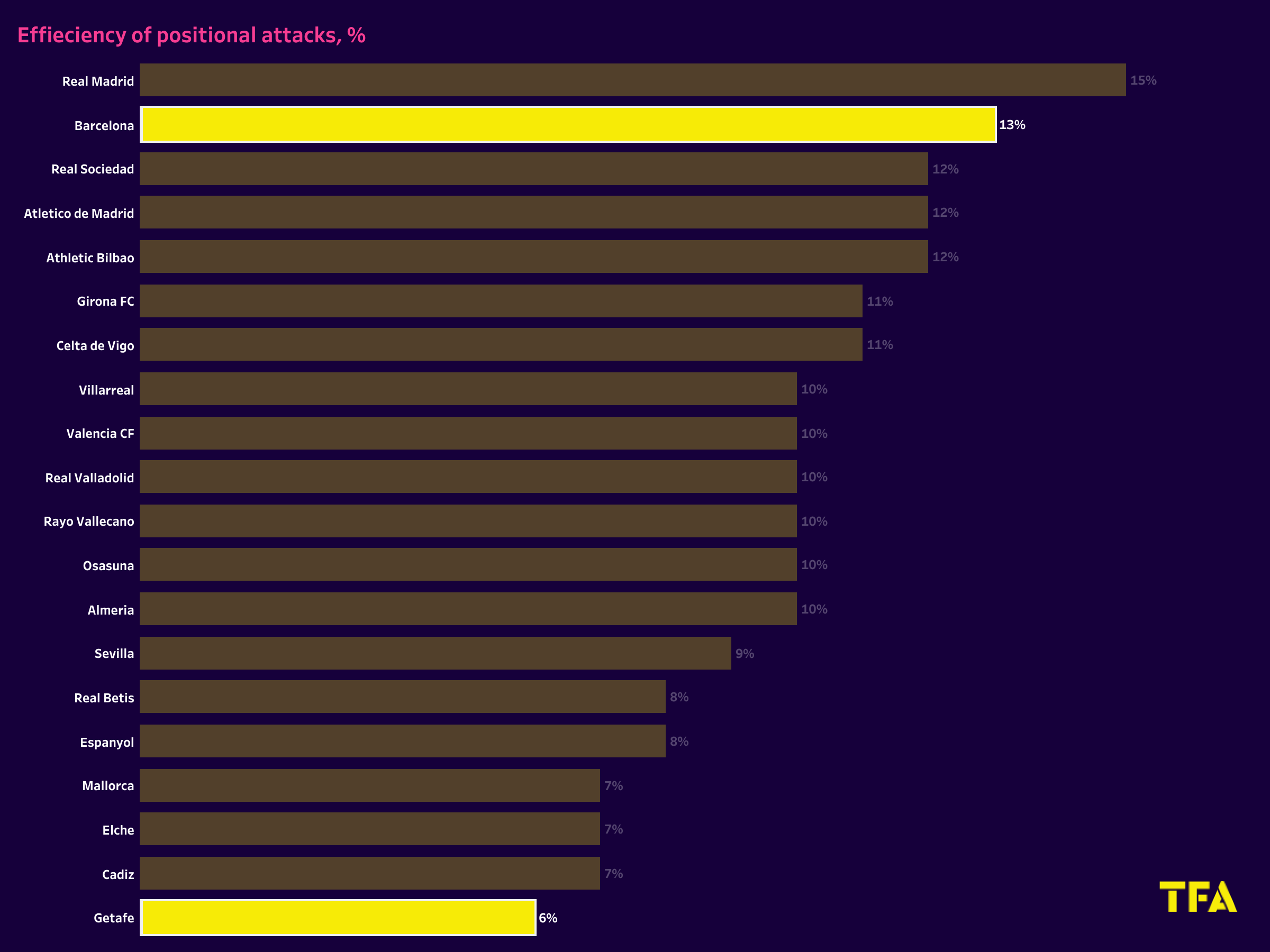 The visual above shows the efficiency of positional attacks by different teams in La Liga. Barcelona have the second-best record and have an efficiency of 13% for positional attacks, while Getafe are last on the list. The hosts launch an average of 36.31 positional attacks per game, with 27.2% of them leading to shots. Meanwhile, Getafe launches an average of 22.82 positional attacks, with 20.1% of them leading to shots. If Getafe allows Barcelona to get into their rhythm, the match will be over before they know it.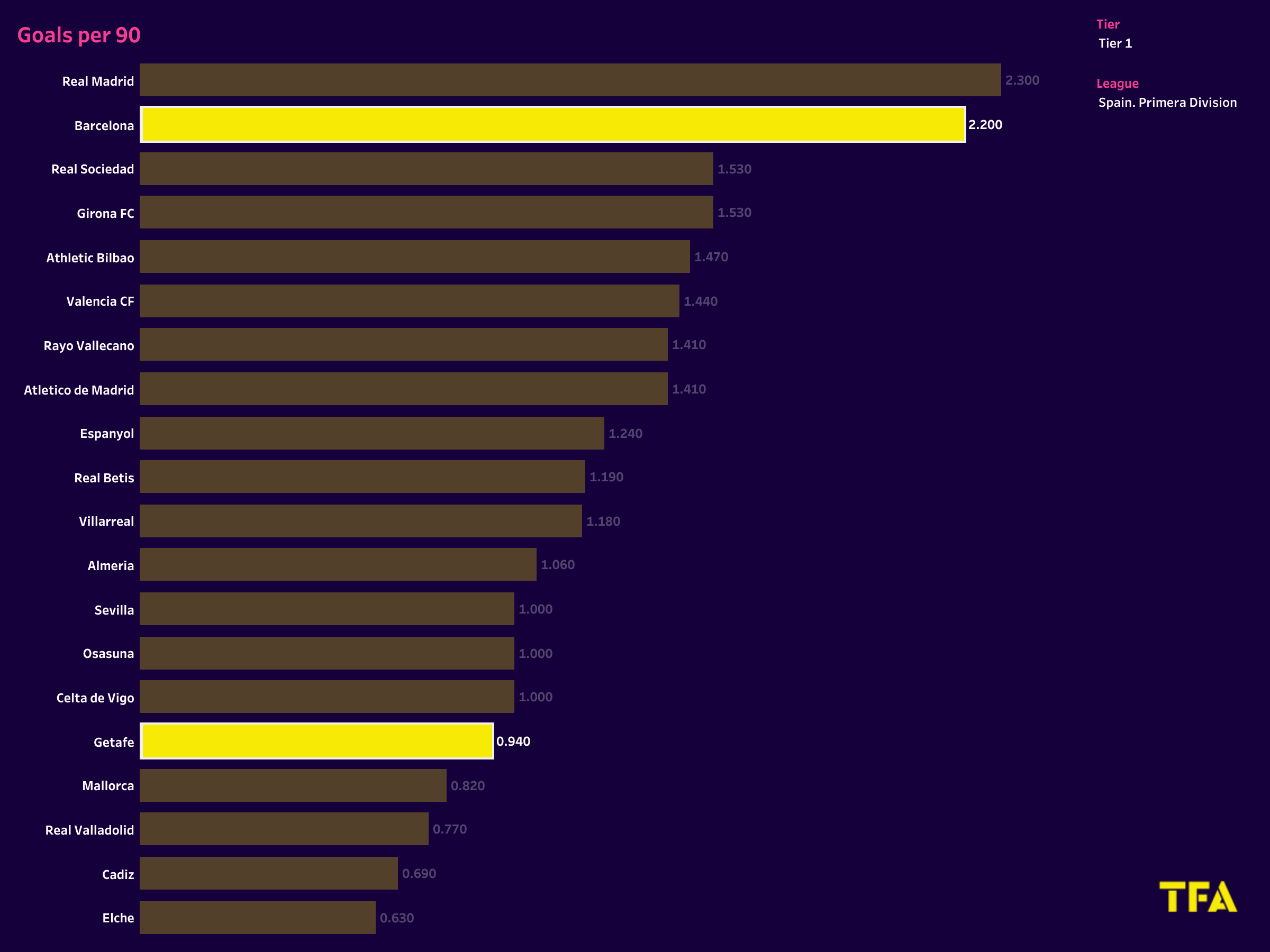 Barcelona have scored the second-highest number of goals this season. They have scored 35 goals with an average of 2.2 goals per game. Their forward line is in good form and will be hoping to score some more goals. However, the absence of Robert Lewandowski might hurt them. Getafe, on the other hand, have scored only 16 goals this season with an average of 0.94 goals per game.
High pressing
As the two visuals above and the pizza chart suggest, Barcelona are a team that deploys a high press and recovers the ball a lot in the attacking half. They have a pressing efficiency of 53% and make around 13 recoveries in the attacking half. Getafe, on the other hand, makes around eight recoveries in the attacking half and have a pressing efficiency of 40%. The visitors will have to play out of the press; otherwise, they might end up conceding goals.
Key Players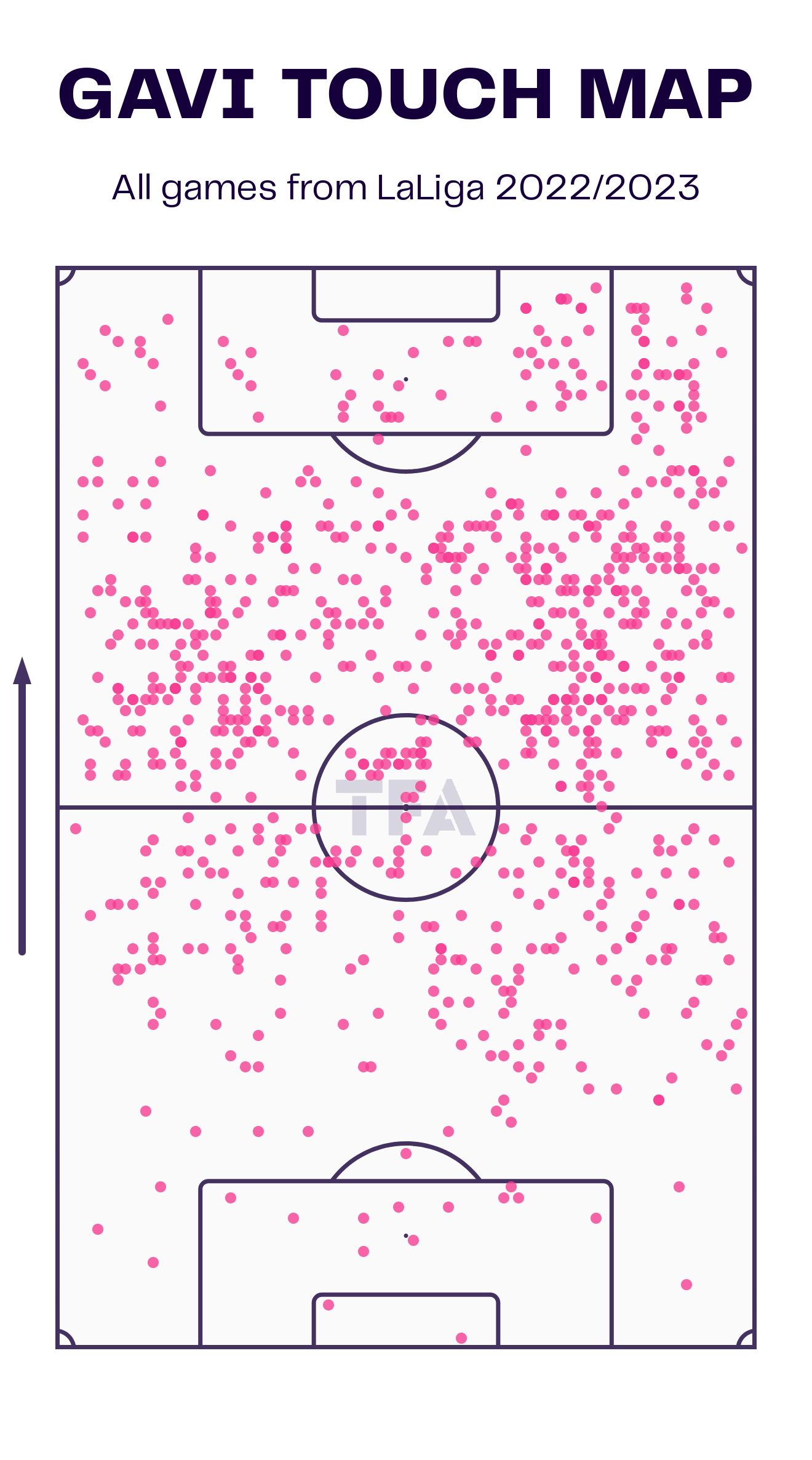 Barcelona's golden boy, Gavi, will be an important player in the match. Gavi, who scored once and assisted twice in the Supercopa final against Real Madrid, is in red-hot form and is a powerhouse in the midfield. He will be a player to watch out for in this fixture.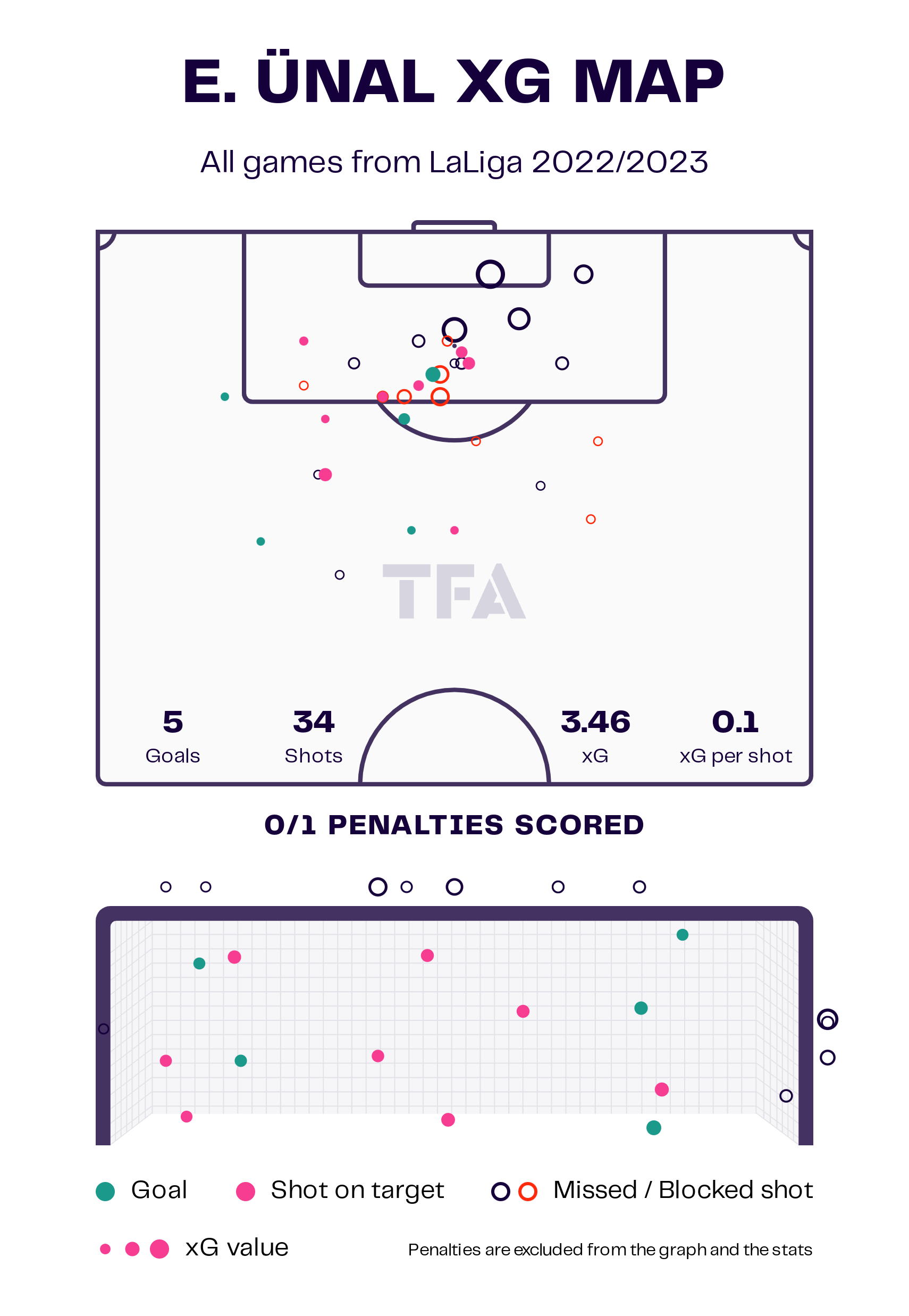 With five goals to his name, Enes Unal is Getafe's top scorer. He has scored four goals from open play and one from the spot. Unal scored against Espanyol last week and will look to continue his scoring streak.
Betting Analysis
Looking at the 1×2 odds market, the odds for the hosts, Barcelona, are placed at 1.18, while the odds for Getafe are placed at a whopping 17.16. The overlines are expected to thrive and are expected to be over 3.5 as Barcelona are expected to see this game through.
Team News
For Barcelona, Frenkie De Jong and Ronald Araujo are expected to be back in the lineup after the game against AD Cueta in the Copa Del Rey. Robert Lewandowski and Ferran Torres are both suspended and will not feature in the match.
Getafe, meanwhile, will miss Mauro Arambarri with an injury. Stefan Mitrovic, Jordan Amavi, and Nemanja Maksimovic are all expected to start the match.
Unless a huge surprise unfolds, Barcelona are expected to win this match comfortably. They have been in brilliant form in La Liga this season and are unbeaten in the last ten matches across all competitions. Getafe, who is having a tough season, will be trying to pull off a miracle at Camp Nou.
Visuals via TFA data viz engine