La Liga defending champions Real Madrid will welcome Real Sociedad to the Santiago Bernabeu on Sunday as the two sides go head-to-head with each other. The hosts are second in La Liga with 41 points from 17 matches, while Sociedad are just behind them with 38 points.
Real Madrid got back to winning ways in their last game against Athletic Bilbao. Los Blancos have won 13 matches and have drawn and lost two matches each. They will aim to overtake Barcelona and take the top spot in the table.
Real Sociedad are on a dream run in La Liga as they have won their last five matches. La Real is in good form and will be looking to extend their winning streak to six matches. But beating Real Madrid won't be an easy task.
Now we look at some stats that could predict the match's outcome.
Season so far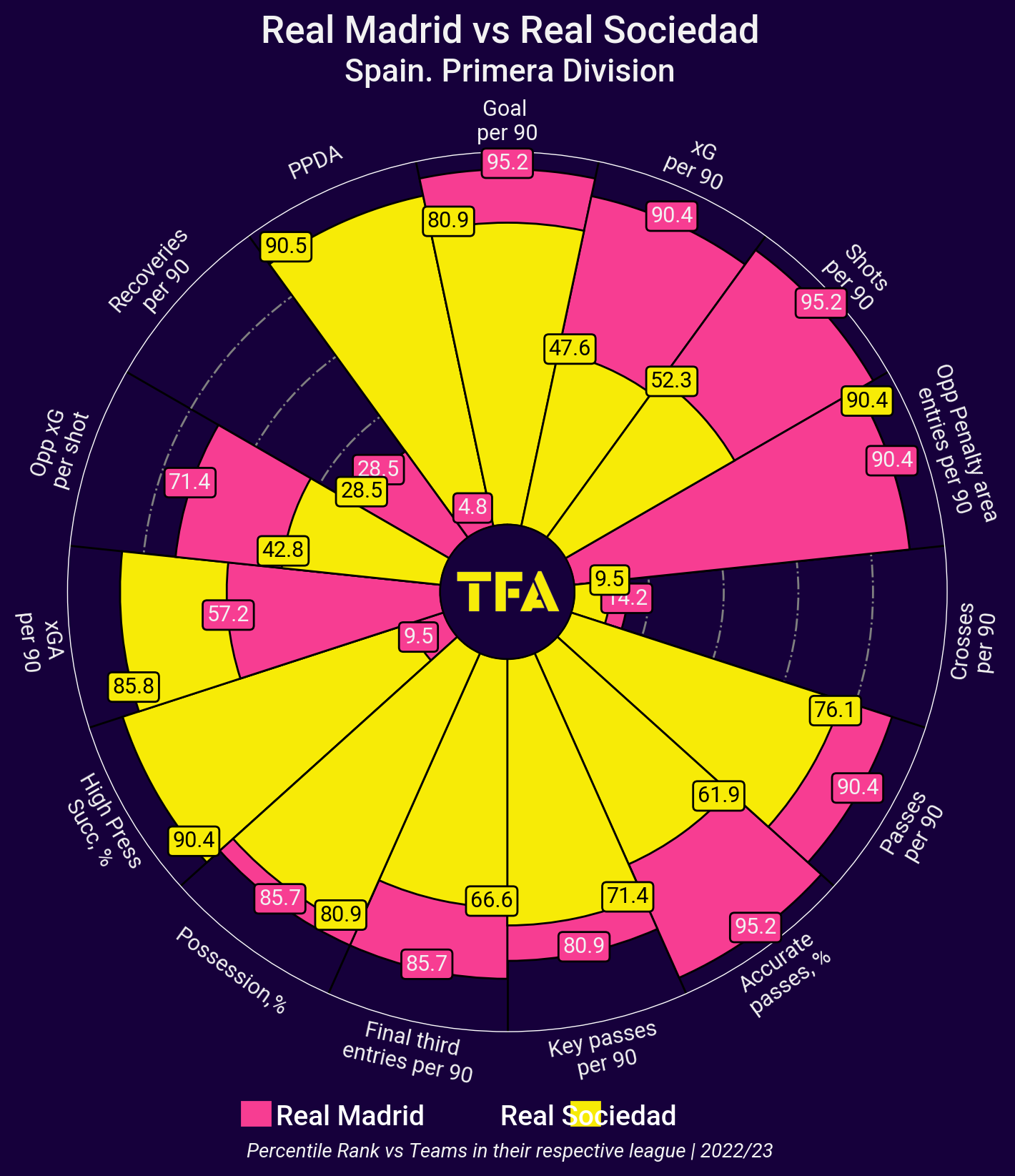 The visual above shows both Real Madrid's and Real Sociedad's percentile rank compared to other teams in La Liga. They both have good stats and are in good form. Real Madrid have better stats than Sociedad when it comes to goals per game, passing accuracy, shots, and possession. Real Sociedad, meanwhile, have better stats in high press success and good stats in final-third entries and goals per game. Sociedad will try to press the hosts high and win back possession, while Real Madrid are dangerous on counterattacks and can score goals in an instant.
Attacking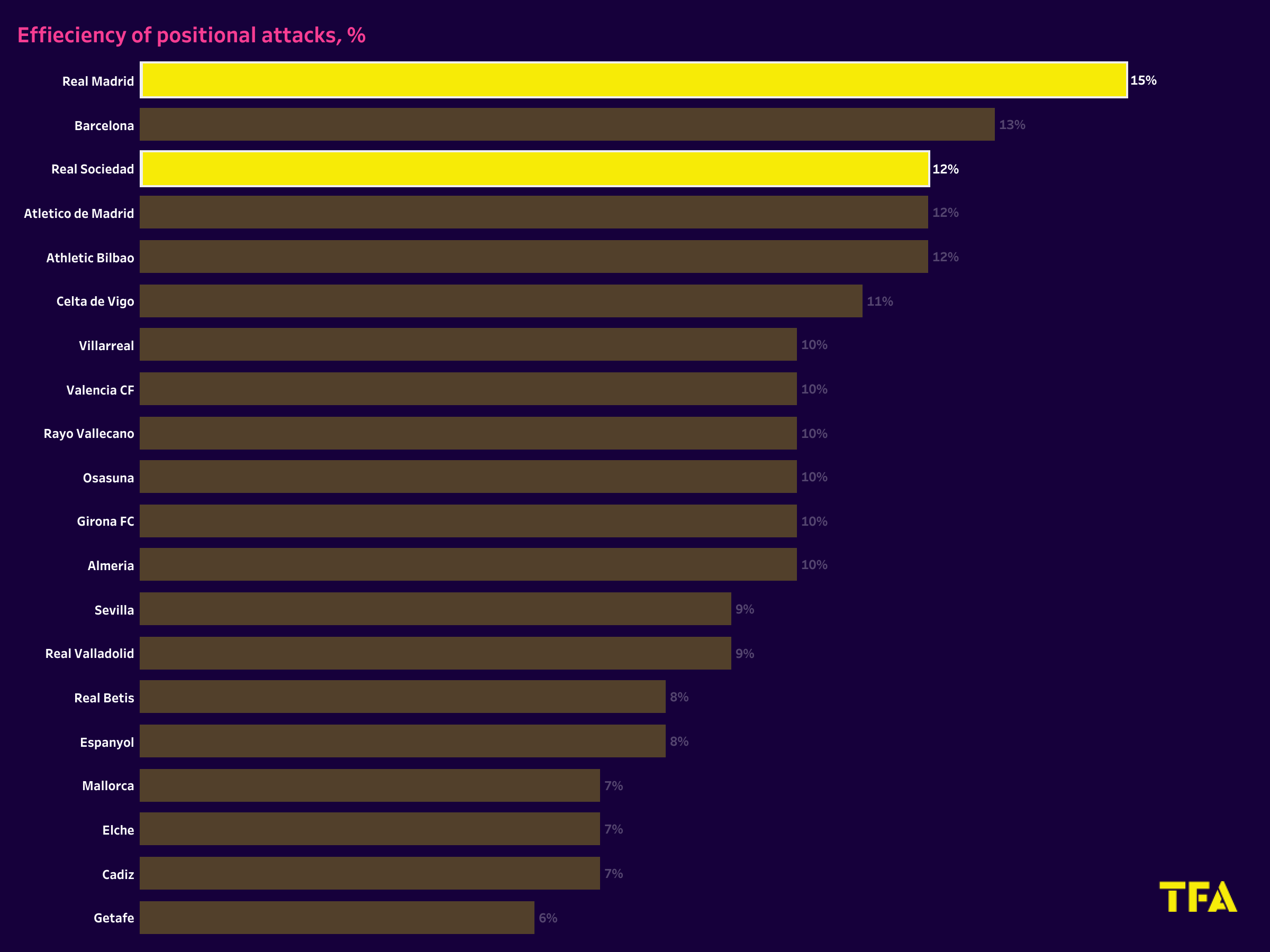 The above visual shows the efficiency of positional attacks by different teams in La Liga. Real Madrid are on top of the list with 15% efficiency. They launch an average of 32.76 positional attacks per game, with 28.4% of them leading to shots. Meanwhile, the visitors are third on the list with 12% efficiency. They launch an average of 27.44 positional attacks, with 28.1% of them leading to shots. The hosts clearly have an advantage here, and Sociedad will be trying to stop this.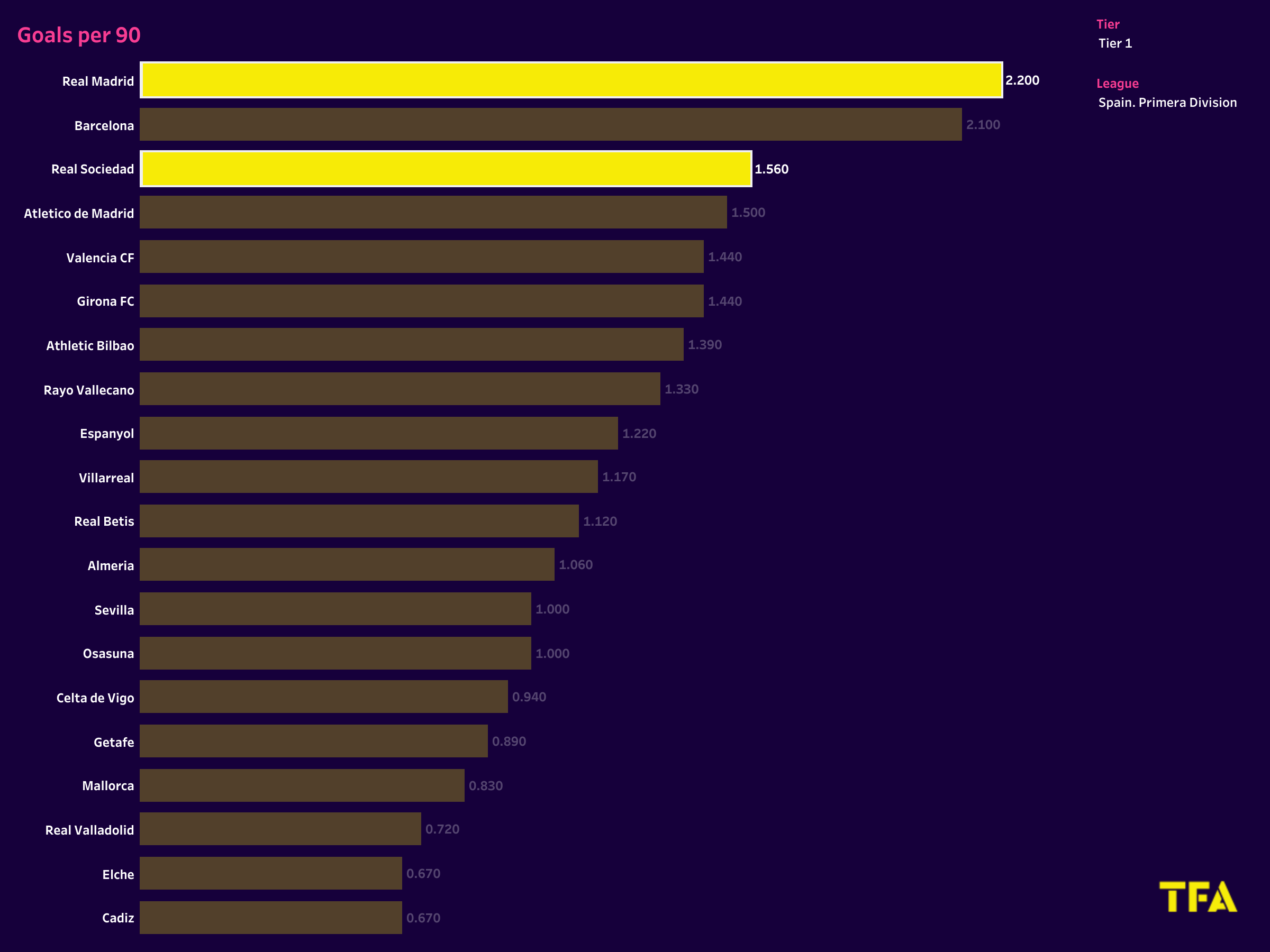 Real Madrid have scored the most goals so far in La Liga this season. They have scored 38 goals from 17 matches, for an average of 2.2 goals per game. Vinicius Jr., Karim Benzema, and Rodrygo have all found the back of the net in recent games and are looking good. Sociedad, at the same time, have scored 28 goals with an average of 1.56 goals per game. This difference of almost one goal per game could hurt the visitors if they don't stop the defending champions.
Defence
The two visuals above show the defensive and aerial duels won by different teams in La Liga this season. Real Sociedad have won more aerial duels this season than any other team in La Liga. They have contested an average of 38.28 aerial duels per game, winning 51.4% of them. Their dominance in the air should give them some advantage in both attack and defence. Real Madrid, meanwhile, contests an average of 18.47 aerial duels per game with a 54.5% win rate. As for defensive duels, the story shifts as Real Madrid have better stats than the visitors. The hosts take part in an average of 56.82 defensive duels per game with a 57.7% success rate.
Key Players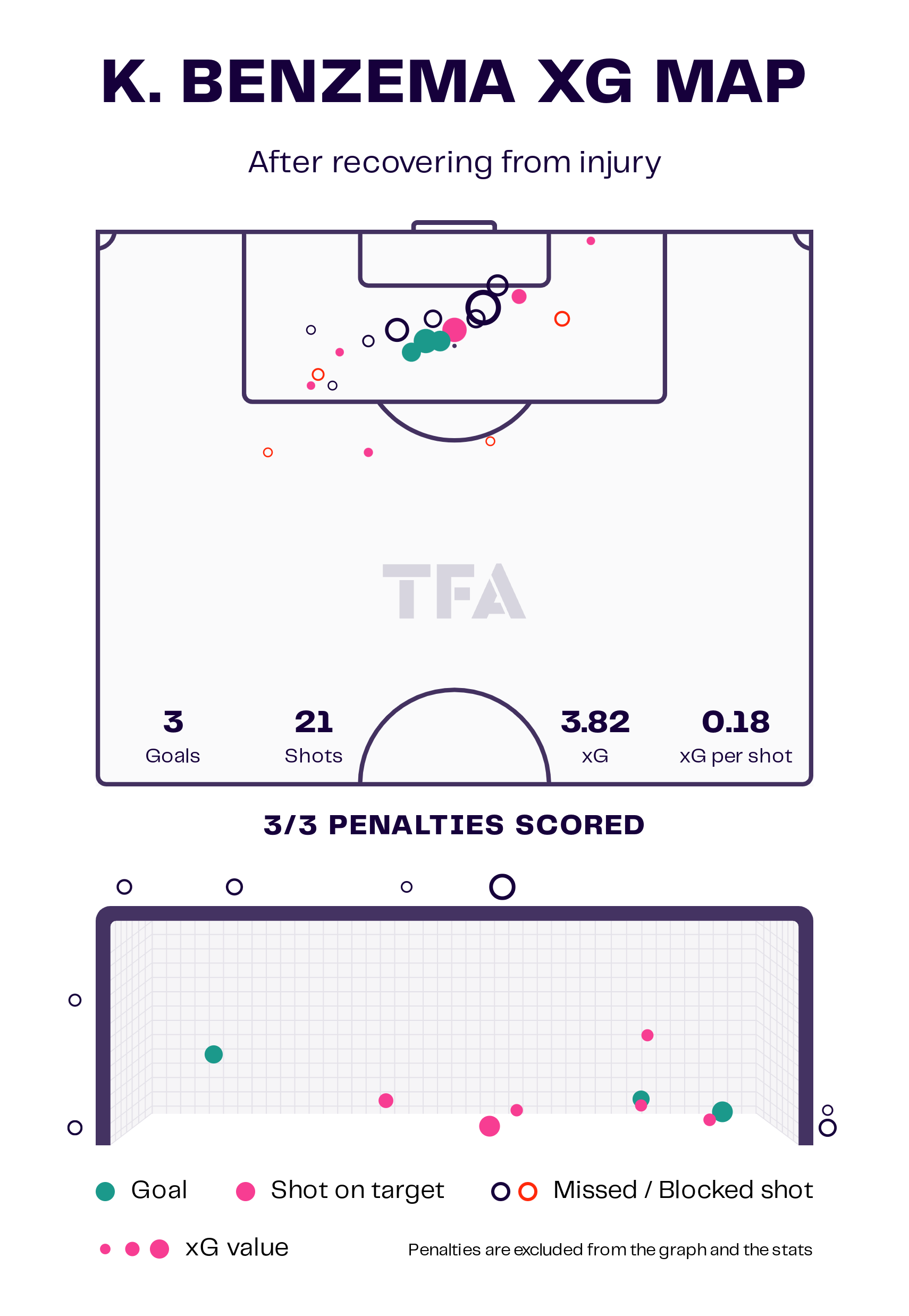 Karim Benzema has found his mojo back after recovering from the injury he picked up. He has since scored six goals in all competitions. He scored in their last match against Athletic Bilbao and is in good shape. Sociedad will have to stop him to get a win.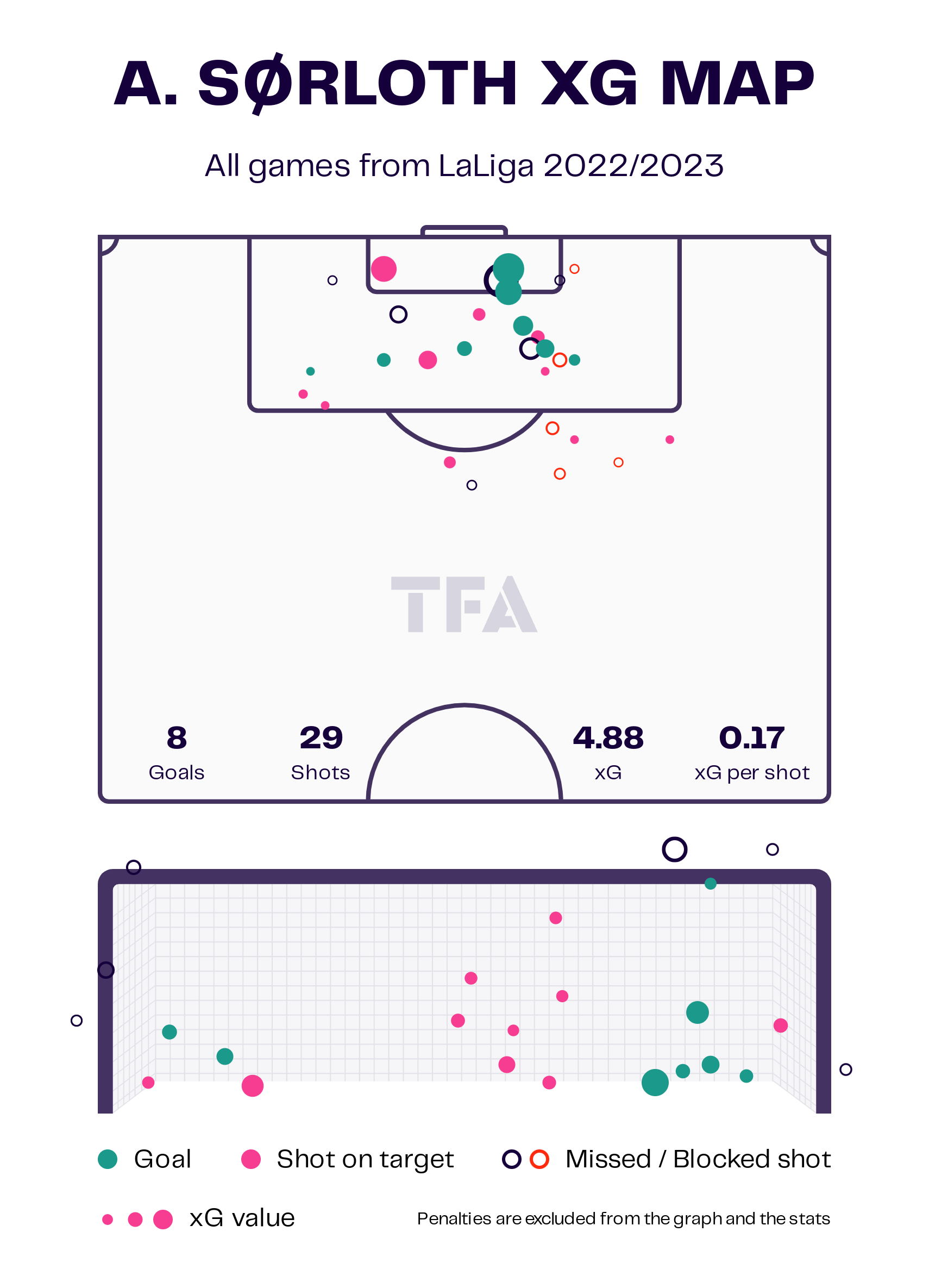 Real Sociedad's striker Alexander Sorloth is having a stellar season with eight goals to his name already. He is their focal point and has delivered consistently for them. The visitors will be banking on him to give them breakthroughs.
Betting Analysis
The betting markets predict the hosts to win as their odds in the 1×2 market are placed at 1.71, while those for the visitors are placed at 5.03. Looking at the over/under lines market, it is expected to be under 2.5 given the recent form of the teams.
Team News 
The hosts will be without Aurelien Tchoumeni, Dani Carvajal, Eden Hazard, and Lucas Vazquez, all of whom are out with injuries.
The visitors, at the same time, have a long list of injured players, including Mikel Merino, David Silva, Alex Sola, and Mohamed Ali Cho.
Real Madrid step into this match as favourites, but Real Sociedad's recent form makes it impossible to rule them out. The result of this match could have a significant impact on the title race as both teams are next to each other on the table.
Visuals via TFA data viz engine