Real Madrid will travel to Villarreal on Saturday to try and reclaim their position as table-toppers in La Liga. Villarreal, who have recovered from the sudden exit of their previous manager, Unai Emery, will be looking to extend their winning streak to three matches.
Villarreal have won the last two games and have somewhat recovered from the sudden shock they suffered from Emery's exit. They have won two and lost two matches under their new coach, Quique Setien. The former Barcelona coach, whose tenure at Villarreal started with a shaky start, has managed to find results in the previous two matches. But they will vary on the threat that Real Madrid poses.
On the other hand, Real Madrid will be going in with a new motivation. A win at the Estadio de la Ceramica would take them back to the top of the table, ahead of Barcelona. Los Blancos, despite winning their previous match against Real Valladolid, were not at their best. Carlo Ancelotti would be asking his players for a much-improved performance.
Now we look at some stats that could predict the match's outcome.
Season so far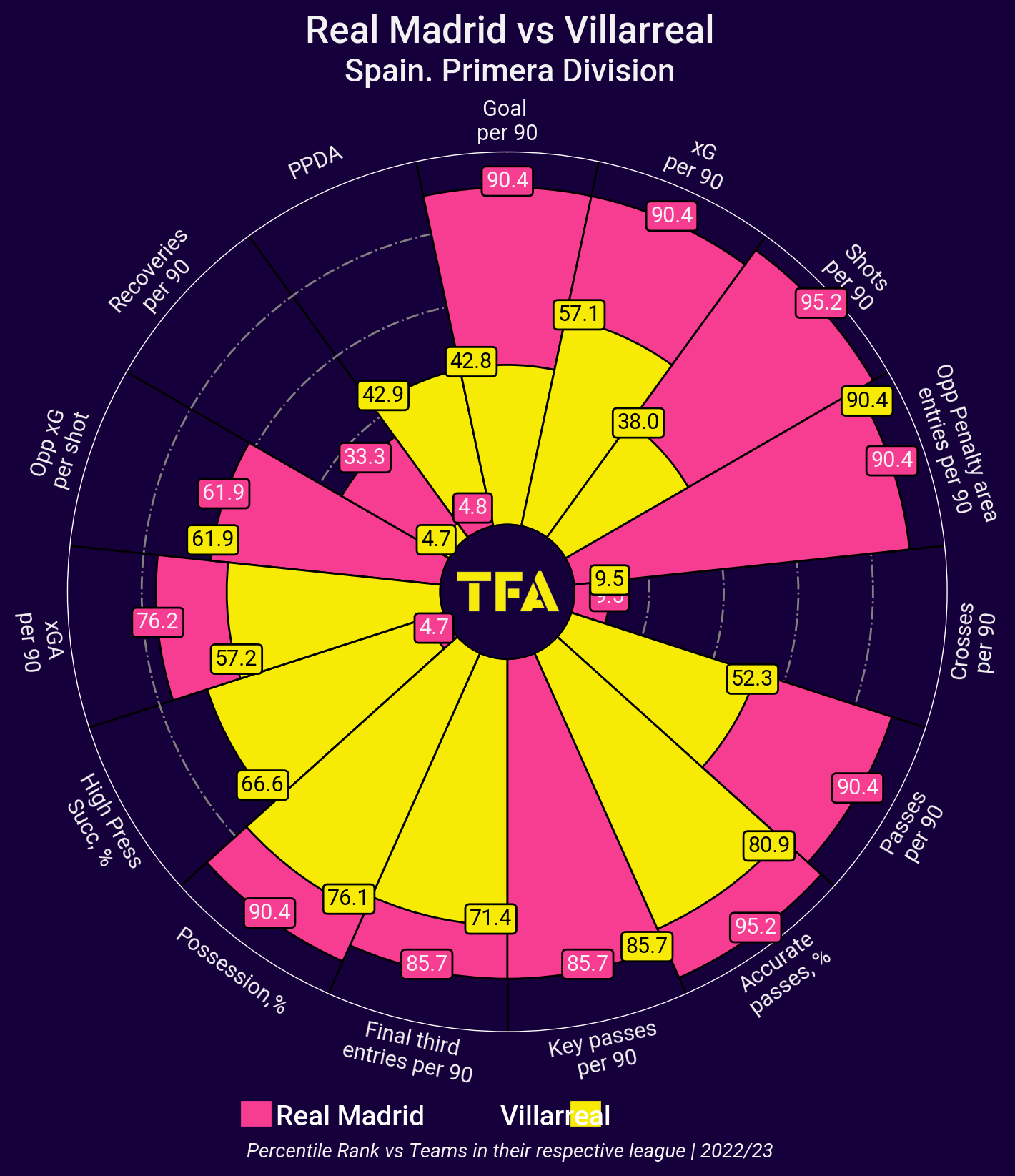 The above visual shows both Villarreal and Real Madrid's percentile rank compared to other teams in La Liga. We can observe from the visual that Real Madrid dominates almost all areas except for very few. Los Blancos, who have a better statistical record in attack, will be looking to get back to their best form, while Villarreal will be looking to hold off these attacks. They could press the visitors high as the pizza chart suggests and try to attack from there.
Attacking threats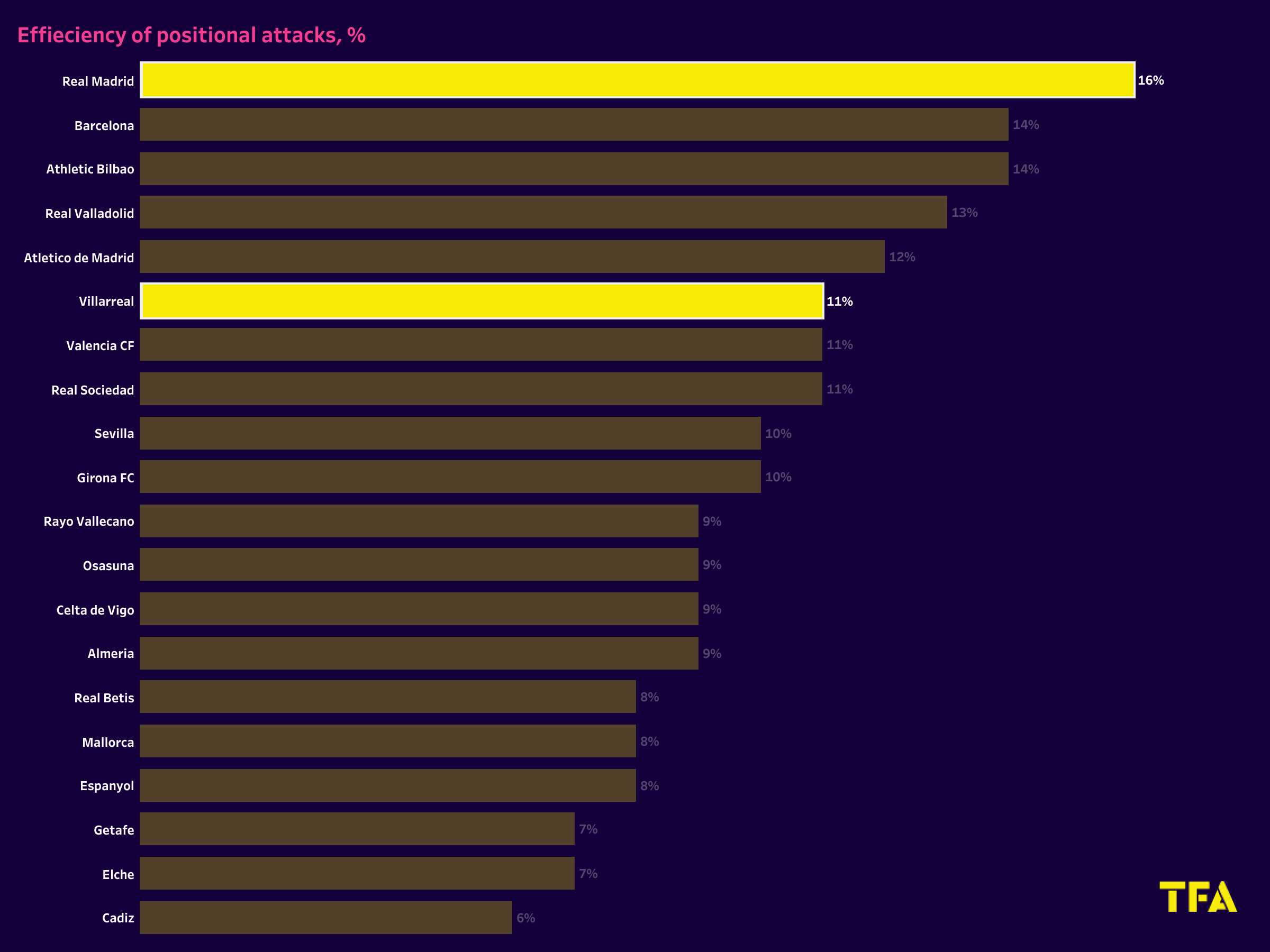 The two visuals above show the efficiency of both teams in positional attacks and counterattacks. While Villarreal is sixth on the list for the efficiency of positional attacks, Real Madrid sits in the first place. The hosts launch an average of 26.12 positional attacks per game, with 24.8% of them leading to shots. They have some creative players in their ranks and will be banking on them to create some danger. Meanwhile, Real Madrid launches an average of 34.13 positional attacks per game, with 28.3% of them leading to shots.
Both teams depend equally on counterattacks as well, with the hosts launching an average of 3.13 counterattacks per game, with 40.6% of them leading to shots. The visitors launch the same number of counterattacks per game, but only 36.1% of them lead to shots.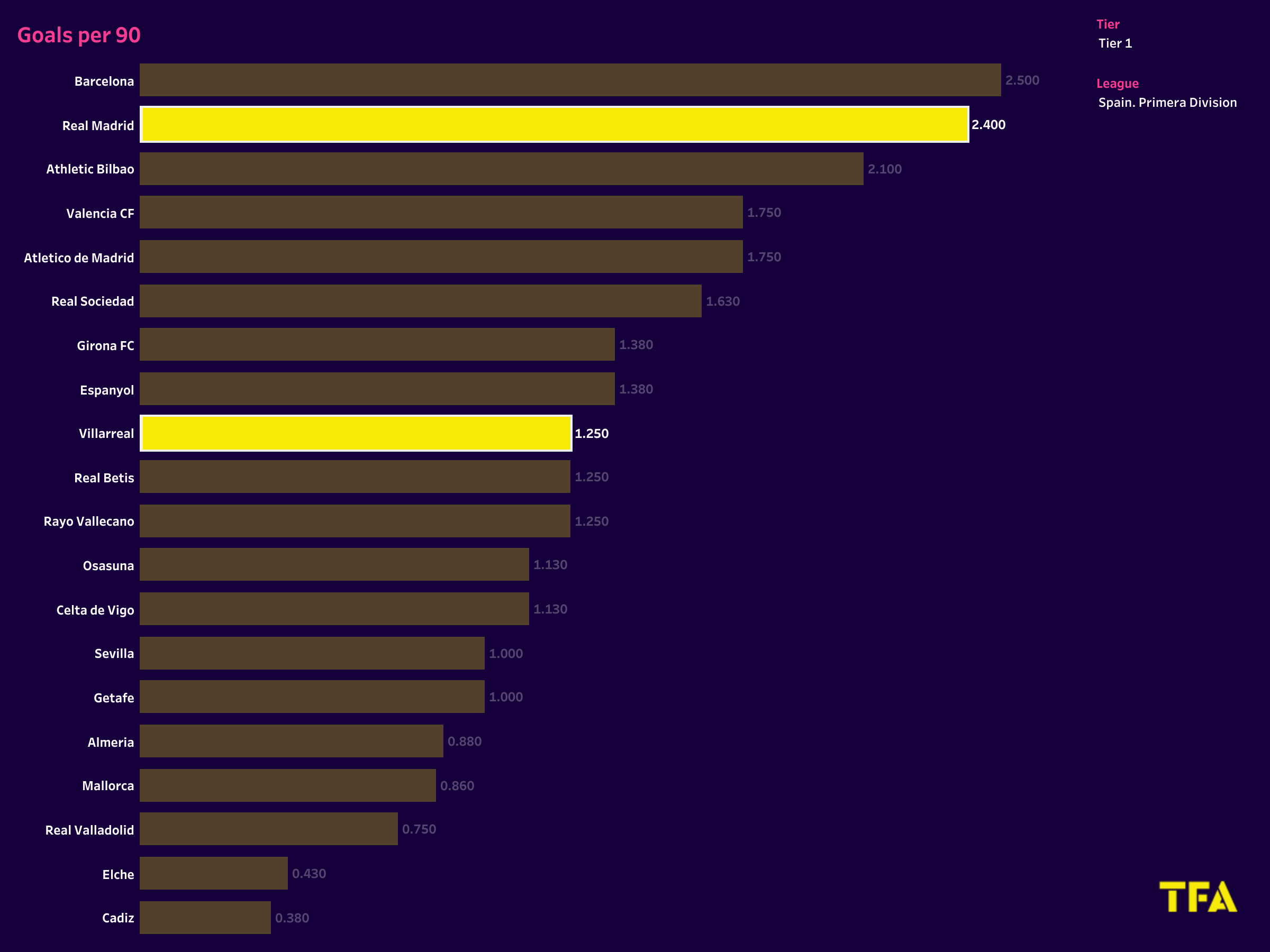 While both teams launch almost the same number of counterattacks and have similar efficiency, the real difference comes in the number of goals scored. Real Madrid, with an average of 2.33 goals per game, have scored 35 goals this season, the most by any team. Villarreal, on the other hand, have only scored 17 goals this season with an average of 1.25 goals per game. This difference could prove to be huge and could be a telling factor in the game.
Recovery rate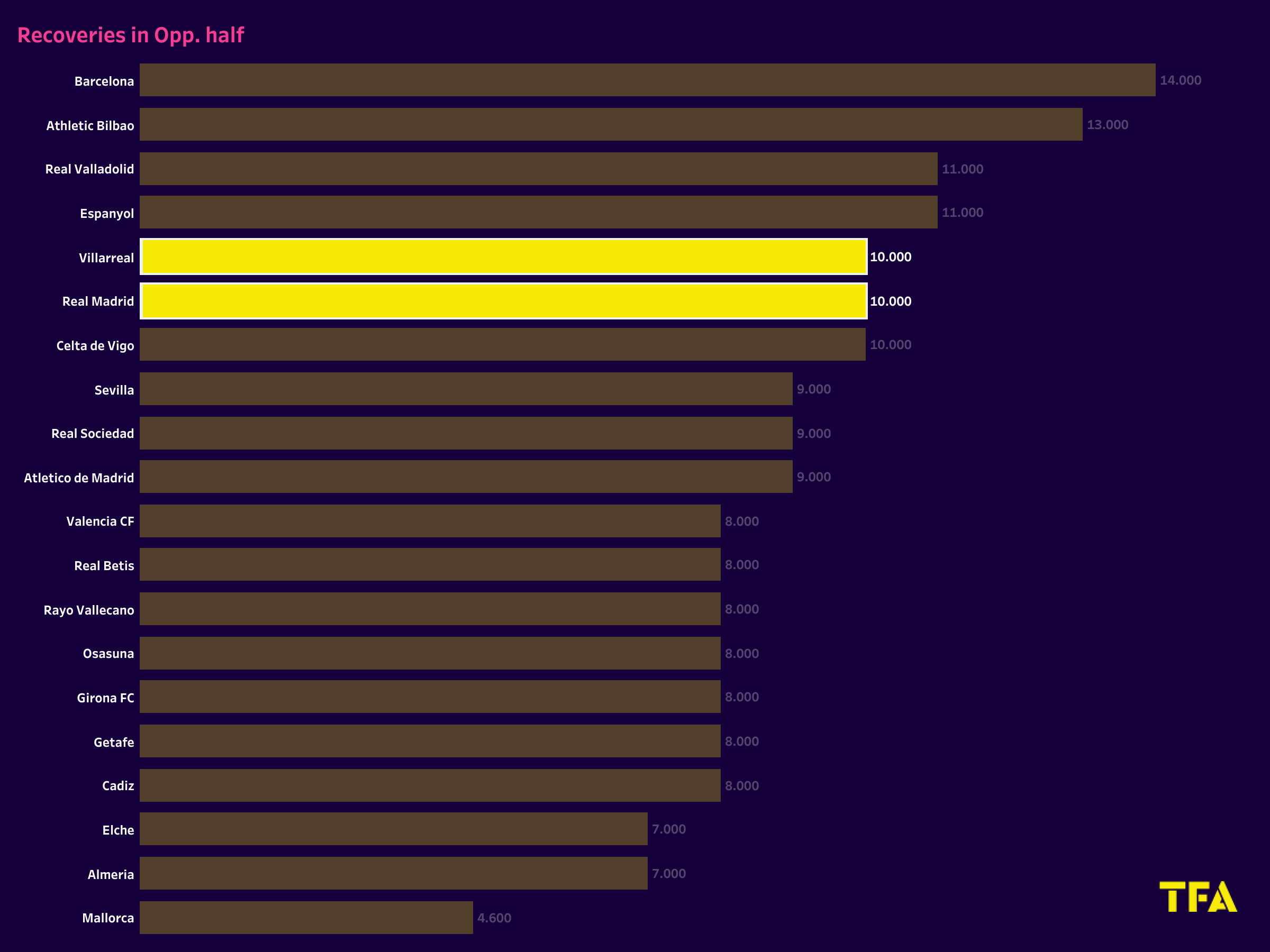 Villarreal deploys a high-pressing system, but still, the number of recoveries they make in the opposite half is not much different from Real Madrid's. The hosts, even though they are ranked higher than Real Madrid for high pressing, make around 69 recoveries per game, with around 10 recoveries in the other half. Real Madrid, meanwhile, makes around 74.4 recoveries per game, with the same number of recoveries in the attacking half. The recoveries in the attacking half help in launching some counterattacks, which could decide the outcome of the match.
Key Players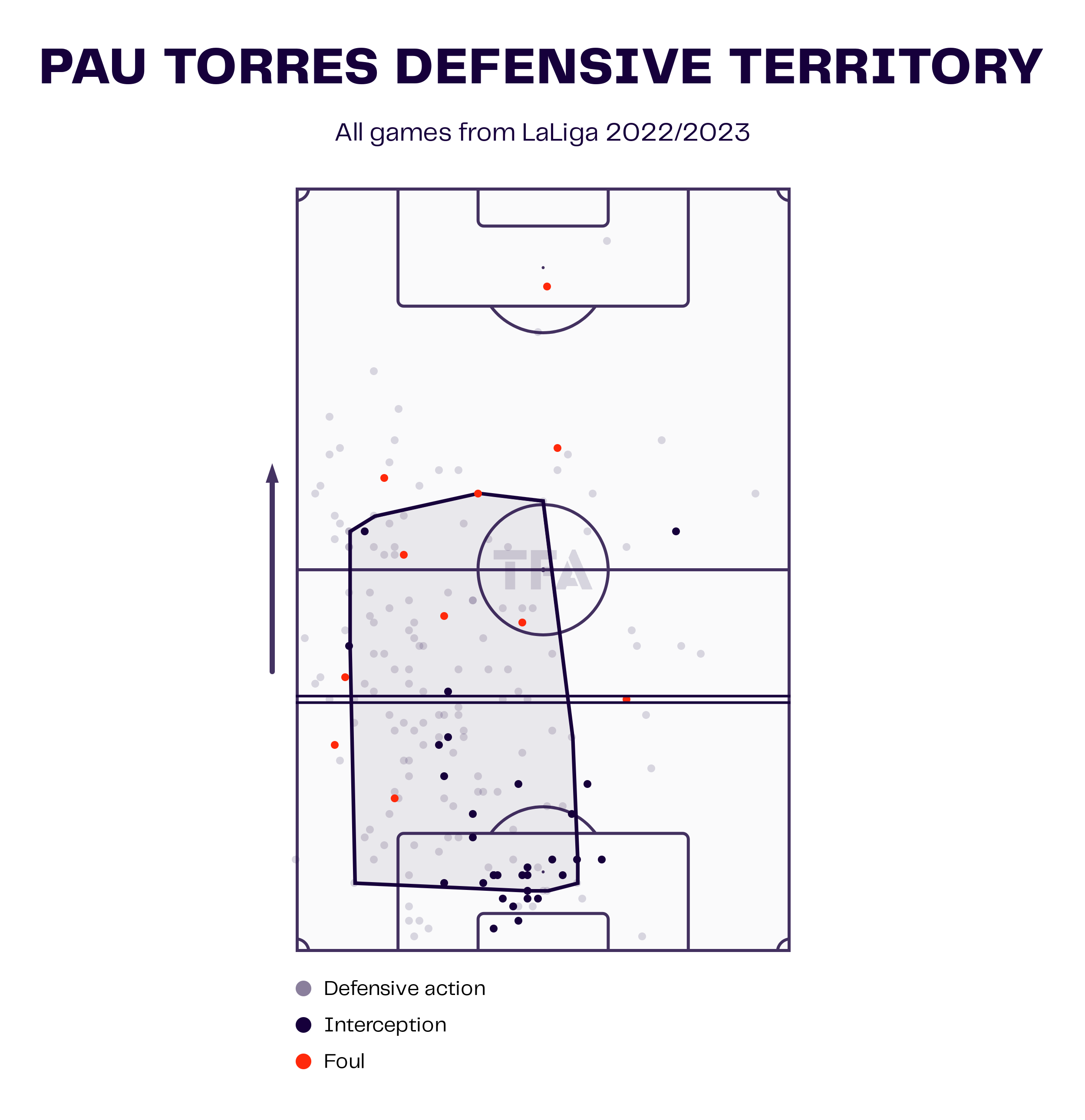 One of the main tasks for Villarreal on Saturday evening will be to stop the Real Madrid front three. Therefore, Pau Torres will have a huge role in the match. The young Spaniard is one of Villarreal's best defenders and has been solid at the back. With around 70% success in defensive duels and an average of 4.37 interceptions per game, Torres' role in Villarreal's defensive discipline is huge. Setien will be banking on him to produce another masterful performance.
After making a return from injury, Benzema scored a brace against Valladolid, which ended up deciding the fate of the match. Even though he didn't finish some easy chances, Benzema looked like his best self towards the end of the game. He will be, once again, the main man for Real Madrid, and Villarreal will be looking to ensure he doesn't get many chances at goal, particularly a penalty.
Team News
Villarreal will miss the services of Giovani Lo Celso, who is out due to an injury. Midfielder Francis Coquelin is also a doubt for this clash.
Meanwhile, Real Madrid could welcome a whole bunch of players who didn't play in the Copa Del Rey. The likes of Luka Modric, David Alaba, and Vinicius Jr. could all be ready to play again as they take on Villarreal.
Betting Analysis
The return of Karim Benzema has certainly boosted the over/under lines. It is expected to be at 3.5. Looking at the 1×2 market, the odds for the hosts are placed at 3.36, while for the visitors, they are placed at 2.09.
Real Madrid could become table-toppers once again if they beat Villarreal on Saturday. Carlo Ancelotti will be urging his players to make the most of the opportunity. On the other hand, Villarreal would be looking to extend their winning streak, which could be hard against a formidable Real Madrid side.
Visuals via TFA data viz engine