Luiz Henrique is a Brazilian professional footballer who plays as a forward for Real Betis in La Liga. He spent most of his early days in Brazil and was part of the Brazilian Serie A side, Fluminese, until the summer of 2022, when he decided to make a move to Real Betis. Luiz Henrique is a highly skilled player. He has the great technical ability as well as a good eye for goals. He is able to create chances for himself and his teammates. He is a fine dribbler and makes plenty of actions down the right flank. Luiz Henrique is still young and has a lot of potentials. He is only 22 and has a lot of time to develop as a player. This has caught the eye of scouts from some of Europe's top clubs, and there have been rumours of big-money moves for the player in the near future. Below are some of his stats from La Liga this season.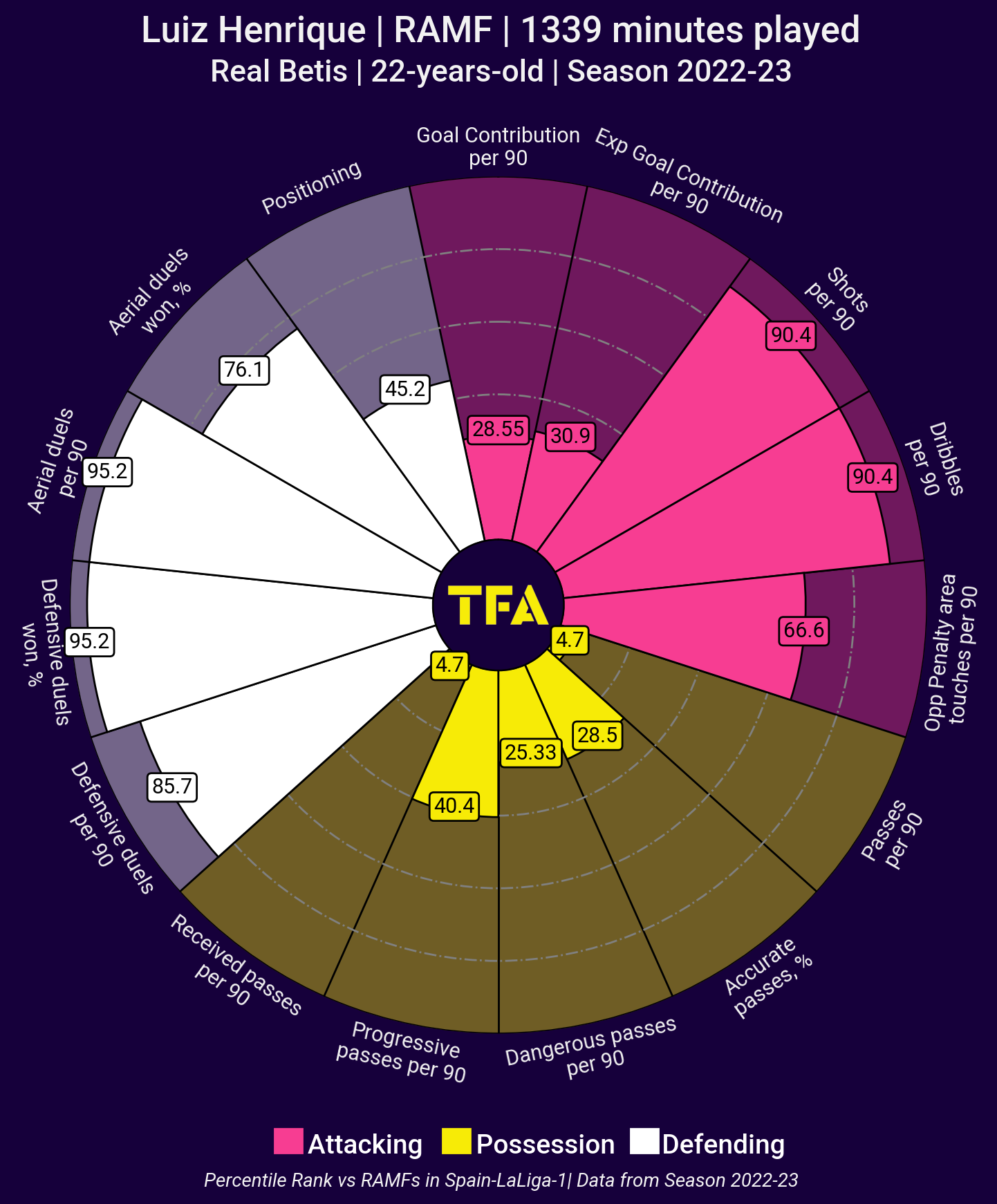 The above viz shows his percentile rank compared to the other right-sided attacking midfielders in La Liga in 2022/23. He has played 22 matches in the 2022–23 La Liga season. He is ranked highly for attempting shots and dribbles per 90 and is an adept dribbler of the ball. The player's ability to attack has been decent, with a fair number of expected goal contributions, and he ranks fairly in terms of touches in the penalty box per 90 minutes. He has great positional awareness and makes movements into dangerous areas in order to build efficient attacking threats. Also, he has a good ability to win aerial and defensive duels and ranks highly in terms of his numbers in defence.
Luiz's contributions to the attack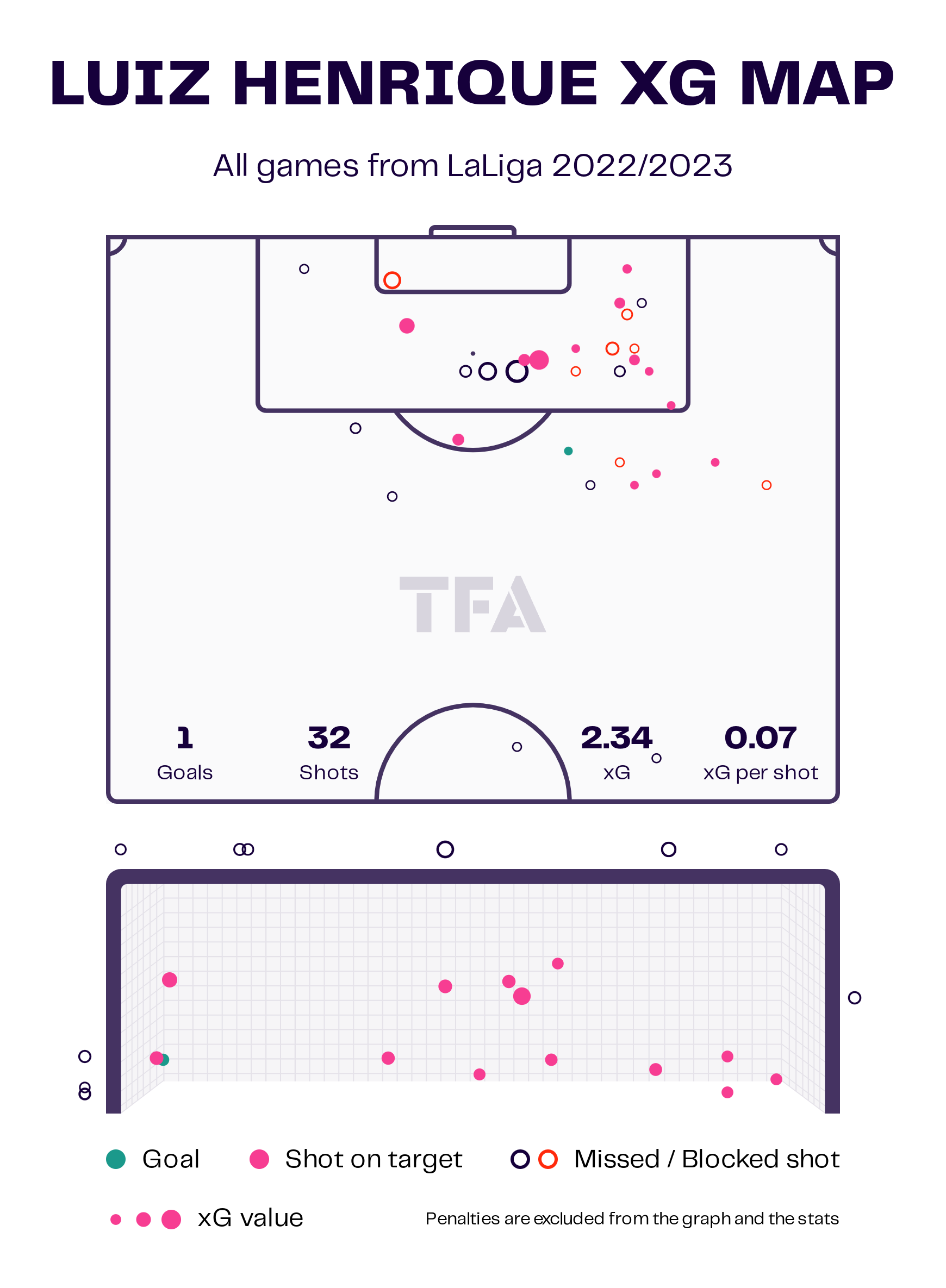 This season, he has scored one goal from open play and provided one assist. The player averages 2.18 shots per 90 minutes in the 2022–23 La Liga season and has an accuracy rate of 42.4%. The xG map above shows that he has taken most of the shots from inside the penalty box down the right flank. He scored his goal from outside the box and likes to shoot from wide areas. He has taken 32 shots, of which 14 have been on target. It can be seen in the second visual for his shot assists that Luiz provides most of the dangerous passes down the right flank. He makes 1.19 passes into the penalty area per 90 minutes.
Threat down the right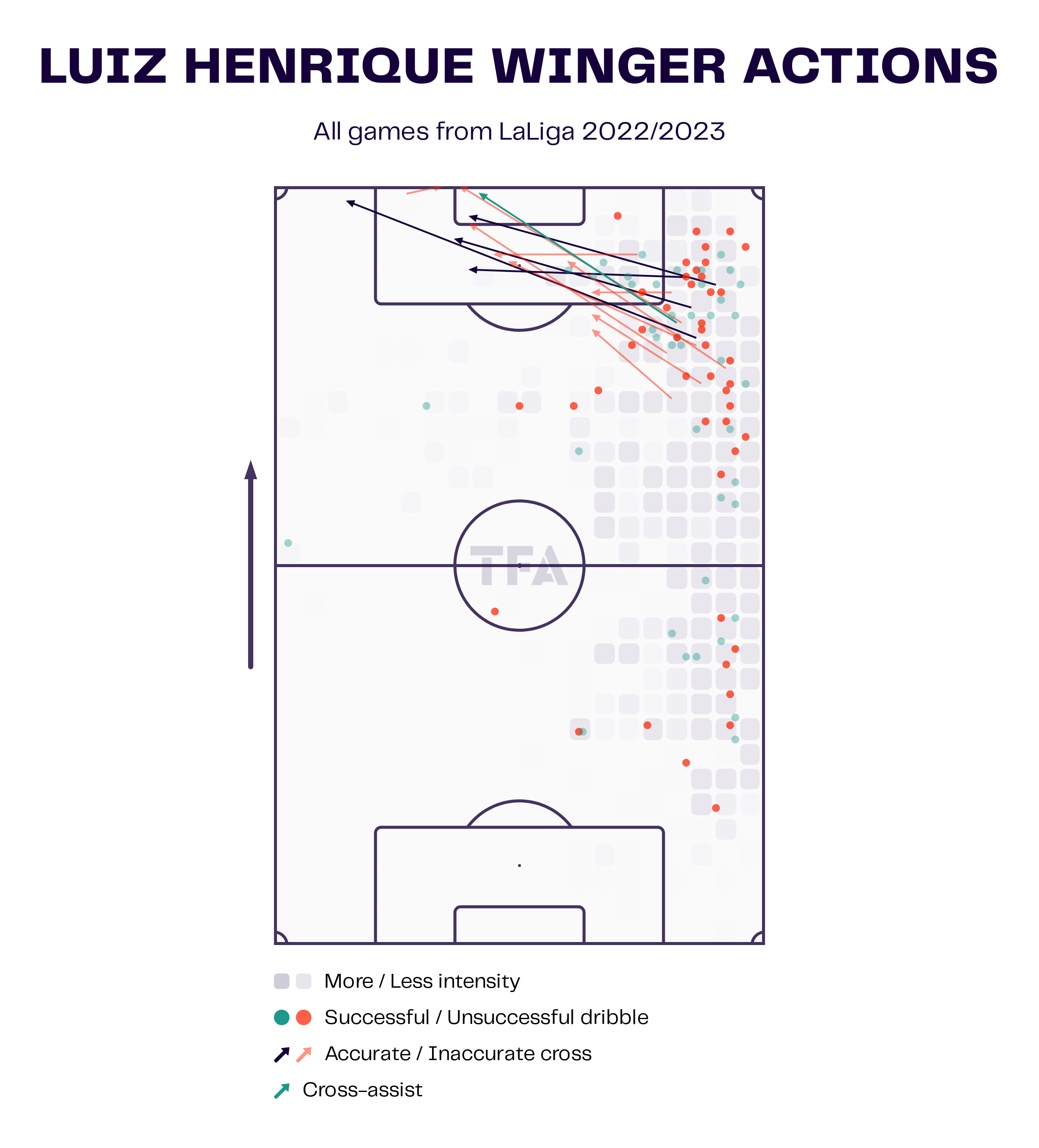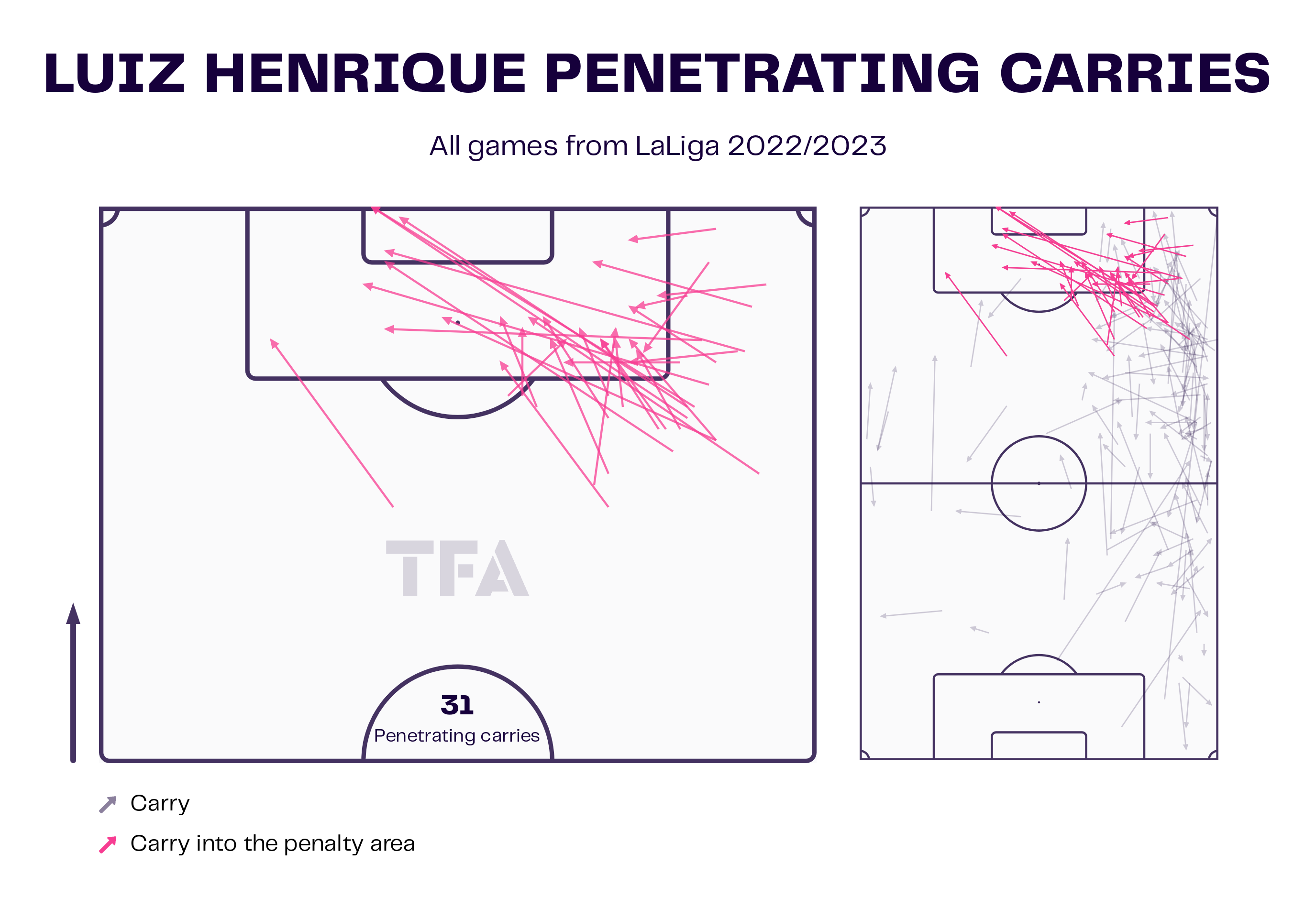 The Brazilian's ability to connect with his teammates and provide crosses and cutbacks into the box is impressive. Based on the above visualisation of winger actions, we can see that he moves around the right flank. He is a successful dribbler and attempts 5.94 dribbles on average with a 47.6% completion rate. He averages 2.66 crosses per 90 minutes.
It can be seen in the second visual that he has made a total of 31 penetrating carries into the opponent's penalty area so far and made darting runs into the final third. He makes 2.71 progressive runs per 90 minutes and averages 2.24 touches in the penalty area.
High pressing ability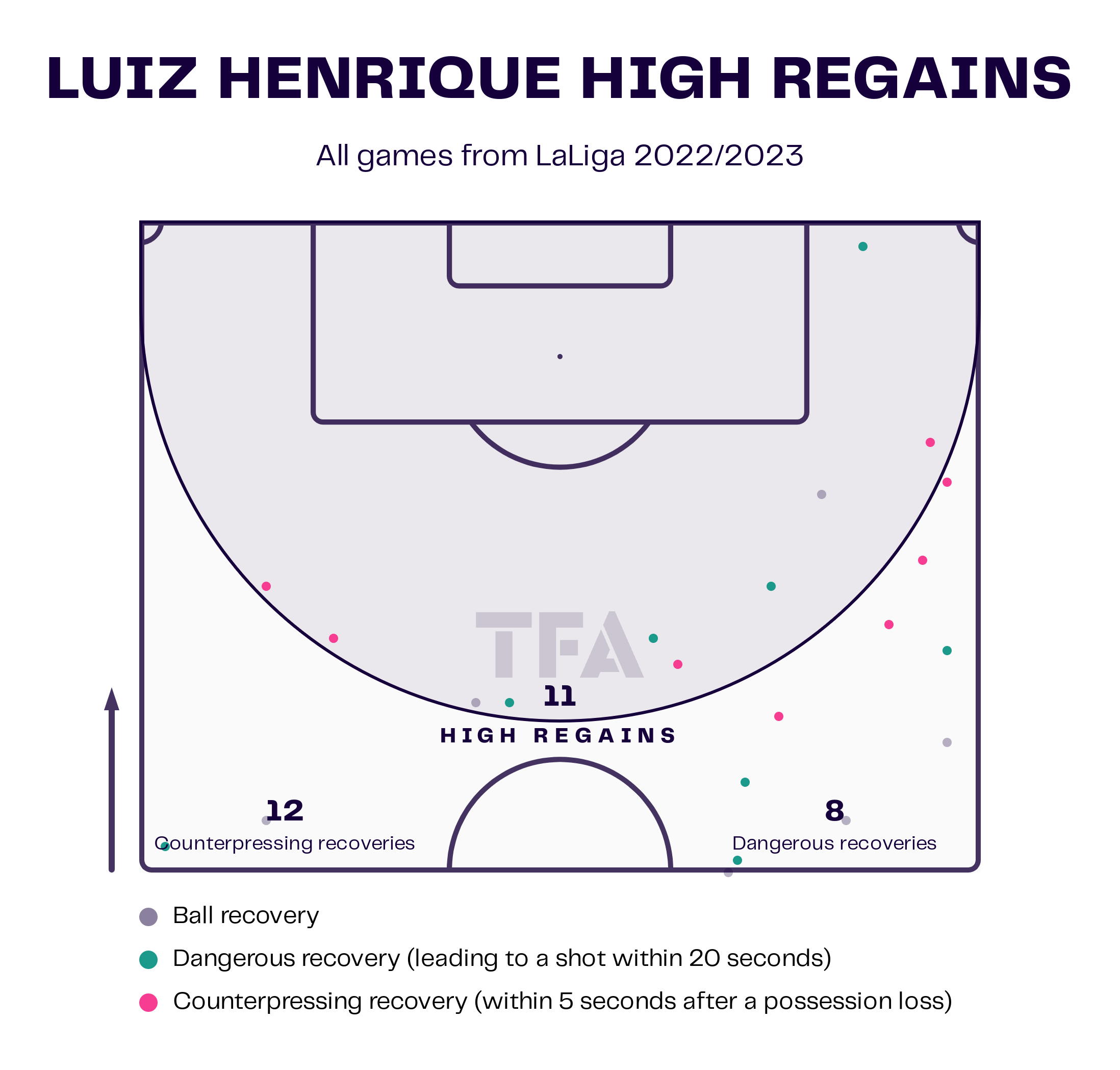 Luiz Henrique is also successful in putting pressure on the opponent high up the pitch. He has contributed to eight dangerous recoveries, mostly in the middle and final third. Most of his actions can be seen on the right side of the pitch. Additionally, he makes 5.21 recoveries on average, with 39.2% taking place in the opponent's half.
Herique in Brazil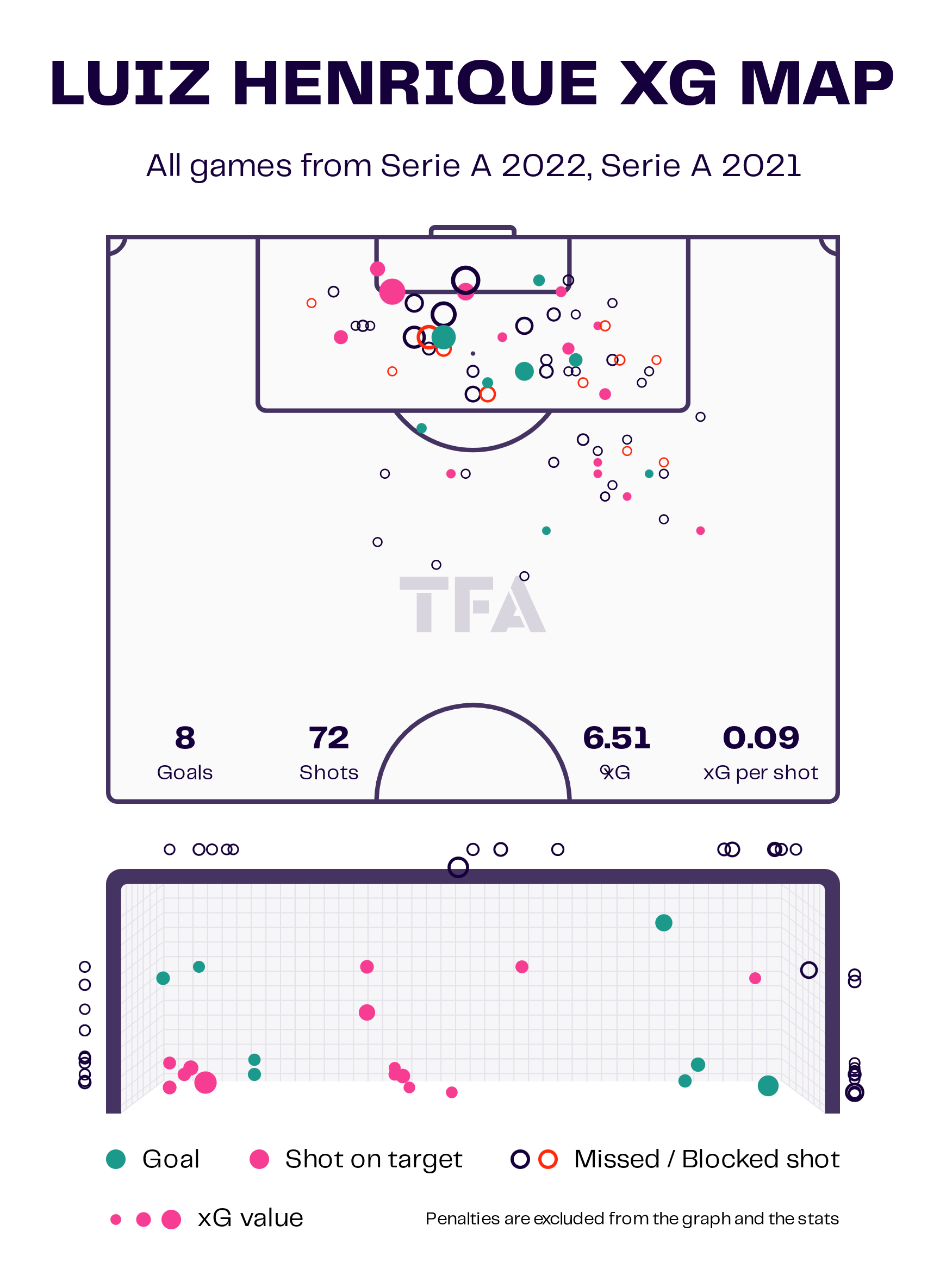 The above viz shows the shot map for the player in the Brazilian Serie A over the last two seasons. He played a major role in front of the net and scored eight goals in 47 appearances on a total of 72 shots. He got the majority of them from inside the box, with three from long range being successful. He accumulated an overall xG of 6.51 and an xG per shot of 0.09. He has the right shooting skill and is efficient in front of goals.
Overall, Luiz Henrique is a young and talented Brazilian who has the ability to create chances for his team in attack. He has been impressive for Real Betis this season as the team sits in fifth place, fighting for a spot in the top four. Henrique has plenty of potentials and can be moulded into a fine goal-scorer. It remains to be seen where his future lies next, but his performance in the Spanish top flight has helped the player build some name recognition for himself.
Visuals via TFA data viz engine