Real Betis travel to Old Trafford in the UEFA Europa League round of 16 first leg to face off against Premier League side Manchester United.
The Red Devils suffered a humbling defeat to Liverpool at Anfield in their most recent Premier League outing. Manchester United faced their heaviest defeat in Premier League history as Liverpool scored seven goals past them and showed Europe how it's done against the red half of Manchester.
The side from Spain are surely in good form, as they played out a 0-0 draw at home to Real Madrid last time out in the Spanish top flight. Real Betis are in fine form under Manuel Pellegrini, and his experience is seen in the way Betis have performed in big games. They finished top of their group, winning five and drawing one.
Below are some of the stats of both teams from the current season to understand their overall performance in the Europa League 2022-23.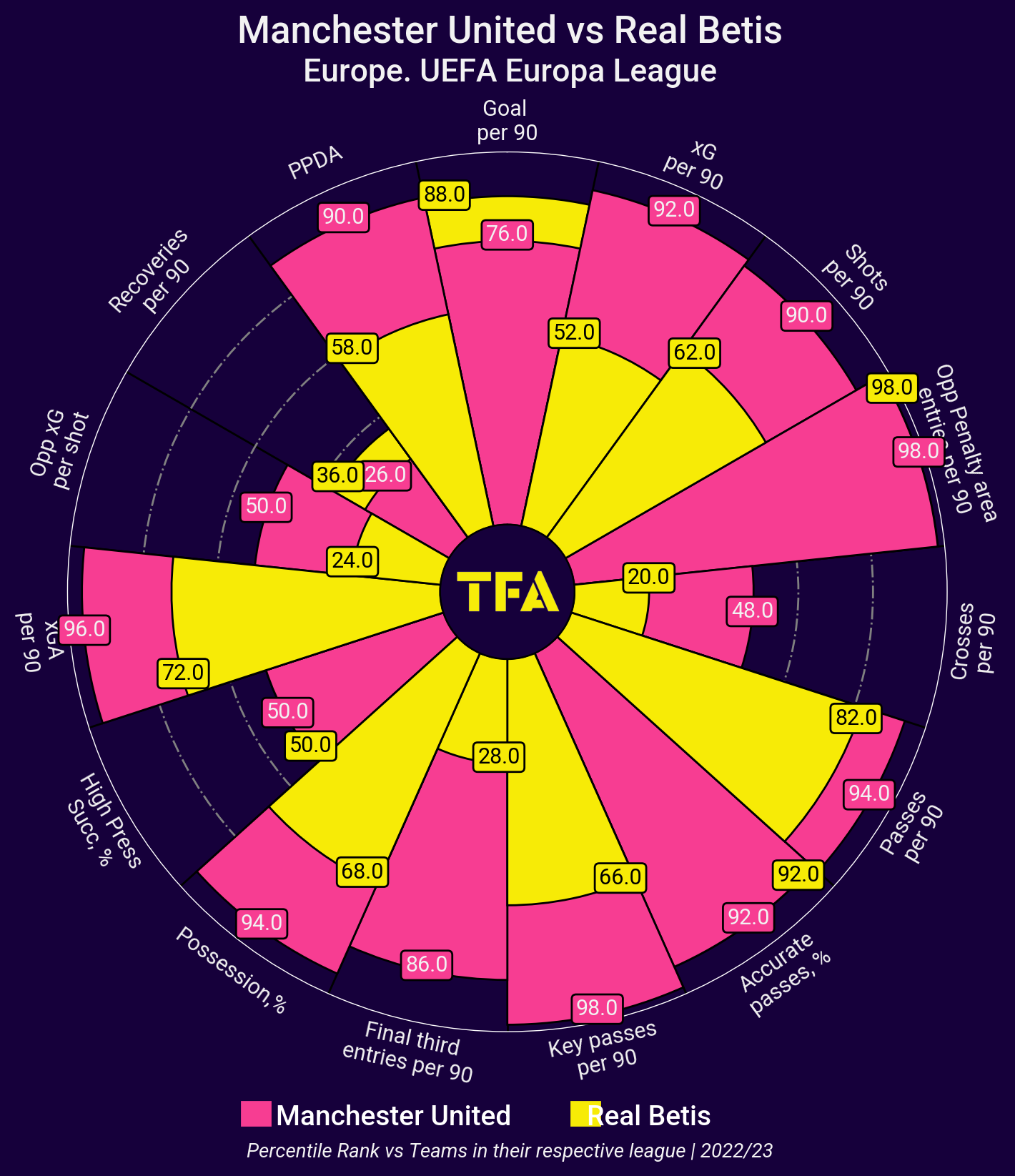 The viz above shows the percentile rank of both teams' stats compared to each other as well as to other teams in the UEFA Europa League 2022–23. It can be seen that Manchester United has better overall stats than Real Betis in most departments. Notably, the hosts hold superior stats in terms of shots, xG, key passes, possession rate, and opposition xG per shot. Alternatively, there are a few departments where the hosts have superior stats or are at par, such as a high press success rate, accurate passes, and opposition penalty area entries.
Attacking stats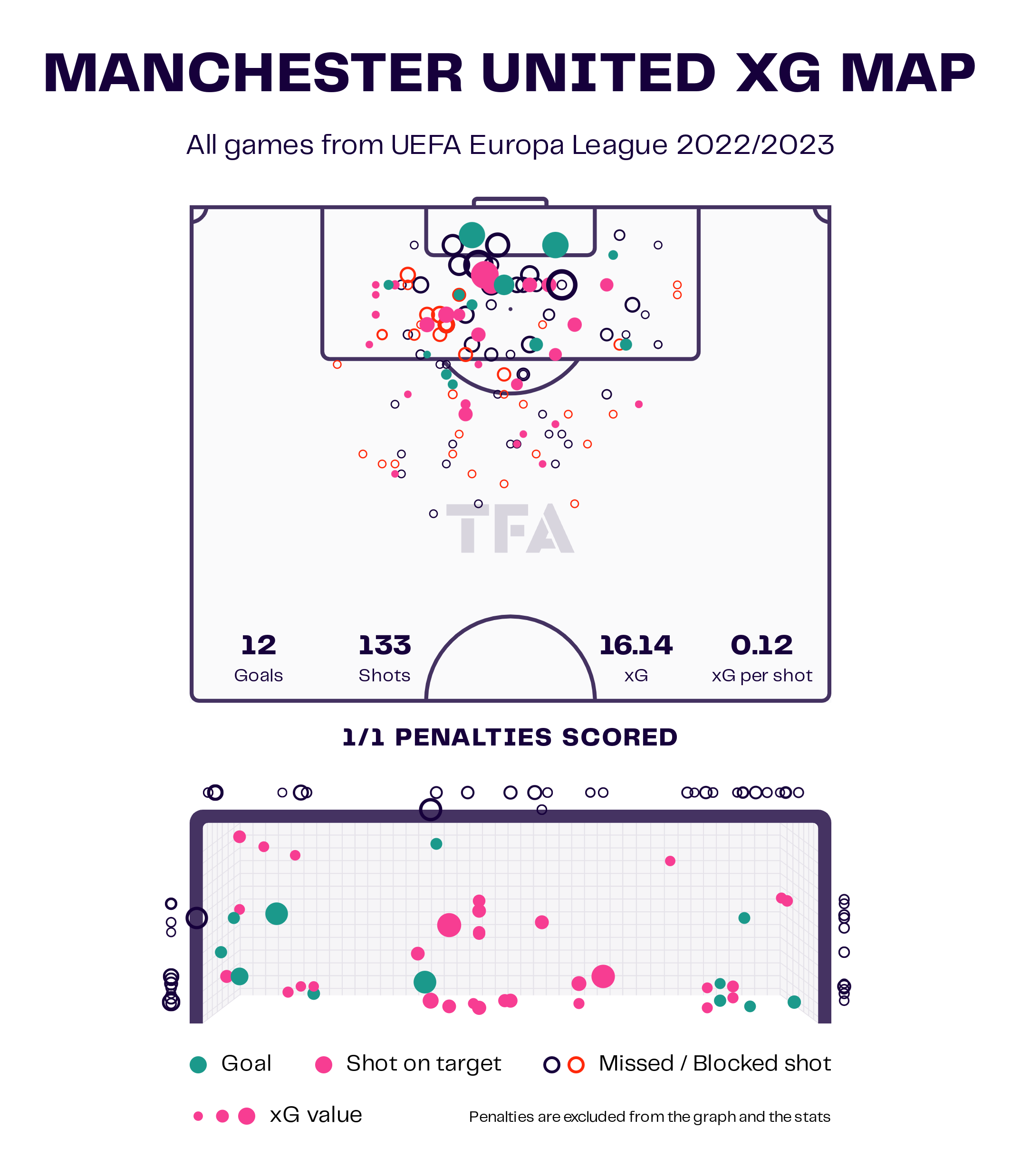 Manchester United have taken a total of 133 shots in eight UEL matches and scored 12 goals. They accumulated 16.14 non-penalty xG in total and scored most goals from inside the penalty area with two from just on the edge of the box. The xG map above shows that the Premier League side has attempted most of their shots inside the box but has also shown a great desire to shoot from distance. Manchester United have scored 1.75 goals per match, averaging an xG of 2.11. They take 16.75 shots per match with a 32.8% accuracy rate.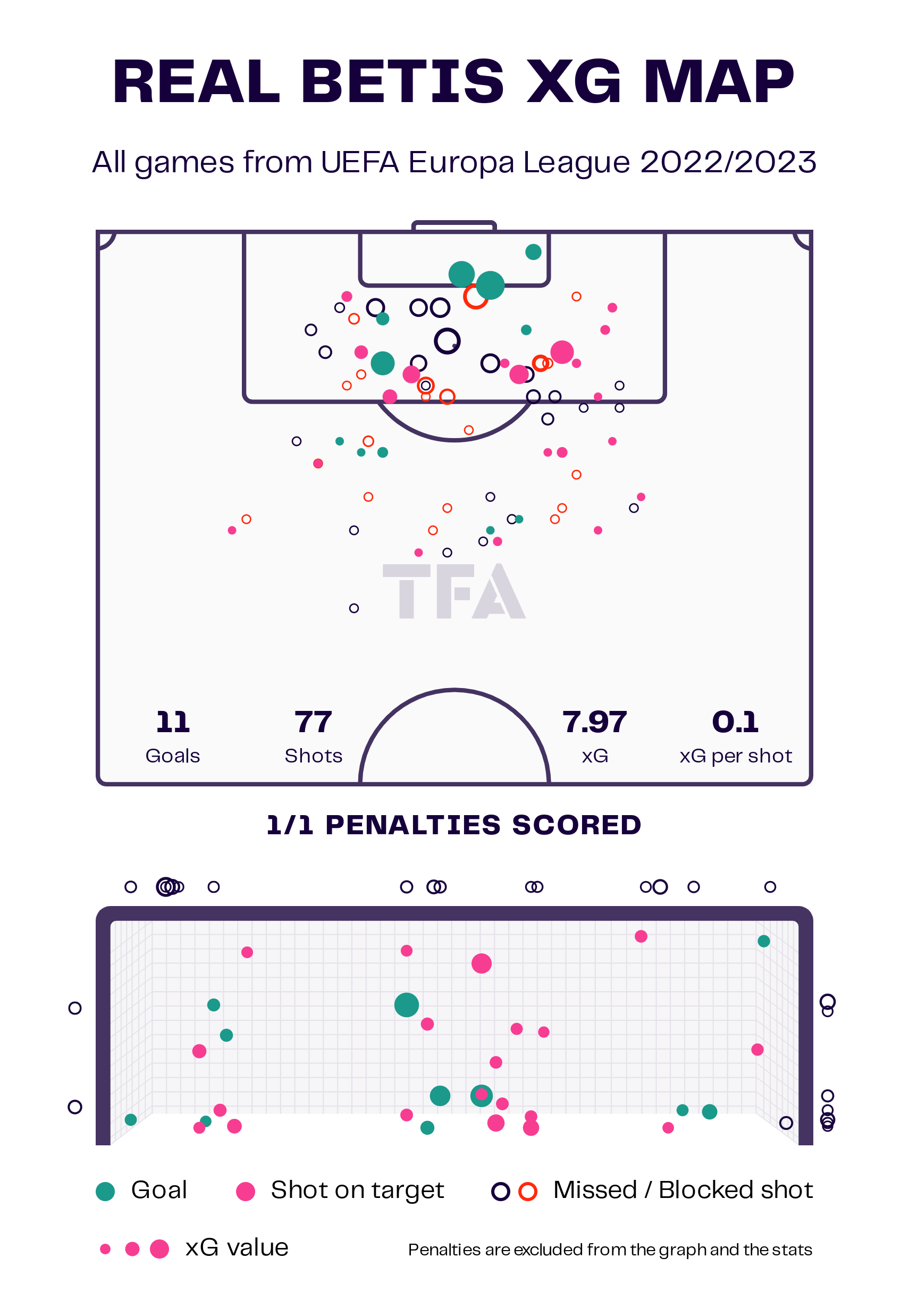 Alternatively, Real Betis have been in fine form in the current Europa League campaign. They have taken 77 shots in total and scored 12 goals with a non-penalty xG tally of 7.97. The Spanish side has scored five goals from outside the box and six from inside. They scored at the rate of 2.0 goals per match while averaging 1.46 xG. Furthermore, Real Betis averages 13 shots per game with a 41% accuracy rate.
Forward passing ability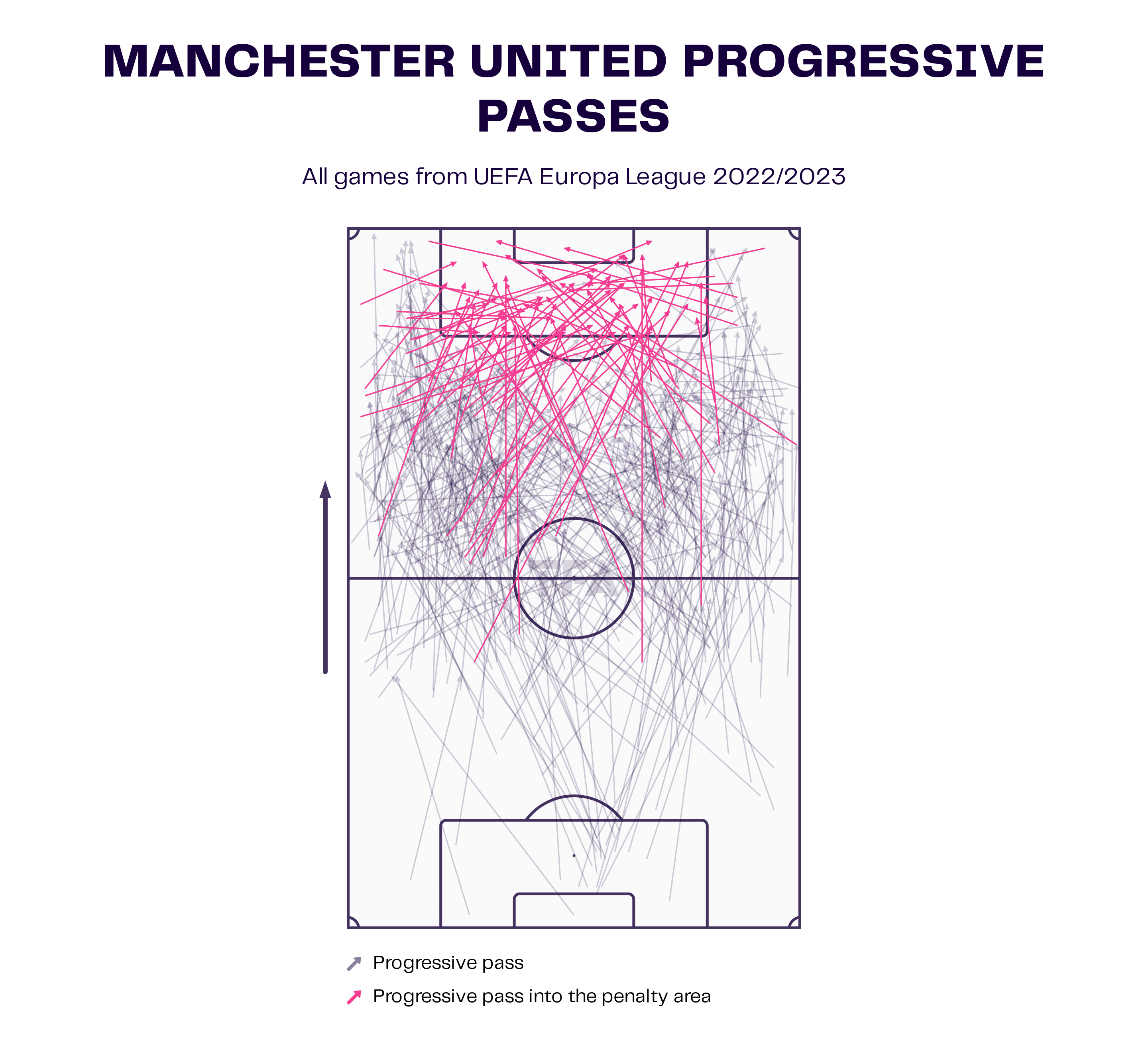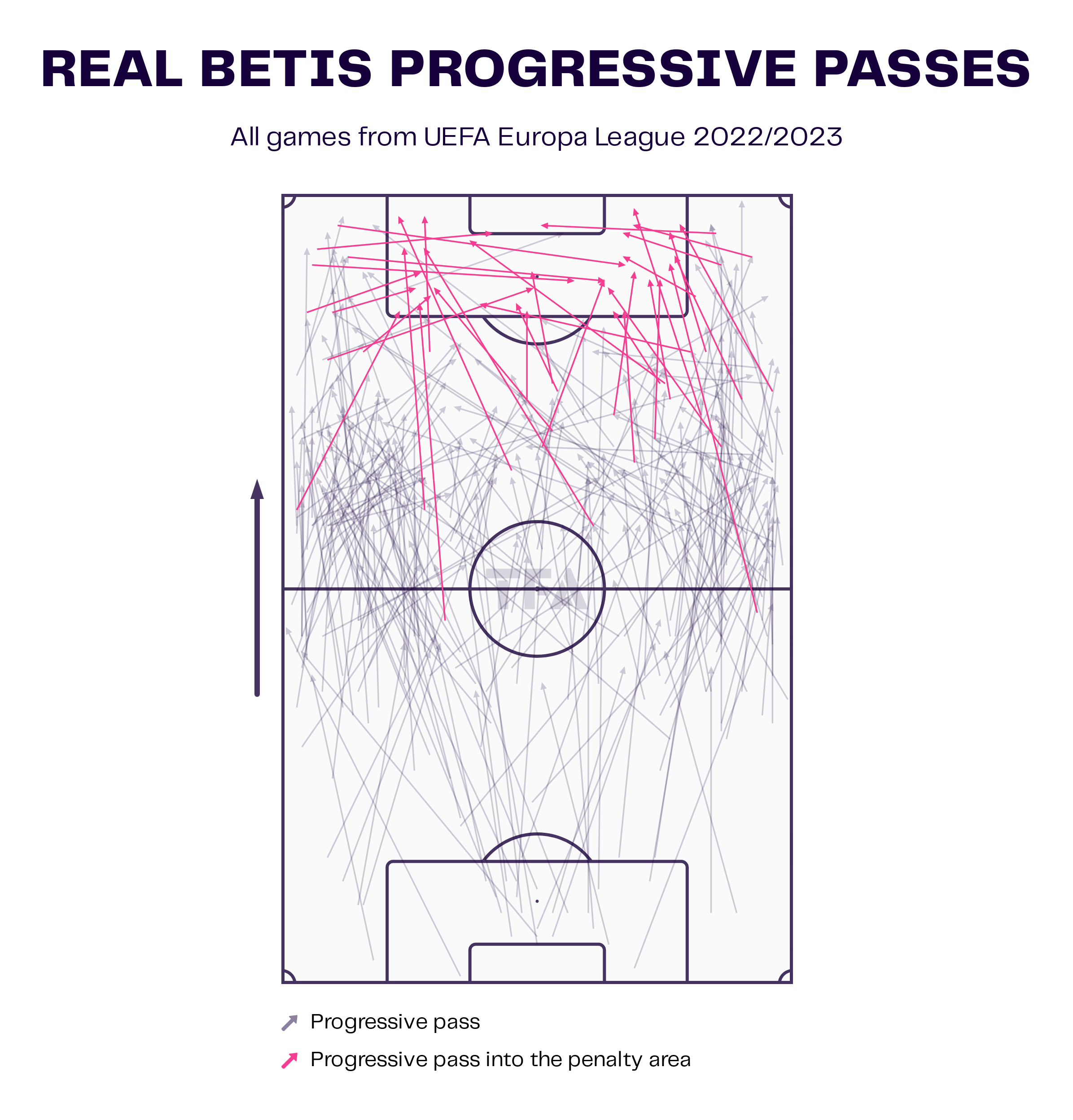 The two visuals above compare both teams on the basis of progressive passes. While both teams use the flanks significantly to move the ball forward, Manchester United delivers more forward passes and crosses more accurately into the box from the wide positions compared to Real Betis. The visitors have an average of 66.33 passes to the final third with 77.4% accuracy, compared to 80.63 such passes with 78% accuracy by the hosts. In terms of possession rate, Manchester United sees more of the ball, with 57.74% possession compared to Real Betis' 53.81%.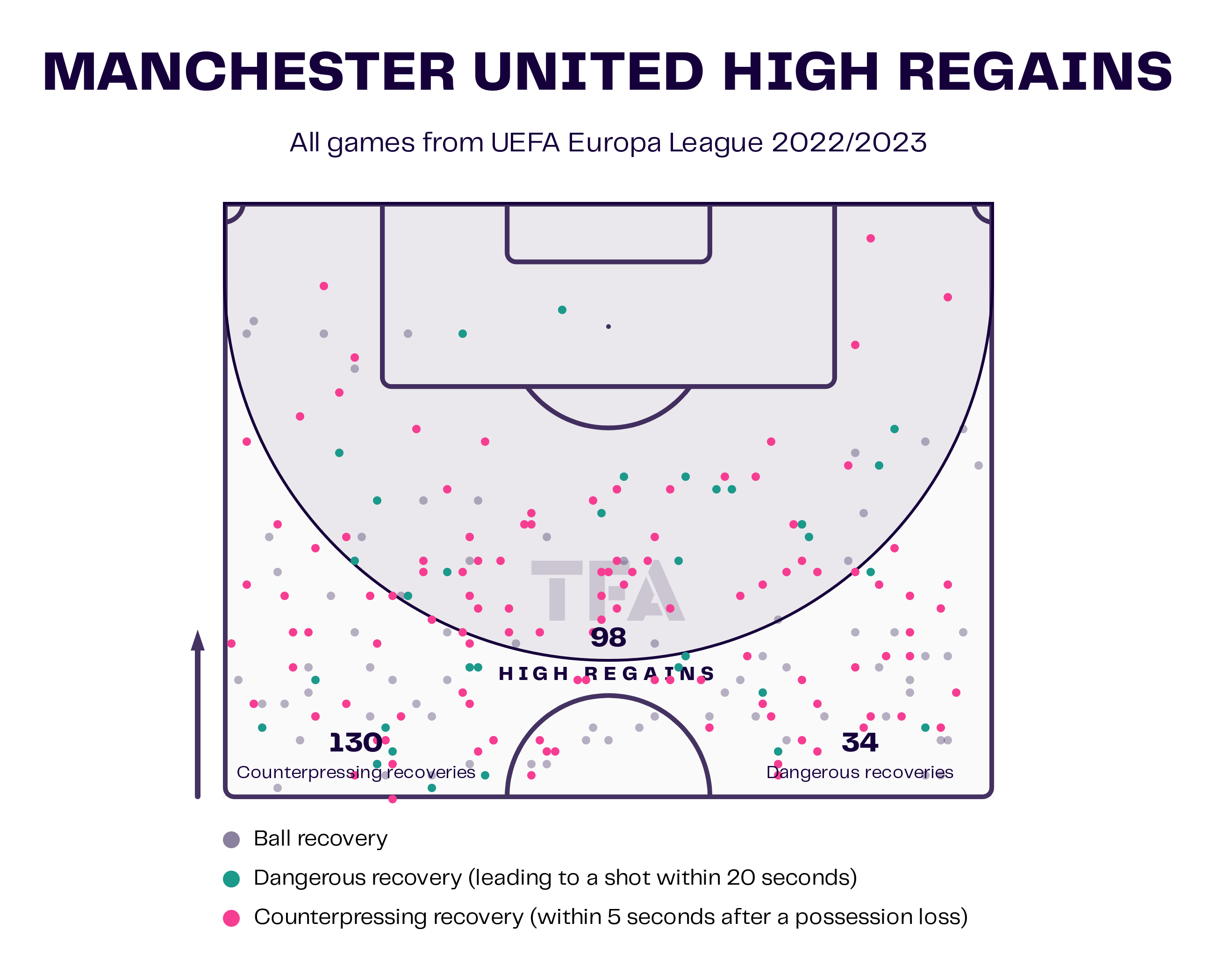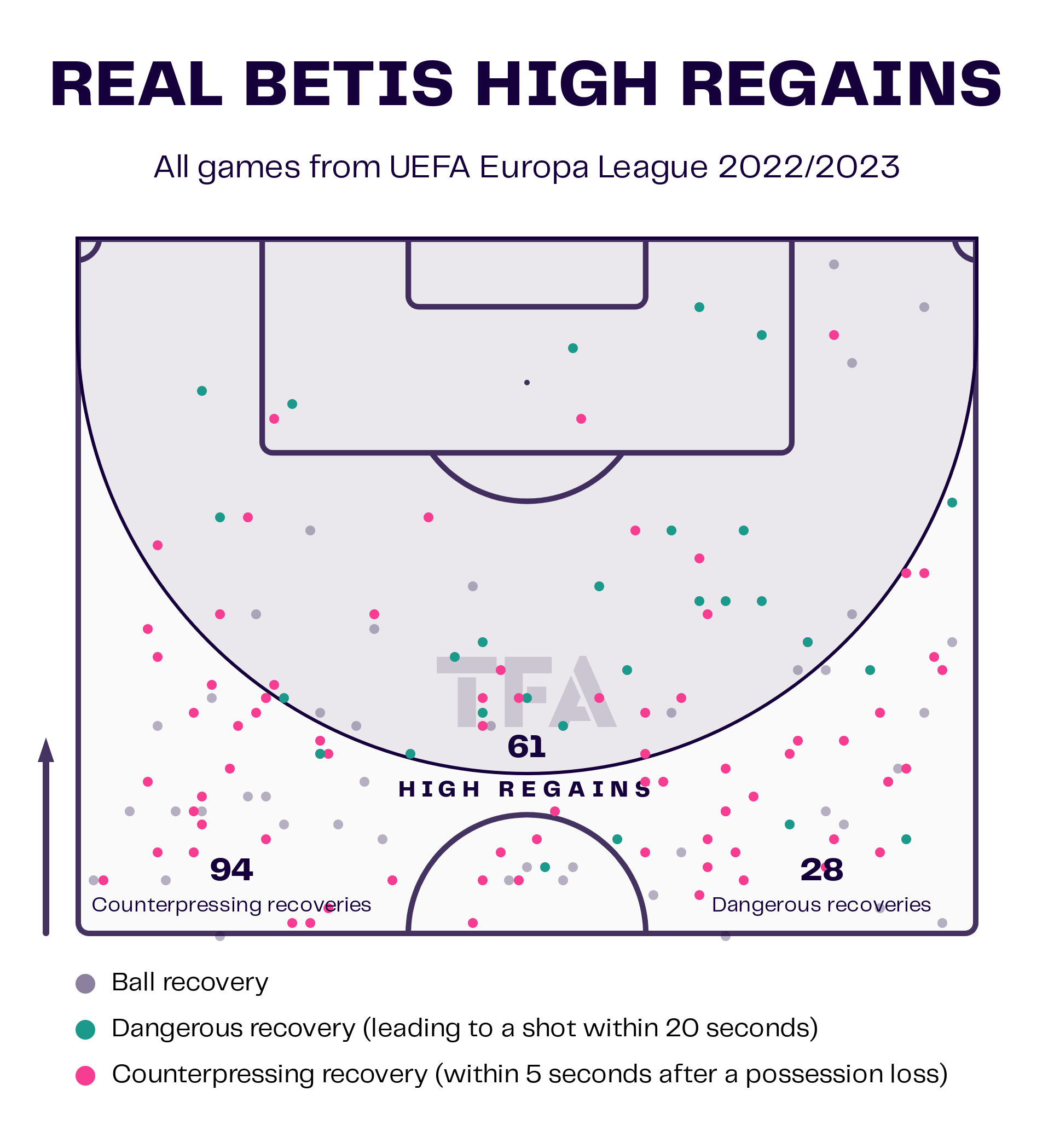 The two visuals above compare both teams based on their ability to regain possession high up the pitch. Manchester United holds the advantage in this department, having made 98 high regains compared to the 61 made by Real Betis. Both teams have also had a few recoveries in and around the box, with some of these recoveries resulting in eventual shot attempts (dangerous recoveries). Overall, Manchester United makes 86.5 recoveries per match, compared to 78.33 recoveries made by Real Betis.
Key players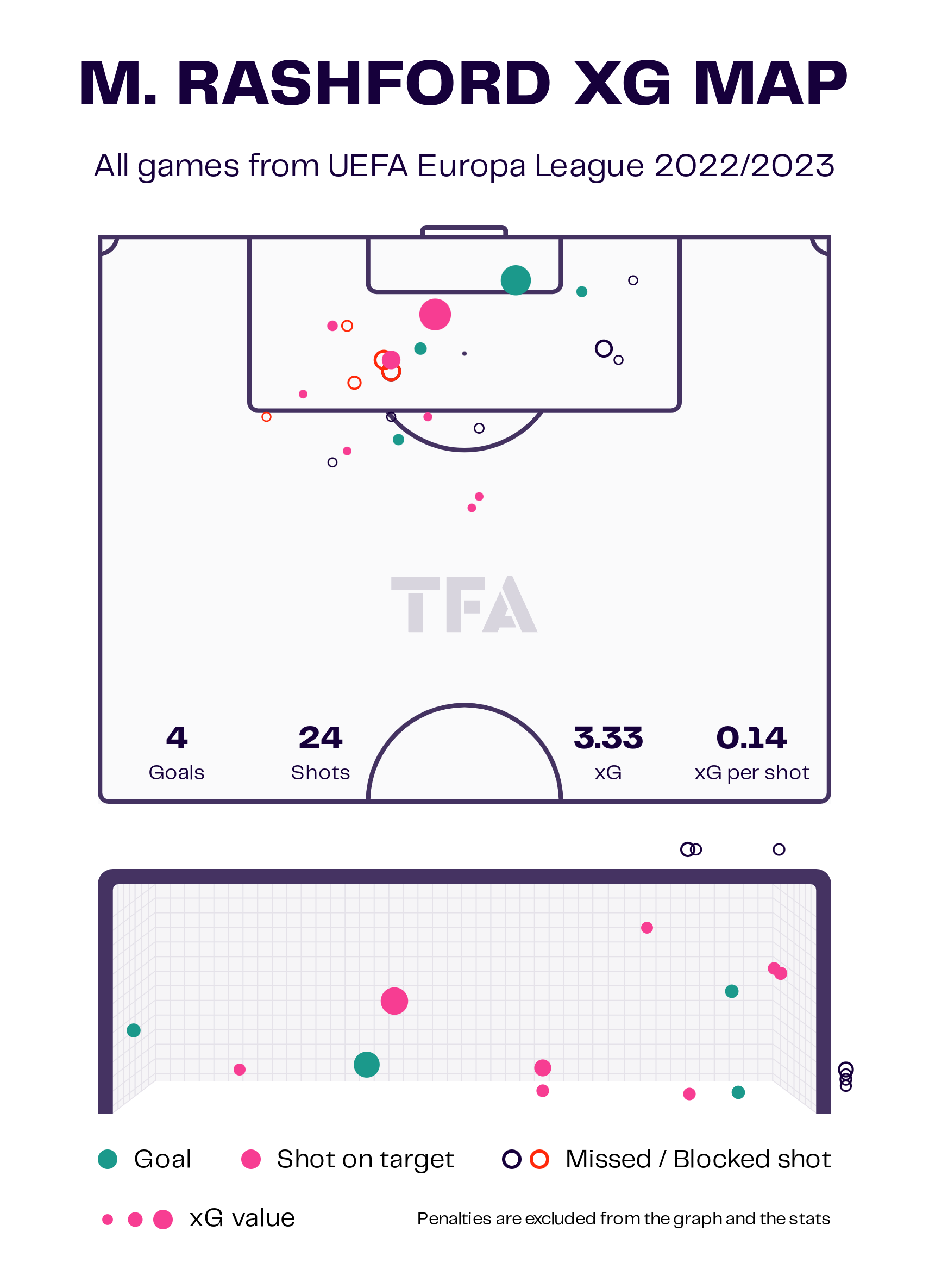 Marcus Rashford has transformed into one of the best attackers in Europe. He is among the top scorers in the Europa League, and there is no sign of stopping him. He has scored four from 24 shots (3.33 xG). Keeping him in check could help Real Betis limit the damage at Old Trafford.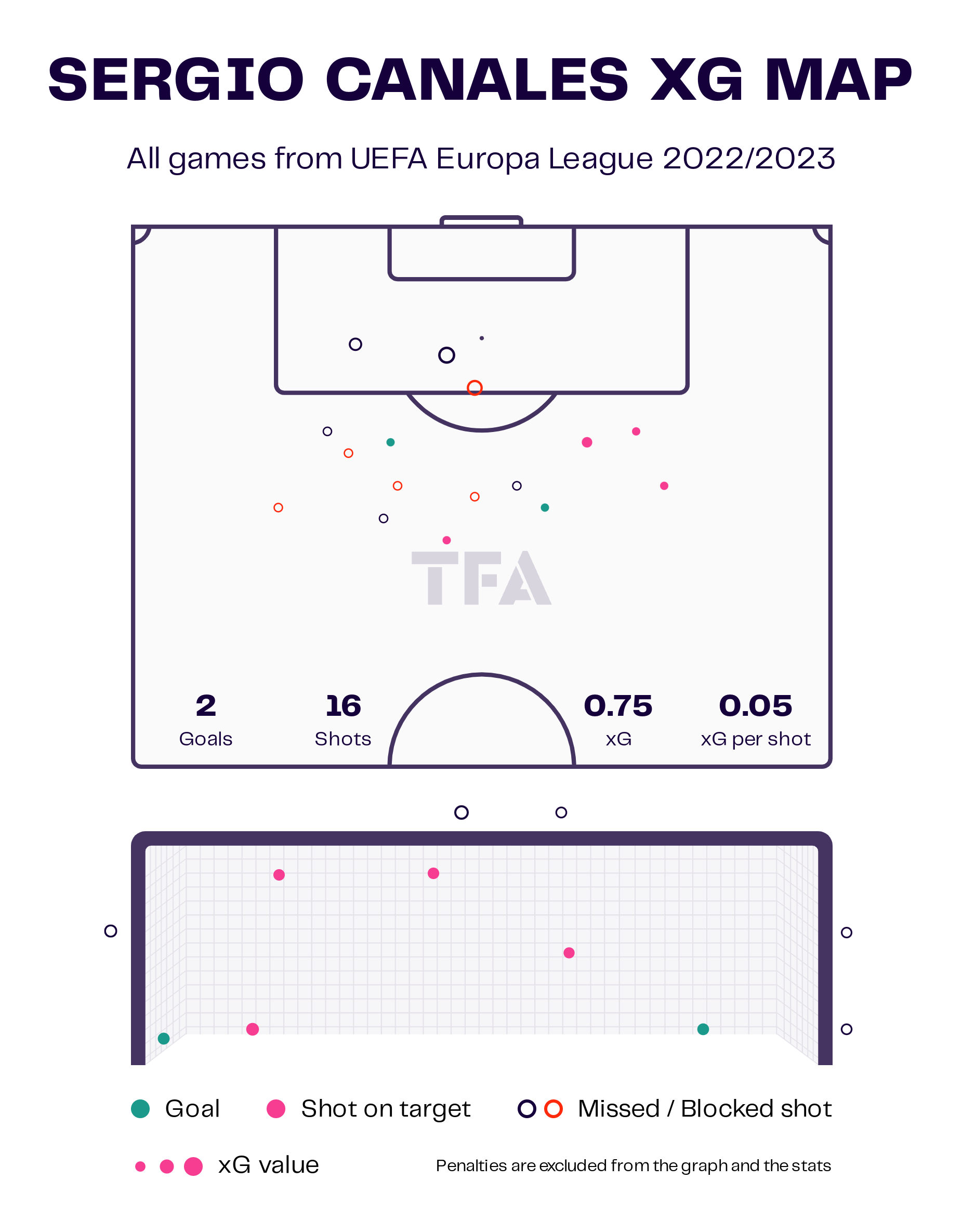 Sergio Canales has been in excellent form for Real Betis this season. He plays as an attacking midfielder for the team and is a creative player who has a decent shot. He has scored two from 16 shots (0.75 xG), and surprisingly, all of his shots on target have been from outside the box. He can do some justice for his team on the pitch in England if given enough time on the ball.
Team news
Donny van de Beek, Anthony Martial, and Christian Eriksen will miss out, with Casemiro and Victor Lindelof doubtful for the Red Devils. Luke Shaw and Raphael Varane are also not guaranteed for Manchester United.
Meanwhile, Betis boss Pellegrini will miss key attacker Nabil Fekir, who is set to be out for the whole season. Midfielder Juan Cruz is also expected to miss out.
Overall, Manchester United progressed after an intense battle with Barcelona in the play-offs and proved that they mean business under their current boss, but their 7-0 thrashing at the hands of Liverpool has revealed plenty of gaps. Meanwhile, Real Betis will look to grab an advantage a crush some European dreams.
Visuals via TFA data viz engine