Barcelona are looking to reinforce their attacking options after the departure of Memphis Depay to Atletico Madrid. One of the most interesting names that have come up is Real Madrid's Marco Asensio. The Spaniard's contract will end in 2023 and he will be a free agent, and Xavi wants to bring him to Camp Nou. The 26-year-old has enjoyed long-term success with Los Blancos and has played with Barcelona players for Spain. Therefore, adjusting to Xavi's style will not be a big problem for the forward. So, we take a look at his stats to understand why Barcelona are looking to sign the Real Madrid star.
Season so far
Marco Asensio has played 12 matches but has started just three matches. He has scored one goal in La Liga this season and two goals in the UEFA Champions League as well.
The visual above shows Marco Asensio's percentile rank compared to other right-wingers in La Liga. The Spaniard has good stats in almost all areas and could fit into Xavi's system easily. He is ranked in the top 88.2 percentile for goal contributions per game and the top 90.1 percentile for shots per game. Asensio has great passing stats too and is ranked very highly for passing accuracy, dangerous passes per game, and passes received.
On the wing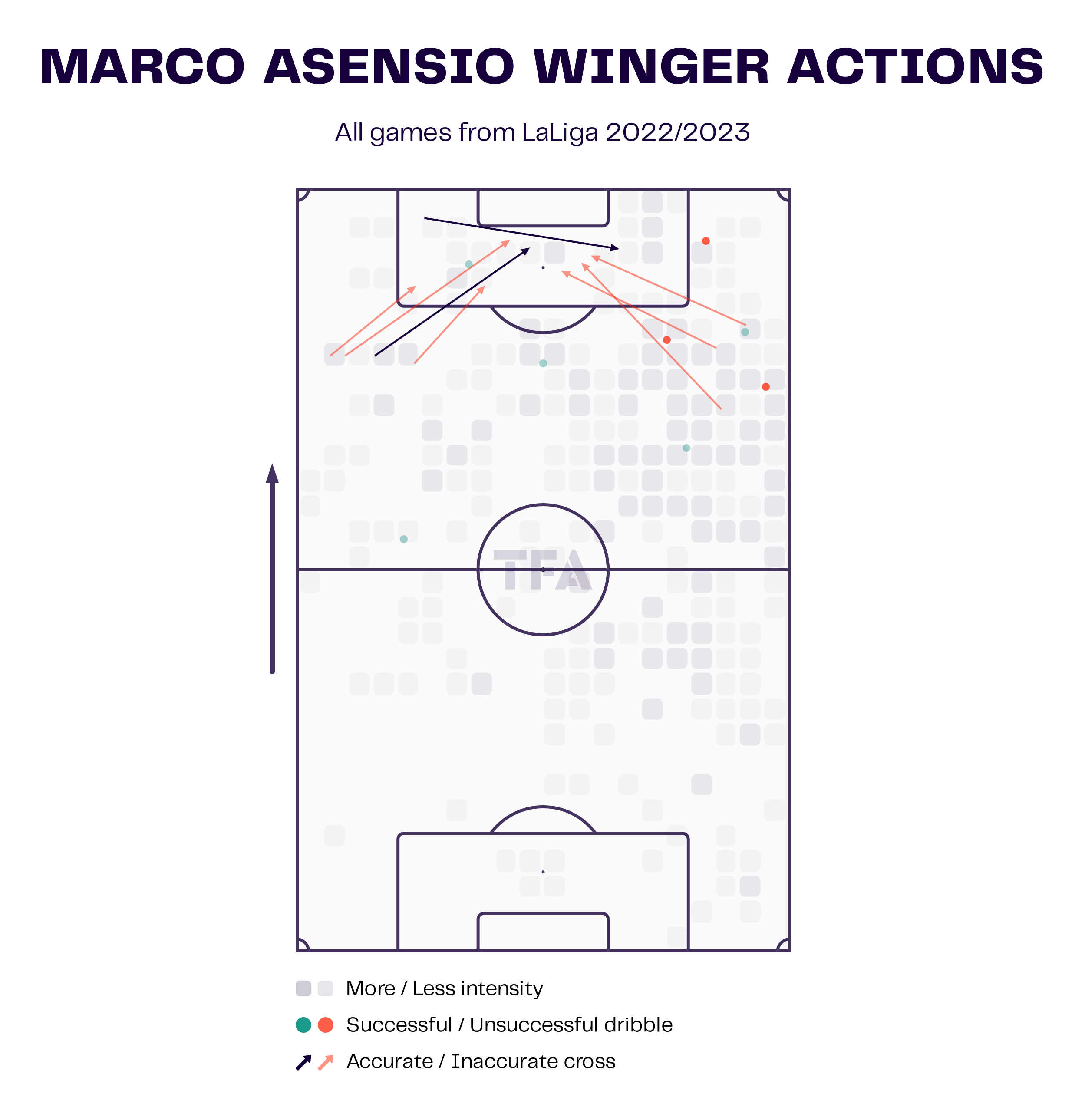 The visual above shows Marco Asensio's actions as a winger. He can play as a centre forward, a false nine, or a winger. When he plays on the wing, he has done well and played many crosses into the box. Asensio has played around 3.24 crosses per game even though his accuracy rate is very low. He also takes on players and makes an average of 4.86 offensive duels per game, winning 57.1% of the time.
Goalscoring
Asensio has only scored one goal this season. He has attempted 11 shots, with just four of them on target. Six of the 11 shots came from outside the penalty box, which is one of his strengths. He has taken an average of 2.54 shots per game, with 36.4% of them on target. Asensio is not at all hesitant to take shots, and this could be useful to Barcelona, as they are currently depending a bit too much on Robert Lewandowski to score goals.
Dribbling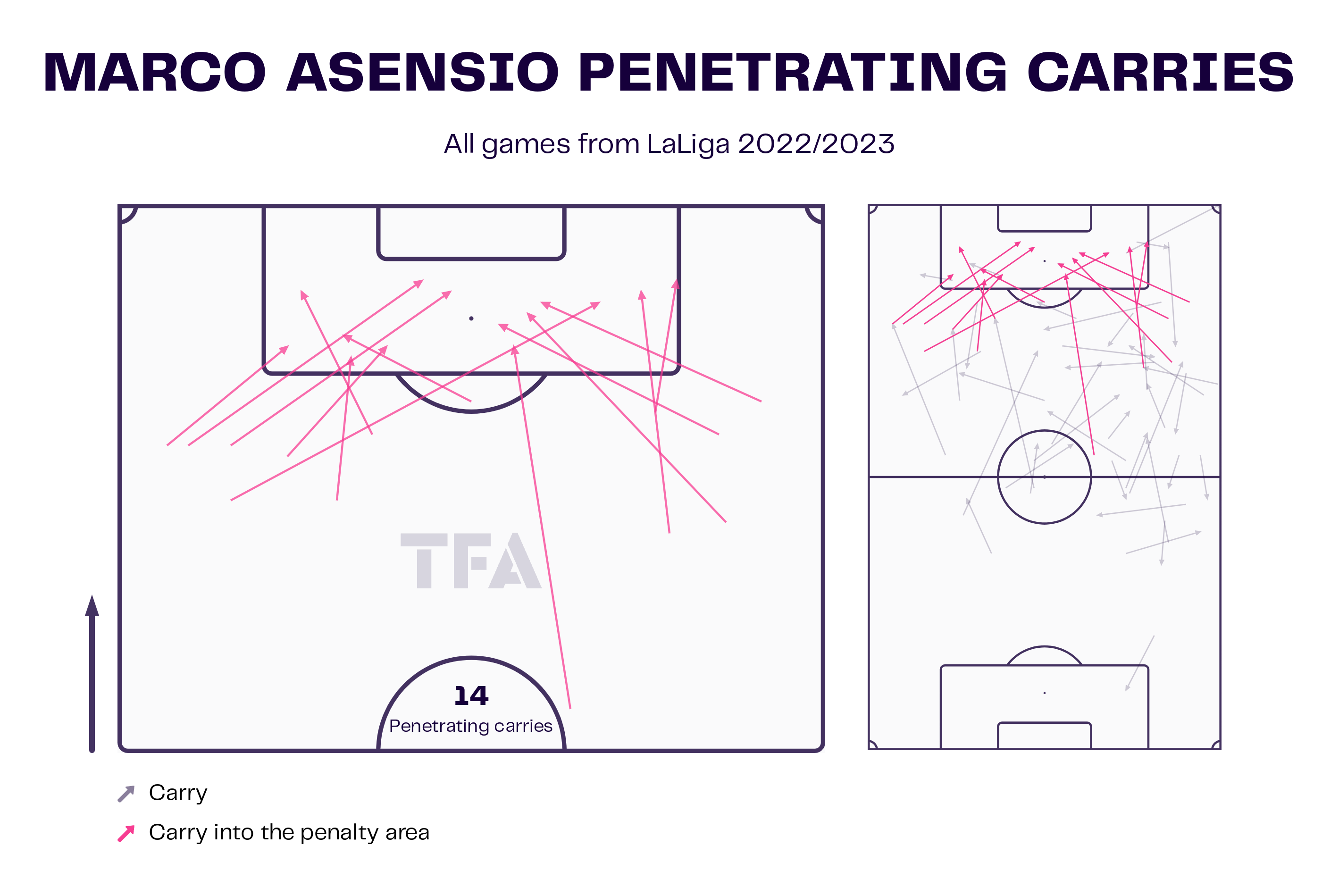 The visual above shows penetrating carries made by Marco Asensio in the current season. With an average of 1.85 dribbles per game, he has only made 14 penetrating carries this season. We can observe from the visual that he can make long dribbles into the penalty box. Apart from the dribbles, he has also made an average of 2.54 progressive runs per game.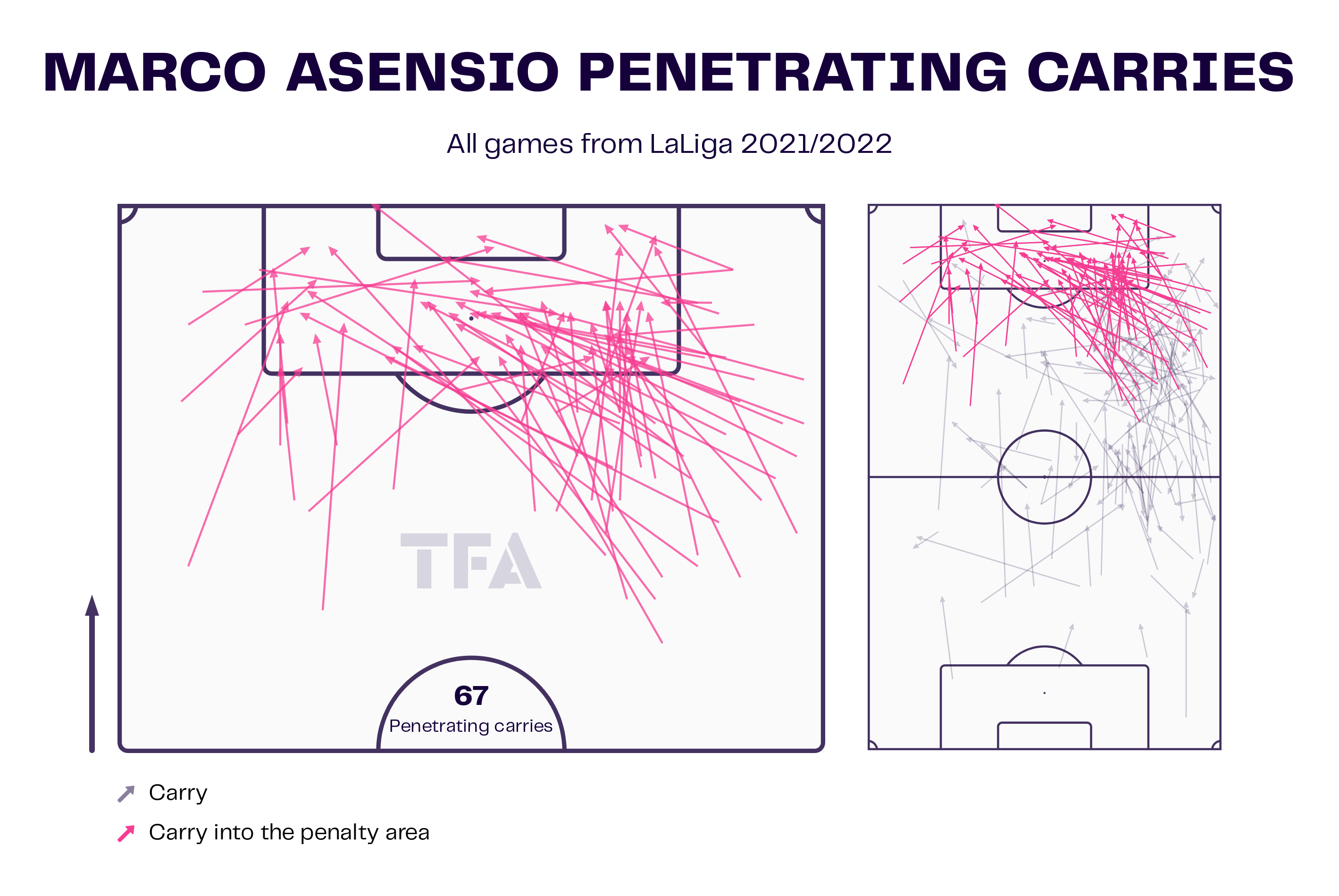 His dribbling stats have come down from last season. In the 2021/22 season, Asensio made 67 penetrating carries with an average of 3.23 dribbles per game. He had 61.2% success in the dribbles he attempted. The average number of progressive runs has remained almost the same as last year.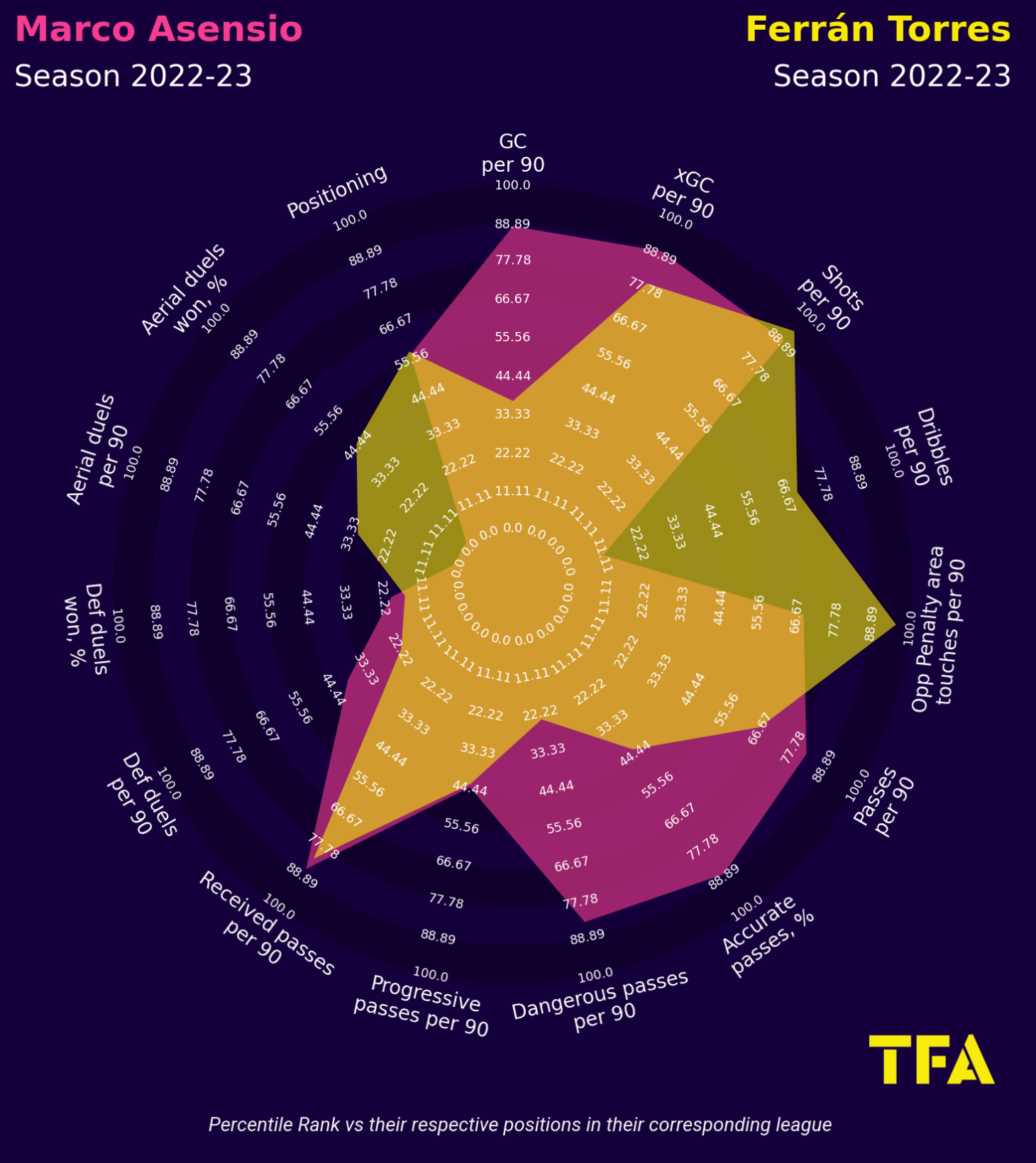 The visual above compares the radars of Marco Asensio and his Spanish teammate Ferran Torres. Barcelona signed Torres last season, but the youngster has not managed to produce the numbers for the side. Statistically, Asensio has produced better results in passing accuracy, dangerous passes, goal contributions per game, and expected goal contributions, while Ferran has better stats in all other metrics. Asensio could give Xavi an extra attacking option when needed.
Betting Analysis
Asensio's ability to influence the game is reflected in the betting markets as well. If the Catalan side manages to sign the 26-year-old, their odds might decrease in the 1×2 market. Meanwhile, the over/under lines are not expected to see a big change looking at Asensio's current form.
Marco Asensio is a player with incredible quality. He was the main man for Real Madrid under Zinedine Zidane but has found it difficult to get minutes under Carlo Ancelotti. Whether he will move to their archrivals is not clear, but if he does, Barcelona will be glad to sign a player of his calibre for free.
Visuals via TFA data viz engine