When Ronald Koeman began the 2021/22 season, there was a player that he insisted played for Barcelona. His countryman and Netherlands forward Memphis Depay was brought in from Olympique Lyon, and the move proved to be an instant hit as the forward racked up 12 goals from 28 games and ended up as their top scorer. However, ever since the appointment of Xavi as the coach, Memphis has found it difficult to get game time. While it is true that Depay had a poor finish to a season that started brilliantly last year, he proved that he has the right pedigree to play for Barca with his ability to combine with other players and leave defenders dumbfounded with his quick turns. But ever since the start of the season, Memphis has played only two matches in La Liga, and with his other left-wingers failing to produce goals, the question arises as to why Memphis is still on the bench. Therefore, we look at some of his stats to understand why he deserves more game time.
Good dribbler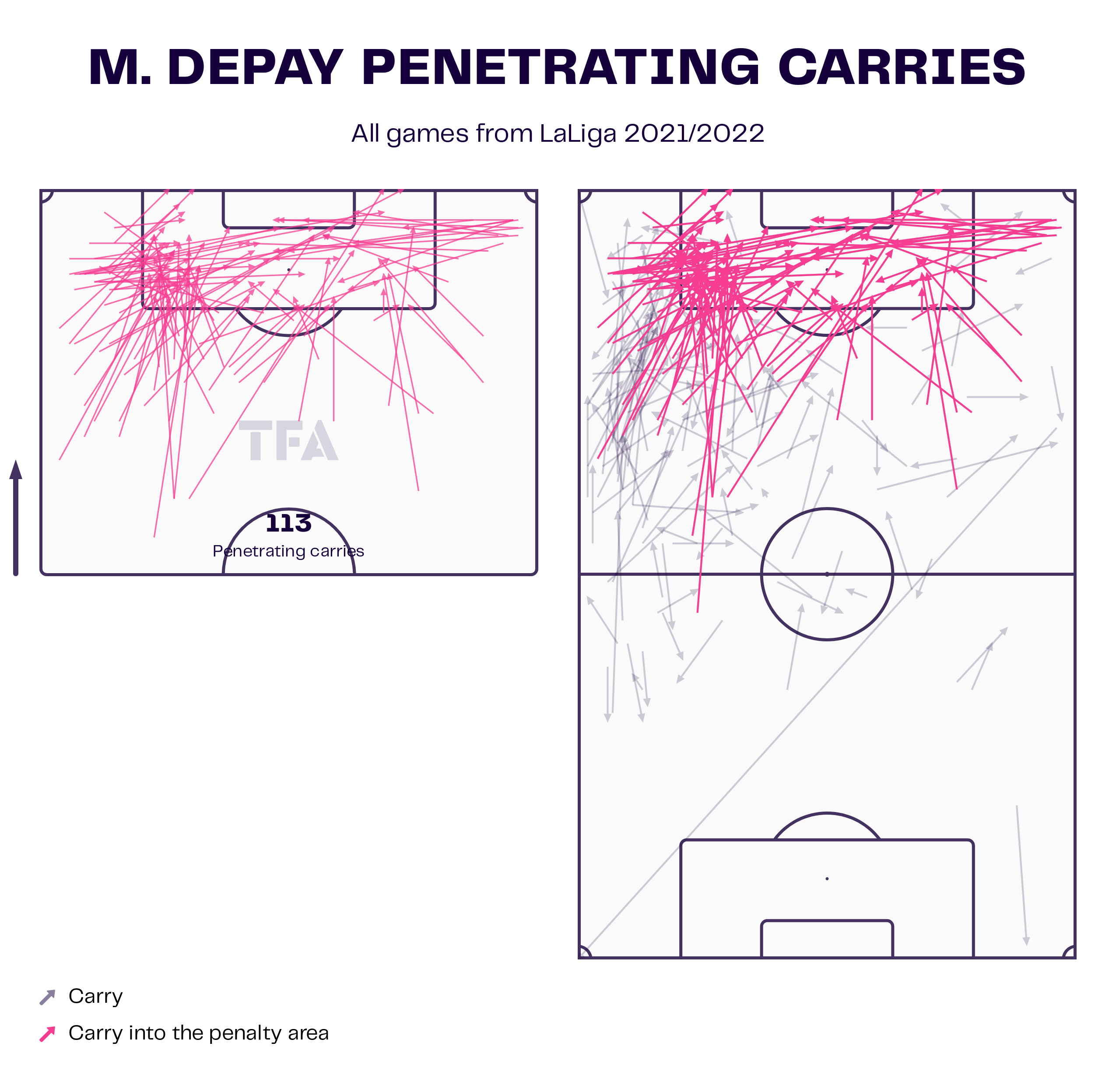 The above visual shows the penetrating carries made by Memphis Depay in the previous season of La Liga. He made 113 penetrating carries last season, making an average of 5.89 dribbles per game with 56.4% success. He was instrumental in Barcelona's good start to the season and scored many goals. He is capable of carrying the ball himself and combining it with other players to take the play forward. On top of the dribbles, he also made an average of 3.01 progressive runs per game.
As a winger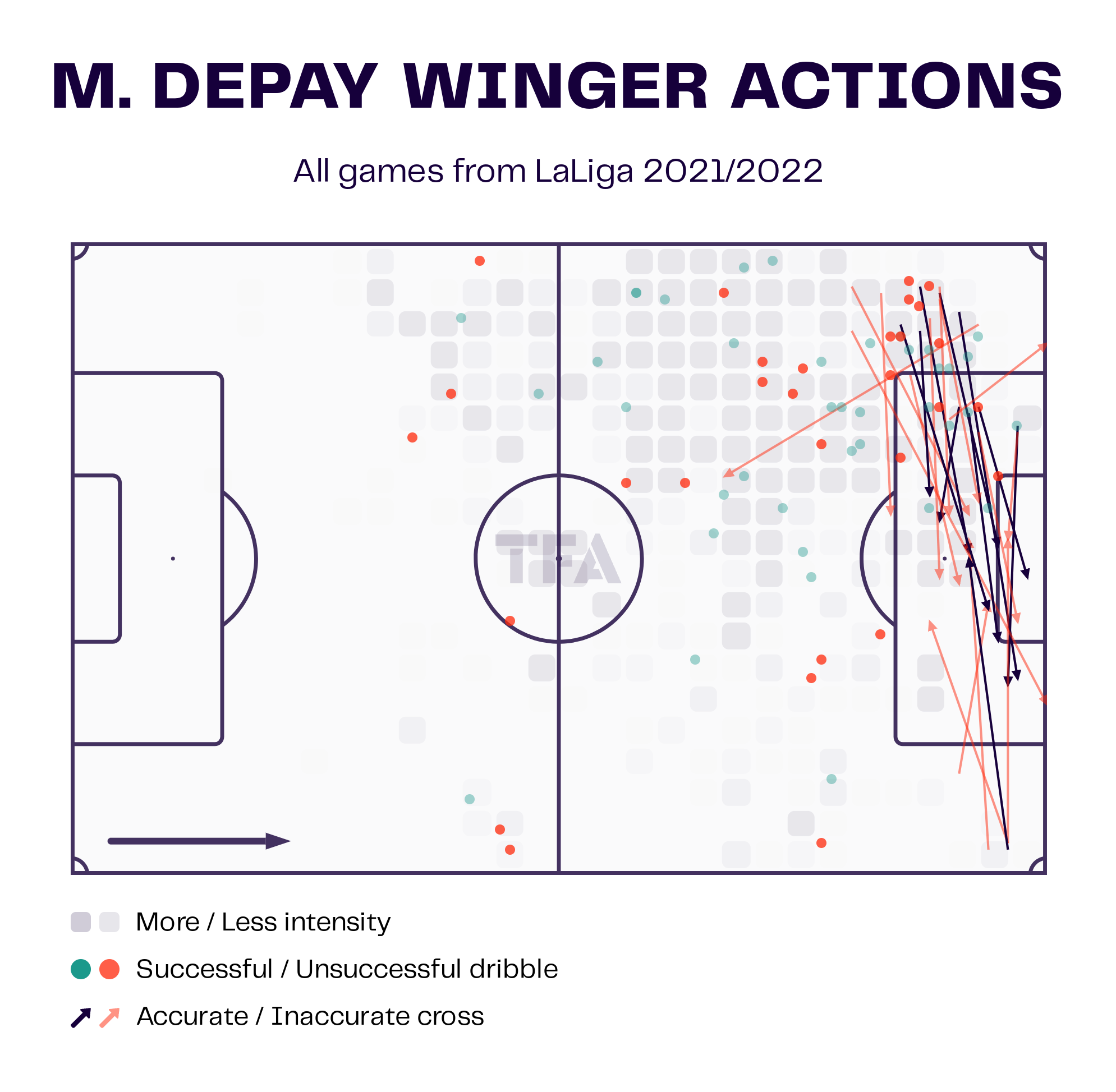 Even though Depay is a natural centre-forward, he can play as a winger too. As a winger, Depay has taken on players 1v1 and also cut inside to attack the goalpost. He was one of the very few who was not shy about taking players on. Last season, he took part in an average of 14.7 offensive duels and won 41.3% of them. Moreover, he can also provide some crosses into the box, averaging 2.35 crosses per game with an accuracy of 39.6%.
Finishing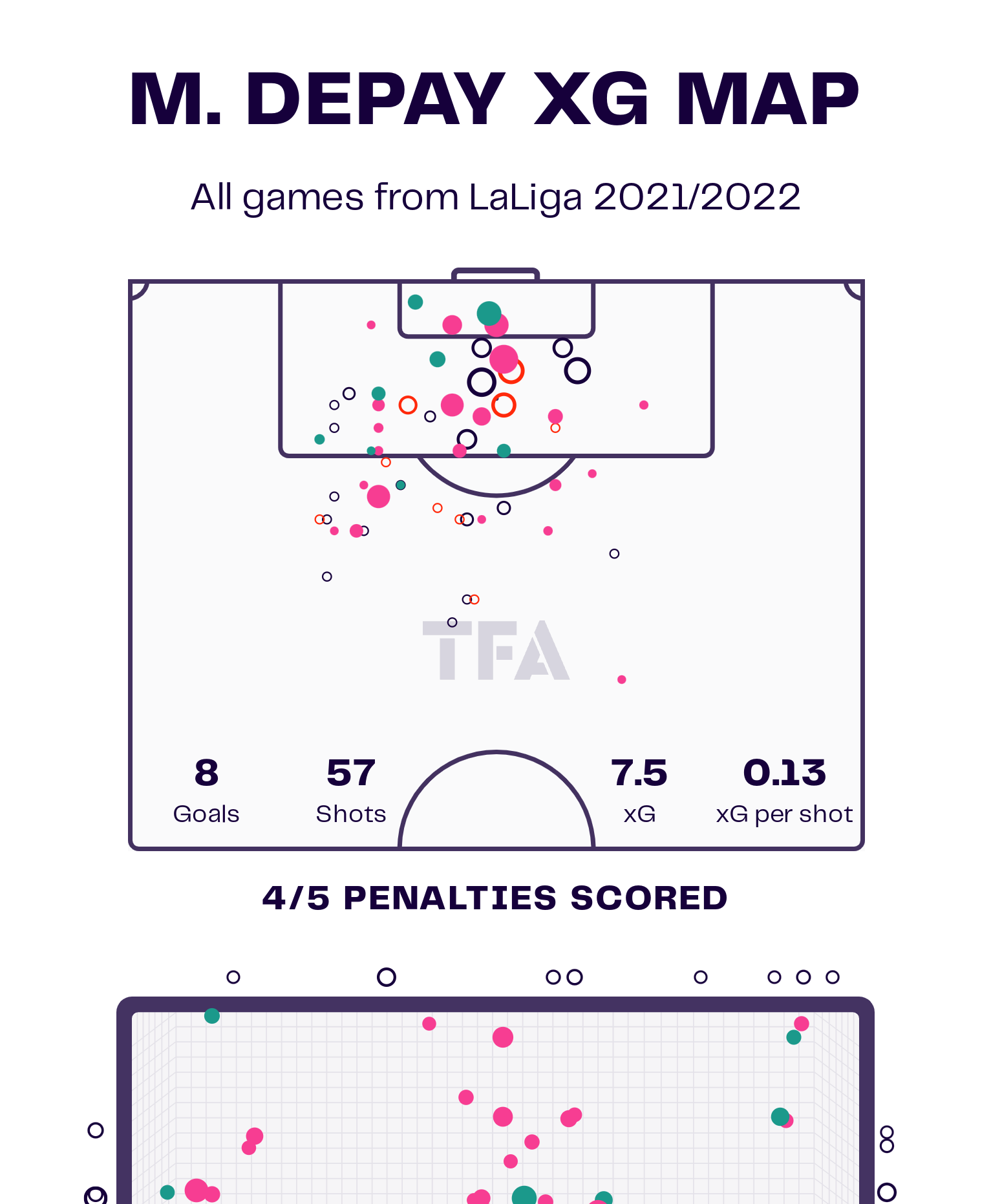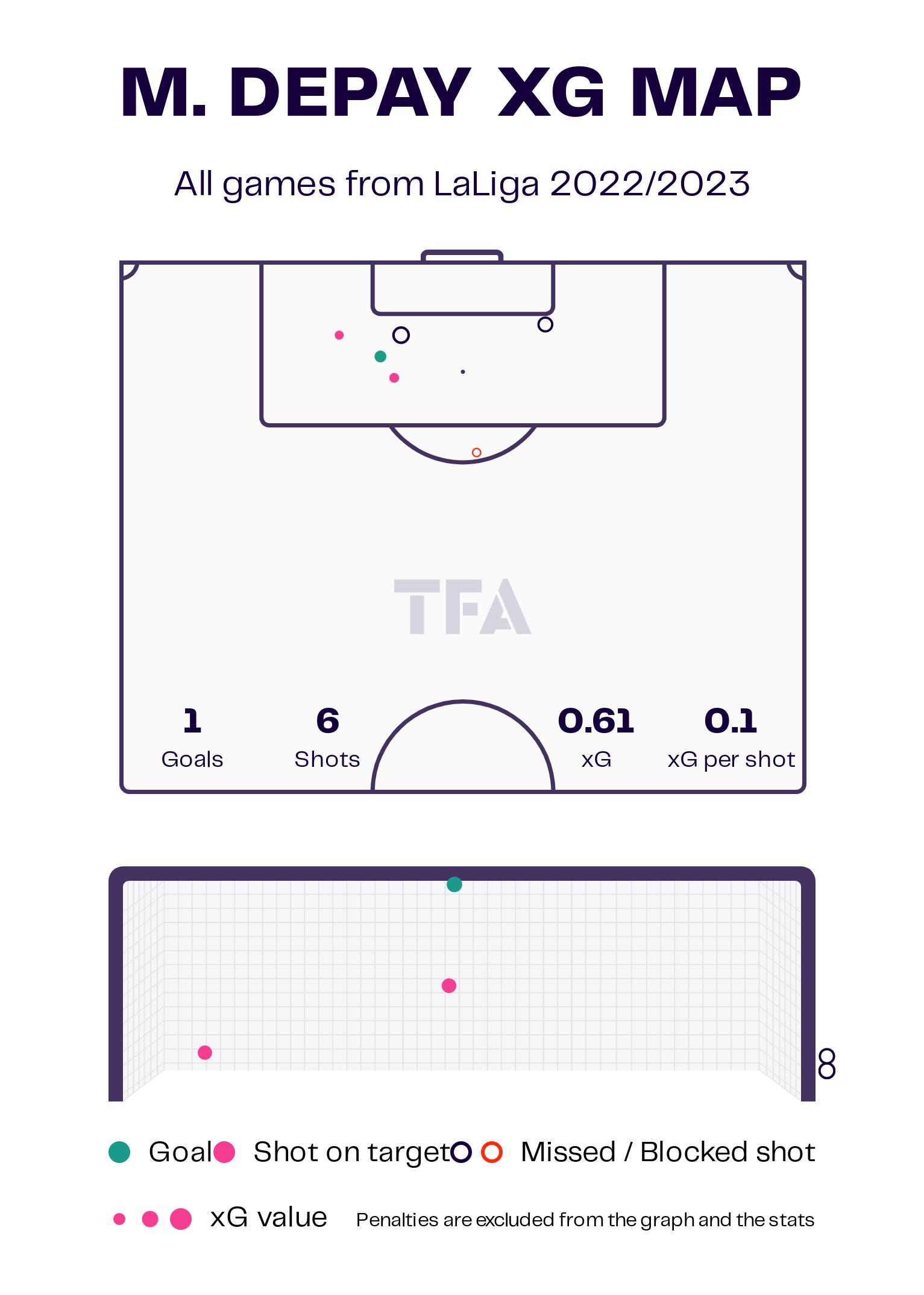 The two visuals above show the xG maps of Memphis Depay from the previous season and the current season. This season, he has only played two matches in La Liga and has one goal against him. He tried an average of 1.27 shots per game with an accuracy of 33.3%.
But Memphis was Barcelona's go-to man last season, with 12 goals to his name from 57 shots. He scored eight goals from open play and four from penalties. Out of the 57 shots, 24 were on target, and eight were converted. He had an xG of 7.5, which he exceeded comfortably. With an average of 2.74 shots per game and an accuracy of 54.8%, Memphis constantly threatened the opposition goalpost.
Should Depay be the first-choice left winger?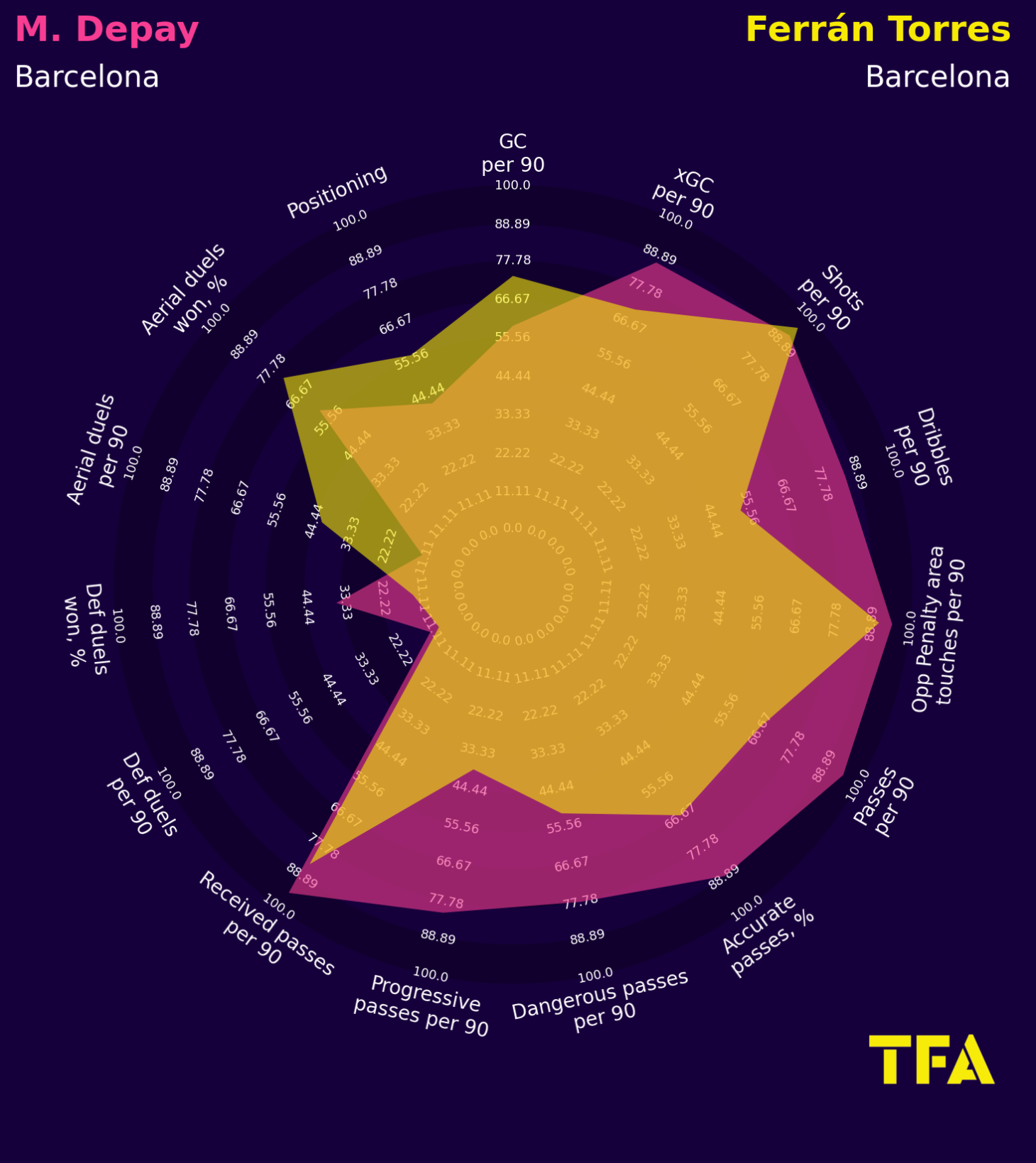 The above visual compares the radars of Memphis Depay and his teammate at Barcelona, Ferran Torres. Ferran is Xavi's first choice on the left wing. Even though Ferran has the qualities to combine with other players and make good runs, he has found it difficult to produce the numbers. He has only two goals from 14 matches, and the lack of goals from wingers is hurting Barcelona. Statistically, Memphis has better numbers in passing, dribbles, expected goal contributions, and defensive duels won. Ferran Torres has better stats in aerial duels, goal contributions per game, and shots per 90 minutes.
Betting Analysis
Memphis Depay will have a role to play in the next three matches as Robert Lewandowski will have to sit out due to suspension. Therefore, even though Memphis is an established player himself, the fact that he is replacing Lewandowski will increase Barcelona's odds in the 1×2 market.
Memphis Depay had to sit out a major part of the season due to a thigh injury. However, as the team's striker, he will play a significant role in the upcoming matches and will be looking to capitalise on his opportunities. His versatility to play either as a winger or a striker will help Xavi rotate the side well.
Visuals via TFA data viz engine