Villarreal have one of the best centre-backs in the world in Pau Torres. The 25-year-old, with his awareness, ball control, and composure, gives Villarreal an assured presence at the back. However, he was not given a chance to play for Spain in the World Cup. Torres, who grew up through the ranks of Villarreal, has been playing for the "yellow submarine" for the past five seasons. Standing tall at 1.9 metres, the left-footed centre-back is an important part of Villarreal's defence. Therefore, we take a look at his stats to understand what makes him one of the best defenders in La Liga.
Performance this season
Pau Torres has made 14 appearances this season in La Liga. The above visual shows the percentile rank of Pau Torres compared to other left-centre-backs in La Liga. As the pizza chart suggests, he is ranked in the top 96.7 percentile for dribbles per 90. He has good passing stats and is ranked in the top 87 percentile for passes per 90 minutes and the top 96.7 percentile for progressive passes per 90 minutes. Defensively, he is ranked in the top 67.7 percentile for defensive duels won and the top 51.6 percentile for aerial duels per game.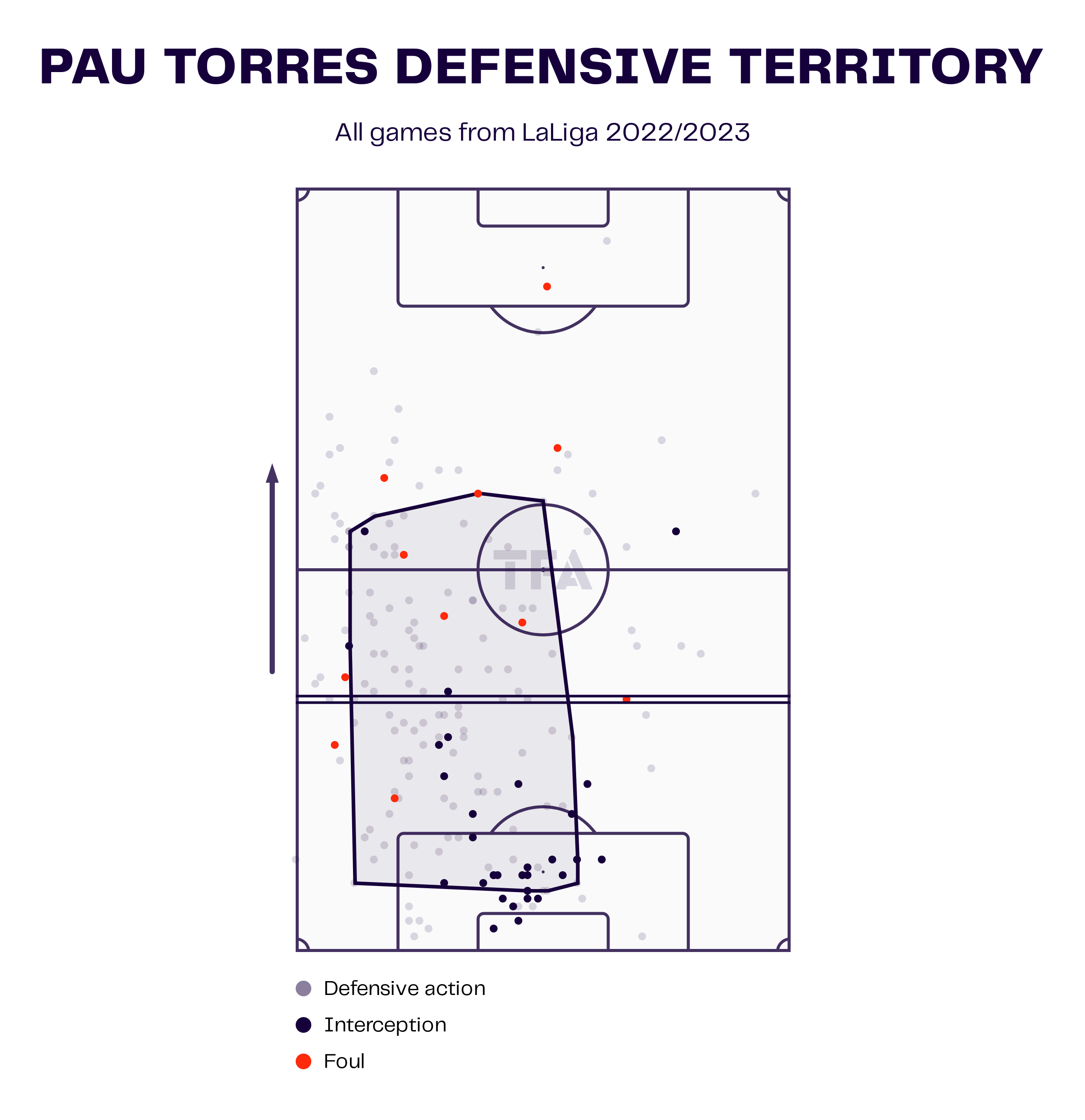 The above visual shows Pau Torres' defensive territory in La Liga this season. As always, he has been solid at the back this season and has made around 4.09 defensive duels per game with 70.7% success and around 3.39 aerial duels with a 35.4% success rate. Moreover, he makes around 4.37 interceptions per game. Playing as a left centre-back, Torres makes some important tackles and anticipates the game well. He is an excellent defensive partner for Raul Albiol and protects the Villarreal backline.
Passing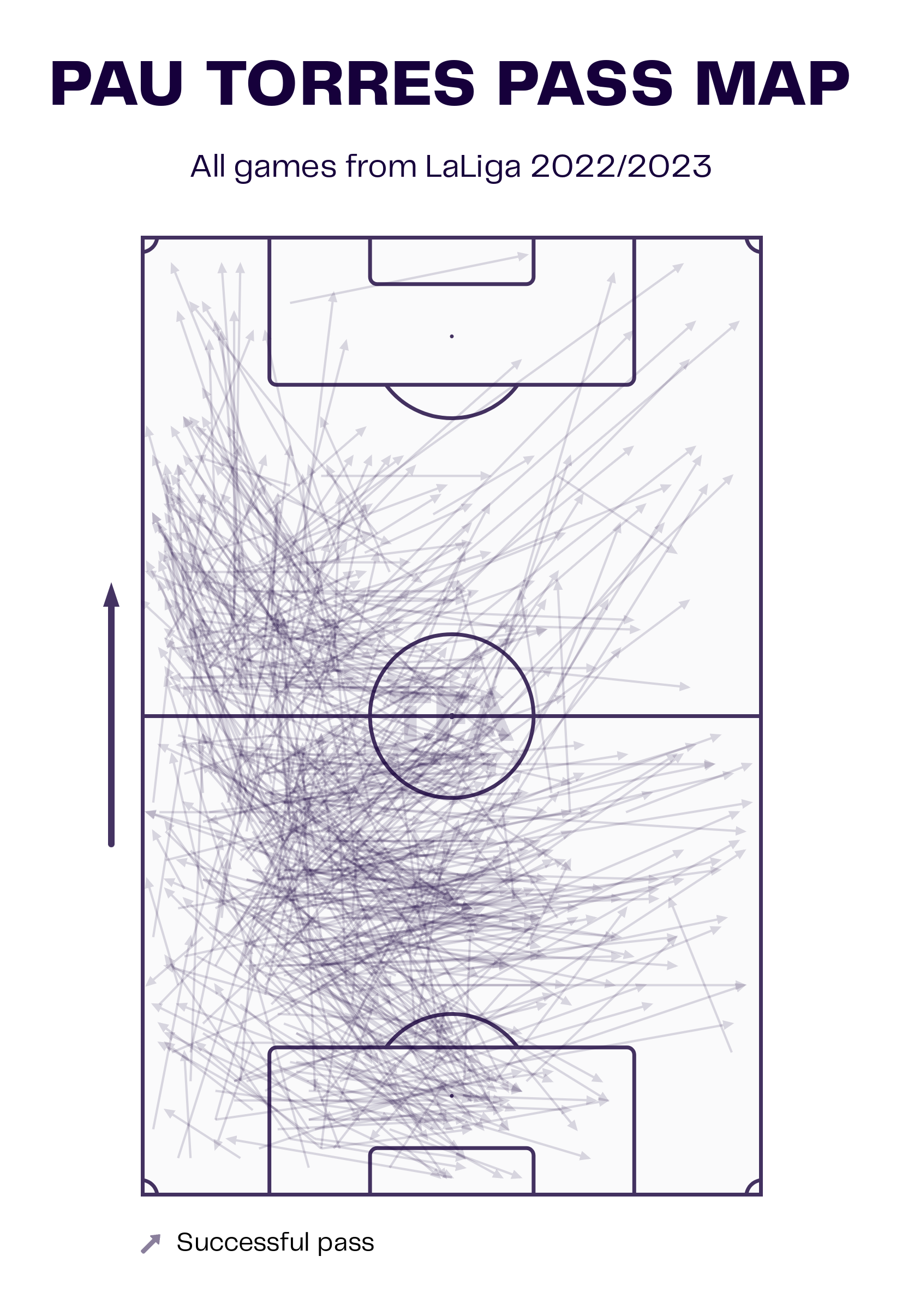 Passing is one of Pau Torres' strong suits. He is ranked in the top 87 percentile for passes per 90 minutes and makes around 50.36 passes per game with around 88.2% accuracy. Torres can play some great long passes, as evidenced by the visual, and averages 6.91 long passes per game with a success rate of 56.1%. This allows Villarreal to switch the attack from one flank to the other. Moreover, he plays around 9.45 passes into the final third per game with a success rate of 71.6%.
Ball Carrying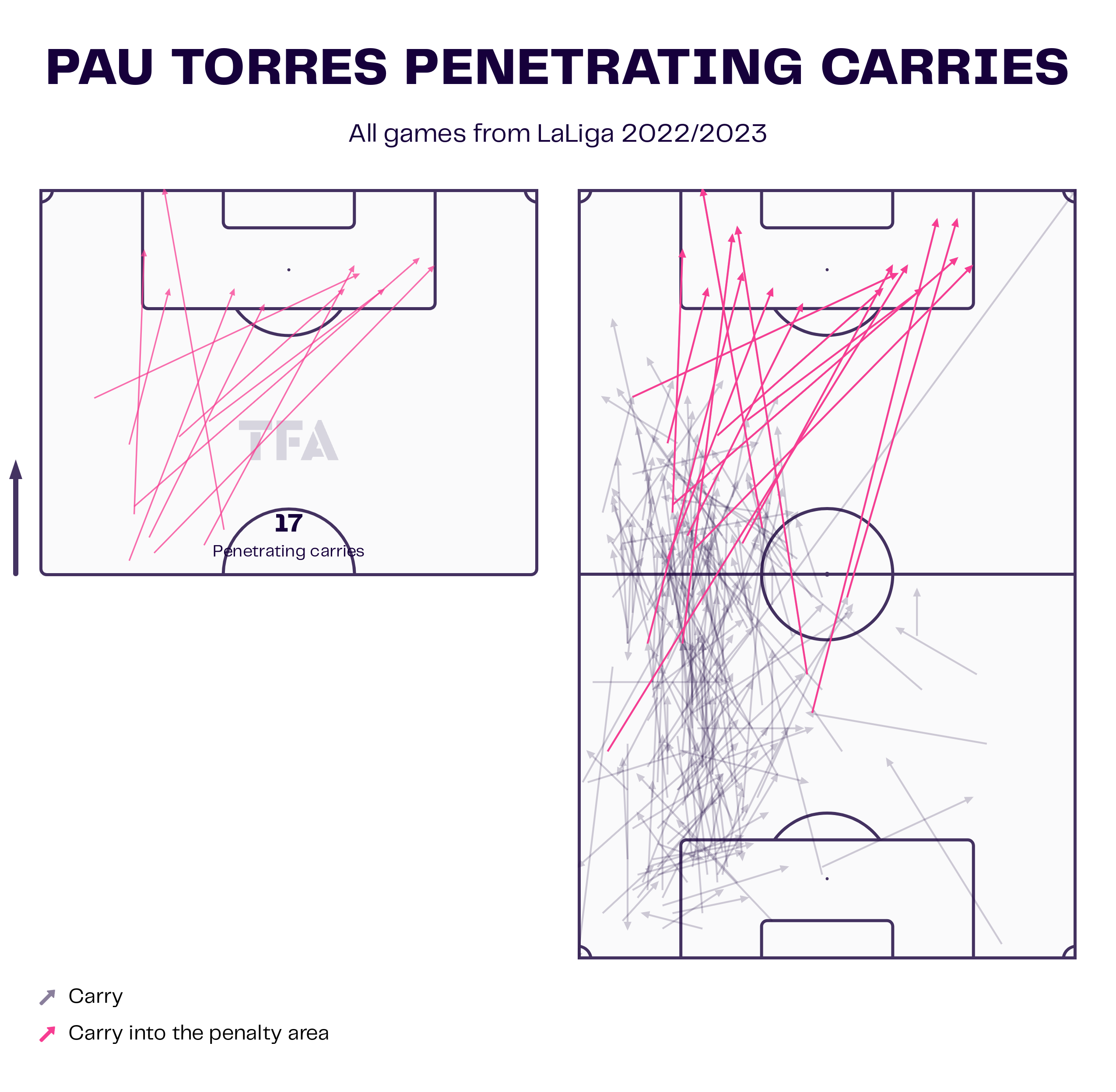 Another quality that makes Pau Torres a desirable player for any manager is his ability to take the ball forward himself. He is capable of carrying the ball into free space and then finding the right pass. Torres makes around 1.34 dribbles per game with 57.9% success. Even though this is not a large number, these runs help to pull the opposition players toward him, thus creating space for his teammates to move into. In addition, he makes around 3.53 progressive runs per game.
Last Season
The above visual shows Pau Torres' defensive territory from the previous season. Last season, apart from being solid at the back, Torres scored five goals and assisted one more in La Liga. His defensive stats have improved from last season. He made an average of 3.64 defensive duels with 68% success, which has seen a rise to 4.09 defensive duels this season. His stats for aerial duels have also seen a slight improvement from 3.15 aerial duels per game last season with 61.1% success to 3.39 aerial duels per game. The same applies to interceptions per game, as the figure last year was 4.31 interceptions per game.
Incredible defensive duo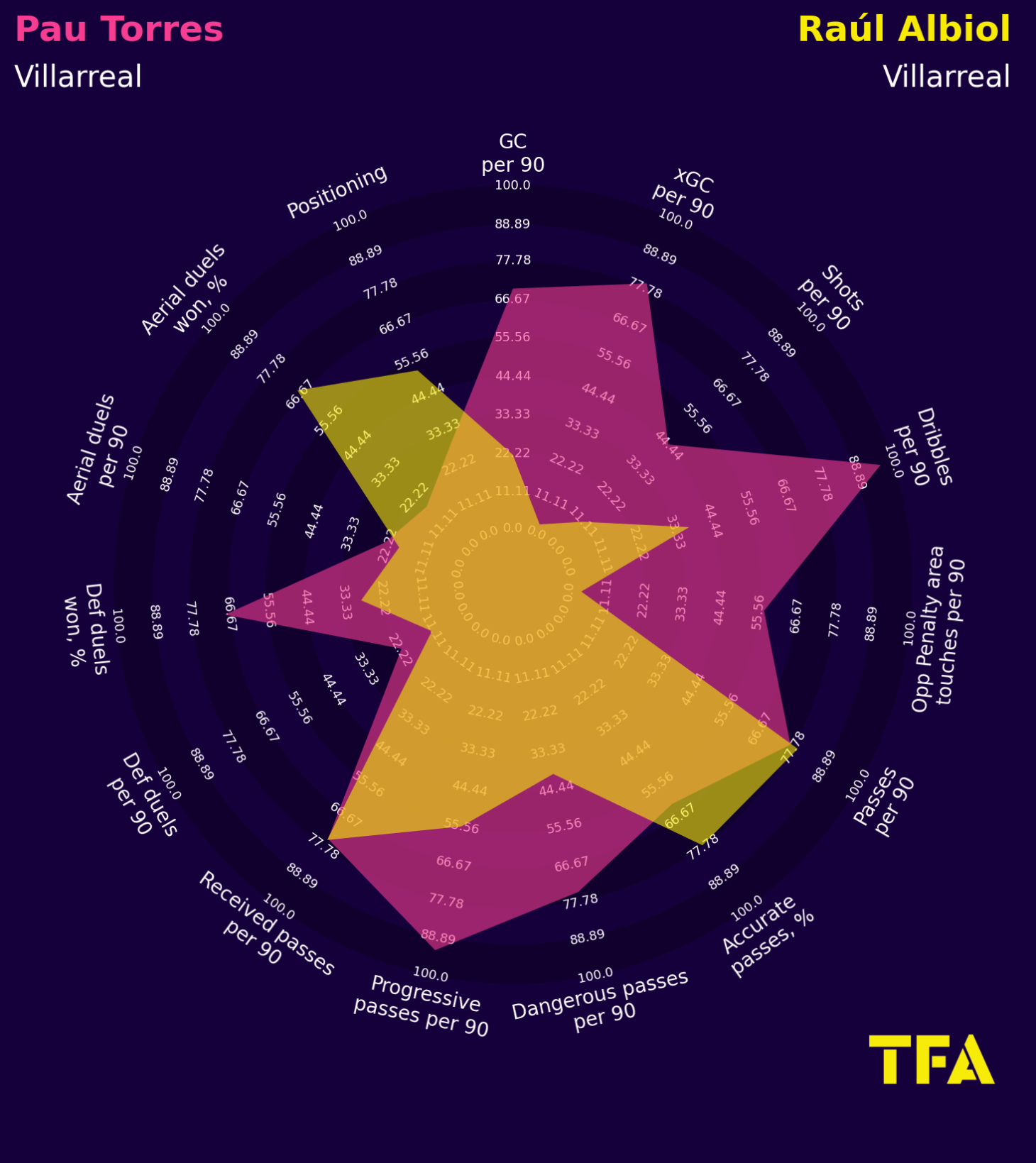 The above visual compares the radars of Pau Torres with those of his defending partner, Raul Albiol. The 37-year-old is well-complemented by Torres, as they form a formidable partnership. Pau Torres has better stats than Raul Albiol in goal contributions, shots, dribbles, defensive duels, and dangerous passes per 90. Raul Albiol has better stats in passing accuracy, aerial duels, positioning, and passes per game. They both have been impressive this season, and Villarreal have only conceded 11 goals this season thanks to the two defenders.
Pau Torres is one of the most underrated defenders and is a huge part of the Villarreal backline. His performances over the years have been crucial for the "yellow submarine." Many experts even believe that he deserved to start for Spain in the World Cup. Whether Spain's fortune would have changed if Torres guarded the backline is something we will never know, but there is no doubt that Torres, with his ball control, passing range, and calm presence, would have done a good job.
Visuals via TFA data viz engine