Rayo Vallecano have had an impressive run in the La Liga 2022/23 season, currently in fifth place and qualifying for the UEFA Europa League. The team, which was promoted from the Segunda Division in 2021, defied the odds in their first season back in the top flight of Spanish football. They finished 12th in the 2021/22 season and also made it to the Cops Del Rey semi-finals. They have played 20 matches so far this season and won nine, drawn five, and lost six matches in their current campaign. They sit in fifth place as of now and face fierce competition from the likes of Real Betis, Villareal, and Athletic Bilbao. Below we look at some of the stats for the team from the current season.
Overall season so far
The above viz shows the percentile rank of Rayo Vallecano in attacking, defensive, and possession stats compared to other teams in Ligue 1. We can clearly observe that Rayo Vallecano are ranked well in attacking stats, especially for expected goals and shots per 90. They are also at the top for crosses per 90. Defensively, they are performing decently in their game in terms of high-pressure success rate and recoveries per 90. They make a fair amount of entries in the final third per 90.
Rayo Vallecano in attack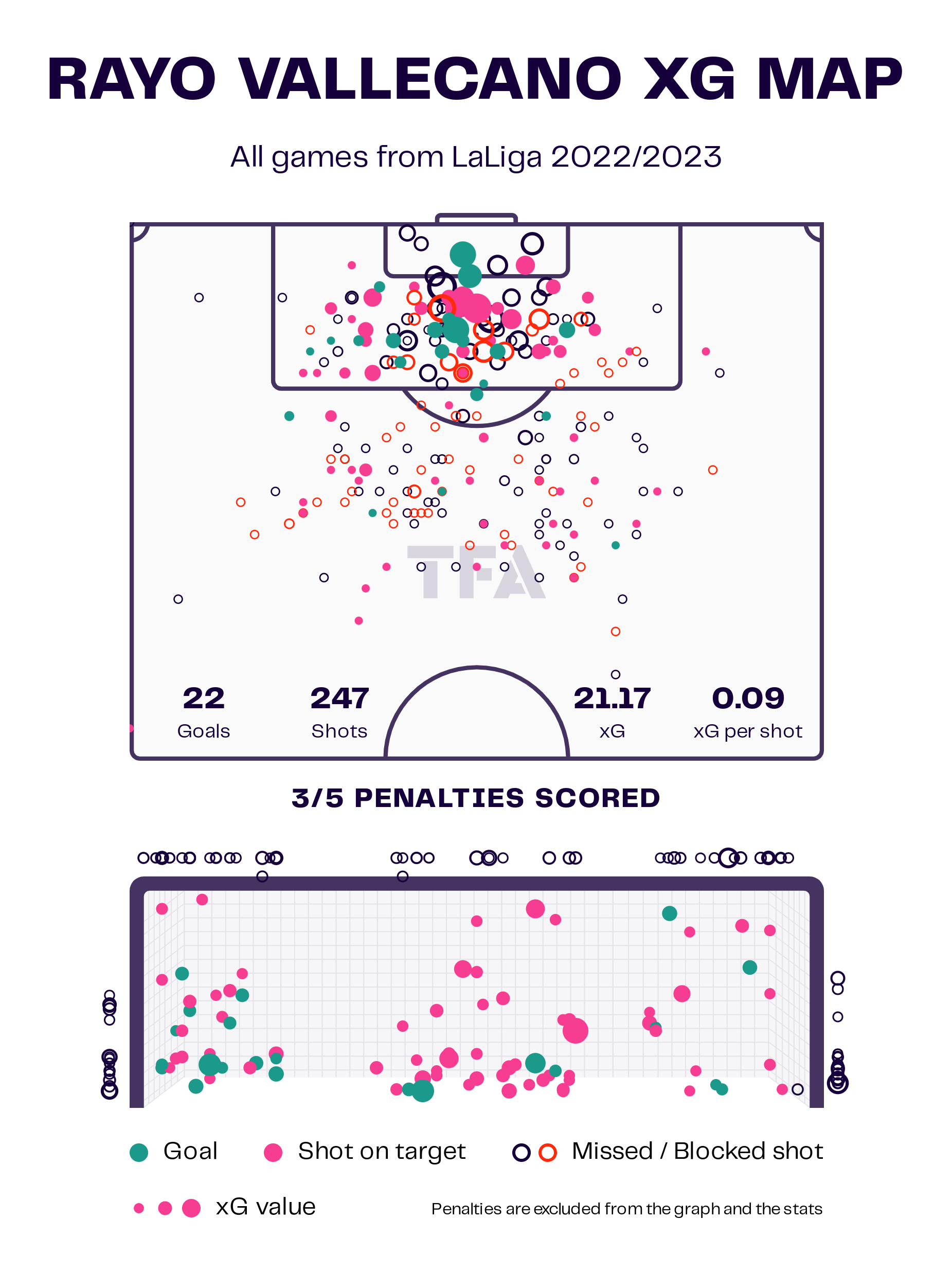 Rayo Vallecano are currently in fifth place in the 2022–23 La Liga, with 32 points from 20 matches played. They have scored 27 goals (21.17 xG) and conceded only 22 goals (20.2 xGA). They have scored most of their goals from around the six-yard box. They have also managed to take quite a few shots on target from outside the box. They are successful in taking shots from hazardous locations inside the penalty box, which raises their xG. Rayo Vallecano have an average xG of 1.25 this season and an average of 35.7% shot accuracy, taking 13 shots per 90 minutes.
Team tactics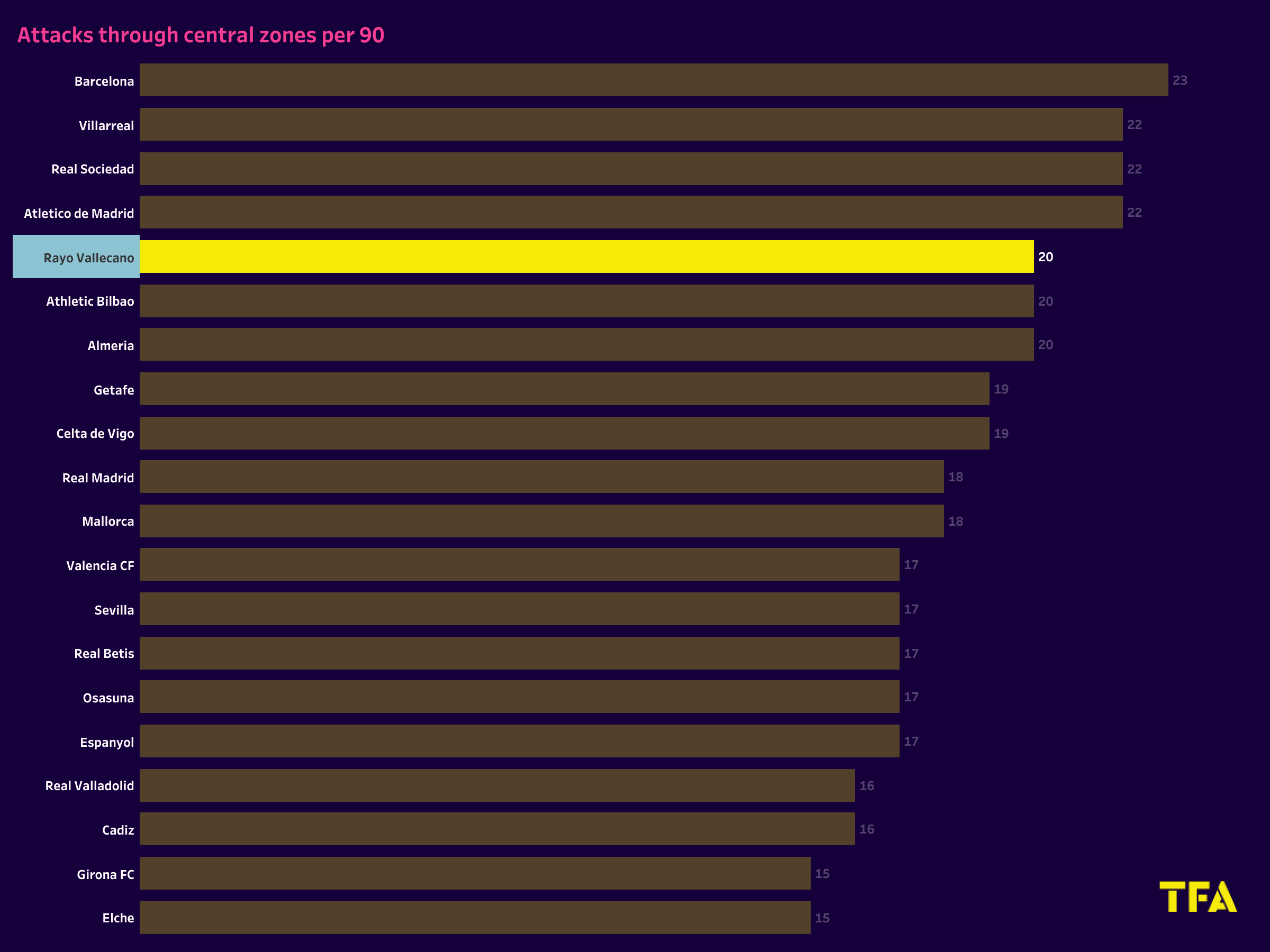 Like most teams nowadays, Rayo Vallecano likes to play out from the back. This is done in an attempt to lure an opposition press so that they can exploit the space left behind the pressing players and allow them to move the ball forward centrally. If the team cannot play centrally, they will build up in the wide areas, which can be seen in the above map for Rayo Vallecano's ball progression in La Liga 2022/23. Rayo Vallecano are currently making 2 counterattacks per 90, with 50.2% of them ending in shots. They perform 31.47 positional attacks per 90, with 40% ending in shots. Additionally, they make 71.75 progressive passes per 90 with 75.7% accuracy. They make 20 attacks through central zones on average, which is the fifth highest in the league.
Rayo Vallecano in defence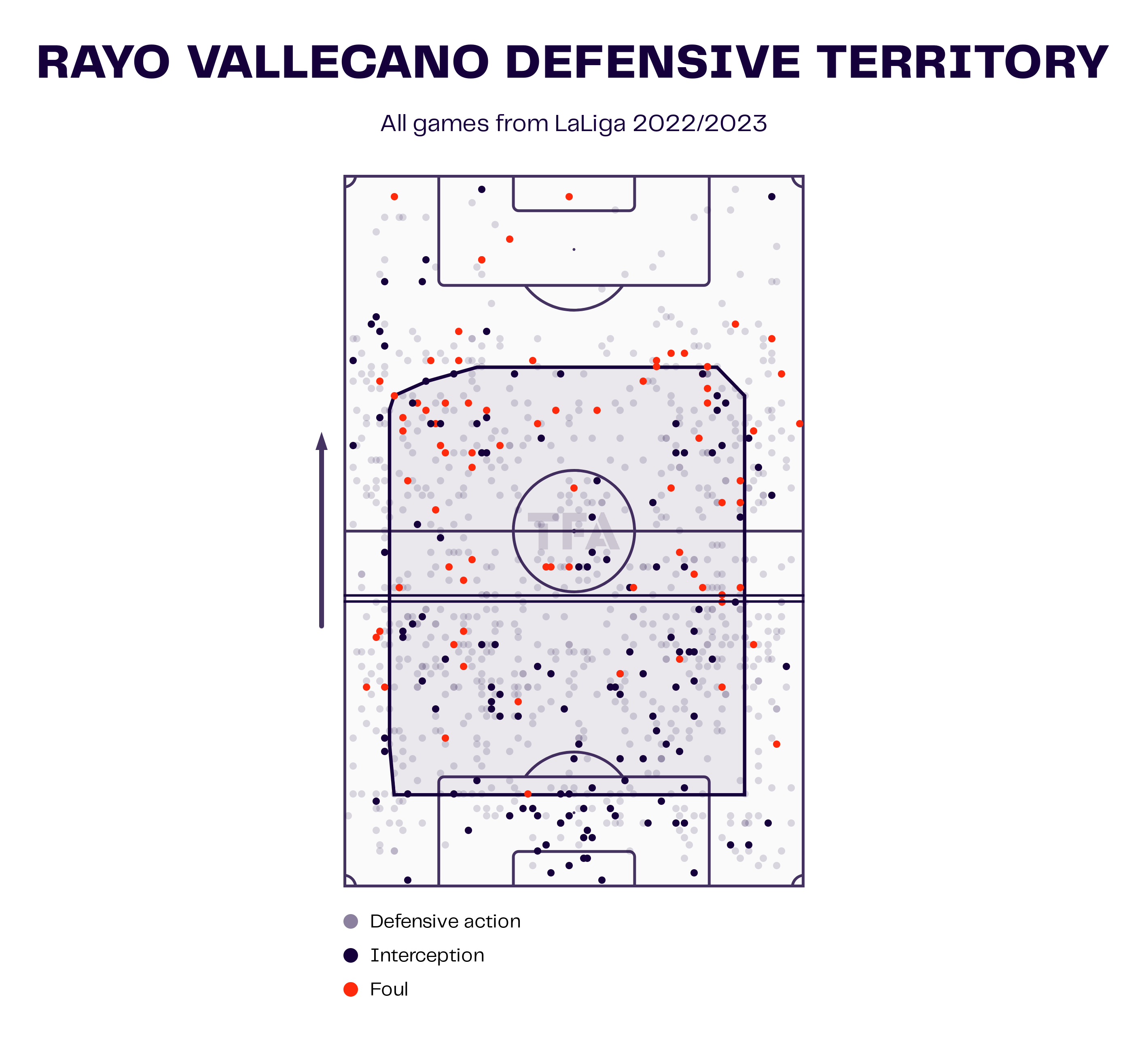 When defending, Rayo Vallecano have played incredibly narrowly in the current season. This is done in order to prevent the opposition from using central passing options. However, it also allowed the team to counter-attack with pace and fluidity when they won the ball back. The graph above depicts the stats for Rayo Vallecano's defensive territory in the current season. They average 41.85 interceptions per 90 and give away 14.65 fouls on average. They won 59.9% of their defensive duels and 43.6% of duels contested in the air. The team averages 47% efficiency in terms of pressing and ranks in the top six in the league for efficient pressing.
Finally, the team's unity and togetherness have been key to their success this season. The players have bought into their manager's philosophy, and this has allowed them to fight for each other on the pitch. Overall, Rayo Vallecano have had an impressive season, and it has been a result of their ability to play with a game plan, their well–balanced squad, and their togetherness on the pitch. If they can continue to play this way, then they could be in for an even better season next year.
Visuals via TFA data viz engine