Real Betis began the season in a good way and secured a spot in the top five of La Liga. However, their season has taken a slight turn as they have fallen into a slump. Betis have only one win in their last five matches and is in sixth place with 25 points from 15 matches. This recent slump in form could end up costing them European qualification if they do not change their results soon. Therefore, we look at some stats to understand the recent slump in their form.
Performance so far
Betis have won seven, drawn four, and lost four matches this season and is in sixth place with 25 points from 15 matches. But in their last ten matches, they have only won three matches.
The above visual shows the percentile rank of Real Betis compared to other teams in La Liga. They have decent stats in all departments, as we can observe from the pizza chart. Betis is ranked in the top 42.8 percentile for goals per 90 minutes. However, they do not have good statistics in terms of shots per 90 minutes or entries into the opposing zone. Betis have decent passing stats, is ranked in the top 52.3 percentile for accurate passes, and keeps decent possession as well. Defensively, they are ranked below average for high press success and recoveries per game.
Attack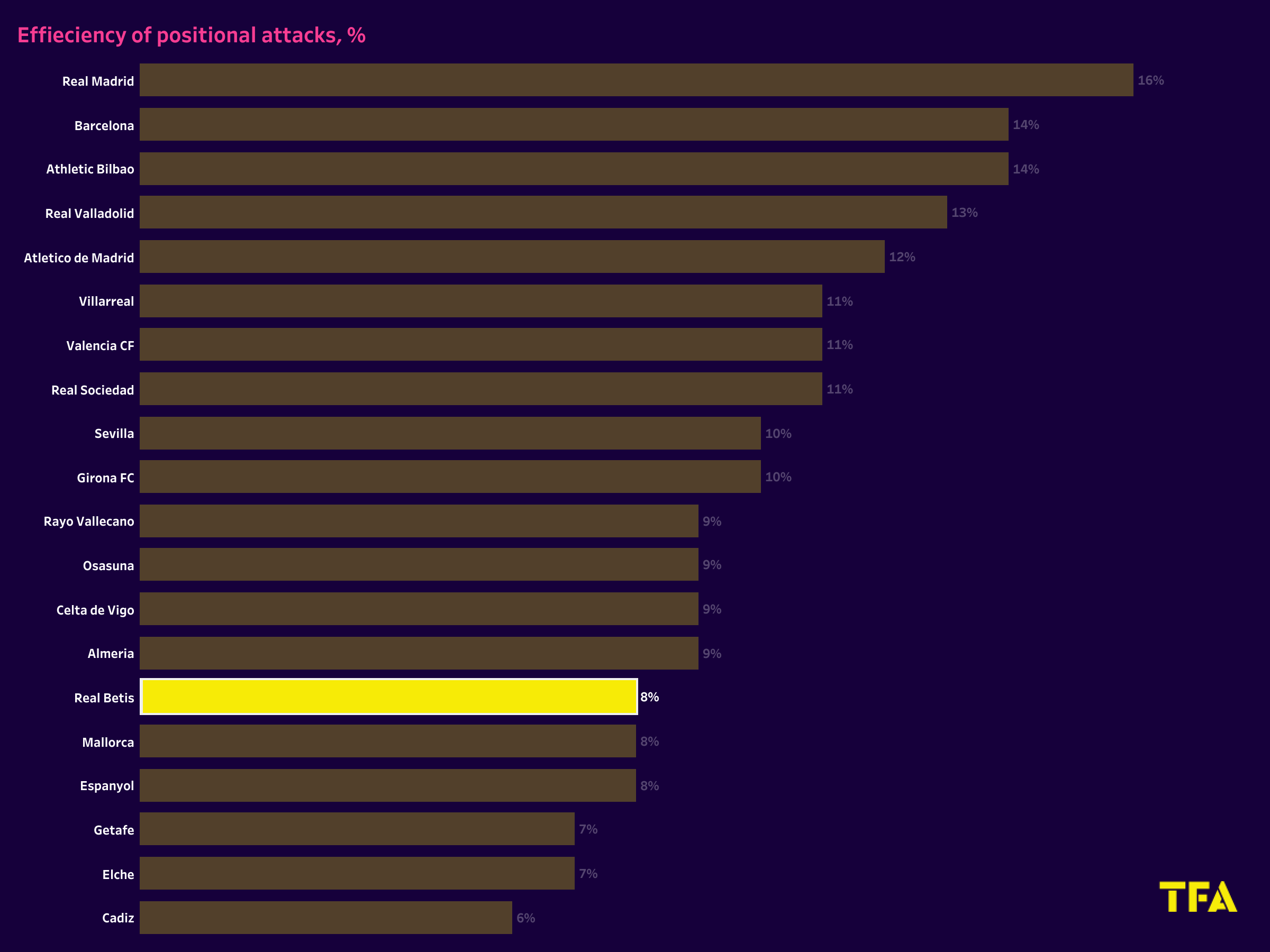 The above visual shows the efficiency of positional attacks by different teams in La Liga. Betis are in the bottom half with a mere 8% efficiency. They have launched an average of 25 positional attacks per game, with 20.3% of them leading to shots. But in the last five games, it has decreased to 22.4 positional attacks per game. Out of these, only five per cent of the attacks have led to shots.
As a result of the decrease in efficiency of positional attacks, the goals have also dried up. This season, Betis have scored 17 goals at an average of 1.25 goals per game. They average 9.8 shots per game and hit 36% of them. But in the last five matches, they have scored only three goals from 46 shots. This shows a lack of finishing from their players. This has affected them, as they have ended up conceding more than they have scored. In the last five games, 17 shots were on target with an average of 9.2 shots per game.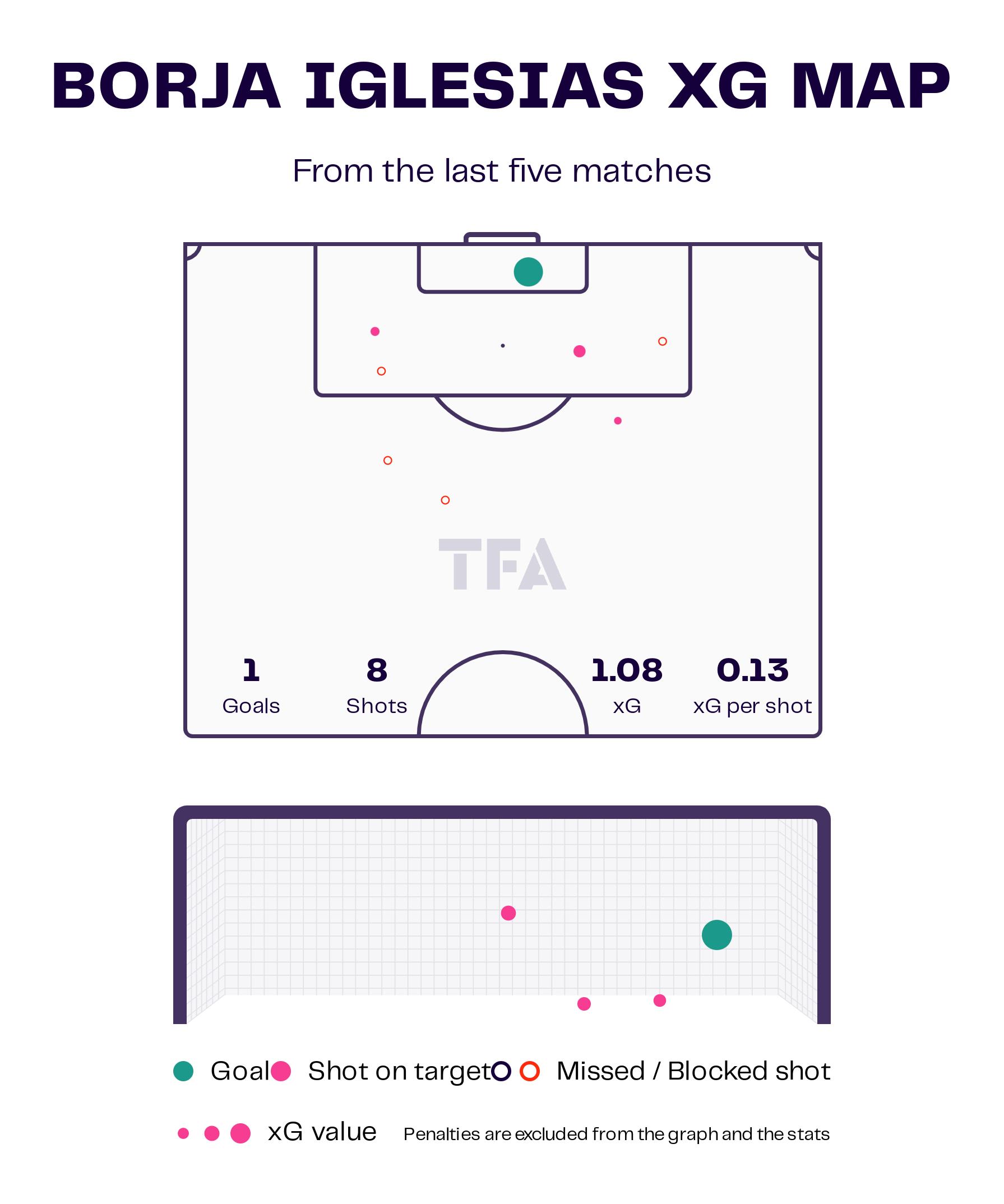 Borja Iglesias is Betis' main man going forward. The forward has scored eight goals this season and has scored the second-most goals in the league. But in the past five games, he has also struggled to find the back of the net. Iglesias has only scored one goal in the last five matches from a total of eight shots. A sudden drought in goals from their main man has left Betis clueless.
Defence

Defensively, Betis has done considerably well. They have only conceded 12 goals from 15 matches, making them one of the teams to concede the least number of goals. Only Barcelona and Villarreal have conceded fewer goals than Real Betis. They have conceded six goals in the last five games.
The above visual shows Real Betis' defensive territory in the current season of La Liga. As we can see from the visual, they have made many interceptions across the length of the pitch and have been defensively disciplined. They have made an average of 65.73 defensive duels per game with a success rate of 61.9%. Moreover, they make around 39.6 interceptions per game. These interceptions have taken place in some crucial places, which have helped them prevent further attacks.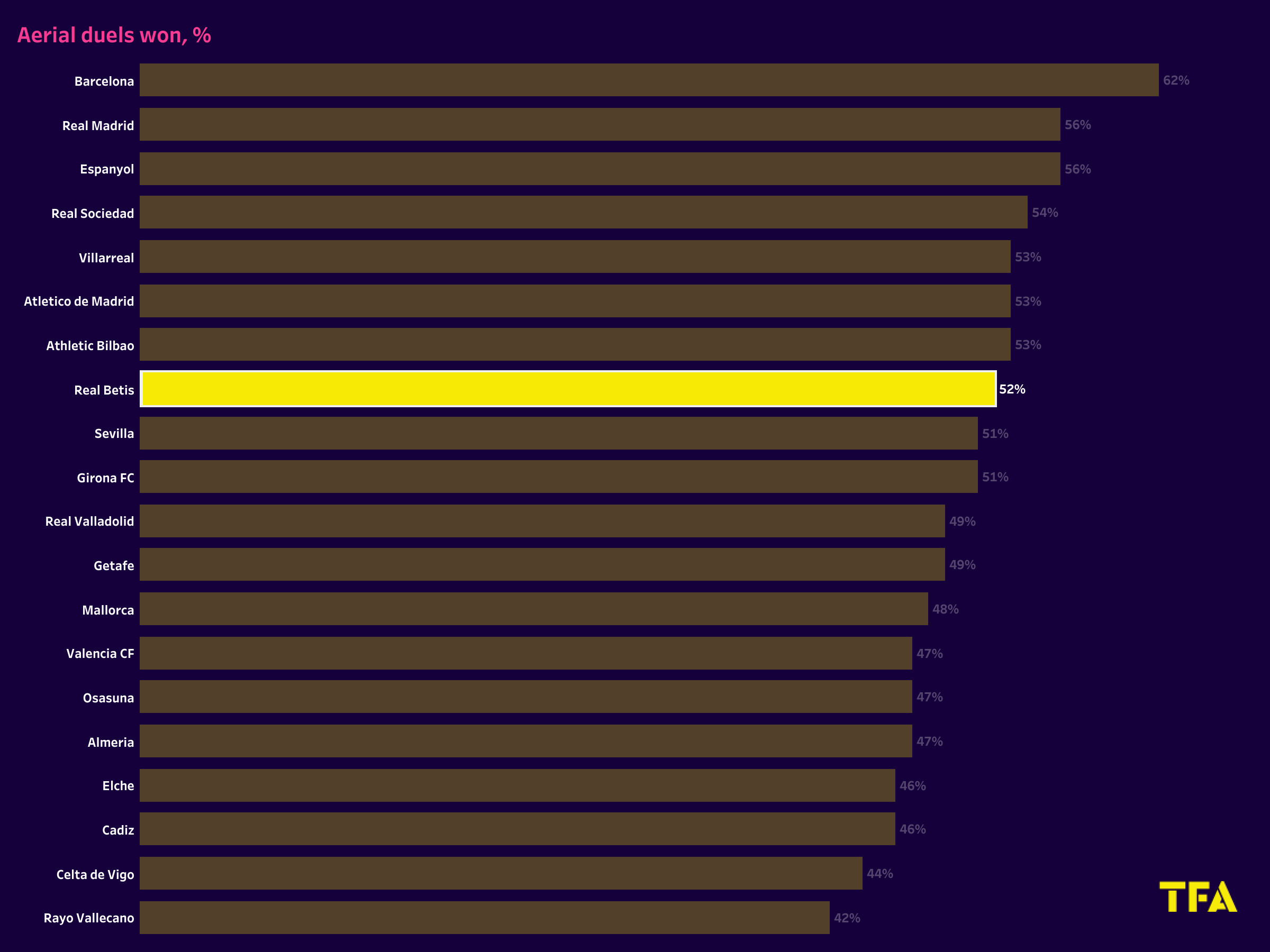 Apart from the defensive duels and interceptions, Real Betis makes around 28.87 aerial duels per game with a success rate of 52%. They are eighth on the list of successful aerial duels and have dealt well with aerial balls. In the last five games, though, the average number of aerial duels has dropped to 23.4 duels per game.
Alex Moreno is one of Betis' best defenders this season. With over 69 interceptions, he has kept the backline of Real Betis strong. He has won 62% of the aerial duels he has participated in and is one of the bright spots in their camp at the moment.
Betting Analysis
With only one win in the last five matches, the odds have changed for Real Betis. Looking at the 1×2 market, their odds could go up considering their poor form. While over/under lines will also see a dip as they have failed to score goals recently.
Real Betis' slump is mainly due to their inefficiency in the final third. Their defence has not been that bad and has done a decent job. But when the forwards miss their chances too often, they invite trouble and leave very little to nothing for the backline to defend. Manuel Pellegrini will be urging his players to produce better results in the coming matches before it gets too late.
Visuals via TFA data viz engine