Real Betis have enjoyed a remarkable start to the La Liga 2022/23 season. The team finished fifth last season, has already topped their Europa League group and is well positioned to advance further in the competition. Real Betis' head coach, Manuel Pellegrini, has been able to fine-tune his players into a talented and well-drilled bunch of footballers and has injected plenty of his experience into their playing style and displays on the pitch. Overall, Real Betis have found a way into European contention through a combination of clever management, astute signings, and clever use of the transfer market. This has allowed them to compete with the biggest teams in Spain and to make a mark on the European stage. Below are some of the stats for the team from the current La Liga season.
Real Betis' overall season
The above viz shows the percentile rank of the team in comparison to other teams in La Liga. It can be observed that Betis are fairly ranked in the division. In terms of attacking numbers, they are in the lower half of the distribution. In terms of defence, the team has managed to keep eight clean sheets so far in the 2022–23 La Liga season.
Overall, Betis is sitting in the fifth spot even though their rank in terms of stats is comparatively average in the league. This goes to show that the team has managed to pull the strings on the pitch in terms of bagging points by scoring winners.
Betis in front of the goal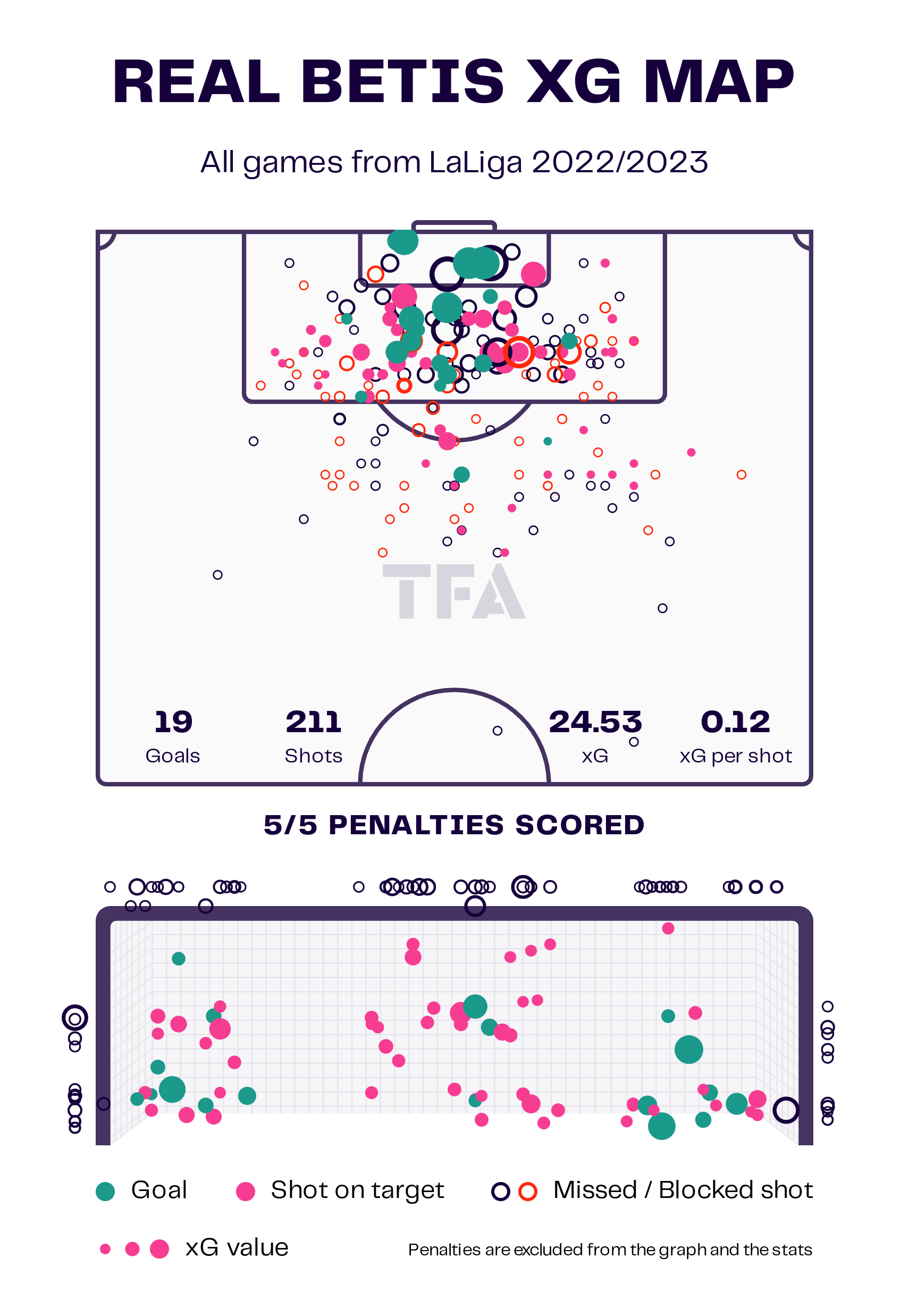 Betis are currently in fifth place in the 2022–23 La Liga, with 34 points from 21 matches played. They have scored 24 goals (24.53 xG) and conceded 22 goals (22.2 xGA). They have scored most of their goals from around the six-yard box. They have also managed to take quite a few shots on target from outside the box. They are successful in taking shots from hazardous locations inside the penalty box. Betis have an average xG of 1.35  this season and an average of 34.7% shot accuracy, taking 10.29 shots per 90 minutes.
Tactics on the pitch- why they are contenders?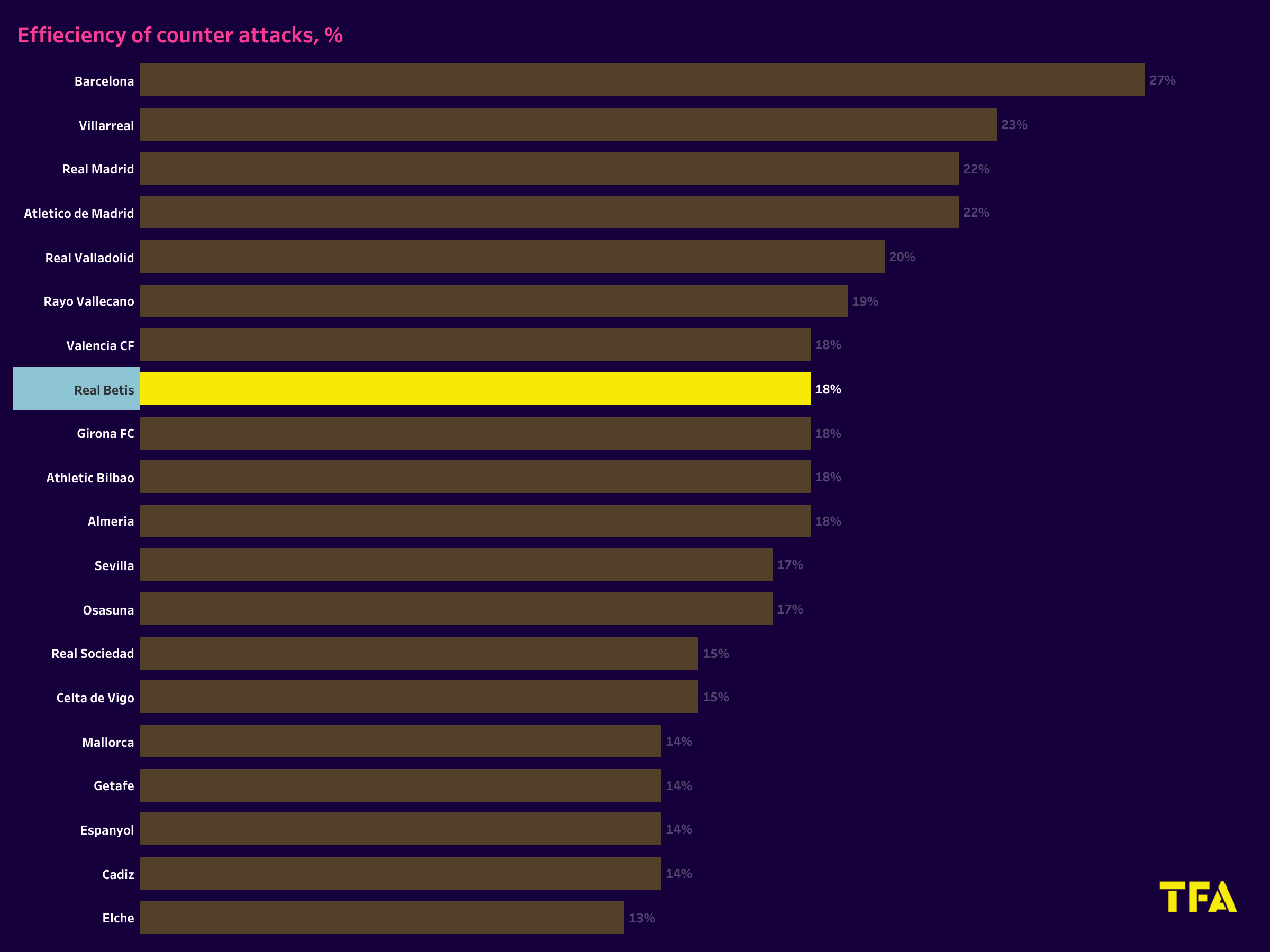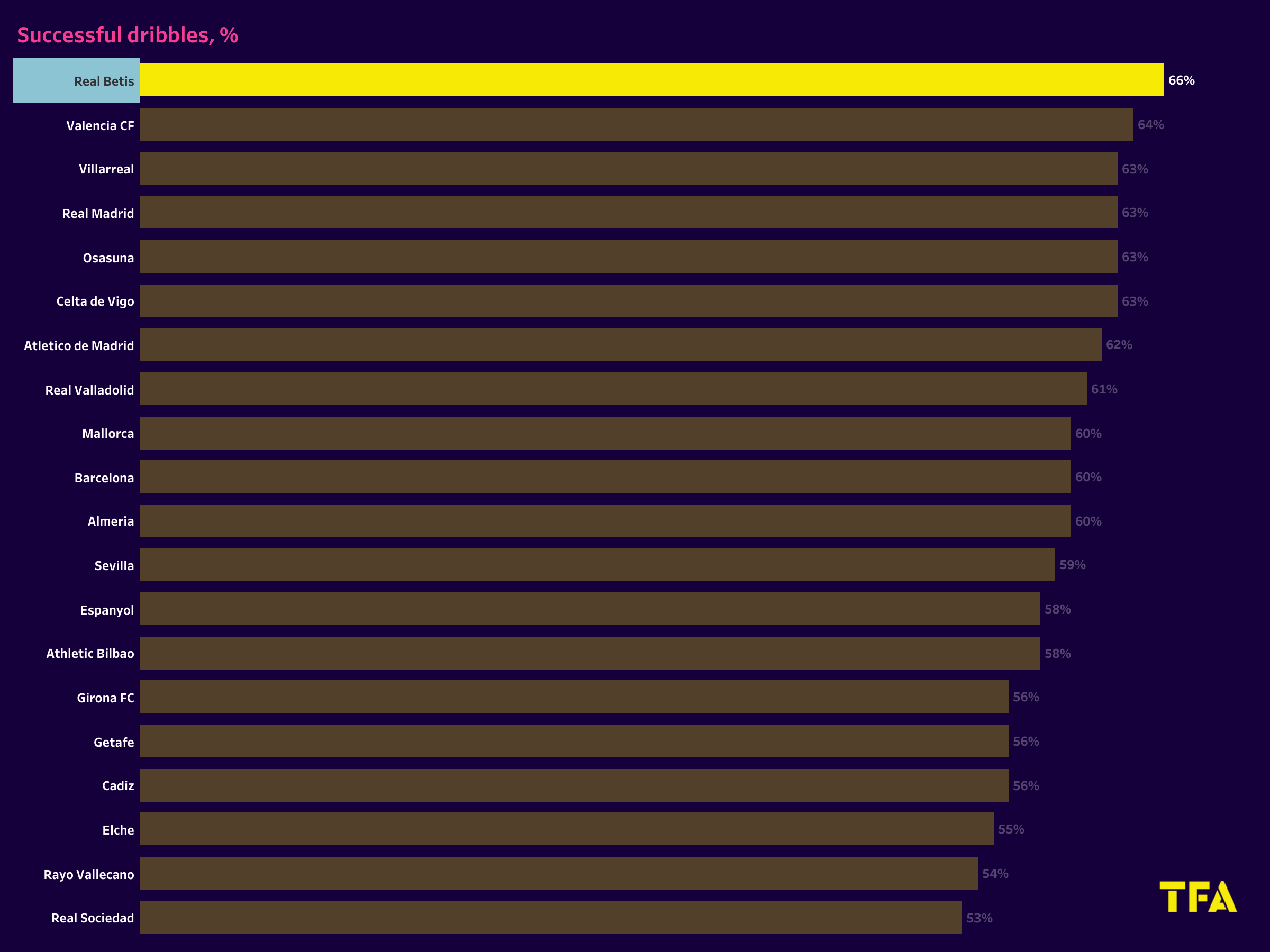 Real Betis have shown a decent ability to make efficient counterattacks. The team ranks eighth in the league in terms of efficient counterattacks, with an efficiency of 18%. The average is 1.33 counterattacks per 90. Additionally, they rank first in the league for successful dribbles per 90, with 66% successful dribbles per 90. They average 425.67 passes per 90.
The team has relied on counterattacking football plenty of times and is efficient in doing so. They have players with the ability to take one on one and beat their man, especially during the counter when the opponents are vulnerable. This goes to show how Real Betis have found their way into European contention, given that some of the favourites in the league are not having the best of the season.
Betis in defence
The graph above depicts the stats for Betis' defensive territory in La Liga in 2022/23. They have 41.05 interceptions per 90 minutes. It indicates that Betis are involved in a lot of defensive actions in the defensive third. The team gives up 13.6 fouls on average and wins 60.1% of their defensive duels. The team concedes 1.37 goals on average, which has been fairly decent compared to other teams in Ligue 1 this season.
Their backline is positioned slightly higher up the pitch. It can be seen that the team has also committed most of their fouls in the middle third owing to their tendency to seek to win midfield duels.
Betis in the attack last season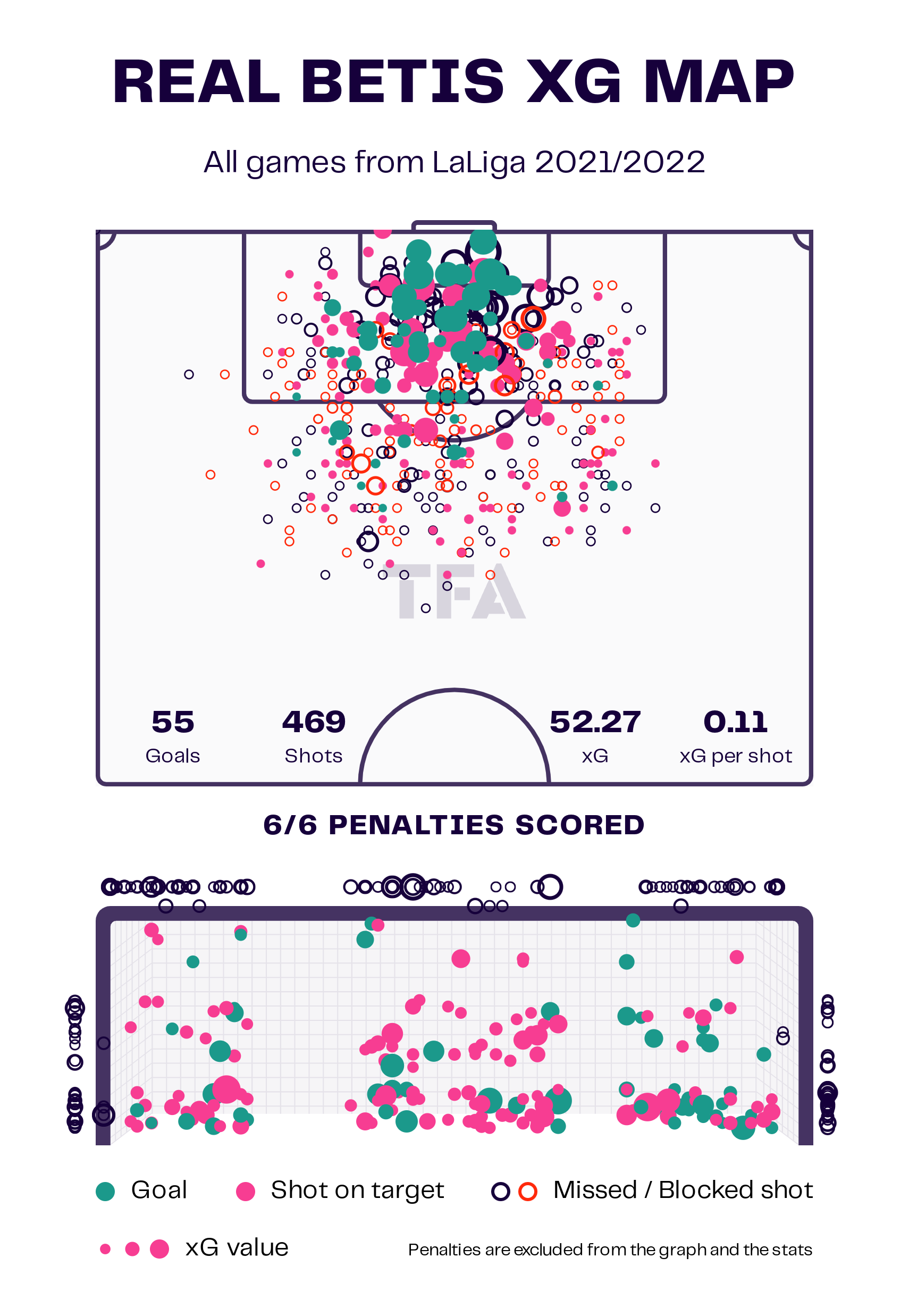 The above viz displays the xG map for Real Betis in their 2021/22 La Liga season. It can be seen that they had a much higher xG as compared to their current season. The team scored 62 goals in 38 matches played and finished with a 52.27 xG overall. They fired 469 shots in total, posing a serious threat going forward. They haven't scored as many this season, but look to be on track to do so given their impressive performances on the pitch and overall consistent displays in terms of their gameplay and attacking style.
Overall, Real Betis have shown some strong performances this season. Recently, they managed to bag all three points against Almeria in a tough game away from home. Beits will be hopeful of pulling off some European magic this season to bring home some epic football action for their fans. They seem equipped for the same based on their current form. It will be a tough race for the club; a long run still awaits, and Betis will have to stay consistent in this run to achieve positive results.
Visuals via TFA data viz engine