Real Madrid will be up against rivals Atletico Madrid in the Madrid Derby at Santiago Bernabeu in La Liga.
Real Madrid's last performance against Liverpool at Anfield was an example of their ability to break down opposition in a short span of time, as the defending champions thrashed the Reds 5-2 after being down by two goals.
Atletico Madrid, on the other hand, have had a good run in La Liga in the new year, Simeone's men haven't lost in their last six outings in the league. The team managed to get past Athletic Bilbao thanks to a 73rd-minute goal from Antoine Griezmann, winning 1-0 at home.
It is expected to be an exciting match between the two teams, with Real looking to close the gap on league leaders and Atletico looking to reclaim their place in La Liga.
We now look at some of the stats for both teams that will help predict the most likely outcome of the match.
Overall performance
Real Madrid sits second in La Liga with 16 wins, three draws, and three losses. This season, they have scored 46 goals against the opposition and average 2.11 xG per game. The defence has conceded 17 goals, resulting in 0.77 goals per 90 minutes. The above viz shows the percentile rank of the team in comparison to other teams in La Liga. It can be observed that the hosts are ranked highly in the possession department as well as in the attacking department. The team does not make as many recoveries, averaging 75.36 recoveries per 90.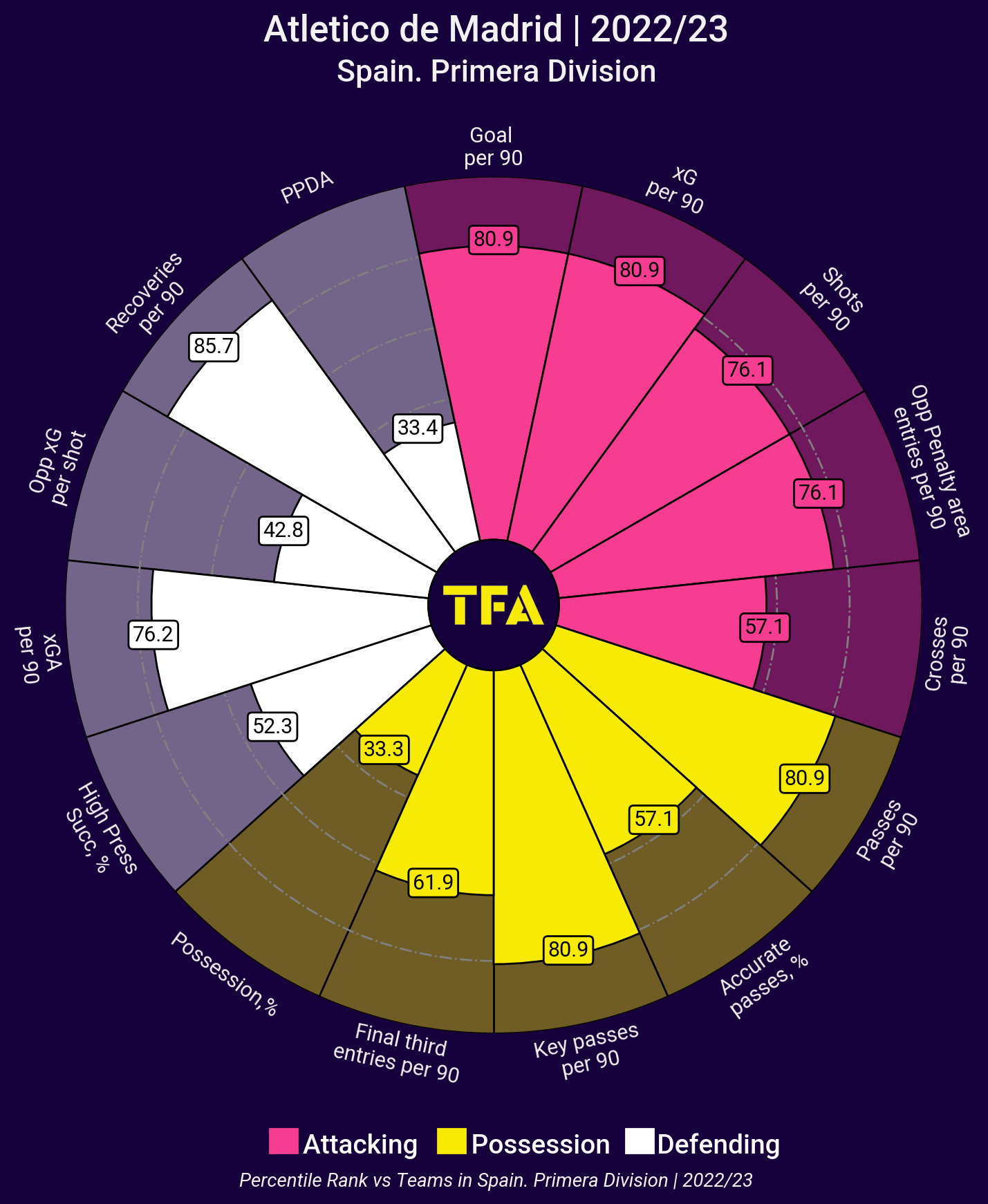 Atletico Madrid, on the other hand, are experiencing a recent slump that now sees them placed fourth in La Liga, two points behind their neighbours. Simione's side has won 12, drawn five, and lost five matches. They have scored 31 goals in 20 matches played while averaging 1.56 xG per match. The defence has conceded 17 goals conceding around 0.77 goals per 90. Atletico have also been similarly dominant in the attack and possession departments as their opponents, but comparatively, they have a lower percentile rank. In terms of recoveries, the team makes more recoveries compared to their opponents, averaging 84.36 recoveries per 90.
Efficiency in attack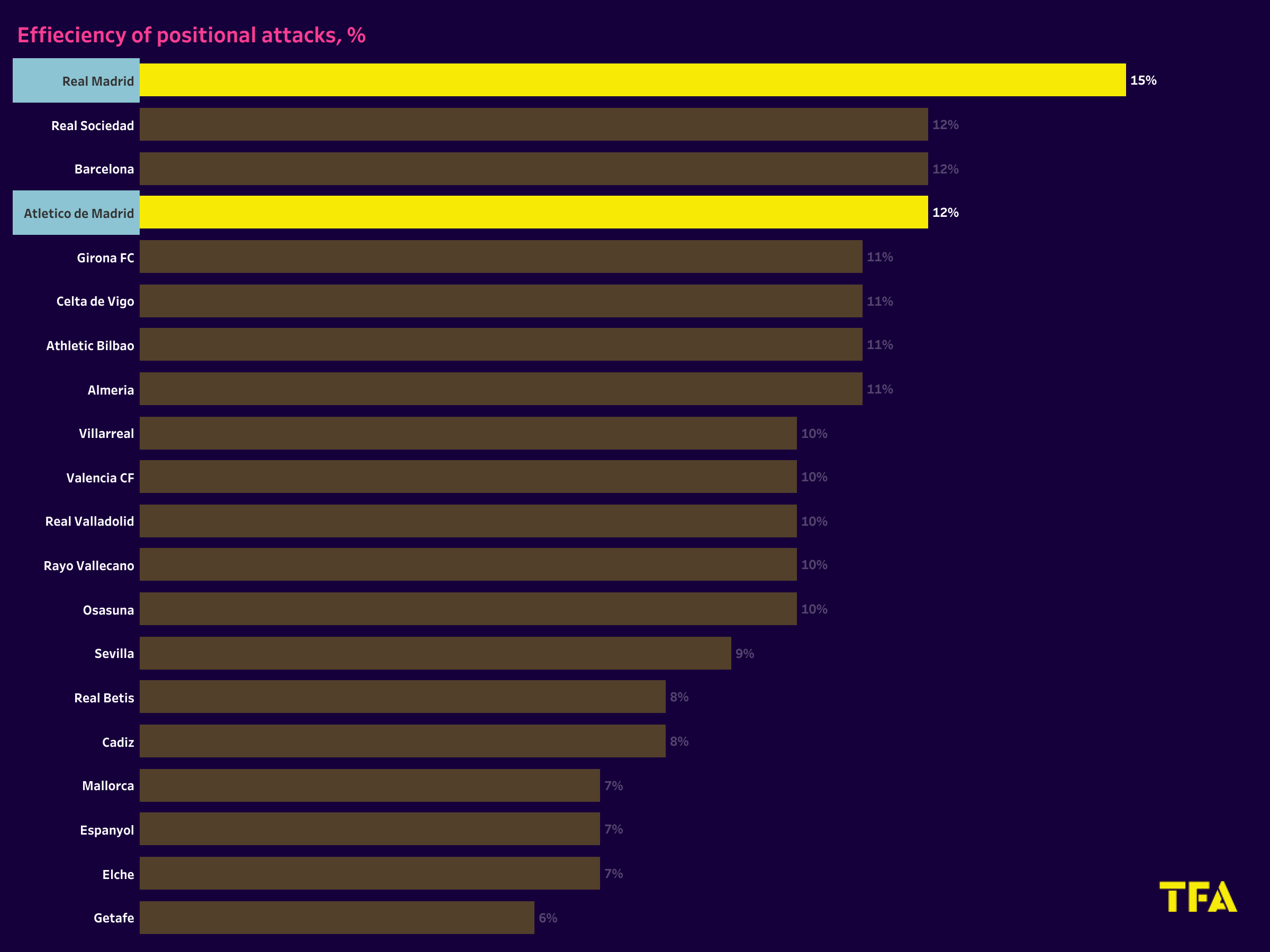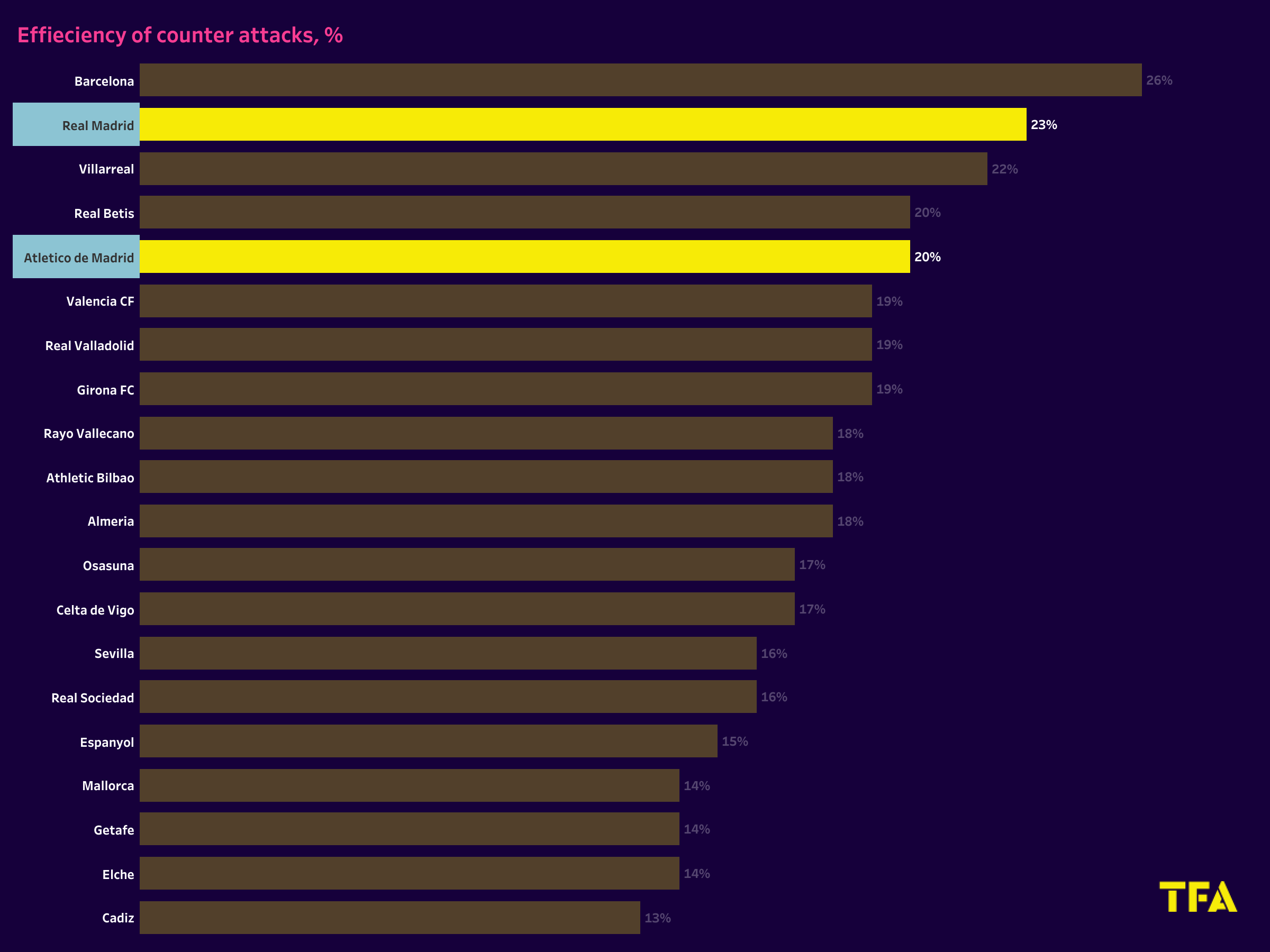 The two visuals above compare the two teams based on positional play and counter-attacks. Both teams are fairly close in terms of the efficiency of their attacking moves. The hosts hold the advantage for positional attacks and have the upper hand for counterattacks. Real Madrid creates 27.05 positional attacks and 2.5 counterattacks per match on average. Meanwhile, Atletico creates 28.14 positional attacks per match along with 1.77 counterattacks. Los Blancos take 16.59 shots per match with an accuracy rate of 34.8%. The visitors take 13.36 shots per match and have an accuracy rate of 36.8%. Both teams are quite efficient with the attacks they create.
Success in defence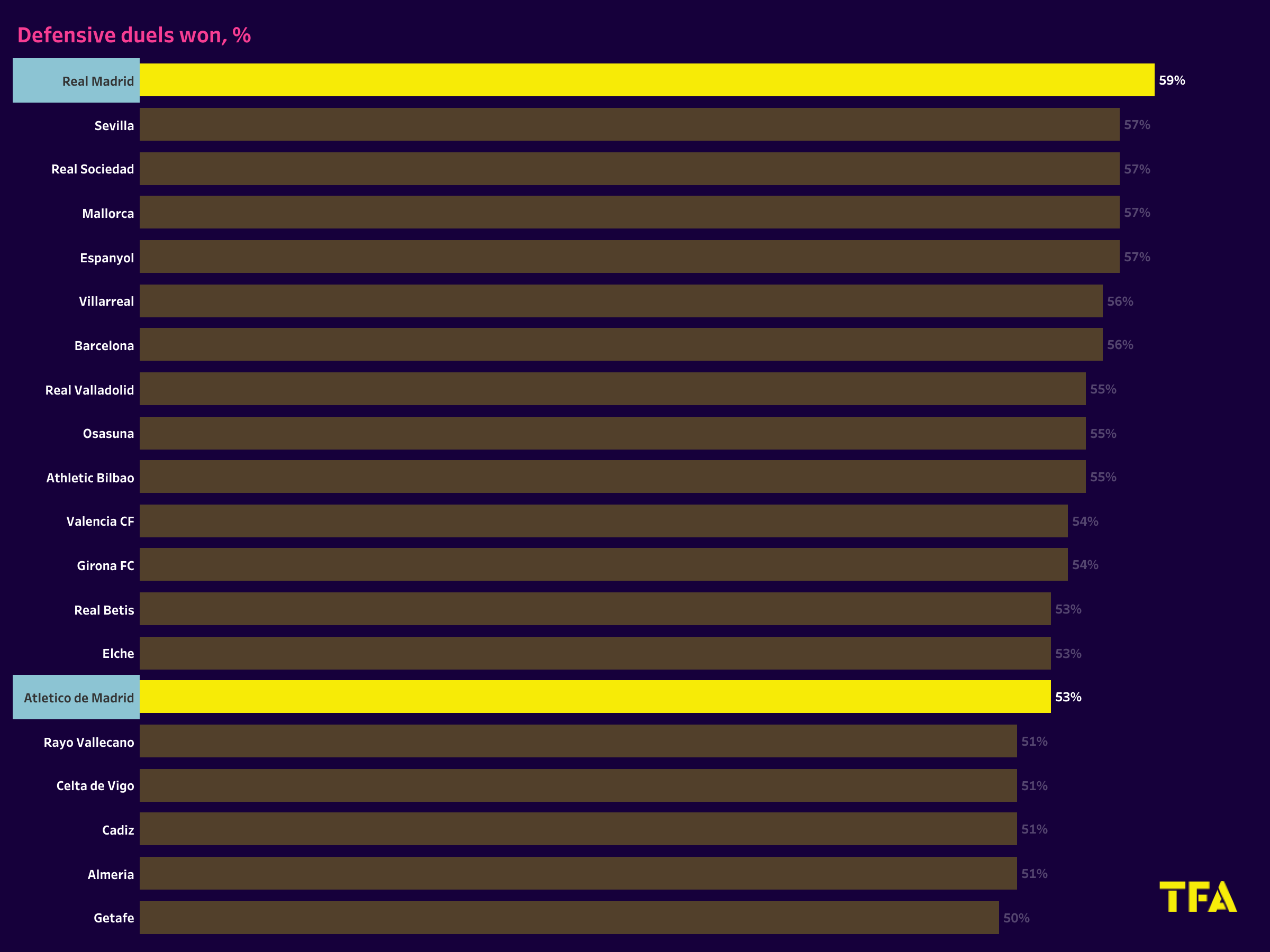 The two visuals above represent the ranking of teams in La Liga based on their percentage of defensive duels won. There is some disparity between both teams in terms of winning defensive duels, with Real Madrid topping the list with a 59% win rate in defensive duels. Atletico, on the other hand, ranks sixth-lowest in the list, winning 53% of defensive duels. On average, the home team makes 39.05 interceptions per 90 versus 41.09 interceptions per 90 for the Los Rojiblancos.
Key Players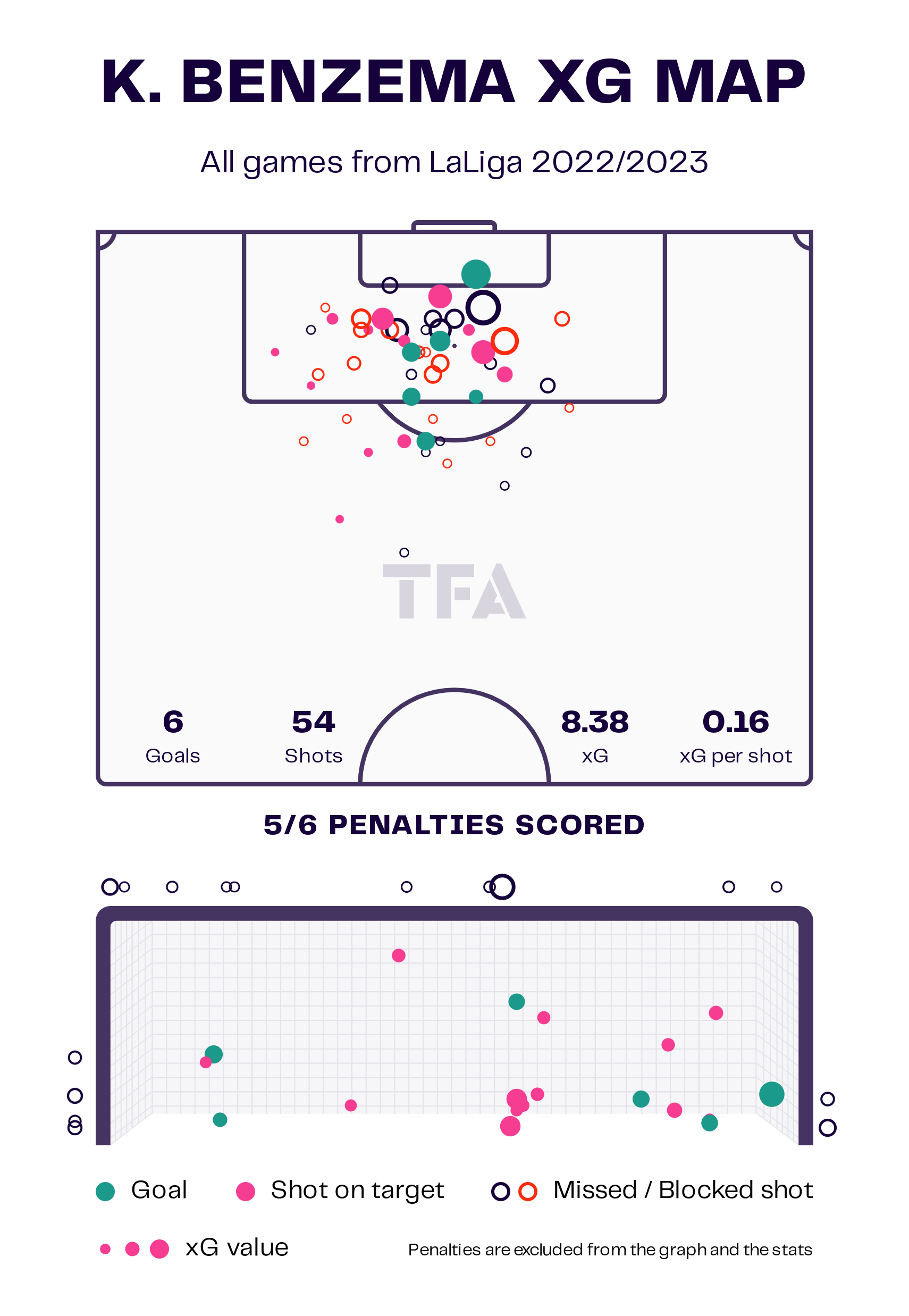 Karim Benzema will be looking to add more goals to his ever-increasing tally. This season, he has scored 11 goals (8.38 xG) from 54 shots and has an xG of 0.16 per shot. He has scored a variety of goals, and most of them have come from inside the box or near the six-yard area. He will be one of many whom the Atleti backline will be looking to contain at any cost, especially given his knack for goals.
Antoine Griezmann has been crucial to Los Rojiblancos' success and is a crucial part of their attack. He has 21 shots on target from a total of 53 and has scored seven goals (5.91 xG). Four of his goals have come from inside and around the six-yard box, along with a few attempts on goal from outside the box. He has also provided six assists in La Liga and will be looking to go big in this game.
Team News
Real Madrid will miss out on the services of Ferland Mendy and Eden Hazard. The game against Liverpool saw David Alaba and Rodrygo was taken off, and their availability is a concern.
Meanwhile, Atleti might go into the game without the likes of De Paul, with the rest of the squad up for selection for Simione.
Overall, this should be an exciting affair between the two sides. However, Real Madrid are the clear favourite. Atletico does not have good numbers when it comes to attacking and defending as compared to their rivals this season and could go down by a heavy margin.
Visuals via TFA data viz engine