Real Madrid will look to close the gap between themselves and Barcelona on matchday 25 of the 2022-2023 La Liga season. With a home fixture against Espanyol, they welcome another Catalan outfit to the Satiago Bernabau, one who are currently in a crucial fight to avoid slipping into relegation. Los Blancos are second in the table, nine points behind Barcelona, who lead the Spanish top flight with 62 points, while Espanyol sits 13th, just two points ahead of relegation-threatened Almeria, who are in 17th with 25 points. Below are some of the stats for both teams from their current season and most recent La Liga matches.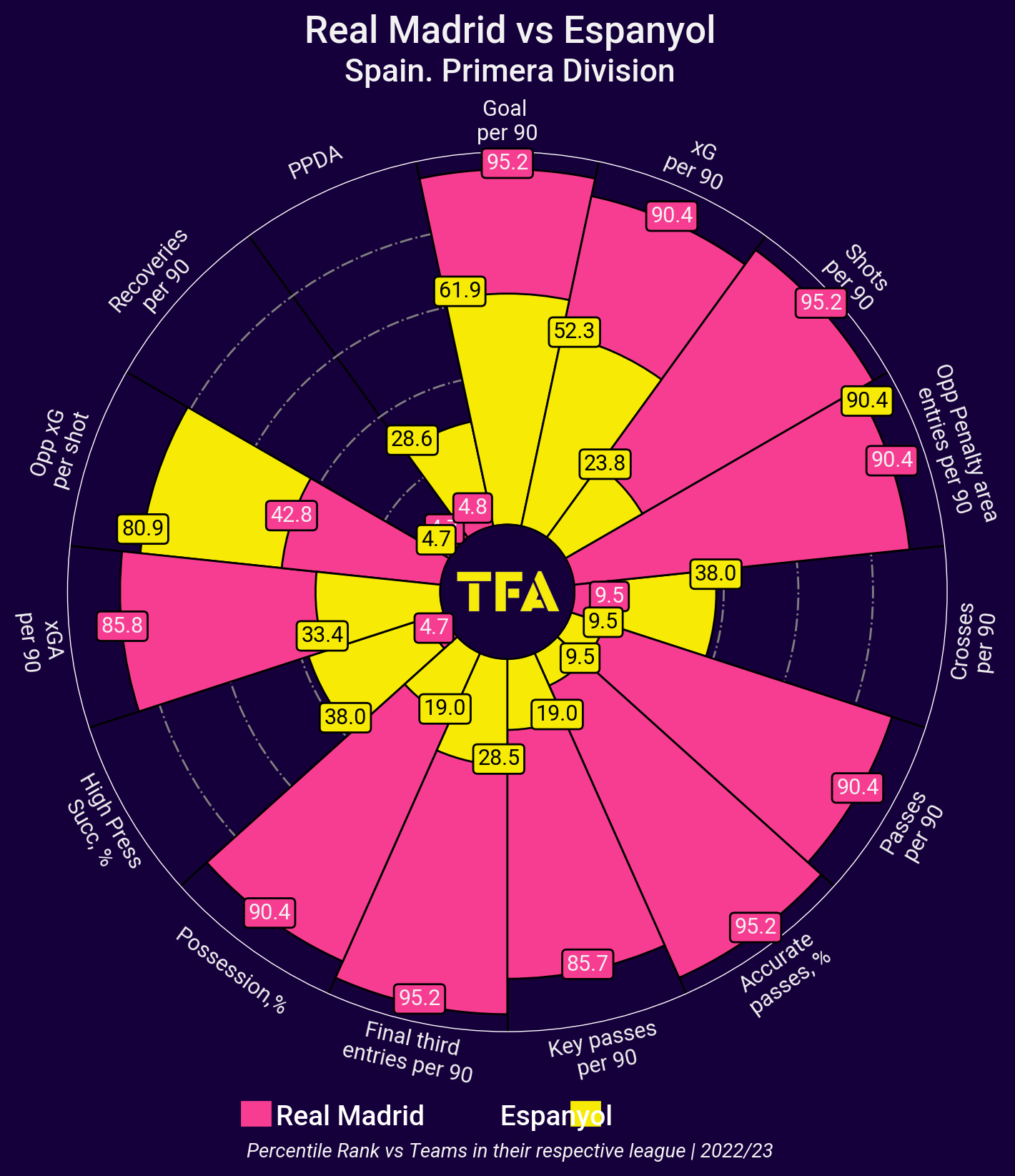 The visual above shows the percentile rank of both teams as compared to other teams in La Liga this season. Real Madrid have better stats than the others in all the departments. The team is ranked at the top in terms of its percentile ranks for most of the departments. Espanyol, on the other hand, are satisfactory in the league in terms of pressing high and putting in crosses. Both teams are ranked similarly in terms of entries into the opponent's penalty area per 90 as well as recoveries.
Both teams in front of the goal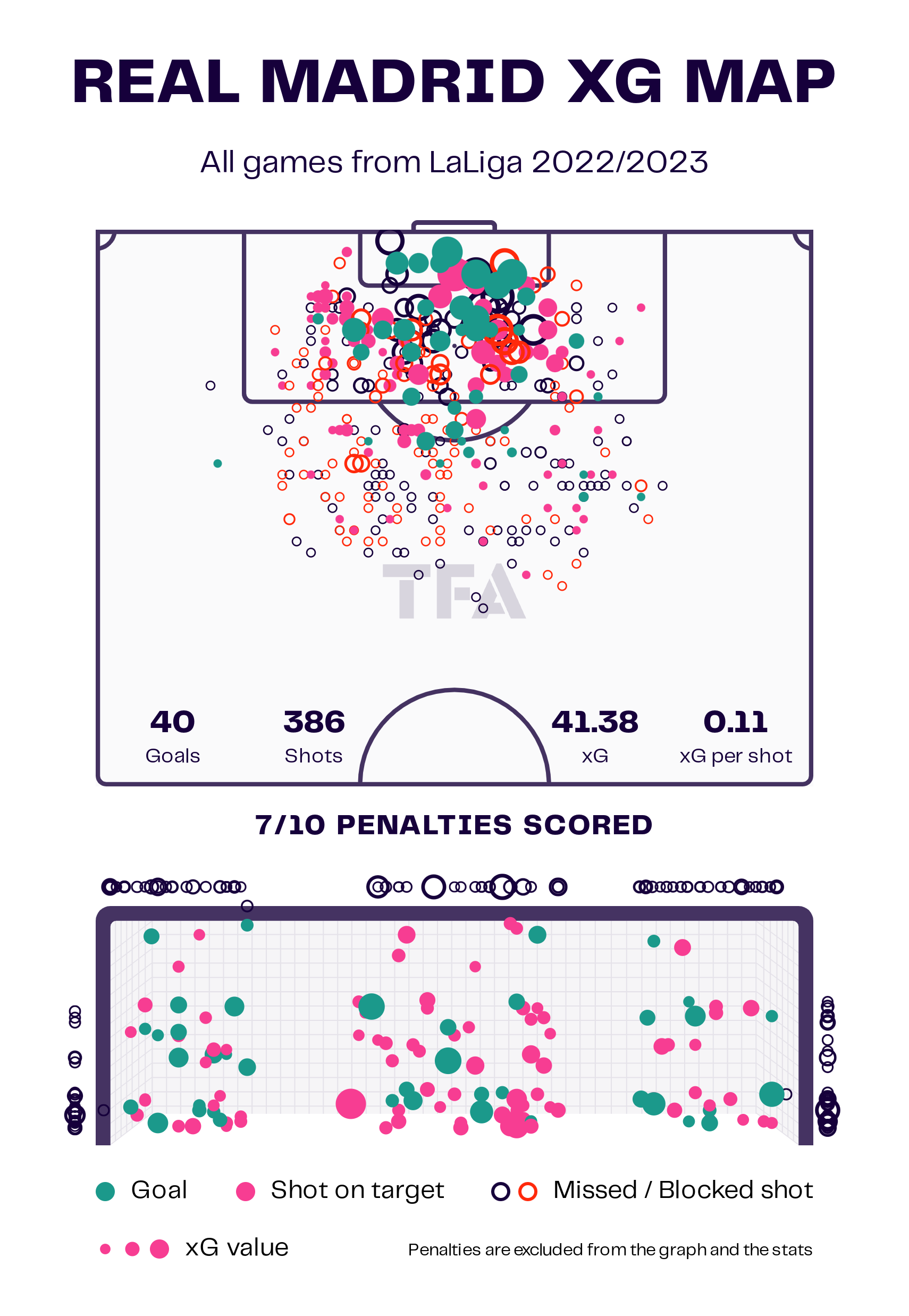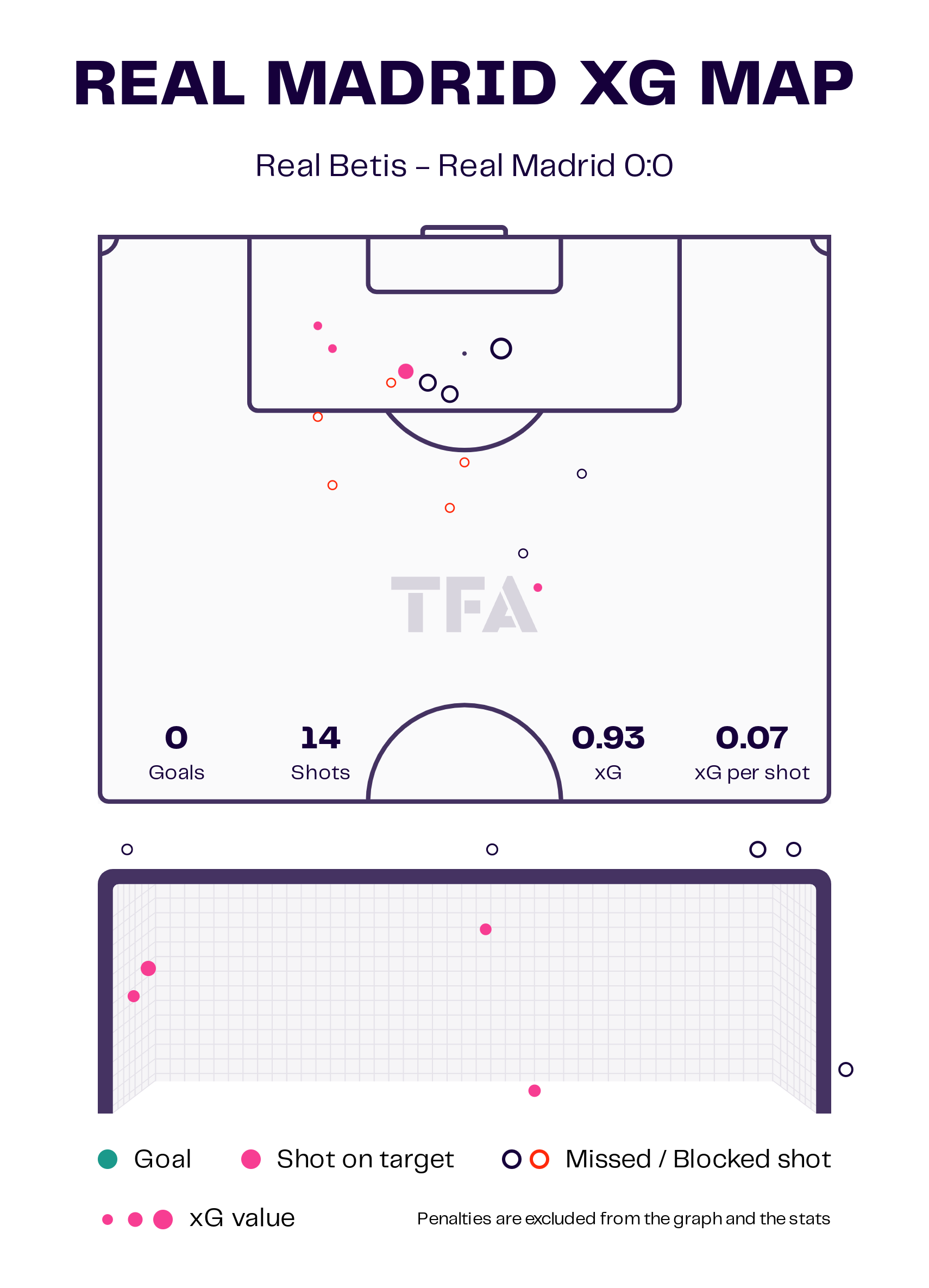 Real Madrid have scored 40 goals from open play and have missed three out of their ten penalties, bringing their overall tally to 47 goals this season. Los Blancos have taken a total of 386 shots from a variety of shooting ranges, netting close to 13 from outside the box, as seen in the first visual above. This takes their xG value to 41.38 as the team averages 16.5 shots with 34.8% accuracy per 90. They played out a goalless draw with Real Betis in their most recent outing after attempting 14 shots and finding the target four times.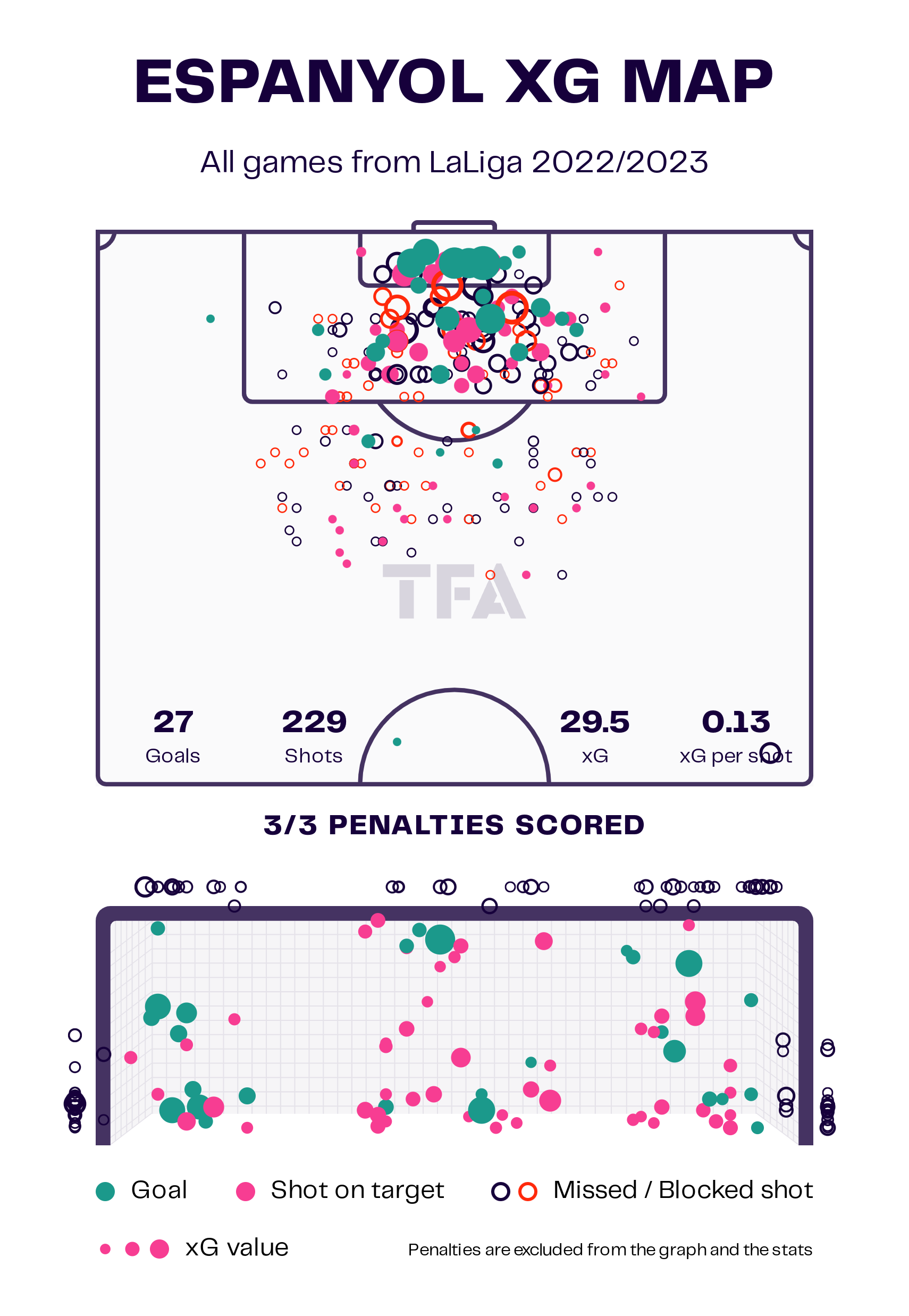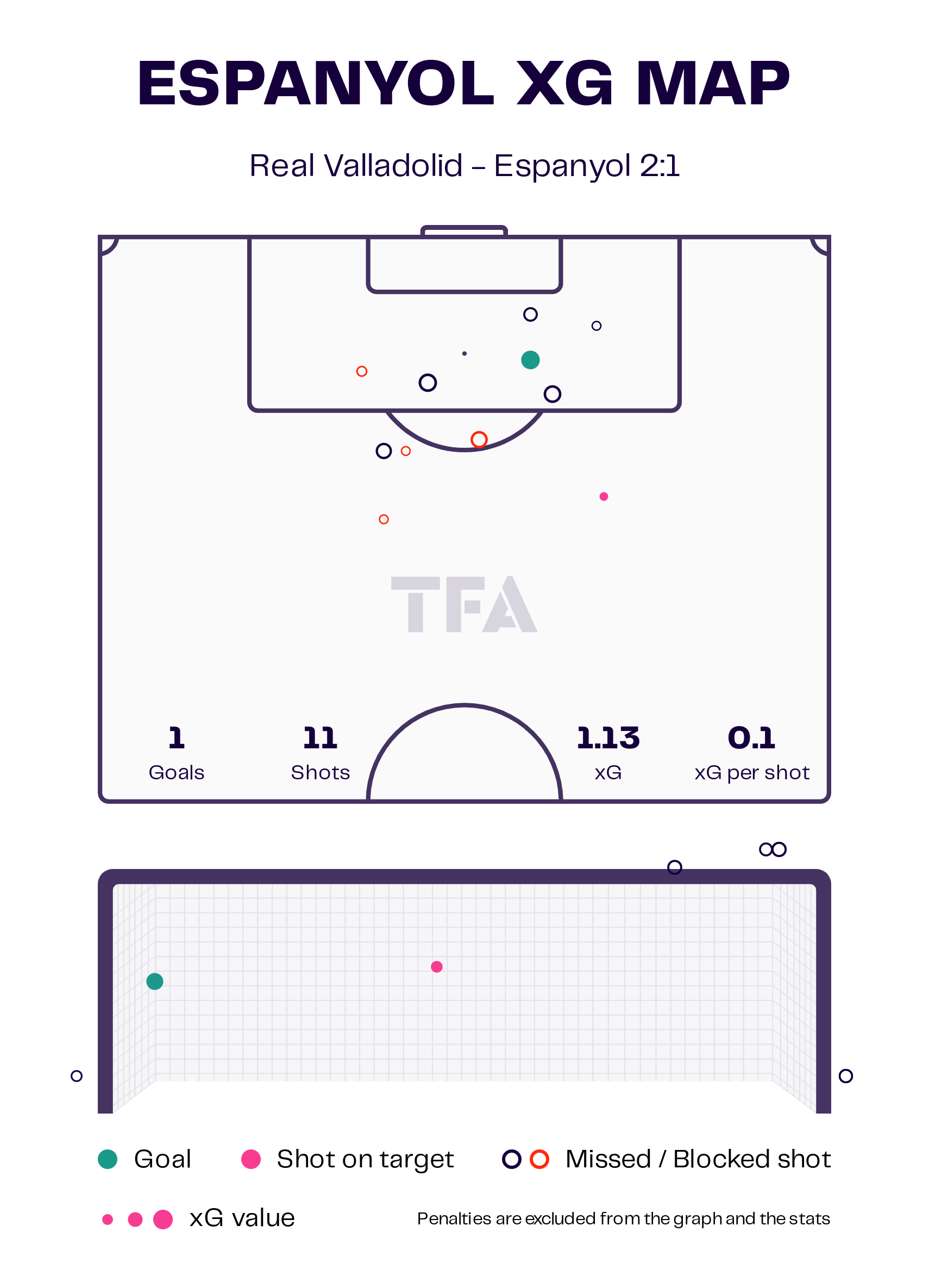 Espanyol, on the other hand, have been struggling in recent times as the club from the city of Barcelona lost 2-1 to a newly promoted Real Valladolid. It can be seen in the first visual that the team has scored most of its goals from inside the box, has a tally of 27 goals from open play (29.5 xG), and has scored all three of the penalties received. They average 9.67 shots per 90 with 34% accuracy, as they took 11 shots in their last outing and found the target on two occasions.
Shots faced in the last outings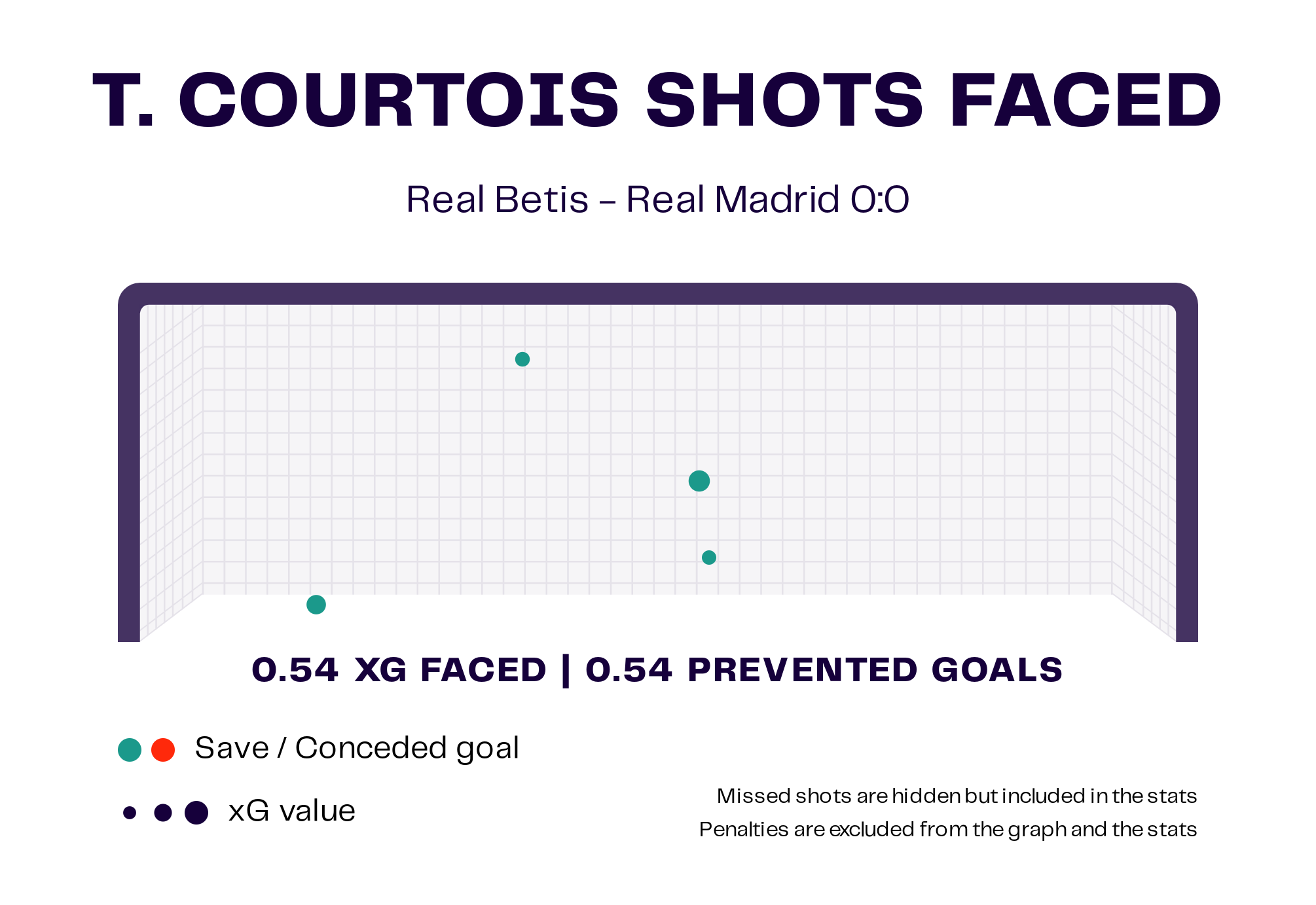 Thibaut Courtois has managed to keep nine clean sheets this season in the Spanish top flight. He had a fine game against Betis as he saved all four shots on target and has helped Los Blancos prevent losses on numerous occasions owing to his heroics in front of the goal. Real Madrid face 9.83 shots on average from their opponents and have conceded 0.8 goals per 90 minutes, having conceded a total of 18 goals this season. It can be seen in the above viz that the goalkeeper was not tested as much as most of the shots were targeted centrally by Betis players.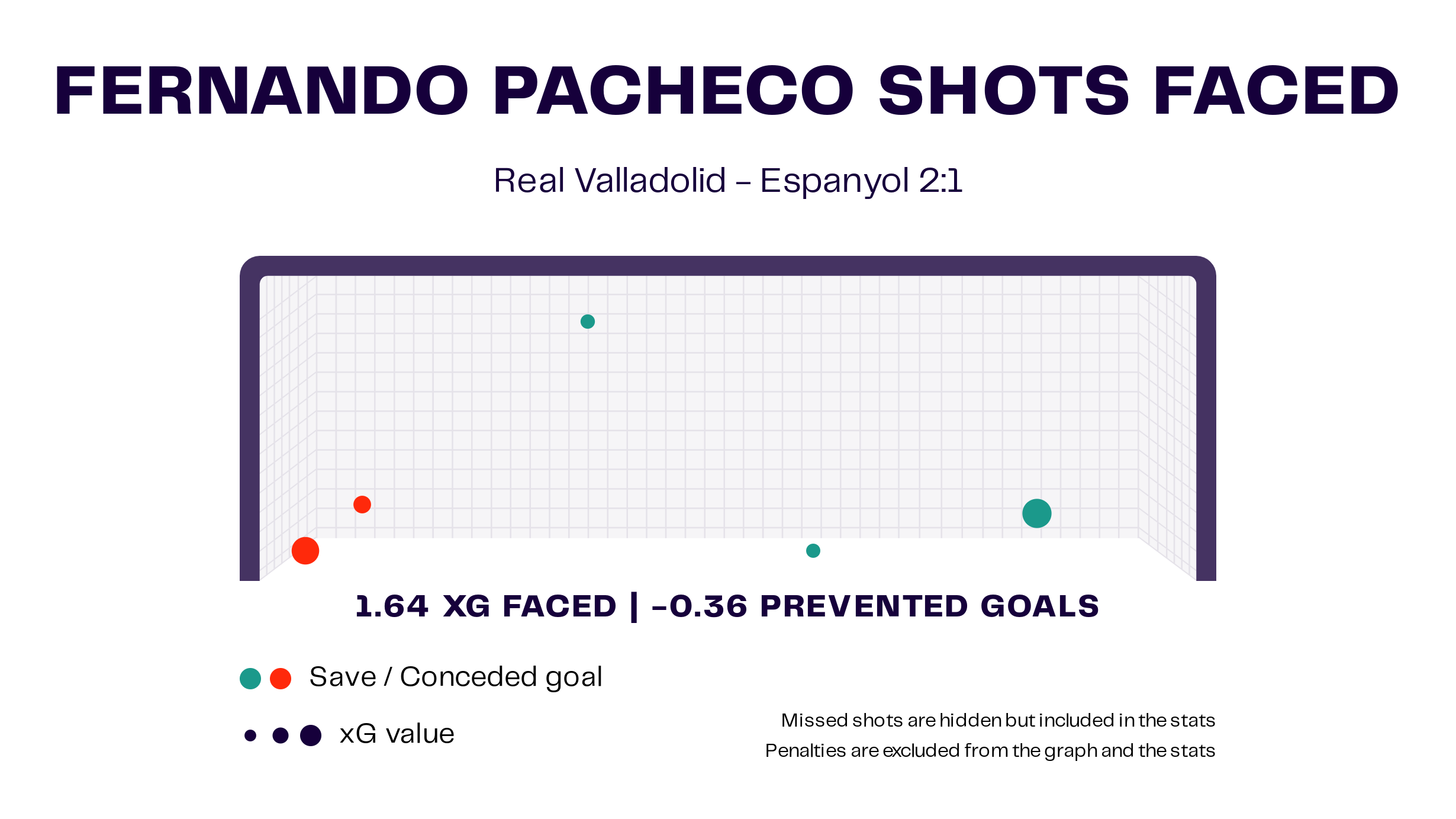 Fernando Pacheco has been guarding the goal for Espanyol this season and has done a decent job preventing goals, as Espanyol have kept four clean sheets this season. As seen from the above visuals for his shots faced, Real Valladolid scored both goals in the left bottom corner, which tested the goalkeeper, who failed to prevent them from reaching the back of the net. Espanyol faces 13 shots from their opponents on average and lets in 1.5 goals per 90 minutes, having conceded a total of 36 goals thus far.
Key player for Los Blancos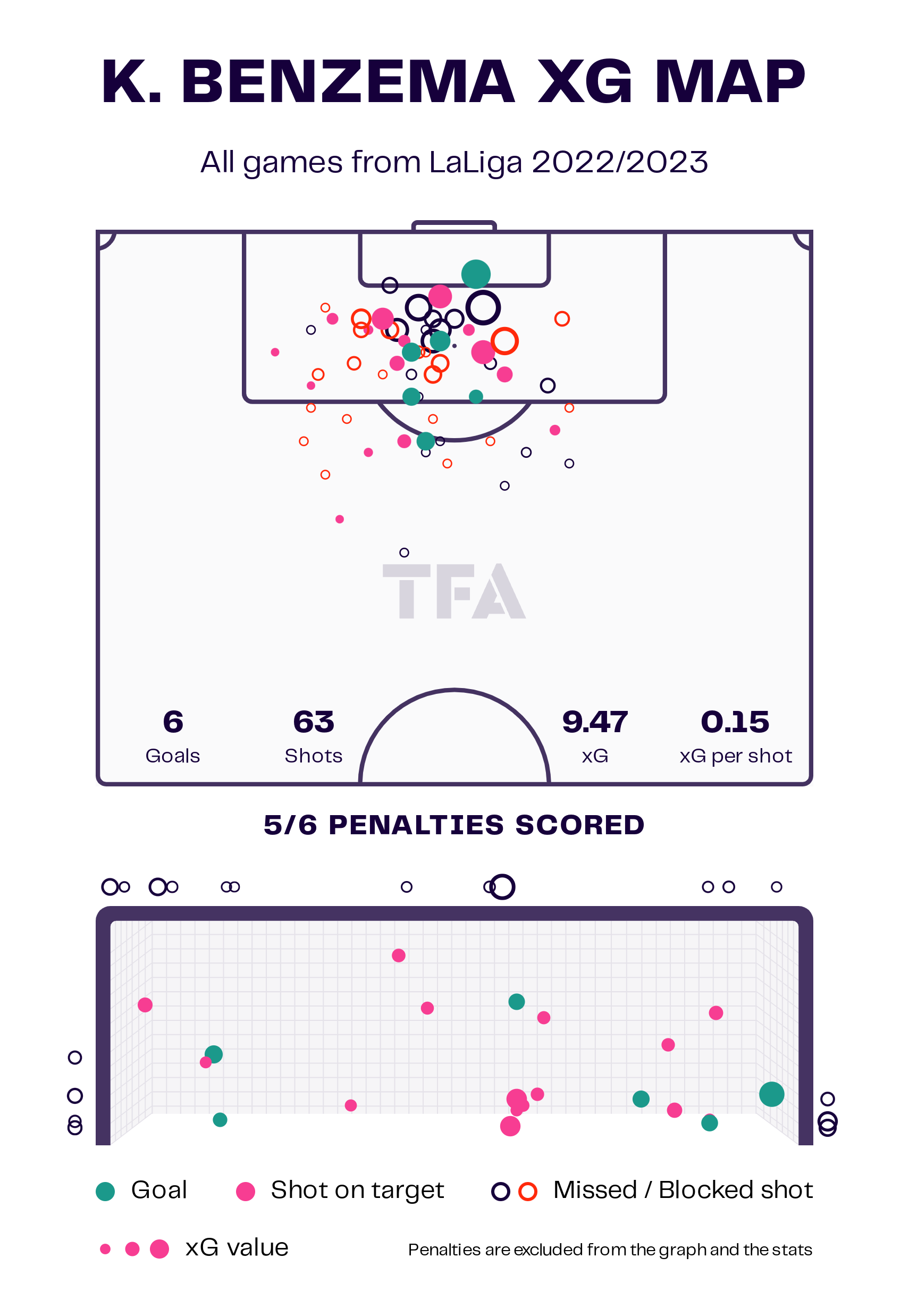 Karim Benzema will be looking to add more goals to his ever-increasing tally. This season, he has scored 11 goals (8.38 xG) from 63 shots and has an xG of 0.15 per shot. He has scored a variety of goals, and most of them have come from inside the box or near the six-yard area. He will be one of many whom the Espanyol backline will be looking to contain at any cost, especially given his knack for goals.
Team news
Real Madrid will be without the services of David Alaba and Ferland Mendy due to hamstring injuries. As for Espanyol, Dani Gomez, Adria Pedrosa, and Keidi Bare will miss the visit to Madrid owing to injury concerns.
Overall, Los Blancos will look to dominate this match and gain full control as they prepare for some business in the Champions League against Liverpool at the Santiago Bernabeu next week. whereas Espanyol will be desperate for points in this fixture as it may end up being crucial in determining their future in the standings.
Visuals via TFA data viz engine