Real Sociedad welcomes Celta Vigo to the Reale Arena on matchday 22 of La Liga in 2022/23.
Real Sociedad are in the mix for a top-four finish in Ligue 1 this season. They are currently in third place with 42 points, six behind Real Madrid and four ahead of Atletico Madrid, respectively. The team is in good form recently and will look to put Celta Vigo down.
Celta Vigo faces another challenge in their La Liga quest away from home. They are currently 14th in the standings, and their most recent loss to Atleti means their gap at the bottom is reducing. The team is only three points safe from the relegation zone, and a loss may see them sitting in a dangerous zone.
Both teams will look to grab all three points, and below are some of the stats comparing the teams' performances in La Liga this season.
Current performances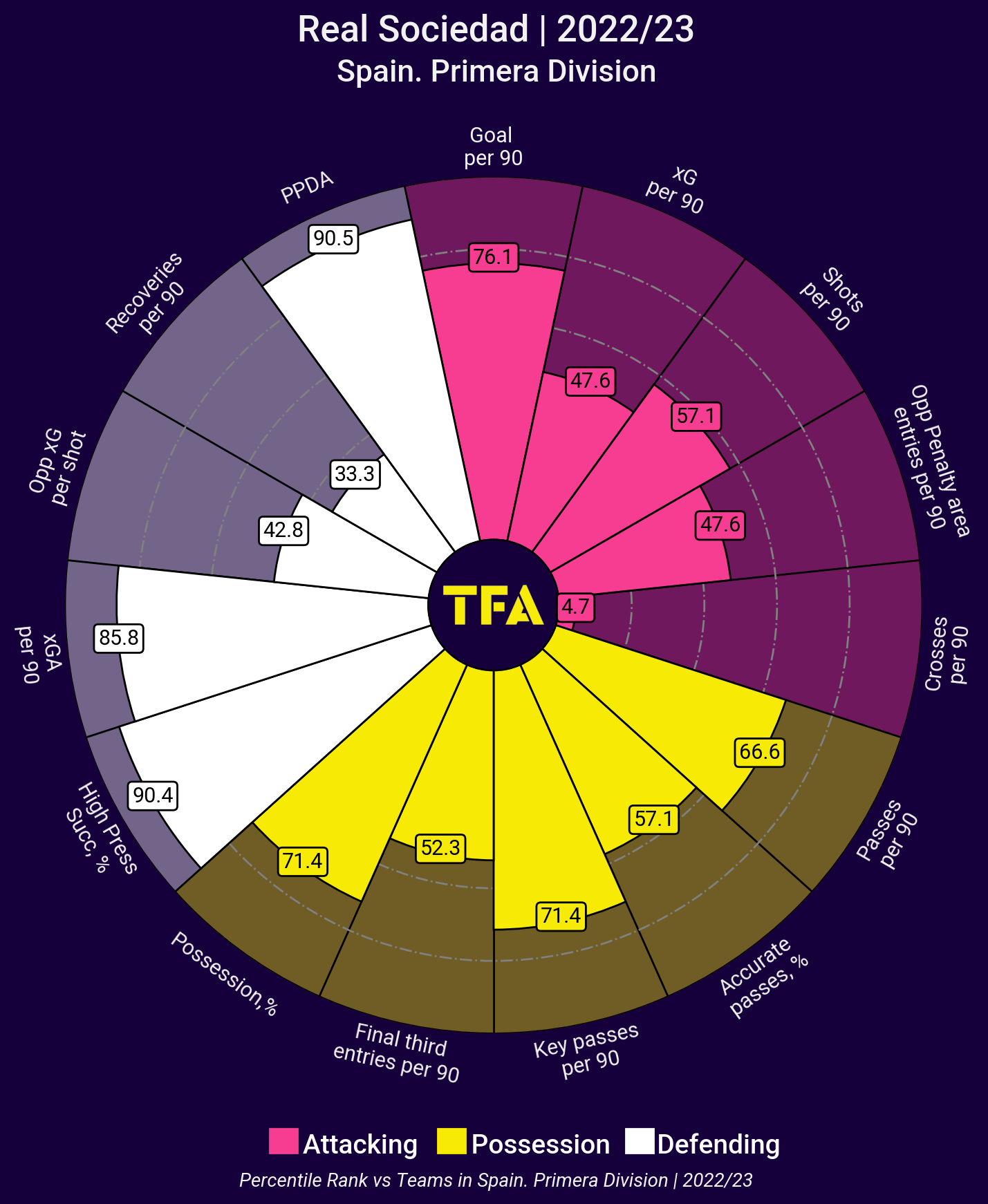 The above viz shows the percentile rank of Real Sociedad compared to other teams in La Liga. They are ranked in the top 76.1 percentile for goals per 90 and the top 90.4 percentile for high-pressing success. This is an indicator of their aggressive intent and willingness to strike this season.
This season in La Liga, Real Sociedad's form is very good overall, with 13 wins, three draws, and five losses. They have netted 31 goals, averaging 1.32 xG per match. Their defence has let in 21 goals, conceding one goal on average. Real Sociedad's players take 11.48 shots per match with a 44.8% accuracy rate. In terms of possession rate, they average 55.32% ball possession per match.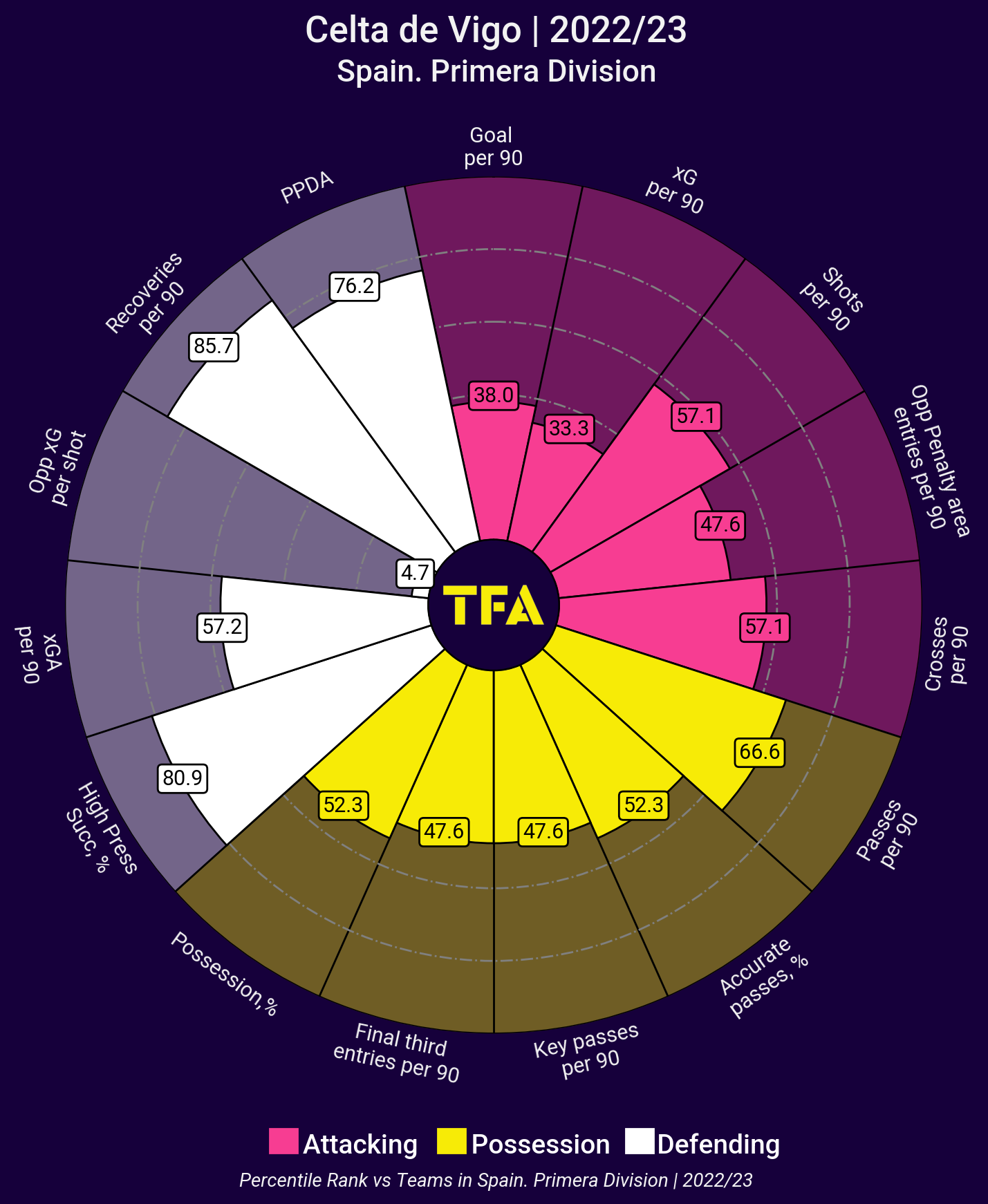 It can be seen that Celta Vigo has poorer overall stats than Real Sociedad in most departments. Notably, the visitors have the upper hand in terms of recoveries per 90.
Celta Vigo have won six, drawn five, and lost ten of their 21 La Liga matches thus far. They have scored only 22 goals, averaging 1.15 xG per match. Their defence has let in a massive 33 goals, conceding 1.57 goals per 90. The team averages 11.62 shots per game with a 36.1% accuracy rate. Additionally, the team averages 50.23% possession per match.
Efficiency in attack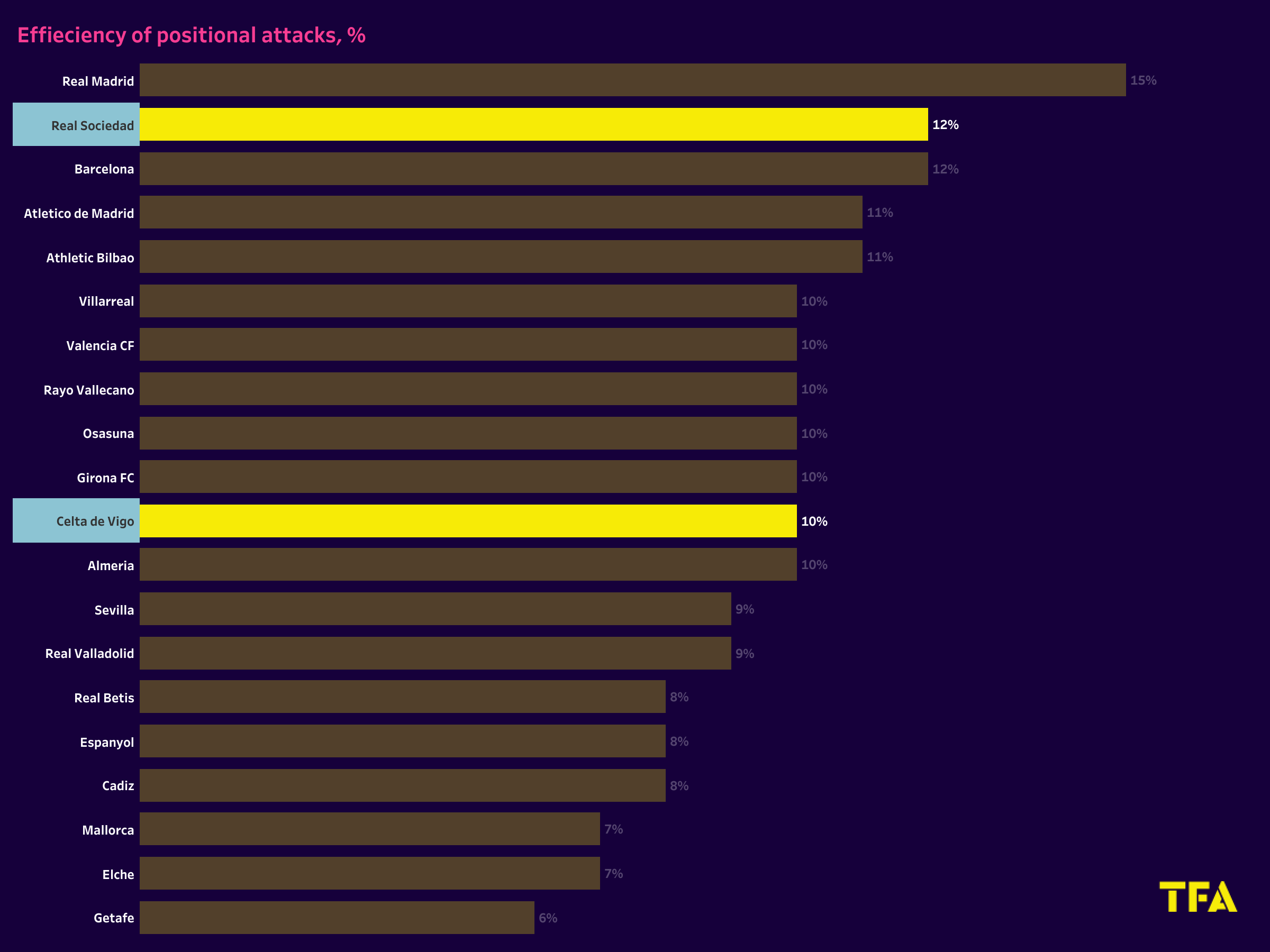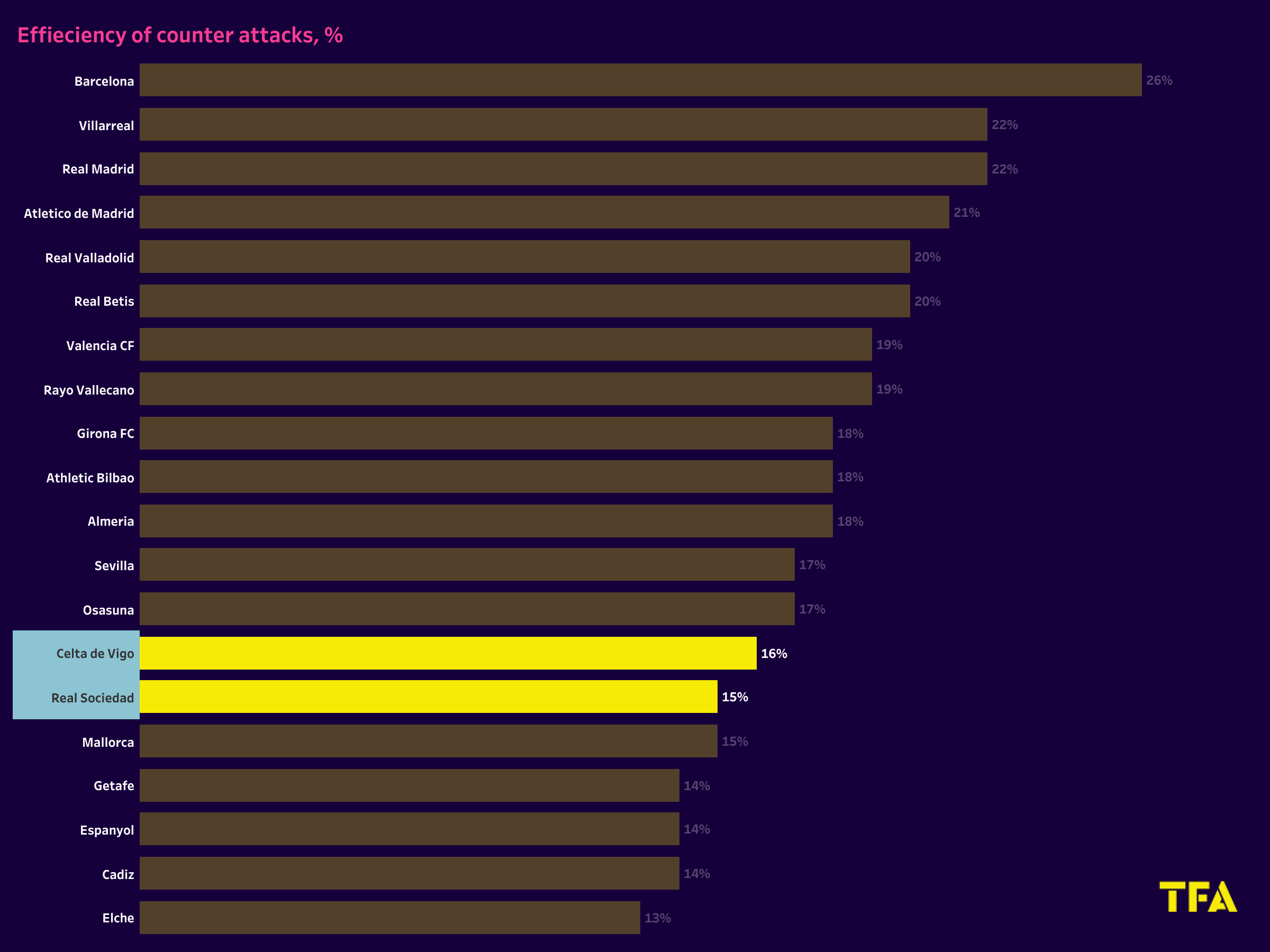 The two visuals above compare both teams on the basis of positional play and counter-attacks. The visitors hold an advantage for counterattacks, with 16% efficiency against the hosts' 15%. Celta Vigo creates 28.33 positional attacks on average and takes shots from 24.9% of such plays. Meanwhile, Real Sociedad creates 27.57 positional attacks per match, with 27.3% of them resulting in shots.
Alternatively, Celta Vigo launches 1.38 counterattacks per match, with 37.7% of these attacks ending in shots. Meanwhile, Real Sociedad launches 1.57 counterattacks on average, with 39.5% of them ending in shots. We can expect the hosts to keep more possession and create more chances while the visitors adopt a more agile and efficient approach to their attacking moves in this fixture.
Success in defence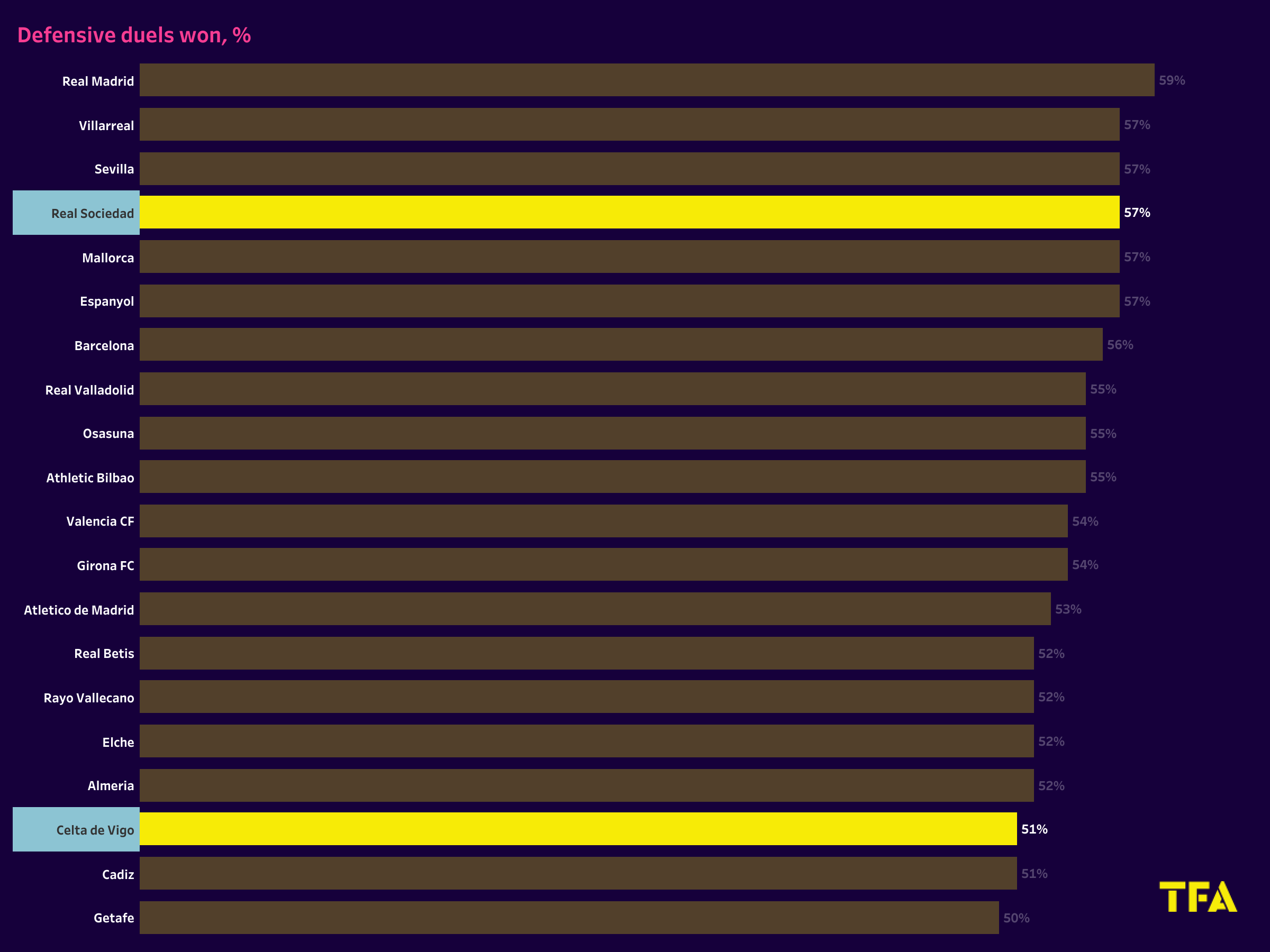 The above visual represents the ranking of teams in La Liga based on their percentage of defensive duel wins. It can be seen that Celta Vigo are ranked lower in the league for successful defensive duels. They have a 51% win rate in defensive duels, and Sociedad, on the other hand, have a 57% success rate. On average, Sociedad attempts 72.76 defensive duels and makes 36.76 interceptions per 90 versus 70 defensive duels and 40.57 interceptions per 90 for Celta Vigo.
Key Players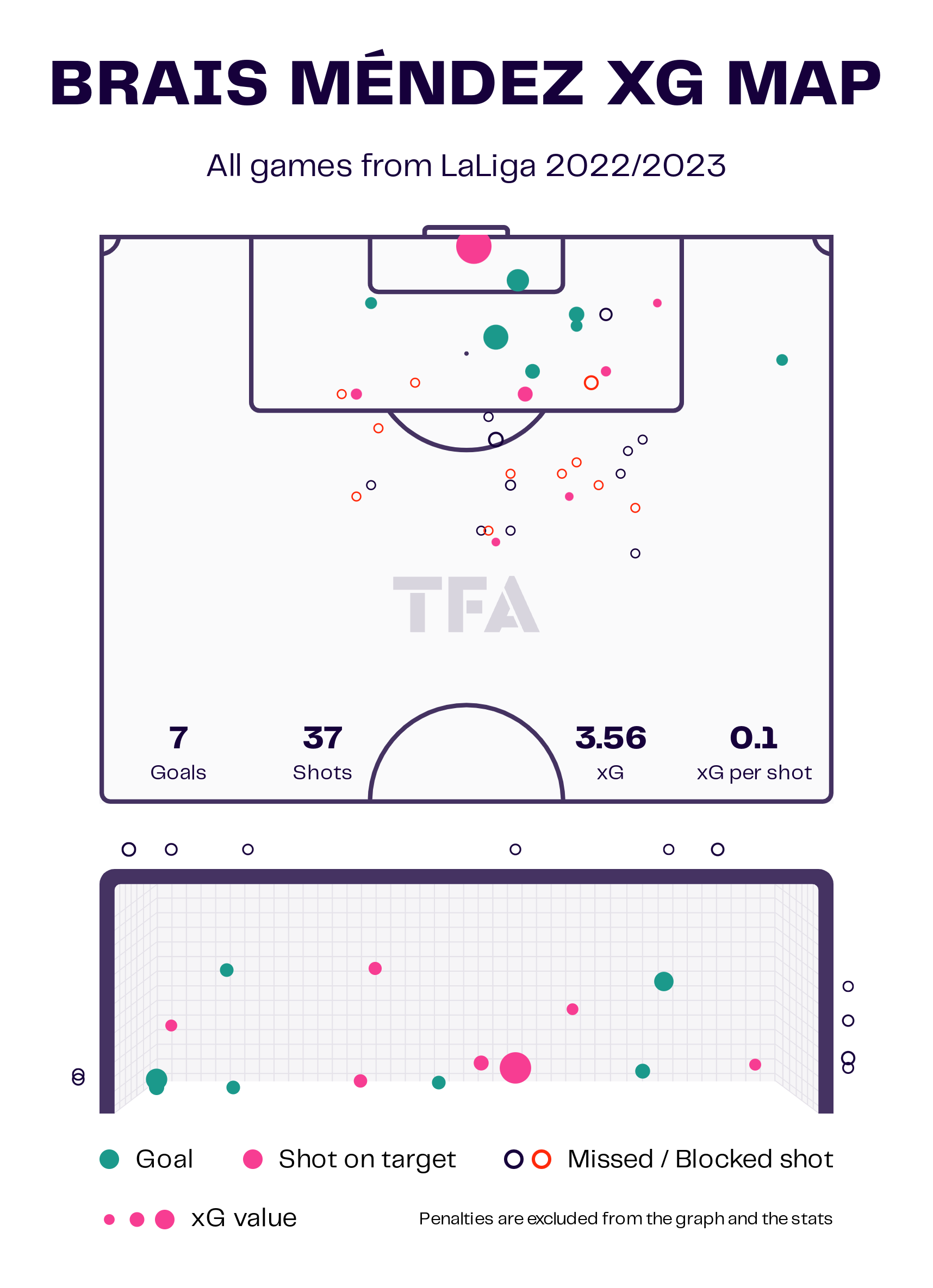 Brais Mendez is an attacking midfielder for the Spanish La Liga club Real Sociedad. In the Spanish La Liga season 2022/23, Brais Mendez has played 18 matches (plus two as a sub). He has 15 shots on target from a total of 37 and has scored seven goals (3.56 xG). The player averages 40 passes per match with a pass completion rate of 84% and has three assists. He will be a crucial target for Real Sociedad, and his overall contributions on the pitch can be a key differential for the side.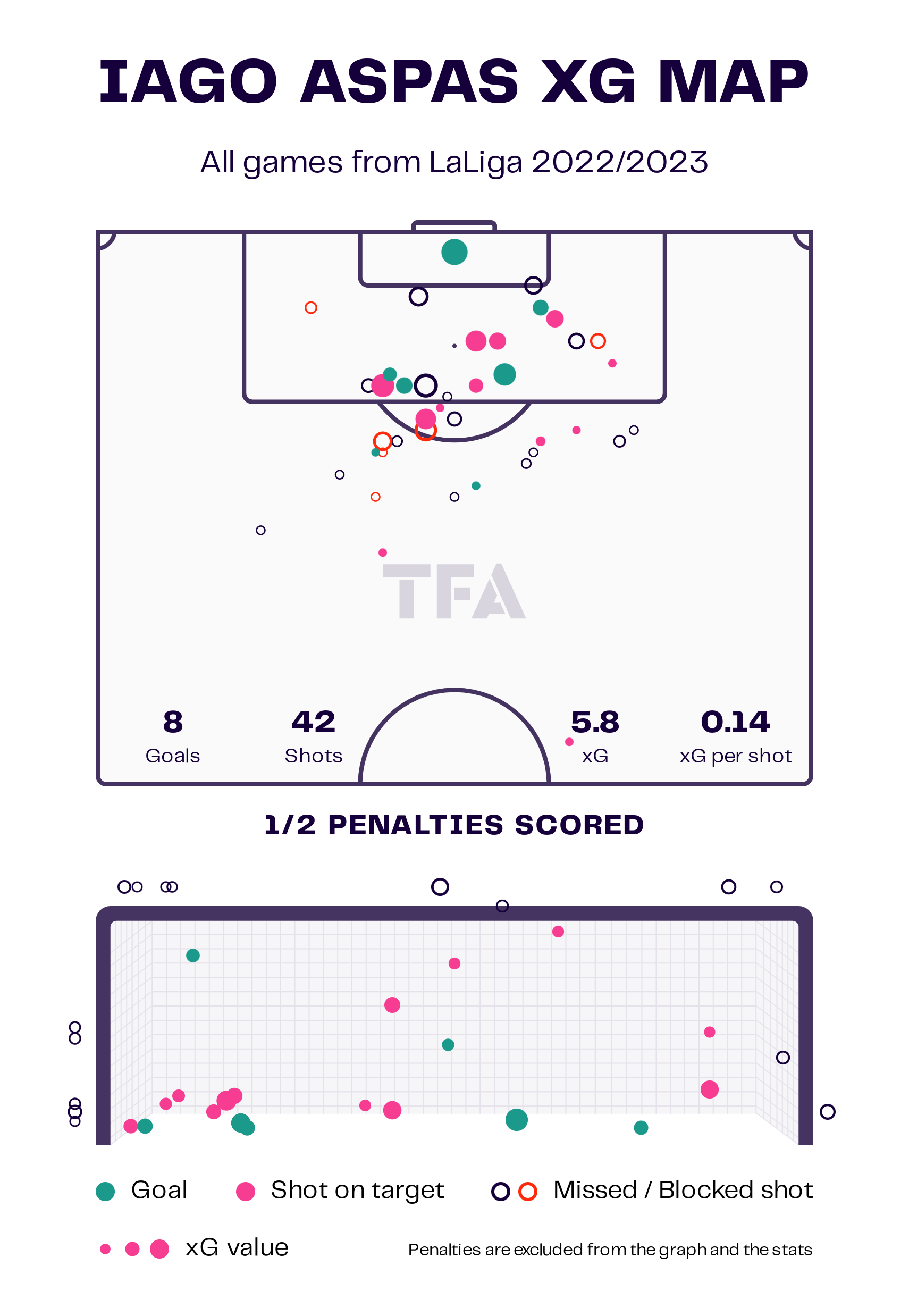 Iago Aspas is a striker for Spanish La Liga club Celta Vigo. In the Spanish La Liga season 2022/23, Iago Aspas played 19 matches (plus two as a sub). He has 22 shots on target from a total of 42 shots and has scored eight goals (5.8xG). The player averages 34 passes per match with a pass completion rate of 80% and also has three assists. He too will be the main man in front of the goal for Celta in the game as he has been the shining light for the team over the seasons for the side.
Team News
For Real Sociedad, Aritz Elustondo, Umar Sadiq, David Silva, Jon Pacheco, Mohamed Ali-Cho, Andoni Gorosabel, and Martin Merquelanz are out and on the sidelines.
Meanwhile, for Celta, only Agustin Marchesin will not be included in the squad due to injury, and the rest will be available for selection.
Overall, it will be a tough outing for Celta Vigo after their tough 1-0 defeat to Atletico Madrid last time out. Real Sociedad will be aware of the chance to increase the gap between themselves and Atletico Madrid and will look to grab all three points in front of their fans.
Visuals via TFA data viz engine