Rodrigo Riquelme's performance for Girona in the Spanish top flight has been impressive. The young Spaniard has plenty of experience playing in the Segunda Division and played for the Atletico Madrid B side in the 2019-20 season. He made 21 appearances, scored five goals, and earned a call-up to the first team under Diego Simione in 2020. Riquelme has also made his mark in England while playing in the Championship for Bournemouth, from where he made his way back to Spain and is now playing in the top flight. The 22-year-old attacking midfielder has been one of the team's most consistent performers this season, making 22 appearances in La Liga and contributing two assists and four goals. He is a left-footed winger who usually plays on the left flank. He also has the ability to play from the right and provides an extra option for the team. He is comfortable with the ball at his feet, which makes him well–suited to the attacking style of play for his side. Below, we look at some of his stats from the current season.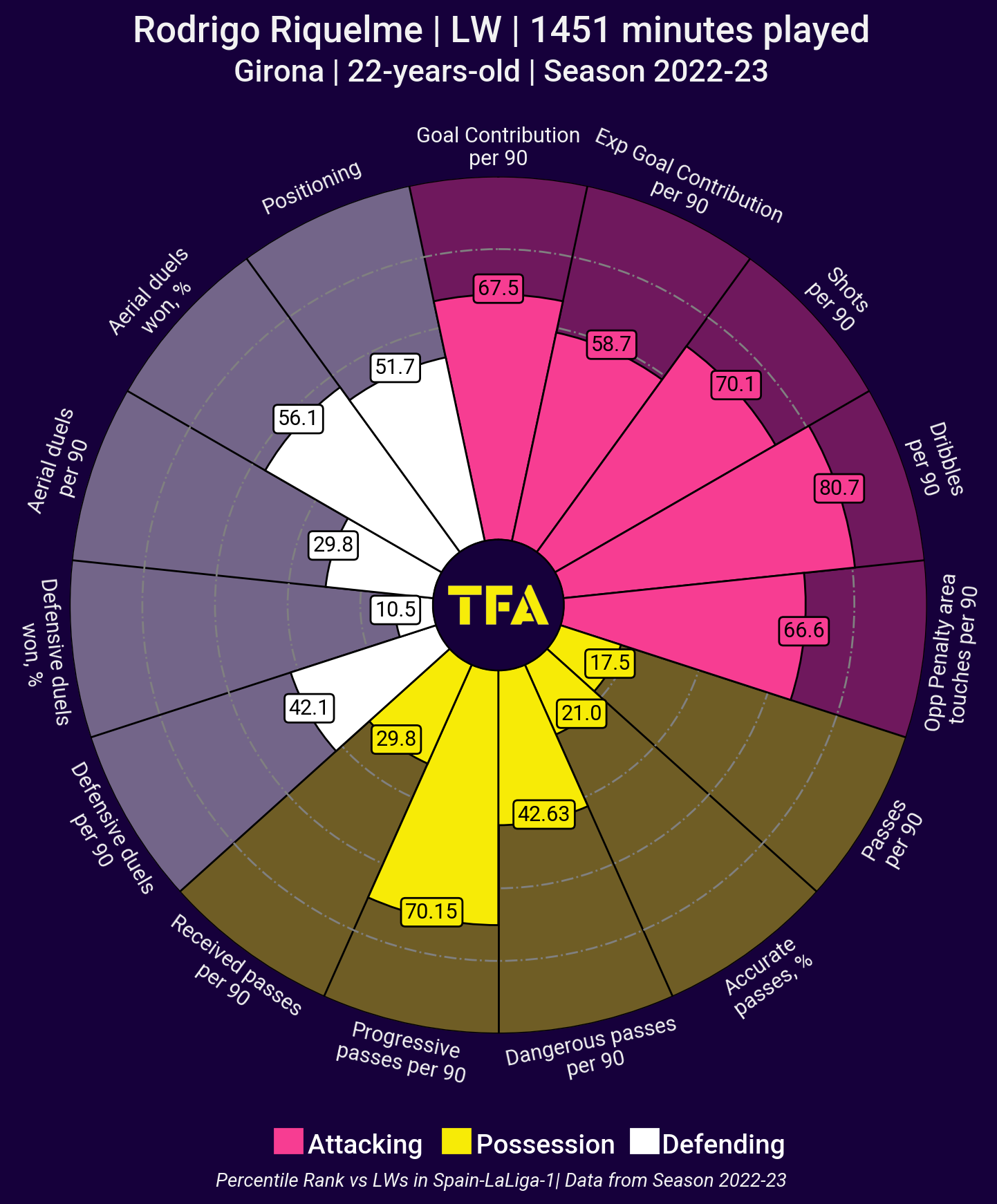 The above viz shows his percentile rank compared to the other left-wingers in La Liga in 2022/23. He has played 22 matches in the 2022–23 La Liga season. He is ranked highly for attempting dribbles per 90 and is an adept dribbler of the ball. The player's ability to attack has been decent, with a fair number of expected goal contributions, and he ranks fairly in terms of shots and touches in the penalty box per 90 minutes. He has great positional awareness and makes movements into dangerous areas in order to build efficient attacking threats.
Rodrigo in front of the goal
The above viz depicts the xG map of Rodrigo for Girona in La Liga 2022/23. He is playing his first season in the Spanish top flight and has managed to find the back of the net on four occasions. With an overall xG of 4.49, the player has fired 37 shots, 15 of which were on target, for a 40.5% accuracy rate. He averages 2.19 shots per 90 and has scored stunners from outside the box as well as from near the six-yard box.
Constant attacking threat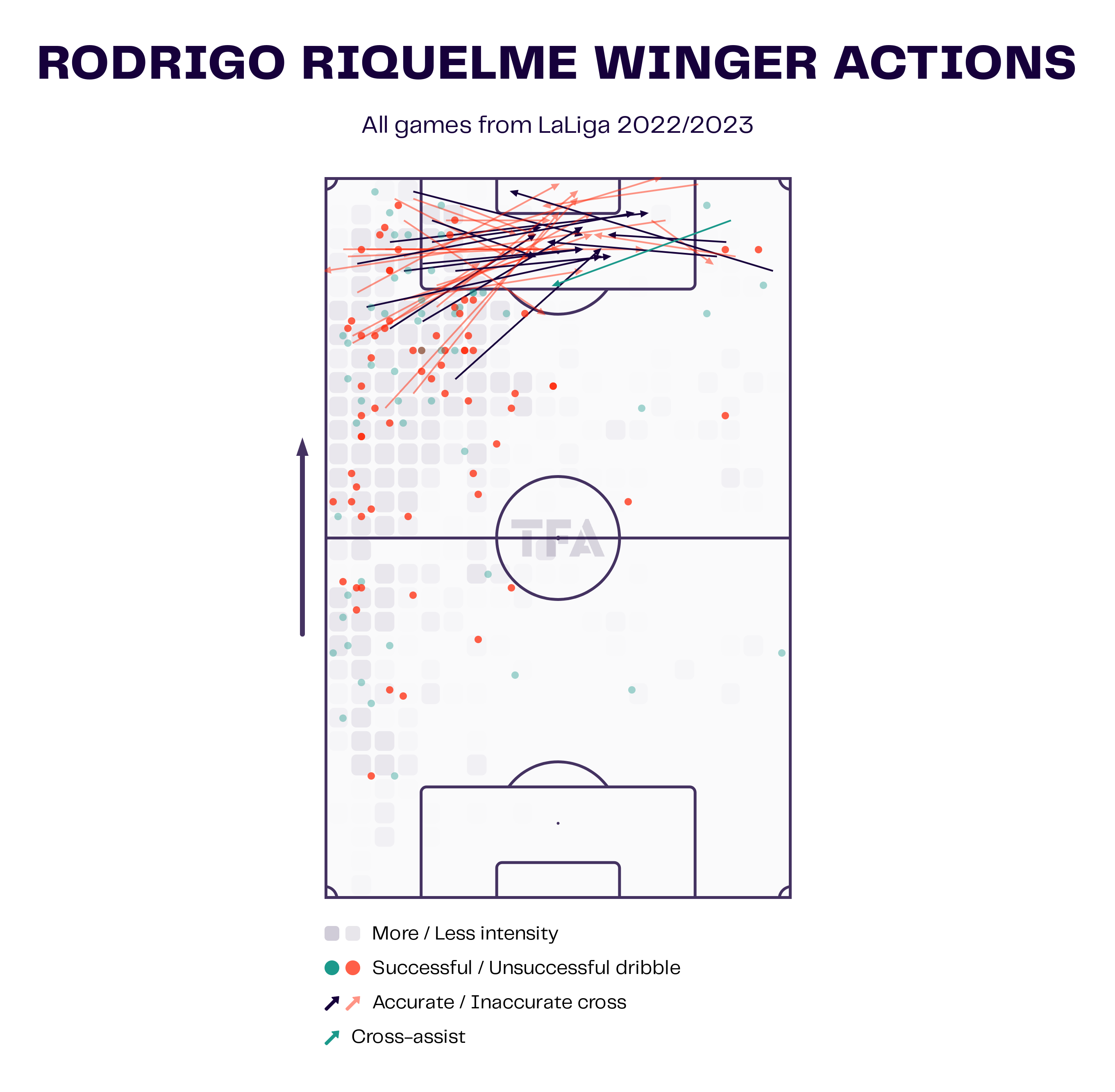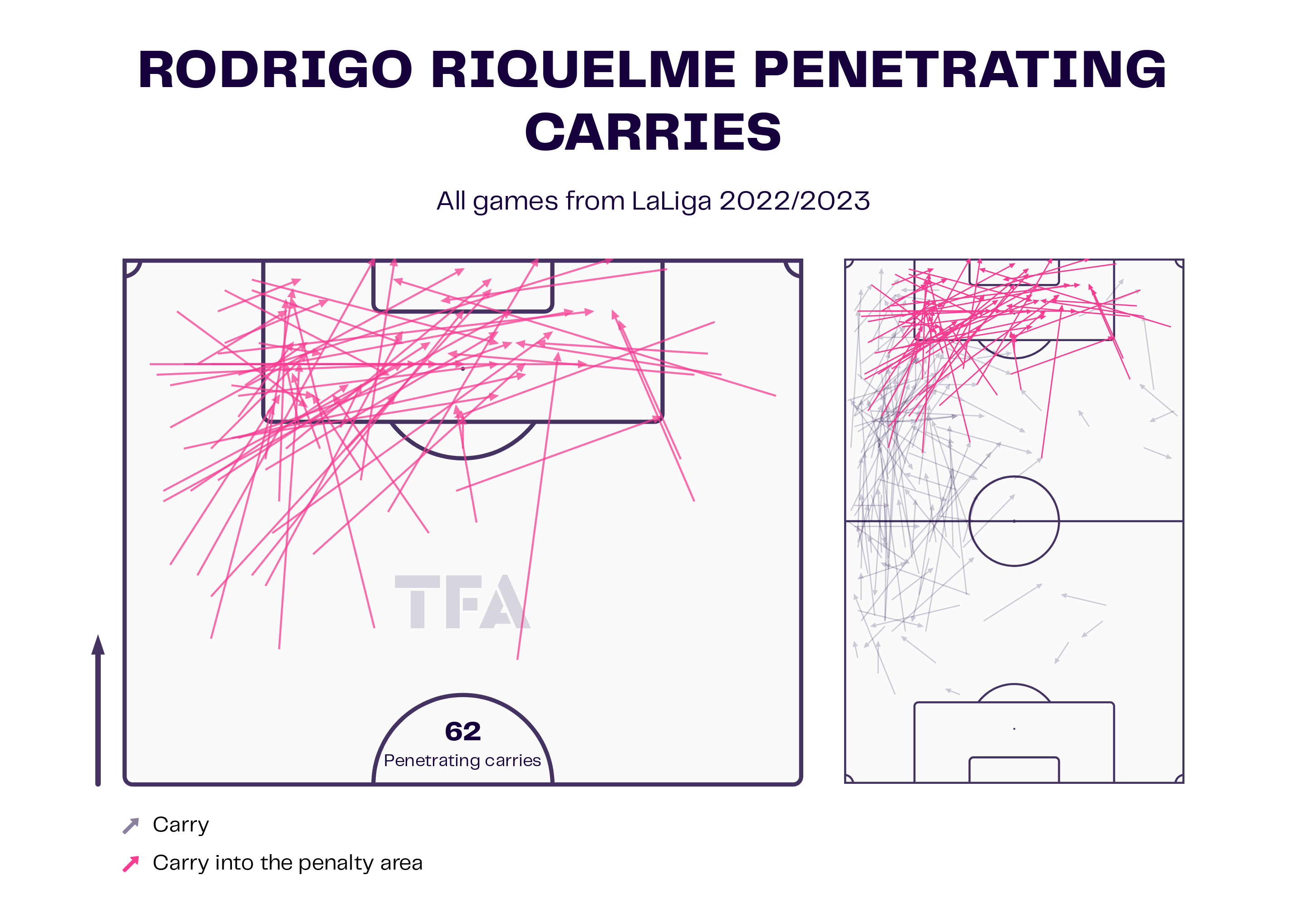 Riquelme's ability to connect with his teammates and provide crosses and cutbacks into the box is impressive. Based on the above visualisation of winger actions, we can see that he moves around the left flank. He is a successful dribbler and attempts 7.15 dribbles on average with a 43.8% completion rate. He averages 2.66 crosses per 90 minutes.
It can be seen in the second visual that he has made a total of 62 penetrating carries into the opponent's penalty area so far and made darting runs into the final third. He makes 3.72 progressive runs per 90 minutes and averages 2.89 touches in the penalty area.
Versatility and creativity last season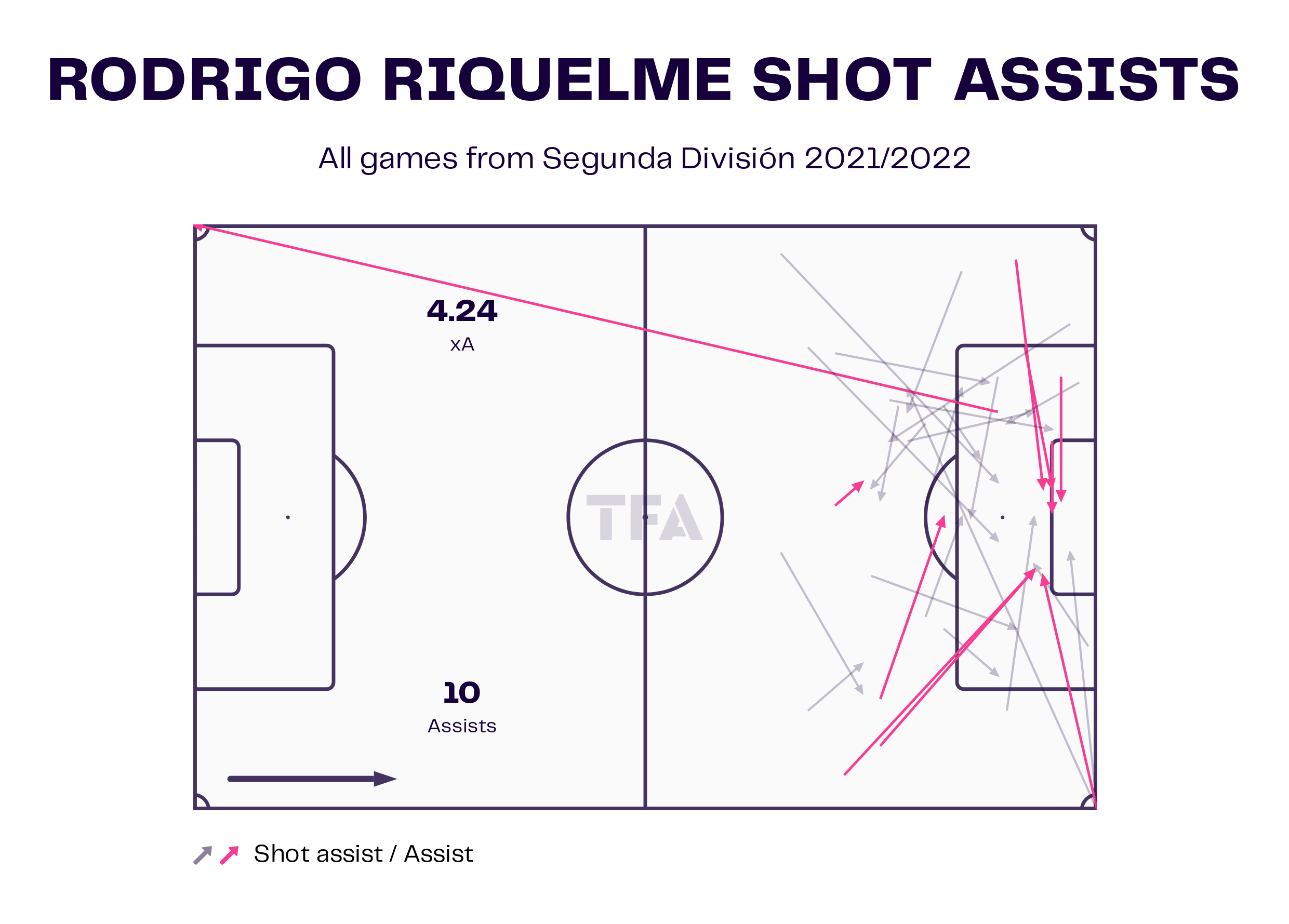 Rodrigo played for Mirandes in the 2021/22 Segunda Division. He had a very successful season for his team, having played 36 matches and scoring seven goals. He also managed to provide a total of 12 assists for his team. It can be seen that he is a versatile player who can adapt to both wings and provides a constant attacking threat. He finished in the second division with an xA of 4.24 and made crosses, cutbacks, and passes into the box from both flanks in order to create goal-scoring chances for his teammates.
Overall, Rodrigo Riquelme has been a key player for Girona this season and has shown the potential to develop into a top player in the future. He is a player who is versatile and can play on both flanks. Riquelme is a creative player and creates plenty of chances for his team. His impressive offensive output and ability to contribute to goal-scoring opportunities make him a valuable member of the team. 
Visuals via TFA data viz engine