Samuel Chukwueze has quickly become one of the most exciting talents to come out of Villarreal's academy. After joining the club in 2016, the 23–year–old Nigerian has established himself as a regular in the first team and is now a key player in their La Liga campaign. His goal in the second leg of the 2021–22 UEFA Champions League quarter-final away to Bayern Munich saw his team equalise and helped Villarreal progress to the semi-finals of the tournament. Chukwueze's quick feet, dribbling ability, and flair make him a nightmare for defenders, and he has already contributed three goals and four assists in the league this season. Below are some stats from the current season to assess the player's contributions to guiding his team to glory.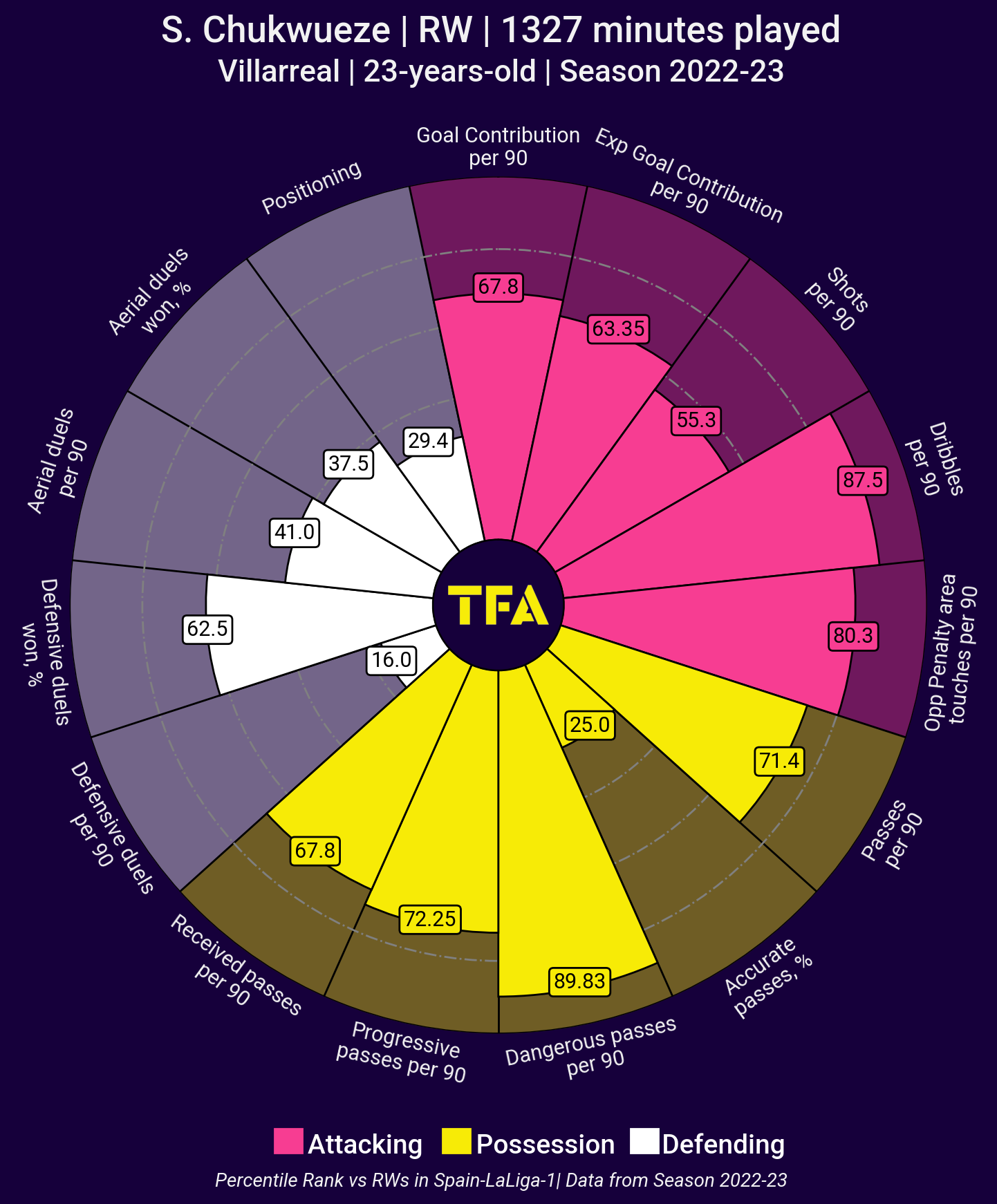 Samuel Chukwueze has played 23 times in La Liga this season, starting 14 matches. The above viz shows the percentile rank of the player's stats compared to other right-wingers in the Spanish top flight. It can be observed that Samuel is performing well in the attacking and possession department with respect to metrics like goal contribution, shots, dribbles, dangerous passes, and progressive passes. Meanwhile, as a right-winger, his strengths in defence are seen by his high rank in winning defensive duels.
Attacking contributions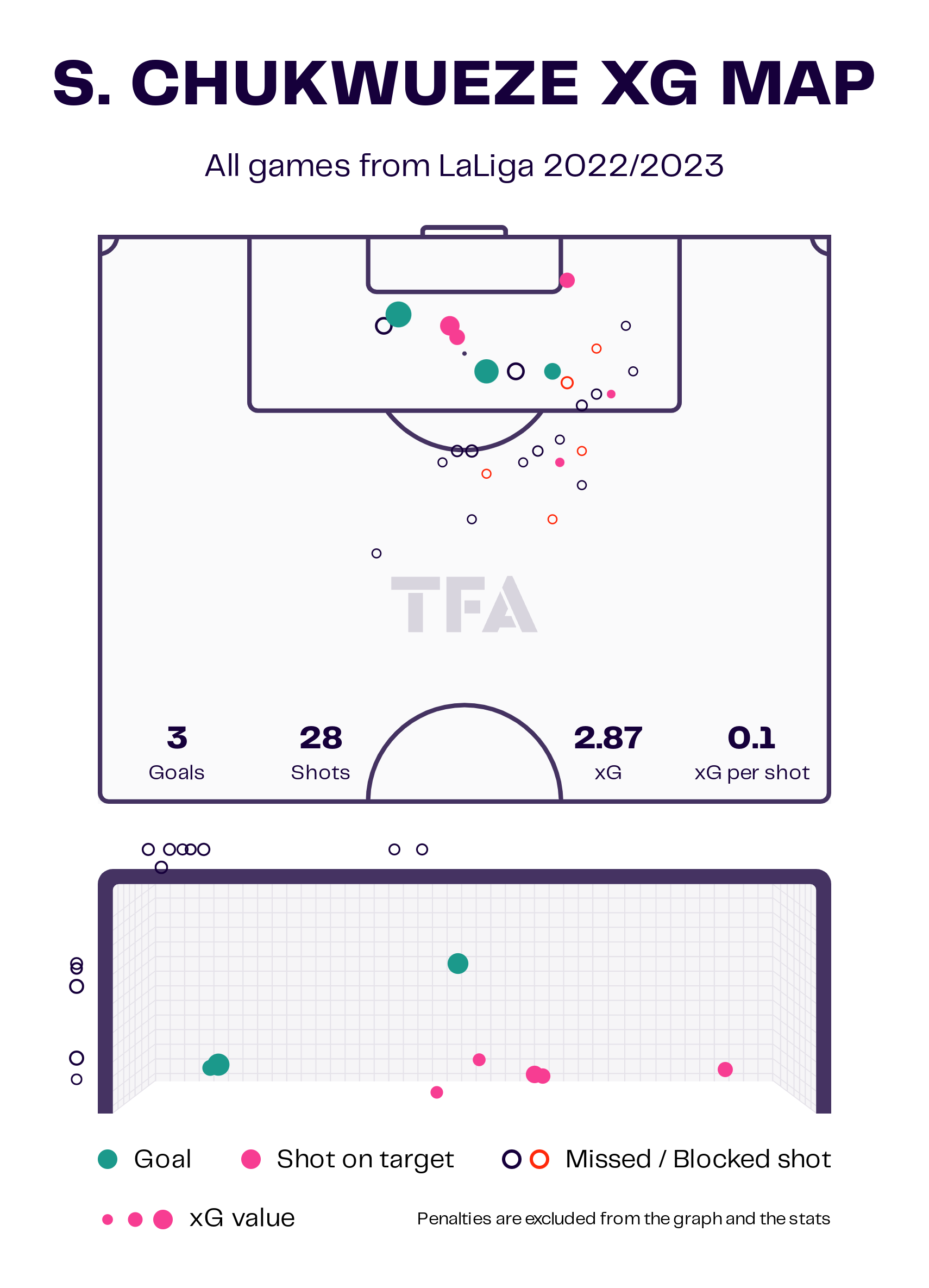 Samuel Chukwueze has scored three goals for Villarreal in La Liga 2022–23. He has taken 28 shots thus far and accumulated a total of 2.87 xG. The Nigerian winger averages 1.78 shots per 90 minutes with an accuracy rate of 28.6%. The shot map shows that most of the attempts came inside the penalty box. He can penetrate the six-yard box with ease and has scored his goals from very close range. While Samuel doesn't get many attempts on goal, he has done well to convert the chances he gets and has eight shots on target for Villarreal.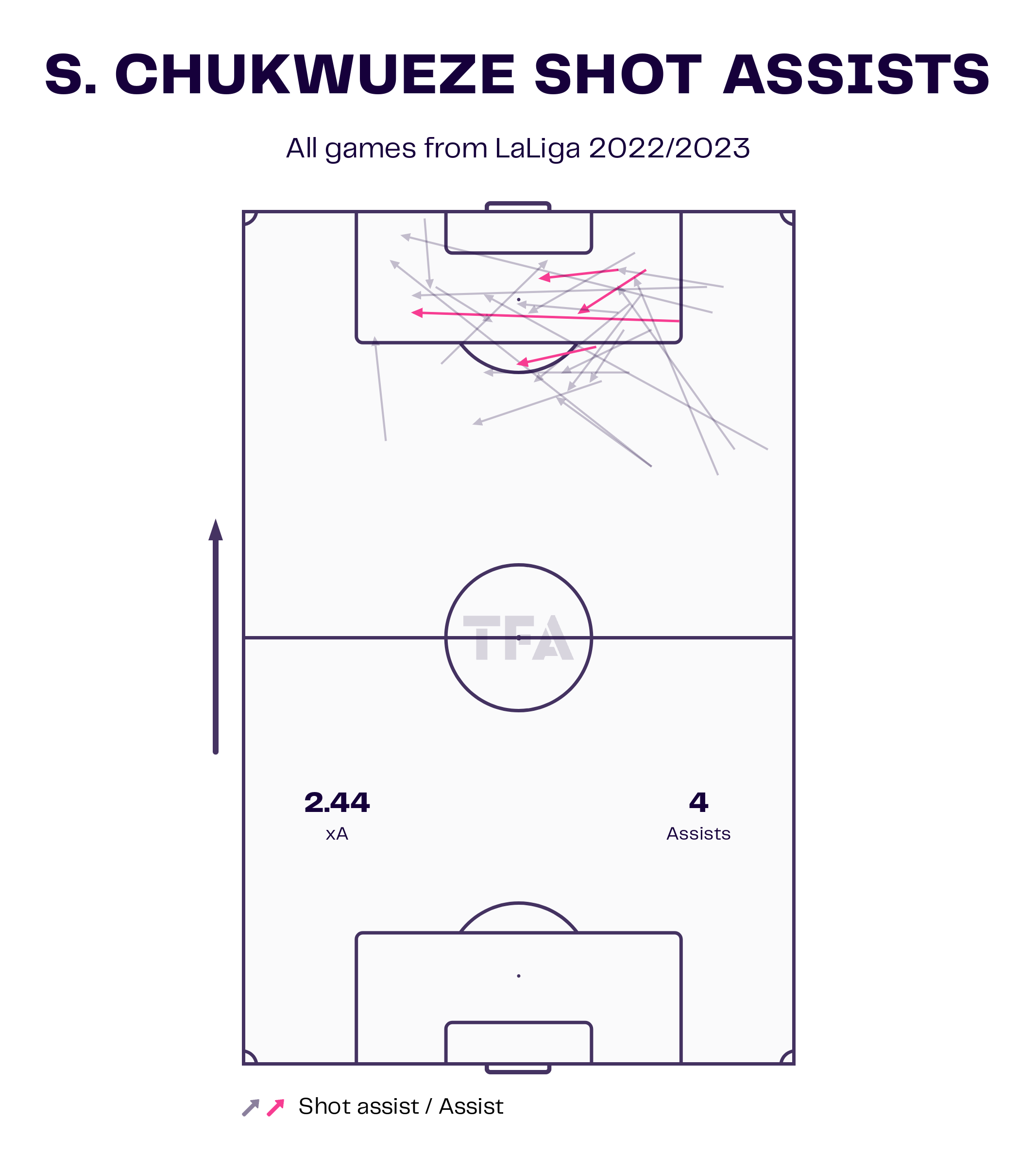 In addition to netting goals, the Nigerian international has the mindset to create scoring opportunities for others. The above viz shows the shot assists delivered by Chukwueze in the current La Liga campaign. He has recorded four assists thus far with an xA value of 2.44. It can be observed that some of the key passes are directed into the penalty box, while the others have been a few cutbacks and layoffs in the final third. Currently, Chukwueze averages 0.06 shot assists per 90 minutes and has also created one big chance.
Passing and winger gameplay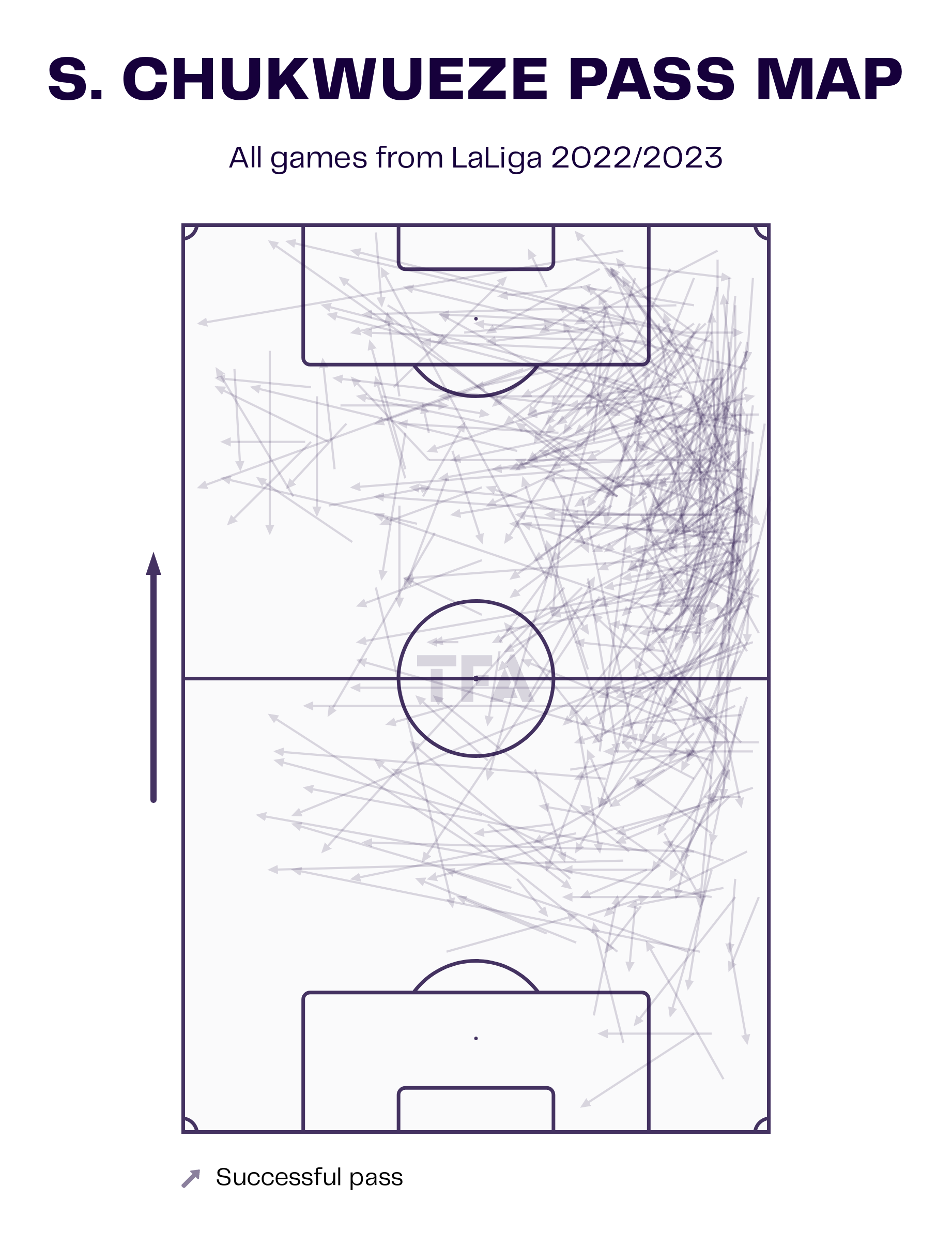 Besides contributing while going forward, the 23-year-old winger is good with the ball at his feet. He moves into wide areas to play short passes and link-up play with the midfield, while his ability to hold onto the ball is essential for his team to progress forward. Chukwueze attempts around 33.64 passes per match with an accuracy rate of 79%. Of these passes, 1.85 are delivered to the final third with 77.4% accuracy, and 3.49 passes reach the penalty area with 49.1% accuracy. Additionally, he makes 10.35 backward passes per match (92.6% accuracy).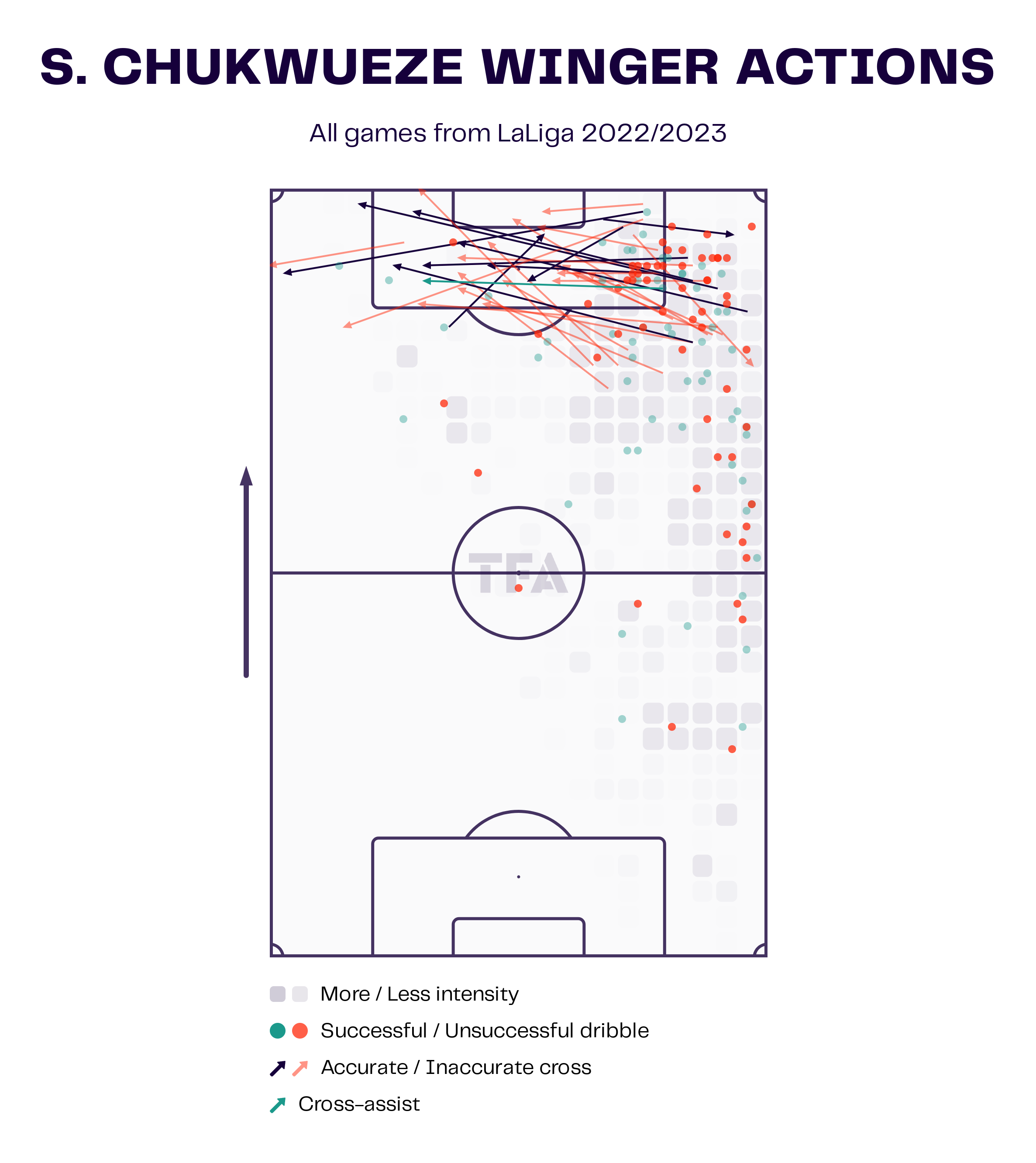 Another strong aspect of Samuel Chukwueze's gameplay is his ability to progress the ball through actions like dribbles, crosses, and progressive runs. From the viz above, we can see that the Nigerian striker attempts dribbles all over the pitch but sees more success in the middle third compared to the final third. While pushing forward, he also makes a few progressive runs, particularly towards the right side and through the middle of the pitch. Currently, Chukwueze averages 7.74 dribbles per match with a 47.5% success rate, along with 4.7 progressive runs and 2.22 crosses (34.3% accuracy), and has managed one cross assist.
Samuel Chukwueze is a mobile right winger who can carry the ball effectively and penetrate opposition lines. He performs ball-carrying actions mostly in the final third, helping his team by making darting runs into the box and creating spaces for fullbacks to overlap. The winger has made 81 penetrating carries into the penalty box thus far, particularly from the right flank. He also averages 4.06 touches in the penalty area per 90 minutes.
Overall, Samuel Chukwueze has proven his worth to Villarreal. Apart from generating attacking danger as a winger, he also helps his team with his creative attributes and abilities on the ball. Villarreal are currently in sixth place and have bounced back from three straight defeats, winning two of their last two. They will look to creep into the top four, but first, they will need to grab hold of their current position. There is plenty to look forward to, and the yellow submarine is counting on its faithful, Samuel Chukwueze.
Visuals via TFA data viz engine