Since his return to Atletico Madrid in the summer, Saul Niguez has been a key figure in the club's midfield. Over the many seasons, the Spanish midfielder has been an integral part of Diego Simeone's squad and has helped the club see through many victories. Niguez's return to the Spanish capital has seen him develop into one of the club's most important players. His technical ability, defensive nous, and work rate have made him a key part of the team's midfield. He has been a key asset in Simeone's system, often playing as a box-to-box midfielder and providing the team with energy, tenacity, and reliability. We now look at some of his stats for his club in the Spanish first division.
Saul Niguez in his return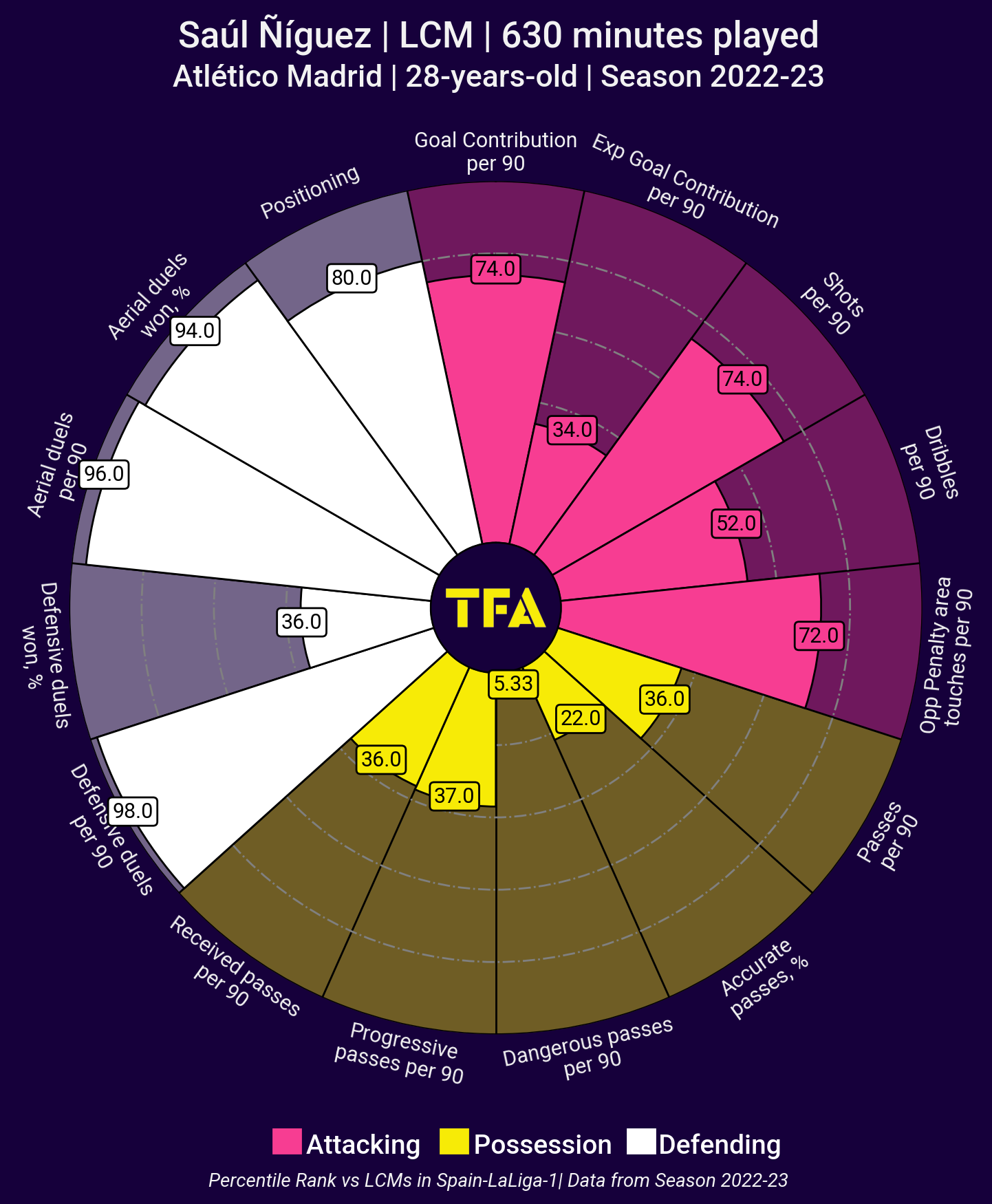 The above viz shows the percentile rank of the player in comparison with other midfielders in La Liga for the current season. It can be seen that Saul ranks highly in terms of his defensive stats. He ranks in the top 94 percentile for aerial duels won and in the top 98 percentile for defensive duels contested. He shows a high level of confidence in positioning himself on the pitch and likes to build the play for his side. He is also performing well when it comes to proving goal contributions. One area where he can improve is his possession stats.
The above viz is a shot map for the player for all games in La Liga 2022/23. He has made 19 appearances for Atletico in the current season. Saul is not known for his ability to score goals, and he has rarely found the back of the net in his career. He has attempted ten shots in the 19 matches (0.69 xG) and has an xG per shot of 0.07. He takes 1.06 shots per 90 and has an accuracy of only 12.5%. He has five shots on target and has managed to score a goal from the edge of the box.
Passing and progressive gameplay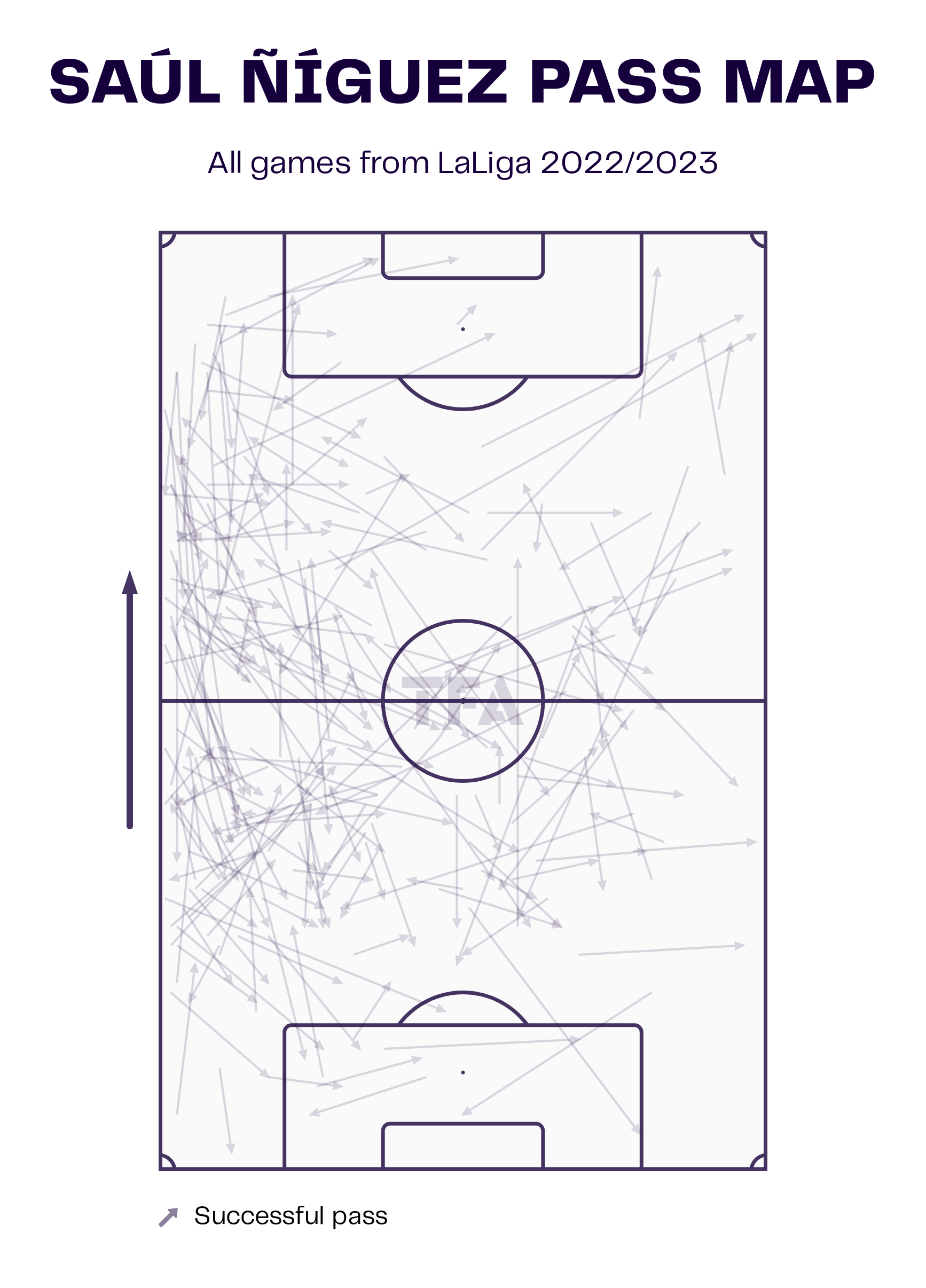 Saul typically plays on the left side of midfield, moving up the pitch to create an attacking threat and receive the ball in dangerous areas. He makes 61.21 passes on average per 90, with a completion rate of 86.3%. It can be seen that the player makes many forward passes, averaging 19.11 per match, and makes 8.78 passes to the final third per 90 minutes. Saul is a player who likes to provide control for his team and maintain possession. His ability to provide accurate, progressive passes into the box has been crucial for his side down the left flank.
The defensive duty under Diego Simione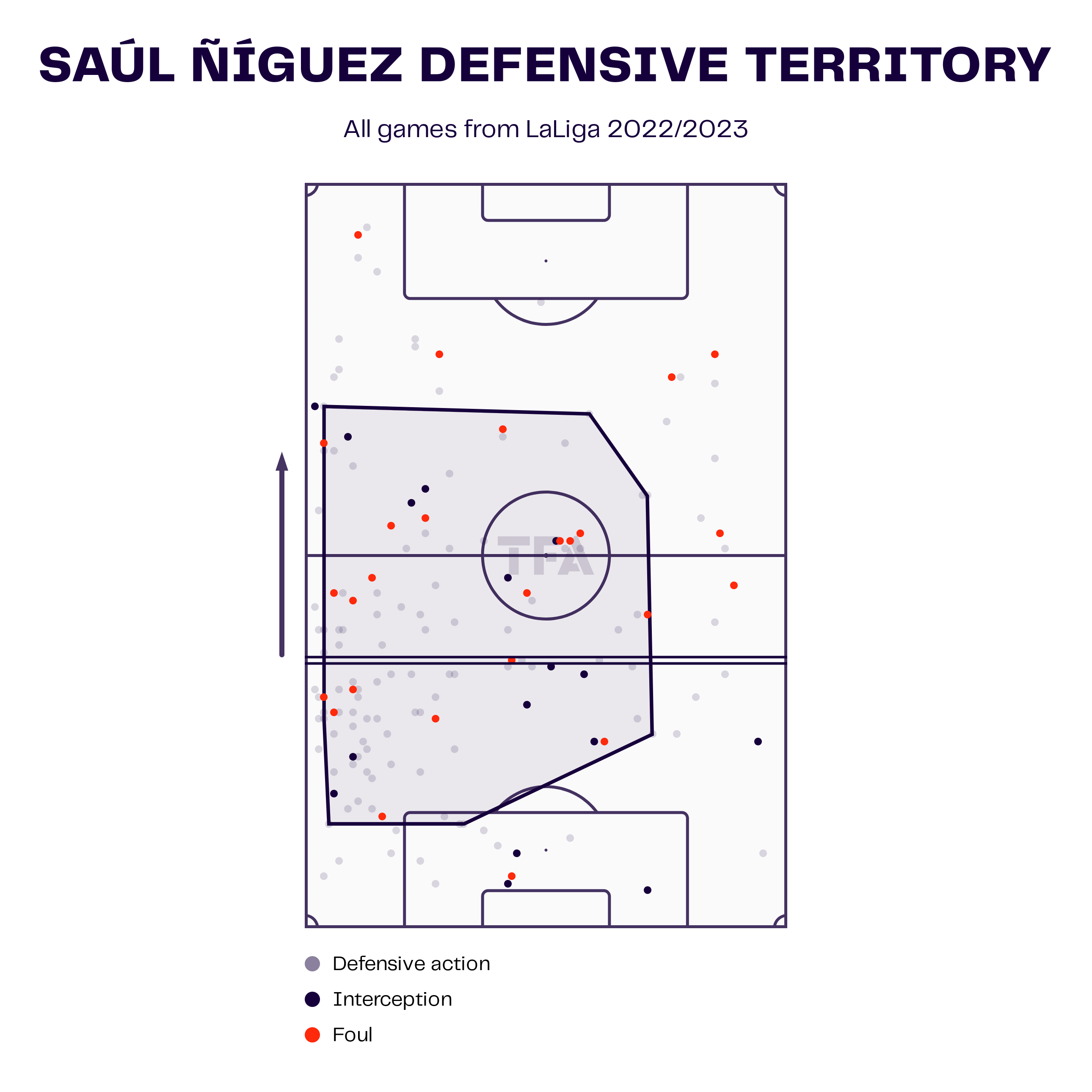 The above viz shows the defensive territory and various high regains of the player in La Liga 2022/23. It indicates that the player is involved in a lot of defensive actions in the defensive third and makes interceptions near the defensive and middle thirds. It can be observed that he has given up a few fouls and has averaged 1.38 fouls for the season. Overall, he has an average of 17.61 duels per 90 and a 49% win rate. Saul averages 2.7 interceptions per 90 minutes and makes a lot of movement in the opposition's half in order to put high pressure on the opposition's midfield and final third. He makes 6.92 successful recoveries in the opposition's half per 90. Saul is a great ball-winner in the air and shines in Simione's setup.
Fine vision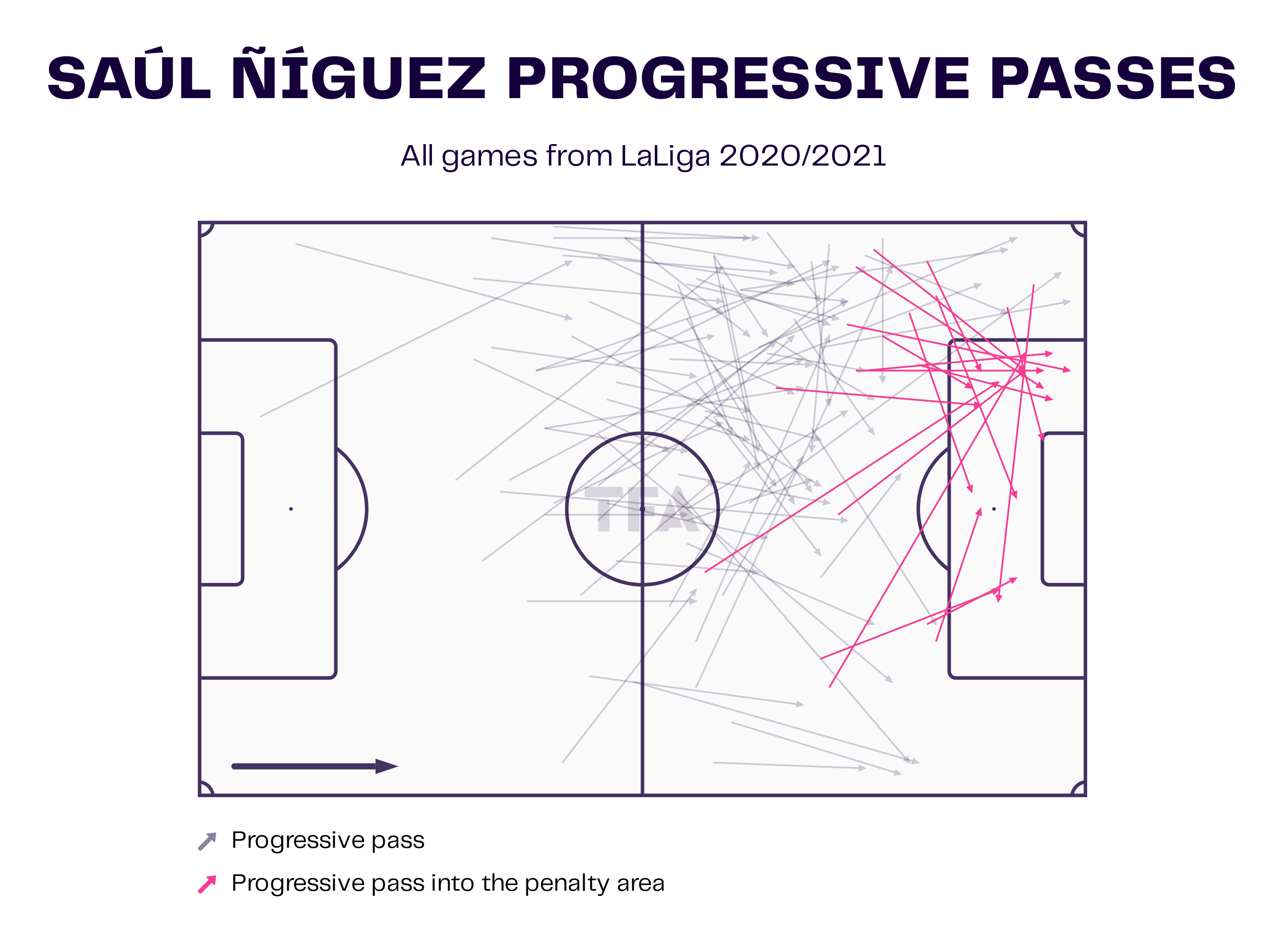 Saul's ability to make contributions to his side by providing accurate passes into the box has come in handy. The above viz depicts the progressive passes made by him for Atletico in the 2020–21 Spanish top flight. It can be seen that he has made most of his passes in the form of forward passes, through passes, and long balls. His contributions down the left flank are clearly visible, and Simone will be hopeful that the player is able to replicate or better his previous performances with the side from Madrid.
Overall, it has not been a very fruitful return for the Spanish veteran, as his side has yet to find stability in the top four. They recently played out a 1-1 draw in a classic Madrid derby and seemed to have found some tactics to rely on. It remains to be seen if the team manages to make it through this season, especially in the top four. Saul will try to regain his best form and bring some silverware to his team.
Visuals via TFA data viz engine