Sergio Guardiola is a Spanish professional footballer who plays as a forward for Cadiz on loan from Real Valladolid in La Liga. Cadiz did some good transfer business recently by signing Spanish veteran Sergio Guardiola. Regarded as an experienced, talented striker with great attributes, he has featured regularly in Real Valladolid's first team. In La Liga 2021/22, he made 32 league appearances for Rayo Vallecano and scored eight goals as his team finished 12th in La Liga and earned a place in the top division.
This season, he did not find much success playing for Valladolid, having made 14 appearances, and has made the move in order to find more success on the pitch. The experienced talent will provide Cadiz with some much-needed depth in the attacking positions. Below, we look at some stats to understand why Cadiz have added the experienced striker to their ranks.
Overall performance- last two seasons in La Liga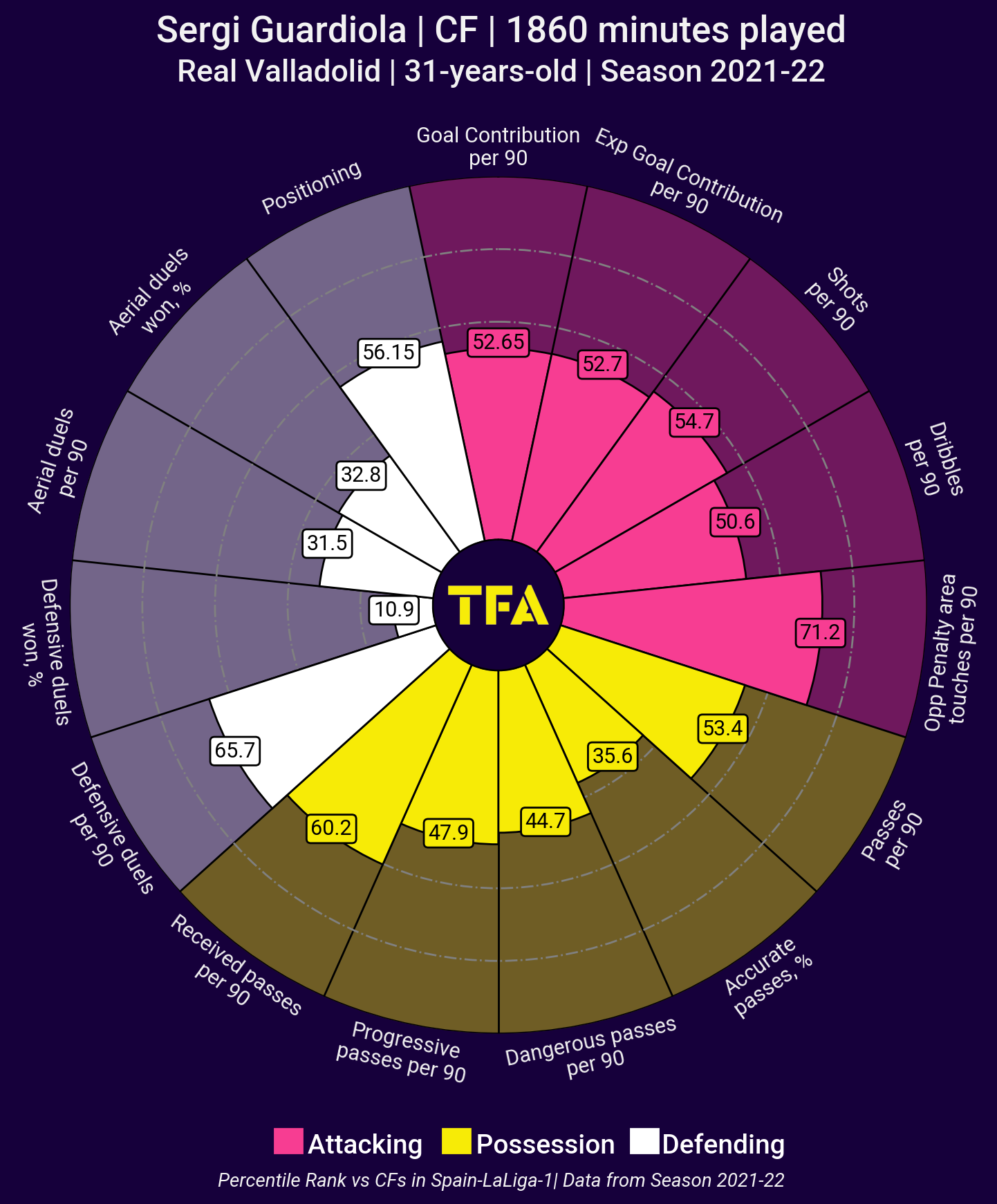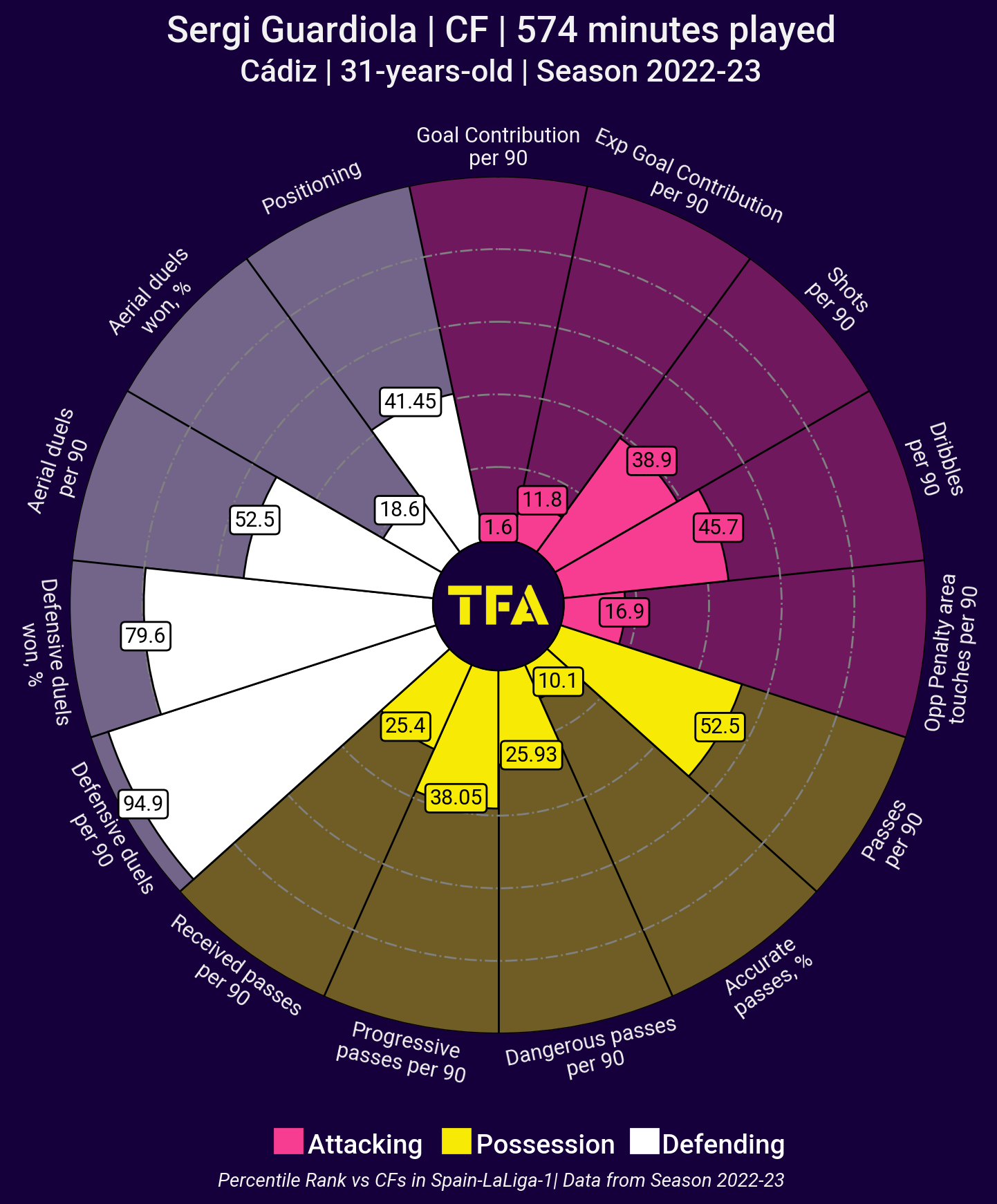 Sergio Guardiola usually plays as a centre-forward for Vallecano in La Liga in 2021/22. The viz above shows the percentile rank of the player's stats compared to other centre forwards. He played 32 matches for his club and performed well in terms of his ability to create. He fares well when it comes to maintaining possession and generating attacking threats. He also managed to find success dribbling and getting touches in the opponent's penalty area.
The second viz represents the players' rank as compared to other centre-forwards in La Liga in 2022/23. Sergio Guardiola was part of Valladolid in the Spanish top division and appeared in 14 matches for the club. As a striker, he did not perform well in terms of his attacking and ranked poorly in goal contributions and expected goal contributions.
It can be concluded that the player is extremely versatile on the pitch and has the potential to generate a decent attacking threat given he gets some game time.
Sergio Guardiola in the box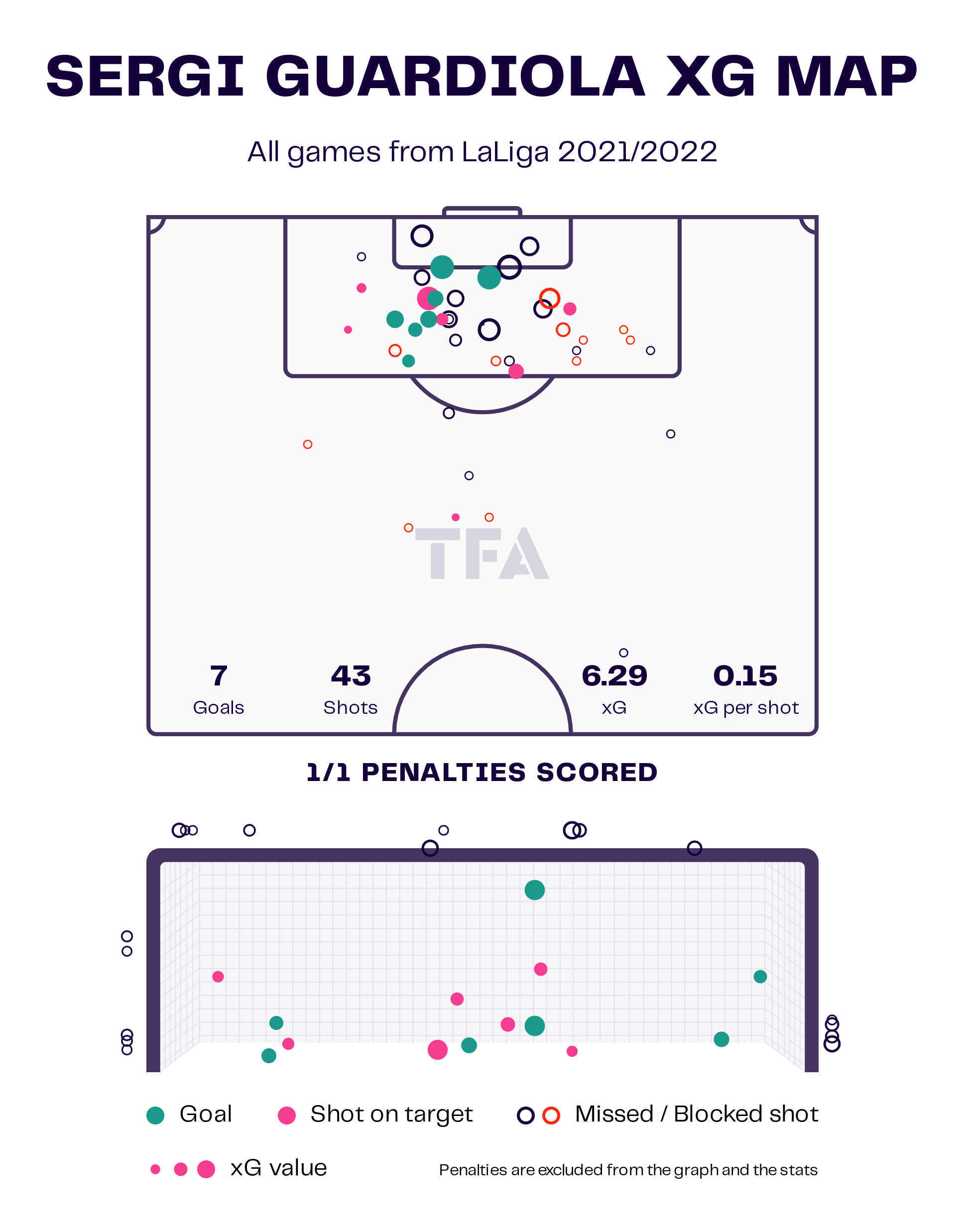 The above viz depicts the shot map of Sergio Guardiola in La Liga 2021/22 for Rayo Vallecano. He found the back of the net eight times with an xG value of 6.29. The forward scored at a rate of 0.39 goals per match while averaging an xG rate of 0.34. He attempted 43 shots, with most of them coming from inside the penalty area in proper centre-forward fashion. All of his goals have also come from inside the box, including a few shots from the vicinity of the six-yard box. The attacker took an average of 2.13 shots per game with an accuracy of 34.1%.
Progressive and defensive traits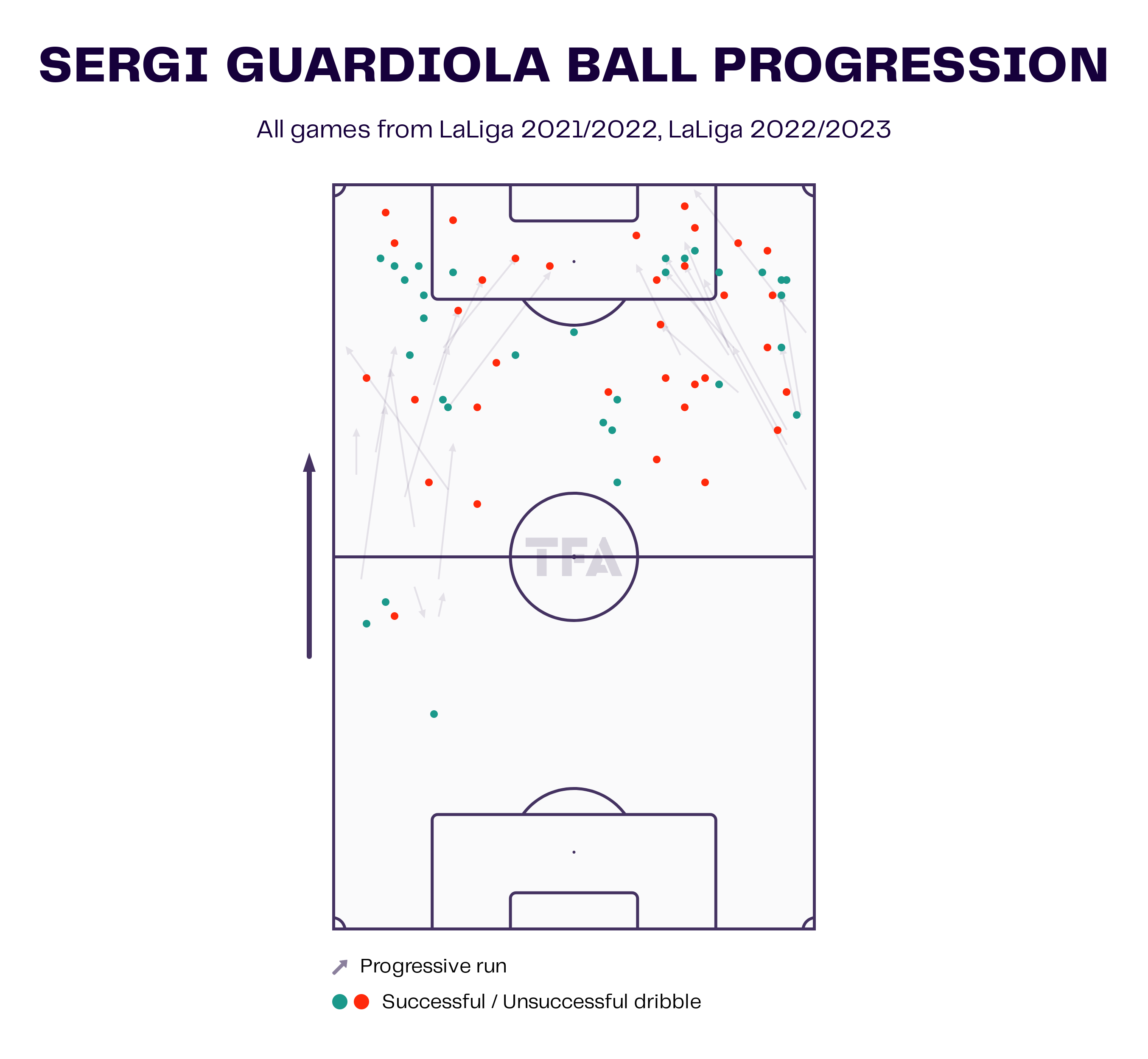 Another essential aspect of Guardiola's gameplay is his ability to progress the ball through actions like dribbles and progressive runs. From the viz above, we can see that the striker attempts a lot of dribbles in the final third, and executes these actions with great success inside the penalty box. He also attempts some of these actions on each flank while moving forward. In the 2021/22 season, he averages 2.37 dribbles per match with a 53.1% success rate and also makes 0.82 progressive runs per match.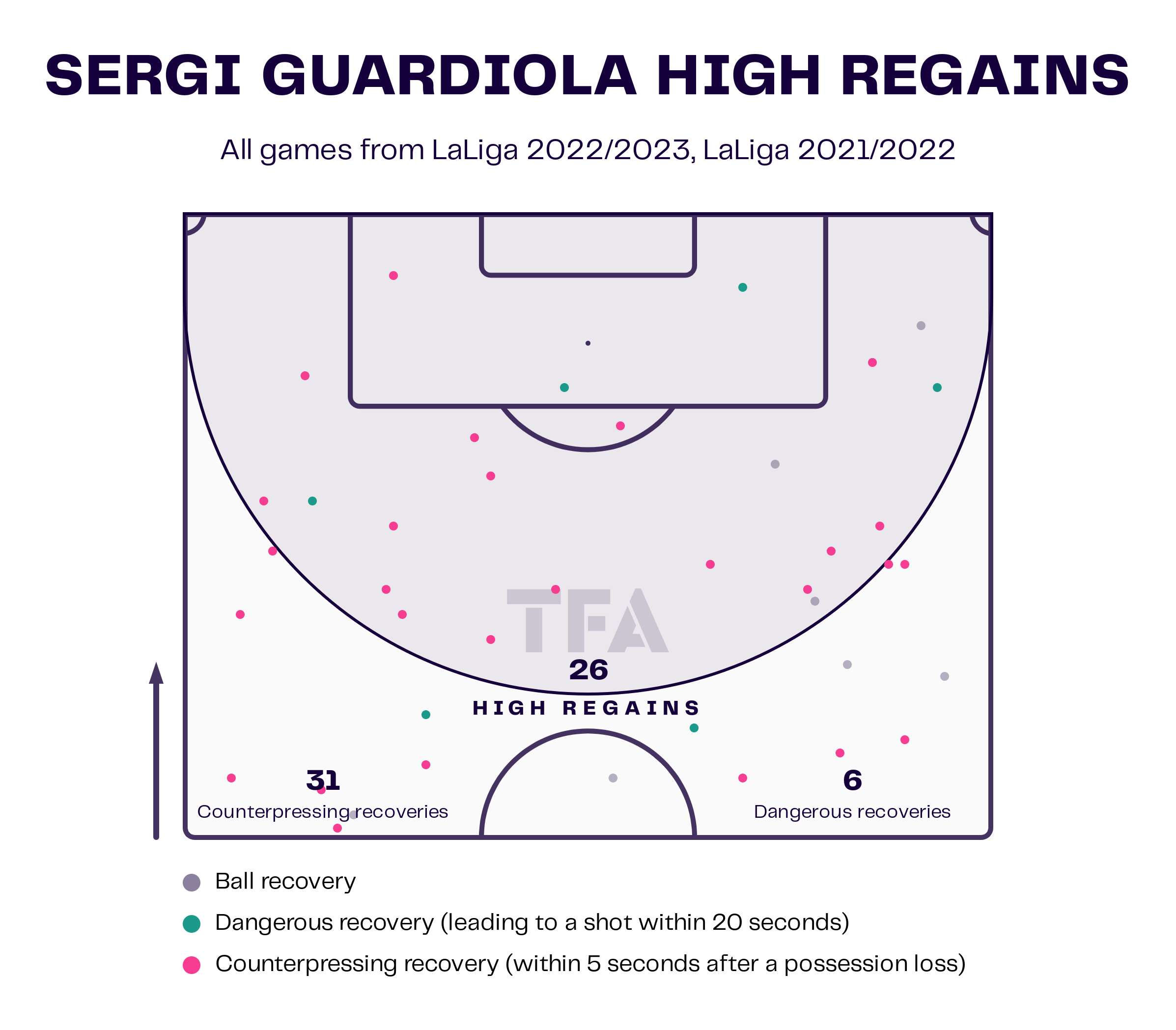 The player contributes to the team defensively when he is deprived of possession. The viz above shows the player's average high regains from the last two seasons. Sergi commits most of the interceptions and recoveries in the central regions of the final and middle thirds. He makes 1.79 interceptions, 1.35 fouls, and 2.47 recoveries per match in the 2021/22 La Liga season. Furthermore, he has made a total of 31 counter-pressing recoveries, 26 high regains and six dangerous recoveries.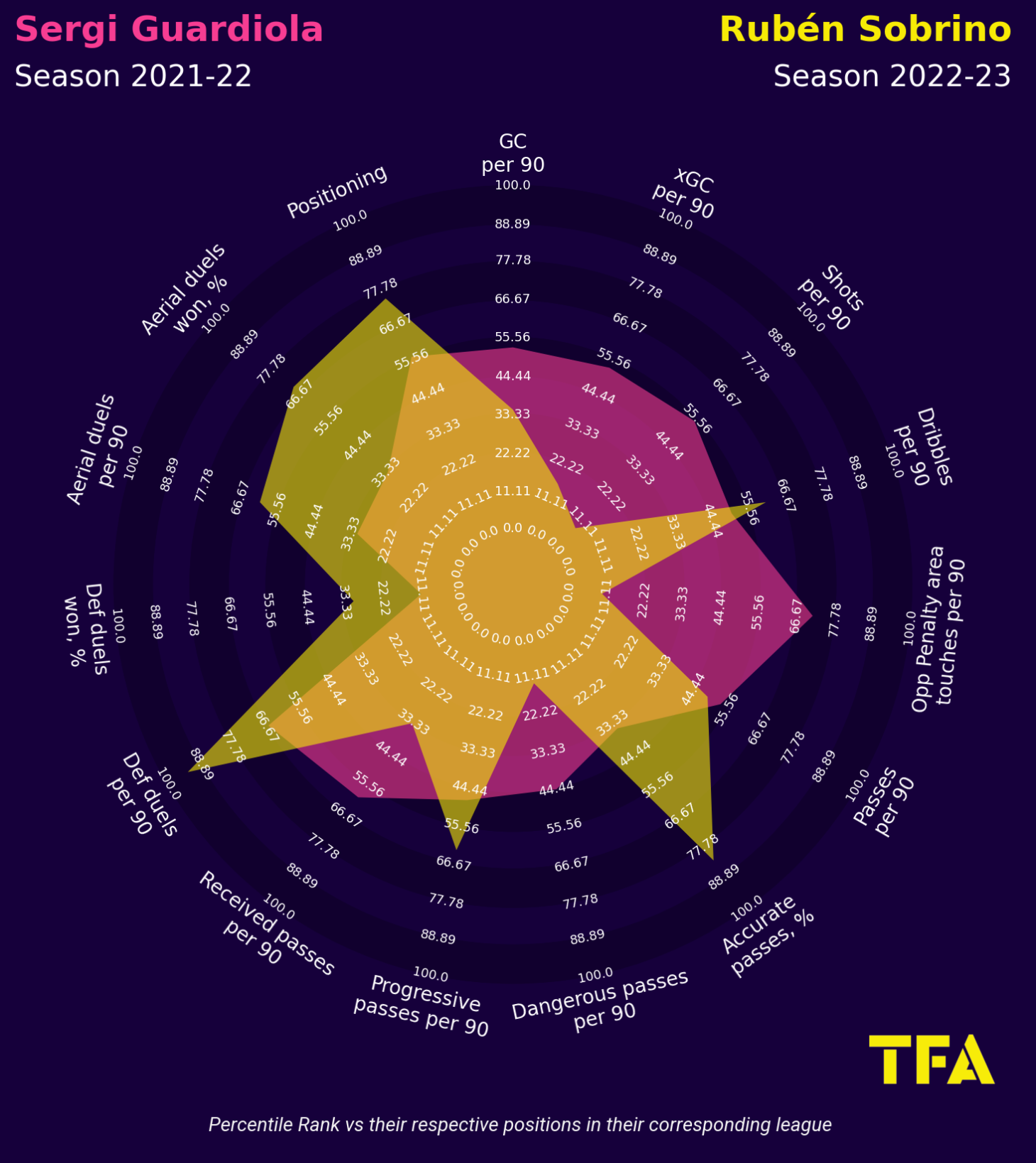 The addition of Sergio Guardiola will add more depth and quality to Cadiz's attacking line. The player can prove a like-for-like replacement for Ruben Sobrino and has already found a place in the starting lineup in his place on one occasion. The above viz is a comparison between the two players. Both players outperform each other in certain areas. Notably, Sergio Guardiola has better stats in areas like goal contribution, shots, touches in the penalty area, received passes, and dangerous passes made.
Overall, Sergio Guardiola is a player who has amassed a lot of experience playing regularly in the first division. The move to Cadiz is certainly a decent move in his career, where he will get to develop further into his potential and hopefully achieve success as well as find more playing time. He is a centre forward with a natural affinity for scoring goals, but he also contributes to the team in a variety of other areas. The player will have an important role to play in Cadiz's attacking department for the rest of the season, with the club trying to make it safely into the next season.
Visuals via TFA data viz engine