Should Rodrygo be included in Madrid's best XI?
Rodrygo of Real Madrid is a young (21) and exciting player who boasted an XG at the World Cup of 0.51. This is a little more than his current XG for his club which is 0.49.
He has had the same number of starting caps as Real Madrid legend Benzema this season with 15, but the Frenchman is now at the ripe age of 35.
For that reason, the veteran is often rested as well as having multiple games out with injury. This increasingly opens the door for Rodrygo who is hungry to become an automatic starter.
Right now, it is clear Benzema is more effective and far more important, underlined by his league-leading XG of 0.89.
However, as underlined in the graph below, it is clear to see how involved Rodrygo will be in matches and he is very much among the best when it comes to XG when he is in the side.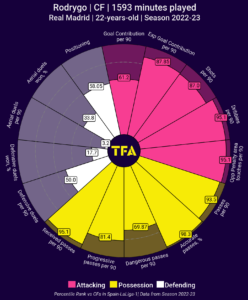 Rodrygo is noted for being a very quick and dynamic player, a vocal section of fans demand he gets more starts and see him as the solution to replacing Benzema over the next season or two.
Comparing his key stats to those he competes for starts with in the XI, he certainly seems to be in good company.
The one area Rodrygo is not yet delivering on is the number of La Liga goals. He only scored four which is level with Modric and Asensio, and behind Valverde (7), Benzema (11) and Vini Junior (7).
His 0.19 expected assist is better than Benzema's (0.16), but a little behind Asensio who has 0.21. Vini Junior is also ahead with 0.20.
Marco Asensio leads him with actual assists per game too with 0.36. Rodrygo meanwhile has 0.23, which is higher than Vini Junior at 0.16.
Rodrygo does not seem to have the ability to play the same kind of role as Benzema, who has been a fox in the box but in his older age, is extremely effective when dropping deep and linking up the play.
However, there is a big future for him at the club and perhaps his versatility to play across the line behind the CF or even as the CF, could end up being his asset. One thing he must improve short term is goal tally however, the most important of all stats.