Barcelona have been trying to find a replacement for Sergio Busquets for some years now but are yet to find someone perfectly suited for that role. But according to the latest reports, they were interested in signing Moroccan midfielder Sofyan Amrabat. The 26-year-old, who plays for the Italian club Florentina, had a great World Cup and was the backbone of the Moroccan National Team. The Catalan giants want to bring him to La Liga and were pushing for the deal before it fell through because they couldn't reach an agreement before the deadline. Therefore, we look at his stats to understand why Barcelona were eyeing a move for Sofyan Amrabat.
Season so far
Sofyan Amrabat has played 17 matches this season with 13 starts. He has been solid in the middle of the field for Florentina and was impressive in the World Cup as well.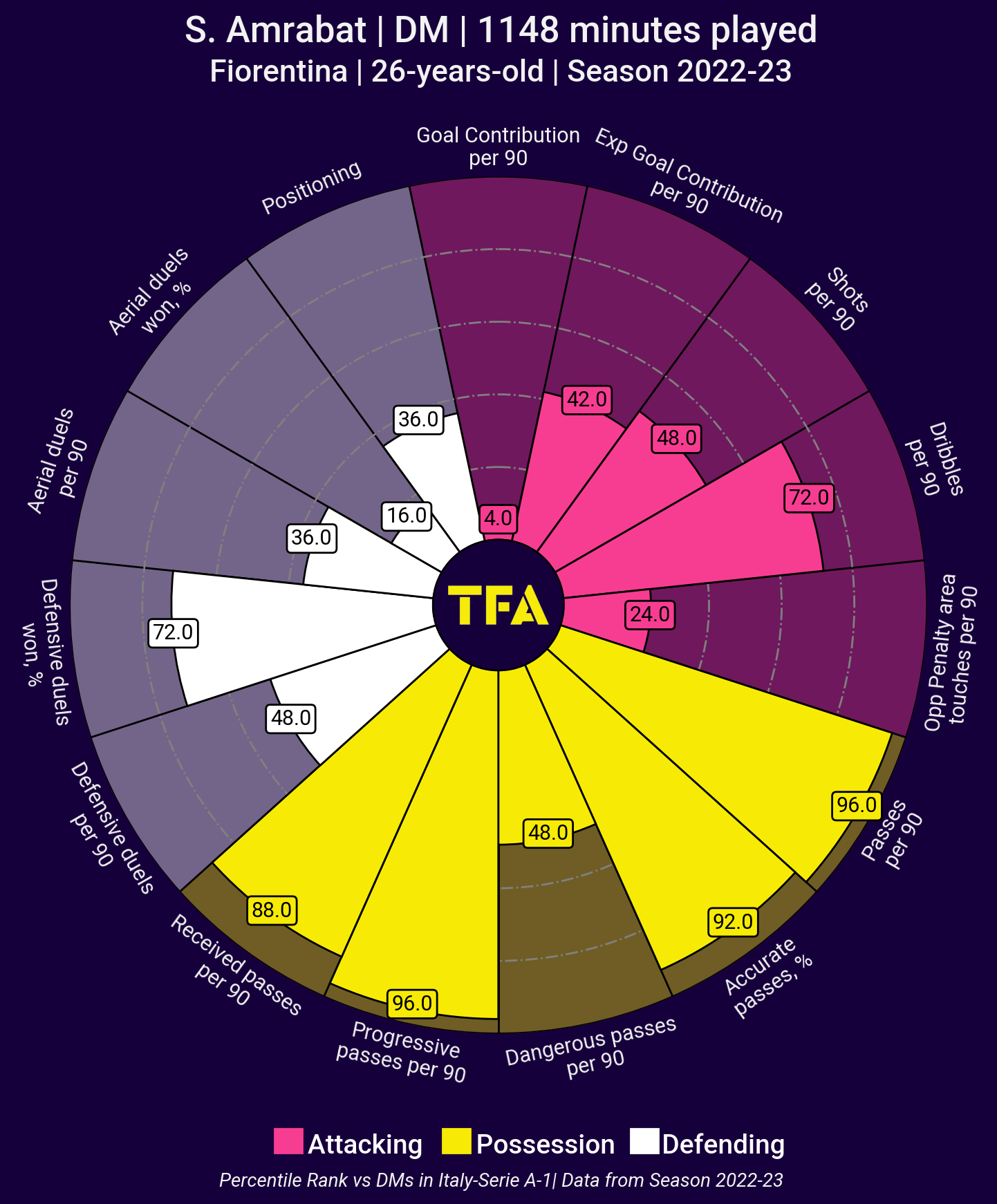 The visual above shows Sofyan Amrabat's percentile rank compared to other defensive midfielders in Serie A. The 26-year-old has great stats in passing and has done well in defence and attack as well. He is ranked in the top 96 percentile for passes per game and progressive passes per game. Amrabat is also ranked in the top 92 percentile for accurate passes as well. Other areas he has done well are in defensive duels and dribbles, where he is ranked in the top 72 percentile.
Defensively strong
The above visual shows Sofyan Amrabat's defensive territory from the current season. He plays as a defensive midfielder and has contested an average of 6.66 defensive duels per game with 64.7% success. Amrabat has also taken part in around 1.49 aerial duels per game, with 31.6% success. Moreover, he makes around 3.29 interceptions per game as well. Sergio Busquets is finding it hard to take on the defensive duties alone these days, and he would have been a good replacement in that aspect.
Pressing and regains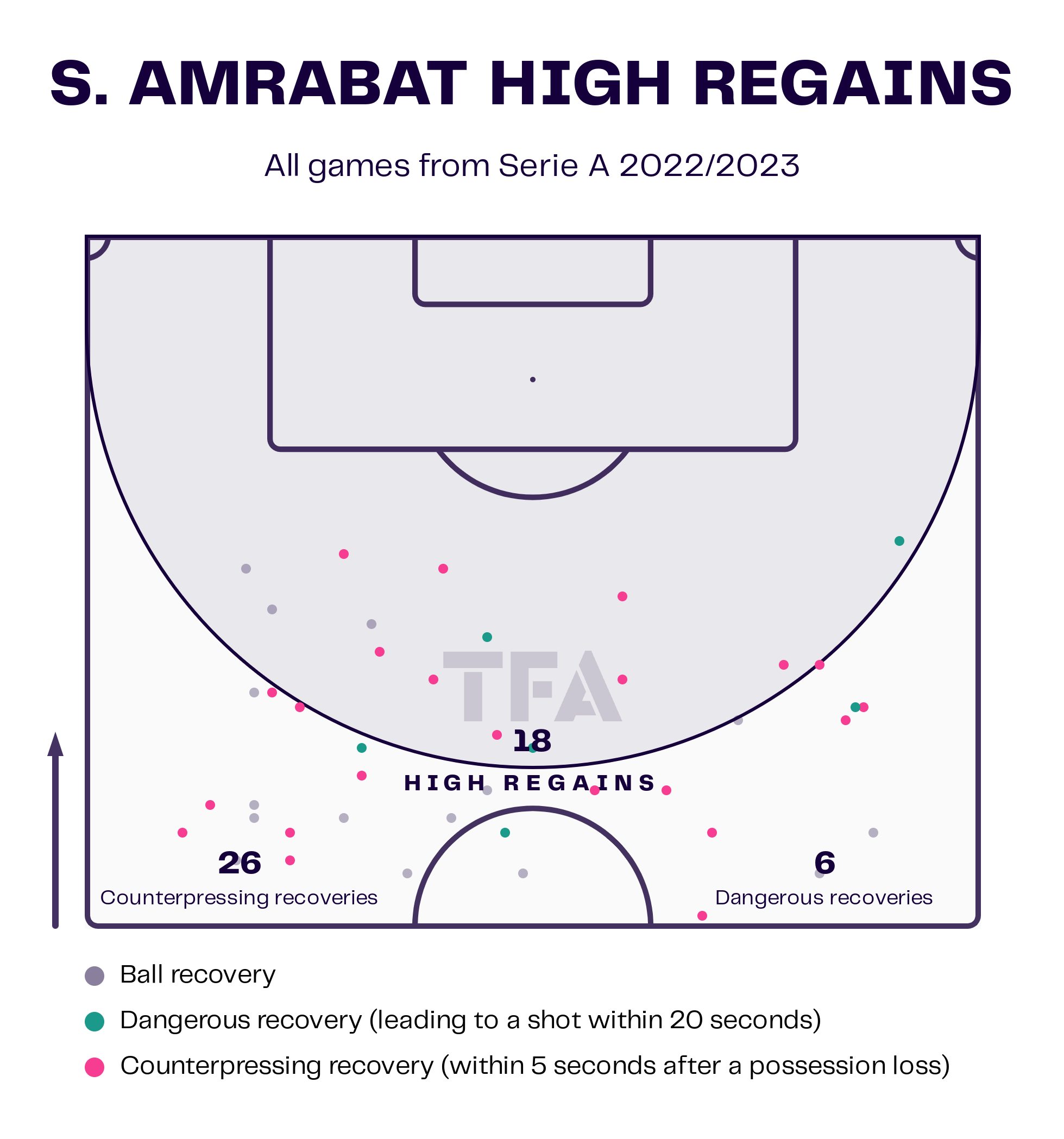 The visual above shows Sofyan Amrabat's high regains from the current season. Counterpressing and regaining possession in dangerous areas are so important for Barcelona, and Amrabat has done well in that regard. He has made 18 high regains, 26 counter-pressing recoveries and six dangerous recoveries. Amrabat makes around 7.45 recoveries per game, with 52.6% of them in the attacking half.
Passing
A defensive midfielder is such an important position in Barcelona's midfield, as he is the player who connects the defence to the attack. Therefore, anyone who wants to play in that position should have a good passing record. Amrabat qualifies in this aspect as well. He has a passing accuracy of 92.1% and an average of 61.15%. Amrabat sits at the heart of the midfield and makes around 11.68 passes into the final third, that too with 89.9% accuracy. He also plays around 2.74 passes into the penalty area with 45.7% accuracy. He has good accuracy in long passes as well and plays around 4.5 long passes per game as well.
Last season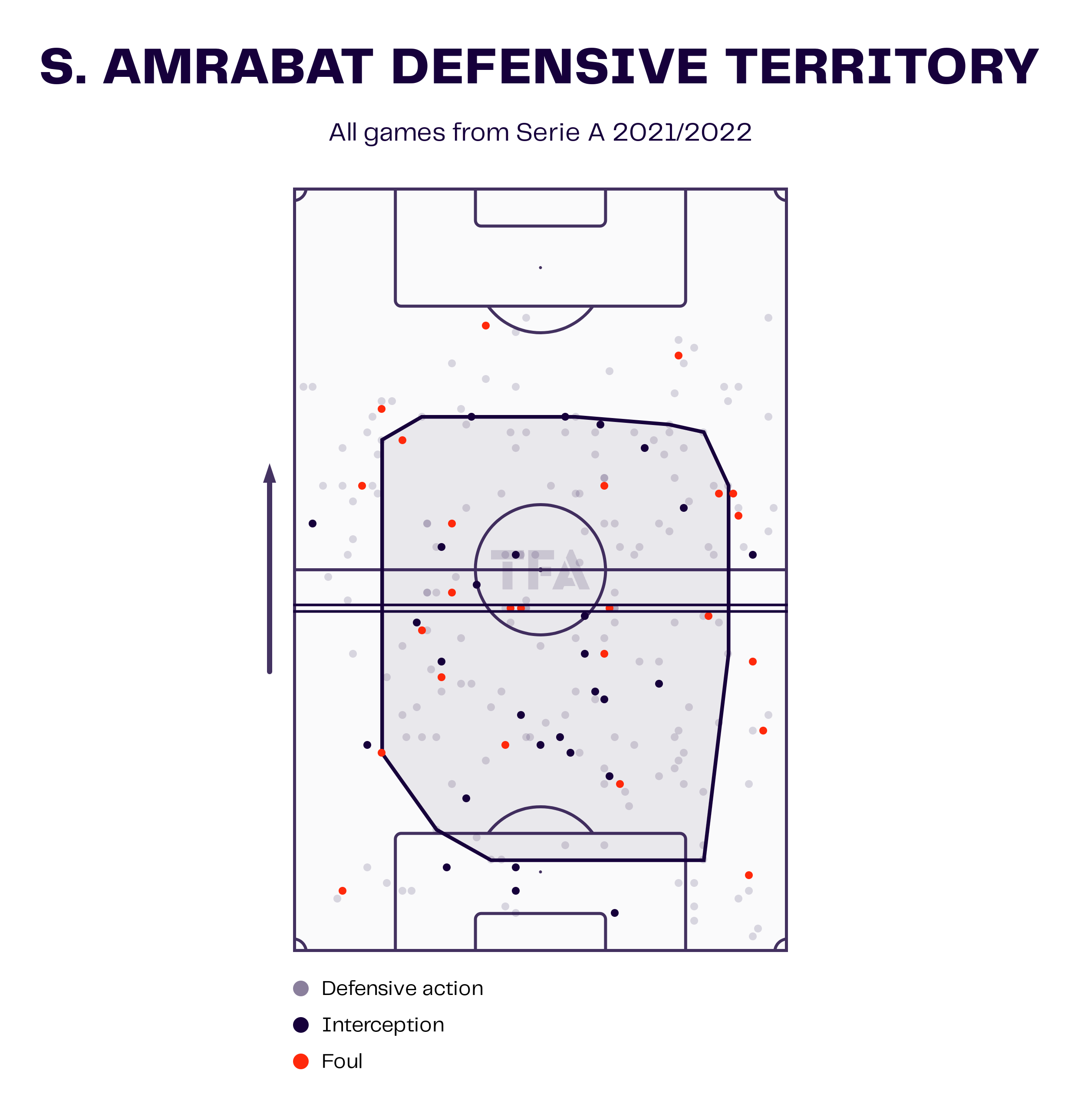 The visual above shows Sofyan Amrabat's defensive territory from the previous season. He had a brilliant record defensively, with stats much better than this year. He made an average of 9.61 defensive duels per game with 61.6% success and around 2.06 aerial duels with 29.2% success. His average number of interceptions per game was also higher last year, as he made around 5.23 interceptions per game.
Could he have replaced Busquets?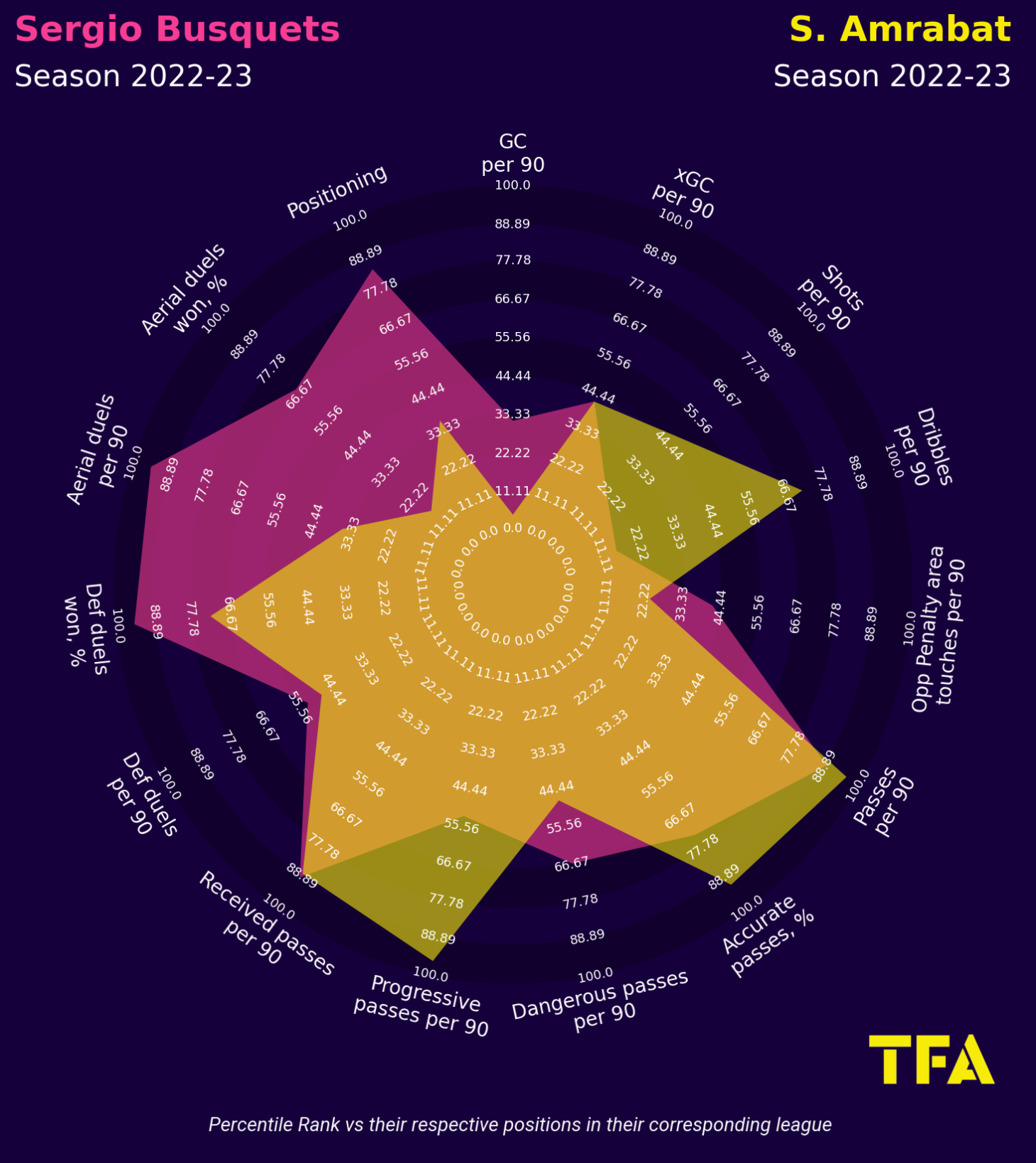 The above visual compares the radars of Sofyan Amrabat and Sergio Busquets. The latter has been a mainstay in Barcelona's midfield for over 15 years now and has played a huge part. Replacing him will not be easy, but looking at their stats, we can observe that Amrabat has done well or even better than Busquets in some metrics. He has better stats in the passing section, shots, and dribbles per game. Meanwhile, Sergio Busquets has done better in defensive duels, aerial duels, and dangerous passes per game.
Betting Analysis
Sofyan Amrabat had a great World Cup and is in good form. He would have made Barcelona's midfield more solid both defensively and on the attack. Therefore, the odds for Barcelona would have seen a dip in the 1×2 market, and Amrabat, with his solid defensive skills, would have managed to bring the underlines further down.
Sofyan Amrabat came to the limelight at the World Cup, where he was the spine of the Moroccan midfield. Ever since a lot of clubs have kept tabs on him. His move to Barcelona would have been ideal for both parties, so it is a shame that it broke out in the final hours.
Visuals via TFA data viz engine