Takefusa Kubo was considered one of the best talents emerging out of La Masia Academy and was even termed "the Japanese Messi." The Japanese international, who had returned to Japan for a while, was roped in by Real Madrid before Real Sociedad signed him in the summer of 2022. The 21-year-old has regained his form at Real Sociedad and has started 12 of the 14 matches he has played this season. With his creativity, playmaking skills, and passing range, he has been pulling strings for Real Sociedad in the midfield. Therefore, we look at his stats to understand how Kubo has regained his form at Sociedad.
Season in a nutshell
Takefusa Kubo has made 14 appearances this season in La Liga, starting 12 matches and coming off the bench in two. He has two goals and two assists to his name in the league and two more assists in the Europa League.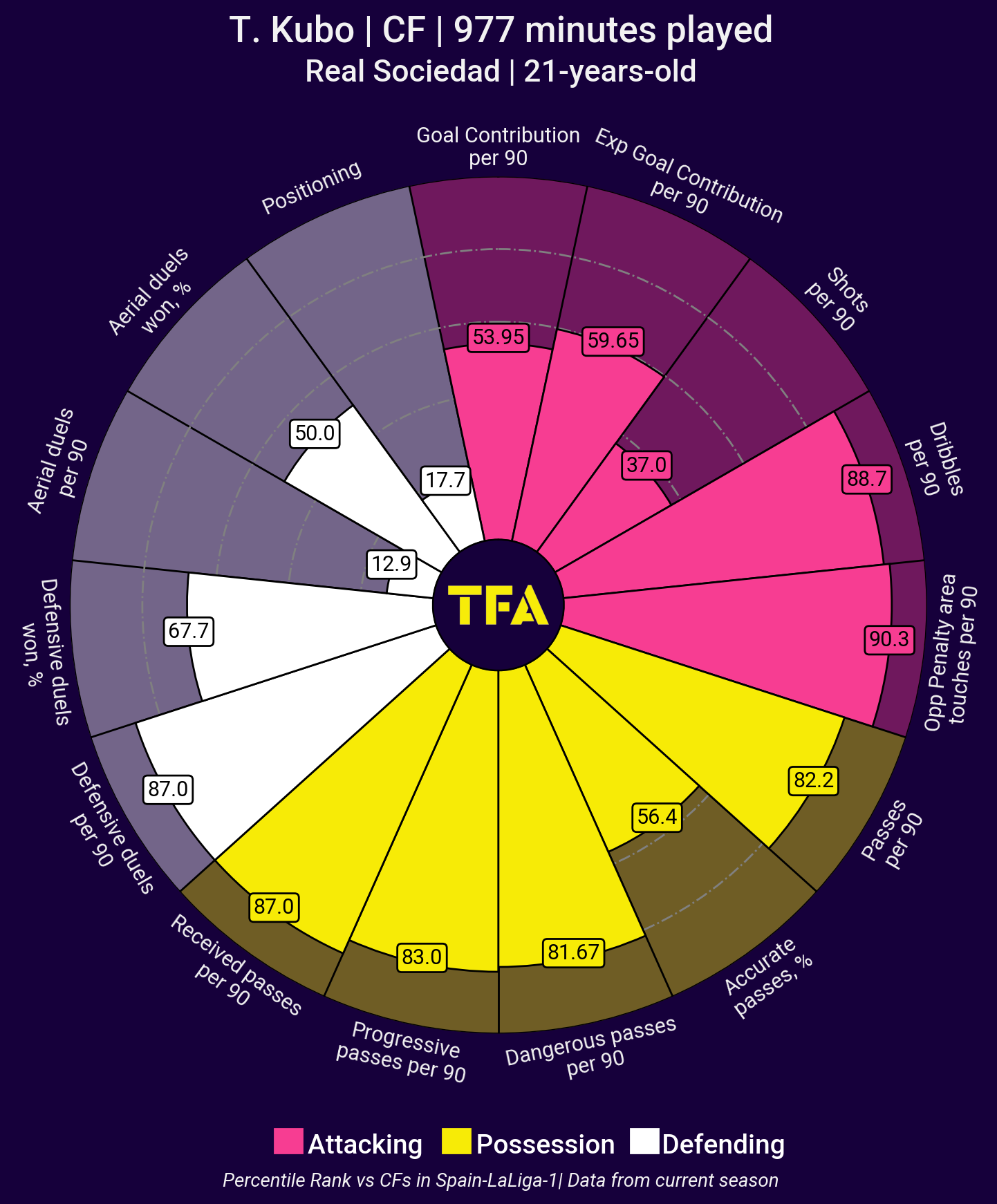 The above visual shows Takefusa Kubo's percentile rank compared to other centre-forwards in La Liga. He has excellent stats in passing and attacking and has been very important for Sociedad. Kubo is ranked in the top 88.7 percentile for dribbles per game and the top 90.3 percentile for touches in the opponent's penalty area. In passing, he is ranked in the top 82.2 percentile for passes per 90 minutes and the top 83 percentile for progressive passes per game. Defensively, Kubo is ranked in the top 87 percentile for defensive duels per game and does a decent job in aerial duels as well.
Dribbles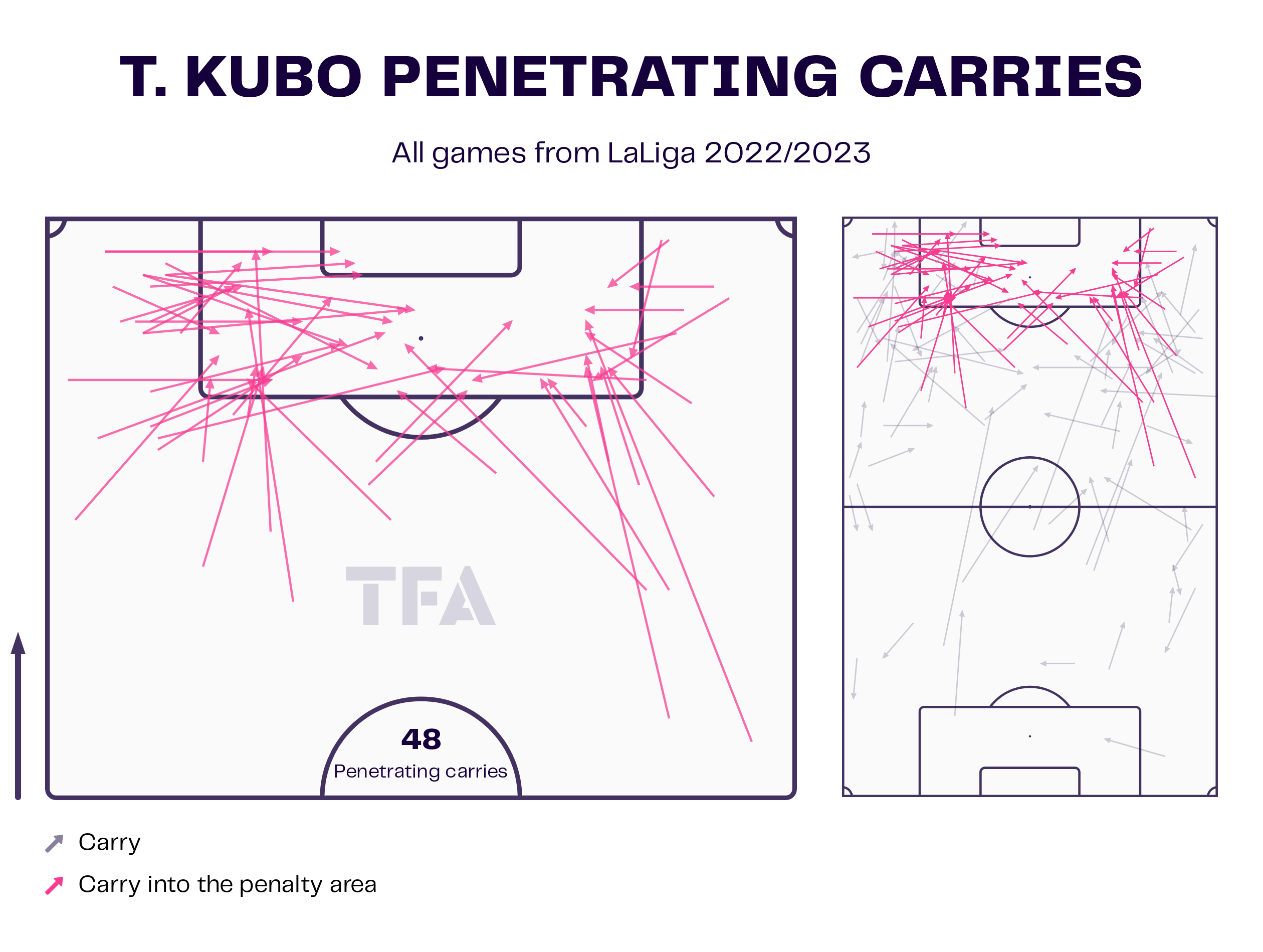 The above visual shows Takefusa Kubo's penetrating from the current La Liga season. He has made 48 penetrating carries per game. With an average of 4.89 dribbles per game with a success rate of 54.4% Kubo plays an important role for Real Sociedad. His close ball control, and ability to run with the ball make him a very delightful player to watch. Moreover, Kubo makes around 3.17 progressive runs per game and provides well to the Real Sociedad attack.
On the wing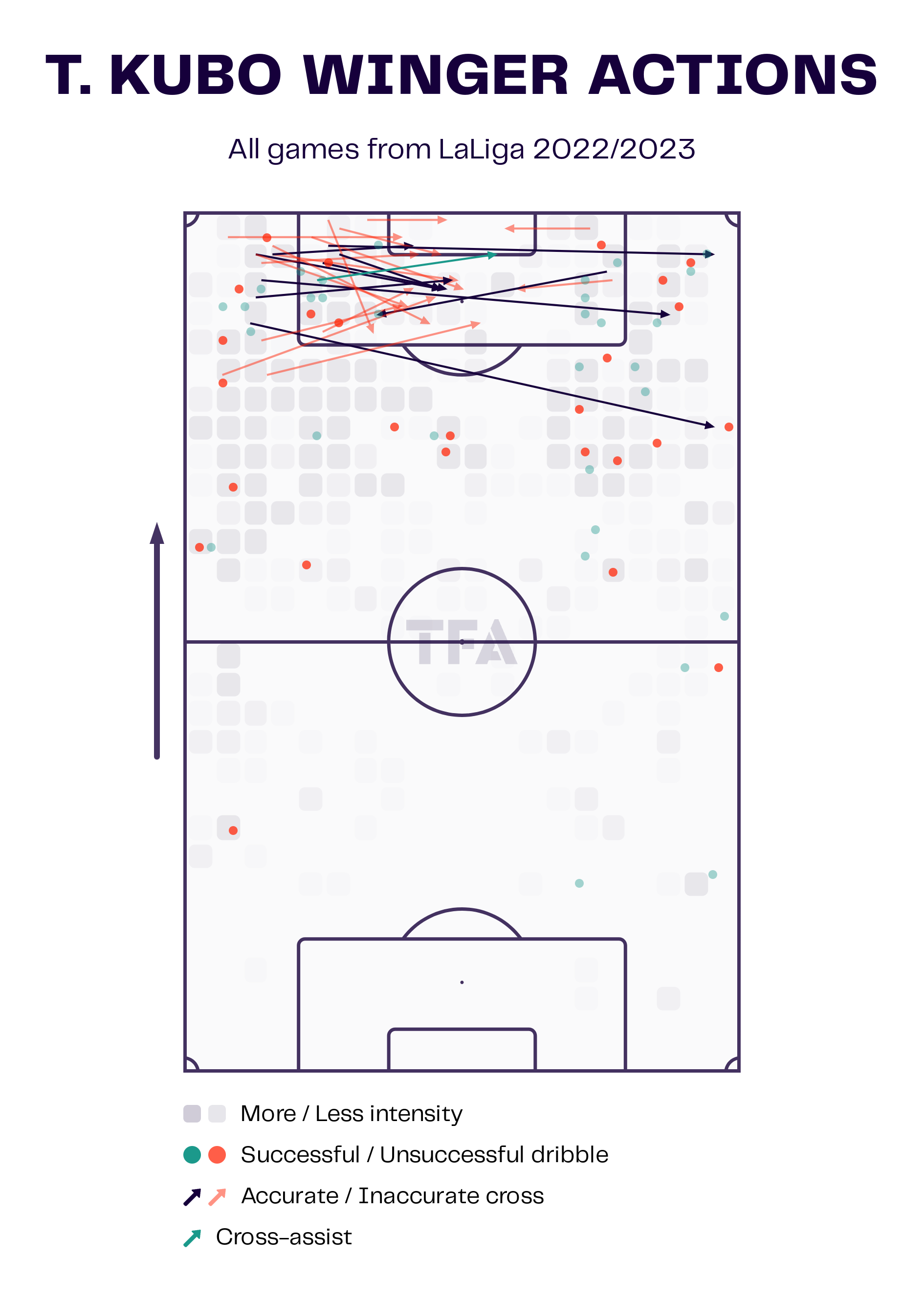 The above visual shows Takefusa Kubo's actions as a winger. He usually plays as an attacking midfielder but can also play as a winger. Kubo has a 38.2% success rate in 10.55 offensive duels per game. After taking on players, Kubo cuts into the box or plays crosses. The 21-year-old makes around three crosses per game with a 28.6% success rate.
Passing
As a La Masia graduate, passing is one of Takefusa Kubo's strongest suits. With a passing accuracy of  77.6%, Kubo makes around 26 passes per game. The above visual shows Kubo's pass map. He makes some short passes and creates good chances. He has played an average of 1.12 passes into the final third with an 84.2% success rate. Kubo also plays around 1.97 passes into the penalty box per game with a success rate of 43.5%.
Last season
The above visual shows Takefusa Kubo's penetrating carries from the previous season. Last season, he played for Mallorca in La Liga and made around 67 penetrating carries with an average of 7.22 dribbles per game. He had a success rate of 54.7% and was responsible for many good chances he created for them. Apart from these, he had also made around 2.39 progressive runs per game. These figures have come down a bit this season, but Kubo has slowly regained his form as he is getting more and more involved in the attack.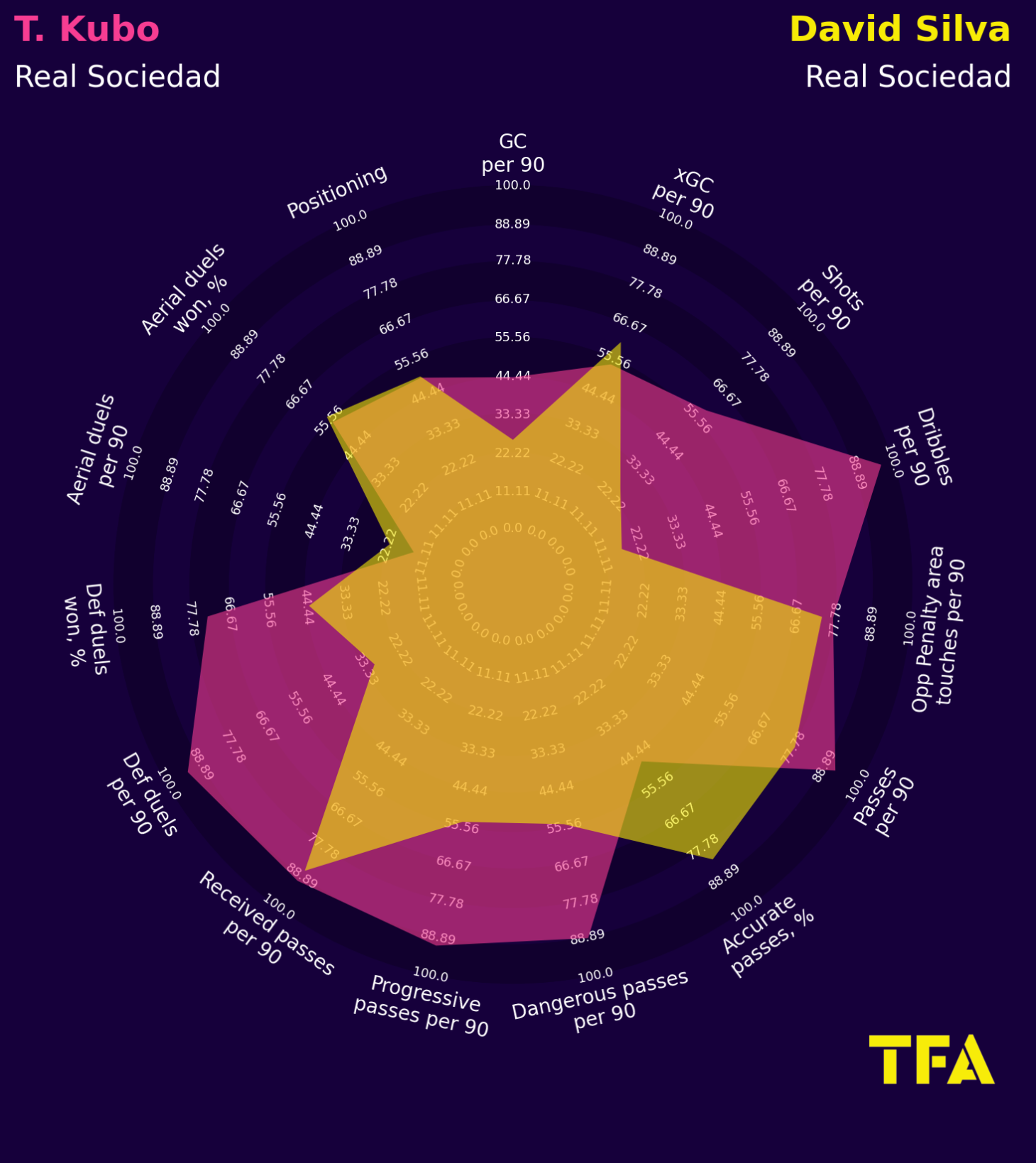 The above visual compares the radars of Takefusa Kubo and his teammate and former Manchester City legend David Silva. The veteran came back to Spain in 2020 and is still going strong at 37. Kubo has sometimes replaced Silva and has made quite an impact. He has better stats than Silva in almost all areas. David Silva leads in passing accuracy, aerial duels, and expected goal contributions per 90, while Kubo takes the lead in every other metric.
Betting Analysis
With Kubo's form and impact on the game increasing with every match, the odds for Real Sociedad in the 1×2 market will be going up. In terms of over/under lines, Kubo's form is expected to favour the over.
Takefusa Kubo was regarded as one of the talents to watch out for when he was at Real Madrid. But since he couldn't find a place in the star-studded lineup of Real Madrid, he left Madrid. But that move turned out to be successful, as he spent two years with Mallorca before joining Real Sociedad. His form and impact on the game have increased game by game, and it looks like he is finding his best place at Real Sociedad under Imanol Alguacil.
Visuals via TFA data viz engine