A European competition regular not long ago, Valencia now finds themselves in 18th place, faced with potential relegation from La Liga. In a rapid downfall, the club that finished ninth last season is now one point off safety in the Spanish first division. The 2001 UEFA Champions League finalists have finished outside the top six for three seasons in a row, telling us that this is a recurring problem and not a one-off situation. Below are some of the stats for the team from the current La Liga season.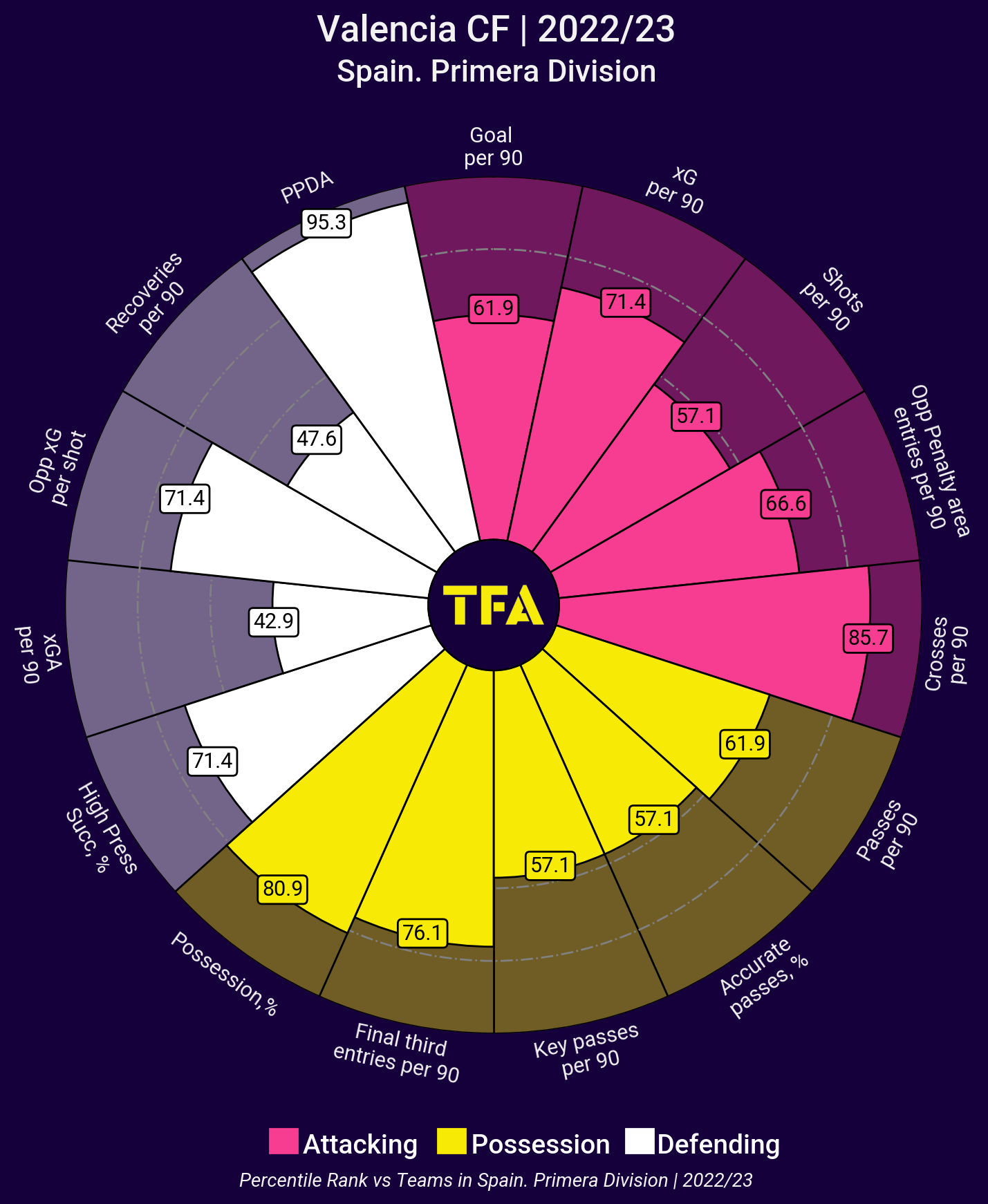 The above viz shows the percentile rank of the team in comparison to other teams in La Liga. It can be observed that Valencia's overall statistics are not representative of their league position, with fairly average stats, but this means that the problem is underlying. The Spanish outfit are above average when it comes to attacking numbers. Defensively, things have not been great, with the club managing only three clean sheets the entire season.
Despite above-average stats overall, Valencia finds themselves in the relegation zone. Life under their new interim manager, Salvador González Marco (Voro), hasn't been great either, with two losses in his first two games. Hopefully, this is just a temporary blip, and Voro can turn things around. This means that the results just aren't coming with fewer goals and a lack of clean sheets.
Valencia in front of the goal
Sitting in 18th place with a mere 20 points from 21 games, Valencia have heavily disappointed this season. The club has scored only 22 goals the entire season from an accumulated xG of 25.92, averaging barely over one goal a game. This also tells us that Los Che are underperforming on their xG, indicating a lack of effectiveness in front of the goal. The 22 goals also include four penalty goals, meaning only 18 open-play goals have been scored—a serious problem.
Underlying Attacking Stats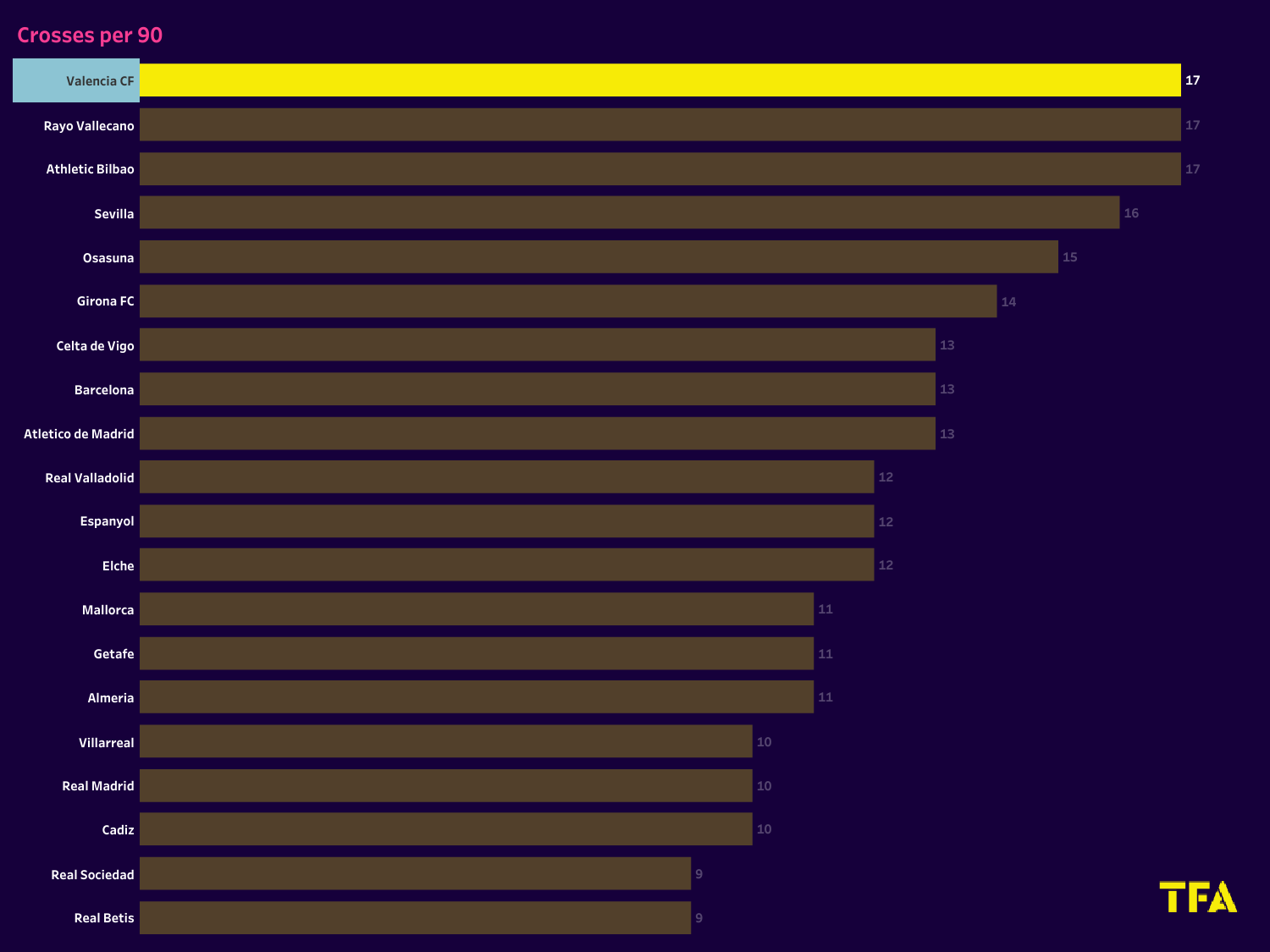 As seen in the above visuals, Valencia's underlying attacking stats are above average, with their dribbling being the second-best in the entire league. The team ranks ninth in La Liga for efficiency in positional attacks with an efficiency rate of 10%. Los Che averages 29.33 positional attacks per game with a shot rate of only 19.6%, below the league average of 21.1%. Additionally, the team also ranks second in the league for successful dribbles per 90 with a 64% success rate, indicating that the club has good dribblers. The first visual also tells us that Valencia gets the most crosses per 90 minutes, averaging 17 crosses a game.
Valencia seems to have good numbers in possession of the ball and in the attacking department but seems to lack the conversion of these attacks into chances, and eventually goals. evident by their 22 goals scored this season. As the visuals tell us, Valencia are reliant on their wide areas, as evidenced by the league's high crosses and the second-highest dribble success rate.
Valencia at the back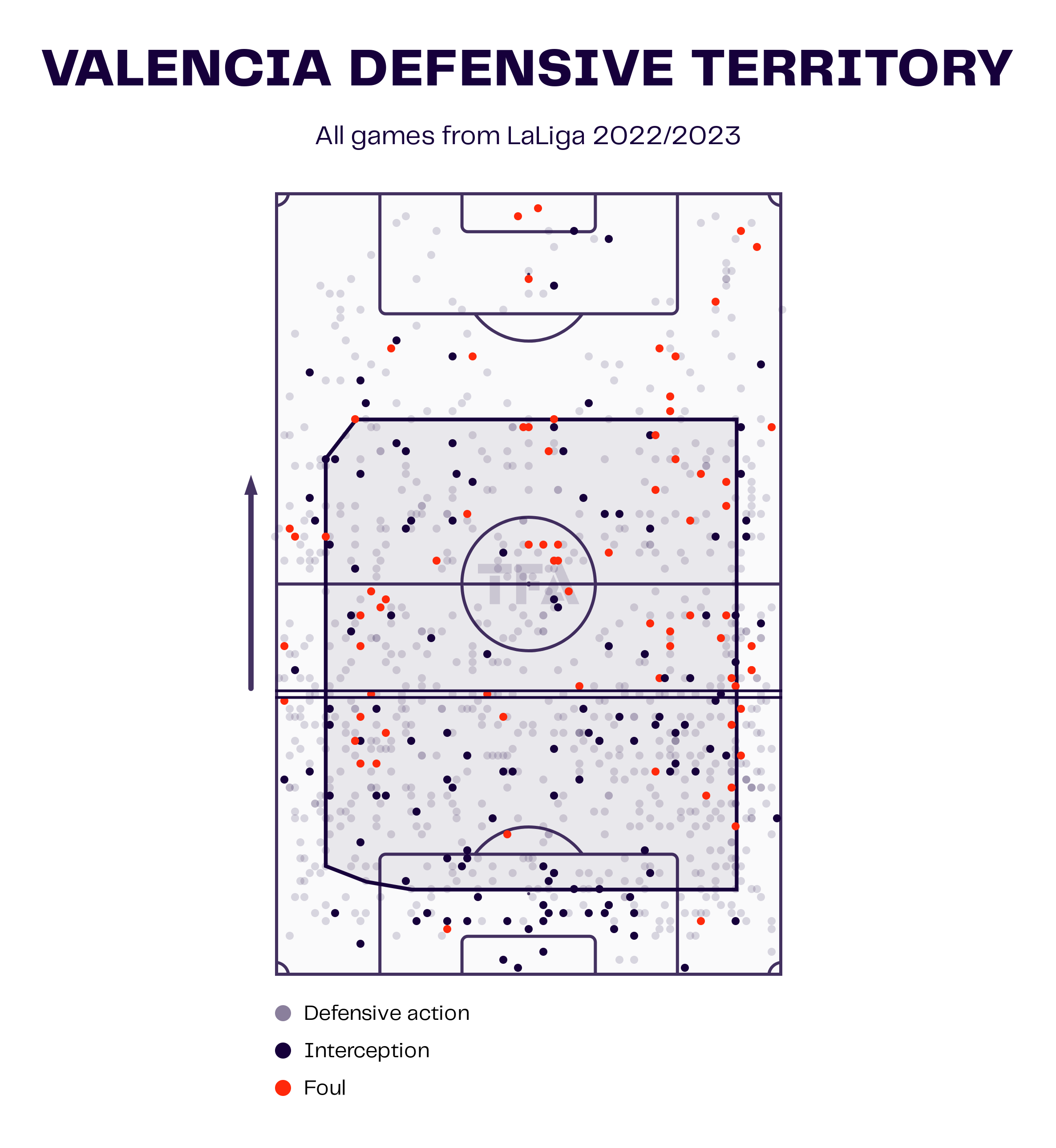 The above viz shows Valencia's defensive territory this season in La Liga. The club concedes an average of 1.19 goals and 10.42 shots per game, a fairly decent number in comparison to other teams. Los Che makes 39.17 interceptions per 90, just about below the league average. The viz shows that Valencia's defensive actions are concentrated in the wide areas of the defensive third, indicating that not enough defensive actions are made in the centre, leading to more shots conceded per game.
The increase in defensive actions and fouls in the wide areas, as well as the high dribble success rate, tell us that Valencia relies on their wide players in both attack and defence.
Valencia in attack – 2021/22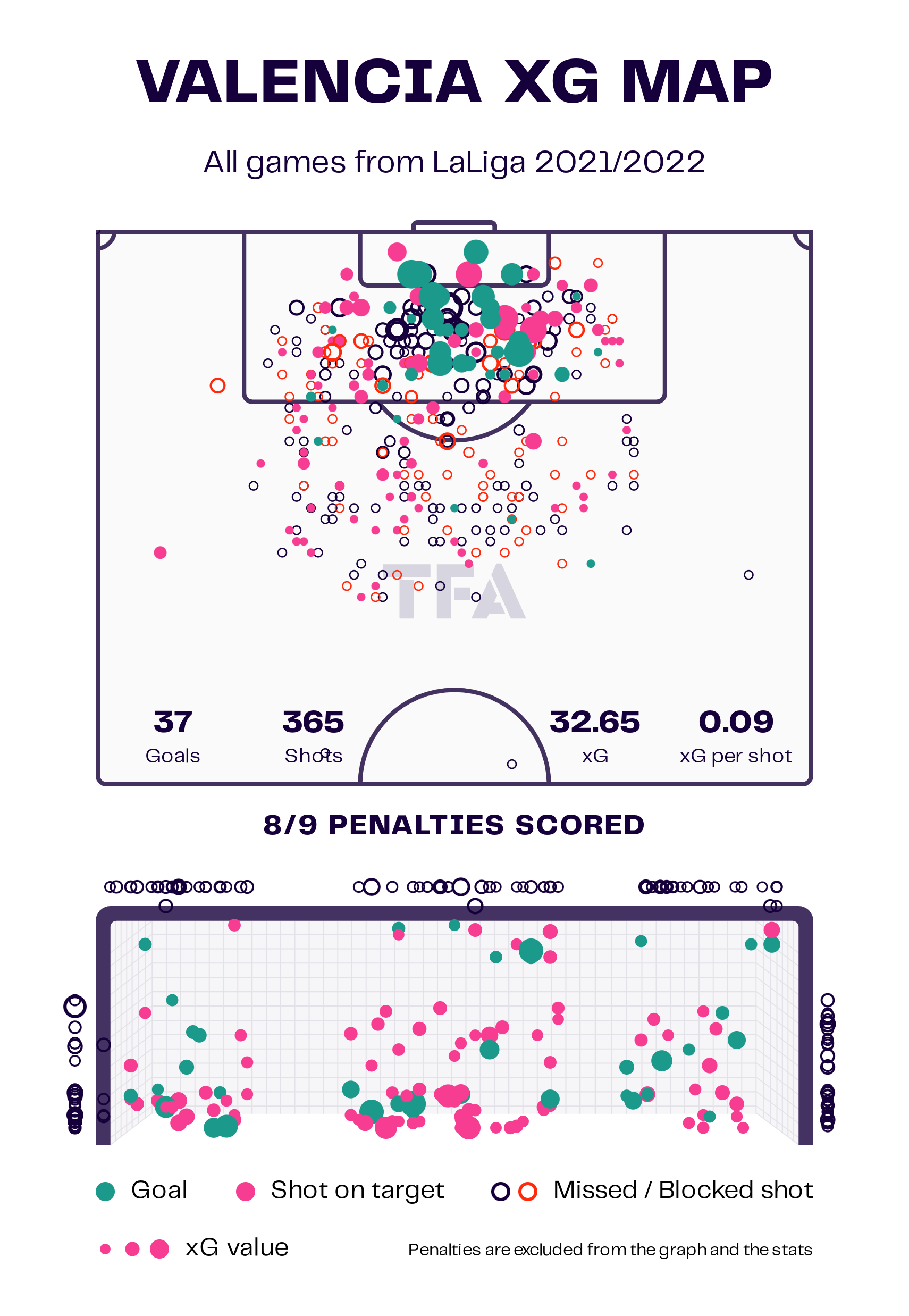 The viz tells us that Valencia didn't score many goals last season and averaged just below one goal a game, similar to now, and yet finished ninth. This means that the number of goals is not the problem, but rather the conversion rates and effectiveness. As opposed to this season, Valencia overperformed their xG last season, scoring 37 goals from an xG of 32.65, indicating a good conversion rate and in-form players. This was mainly due to the presence of Gonçalo Guedes, who scored 13 goals last season and was clinical in front of the goal. The team had 365 shots on goal, indicating a conversion rate of about 0.101, similar to this season.
Despite signing Edinson Cavani to fill in the number nine slot, Valencia seems to be struggling for goals and results overall. Tumultuous ownership combined with multiple managers, instability, and confusion has left the fans in a rage staging protests with Los Che fighting for scraps in La Liga. One point off safety, Los Che needs just one string of results to jump above the relegation zone. Will Valencia's seemingly dropping standards in recent years continue falling, or will the Spanish team be resurgent and rise from the relegation zones? Only time will tell.
Visuals via TFA data viz engine