Valencia and Athletic Bilbao will meet in La Liga this weekend in what promises to be an exciting match.
Bilbao are currently eighth in the table with 29 points from 20 matches played. They have won eight matches, drawn five, and lost seven. Bilbao have been struggling in recent weeks, winning just one of their last five league matches, and they know they need a good result here to move up the table.
Meanwhile, Valencia are struggling this season and are in 17th place, just one point off relegation. They have only 20 points from 20 matches played, having won five, drawn five, and lost ten. It is a must-win fixture for them.
Below we look at some of the stats from the current season for both teams.
Valencia vs Athletic Bilbao – overall performances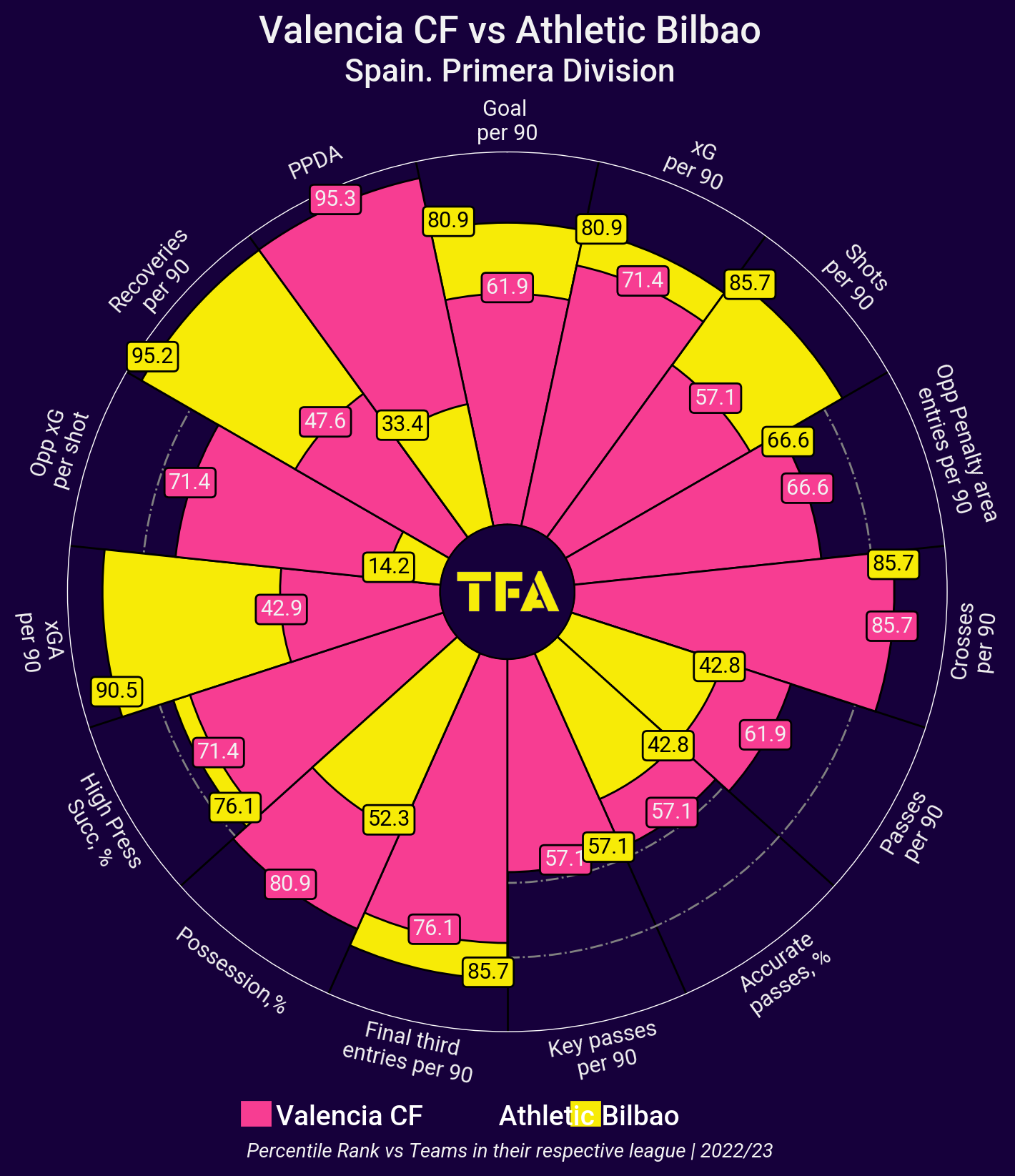 The visual above shows both Valencia's and Athletic Bilbao's percentile rank compared to other teams in La Liga. Both teams are closely ranked in almost all the metrics. Bilbao have a good percentile score in xG, shots, and goals, while Valencia ranks better in terms of possession-based stats such as possession, passes, and accurate passes per 90 than the visitors.
Expected goals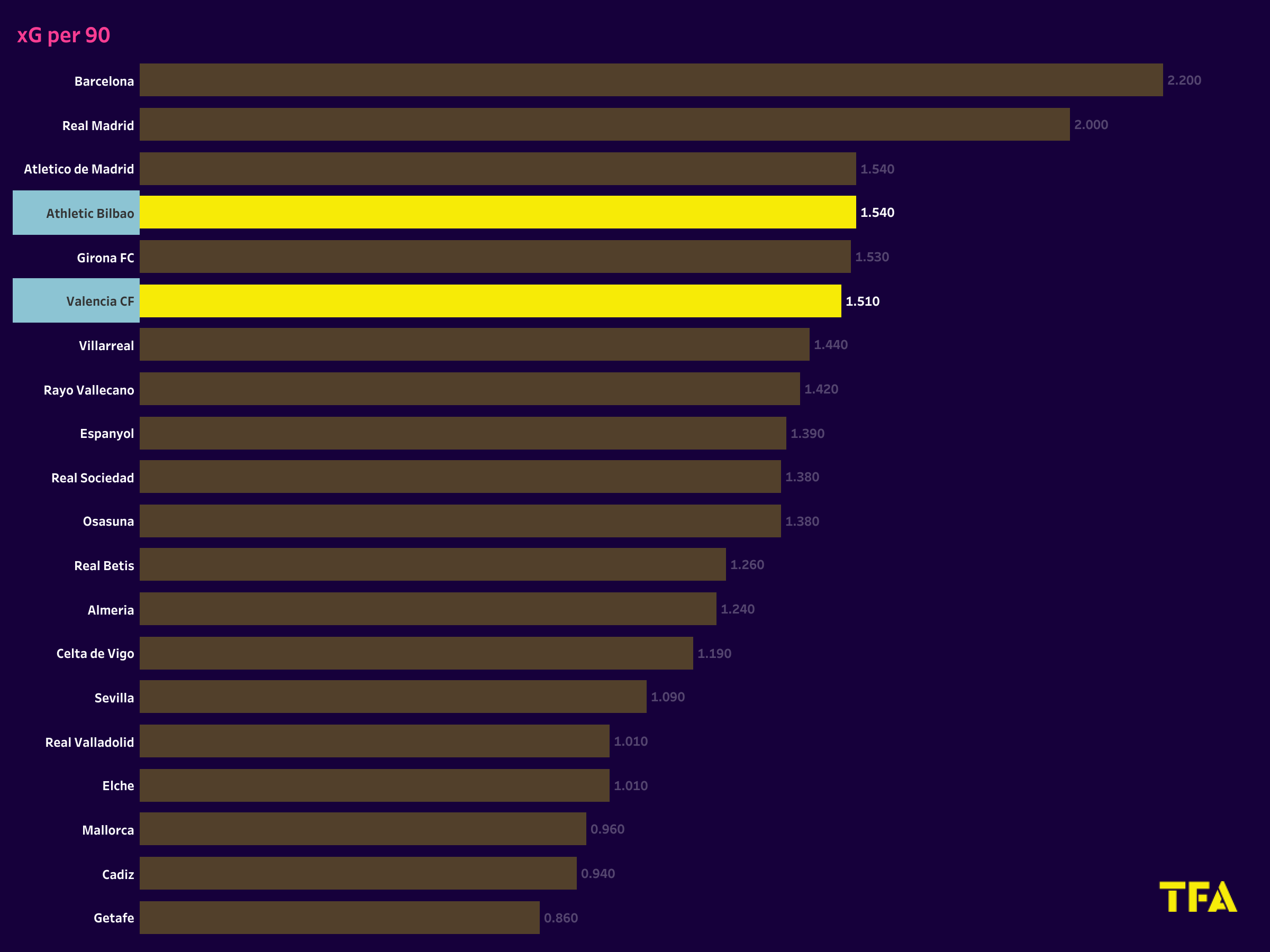 As we can observe from the pizza chart, Athletic Bilbao creates a bit more threat in attack than Valencia and creates danger going forward. They average 1.45 goals per game, with 1.54 xG per match, and are ranked among the top four teams in terms of expected goals per 90 in the league. Meanwhile, Valencia are ranked lower but not far behind in terms of goals per 90 minutes, averaging 1.25 goals per match. They are ranked well when it comes to xG per 90 minutes, averaging 1.51 xG per match.
Efficiency in attack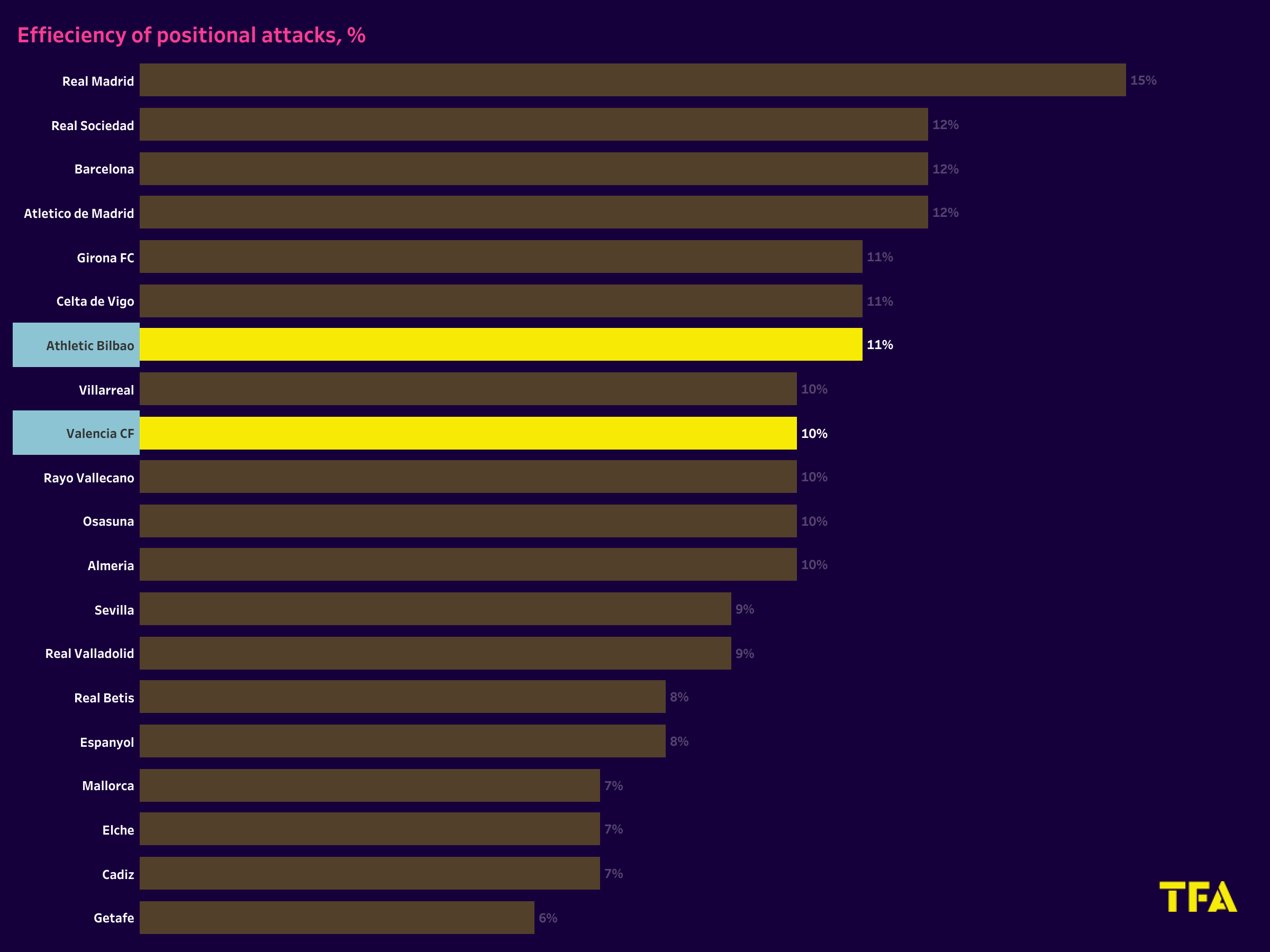 The two visuals above compare both teams on the basis of positional play and counter-attacks. Valencia holds an advantage for counterattacks, with 18% efficiency against visitors who rank lower. Valencia creates 30.25 positional attacks on average and takes shots from 21.3% of such plays. Meanwhile, Bilbao creates 23.35 positional attacks per match, with 25.3% of them resulting in shots.
Alternatively, Bilbao launches 2.5 counterattacks per match, with 32% of these attacks ending in shots. Meanwhile, Valencia launches two counterattacks on average, with 52.5% of them ending in shots. We can expect both teams to look to dominate possession and create more and more chances. Both teams are also well-drilled in sitting back and creating attacks on the counter.
Success in defence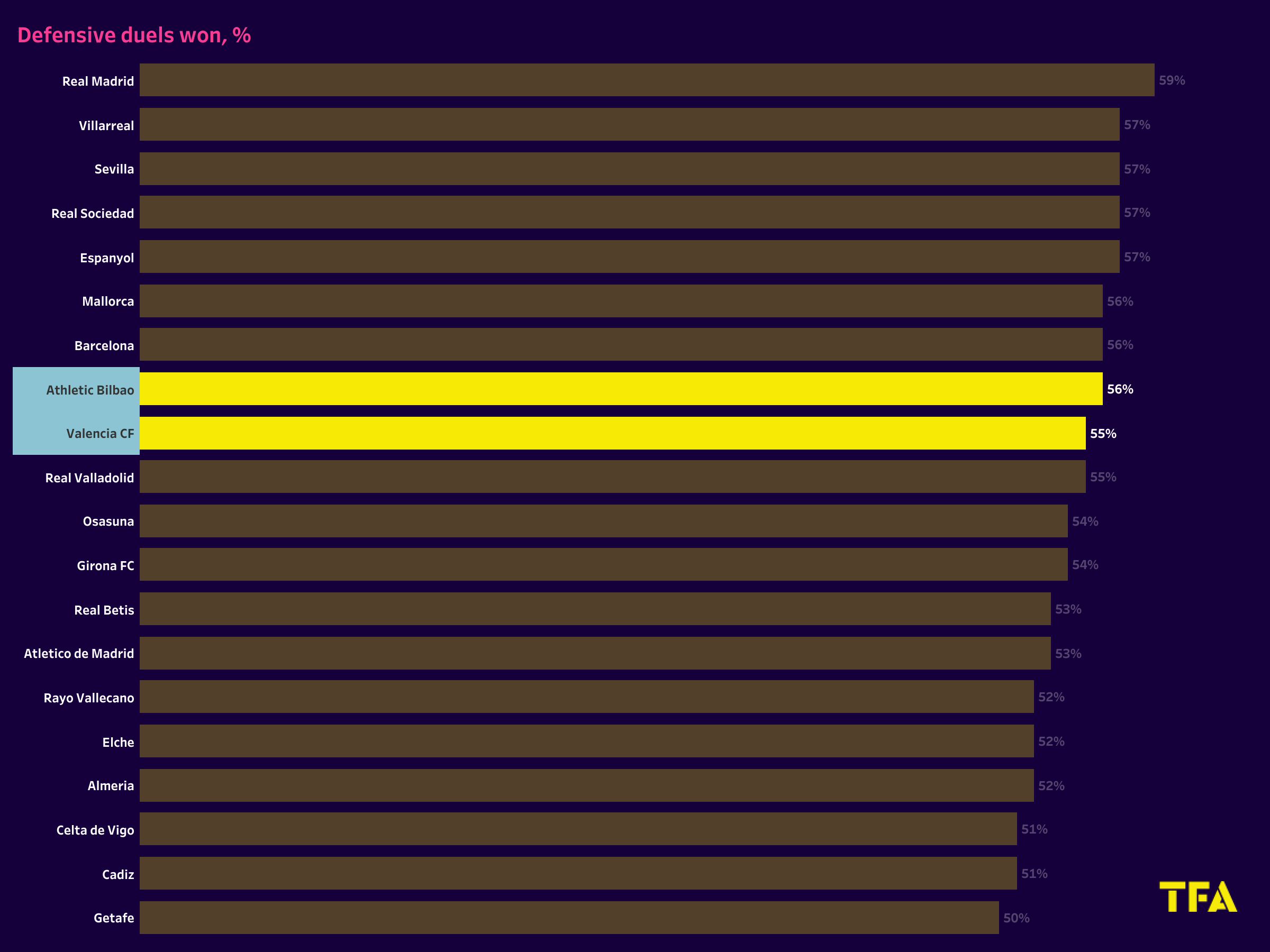 The above visual represents the ranking of teams in Ligue 1 based on their percentage of defensive duel wins. It can be seen that Athletic Bilbao and Valencia are ranked eighth and ninth in the league for successful defensive duels. Valencia have a 55% win rate in defensive duels, and Bilbao, on the other hand, have a 56% success rate. On average, Athletic Bilbao attempts 64.5 defensive duels and makes 39.7 interceptions per 90 versus 62 defensive duels and 35.47 interceptions per 90 for Valencia.
Key Players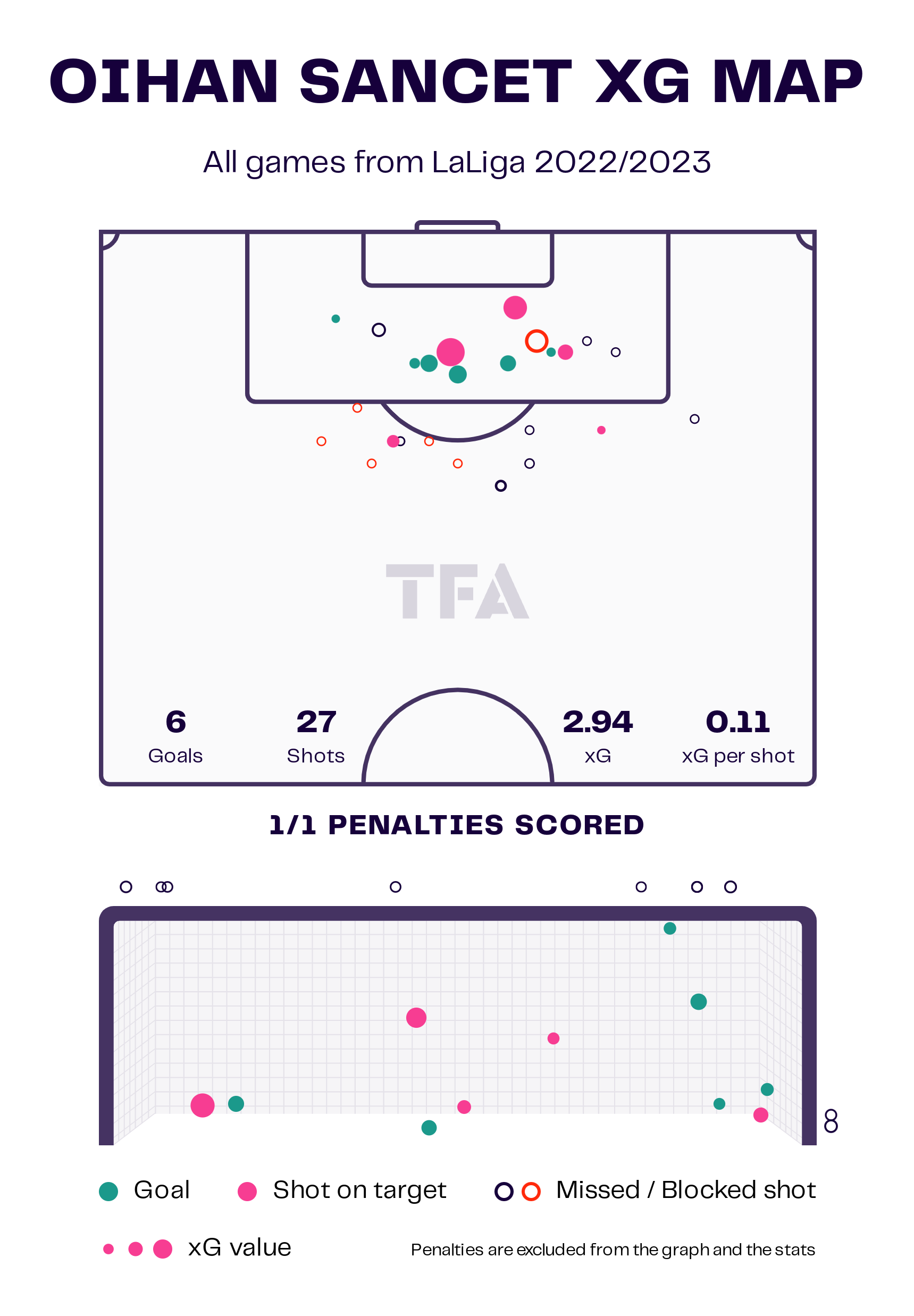 Ohian Sancet is a central midfielder for the Spanish La Liga club Athletic Bilbao. In the Spanish La Liga season 2022/23, Ohian Sancet has played 18 matches (plus two as a sub). He has 11 shots on target from a total of 23 shots and has scored seven goals (2.94 xG). Ohian Sancet averages 25 passes per match with a pass completion rate of 85% and has no assists so far. It can be seen that he has scored most of his goals from inside the box.
Team News
Valencia will be missing Gabriel Paulista, Justin Kluivert, Thierry Correia, Nico Gonzalez, and Jaume Domenech. Whereas, Bilbao will be missing Inaki Williams and Inigo Martinez due to injury issues.
Overall, this should be a close match, with both teams desperate for the three points. Bilbao have the better form and will go into the game as favourites, but Valencia are desperate and capable of causing an upset if they can find their best form.
Visuals via TFA data viz engine