Barcelona have had a silent winter transfer window, and their financial state shows that they will have to sell some players to sign other players. Reports suggest that they are ready to make a swap deal with Atletico Madrid and swap Yannick Carrasco for Memphis Depay. According to reports, the La Liga table toppers are trying to sign the Belgian, who is interested in joining Barcelona. Therefore, we look at some of his stats to understand why they are trying to include Carrasco in the deal with Atletico Madrid.
Season so far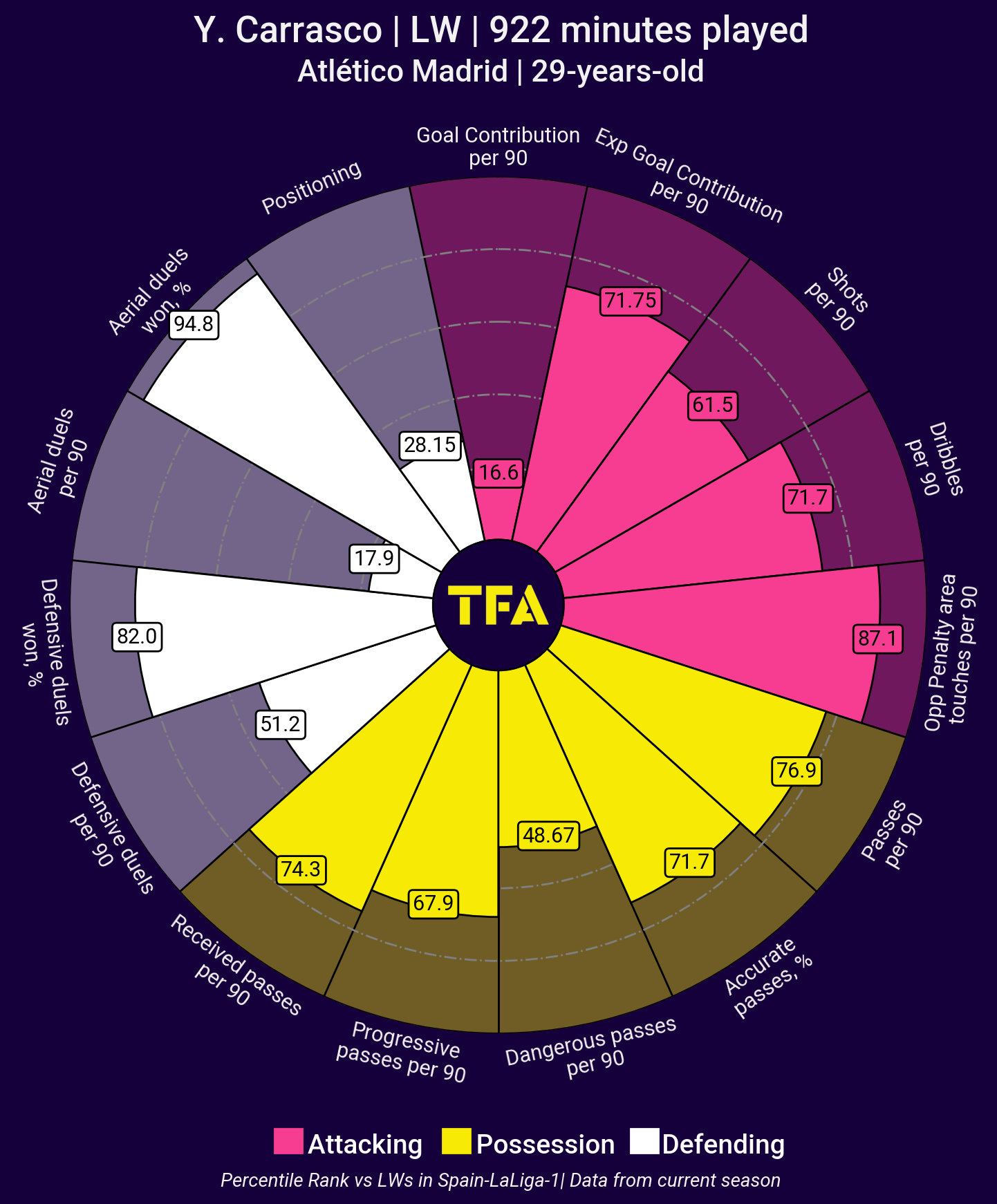 The above visual shows Yannick Carrasco's percentile rank compared to other left-wingers in La Liga. He has not had the best season but has above-average scores in most of the metrics. Carrasco has good stats in attacking and is ranked very highly for touches in the opponent's penalty area. He also has good stats in dribbles, expected goal contributions per game, and shots. Another area he has done well in his duels. The Belgian is ranked in the top 94.8 percentile for aerial duels and the top 82 for defensive duels. He also has decent passing stats, which will be important for him to join Barcelona.
The above visual shows the penetrating carries made by Yannick Carrasco in the current La Liga season. With an average of 6.15 dribbles per game, he has made 50 penetrating carries this season. Carrasco also has a success rate of 60.3% when dribbling. He is fast, intelligent, and not scared to take on players. This could come in handy for Barcelona, as the left-wing position is still a doubt for them. He also makes around 2.83 progressive runs per game, apart from the dribbles.
Passing
The above visual shows Yannick Carrasco's pass map from the current La Liga season. He has a passing accuracy of 82.4%, which is something he will have to improve if he is to play for Barcelona. The 29-year-old has made around 33.29 passes per game this season. Playing as a left winger, he has played around 2.05 passes into the final third per game with a success rate of 71.4%. He has also made an average of 2.15 passes into the penalty area per game, with a success rate of 59.1%.
Goalscoring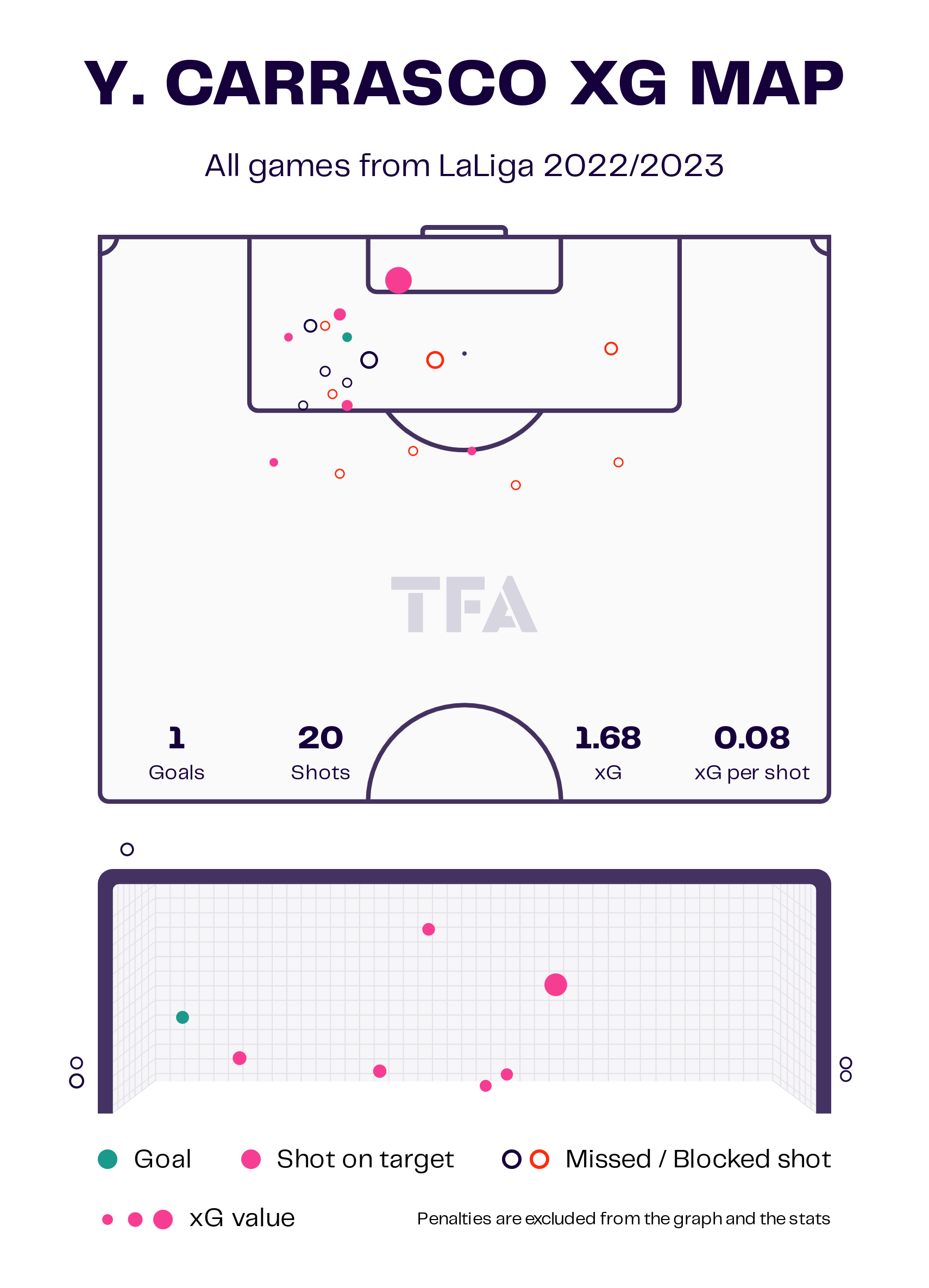 Yannick Carrasco has not had a very fruitful season in front of the goal. He has scored only one goal from 15 matches in La Liga. The 29-year-old has attempted a total of 20 shots with an average of 1.95 shots per 90 minutes. Out of the 20 shots, seven were on target, and his shooting accuracy was 35%. Since most of his shots were from a wide position, his xG is not that high. But this shows that he is not hesitant to take the shot, which is important.
Last season
Last season, Carrasco had a better time in front of the net with six goals in La Liga. He attempted a total of 50 shots with an average of 1.67 shots per game. Out of the 50 shots, 11 were on target, and four of them were goals. We can also observe from the visual that he has taken most of his shots from inside the penalty box. He has taken 20 shots already this season, which is a good sign given that his average shots per game have improved. He only needs to find the finishing touch now.
Could Carrasco replace Depay?
The above visual compares the stats of Yannick Carrasco and Memphis Depay. The Dutchman has had very little playing time in Barcelona this season under Xavi. But still, he has better stats than Carrasco in almost all the metrics. Carrasco has better stats in defensive duels won and aerial duels won. But Memphis has the upper hand in all other areas. It will be interesting to see the impact he creates if he goes to Barcelona.
Betting Analysis
Looking at the 1×2 market, the odds for Barcelona might come down a bit if Yannick Carrasco arrives. While he has not been very efficient in scoring this season, the overlines could go up, even slightly.
Barcelona wants to include Yannick Carrasco in the Memphis Depay swap deal with Atletico Madrid. If the Belgian decides to join the Blaugranas, he would give them an extra attacking edge with his pace, dribbles, and performance in the final third.
Visuals via TFA data viz engine