Barcelona v Real Madrid – Betting Preview
Barcelona Summary
Barcelona leads the league title race by nine points and with this game being at home, the fans would love nothing more to win and all but secure the title this Sunday night.
The shock defeat in Almeria ended up being a mere blip as Xavi's side has gone to win in Bilbao since. They won there without their star defender too, but Ronaldo Araujo now returns for this hugely important contest.
Barcelona's spirits and confidence are strong, but not at their very best due to being knocked out of all UEFA competitions so early this season.
However, domestically everything would be perfect if they got the win here. In reality, they can easily accept a draw and still have full control of where the La Liga 202/23 trophy will end up.
Looking at team news and for Barcelona, everything will revolve around whether or not Xavi decides to risk Pedri who is not 100% fit. The Canarian returned to training this week but on Friday, was still in discomfort.
Should Pedri not pass fit and return, then the more physical but also technically gifted Kessie gets the nod.
Below we can see the quality of creation and goal threat the highly-rated Spaniard brings to Barcelona when compared to Kessie. Barcelona and Over 2.75 goal backers should hope for Pedri to pass fit!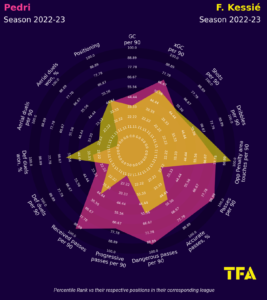 At this stage, Dembele is the only certain absence for the host. As mentioned, Araujo the rock returns from a suspension.
Real Madrid Summary
Real Madrid comes into this El Classico in good spirits having progressed to the quarter-final of the UEFA Champions League midweek.
They put in a very solid and professional performance to cruise past Liverpool and into a last-eight meeting against another English club, Chelsea.
For now, however, all the UCL distractions will be put aside. This is because Real Madrid knows they have to beat Barcelona or else they can forget about winning la Liga this season.
Real Madrid will take confidence from the Champions League form more than recent league results, which have seen them drop points against Betis and the week before that against Atletico Madrid.
Should Ancelotti's men engineer the three points here, then the gap drops to six points and at least makes the remainder of the season more competitive.
Real Madrid has their best team available with all but David Alaba available.
Benzema sustained a very minor knock in the Liverpool contest, but is almost certain to begin.
Nacho is set to start once again ahead of Mendy at left-back. This as he offers much better defensive balance. It all means that we can expect to see the same Real Madrid team that began on Wednesday evening. If Mendy does begin, this is another positive betting signal for overs.
Betting Analysis
Looking at the 1×2 market first. Barcelona doesn't need the victory but will have their backers @ 2.20. Real Madrid will see this as a must-win meanwhile, but that does not always suit them, as they prefer to attack spaces.
Madrid is @ 3.30, while the draw is @ 3.60.
Moving onto the Asian handicap betting for this contest. Barcelona -0.25 @ 1.88 feels about right.
Madrid +0.25 @ 1.98 will push more for the win if it is heading toward a draw, so Barcelona on breaks will be a threat the longer it stays 0-0 or with the scores level.
Looking at The Under/Over goal betting last of all which is interesting. El Classico traditionally throws up high-scoring and entertaining games, and there is good reason to think that this match will be the same. The line is set at 2.75, the Over is @ 2.04 and the Under is @ 1.80.
Barcelona has won an extremely high amount of games 1-0 in the league, but that is because their defence is capable of holding most La Liga attacks to zero. As Man Utd showed recently however, their defence will crack under quality pressure and speed.
And with Madrid having to throw caution to the wind and attack here, Barcelona will have joy with their speed and creation going forward.
One has to go all the way back to March 2020 to find the last time a league game between the Spanish giants didn't (W2-0 Madrid) see 3 or more goals. Over 2.75 @ 2.04 is a preference.